---
Celebrating the best of travel F&B

Worthy winners: From all corners of the world, the greatest brands, concepts and initiatives in airport F&B were honoured in Dallas at the 2019 FAB Awards
The airport food & beverage industry's top concessions, concepts, innovations and people were honoured at the 2019 FAB Awards in Dallas. We revisit the glittering awards ceremony in words, images and video.
The eighth FAB Awards were presented at a glittering gala dinner, the climax of the Airport Food and Beverage (FAB) Conference & Awards, held at The Westin Galleria Dallas on 26-27 June. The awards evening was hosted by Autogrill and HMSHost.
The FAB Awards – attended by senior airport executives, tastemakers, trend experts and leading travel food & beverage concessionaires– recognise the very best in airport F&B.
Organised by The Moodie Davitt Report (plus The Foodie Report, now rebranded as FAB) and hosted by Dallas Fort Worth International Airport, FAB is the only industry event dedicated solely to the airport F&B sector.
We received a record 302 entries, which was up 18% on 2018. The diversity and quality of entries in FAB 2019 was impressive; an eclectic representation of the travel-related food & beverage universe.
The judging methodology was self-nomination, followed by extensive due diligence from our judges, references to consumer social media platforms, discreet interviews on occasion with prominent airport authorities, and so on.
The process was designed to be thorough, neutral and based on absolute impartiality, through a grid scoring system based on a set of allocated criteria.
The judging line-up this year was extended to include more diversity of background, region and gender. Regular judges Martin Moodie; US airport commercial management consultant Alan Gluck; and former chef and Copenhagen Airport Food & Beverage Category Manager Anders Barsøe, now CEO for Denmark's largest sushi chain Letz Sushi, once again played a lead role
They were joined by Nick Goddard-Palmer, the co-founder of Hunter Palmer – Global Retail Solutions, a UK-based strategic travel retail partnership; author, journalist and luxury cuisine consultant Michele Tchea, based in Melbourne Australia; New York-based wine critic Marisa D'Vari; toxicologist, chef, and dietitian, Suzy Badaracco; and journalist and influencer, Cristina Alcivar, Founder of Vane Airport Media, which publishes news about health and wellness services and amenities in airports globally.
Over the next pages we present the worthy winners and showcase what makes them truly
FAB-ulous.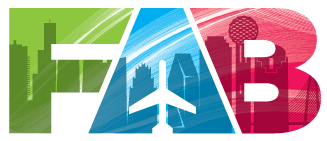 FAB is published monthly by The Moodie Davitt Report (Moodie International Ltd).
© All material is copyright and cannot be reproduced without the permission of the Publisher.
To find out more visit www.moodiedavittreport.com and to subscribe please e-mail sinead@moodiedavittreport.com