From the Publisher, Martin Moodie
Welcome to this special edition of The Moodie Davitt e-Zine Spotlight Series, which honours Dubai Duty Free's 35th anniversary.
In fact, Dubai Duty Free has seldom been out of the spotlight since its inauguration back in 1983. In a channel synonymous with some of the world's great brands Dubai Duty Free is a rarity – a powerhouse retailer brand in its own right. Ask just about any consumer around the world to list the things they most associate with Dubai and Dubai Duty Free will rank high on the list.
That awareness is down to multiple factors. Success, of course, for after all this is the world's biggest airport duty free retailer in a single location with sales set to top US$2 billion this year. But Dubai Duty Free is far more than a retail revenue machine. It is, as that consumer reputation would indicate, a marketing masterclass, a triumph of communication of its commercial, cultural, charitable, sporting and touristic virtues.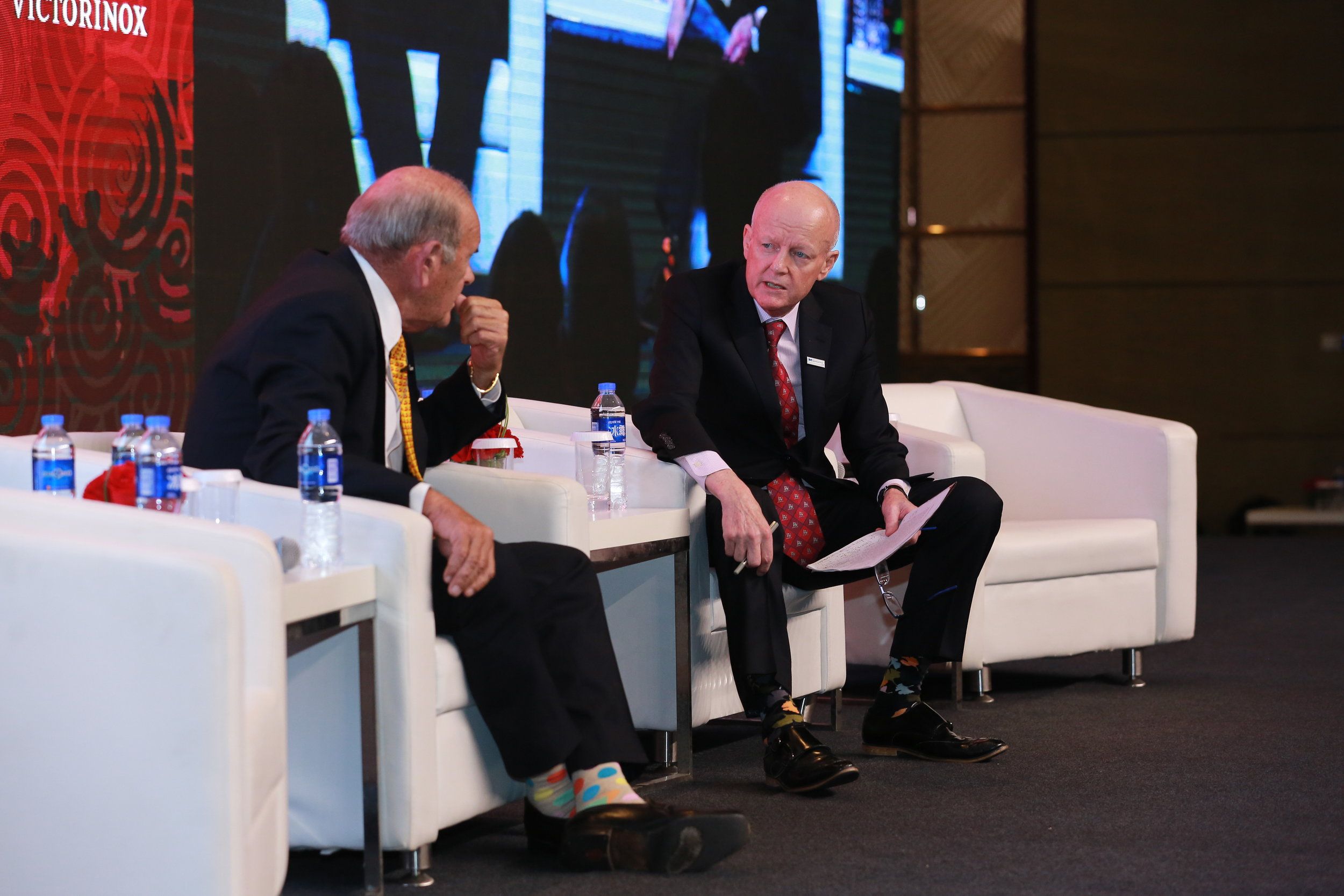 Martin Moodie and Colm McLoughlin in conversation at The Trinity Forum in Shanghai, October 2018.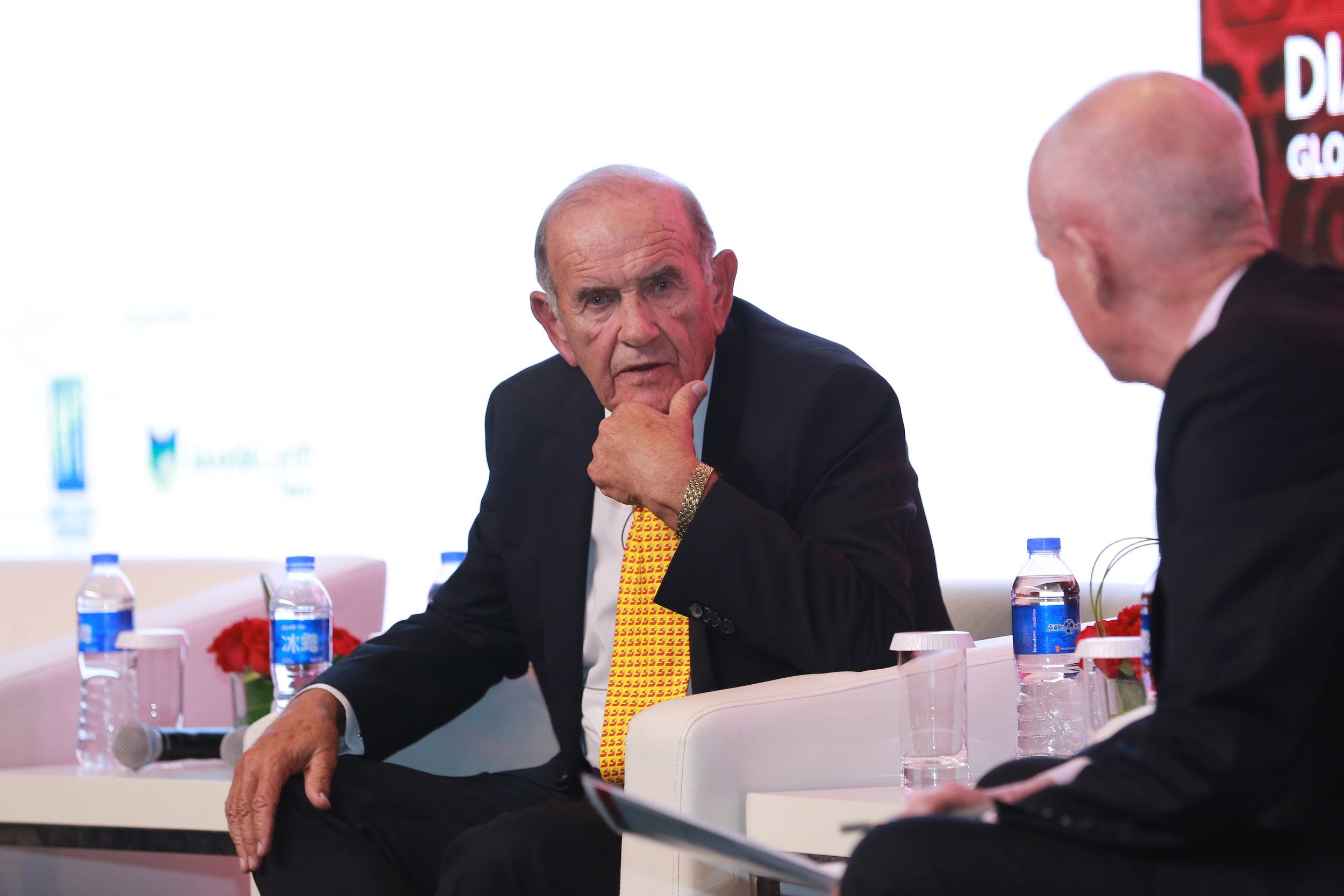 It has always stood for fair prices, a diverse range and peerless service. Its car and million dollar prize draws were pioneering in their day and still a consumer magnet today.
An integral component of Dubai Duty Free's raison d'être has always been to promote Dubai and everything that the retailer has done over these 35 years has been underpinned by that mission. Dubai is now one of the world's most thrilling, diverse and popular tourist destinations but it wasn't always so. Dubai Duty Free acts like a quasi-tourism board, sponsoring high-profile events at home and abroad and ensuring almost incalculable visibility for the emirate.
Who can forget, for example, one of the iconic sporting scenes of all time as tennis superstars Roger Federer and Andre Agassi traded base-line rallies on the helipad of the towering Burj Al Arab against a majestic backdrop of Dubai's sea, sand and burgeoning skyline? The media exposure was unprecedented. All courtesy of Dubai Duty Free.
Dubai Duty Free's credentials run much deeper than that though. It is a retailer that stands for giving back – to its staff, to the needy, to local causes, and to international ones. Its branding can be seen on the world-class sports track of the Lycée Jean-Baptiste Pointe du Sable, the biggest fund-raising project in travel retail history, managed by Hand in Hand for Haiti. It can be seen in The Travel Retail Village in Sri Lanka, funded and built by the industry to repatriate a stricken community after the devastating Boxing Day tsunami of 2004 that killed hundreds of thousands of people across South Asia. It can be seen in vital hospital infrastructure in Luzan, Mindanao and Visayas in the Philippines where Dubai Duty Free has funded (through The Smile Train) nearly 15,000 children's cleft surgeries.
We wanted to capture all those dimensions in this special publication. But because the story has been so often and well-told down the years (partly by us, we're proud to say), we decided to use pictures and film and audio as our main platforms here. We think the combined result offers up a unique, nostalgic and important reflection on the extraordinary narrative of a retailer like no other in the world. We're proud to tell it.
Peter Marshall of www.airportdynamics.tv produced this fascinating film, including historic archive material, that traces the Dubai Duty Free story from start-up to the present day. (With additional thanks to Marshall Arts International).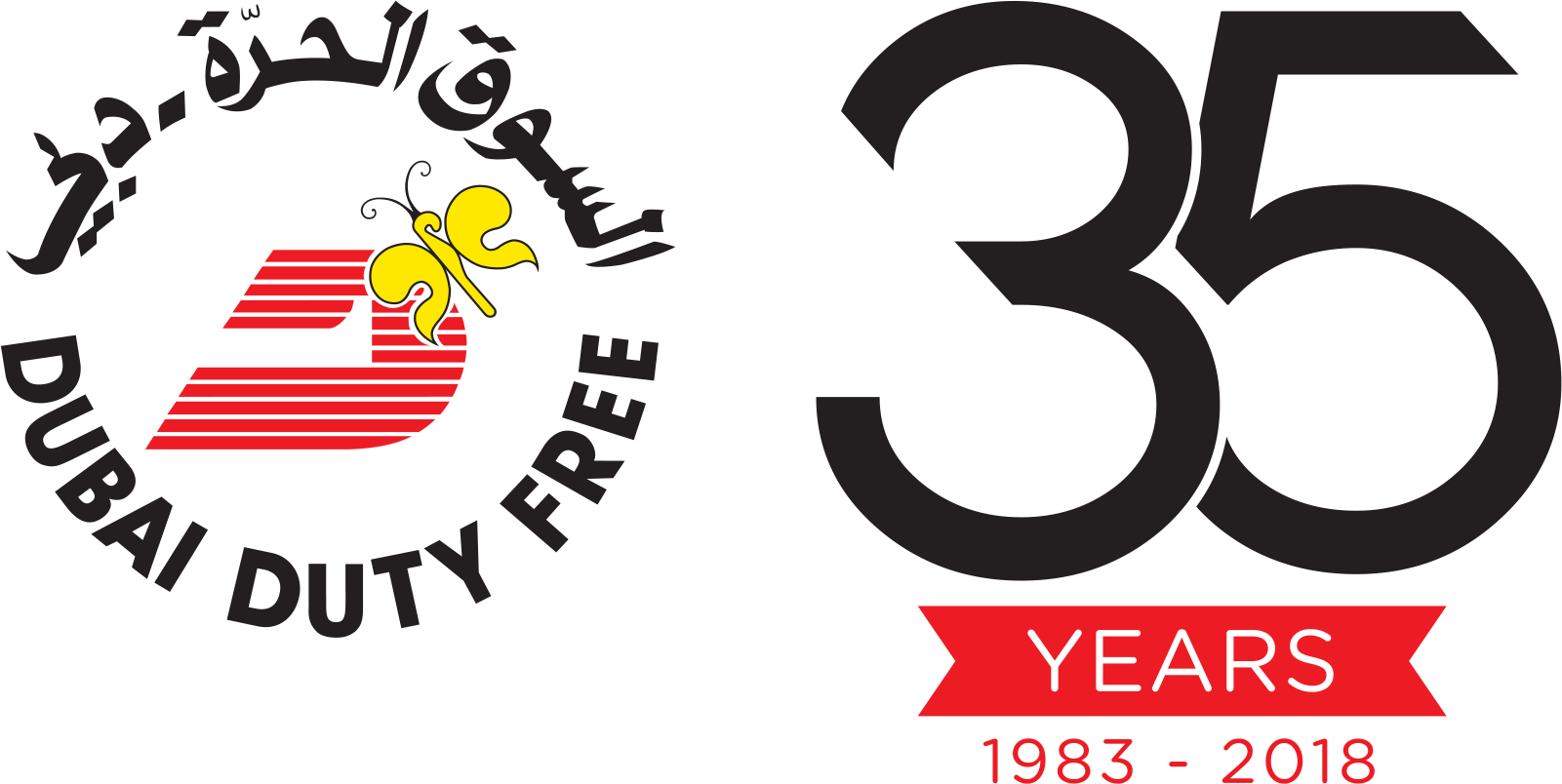 ---
The Moodie Davitt e-Zine | Spotlight Series – Special Report | 20 December 2018