A new concourse for a new year
The new year ushered in an exciting new chapter for Dubai Duty Free as it celebrated the start of a phased opening of stores at the state-of-the-art Concourse A. The openings augured well for a strong year, which the retailer duly delivered.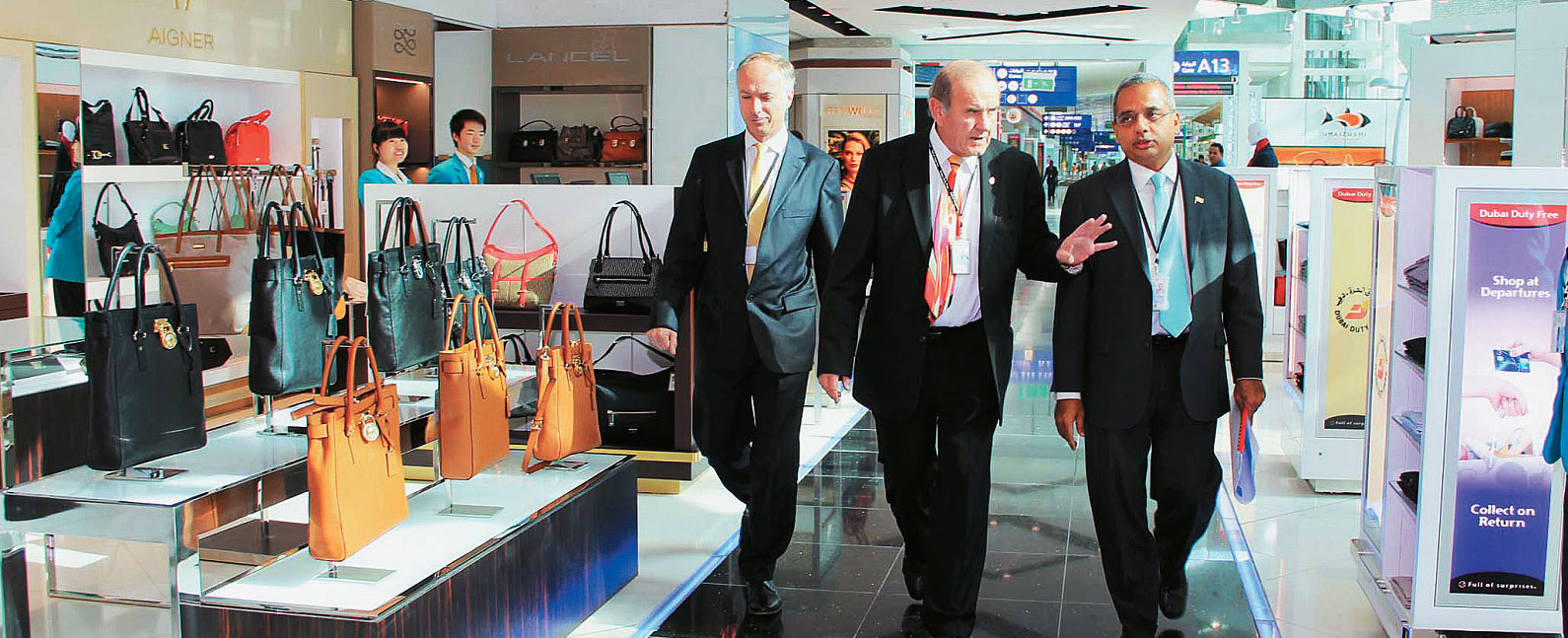 Colm McLoughlin and Ramesh Cidambi, together with Stewart Caddick of RCD (a Dubai-based specialist in the design and project management of major retail and wayfinding projects which works closely with Dubai Duty Free) in Concourse A on the opening day.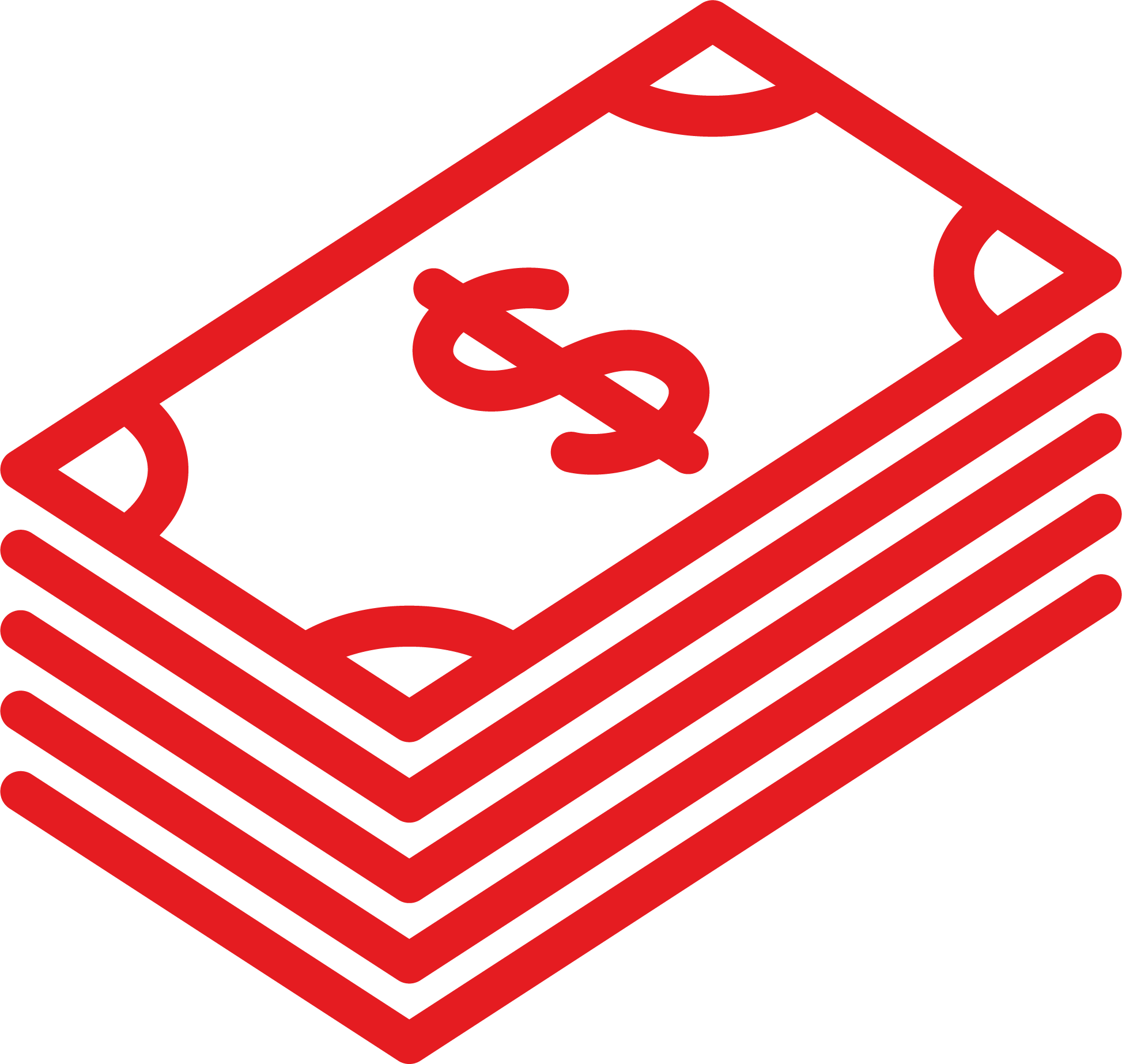 US$1.8 billion
Dubai Duty Free's annual sales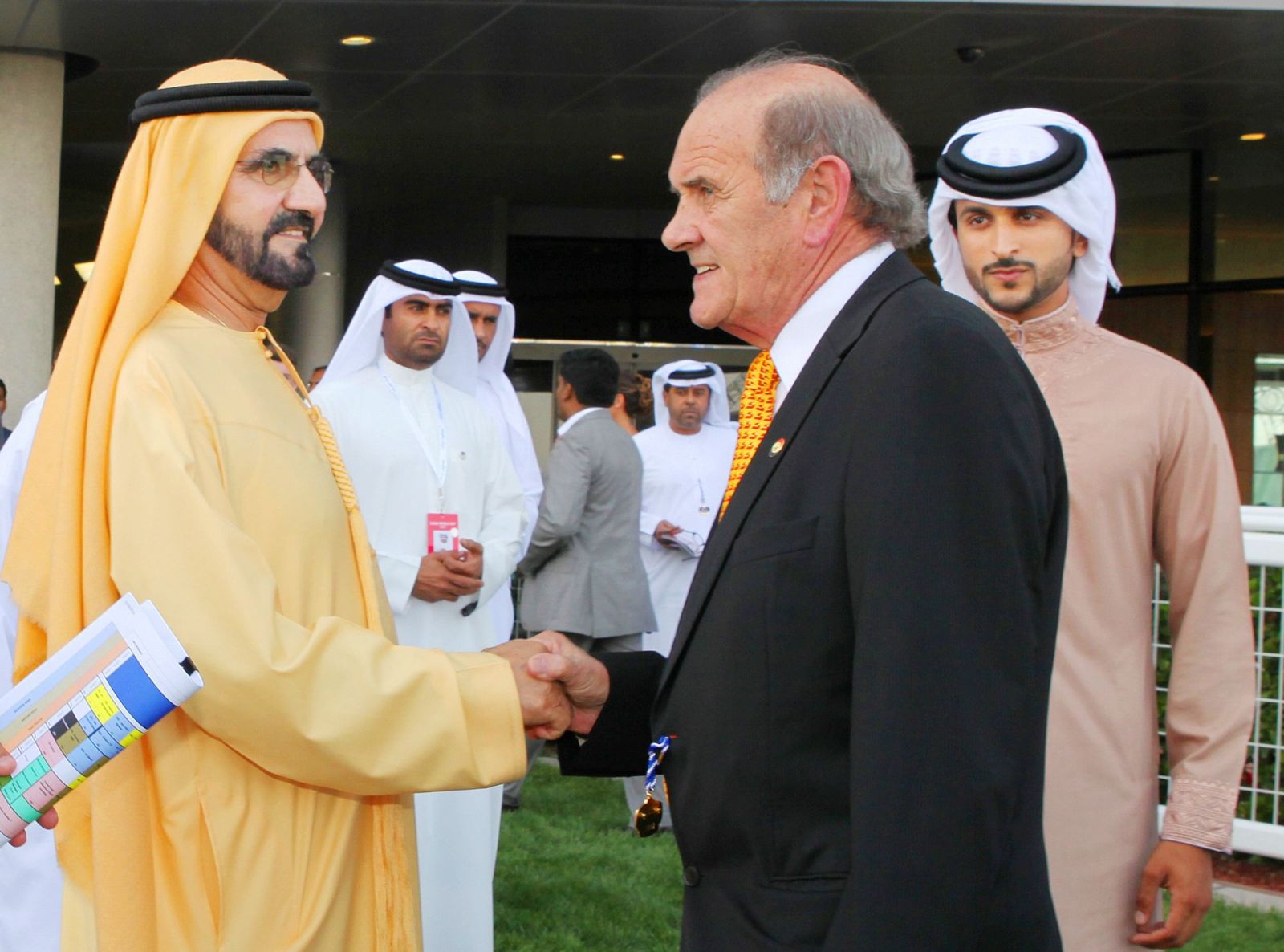 His Highness Sheikh Mohammed with Colm McLoughlin at the 18th Dubai World Cup at the Meydan Racecourse.
City 7 TV, the UAE's first English language television channel, interviewed Colm McLoughlin about the rise and rise of Dubai Duty Free over the previous 30 years. The Dubai Duty Free outlines the retailer's humble but determined origins and its exciting expansion plans.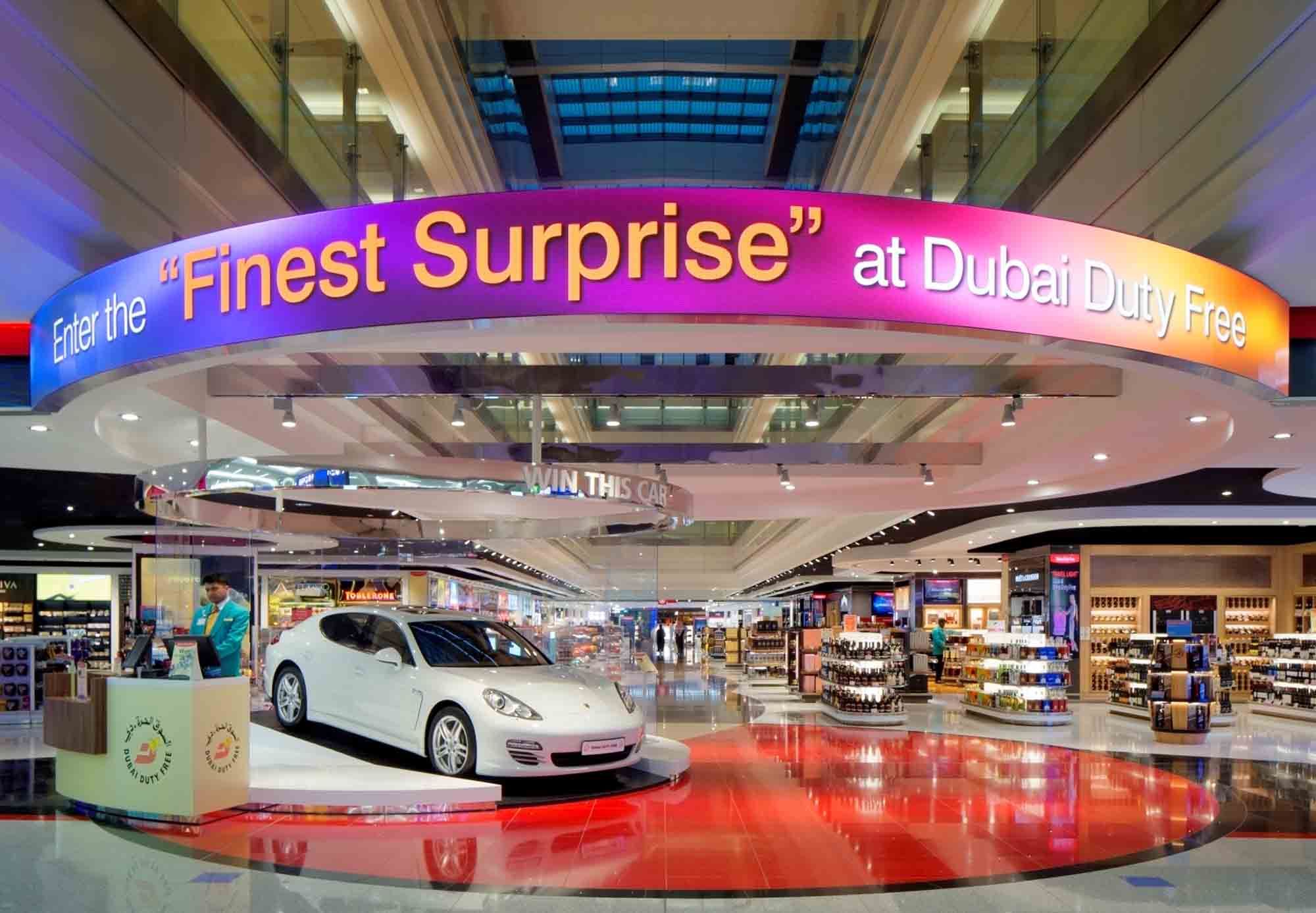 Dubai Duty Free takes up a high-profile position at Terminal 3 Concourse A at Dubai International, which is dedicated to the Emirates A380 fleet.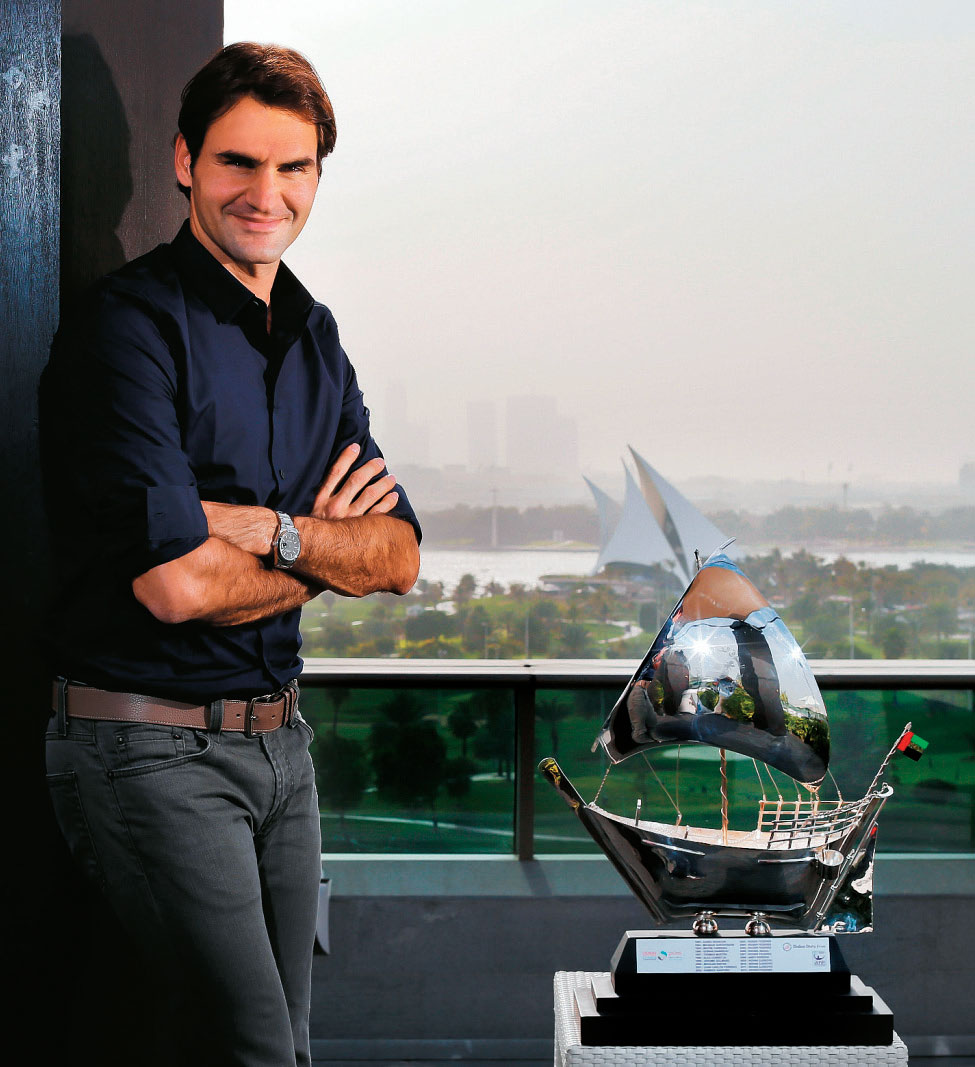 Roger Federer poses for a photograph with the Dubai Duty Free Tennis Championships trophy at Jumeirah Creekside Hotel, the official tournament hotel (run by Dubai Duty Free).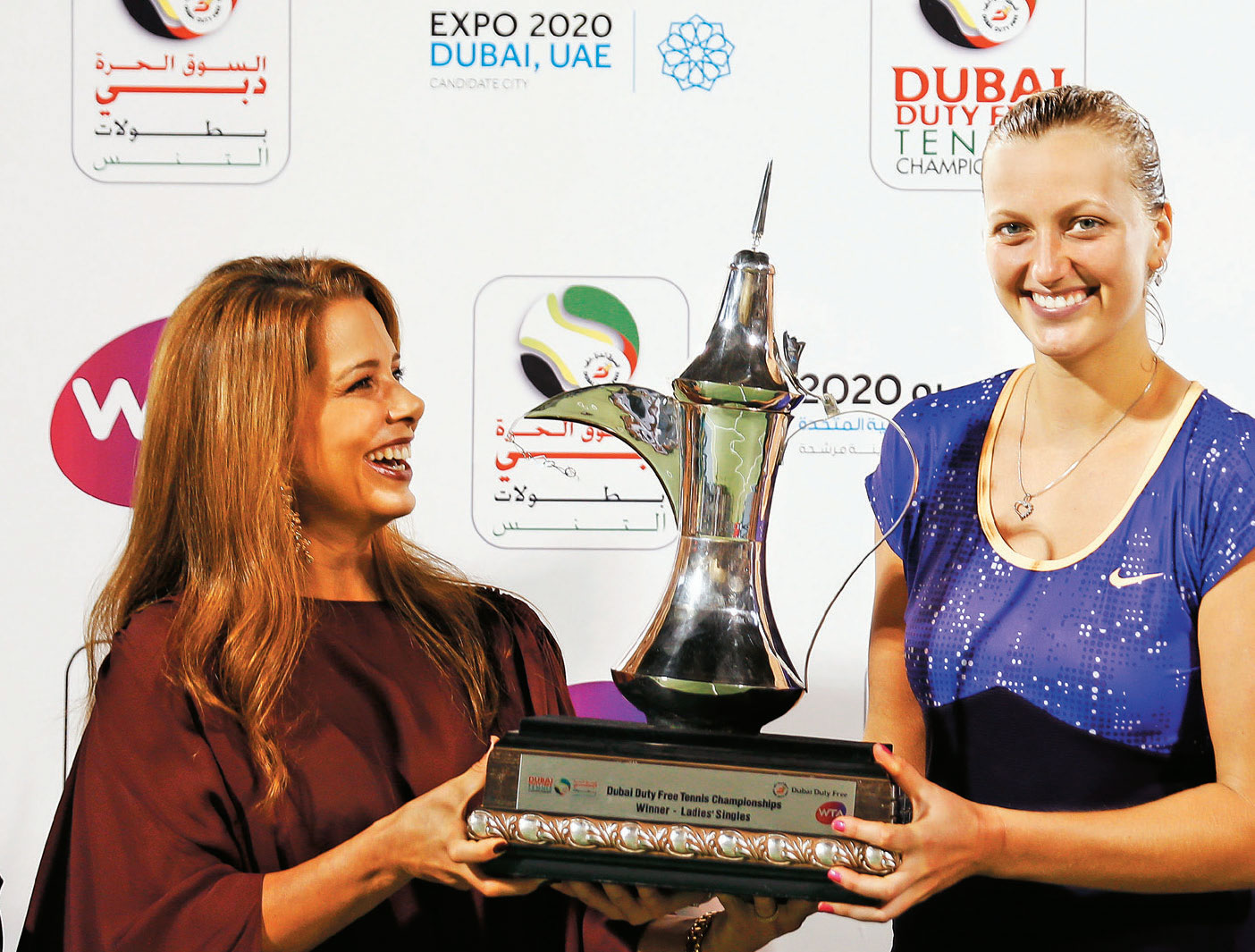 Princess Haya Bint Al Hussein, wife of His Highness Sheikh Mohammed, presents the Dubai Duty Free Tennis Championships Women's trophy to Petra Kvitova.
In 2013, The Moodie Davitt Report created a special film to mark Dubai Duty Free's 30th anniversary, which took place on 20 December 2013. 'Dubai Duty Free – The First 30 Years – An Extraordinary Journey' was produced by Moodie Corporate, the client publications division of The Moodie Report.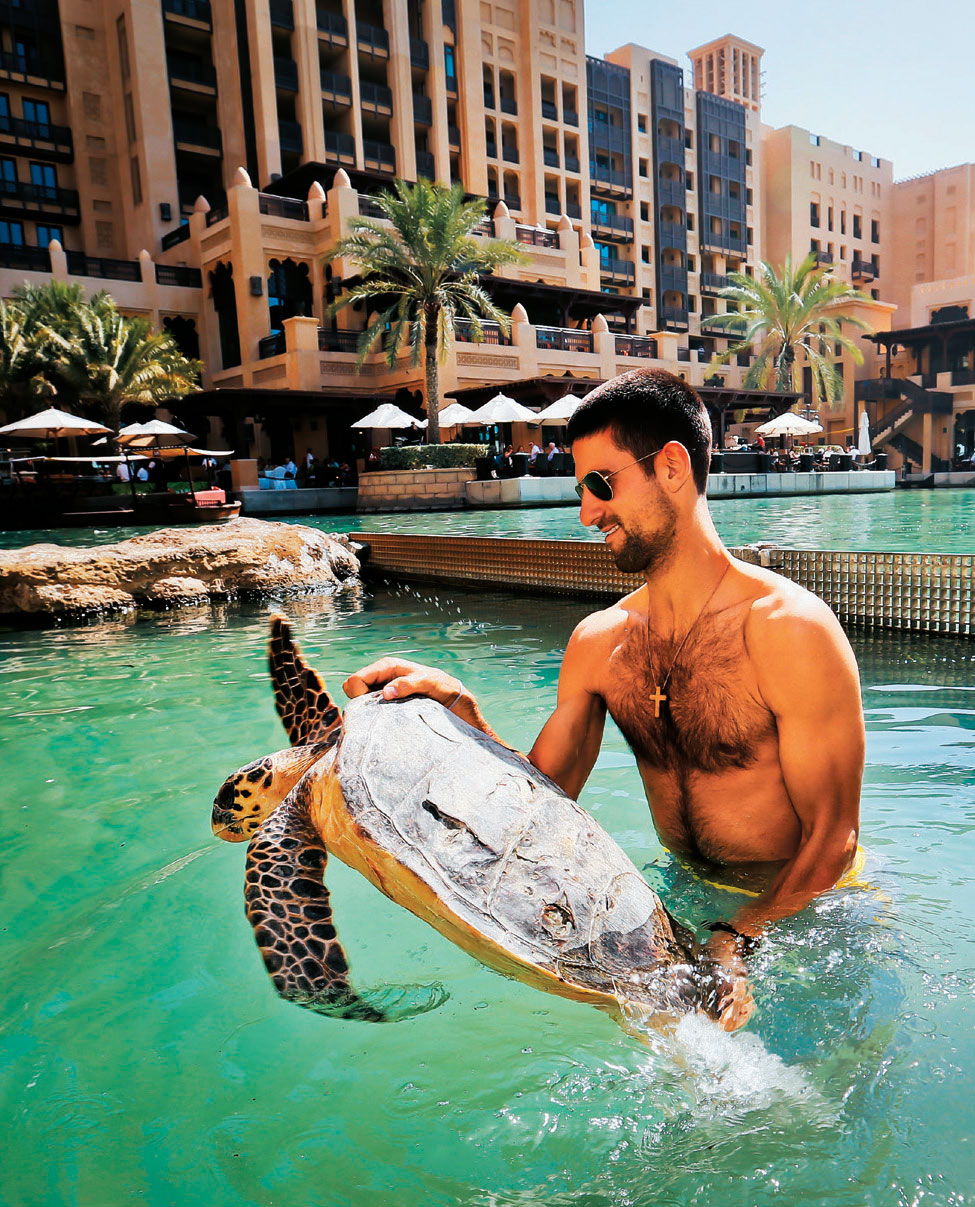 Turtle beach: Novak Djokovic, who won his fourth Dubai title after defeating Tomas Berdych in the finals, is pictured with Leonardo the turtle at the Jumeirah Turtle Rehabilitation Unit in Mina A'Salam.

David Cattanach, General Manager, The Irish Village Complex, and Jason Smith, Manager, The Irish Village, with their team. The Irish Village has 89 staff members.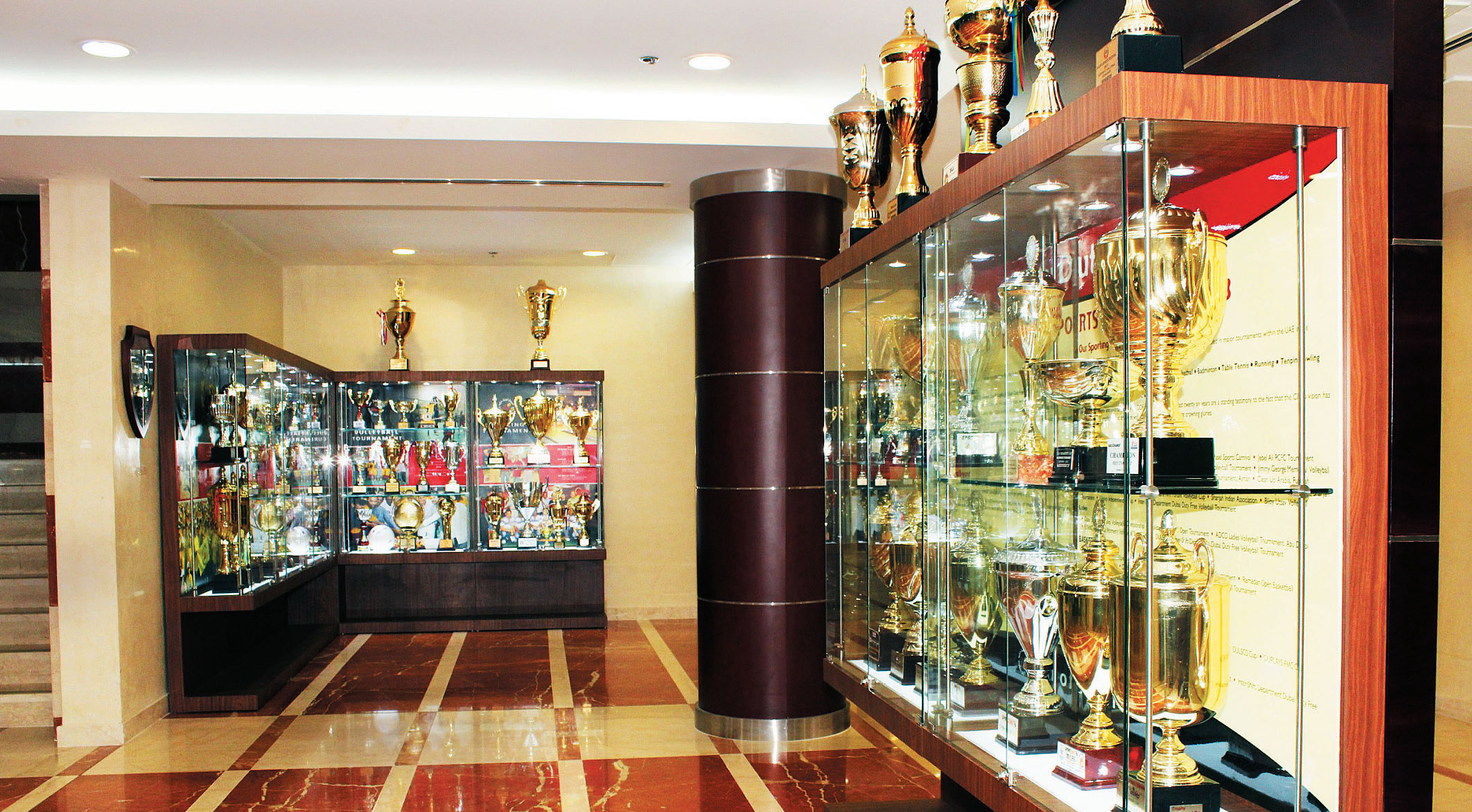 Time for some new cabinets? The custom-made trophy units at the Dubai Duty Free headquarters showcase over 100 of the retailer's most coveted trophies, each of which highlight the success of the staff.
A remarkable photograph that says much about the team ethic at Dubai Duty Free and the company's whole-hearted commitment to CSR. Almost 3,000 DDF management and staff took to the Dubai Autodrome track where participants walked and ran seven kilometres to support The Moodie Davitt Report's pan-industry Great Travel Retail Educathlon. The Dubai Duty Free team raised over US$46,000 to support regional educational charities.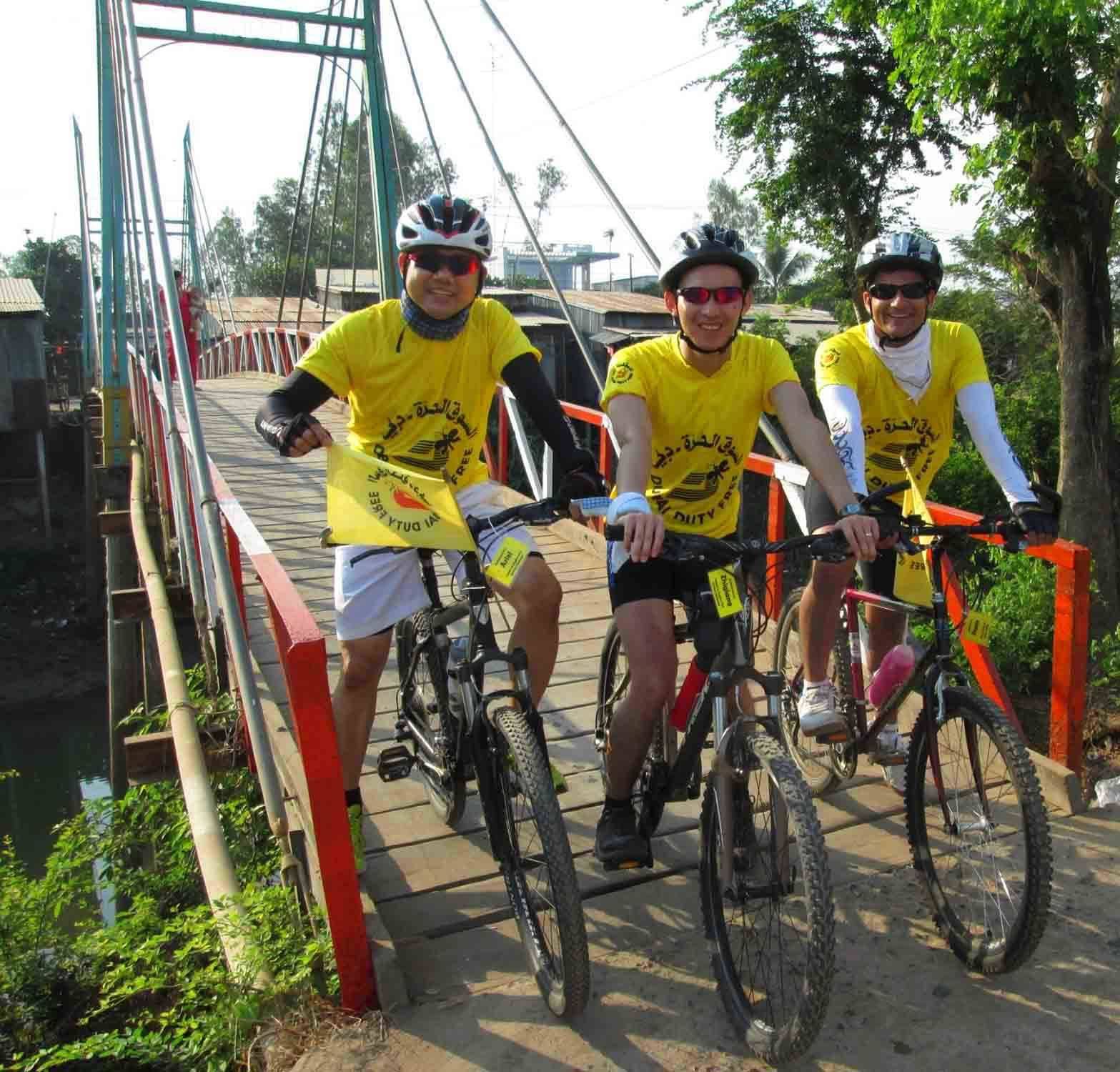 Easy riders: A wheeled trio of Dubai Duty Free Ambassadors –Robbie Huang, Pravin Chaudry and Ariel Sarical – successfully complete the Great Asian Cycling Challenge for Gulf For Good from Vietnam to Cambodia. Here they are seen crossing a suspension bridge in the Mekong Delta in Vietnam.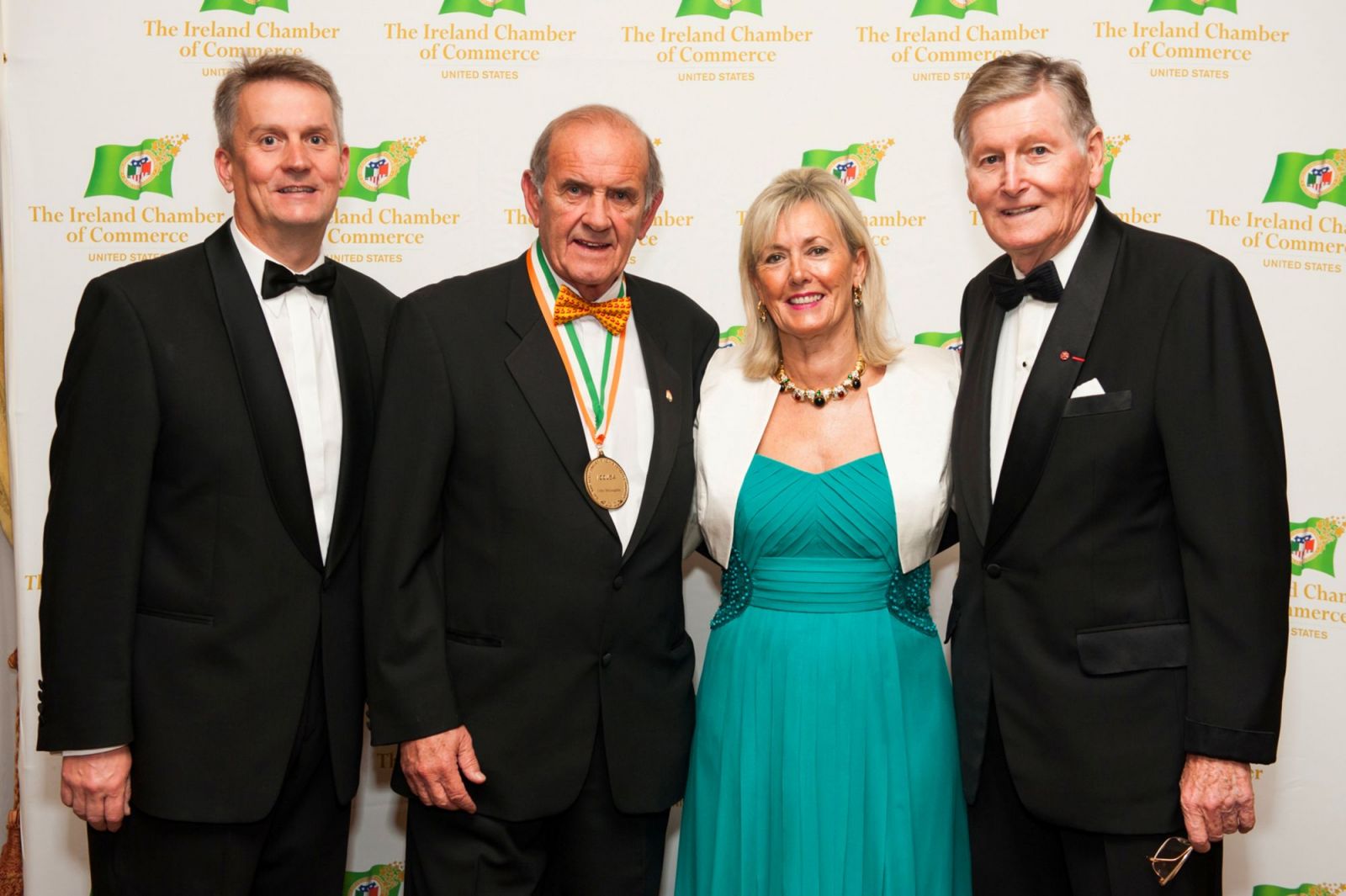 A proud moment for a proud Irishman: Colm McLoughlin is presented with the Sir Michael Smurfit Business Achievement Award at the 25th Annual American Celtic Ball held in New York and organised by the Irish Chamber of Commerce USA. He is seen here with Michael Davern, Sir Michael Smurfit and Breeda McLoughlin.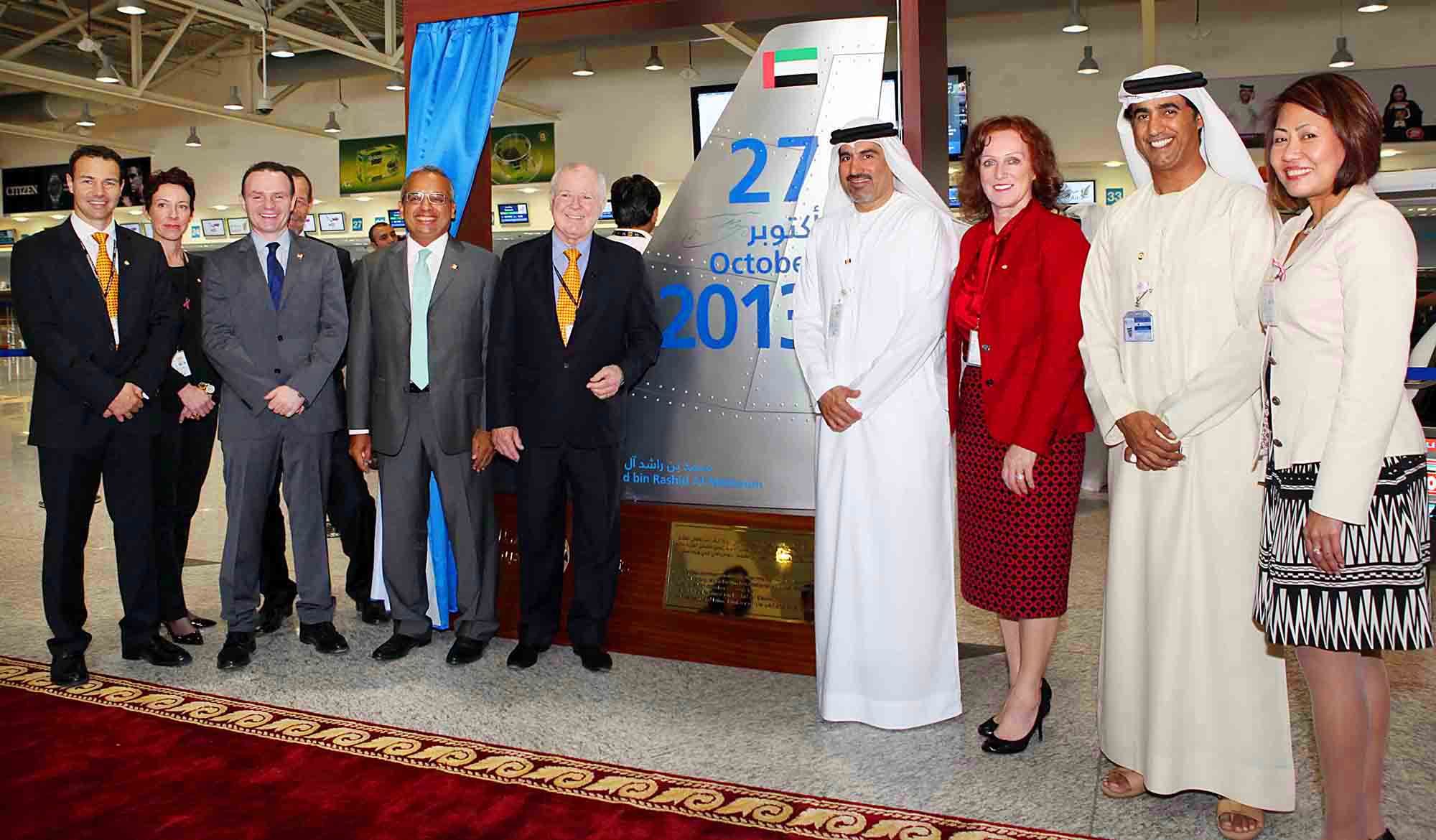 Future positive: Dubai Duty Free officials attend the opening of the passenger terminal at Al Maktoum International Airport, Dubai World Central. Seen here are (left to right) Michael Schmidt; Rachael Green, Sean Staunton, Nic Bruwer, Ramesh Cidambi, George Horan, Salah Tahlak, Sinead el Sibai, Zayed Khalifa Al Shebli, and Agnes Garma.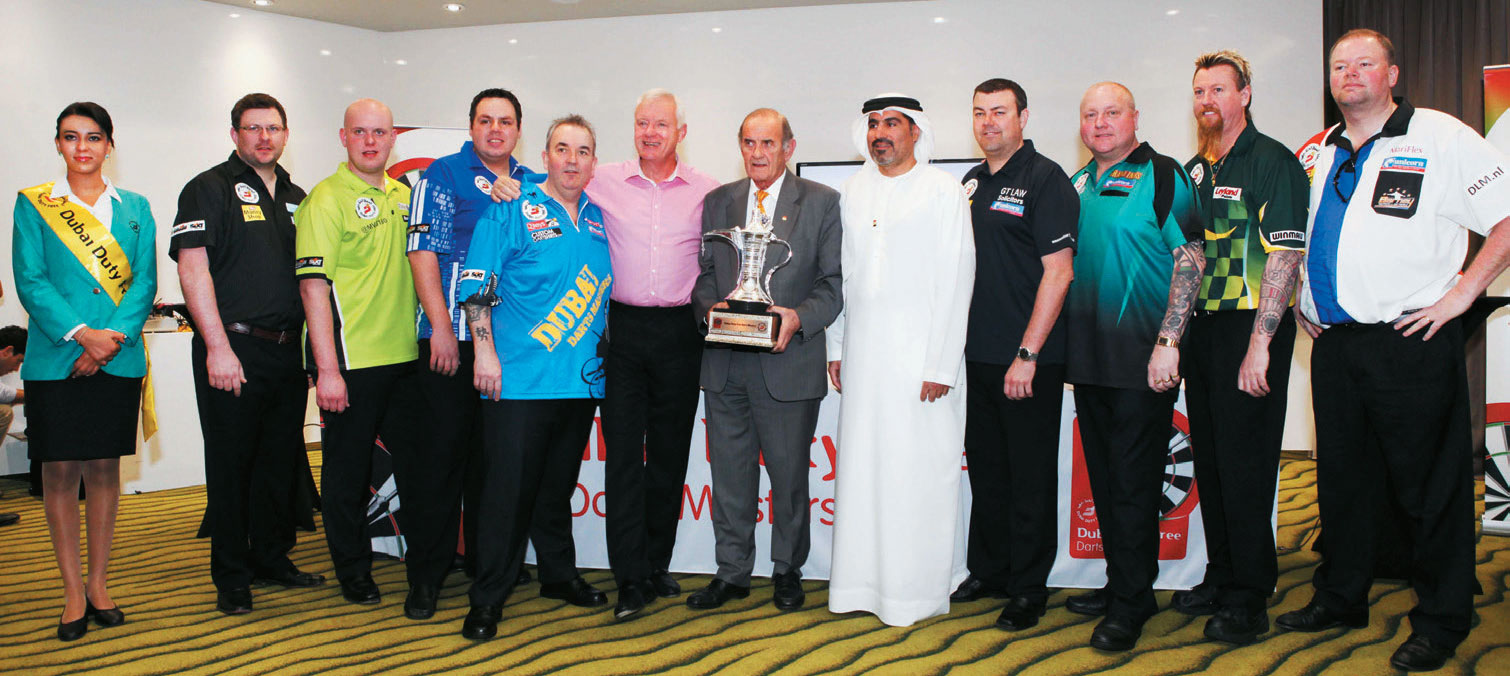 One hundred and eighty!!! Colm McLoughlin and Salah Tahlak are seen here with eight of the world's top darts players (including multiple world champion Phil 'the power' Taylor in blue Dubai shirt) at the inaugural Dubai Duty Free Darts Masters tournament, held at the Dubai Duty Free Tennis Stadium.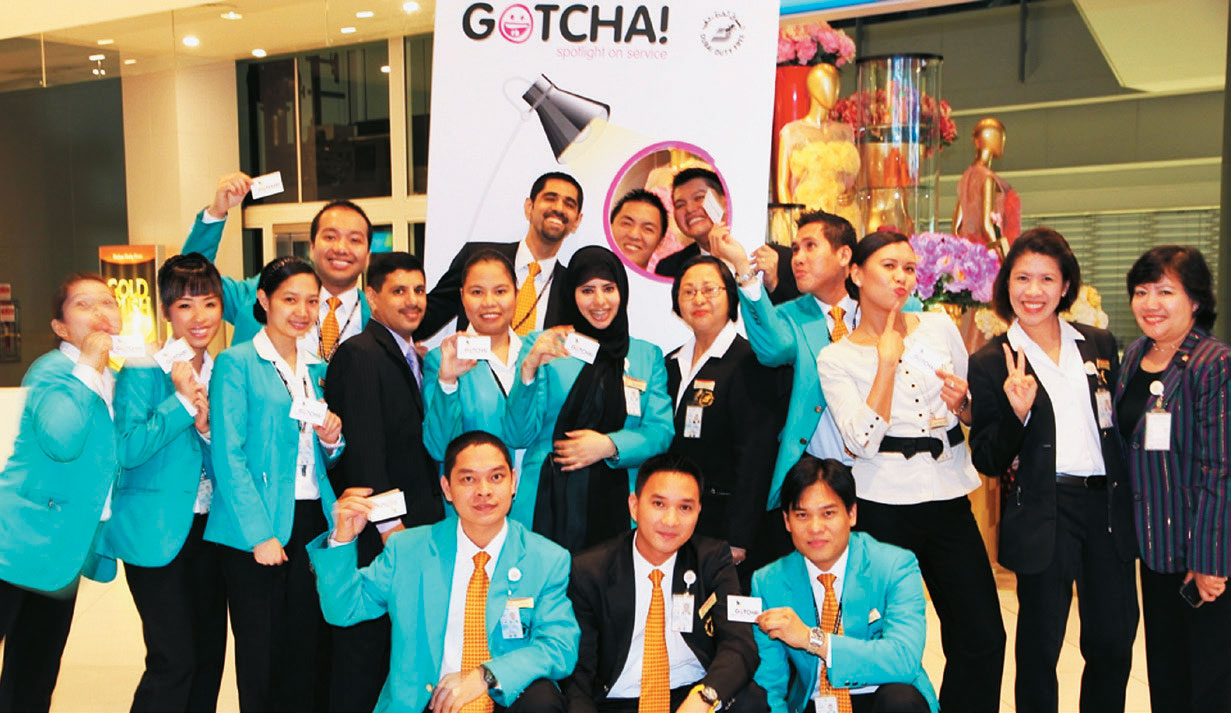 Dubai Duty Free staff receive awards as part of Gotcha, the retailer's spotlight on people and service. Gotcha focuses on delivering great service to customers to ensure that Dubai Duty Free remains the top duty free retailer in the world. The programme provides support, training and coaching to all staff and creates accountability at all levels in the business.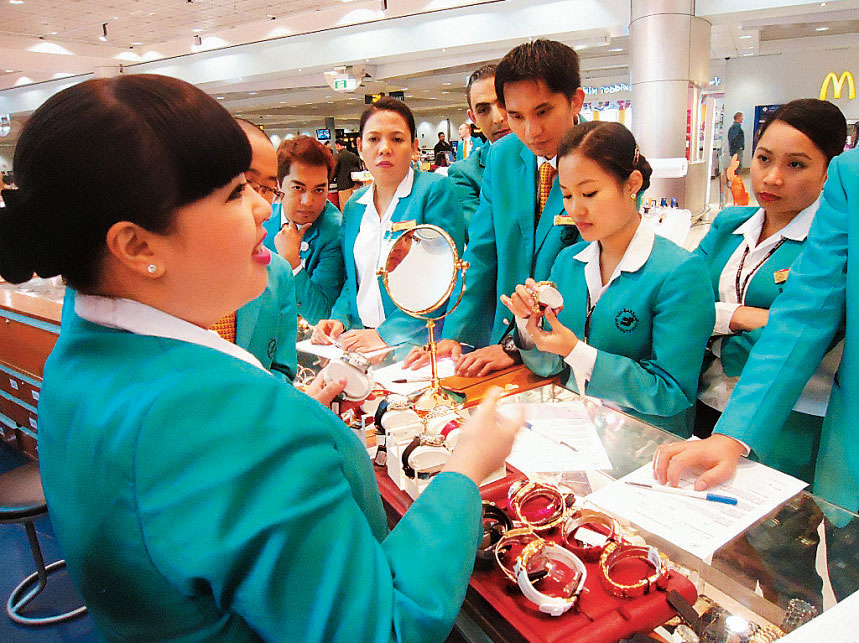 Mentor magic: At least ten on-the-job 45-minute coaching sessions are conducted by coaches every month on the shopfloor on various categories.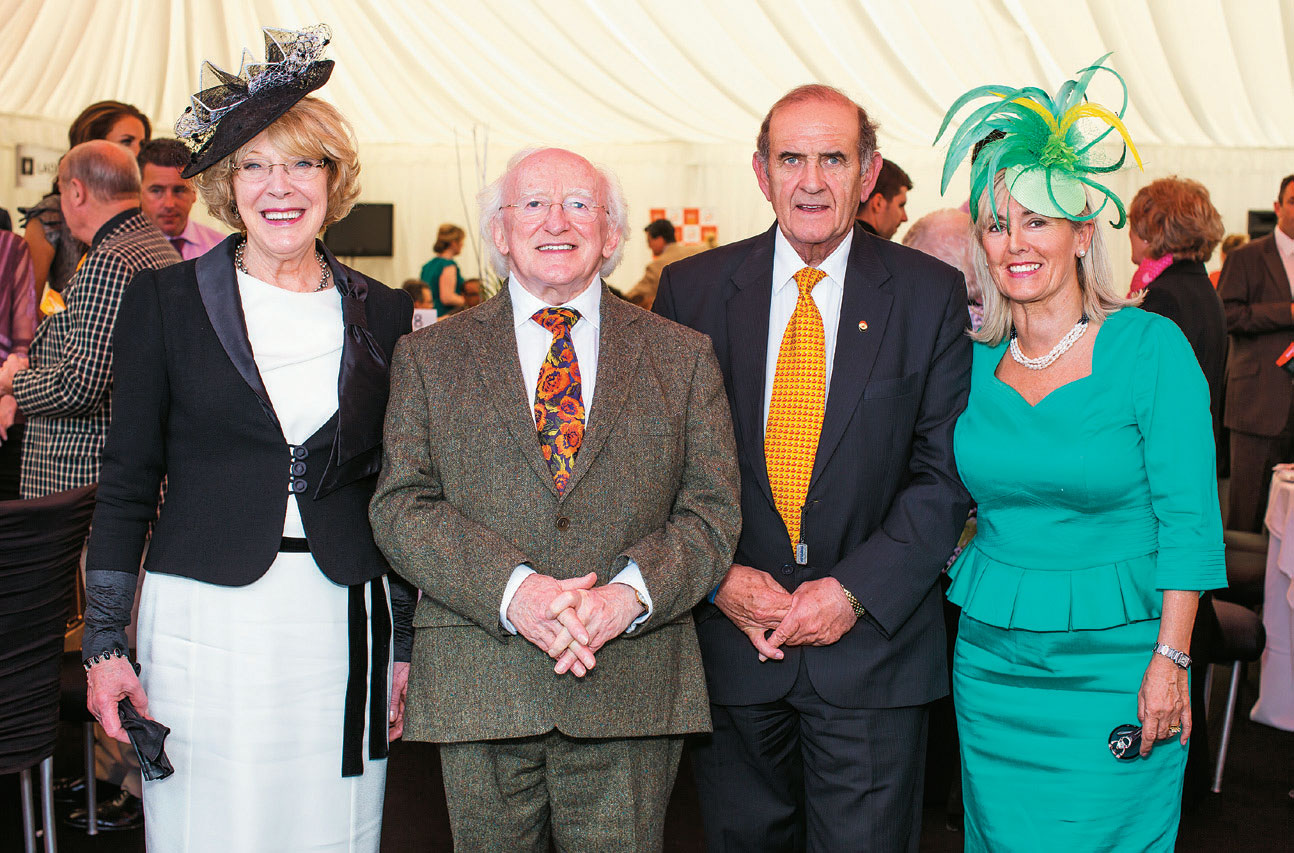 Irish President Michael D. Higgins and his wife, Sabina, with Colm and Breeda McLoughlin at the Dubai Duty Free Irish Derby Festival at the Curragh Racecourse near Dublin.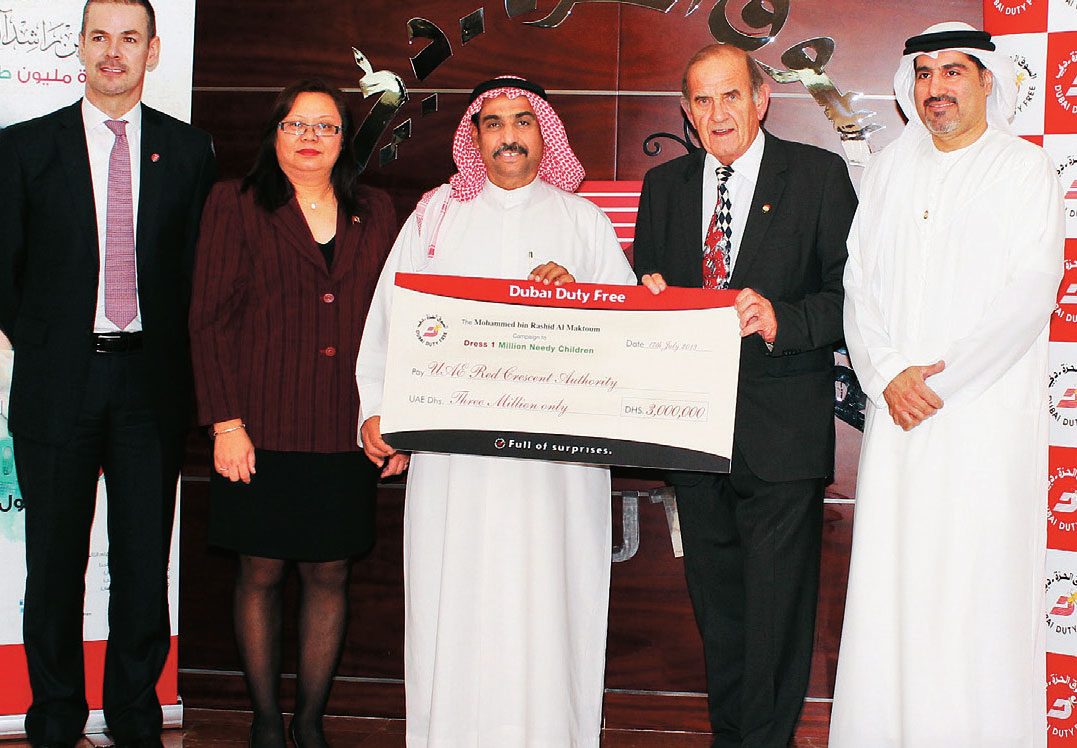 Standing arm in arm with those in need: In July, Dubai Duty Free donates AED3 million (US$82 million) to support the Ramadan campaign by His Highness Sheikh Mohammed to provide clothing to one million needy children around the world. Colm McLoughlin presents the cheque to Mohammed Abdullah Al Zaroni, Head of Operations, UAE Red Crescent Society, Dubai, along with Salah Tahlak, Bernard Creed, and Olympia Pineda, Manager, Corporate Responsibility.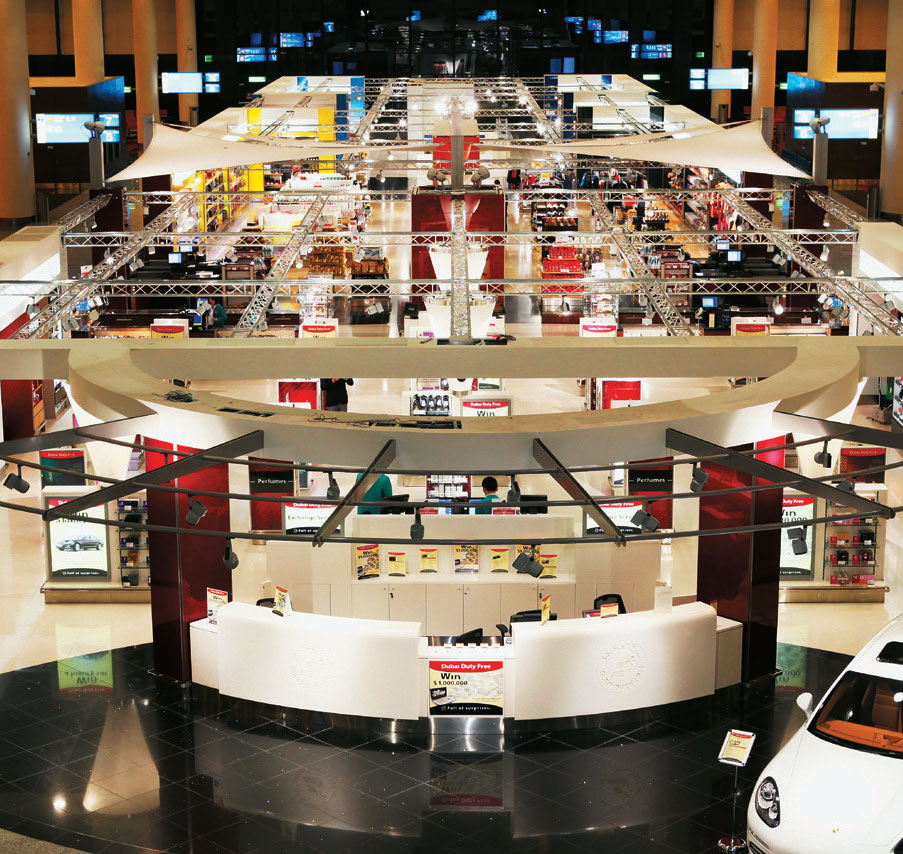 This sweeping overhead view highlights the scale of Dubai Duty Free's nascent operation at Dubai World Central (AI Maktoum International Airport).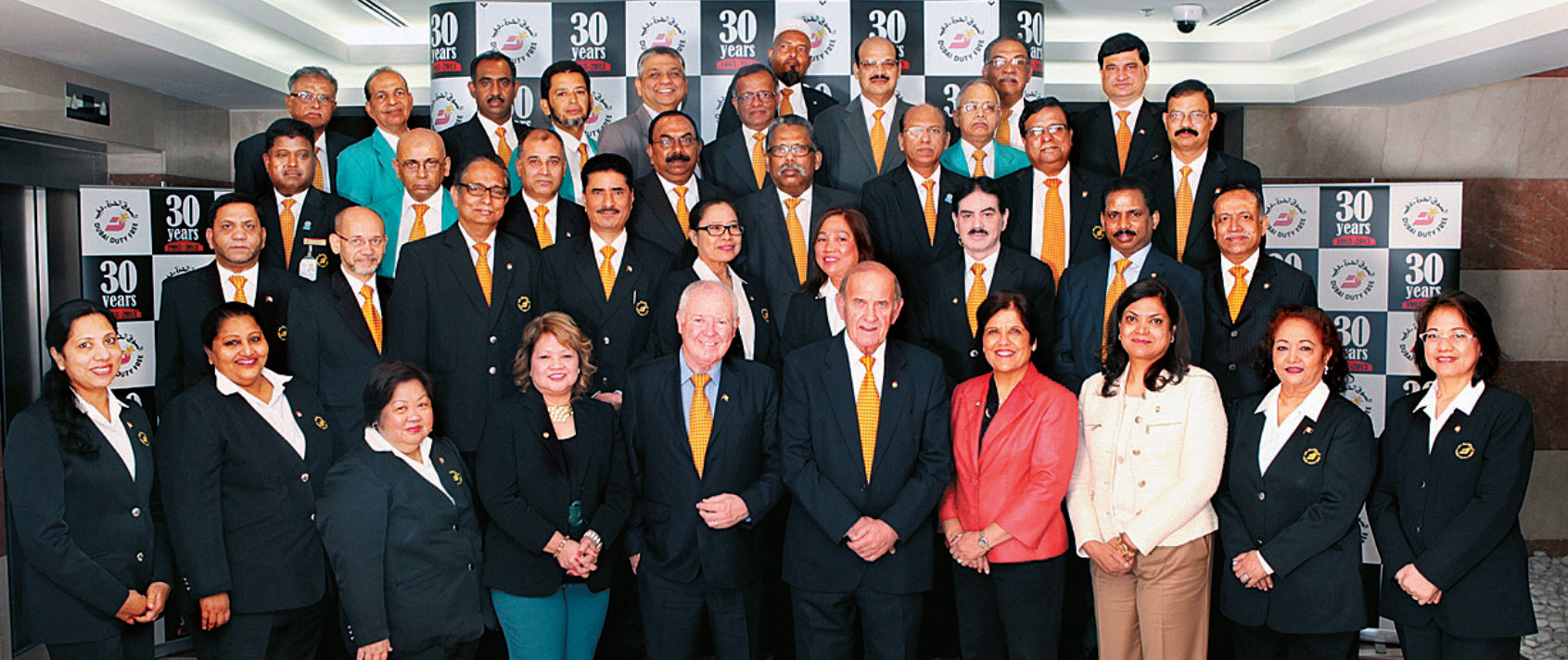 Of the original 100 staff who joined in 1983, 44 still remain in 2013. Known as the 'Pioneers', they are seen here with Colm McLoughlin.
First row: Sally Jacob, Annie Thomas, Myrna Roma, Nida Ponce, George Horan, Colm McLoughlin, Lata Bhardwaj, Saba Tahir, Rita Purslow and Adeluisa Caluza.
Second row: Mukhtar Khan, Mohammodulhasan Siddika, V.P. Abdul Azeese, Saran Tamang, Minerva Alejandro, Alice Ablola, Iftekhar Ahmed, Antony Joseph Mavungal and Paul Joseph Chakramakil.
Third row: Rethina Ravi, Kazya Hassan Shabbar, Mohammed Atiq Khan, Sanal Kumar Sivan Pillai, Mathew George, T.V. Thomas, T.Unnikrishnan and Ronald D'Souza.
Fourth row: M.E.Nagutha, Syed Umar Syed Mohiddina, Mohammed Yusuf Rehamatullah, Abdulla Adoor, Bharat Jhaveri, Pascal Fernandes, Firoz Ebrahimbhai, Mohammad Tayyab, Damodaran Vijayan, Abdul Hameed Channad Palliyan and Shaikh Anees Anwar.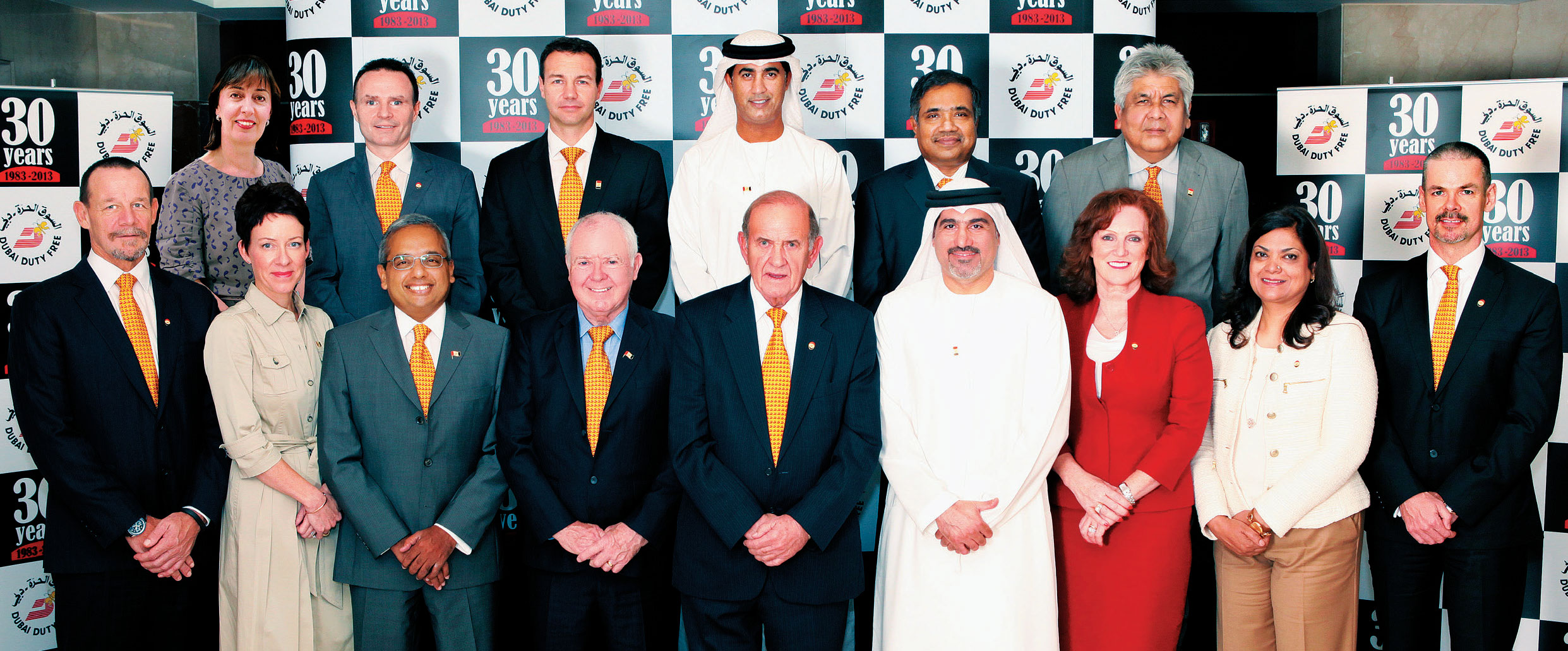 A multi-national, multi-talented executive team comprising Nic Bruwer, Rachael Green, Ramesh Cidambi, George Horan, Colm McLoughlin, Salah Tahlak, Sinead El Sibai, Saba Tahir and Bernard Creed in the first row; and Sharon Beecham, Sean Staunton, Michael Schmidt, Zayed Khalifa Al Shebli, Kumar Ananthan and Allan Chapman in the second row.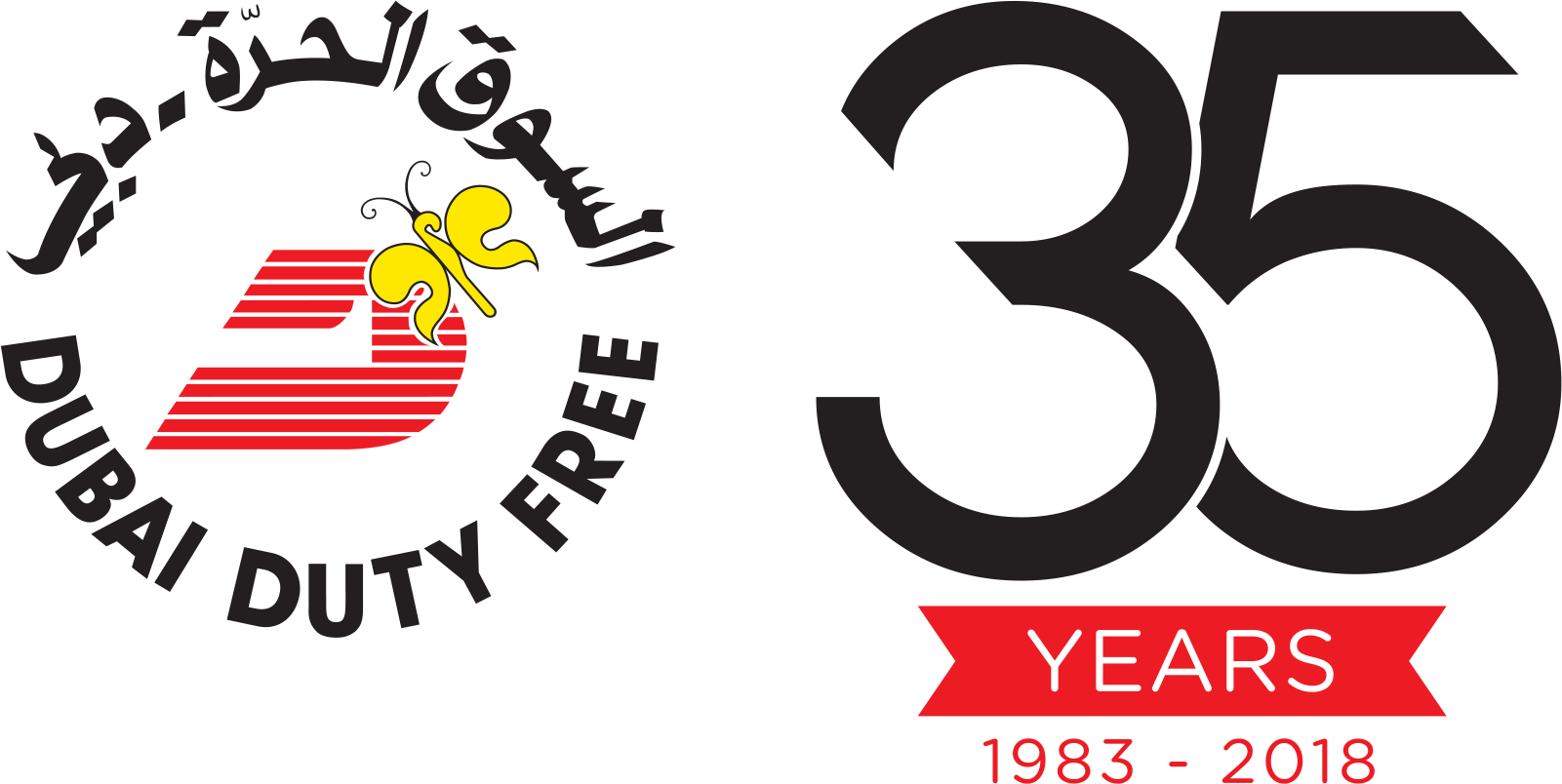 ---
The Moodie Davitt e-Zine | Spotlight Series – Special Report | 20 December 2018