Extending the horizon
Just 28 years after its first full year's trading generated US$20 million in sales, Dubai Duty Free grew into a US$1.6 billion turnover company, a minion turned giant of the global duty free industry. And plenty else happened too as the company opened the five-star Jumeirah Creekside Hotel and a border store in Hatta.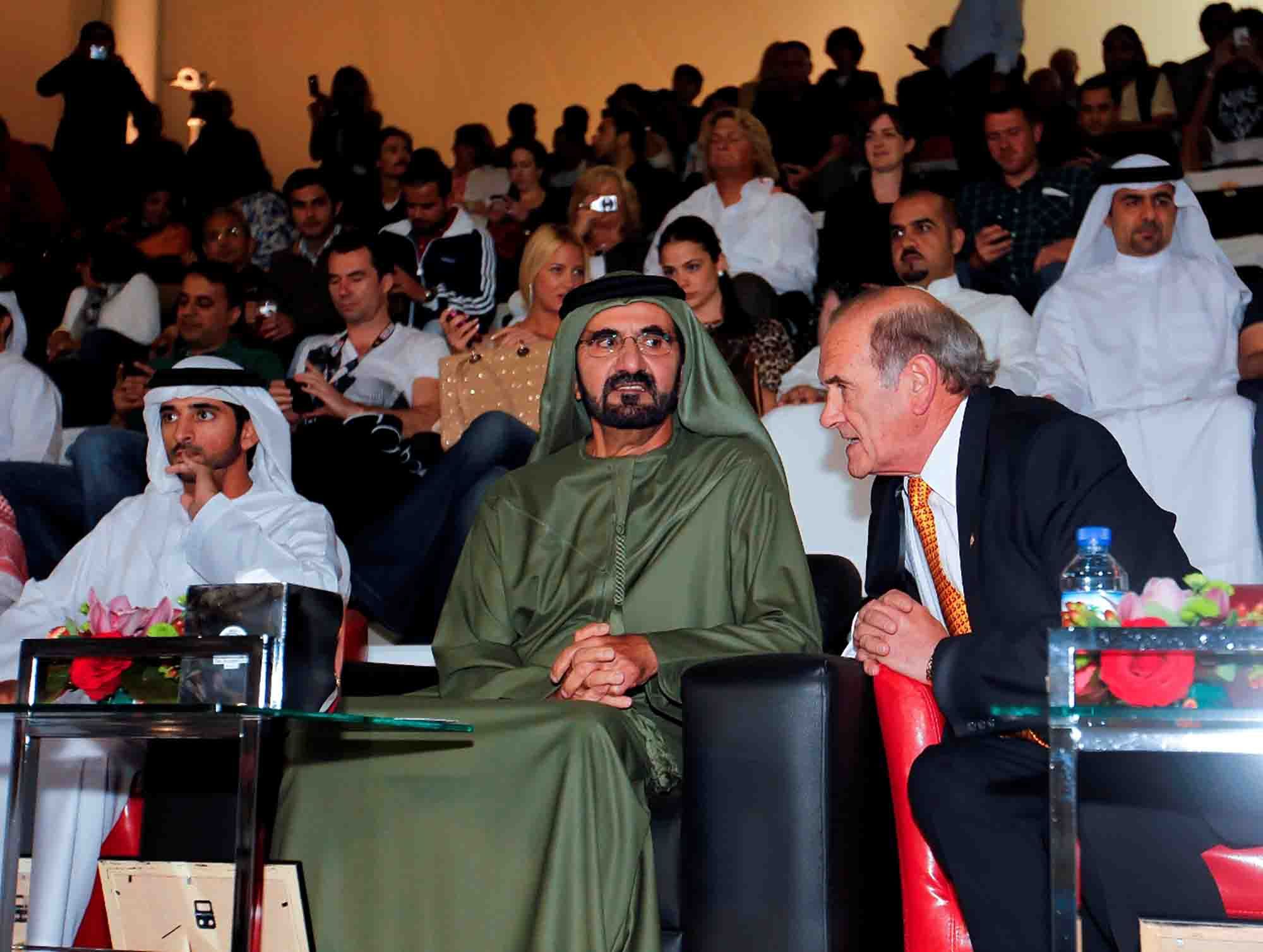 His Highness Sheikh Mohammed Bin Rashid Al Maktoum, Vice-President and Prime Minister of the UAE and Ruler of Dubai, shares a word with Colm McLoughlin at the men's final of the Dubai Duty Free Tennis Championships, which celebrated its 20th anniversary this year. Also in shot is His Highness Sheikh Hamdan Bin Mohammed Bin Rashid Al Maktoum, Crown Prince of Dubai.
US$1.6 billion
Dubai Duty Free's annual sales turnover
His Highness Sheikh Mohammed with Jamal Al
Hai, Senior Vice-President, Strategy and Development, Dubai Airports; Anita Mehra, Vice-President, Marketing and Corporate
Communications, Dubai Airports; George Horan; and Salah Tahlak at the Arabian Travel Market. For
the 11th consecutive year, DDF received the Business Traveller Middle East Award for Best Duty Free Shopping.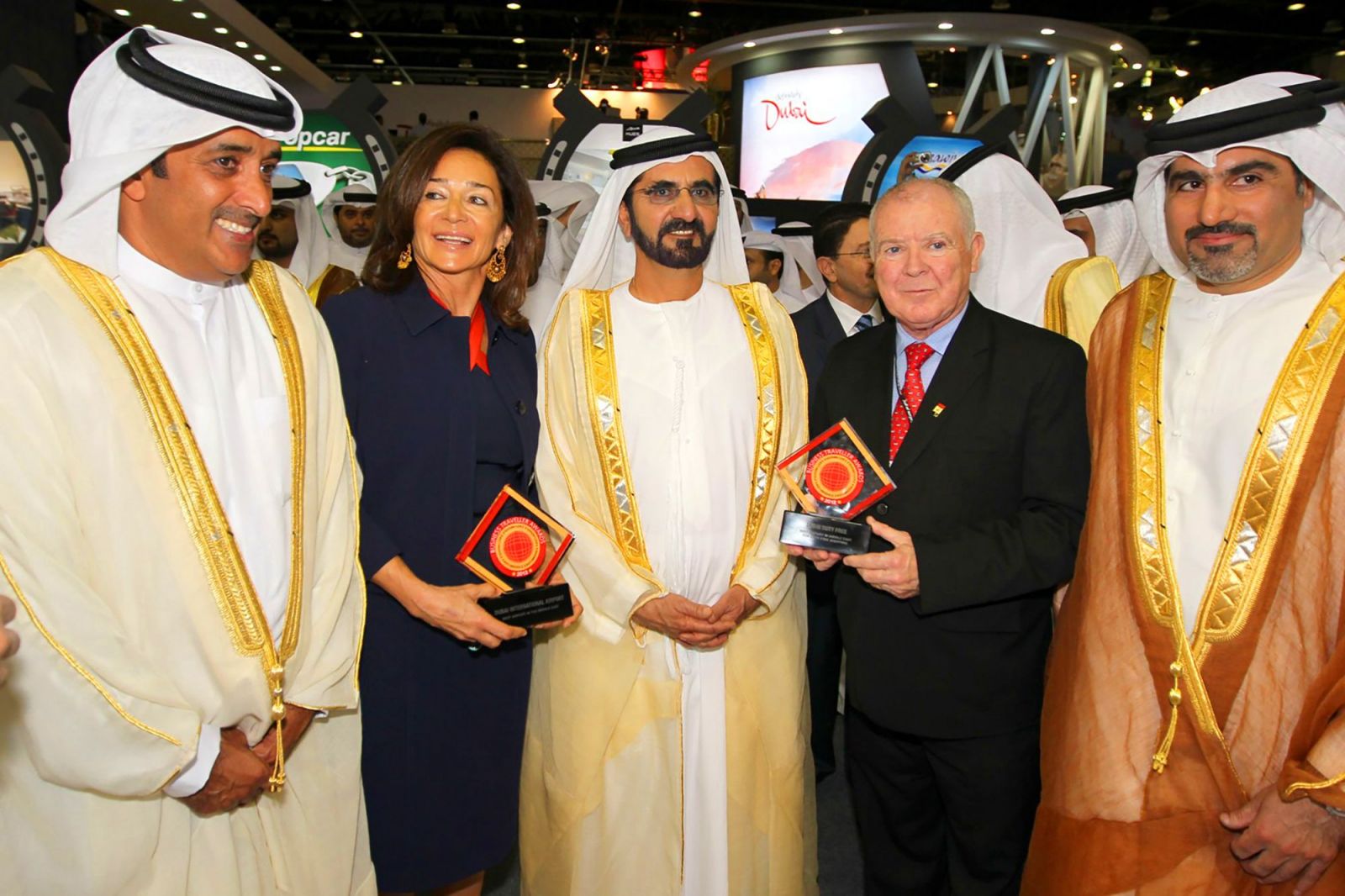 Queen Elizabeth II receives a bronze model of the Darley Arabian from Colm McLoughlin to mark her Diamond Jubilee at the Dubai Duty Free Spring Trials Meet at The Racecourse, Newbury in the UK. The sculpture is modelled on the paintings of artists Stubbs, Sartorius and Roberts and is first in a series of nine. To the left and right are Dubai Duty Free executives Salah Tahlak and Sinead El Sibai.
Dubai Duty Free opens its first border store, adjacent to the Customs and Immigration offices in Hatta near the UAE's frontier with Oman.
Colm McLoughlin, Saba Tahir and Sean Staunton inaugurate the Jo Malone London retail area in Concourse A with top executives from The Estée Lauder Companies, including travel supremo Olivier Bottrie (fourth from left).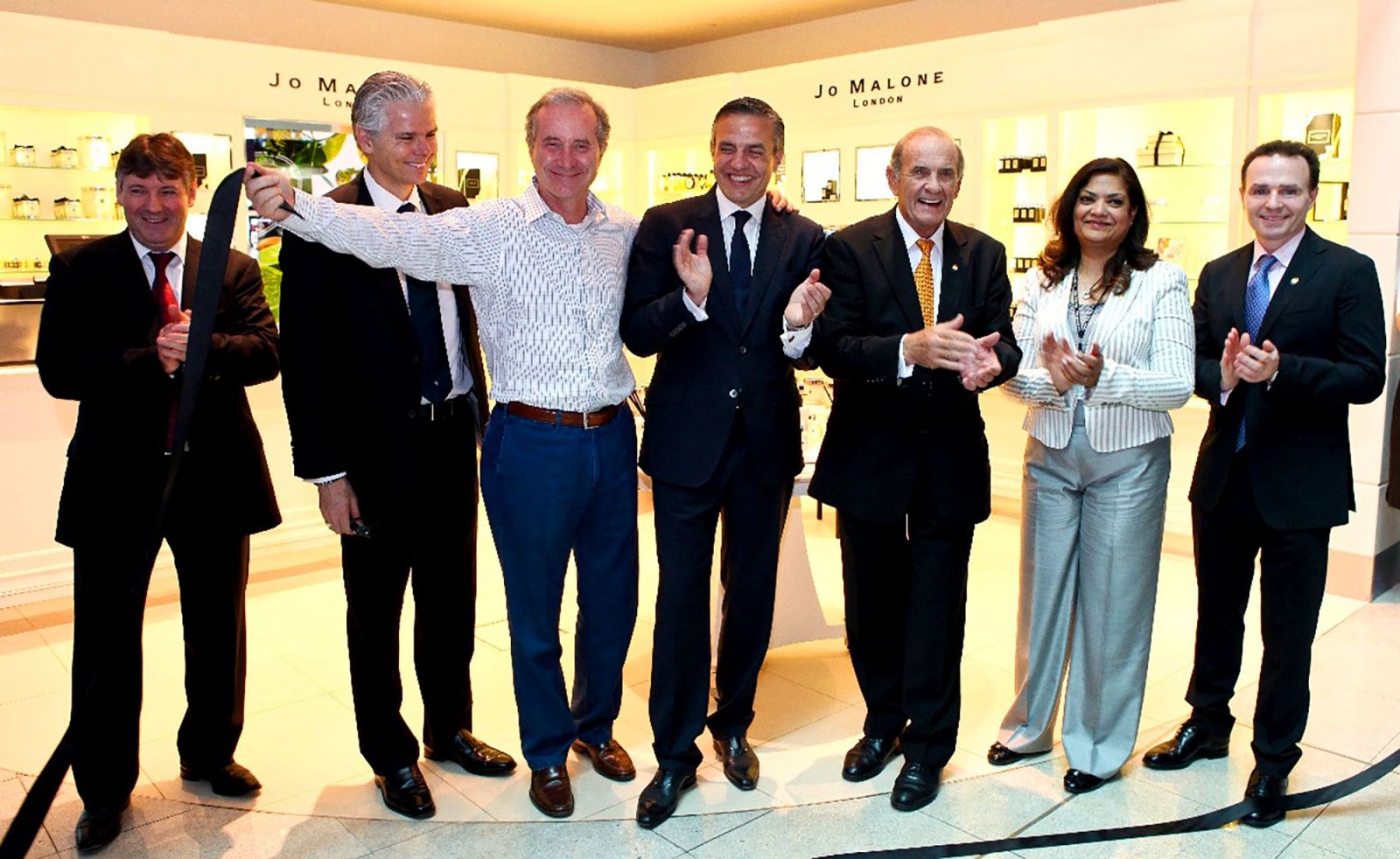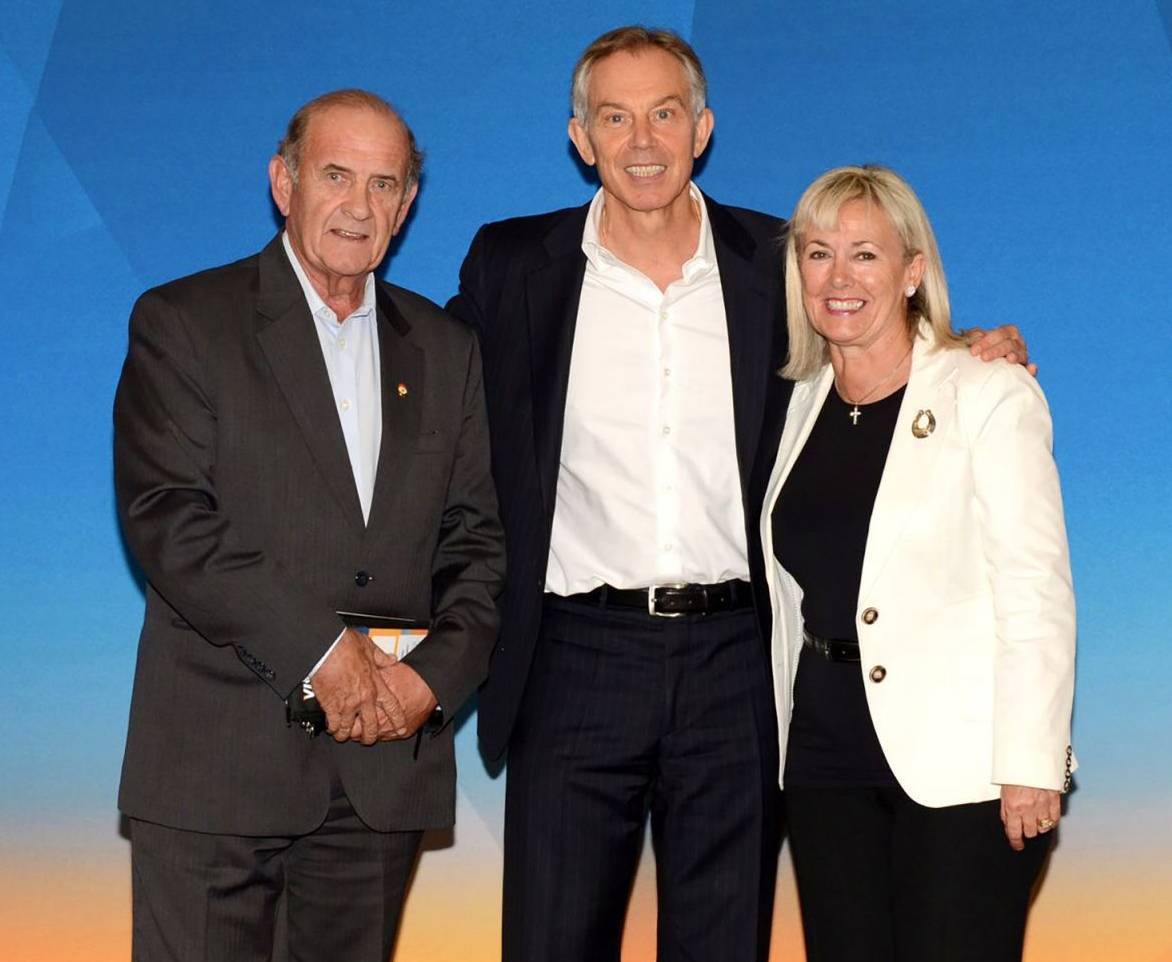 Colm and Breeda McLoughlin with Tony Blair, former Prime Minister of the United Kingdom, at the opening of the London Olympics.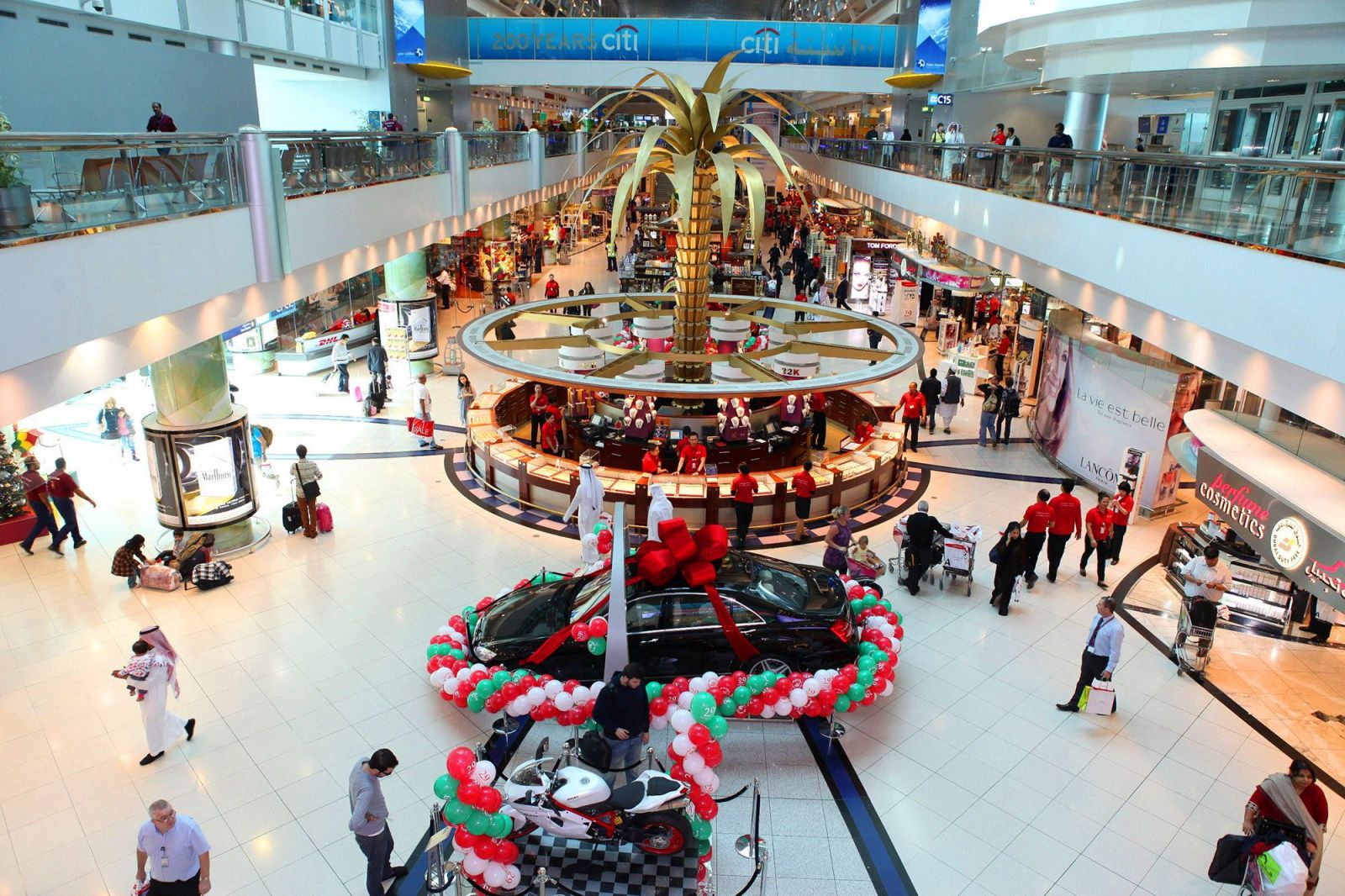 This vista of the Terminal 1 Concourse C shopfloor, decorated for the retailer's 29th anniversary, encapsulates all the vibrancy that has characterised Dubai Duty Free's amazing evolution.

Welcome home boss: Colm McLoughlin shares the Frontier Award for Airport Retailer of the Year" with management and staff upon his arrival from Cannes at Dubai International Airport Terminal 3.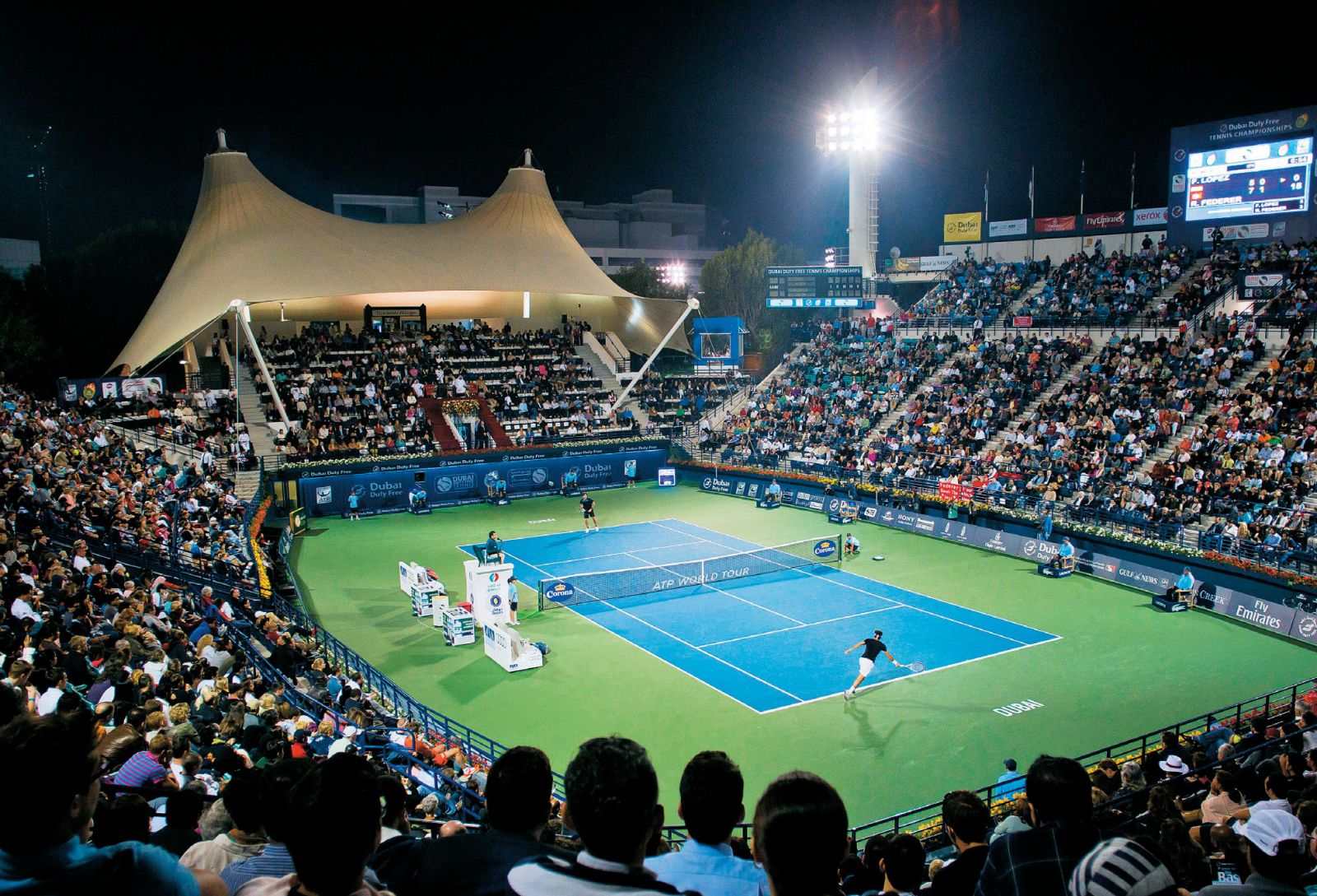 The packed Dubai Duty Free Tennis Stadium during an exciting match between Spanish tennis ace Feliciano López and Roger Federer.
Taking responsibility for changing the world: In order to raise awareness and create environmental
ambassadors within its operation, Dubai Duty Free sponsored two of its employees, Olympia Pineda, Manager, Corporate Responsibility, and Camia Arellano, Retail Assistant, to participate in the International Antarctic Expedition 2012 led by the renowned polar explorer and environmentalist Sir Robert Swan, OBE.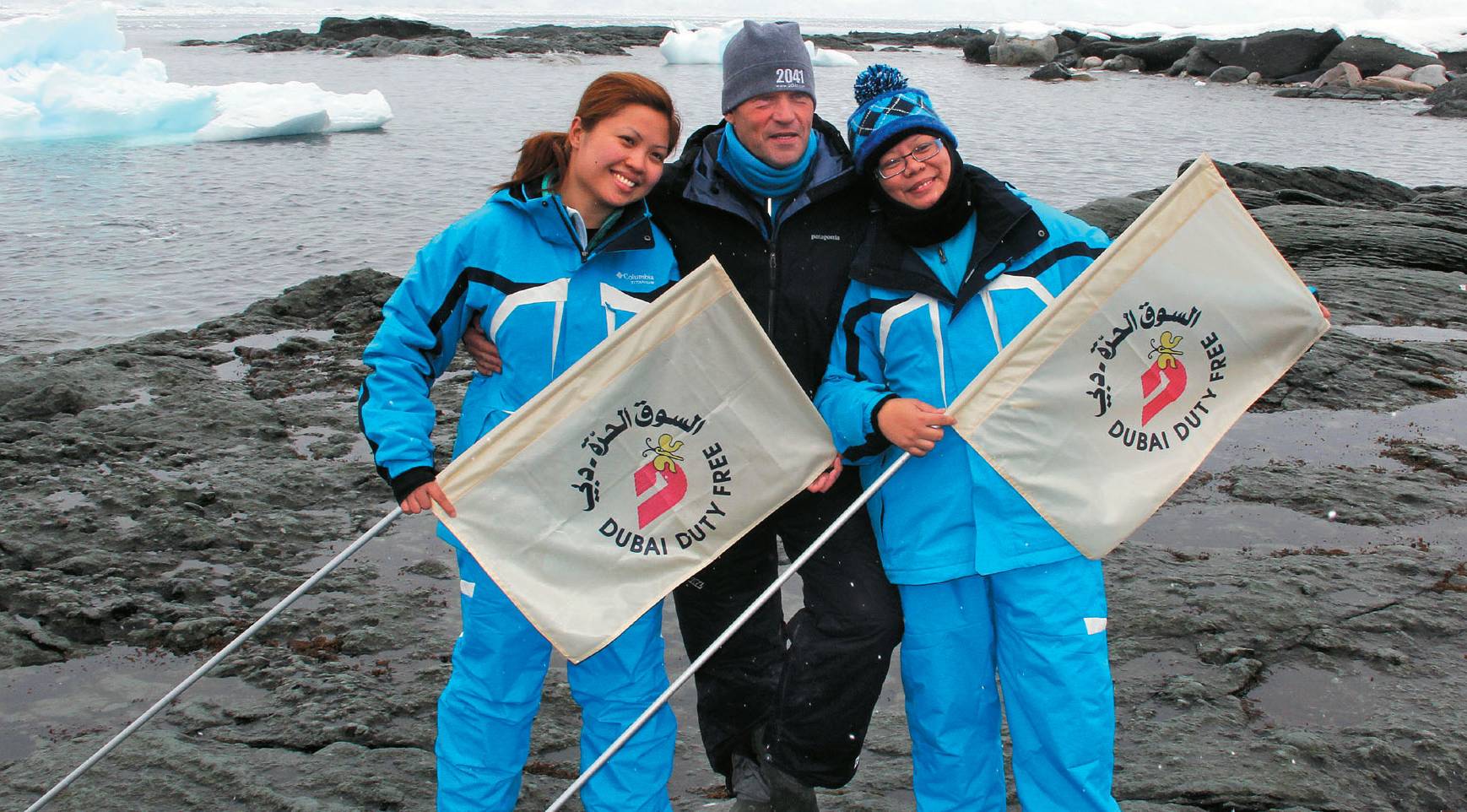 A highly significant photo that underscores Dubai Duty Free's immense financial credibility. The retailer successfully concluded its debut international financing, a US$1.75 billion, six-year senior unsecured syndicated credit facility. Colm McLoughlin signs the final documents for the facility at a ceremony held at the Jumeirah Creekside Hotel, also attended by Khalifa Al Daboos, Deputy CEO of Investment Corporation of Dubai, and Bernard Creed, Vice-President of Finance, Dubai Duty Free.
Room with a view: The Dubai Duty Free-owned, 292-room five-star luxury Jumeirah Creekside Hotel, managed by Jumeirah Group, welcomes its first guests on July 1. The plush hotel overlooks the Dubai Creek and is easily accessible from the airport and important business centres and landmarks.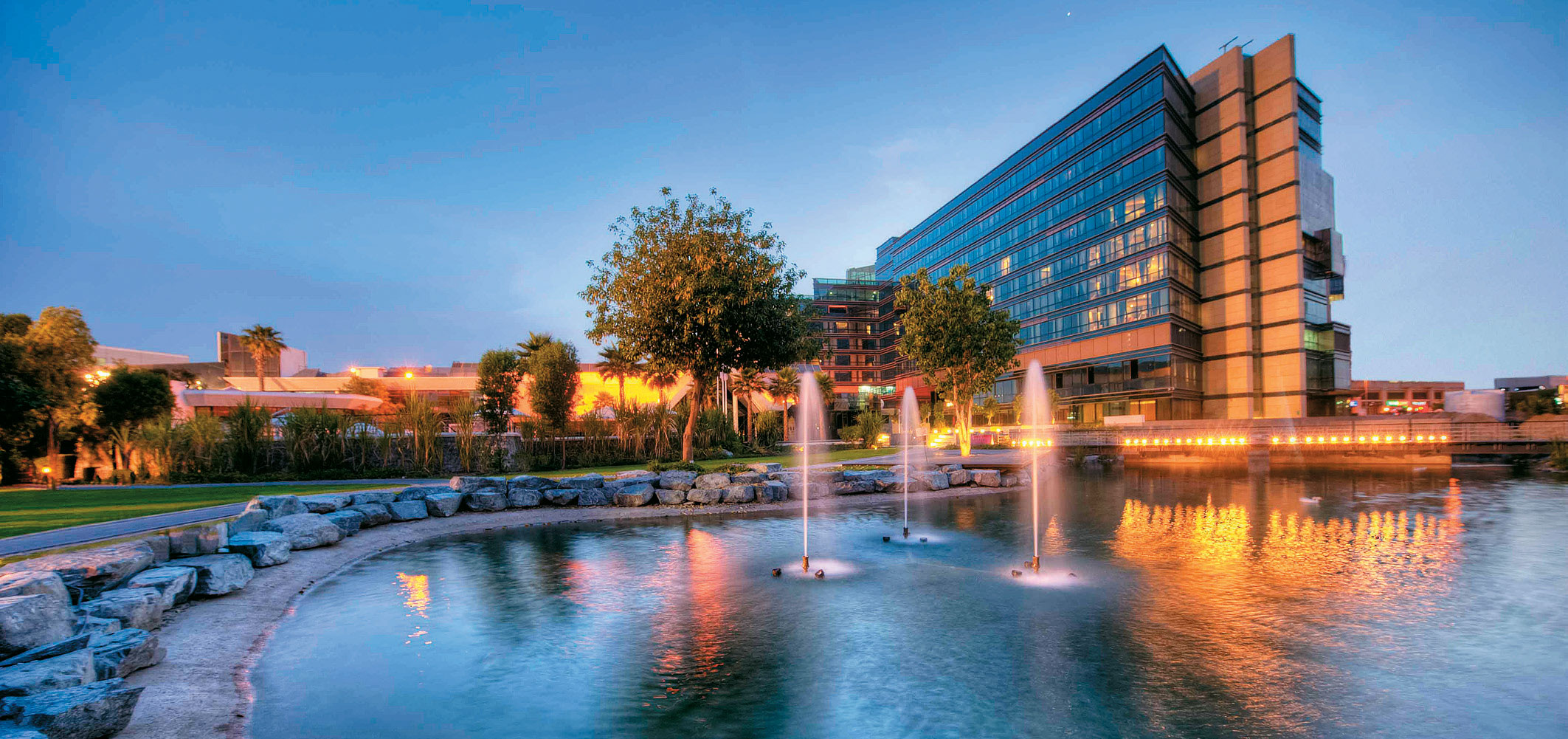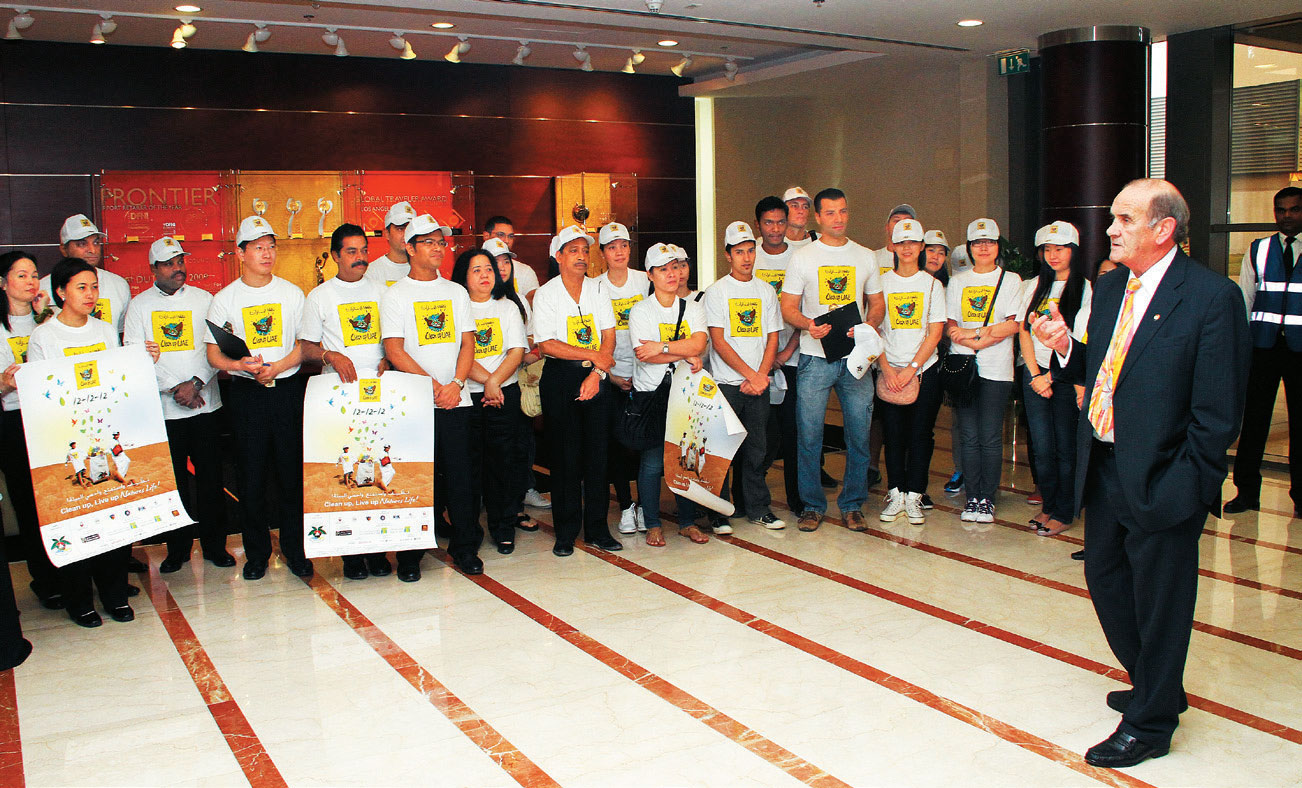 Waste not, want not: Colm McLoughlin speaks to volunteers of the Clean Up UAE campaign, organised by the Emirates Environmental Group. Dubai Duty Free participated in the event, which was attended by 54 volunteers from various departments. A total of 57 garbage bags were used and around 228kg of waste collected.
Colm McLoughlin's smile and those of the husband and wife beside him say it all. A simple, joyous scene as he visits the resident family at the Dubai Duty Free-funded house in the Travel Retail Village, a remarkable duty free industry initiative to rehouse an entire community following the devastating 24 December tsunami in Sri Lanka.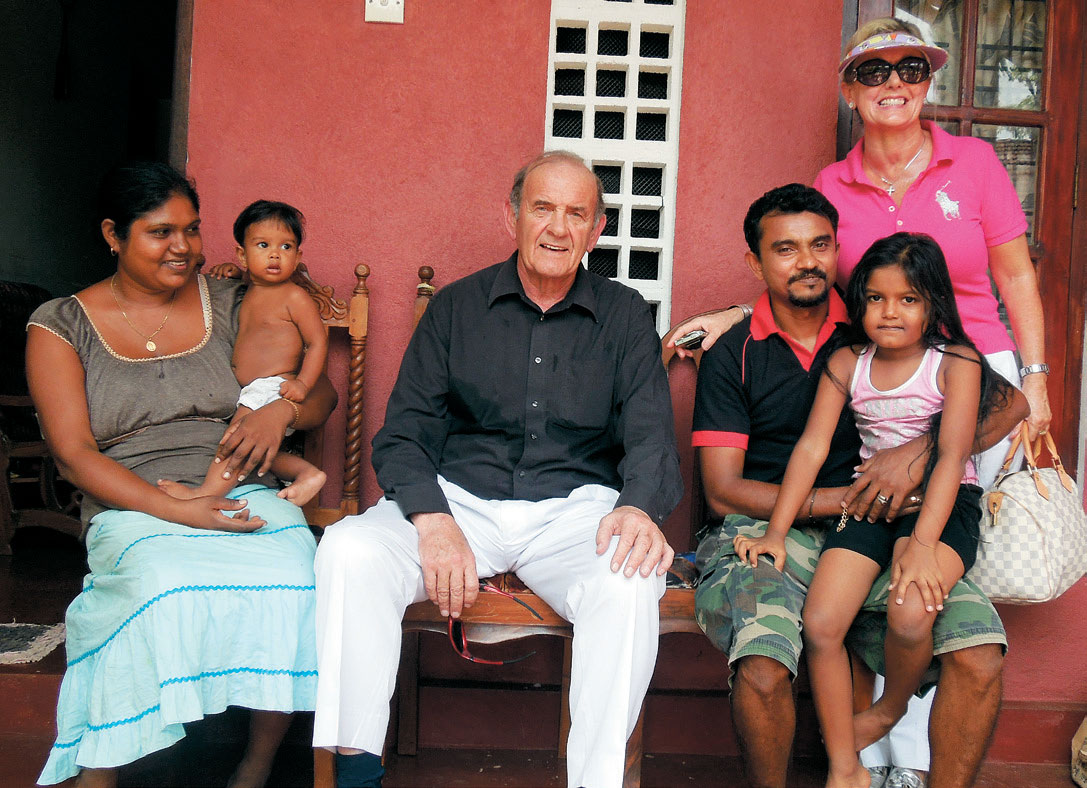 George Horan announces a remarkable US$500,000 donation by the Dubai Duty Free Foundation to finance a new sports complex at the Lycée Jean Baptiste Pointe du Sable School in the town of Saint Marc as part of its support for the Hand in Hand for Haiti campaign at the Trinity Forum in Seoul, Korea.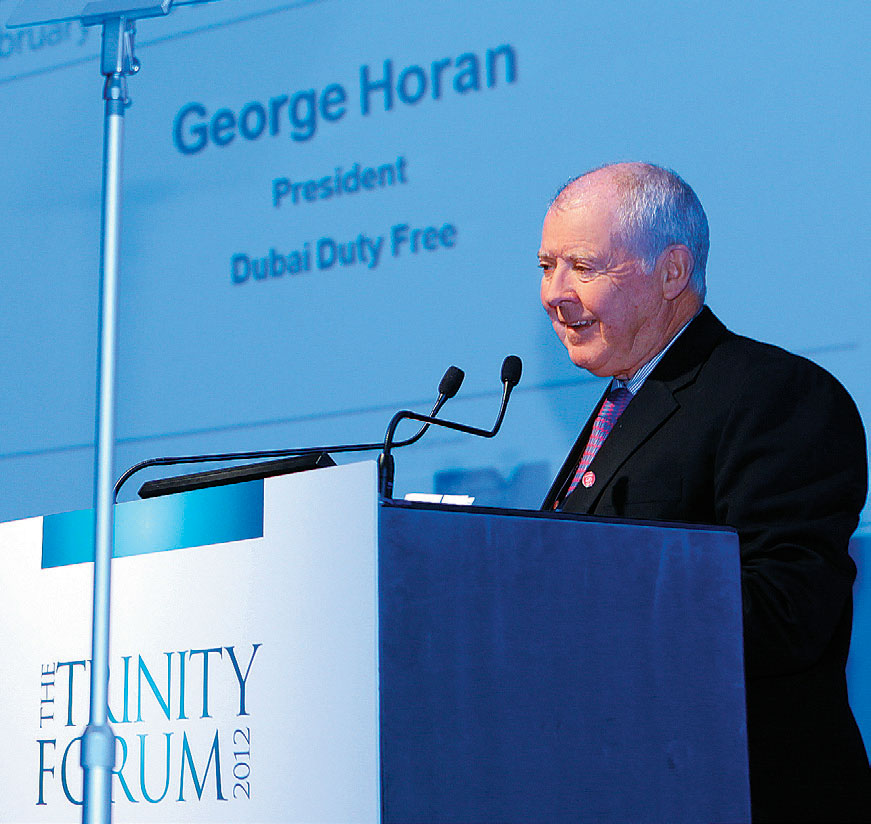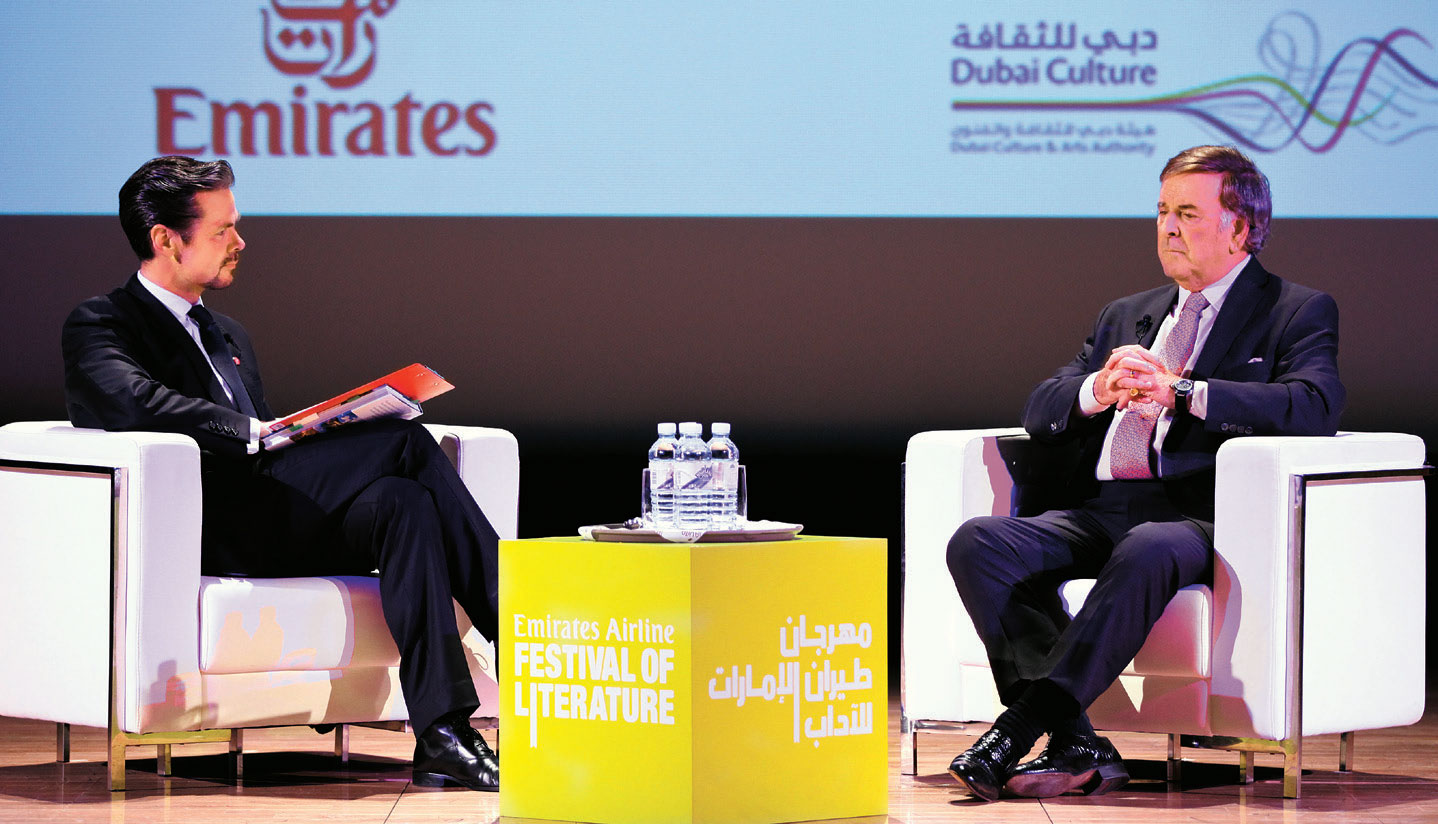 The widely admired Irish broadcaster, writer and presenter Sir Terry Wogan in conversation with Dubai Duty Free's Bernard Creed during the fourth Emirates Airline Festival of Literature held at the InterContinental Hotel, Dubai Festival City and supported by Dubai Duty Free.
You'll never walk alone: The Dubai Duty Free trekking team at the top of Poon Hill in Nepal, 3,210 metres above sea level. A total of 40 staff members embarked on a six-day trekking trip across the Annapurna Range to raise funds for Water, a New York-based non-profit organisation that works to provide access to clean drinking water.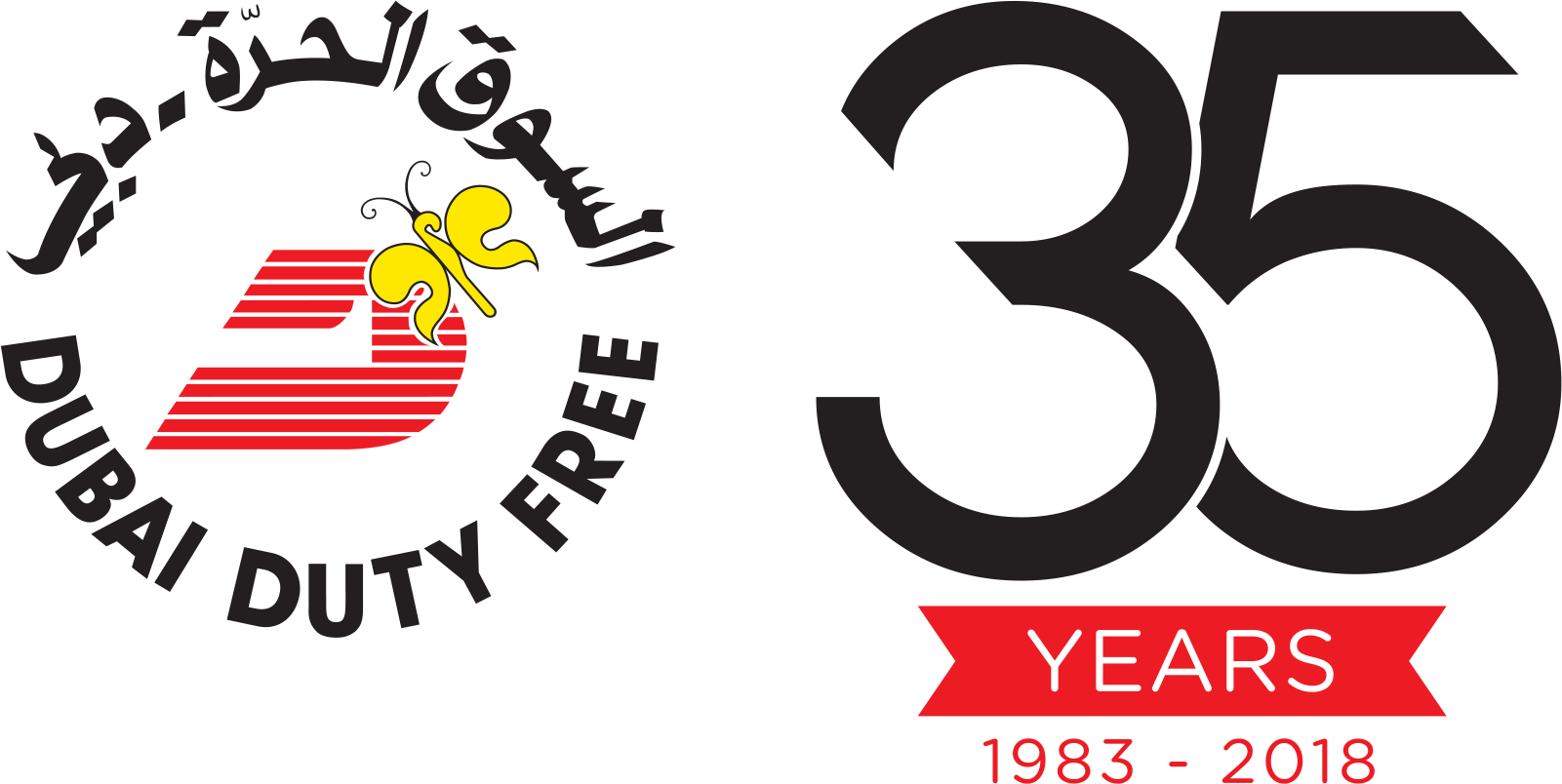 ---
The Moodie Davitt e-Zine | Spotlight Series – Special Report | 20 December 2018