Challenging conditions, a strong finish
2017 was a challenging year for travel retailers worldwide on a number of fronts, particularly relating to soft Russian spending and airline restrictions on carry-on baggage. Dubai Duty Free was affected on both counts but rallied strongly to finish the year with sales of US$1.93 billion, a +5.6% rise year-on-year. A buoyant December saw record sales of US$219 million.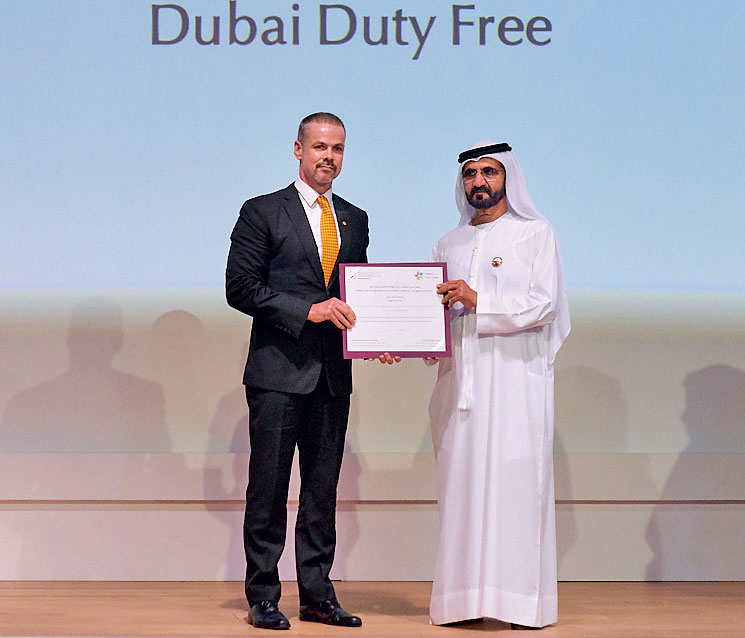 HH Sheikh Mohammed bin Rashid Al Maktoum, Vice President and Prime Minister of the UAE and Ruler of Dubai, presenting a Certificate of Recognition on Dubai Cares' 10th anniversary to Dubai Duty Free, represented by Bernard Creed, at a ceremony held in February.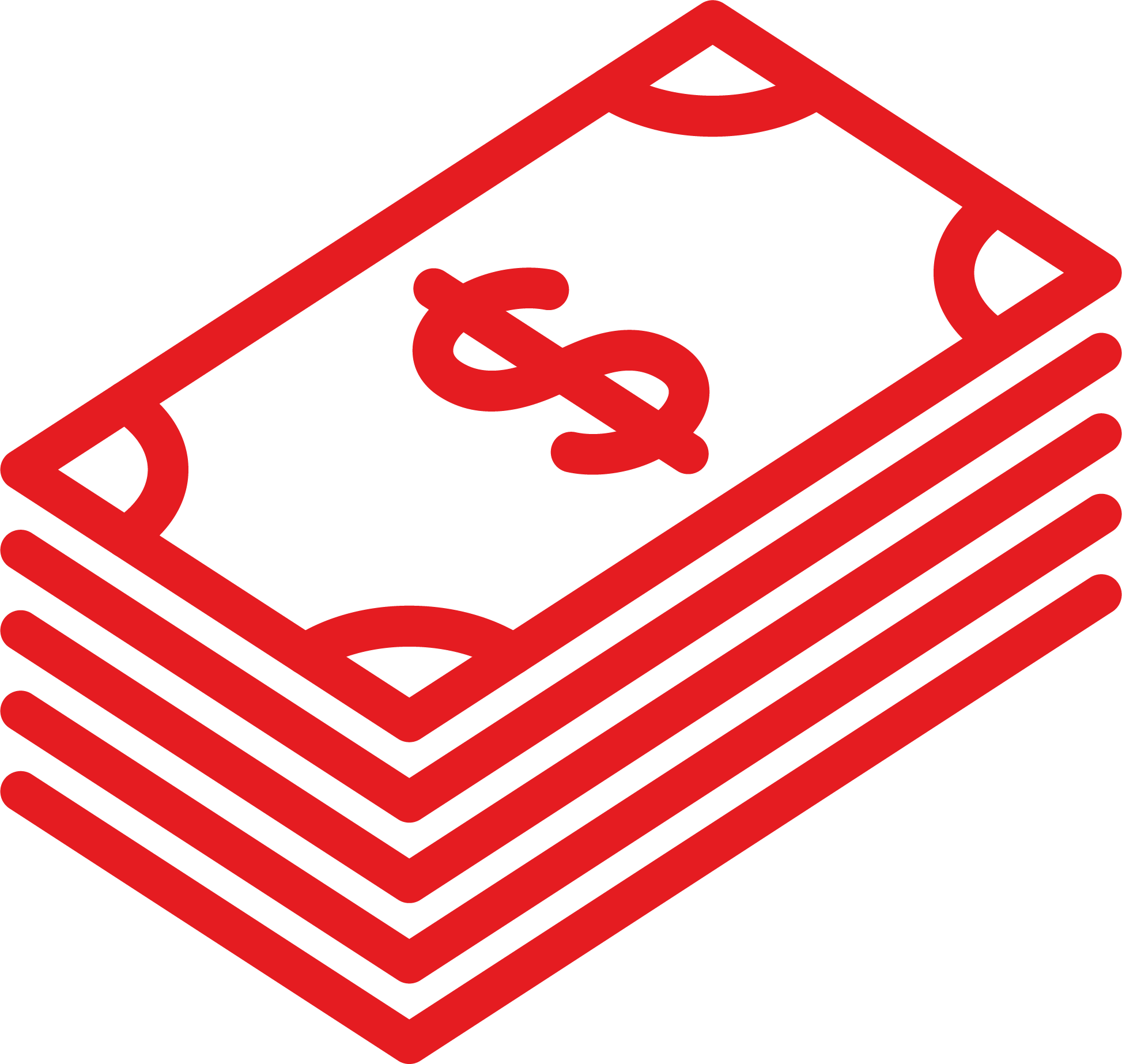 US$1.93 billion
Dubai Duty Free's annual sales – another all-time high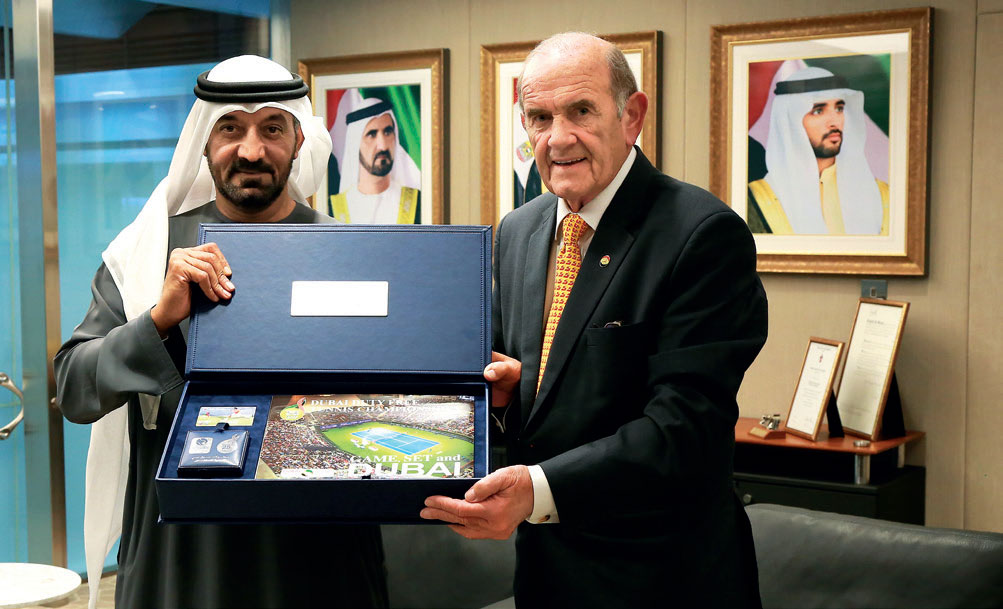 HH Sheikh Ahmed bin Saeed Al Maktoum, President of Dubai Civil Aviation Authority and Chairman of Dubai Duty Free receives a commemorative book from Colm McLoughlin on the 25th anniversary of the Dubai Duty Free Tennis Championship.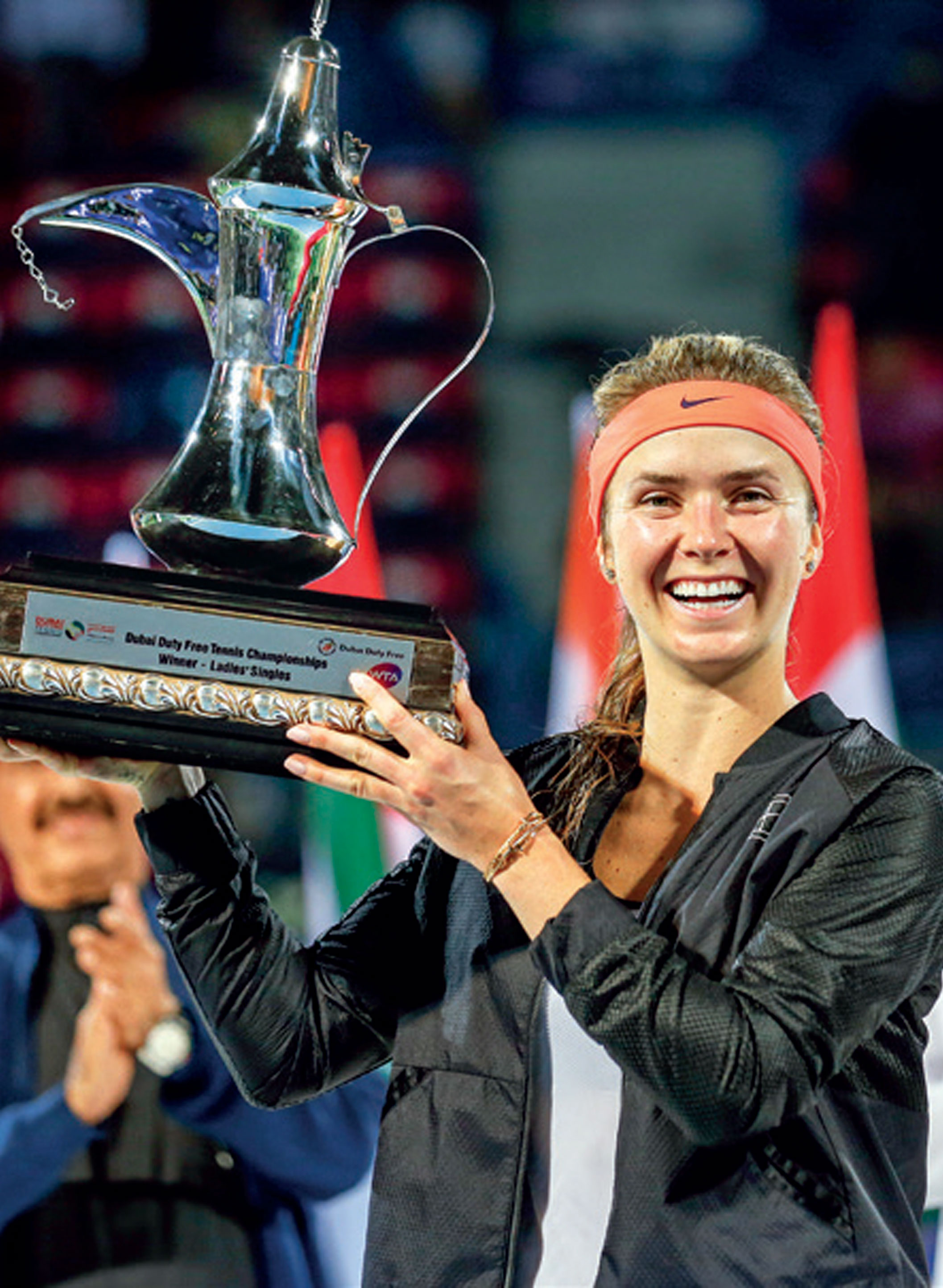 Elina Svitolina of Ukraine triumphantly shows off her trophy after winning the WTA Dubai Duty Free Tennis Championships.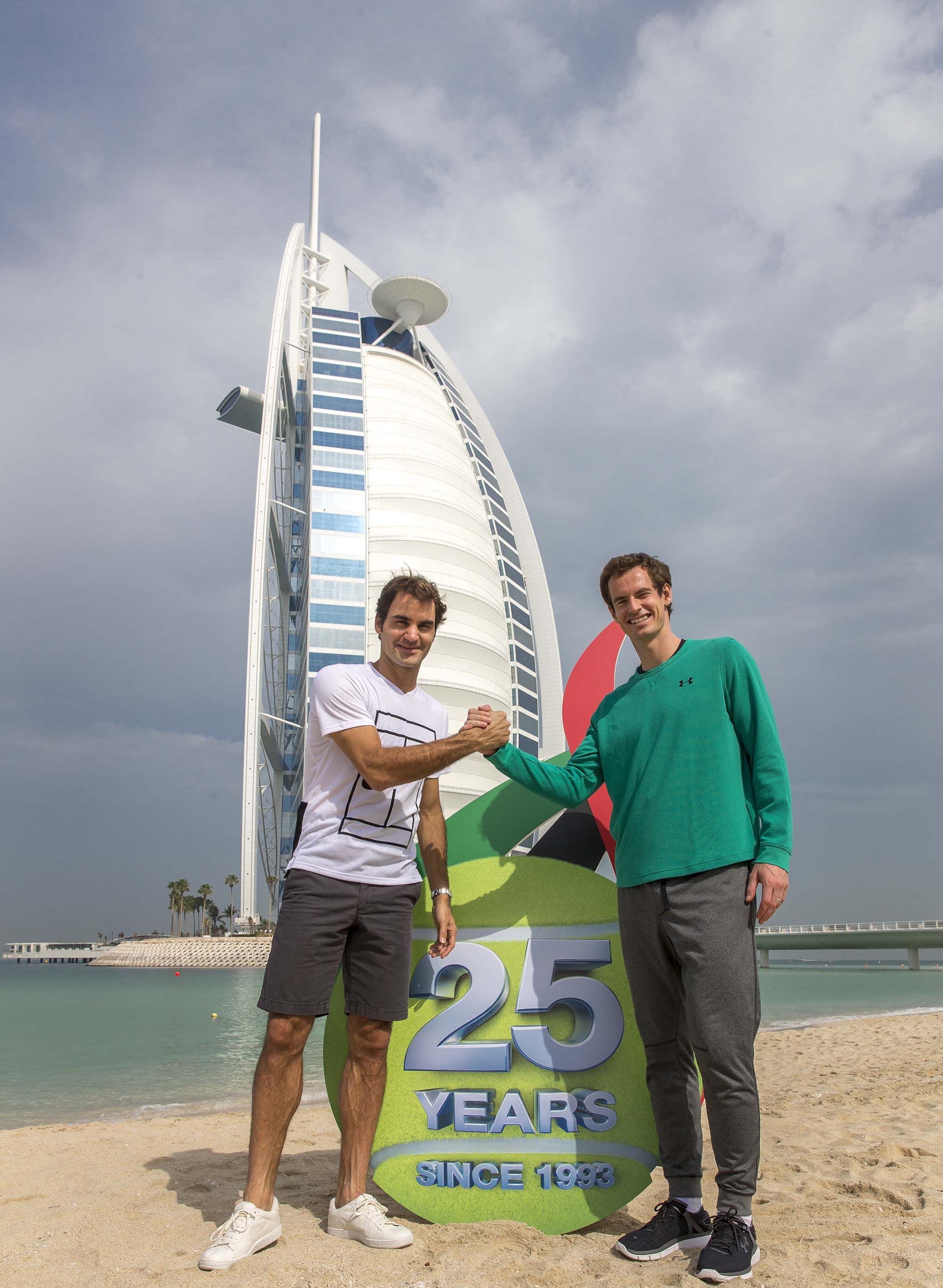 ATP world number one Andy Murray and seven times Dubai champion Roger Federer take time out for an impromptu match on the Jumeirah Al Naseem Hotel beach facing the iconic Burj Al Arab.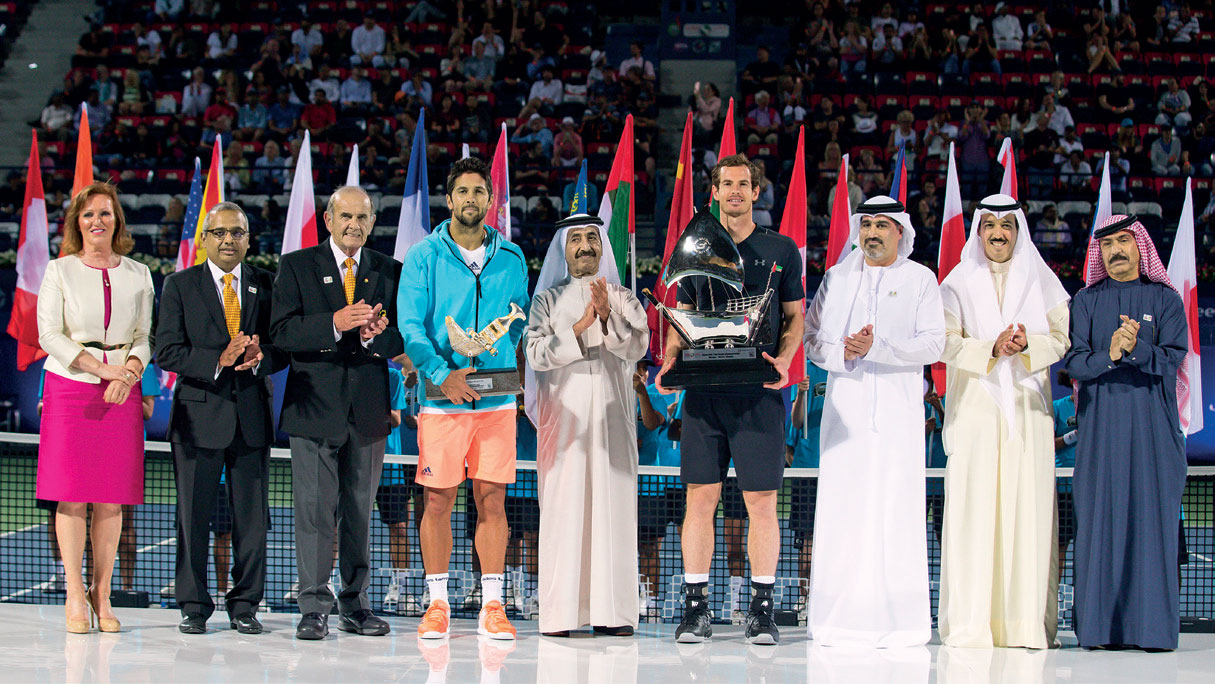 Andy Murray, seen here with dignitaries and Dubai Duty Free executives, claims his first Dubai Duty Free Tennis Championships title against Fernando Verdasco of Spain.
Danish tennis star Caroline Wozniacki, a Brand Ambassador for Dubai Duty Free, introduces the WTA tournament – and the retailer.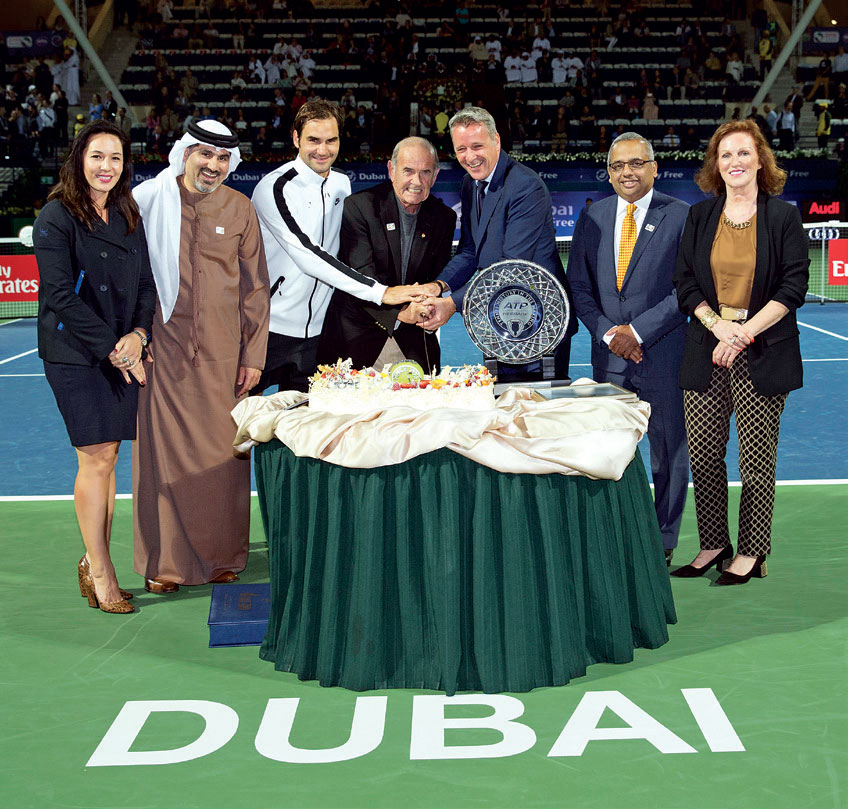 The icing on the cake for Dubai Duty Free as global tennis superstar Roger Federer joins Dubai Duty Free officials Colm McLoughlin, Ramesh Cidamdi, Salah Tahlak and Sinead El Sibai on Centre Court with Alison Lee (left), Executive Vice President, International Group and Chris Kermode (third from right), ATP Executive Chairman and President.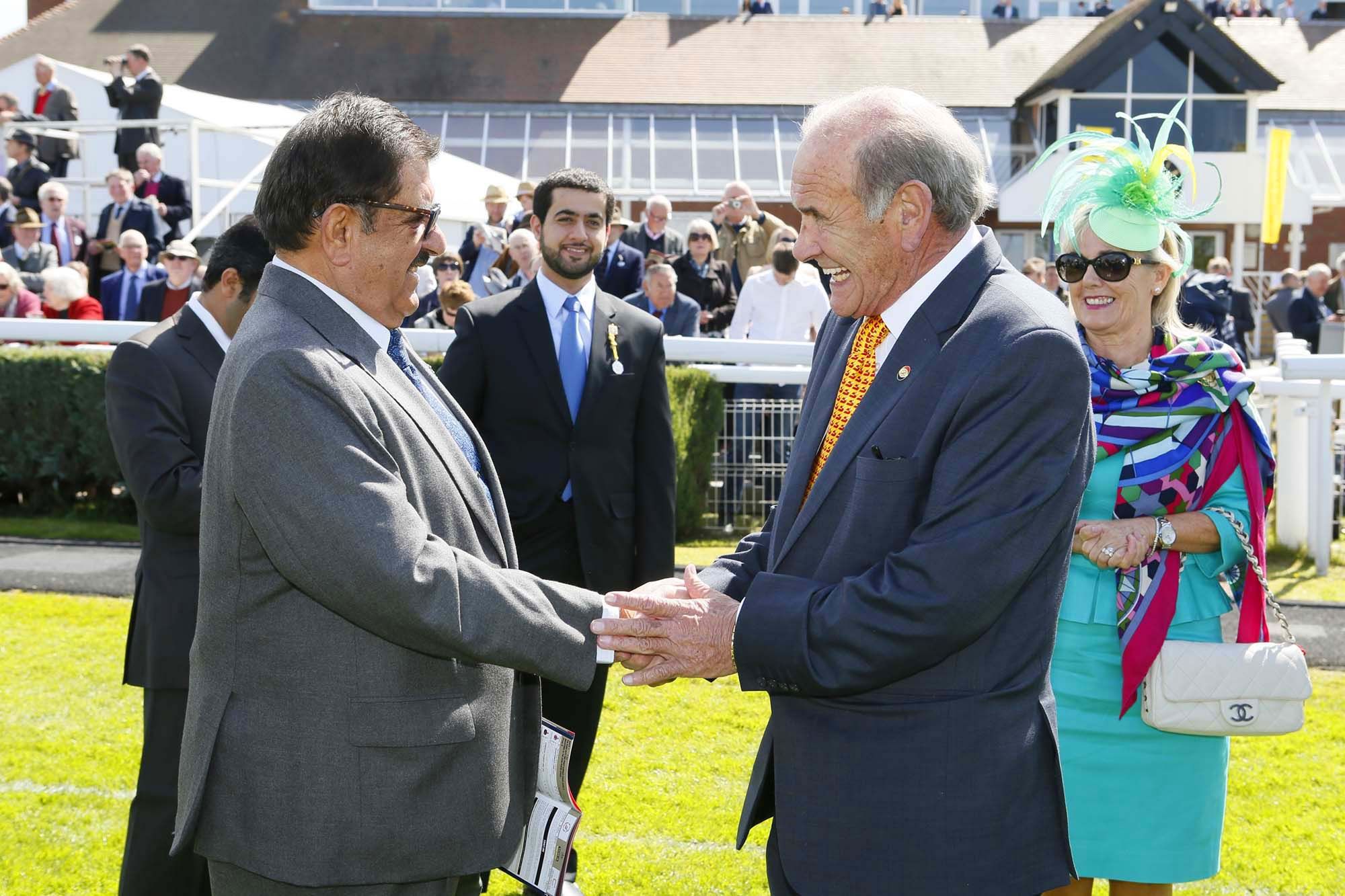 HH Sheikh Hamdan bin Rashid Al Maktoum, Deputy Ruler of Dubai and UAE Minister of Finance and Industry, greets Colm McLoughlin in the paddock of Newbury Racecourse during the Dubai Duty Free Spring Trials in April. Looking on is Colm's wife, Breeda.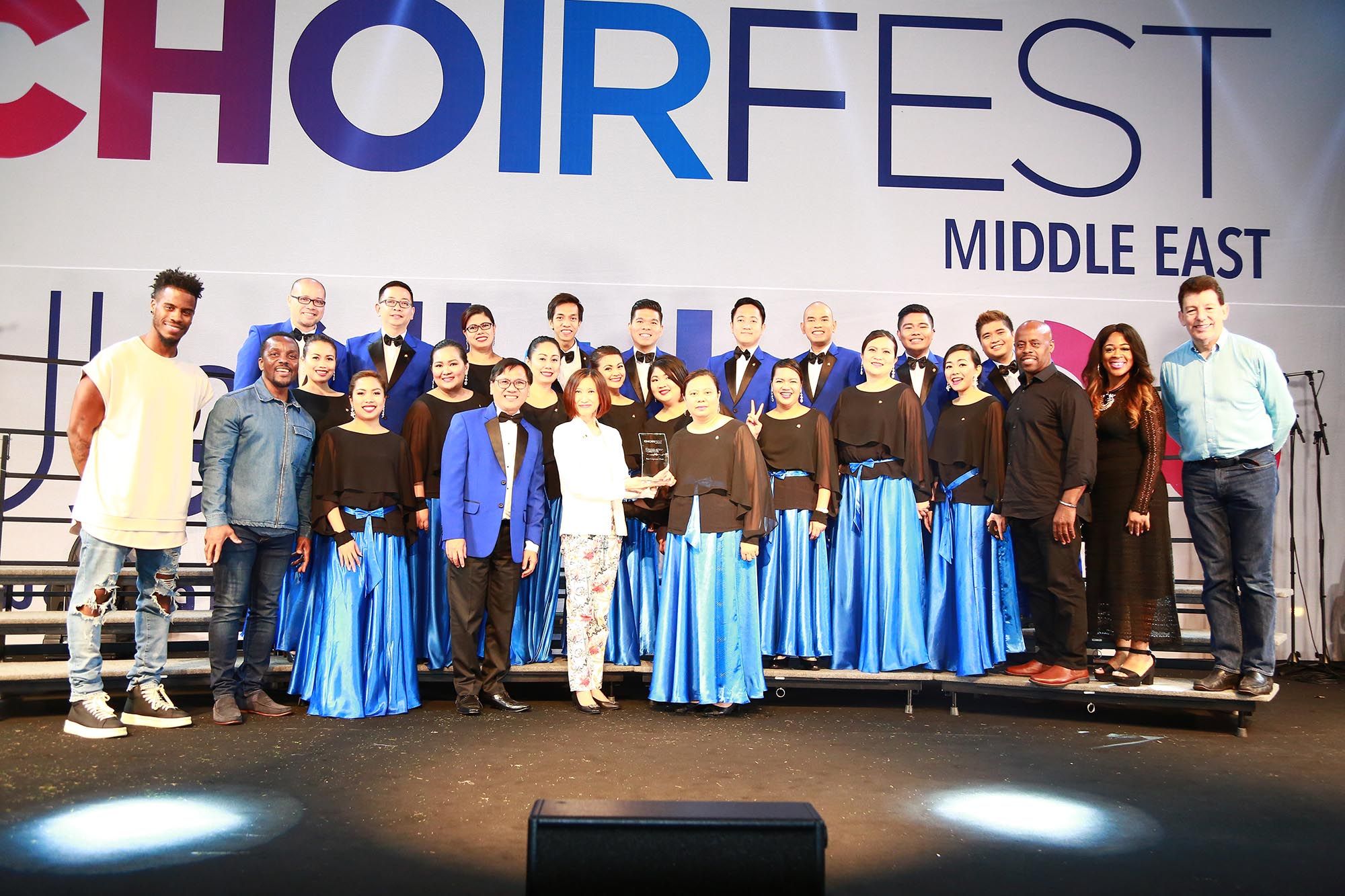 On song: The Dubai Duty Free choral group 'Dubai Duty Free Nightingales' accepts the Best Corporate Choir Award at The ChoirFest Middle East held at The Els Club. Also in the picture is the London Community Gospel Choir. The ChoirFest Middle East is an annual festival in Dubai celebrating the rich diversity of choral music in the region.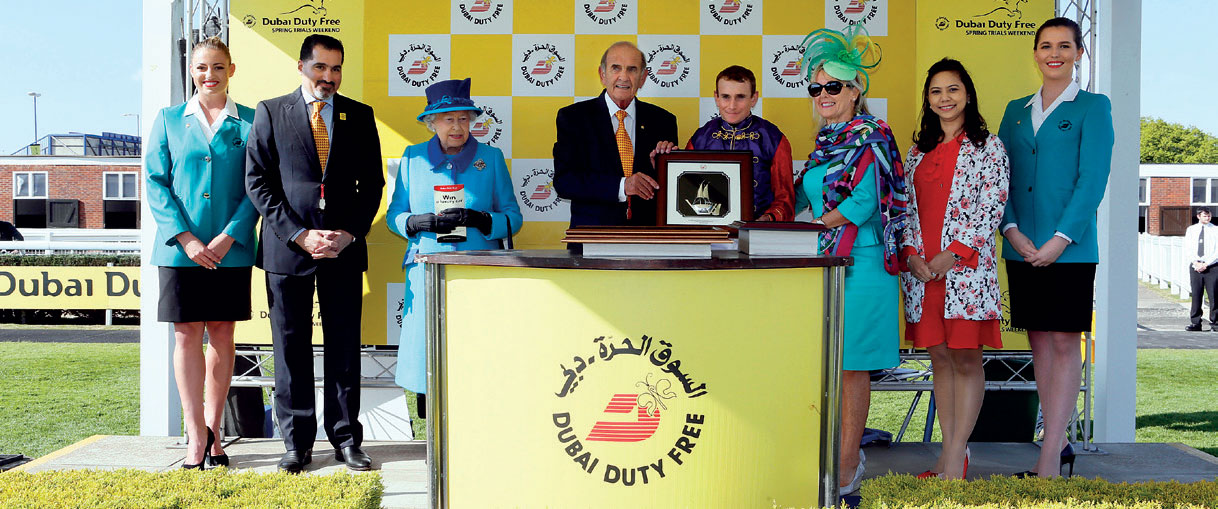 Royal approval: Her Majesty The Queen joins Colm McLoughlin, Salah Tahlak, Breeda McLoughlin, Elisa Yana and jockey Ryan Moore on the presentation podium after Moore's winning ride in the Dubai Duty Free Tennis Championships Maiden Stakes at Newbury Racecourse.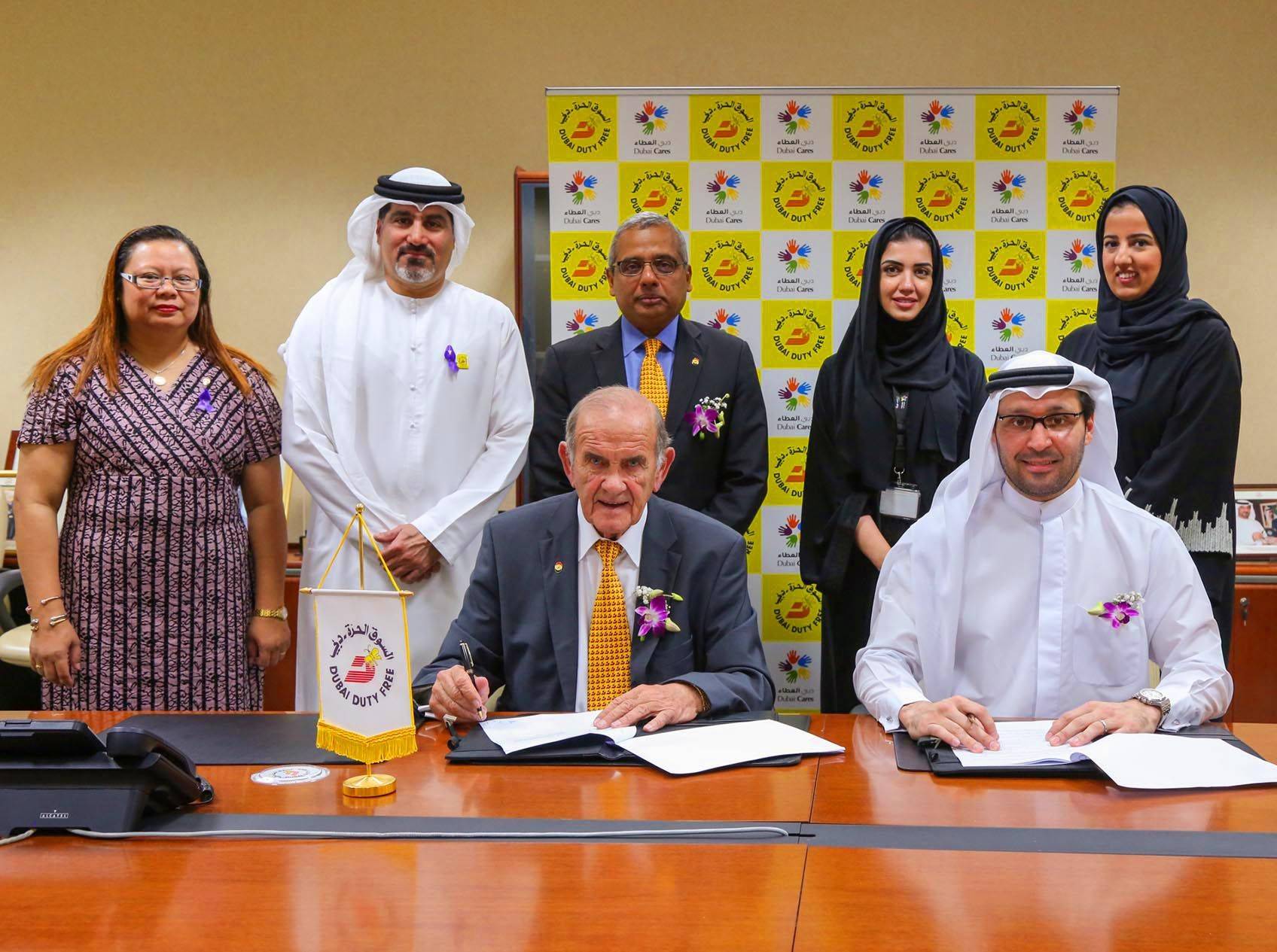 Colm McLoughlin at the signing of a Memorandum of Understanding with Dubai Cares CEO, HE Tariq Al Gurg. The partnership aims at supporting the philanthropic efforts of both entities through Dubai Cares' far-reaching programmes that support the empowerment of children and young people in developing countries with education.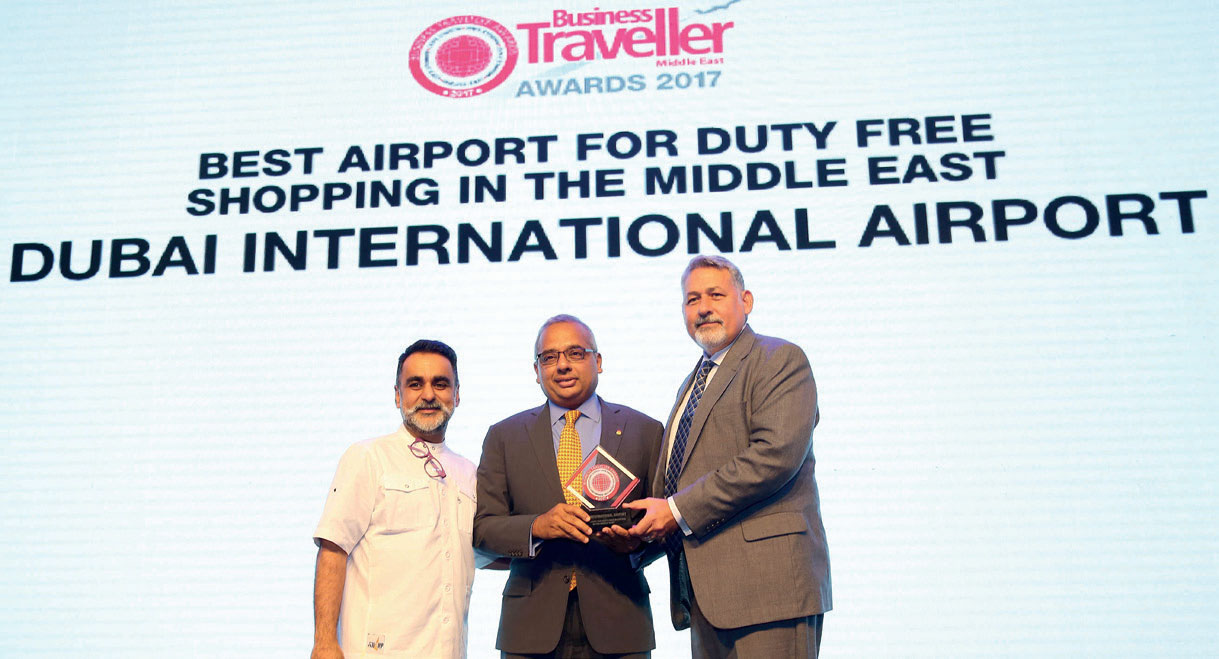 The awards keep on coming as Ramesh Cidambi receives the Business Traveller Middle East Award for Best Airport in Duty Free Shopping from celebrity chef Vineet Bhatia and HE Paul R Malik, Consul General of the U.S. Consulate in Dubai.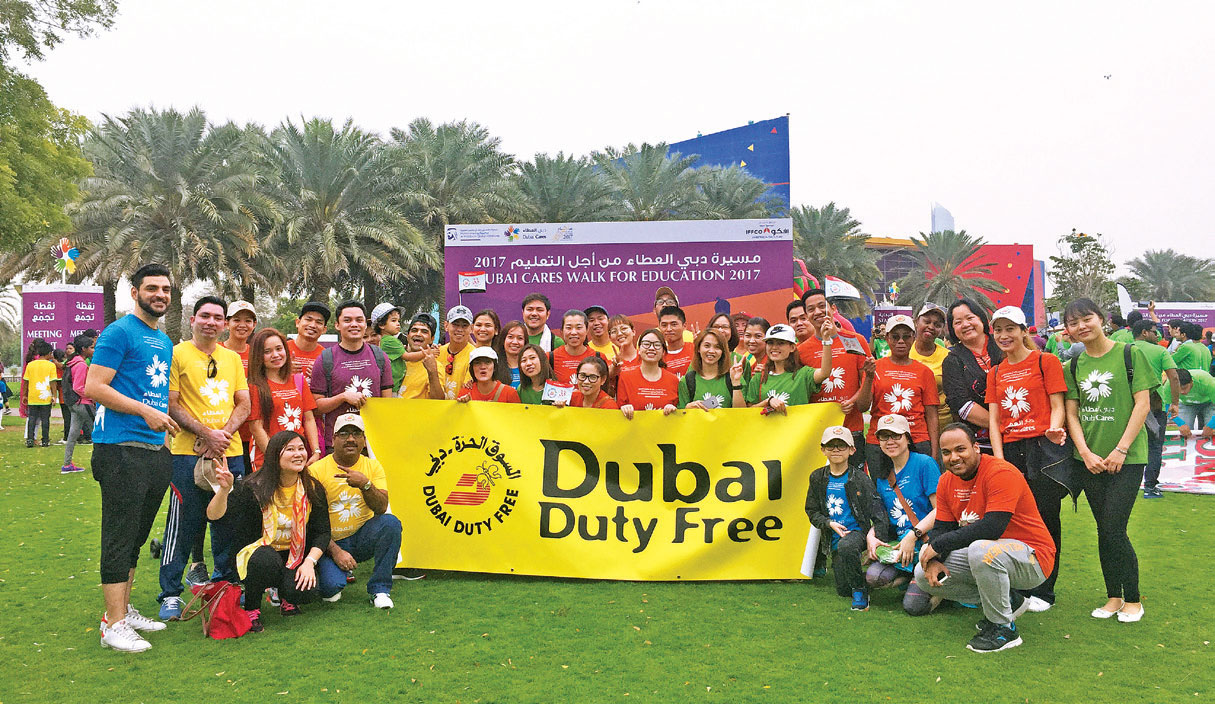 Dubai Duty Free staff join around 14,500 volunteers in support of the annual 'Walk for Education' campaign by Dubai Cares.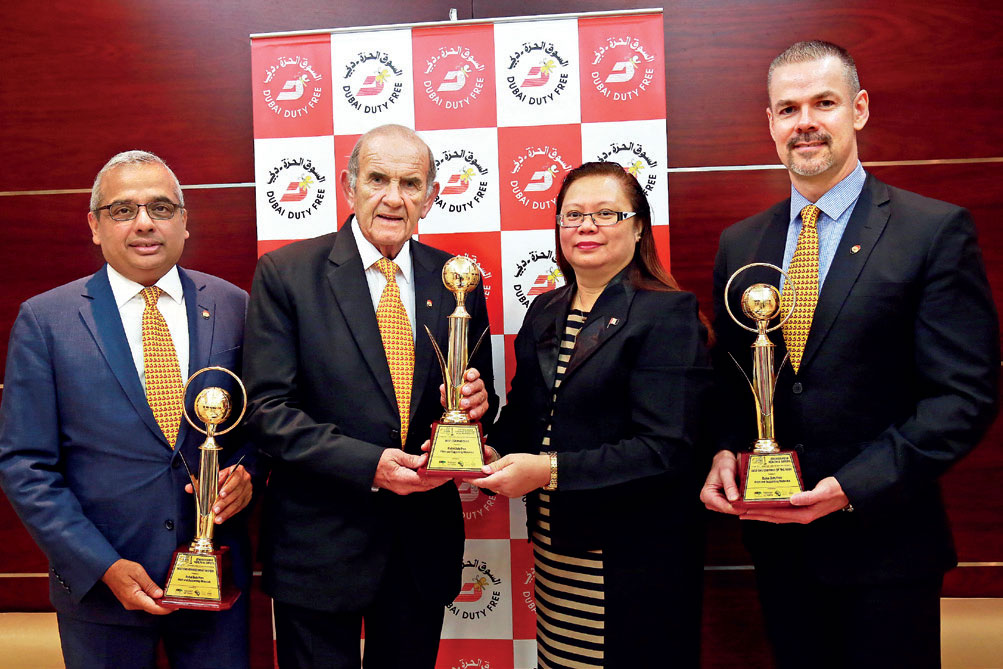 Recognition of responsibility: Colm McLoughlin, Executive Vice Chairman and CEO; Ramesh Cidambi, Chief Operating Officer; Bernard Creed, Senior Vice President – Finance; and Olympia Pineda, Manager – Corporate Responsibility with the top three awards received from the Golden Globe Tigers Awards for Best Corporate Social Responsibility Practices; Best Environment, Health & Safety (EHS) for Management System; and Best Environment, Health & Safety (EHS) – Company of the Year.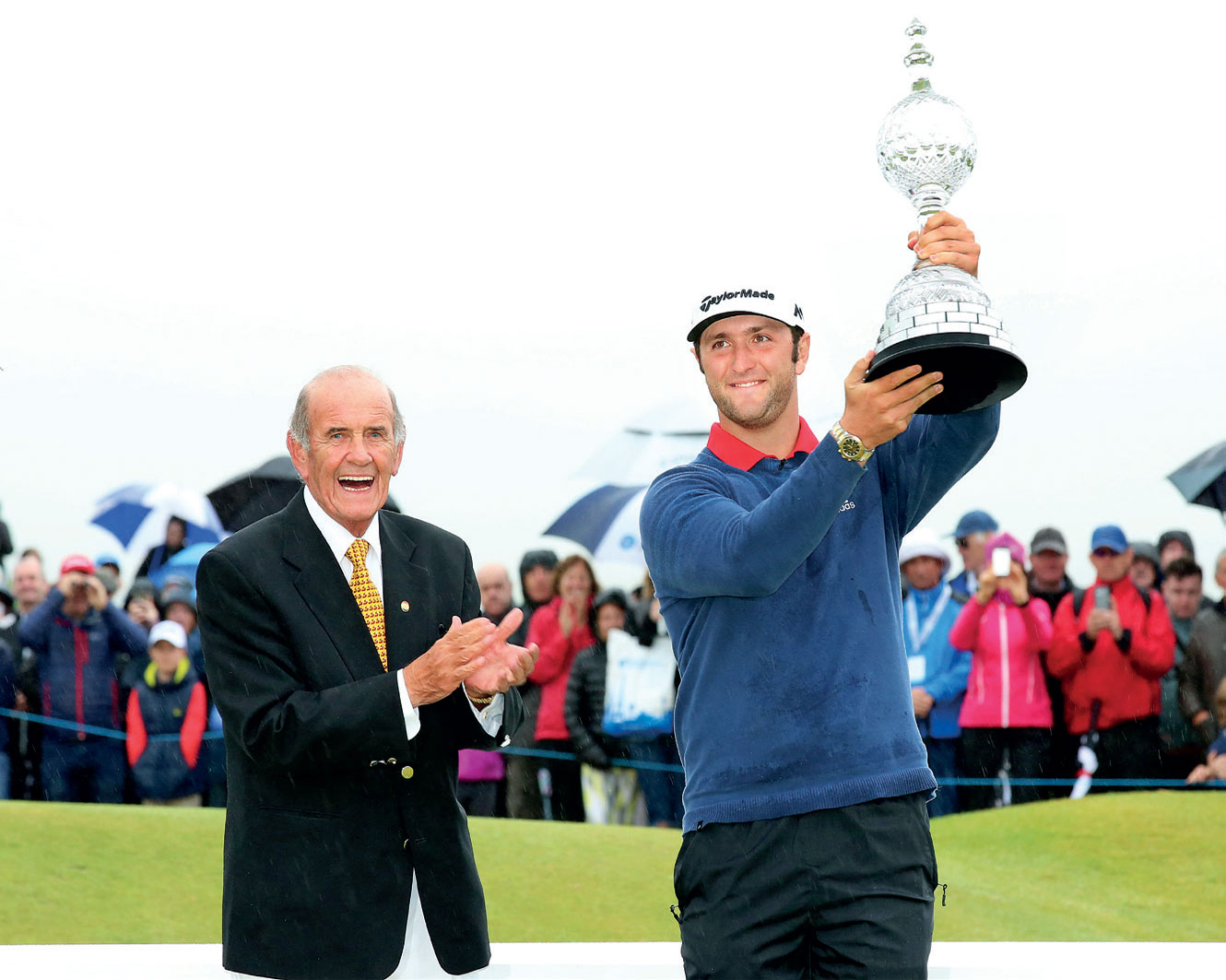 Spanish player Jon Rahm receiving his trophy from Colm McLoughlin for winning the Dubai Duty Free Irish Open held at Portstewart Golf Club. Hosted by the Rory Foundation, the tournament has become part of the Rolex Series and now offers prize money of US$7 million.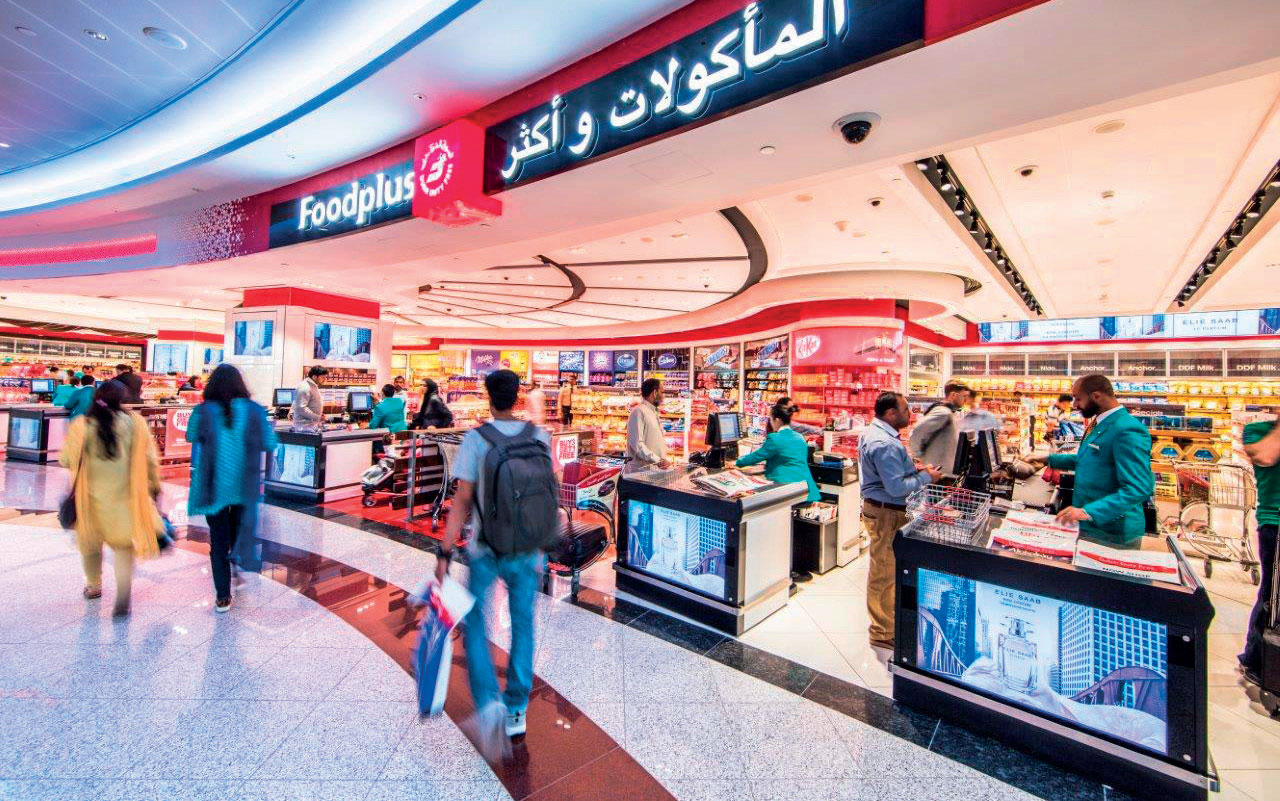 Dubai Duty Free becomes the first customer worldwide to go live with an upgrade of its Oracle Retail Systems to Oracle Retail Release 16, when it is rolled out in July.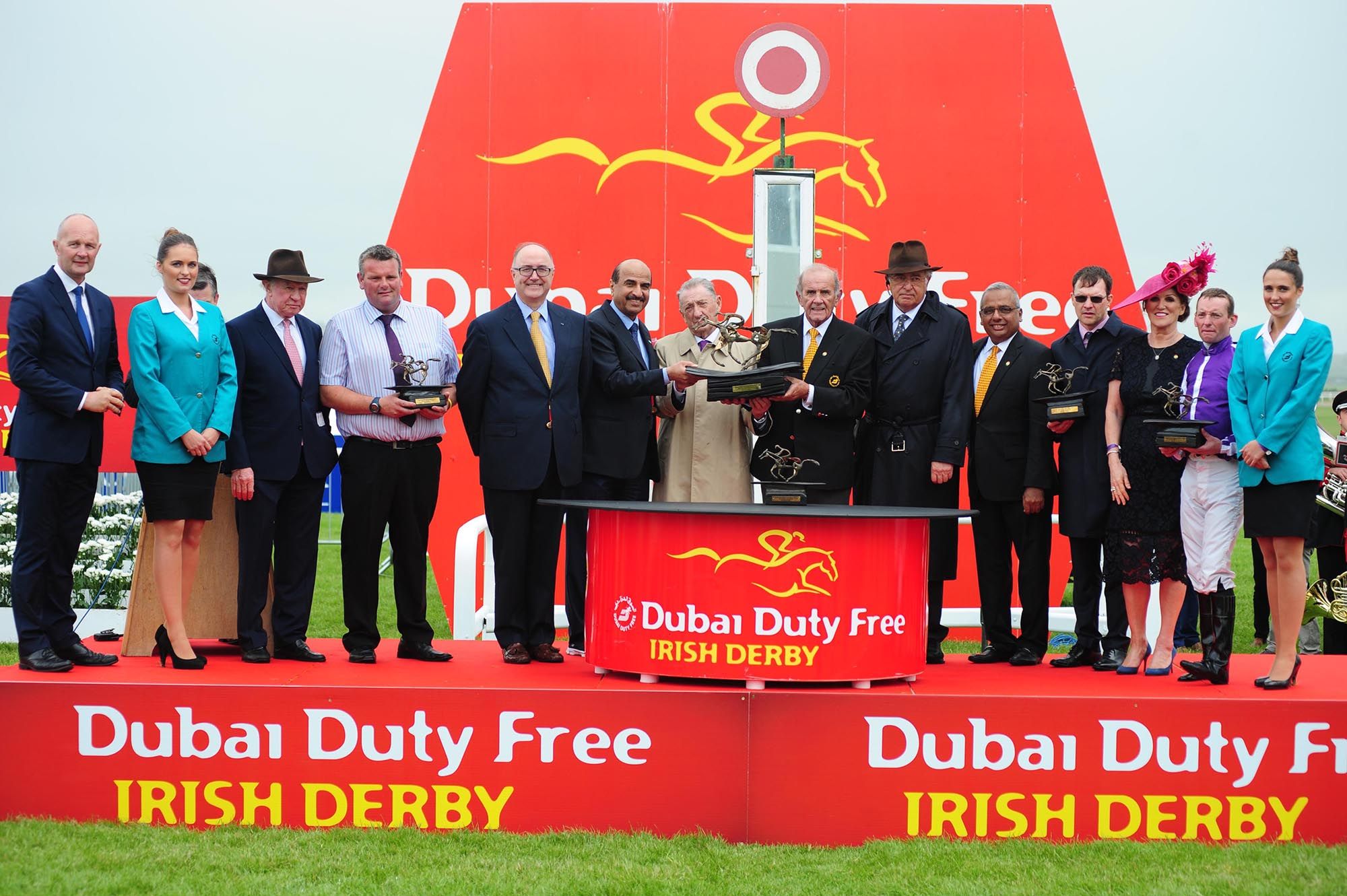 Dubai Duty Free senior executives and dignitaries present the trophies to the winning connections of the Dubai Duty Free Irish Derby, won by the Aiden O'Brien-trained Capri.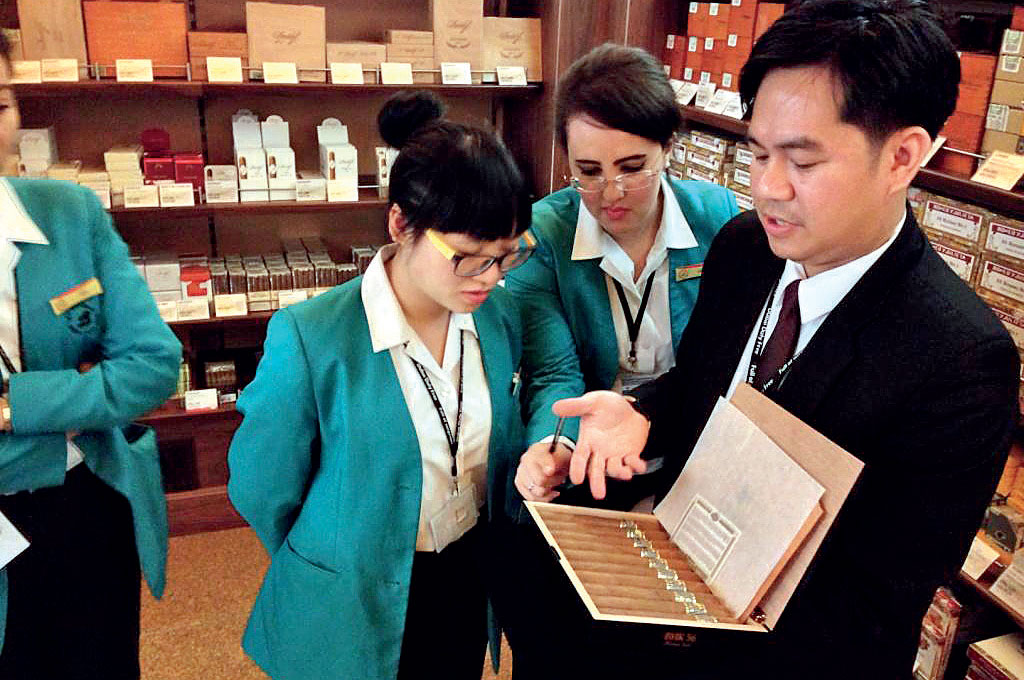 A coach in action – at least ten on-the-job coaching sessions are conducted by coaches at Dubai Duty Free in various categories (such as fine cigars), including refreshers on key products or new launches.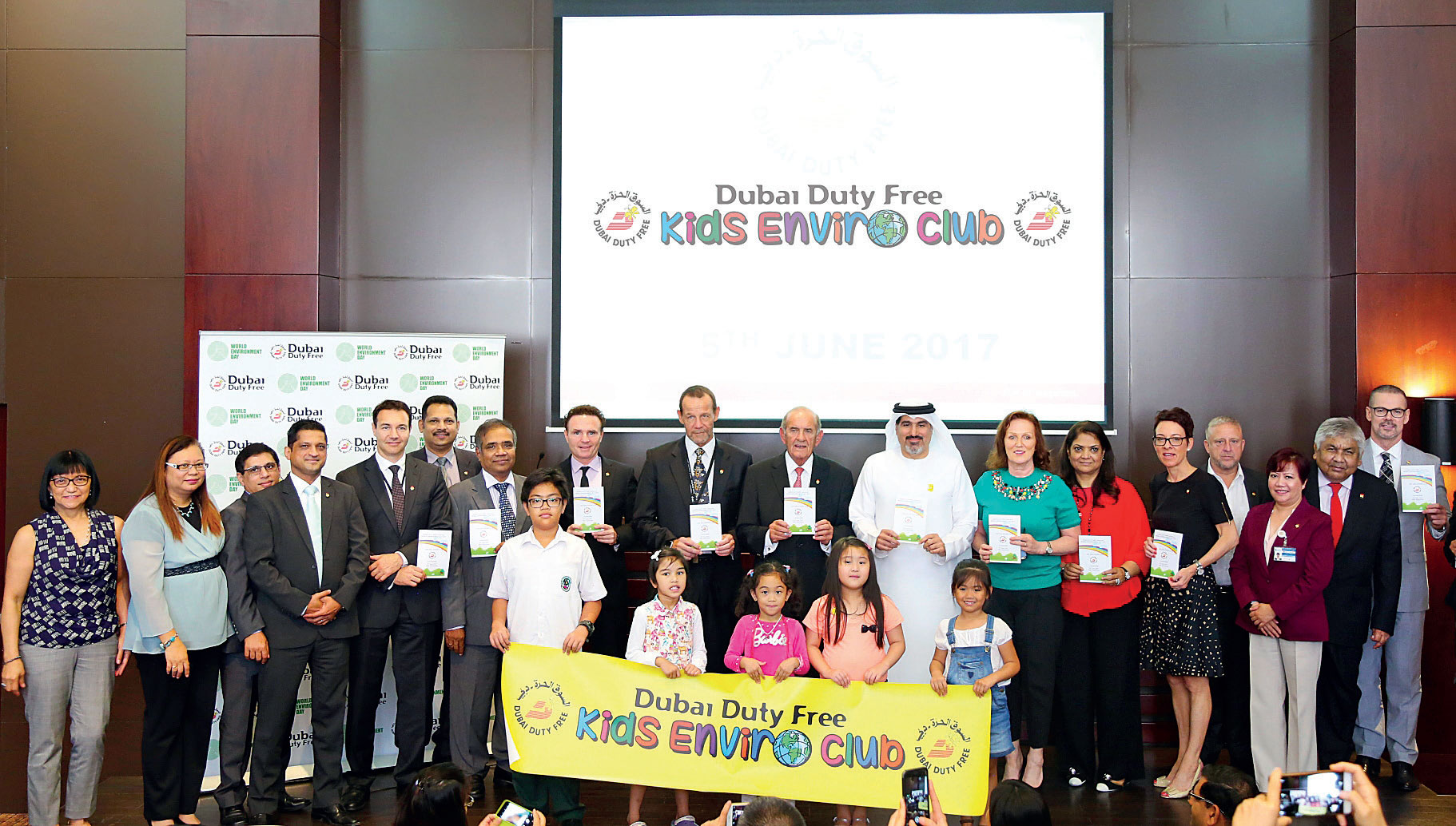 In celebration of the World Environment Day in June, Dubai Duty Free launches its own Kids Enviro Club. The facility is open to all children (aged 6 to 12) of Dubai Duty Free employees.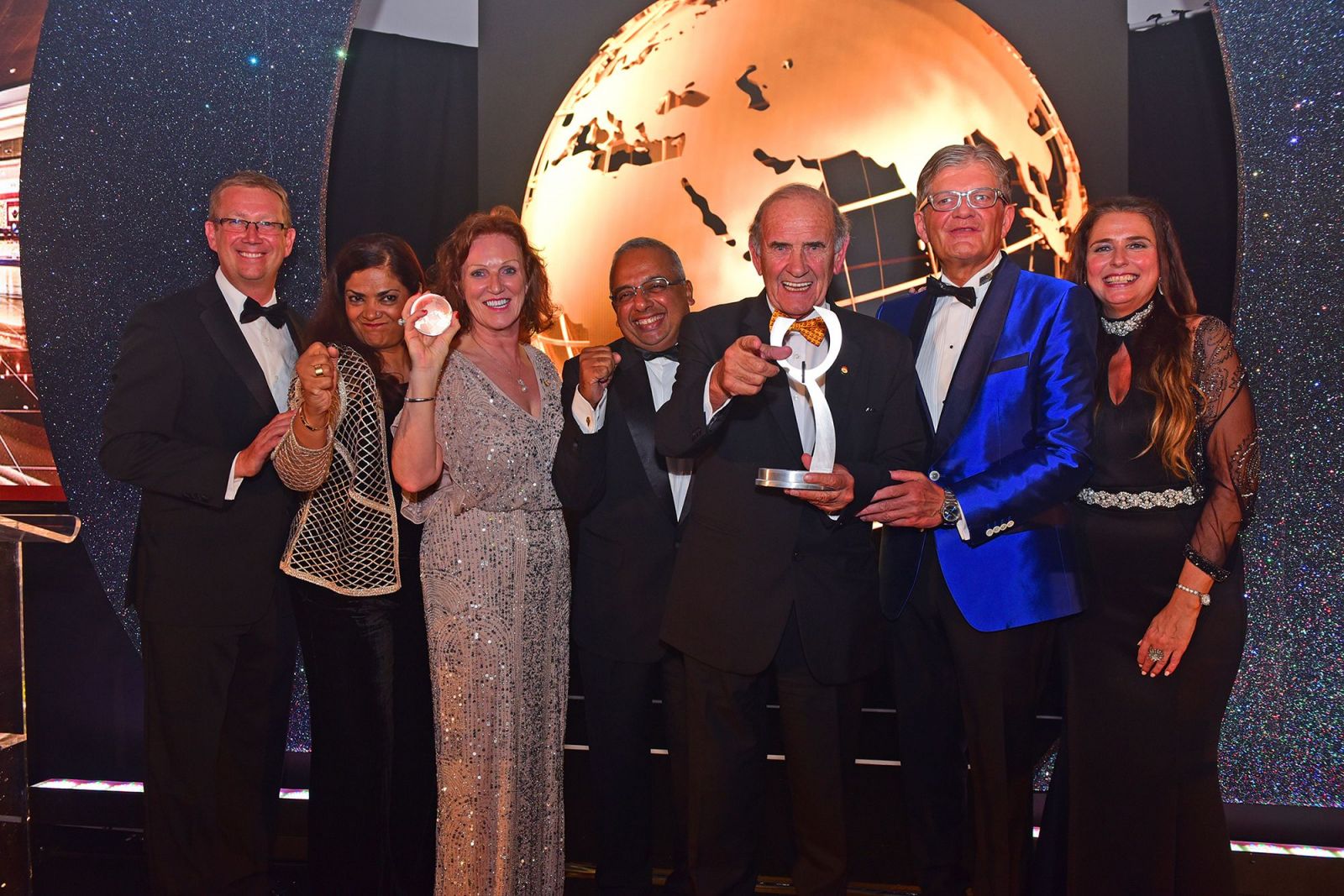 32 years on from their first Frontier Award, Dubai Duty Free does it yet again, winning the prestigious Airport Retailer of the Year for a remarkable eighth time in Cannes. Celebrating on stage is Colm McLoughlin accompanied by Ramesh Cidambi, Sinead El Sibai and Saba Tahir together with Frontier officials.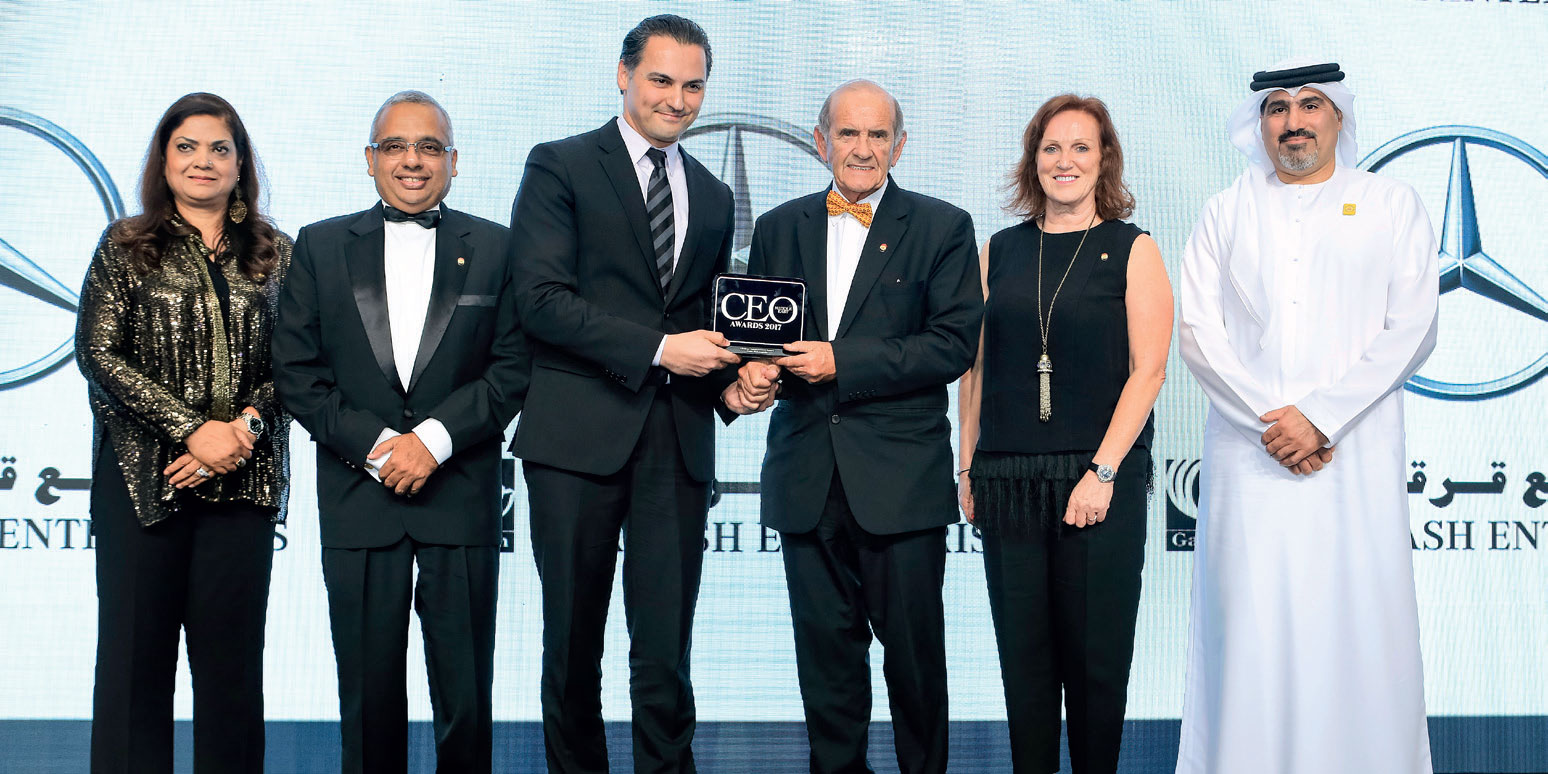 Colm McLoughlin is honoured with a Lifetime Achievement Award at the prestigious CEO Middle East Awards held at Four Seasons Resort Hotel. Pictured with him are Saba Tahir, Ramesh Cidambi, Wassim Derbi, Marketing Manager of Gargash Enterprises, Sinead El Sibai and Salah Tahlak.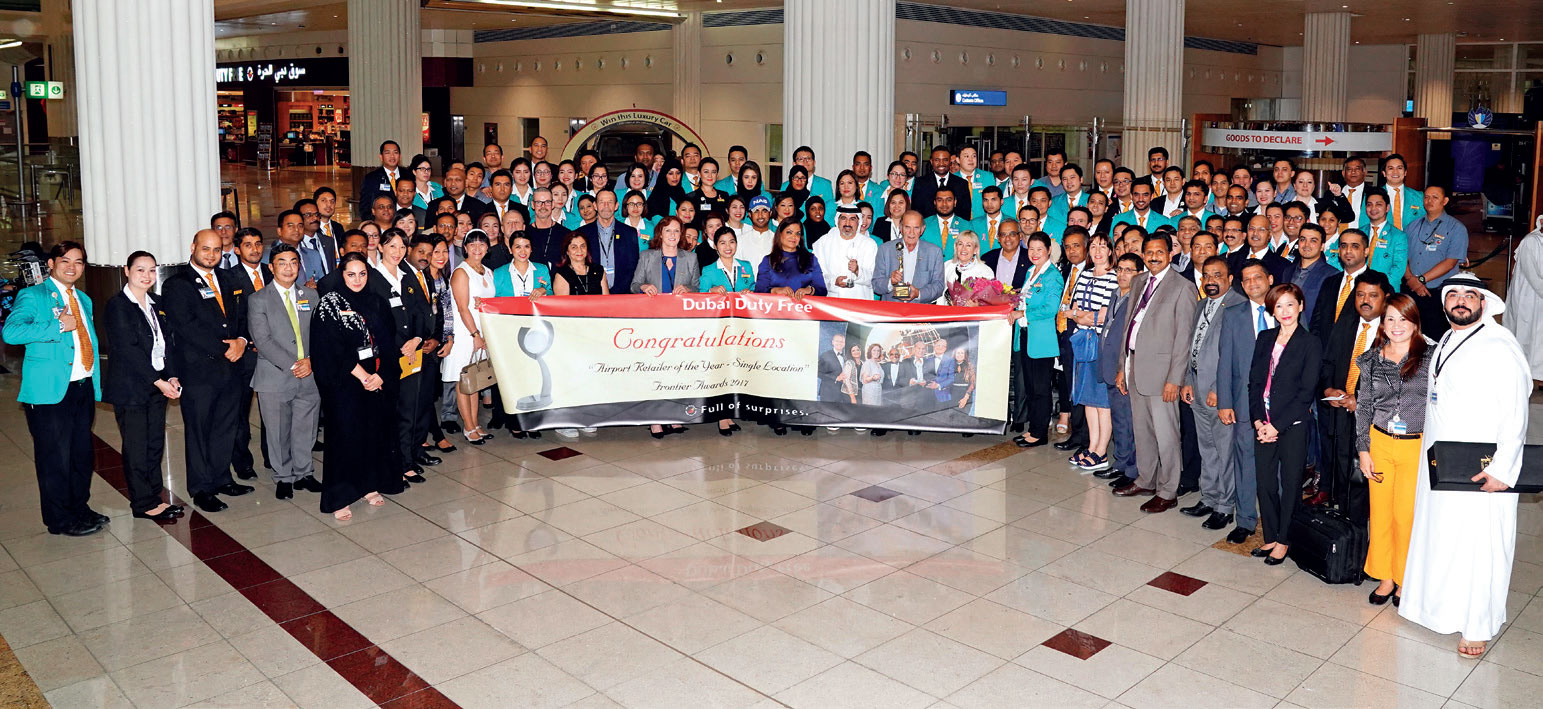 Quite some homecoming as Dubai Duty Free management and staff welcome Colm and Breeda McLoughlin on their arrival after receiving the Frontier Award for Airport Retailer of the Year in Cannes.
Dubai Duty Free's CSR agenda is a top priority for the company. Here, Olympia Pineda, Manager of Corporate Responsibility Department of Dubai Duty Free, and her team meet with the children of Al Noor Training Centre for Persons with Disabilities at the inaugaration of Al Noor Assistive TechX.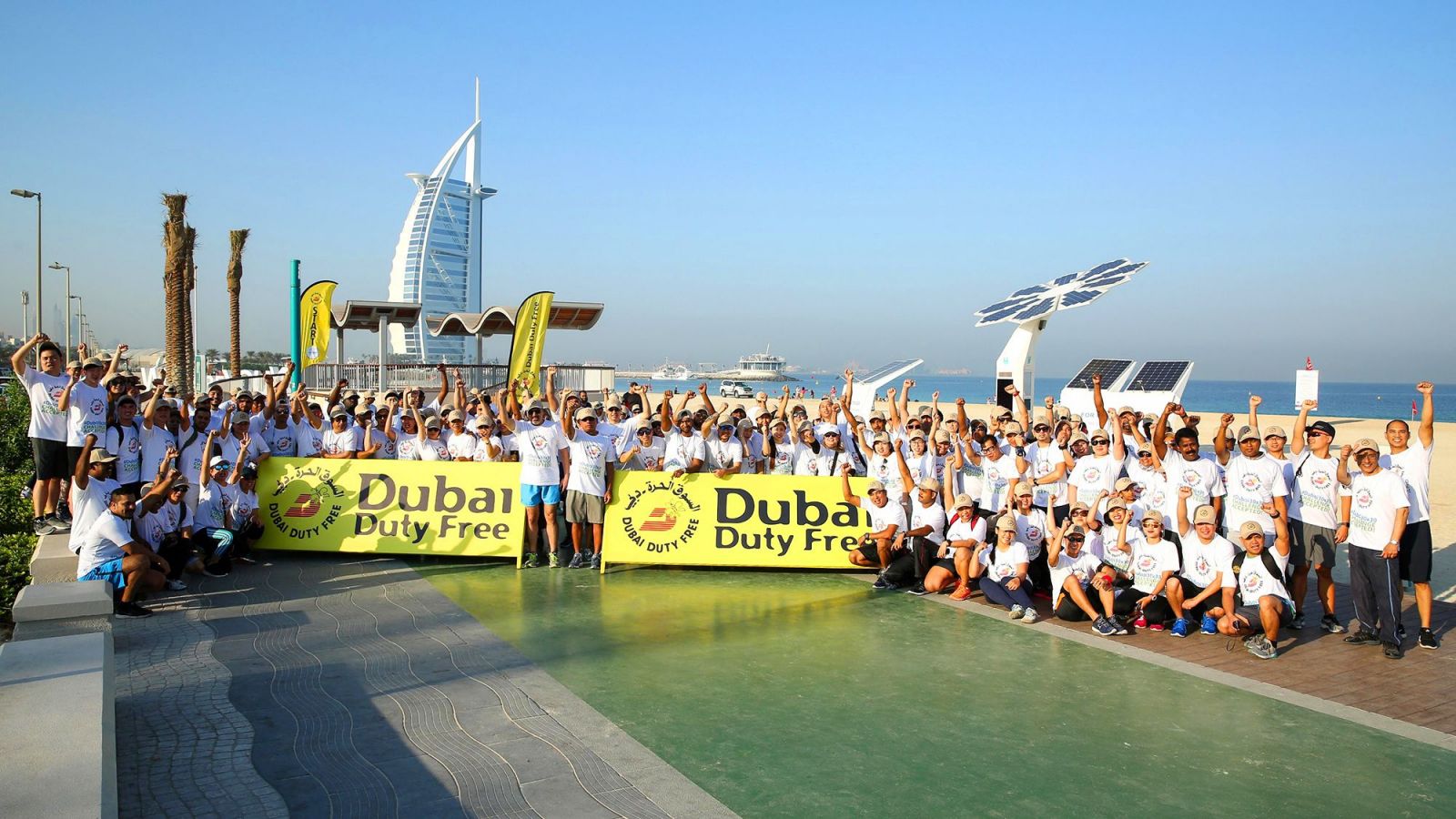 Dubai Duty Free accepts the Dubai Fitness Challenge issued by HH Sheikh Hamdan Bin Mohammed Bin Rashid Al Maktoum, Crown Prince of Dubai and Chairman of the Executive Council for Dubai Government. The airport retailer hosts four corporate activities including a 7.5km beach run, a zumba class, cycling and Iyengar Yoga.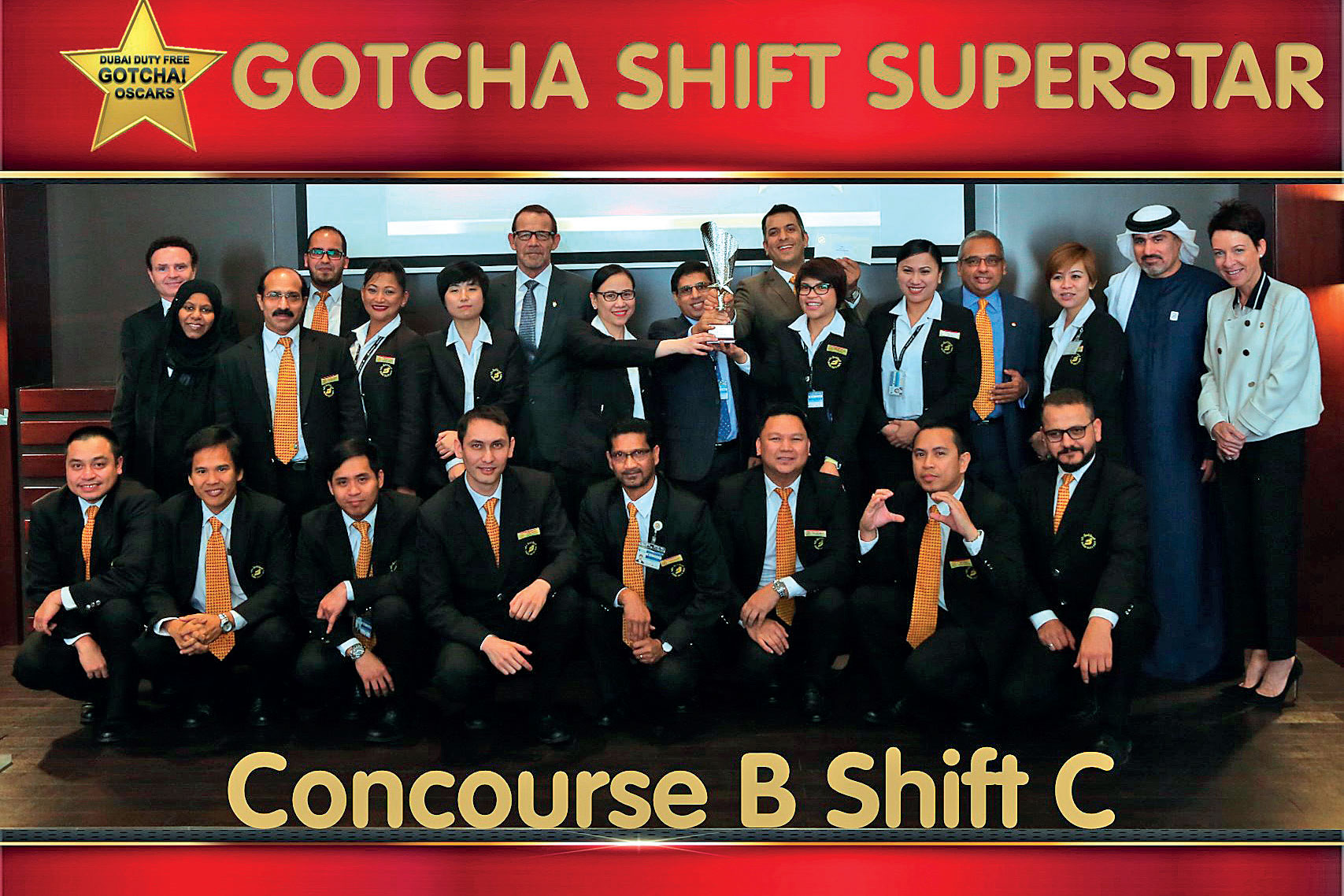 GOTCHA! Spotlight on Service – Dubai Duty Free continues to acknowledge its staff dedication and hard work through various training initiatives aimed at keeping the customer service performance up to scratch. During the process, staff are monitored, graded and rewarded for demonstrating excellent customer service based on the Gotcha Watch checklist.
Peak performance: The Dubai Duty Free brand climbs high once more as as Mohammed Sajib, Glenda Sageun and Eizar Teologio trek the Mount Everest base camp in Nepal.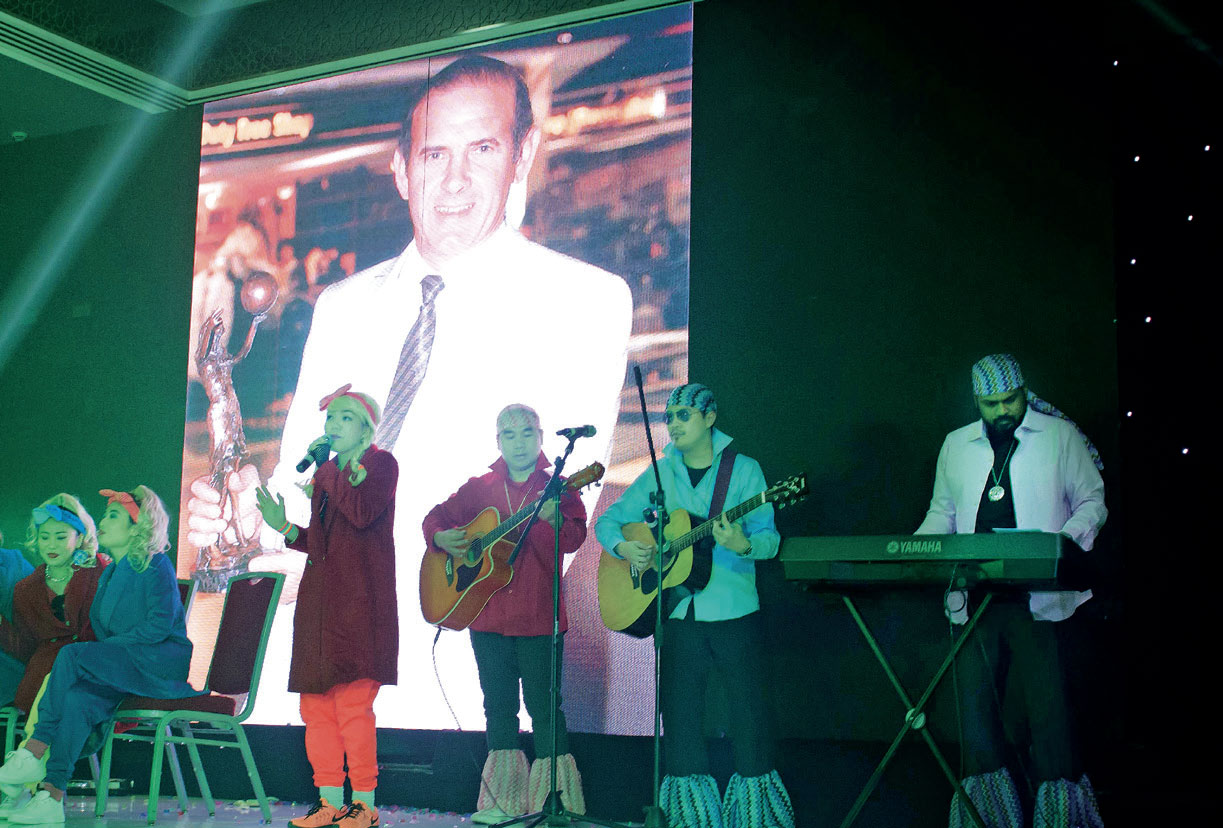 A live music performance at Unleashed 2017. Started in 2009, Unleashed is Dubai Duty Free's performance arts festival. The show gathers together some of the most talented Dubai Duty Free staff members and highlights significant moments in the retailer's history.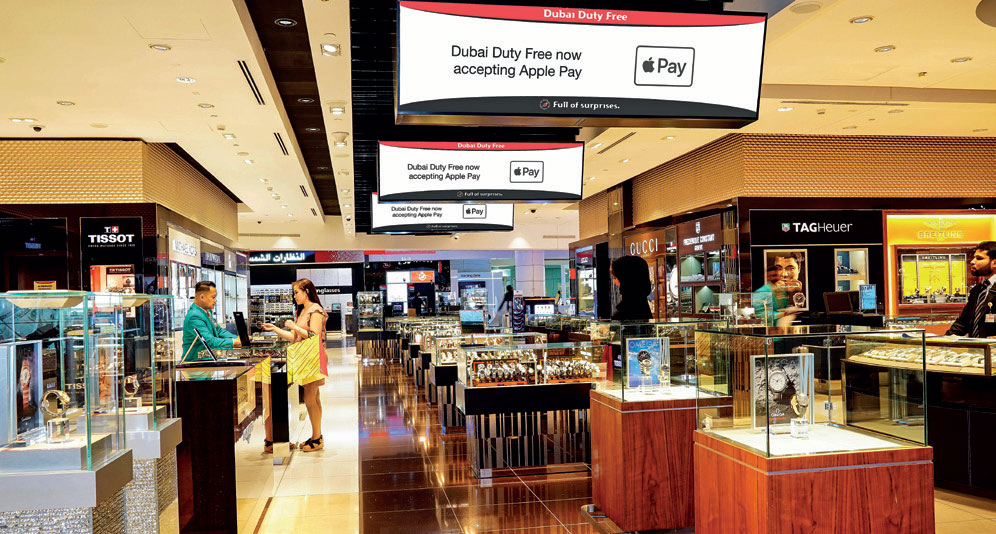 Dubai Duty Free introduces Apple Pay, which is transforming mobile payments with an easy, secure and private way to pay that's fast and convenient. Dubai Duty Free has enabled over 400 of its point of sales in stores across Concourse A, Concourse B, Concourse C, Concourse D and Terminal 2. Apple Pay has also been rolled out on Dubai Duty Free's E-commerce site online.dubaidutyfree.com.
The Dubai Duty Free 350sq m retail shop, which opened in October, is located at the entrance of Riverland at Dubai Parks and Resorts, an impressive theme park which includes Motiongate, Legoland Dubai and Legoland Water Park, Bollywood Parks, as well as The Irish Village (the second in Dubai) and the Lapita Hotel. The shop offers customers an assortment of goods, including confectionery, toys, Irish products and a range of Dubai souvenirs within the Taste of Arabia section.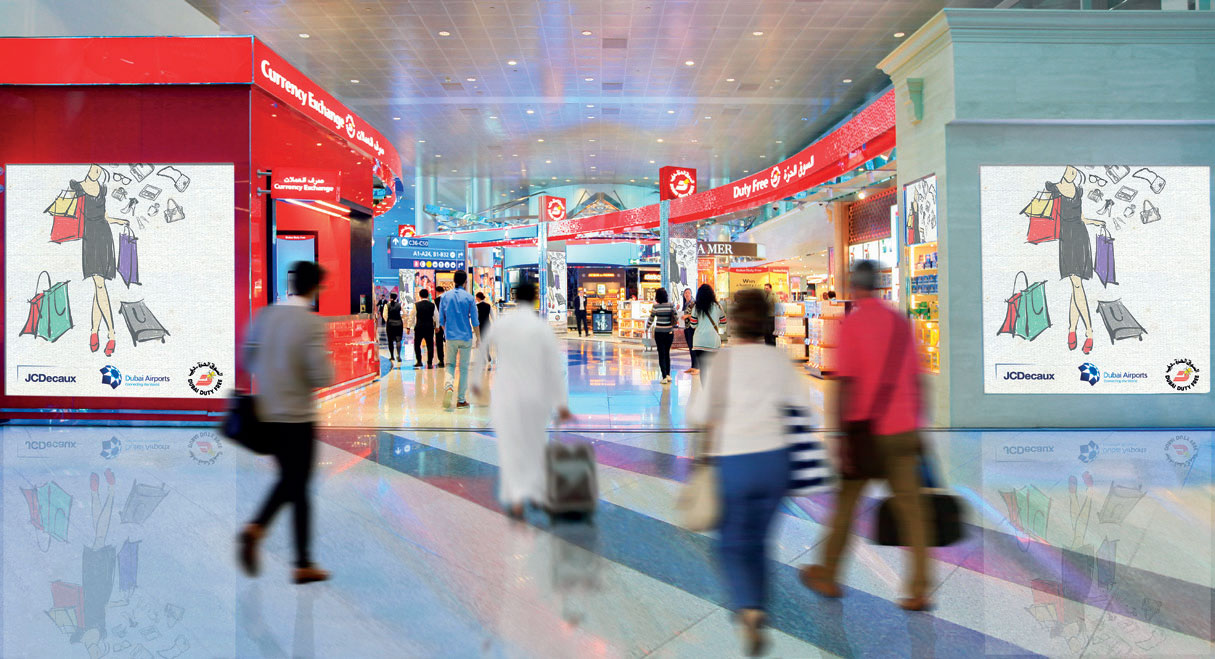 Joining forces: Dubai Duty Free, Dubai Airports and JCDecaux announce a pioneering partnership introducing a new Drive-to-Store, data-driven advertising offer at Dubai International. This is the first collaboration worldwide between an airport authority, advertising partner and travel retailer, offering a new advertising value proposition.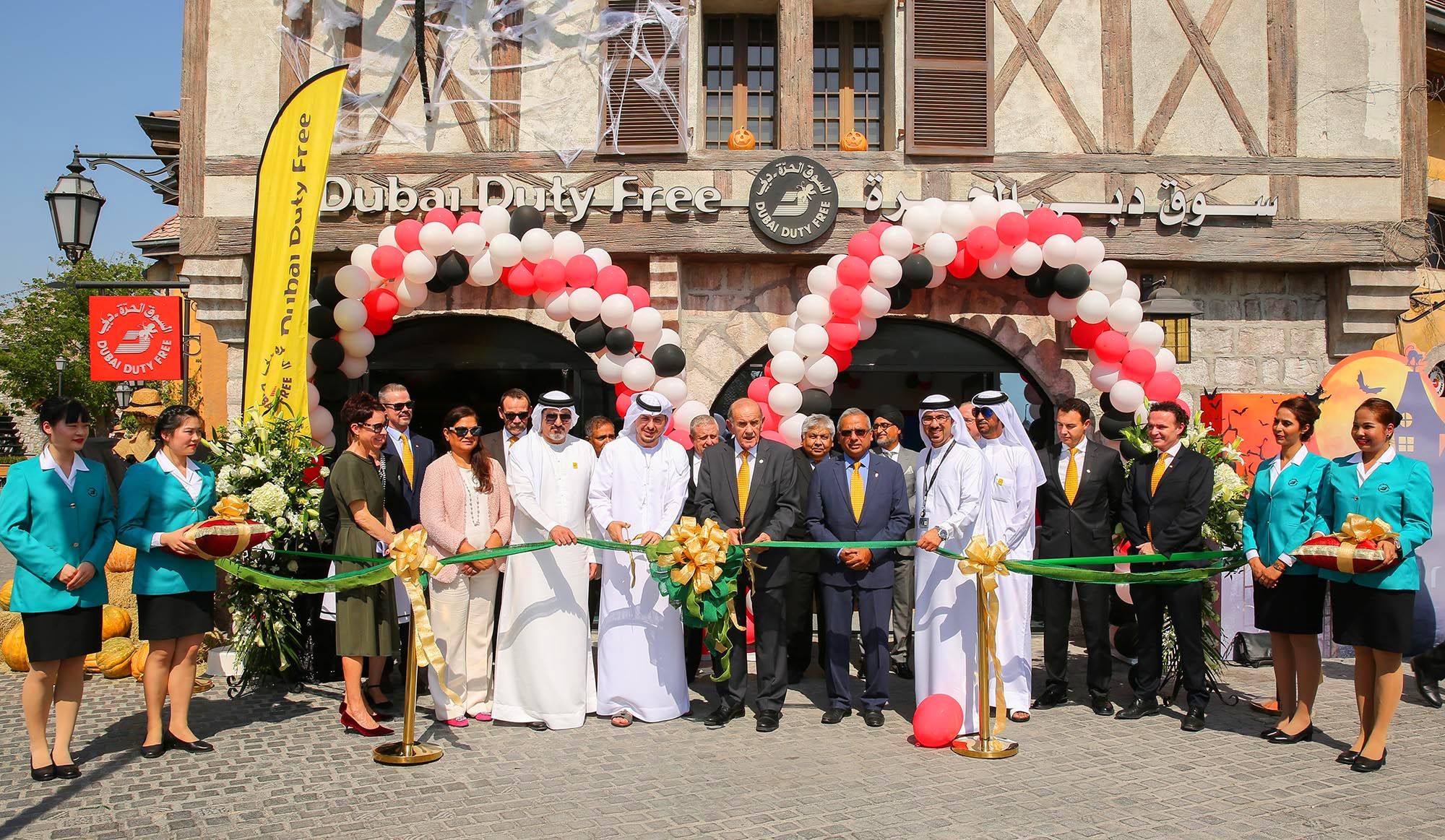 Dubai Duty Free officials headed by Colm McLoughlin together with Ahmed Al Rayyes, General Manager Retail & Hospitality, DXB Entertainments, at the official opening of Dubai Duty Free Shop in Riverland Dubai at Dubai Parks and Resorts on 30 October.
Dubai Duty Free hosts the 25th Dubai Duty Free Golf World Cup with over 100 overseas and local representatives from the global duty free industry. The event is won by Clark Francis for the second time.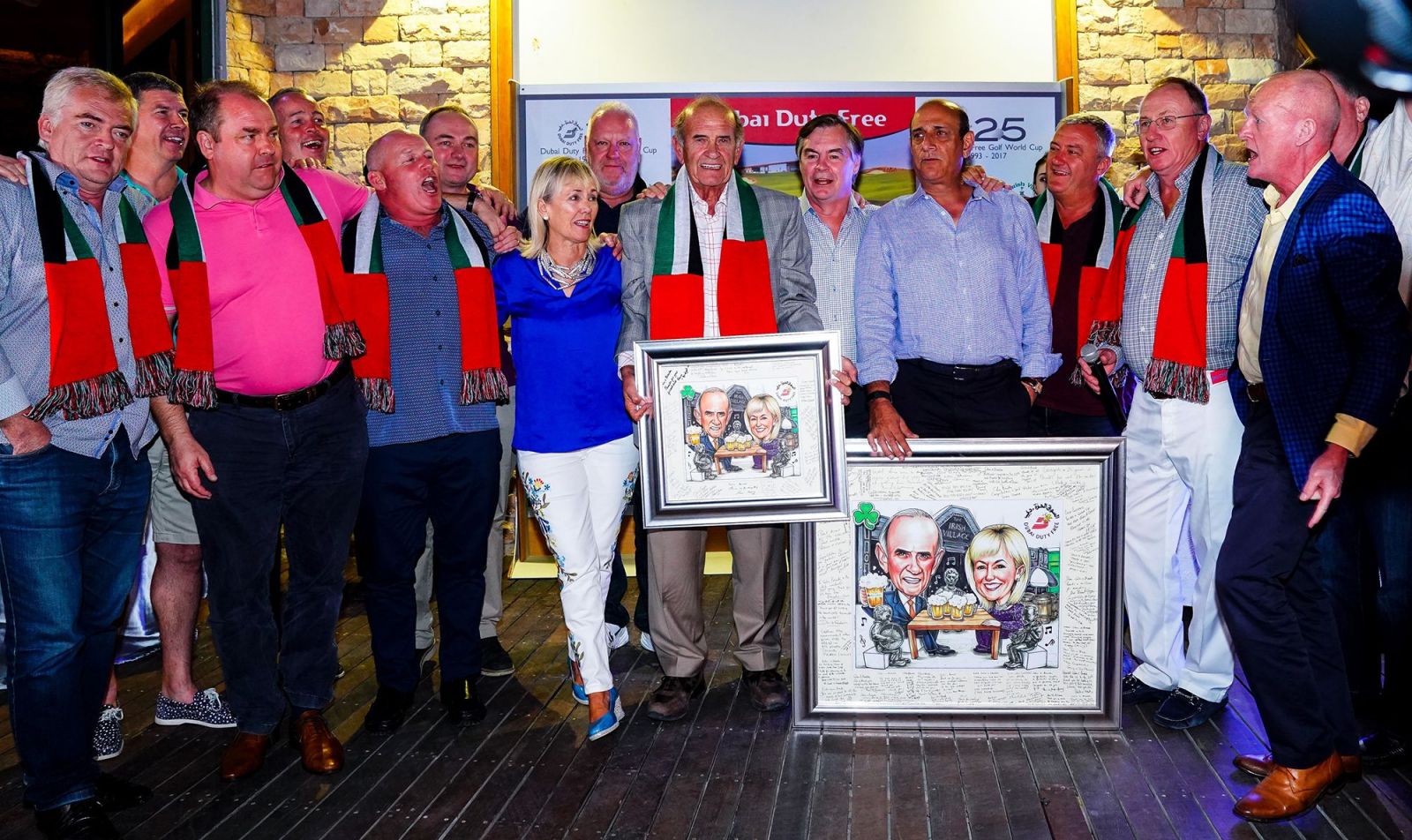 Friends of Colm and Breeda McLoughlin from the duty free industry present a special memento during the Dubai Duty Free Golf World Cup 25th anniversary dinner held at Dubai Creek Golf & Yacht Club.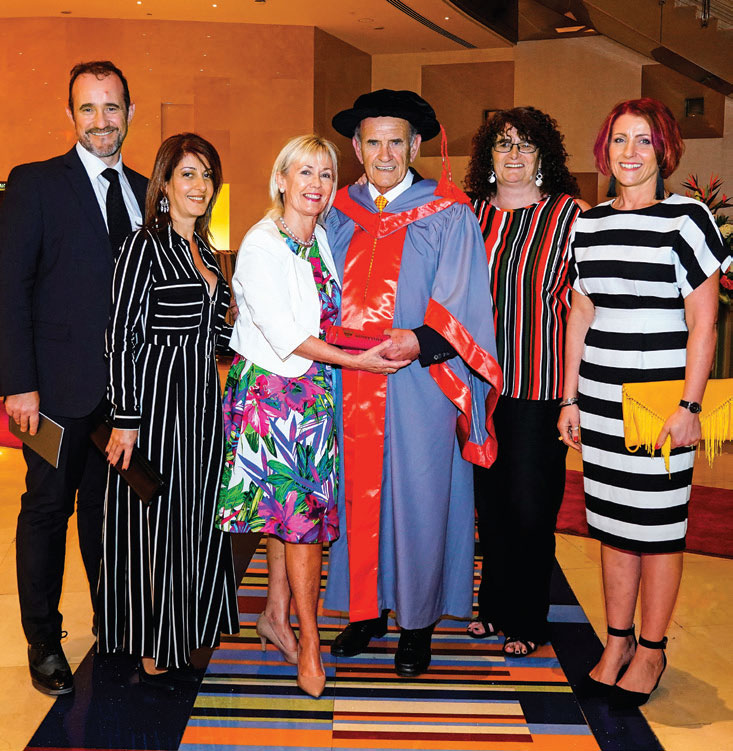 Doctor McLoughlin: Colm McLoughlin celebrates with his family after receiving an Honorary Doctorate of the University degree. Present was his wife Breeda, son Niall and his wife Sherly, plus Colm's daughters Tyna McLoughlin and Amanda Jordan.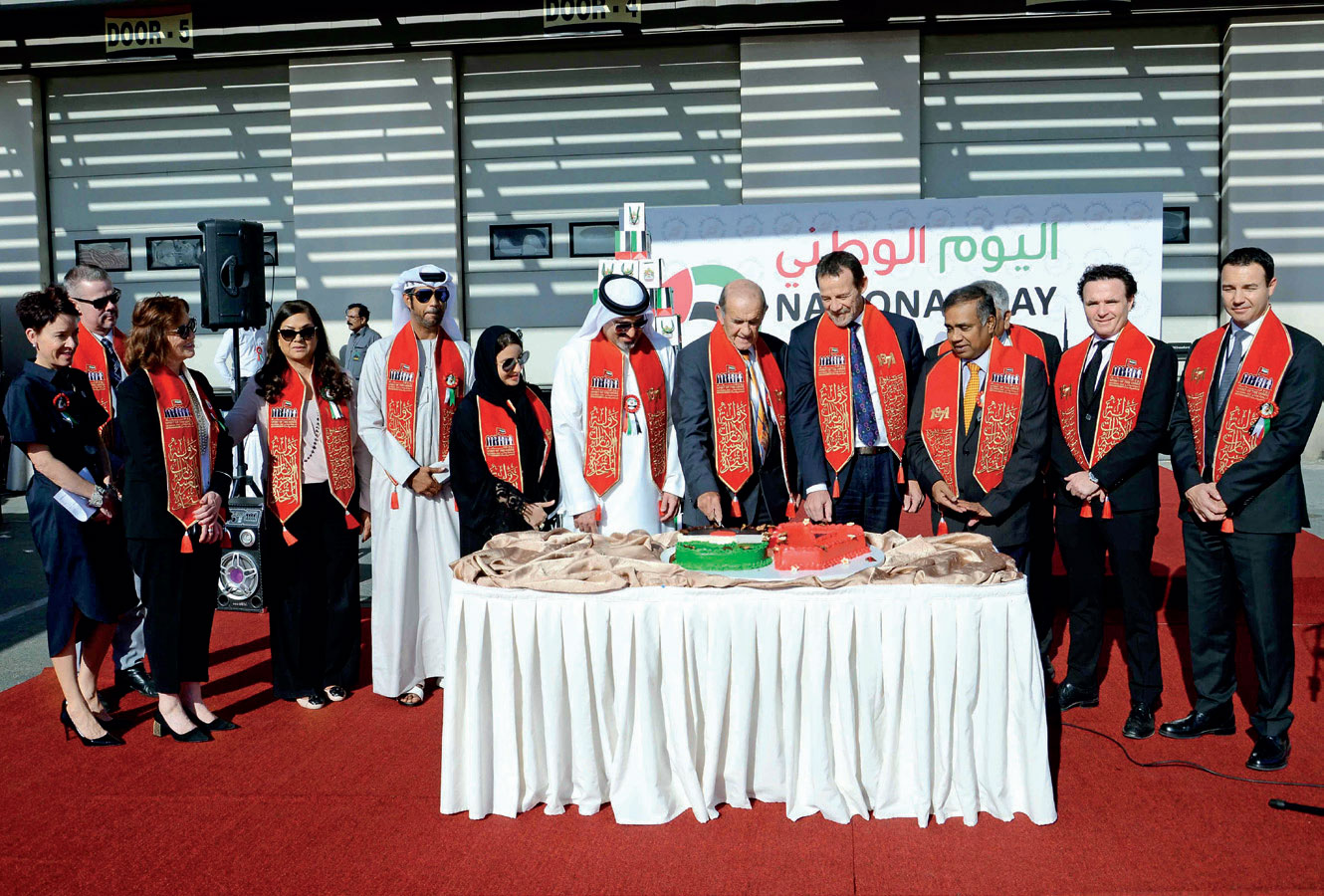 Dubai Duty Free management and staff celebrate the 46th UAE National Day with a ceremonial cake cutting.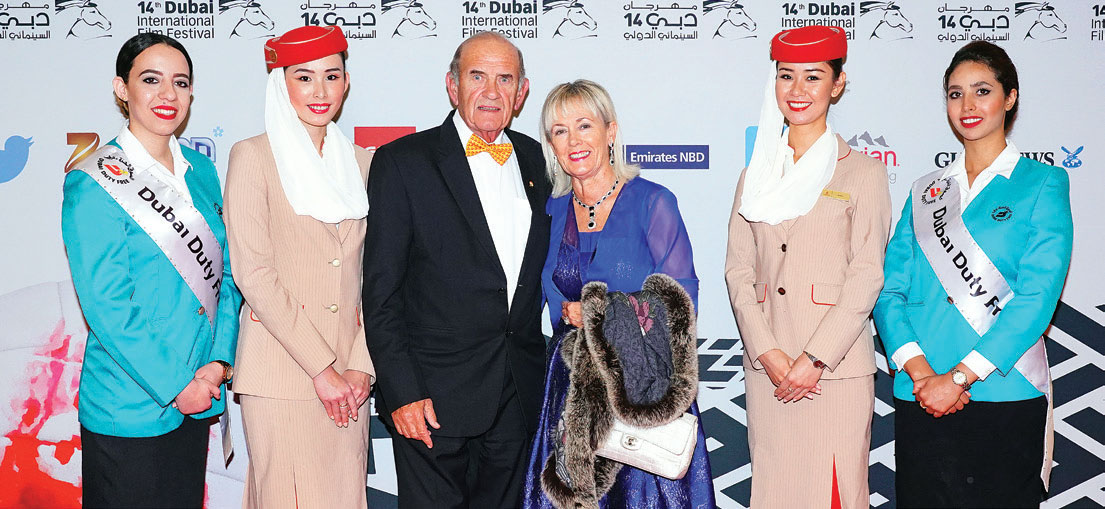 Colm and Breeda McLoughlin on the red carpet during the 14th Dubai International Film Festival held at Madinat Jumeirah.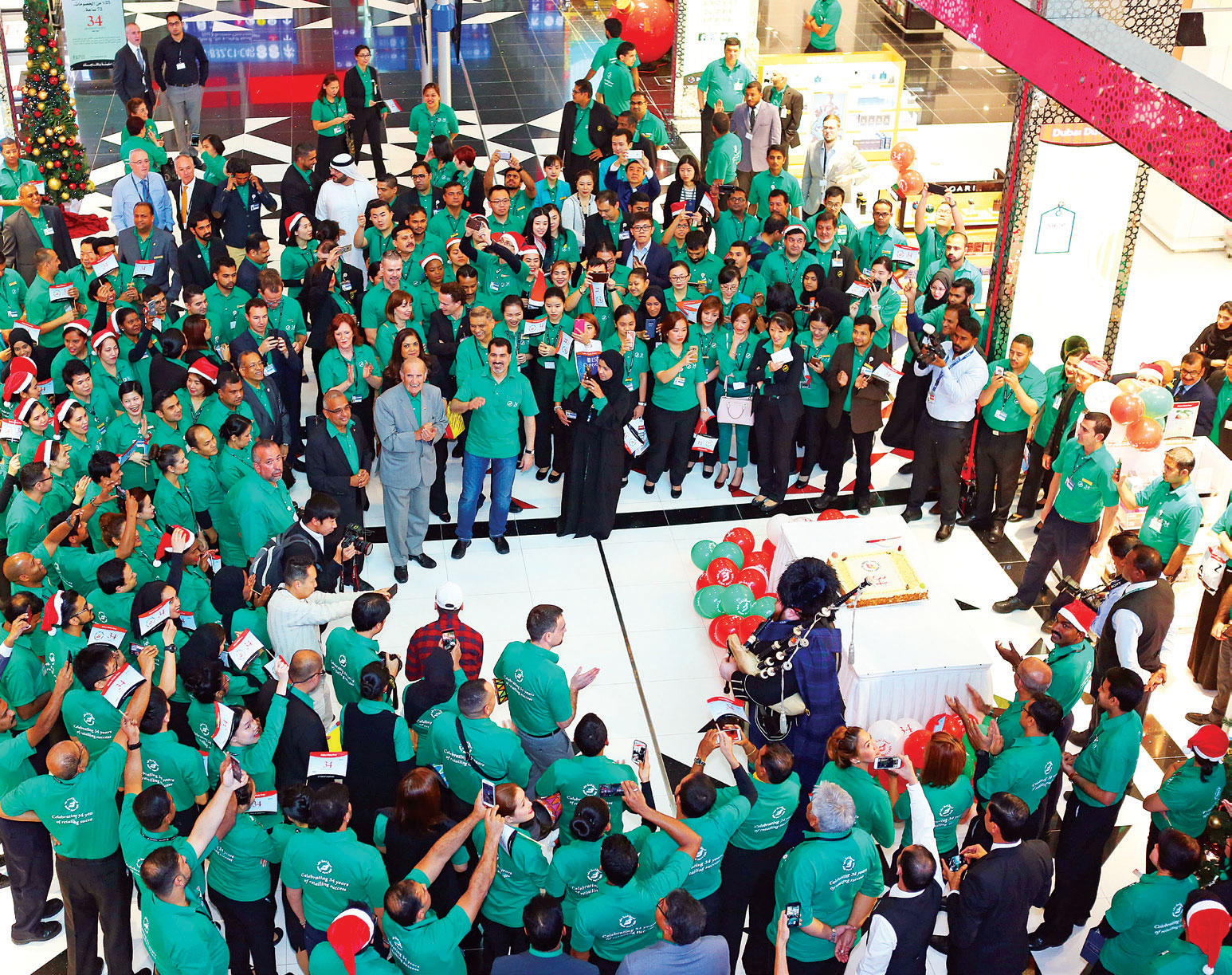 "The pipes, the pipes are calling": On 20 December, Colm McLoughlin together with senior executives and staff gather at the newly opened Concourse C to celebrate Dubai Duty Free's 34th anniversary.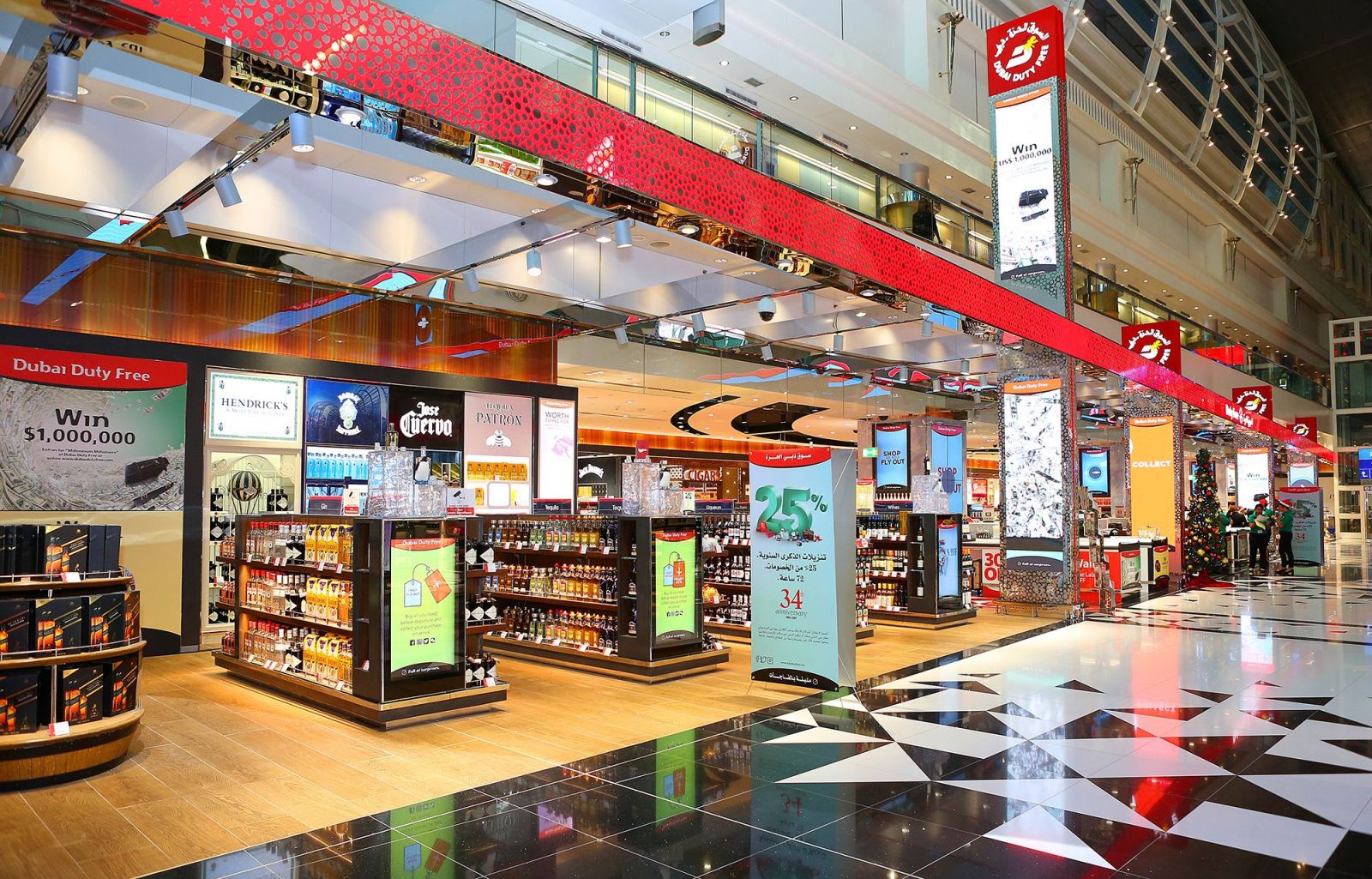 At the end of 2017, Dubai Duty Free opens its new liquor & tobacco and perfumes & cosmetics sections in Concourse C.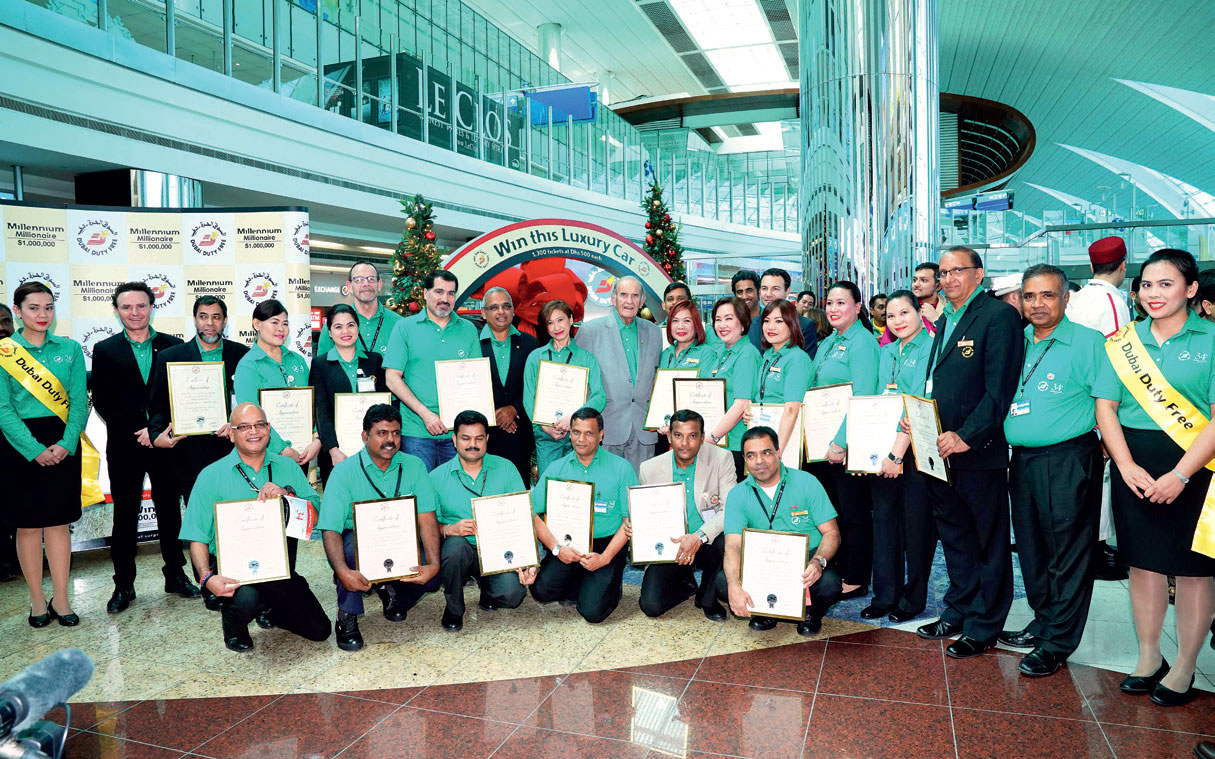 Thirty three employees receive a Certificate of Appreciation from Colm McLoughlin for their 25 years of dedicated service to the company.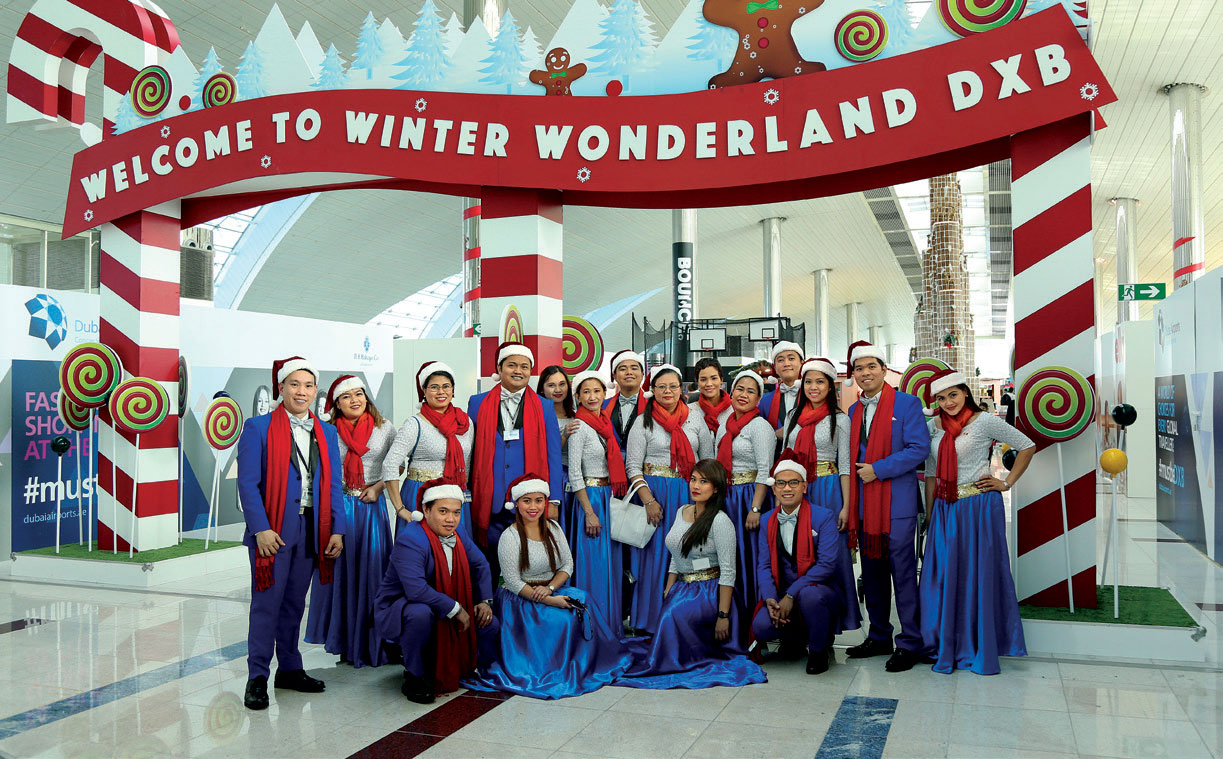 The Dubai Duty Free chorale ensemble, The Nightingales, perform at #musicDXB during the festive season in the Departures area of Concourse B and Concourse D.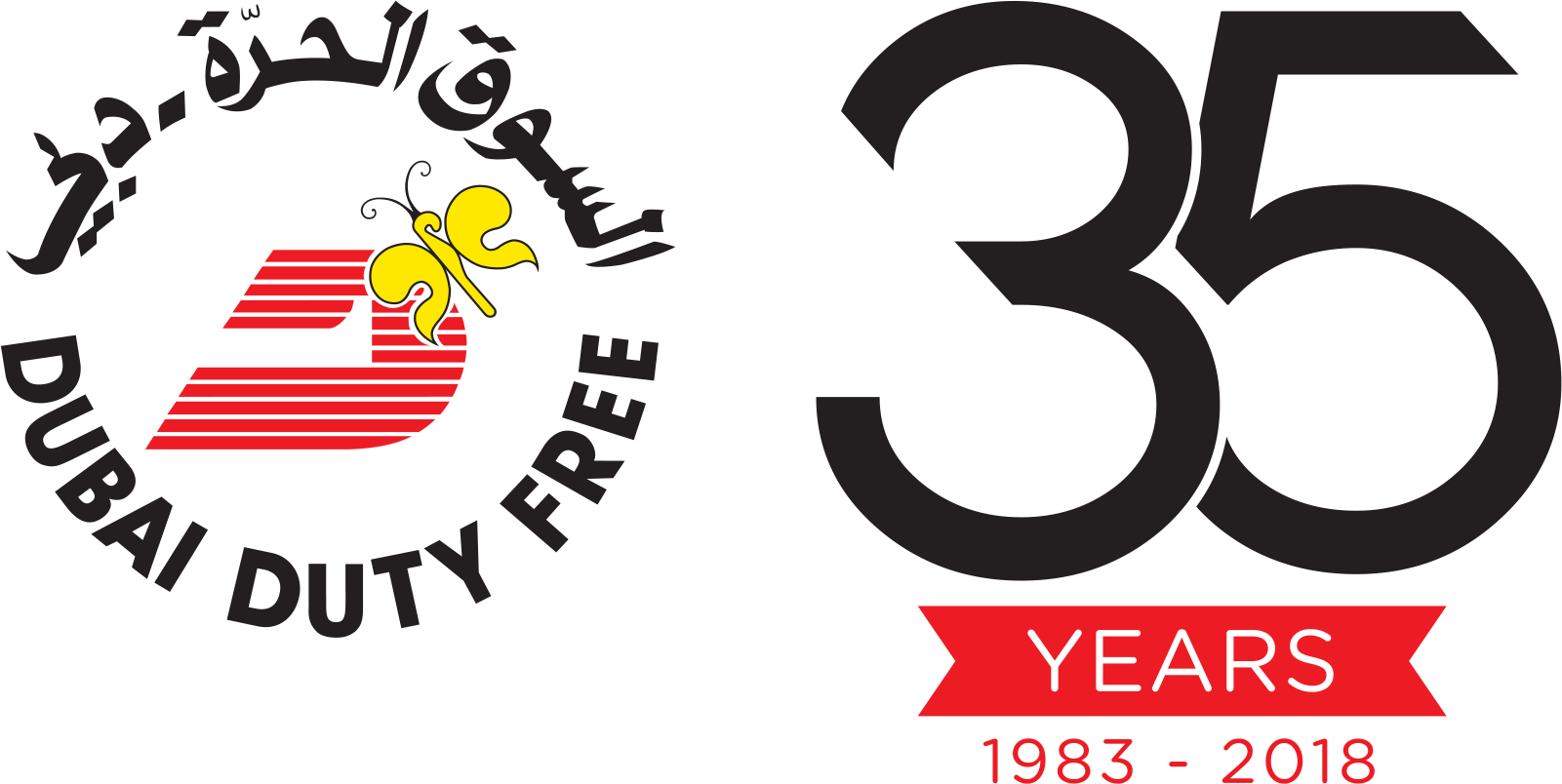 ---
The Moodie Davitt e-Zine | Spotlight Series – Special Report | 20 December 2018