Cruise retail • Starboard Cruise Services
---
Starboard seizes
the China cruise opportunity on

Costa Venezia
Earlier this month, Costa Cruises and Starboard Cruise Services revealed a high-class, bespoke shopping environment onboard the Costa Venezia. The ship, designed around the needs of the Chinese traveller, features luxury and beauty tailored for this key nationality, laid out within a Venice-inspired environment. Dermot Davitt paid a visit.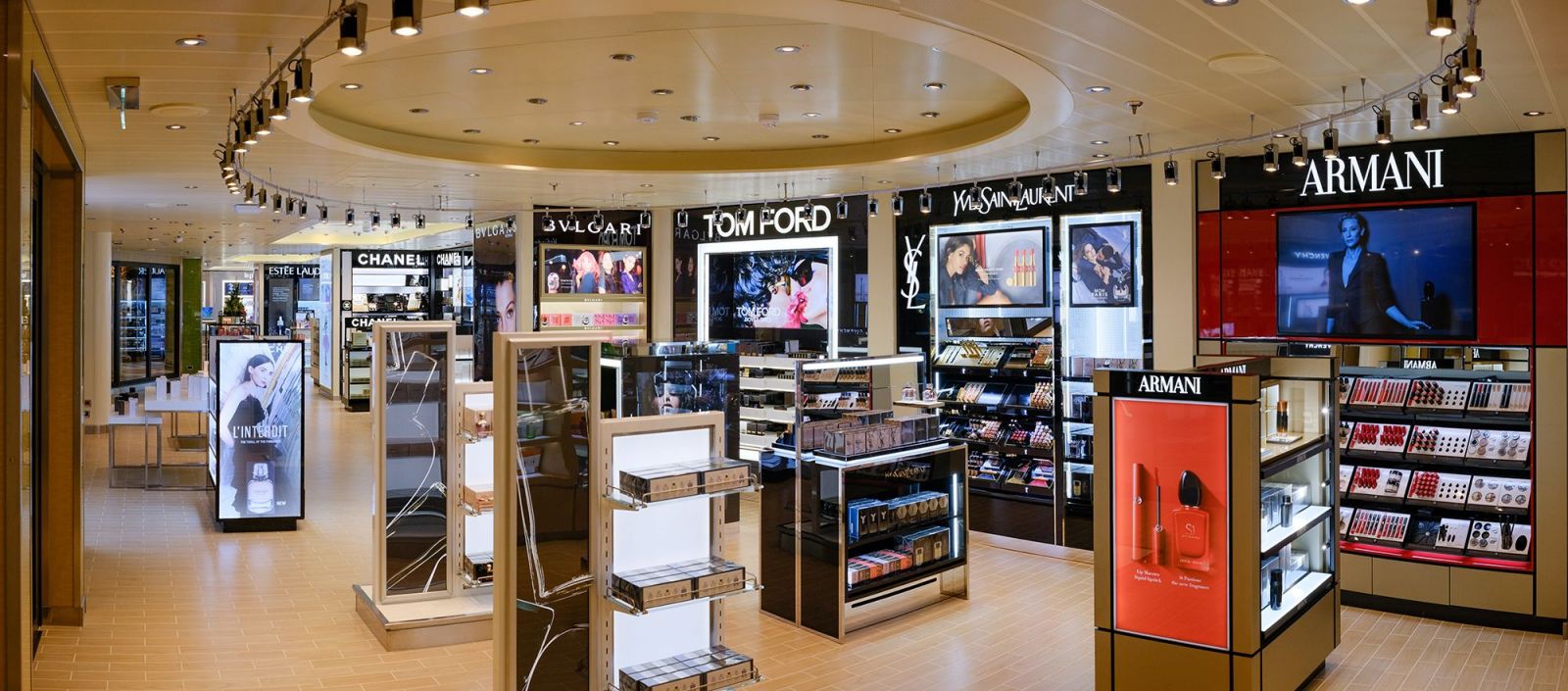 Costa Cruises, a pioneer of the industry when it entered the Chinese cruise market in 2006, broke new ground this month with the introduction of the Costa Venezia, its first ship designed exclusively for Chinese consumers. And with partner Starboard Cruise Services, it has developed a tailored, elegant and experiential retail offer targeting this growing consumer base.
The Moodie Davitt Report was among the international media invited to attend the naming ceremony and a retail preview in early March, before the ship left on a 53-day voyage to Tokyo. From 18 May Costa Venezia will be based in Shanghai and dedicated exclusively to Chinese guests.
The ship features many unique features and firsts, not only in the Venice-themed environment and China-focused assortment but in the experiences on hand for guests. A highlight is the Bvlgari Jewelry Fashion Show, which takes place on each voyage and encourages travellers into the world of the luxury brand, prompting browsing and purchase in the store after the event.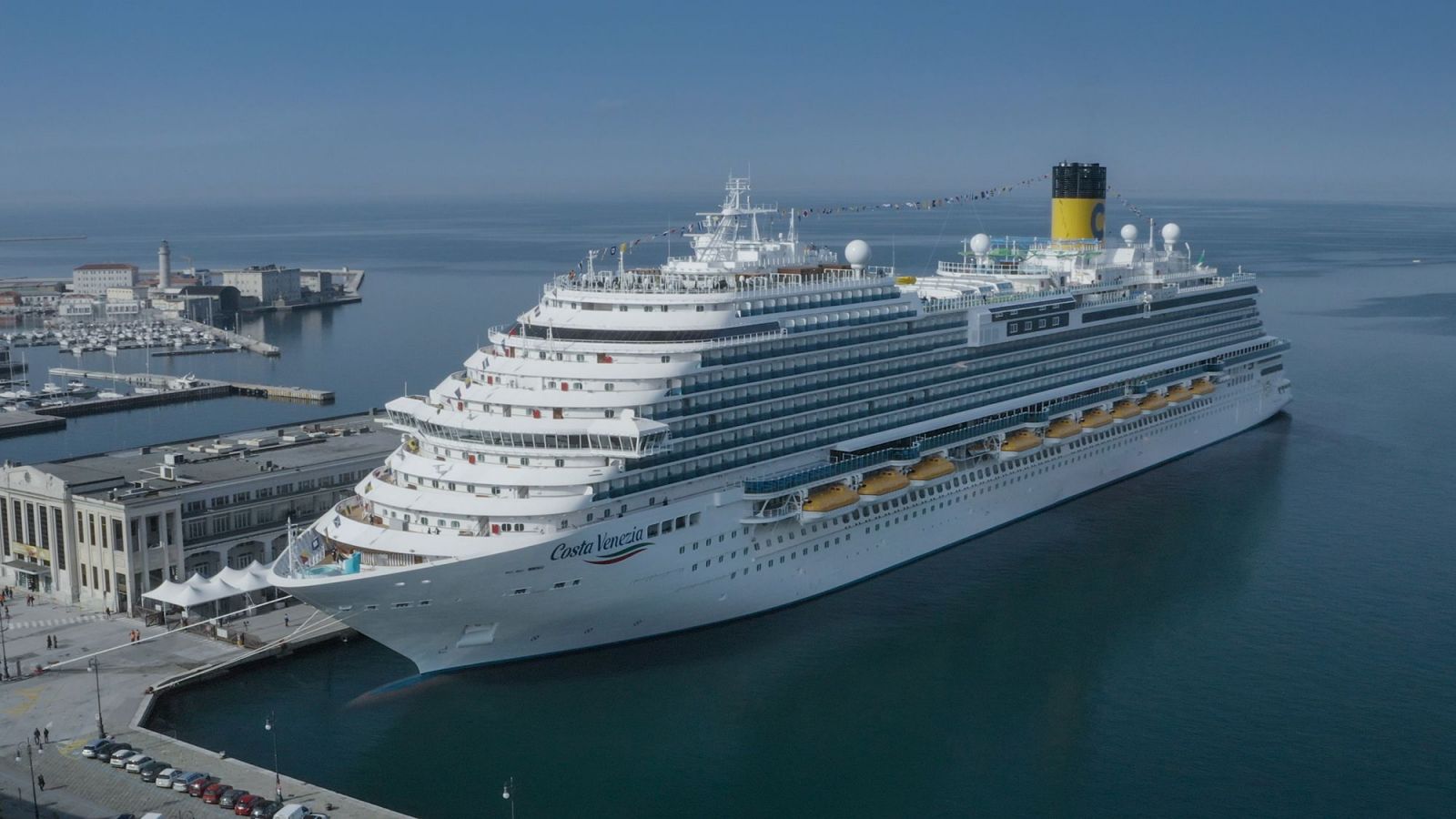 Maiden voyage:

Costa Venezia

prepares to leave Trieste to lead Costa Cruises' China presence from May.
Costa Cruises, a pioneer of the industry when it entered the Chinese cruise market in 2006, broke new ground this month with the introduction of the Costa Venezia, its first ship designed exclusively for Chinese consumers. And with partner Starboard Cruise Services, it has developed a tailored, elegant and experiential retail offer targeting this growing consumer base.
The upscale, well personalised shopping environment across two decks covers around 8,000sq ft, the largest on a Costa ship yet. Highlights include a 2,500sq ft beauty space, the largest at sea, says Starboard, and a boutique environment featuring a range of firsts for Costa, Starboard or the cruise industry.
Starboard Vice President & General Manager, Asia Derek Wong says: "We have strategically selected brands that represent the best in Italian designers cherished by Chinese shoppers to complement and enrich Costa Venezia's onboard offerings. Starboard offers an innovative approach to the retail experience not previously seen by Chinese travellers."
Starboard's Genoa-based European team led the project development with Costa before handing the ship over to the Asia team. Vice President & General Manager, Europe Stefano Menegotto says: "This is a major project for the two companies. It's the first ship designed for the Asian market by Costa Cruises and a game changer for them. The fact that Starboard is involved with this ship shows our strong partnership. The ship is very clearly themed and we as Starboard are a key player in that positioning."
Costa Venezia

fact file
Over 8,000sq ft of retail space presented in a Venetian style
Largest beauty space in the cruise industry (over 2,500sq ft)
First-at-sea brands include Max Mara and Clé de Peau Beauté
First Tiffany & Co. aboard a Costa Cruises ship
30 international beauty brands
Deck 4 – San Marco Shops
Liquor
Tobacco
Food, candy & Costa branded merchandise
Source: Starboard Cruise Services
Deck 5 – Calle Larga Shops
Beauty
Swiss timepieces
Fine jewellery
Bally
Max Mara
Salvatore Ferragamo
Mikimoto
Fine watches
Fashion jewellery
Sunglasses
Boutiques
Tiffany & Co.
Bvlgari
Cartier
Jaeger LeCoultre
Onboard, the ship's theme is clear and instantly recognisable. At almost every turn there is a depiction of St. Mark's Square or a streetscape that evokes Venice. You'll find life-size gondolas in the corridors ready for photo opportunities, and the waiting staff in the restaurants (many of them Asian) dressed as gondoliers.
The restaurant menus are heavily China-focused, with noodles, dim sum and Chinese broths core elements alongside pastas, pizza and other western flavours on launch day. By the time the ship reaches Shanghai, the menu will be almost entirely Chinese.
And then there's the retail. Every brand has been chosen for its ability to appeal to the Chinese shopper, and luxury is emphasised more than on most other Carnival Corporation ships.
That emphasis comes to life as one walks the stores. On one side of the deck five atrium lies the impressive, well ranged and highly personalised beauty arena, and on the other are the eye-catching boutique spaces and luxury watches.
Luxury watches are led by Swiss timepieces across a variety of price points, from Hublot, IWC and Panerai at the top end through Longines (a consistent best seller by volume) and Rado. New entrants include Gucci and Fendi (the latter, like Starboard, an LVMH brand) and the mix features brands such as Mido that resonate with Chinese guests.
Menegotto says: "This selection is based on our learnings in Asia over the past ten years, and includes some power brands. We have Panerai as a first for Costa in Asia, and this will help drive sales to men, along with strong performers like IWC and Longines. Luxury watches are broadly 70% to men though women clearly dominate sales in other areas such as beauty."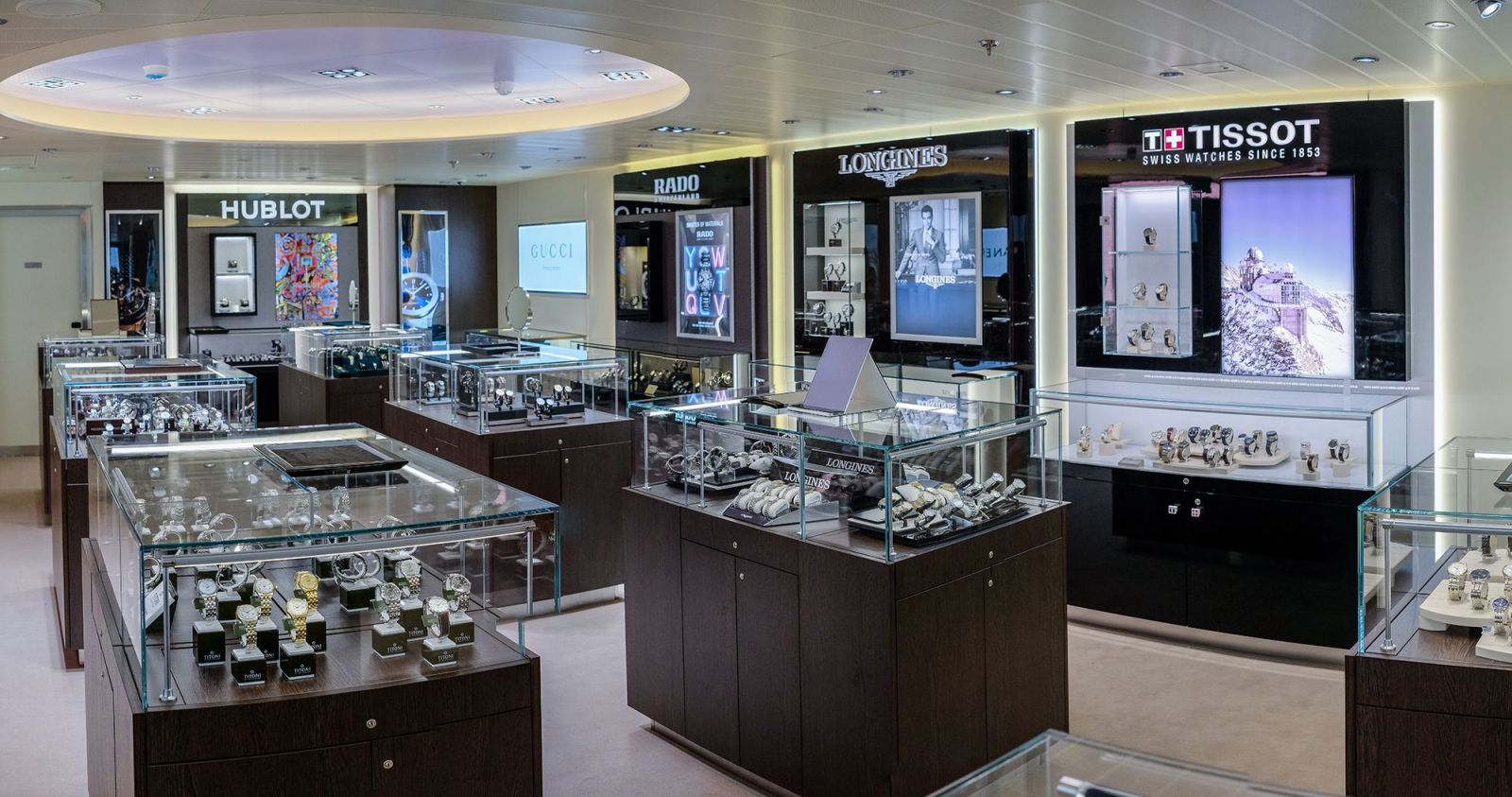 Master of time: The Swiss luxury watches offer is tailored to Chinese tastes, from the brands to the sizes to the types of strap available.
A new face for luxury at sea
Adjacent to luxury watches is the boutique environment, which upon completion will house a stunning Bvlgari area, Cartier, Tiffany and Jaeger LeCoultre (the latter two for the first time with Costa).
Jaeger LeCoultre makes its debut with Costa and is among the biggest spaces on any cruise ship for the brand. Menegotto says: "JLC has been growing fast among the Chinese, driven by two collections, Reverso and Master, which account for 90% of the sales. As a brand it is very classical, very stylish, with elements that resonate among this consumer group such as smaller watch faces and leather straps. We are seeing JLC deliver some very interesting numbers already in our stores and believe that will carry through to the Venezia."
The opening of the latest Cartier Espace carries on a close partnership between Starboard and the brand over many years. Watches are the focus here, rather than fine jewellery.
Major Starboard projects 2019
Source: Starboard Cruise Services
Menegotto says: "It's our job to make the space as productive as we can. It's a complex dynamic. We have to use space, which is limited, in the most efficient way while ensuring the brands are happy and we appeal to the consumers. And of course that must align with the cruise line's strategy, just as we have done with Costa here."
The Bvlgari space is set to be a powerful highlight of the boutique area, with the biggest footprint among the luxury brands, in a concept inspired by its flagship store in Rome's Via dei Condotti.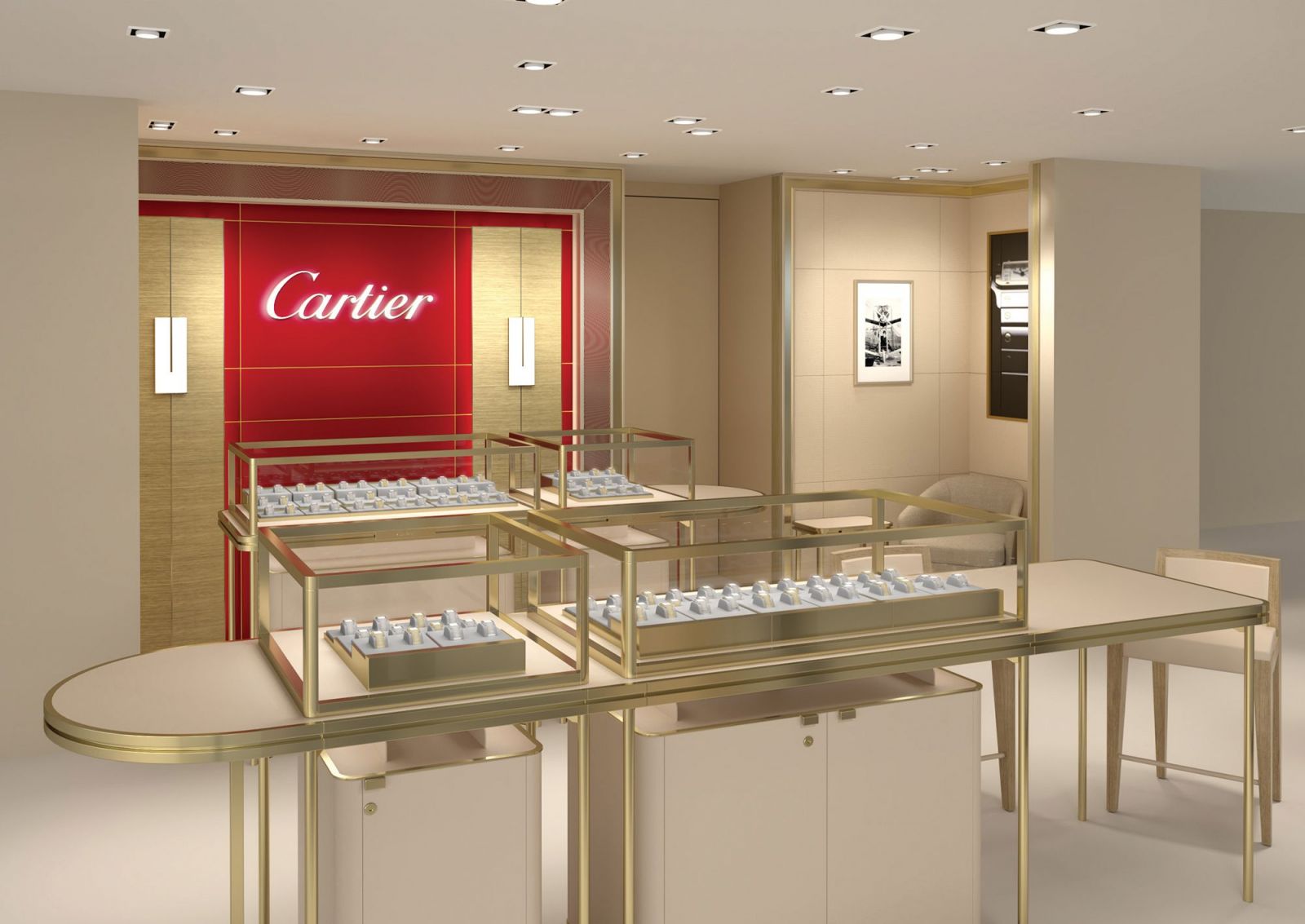 Cartier Espace: Extends the partnership between Starboard and the brand to this new vessel, with the final fixturing to be installed before the ship reaches Shanghai.
The partnership is noteworthy on several levels. There's the space itself, which represents Bvlgari's largest branded area in the Asian cruise market. It will carry not only jewellery but also a full range from handbags to sunglasses – accessories are a fast-growing part of the brand's sales today. For Costa, it underpins the cruise line's drive to represent 'the best of Italy' through entertainment, culture8 and fashion.
The brand is also activated in a new way onboard, through a first-of-its-kind joint venture between Bvlgari, sister LVMH company Starboard and Costa, the Bvlgari Jewelry Fashion Show. The evening (once per voyage) blends elegance and glamour with music and fun, all highlighting the Italian jeweller's craftsmanship.
It encourages discovery too, with guests invited to the 'after party' in the store, where they can view the collections and meet the show's cast.
The show therefore drives brand visibility and engagement and builds traffic to the store. Importantly, Bvlgari also allows Costa to feature the activation in its marketing to consumers, in effect helping to tell (and sell) the cruiseline story in Asia.
Menegotto notes: "This is such an exciting partnership and one we are proud of. It is really key for Costa Asia and helps Costa represent 'the best of Italy' through one of the iconic names from the country.
"We are confident it will generate a strong performance. We have the brand on other cruiselines and know how strong it is within its category in China."
The other brand in this zone is Tiffany, another first for Costa. "We know from our ships that this is a highly popular brand in China," says Wong. "Starboard introduced the first Tiffany boutique at sea and this takes the experience to a new level. It will become a full Asian assortment by the time it reaches Shanghai, with a bigger range of diamonds to suit demand there."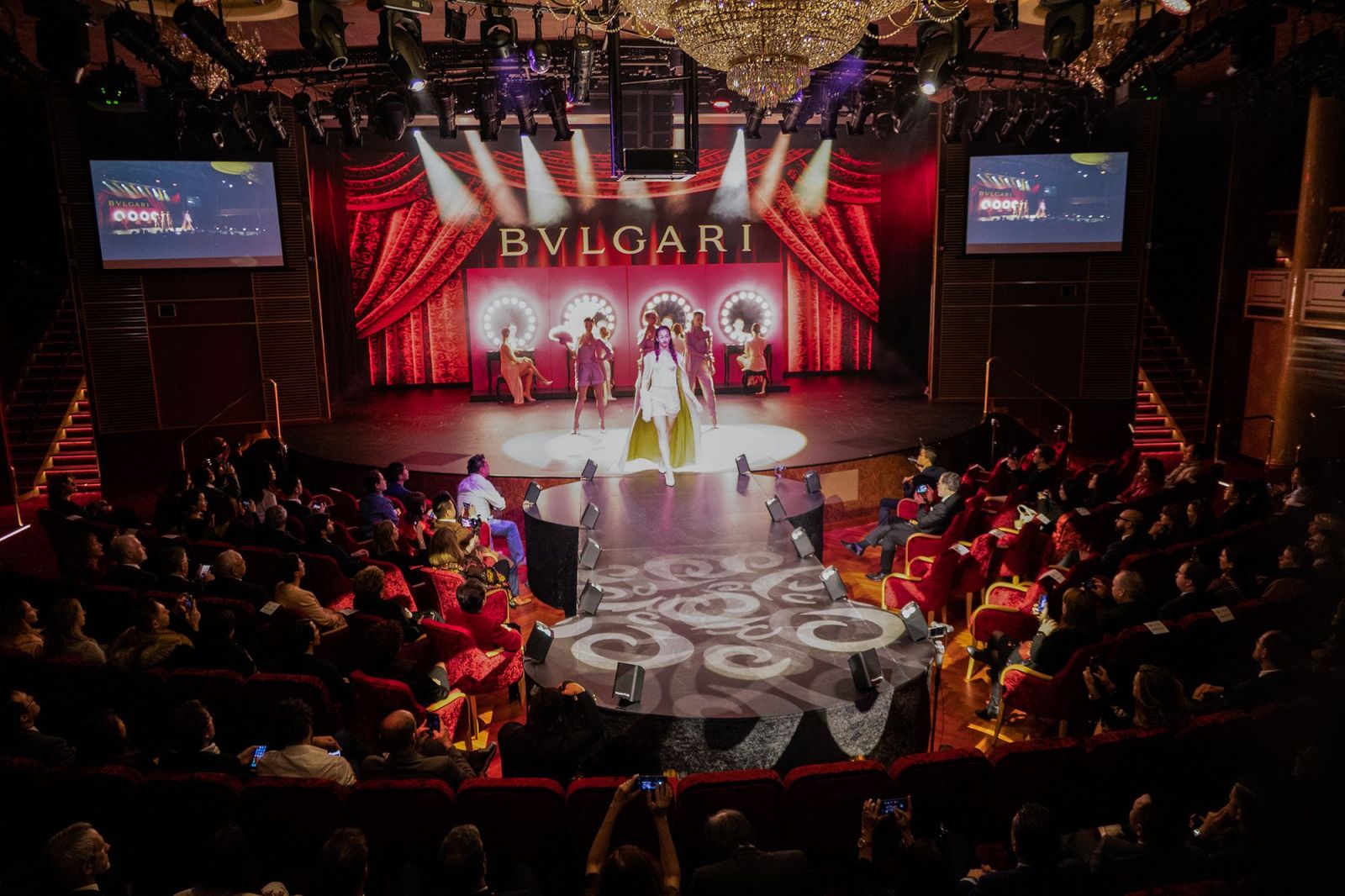 Spectacular show: The Bvlgari Jewelry Fashion evening stylishly evokes the world of the luxury brand, and (subtly) points potential shoppers towards the onboard boutique.
Costa Venezia

: What they said:
Costa Group and Carnival Asia CEO Michael Thamm: "Costa Venezia will help us to further develop the cruise market in China, which has a great unexplored potential. Currently, 2.5 million Chinese people a year choose to go on a cruise vacation, which is less than 2% of the total number of Chinese people who travel abroad."
Carnival Corporation President & CEO Arnold Donald: "The delivery of Costa Venezia is a further step in the growth of a strong and sustainable cruise industry in China, which someday, we believe will be the largest cruise market in the world."
Costa Group Asia President Mario Zanetti: "From conception to delivery, everything about Costa Venezia has been designed with the Chinese customer in mind. Costa Venezia will continue to offer the authentic Italian experience that is a hallmark of Costa, but with further innovations that have never been seen before and which are designed to meet the needs of the market even better."
Starboard Vice President & General Manager, Asia Derek Wong: "We have strategically selected brands that represent the best in Italian designers cherished by Chinese shoppers to complement and enrich Costa Venezia's onboard offerings. Starboard offers an innovative approach to the retail experience not previously seen by Chinese travellers."
Starboard Vice President & General Manager, Europe Stefano Menegotto: "Our collaboration distinguishes Costa Venezia by bringing together the world's best-loved Italian brands in an environment evoking the romanticism of Venice. Our guests can expect to have a memorable shopping experience unlike anything they've had before."
Banking on beauty
Starboard's focus on the Chinese shopper continues with the largest beauty space at sea, measuring more than 2,500sq ft (across two outlets) and including over 30 international brands.
There are classy, elegant wall fixtures for Tom Ford (one of the hottest brands in China today), Armani, Hermès and Bvlgari at one end of the upscale international brand-led beauty store. With the focus on skincare and make-up in Asia, fragrances are represented on a smaller scale, mainly by these key brands.
Other eye-catching spaces in the larger store feature Chanel and Dior, Yves Saint Laurent, La Prairie, Estée Lauder, La Mer, SK-II and more.
Boutique fragrance brand The Merchant of Venice is a neat addition, offering a welcome Sense of Place to the range. The brand was born in Venice, has its own store in St. Mark's Square and boasts a long connection with Asia through the import of spices and other ingredients. It also fits well with Costa Venezia's 'best of Italy' theming, with packaging in Murano glass. It will become a "discovery brand" for the Chinese, says Starboard, which is looking at introducing it to other ships.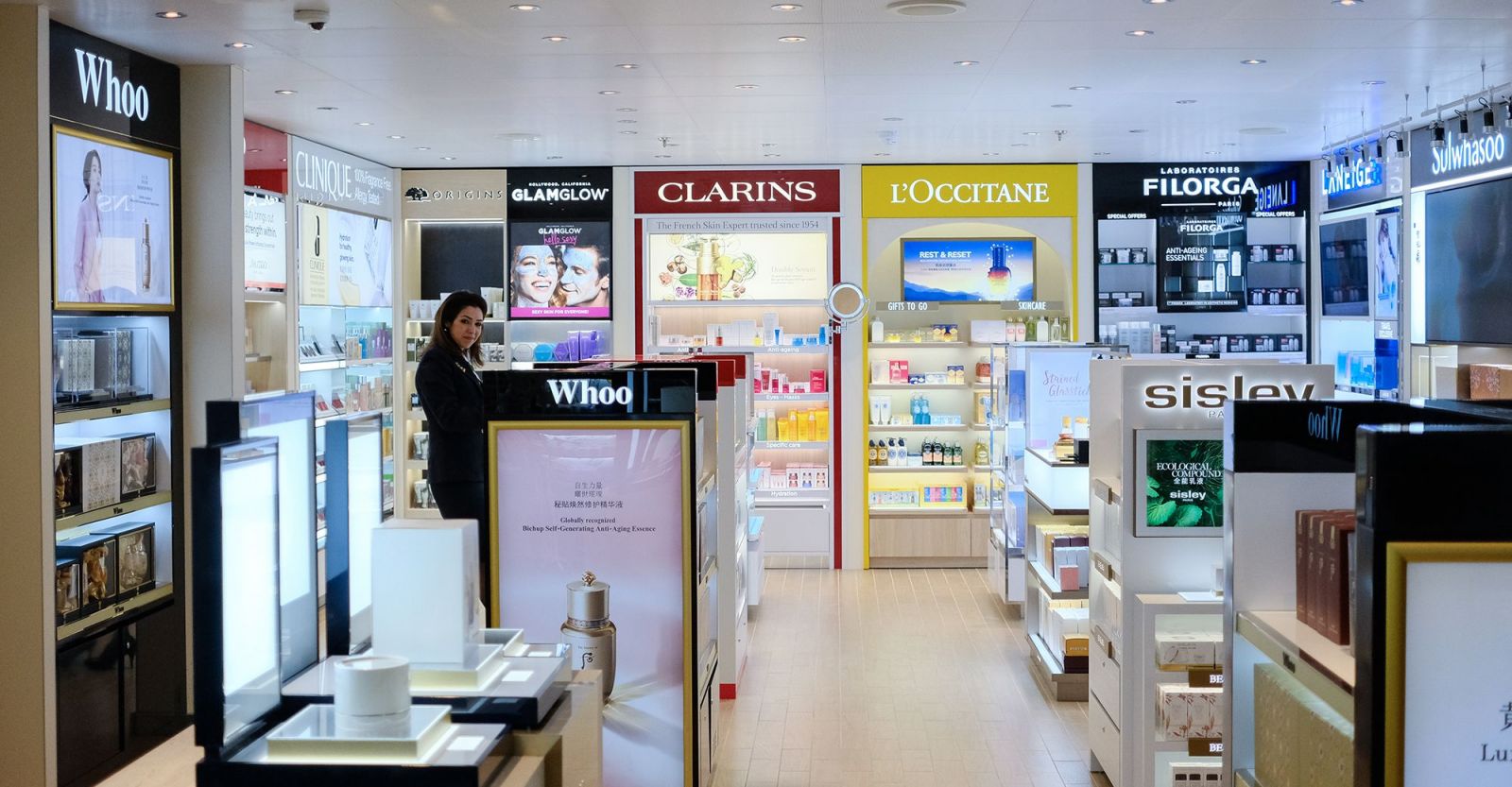 A showcase for skincare: International brands that resonate with the Chinese consumer blend with regional names, including some cruise firsts.
The presence of hugely popular brands such as Estée Lauder Advanced Night Repair, La Mer, SK-II, Lancôme and others is a big drawcard, as in other environments. Given their popularity, purchasing of beauty tends to be heaviest on the first day of a Chinese itinerary. Starboard has created a storage zone close to the store to support speedy replenishment at those peak times.
Menegotto says: "The layout in the luxury brands' beauty store offers different experiences from one corner to the other, and you can have a real journey through the store."
Overall, there is a strong focus on makeup and skincare, which is especially pronounced in the second P&C environment. A wide assortment of Asian beauty brands can be found here, among them Shiseido, Dr. Jart+, Sulwhasoo, The History of Whoo, Laneige and a debut at sea for Clé de Peau Beauté. International brands also feature, with Kiehl's prominently displayed close to the entrance. Others include Clarins, Clinique, L'Occitane and Sisley.
Wong says: "Skincare is very competitive in Asia. Typically with new brands we test them for several months across different cruise itineraries in generic space and if they perform, we give them the opportunity to open in a branded environment. Here we have the opportunity to offer more brands in great space as the beauty area is larger than usual."
Menegotto adds: "Already we know there is excitement about this store. There are a lot of brands here, with strong investment in fixtures to personalise the space."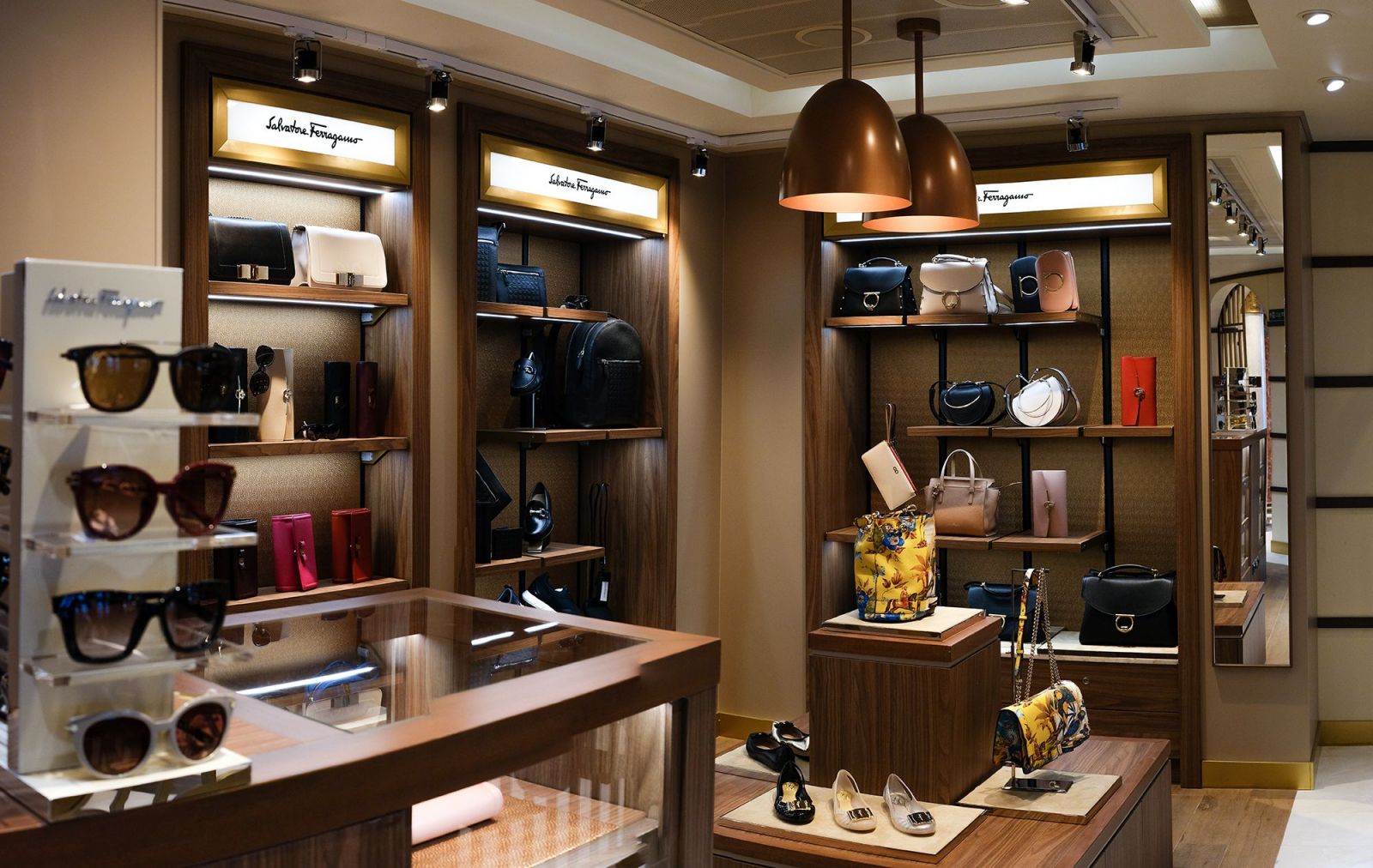 "In these smaller spaces you need to really leverage the best sellers or signature items so this business is about handbags and smaller accessories" – Stefano Menegotto
A tailored fashion mix
The Swiss luxury watches store, boutiques and beauty space form the core of the retail offer at the ship's fifth floor heart. They are complemented by additional space along one of the main walkways on the same deck, with stores resembling those you might encounter on a walk through one of Venice's narrow streets. This features a small selection of nicely curated fashion brands: Max Mara in its store debut at sea, Marc Jacobs with Michael Kors, plus Bally with Salvatore Ferragamo.
Menegotto comments: "We didn't want to limit ourselves to Italian brands, though they are very important. Marc Jacobs and Michael Kors remain very popular with Chinese today. Marc Jacobs is a high-performance brand. We have been able to evaluate the opportunity with our sister company DFS. In these smaller spaces you need to really leverage the best sellers or signature items so this business is about handbags and smaller accessories, the Snapshot bag in Marc Jacobs' case."
Bally and Ferragamo are long-time partners for Starboard, and carry strong resonance with more mature Chinese consumers (Marc Jacobs and Michael Kors will likely appeal to a younger demographic). Even in a small store there is a good assortment for men and women, including shoes, bags, scarves and even shirts.
In a milestone for brand and retailer, Max Mara opens its first store at sea. It has significant reach among Asian consumers, and offers a rare chance to merchandise apparel at sea, with the iconic coat plus a range of scarves being the highlights.
Menegotto says: "We are very excited about revealing this brand onboard, with its Italian appeal and heritage."
Rounding out the luxury offer are fashion watches (led by anchor brand Citizen and other names that include Daniel Wellington, Bering, Folli Follie and Chinese brand Fiyta) and fashion jewellery. The latter houses key brands Swarovski, Majorica and Folli Follie and fine jewellery will be added later for the Chinese market.
The high quality of finishes and a consultation area give this store an upscale boutique feel. Again, the ranges are well tailored, with an emphasis on the swan designs that Chinese like, as well as Zodiac-inspired jewellery items and seasonal additions at certain periods of the year. Fine jewellery will be added to this store, featuring precious stones, by the time the ship reaches China.
Close by lies a small sunglasses shop, led by fashion-brand eyewear. Leading brands include Prada, Bvlgari, Ferragamo, Bolon, Burberry and others.
The offer in destination merchandise is small, unlike what one sees on US/Caribbean itineraries, where it is critical to sales. Logoed goods don't appeal in the same way to the Chinese, says the Starboard team.
"You still need an offer that can express uniqueness, but it does not have to be related to the destination for Chinese travellers as it does in the US or Europe," says Menegotto.
Of the categories that have potential for further growth in the channel, he adds: "Food and confectionery has yet to be exploited to the full in this channel, so that can grow. We see beauty as a great market for the future, although it is already well established. Any of those categories related to well-being and personal care will be important in future."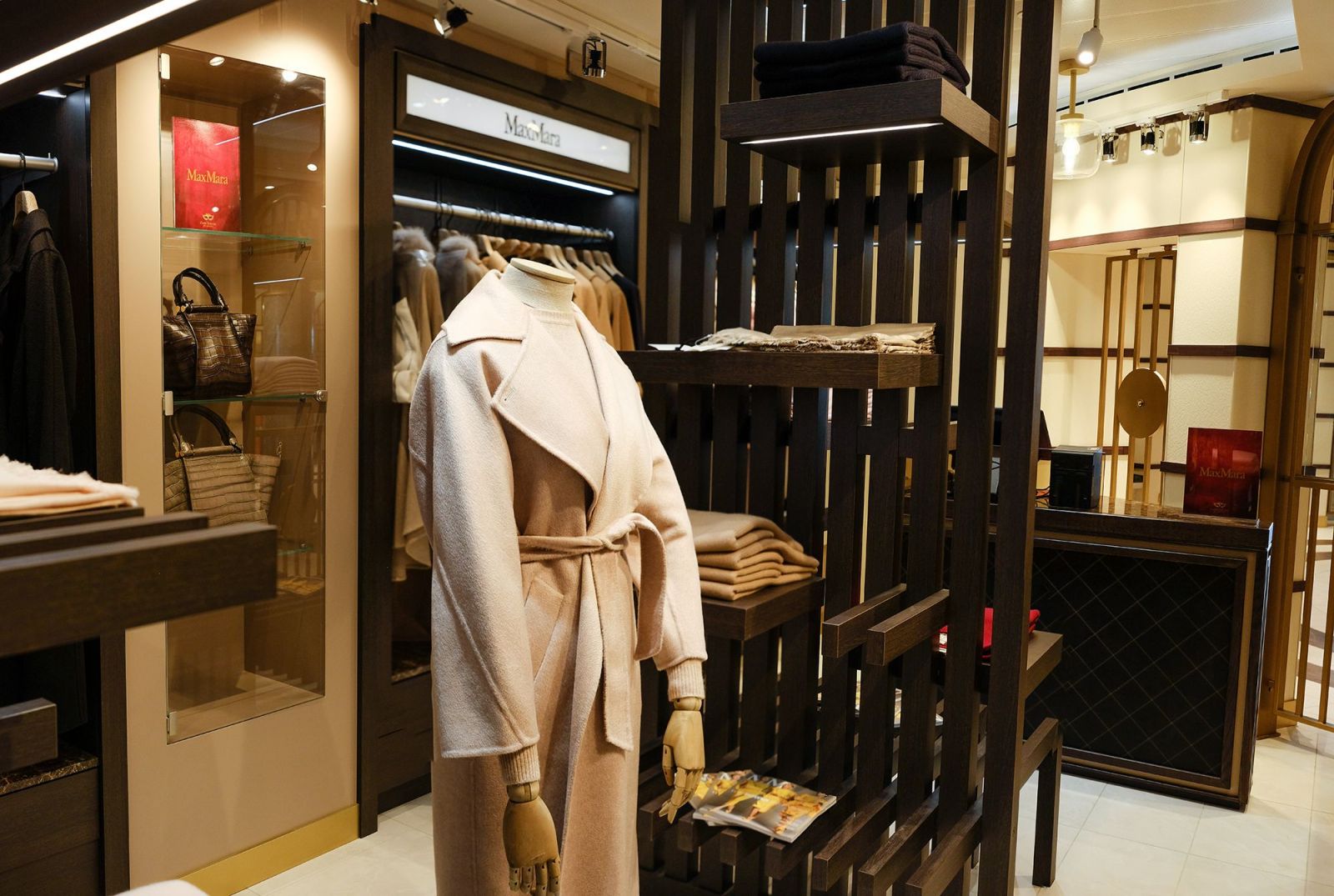 Fashion first: A maritime retail debut for Max Mara as the Italian brand occupies its own boutique onboard.
With its high-class fit-outs, the selection of brands and the way in which entertainment and retail are aligned, Costa Venezia delivers well on the ambitious vision of cruiseline and retailer.
The shopping offer, like the food or the activities onboard, chimes with a certain view of Italy, with a theme that is easy to understand and consistent throughout.
As always in cruise, space remains a challenge. The boutique and beauty spaces are brought alive by skilful executions and segmentation, along with some lovely personalised brand touches.
Beyond the central atrium though, finding the other stores probably demands better wayfinding, though as the retailer points out, guests do have multiple trip days to plan and discover.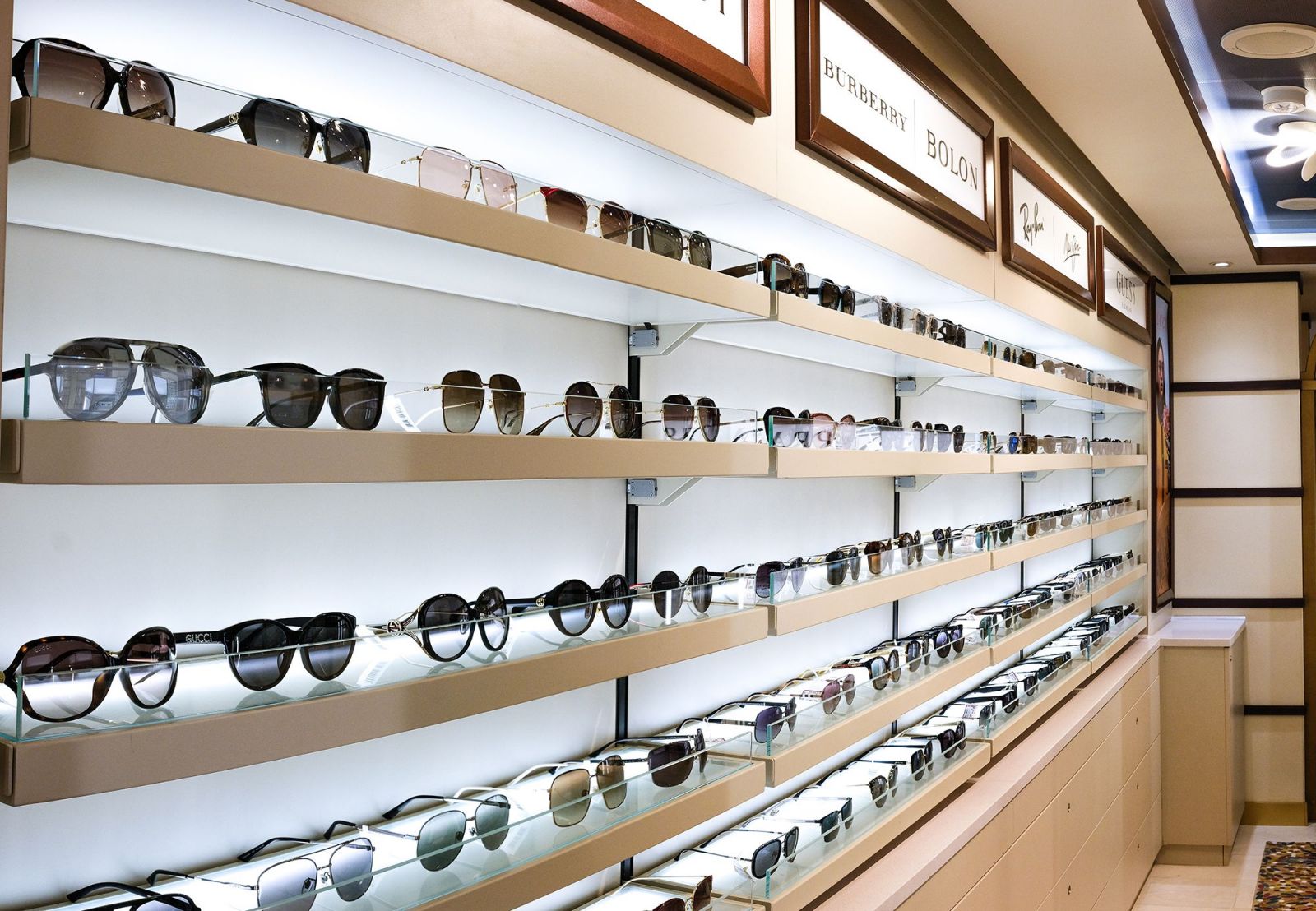 Eye for an opportunity: Sunglasses sales are led by international fashion names that are well known in China.
The challenge of China
Starboard Vice President & General Manager Cruise Retail, Asia Derek Wong talks about the changing dynamics in the Chinese cruise market today.
"Compared to Europe or the Caribbean, China is a relatively new market." As Derek Wong notes, cruising in China is just at the beginning of a long road, one that will be volatile. Recent softening of the market and the halting of cruise travel to South Korea in 2017 have caused cruiselines to shift itineraries and moderate plans to add capacity, but the outlook for the medium to long term is bright as new consumers discover cruising.
The two major centres in the country are Shanghai (the dominant port location) and Tianjin, but other ports also are taking share and presenting opportunity. Xiamen in the south for example could be a gateway to other Asian markets in future as the business develops. Currently, without South Korea on the agenda, Japan dominates the industry's itineraries.
In China also, guest sourcing also differs from other regions, where guests are targeted directly by cruise companies. In China, consumer recruitment comes largely through travel agencies, many of them online.
Traveller demographics are changing too. Wong says: "We are seeing younger travellers and more multi-generational trips. There is a big seasonality factor. We have slow seasons such as November-December and March-April when the guest age profile goes up to 55+ and that has an impact we need to be aware of in retail."
Other changes will shift the market, among them the source markets within China. Wong notes: "In the high season there is a big focus on Tier 1 cities or within two to three hours of them. But in the shoulder season you see more people from Tiers 3 or 4, and more from the western provinces. So the base is broadening, especially on trips out of Shanghai.
"That has an impact on the mix and we have to make our experience relevant. We have noticed that Tier 3 and 4 guests often spend more. They know the brands but cannot get them in their own cities. So when they get onboard they have a shopping list of products, notably in beauty."
There is some digitalisation in the stores, mainly within individual brand fixtures, but it is limited. Travellers today are used to seeing digital messages on pillars, ceilings and store fronts, though this can be addressed with modifications and upgrades in the future.
Overall, this is an artfully conceived and very well executed environment, one that matches Costa's view that each environment it presents should be different from any other (no easy task). The specific China focus – from design to entertainment, food and shops – lends weight to the cruiseline's claim to be a pioneer in that market. The partnership with Starboard made sense, says Costa, in the context of the retailer's own China experiences, the track record and insights of sister company DFS, plus the connection with the LVMH brands in Asia and worldwide.
Now the challenge is one of delivery. Both cruiseline and retailer hope that Costa Venezia can become a blueprint for how to engage the Chinese consumer at sea. That would make this project a true game-changer for the industry.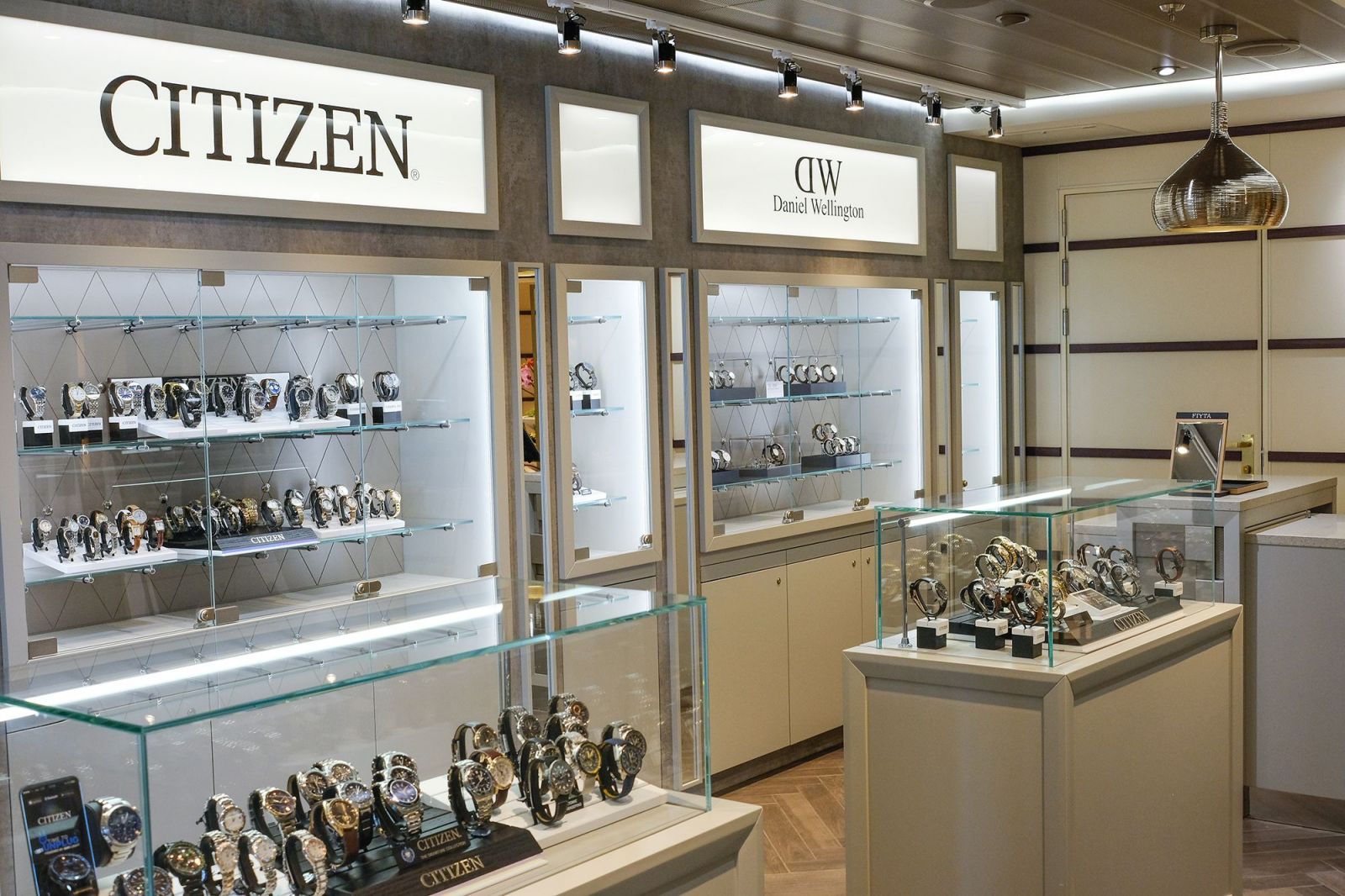 Maritime mix: Citizen and Daniel Wellington feature in the varied fashion watches line-up.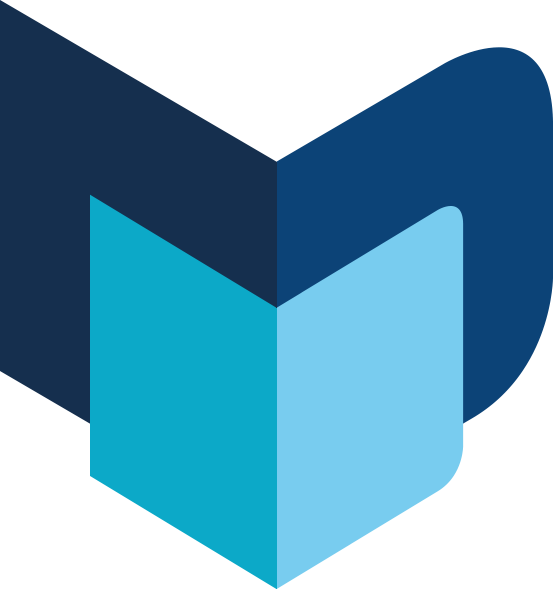 ---
The Moodie Davitt Report • The Online Magazine • March 2019