Americas Report • International Shoppes
---
"An exciting, dynamic atmosphere" at
JFK T1
Leading US east coast travel retailer International Shoppes recently revealed a much-expanded shopping arena at New York JFK Terminal 1, the second phase of a big two-part investment. Next comes a further extension of its prime beauty space in the terminal.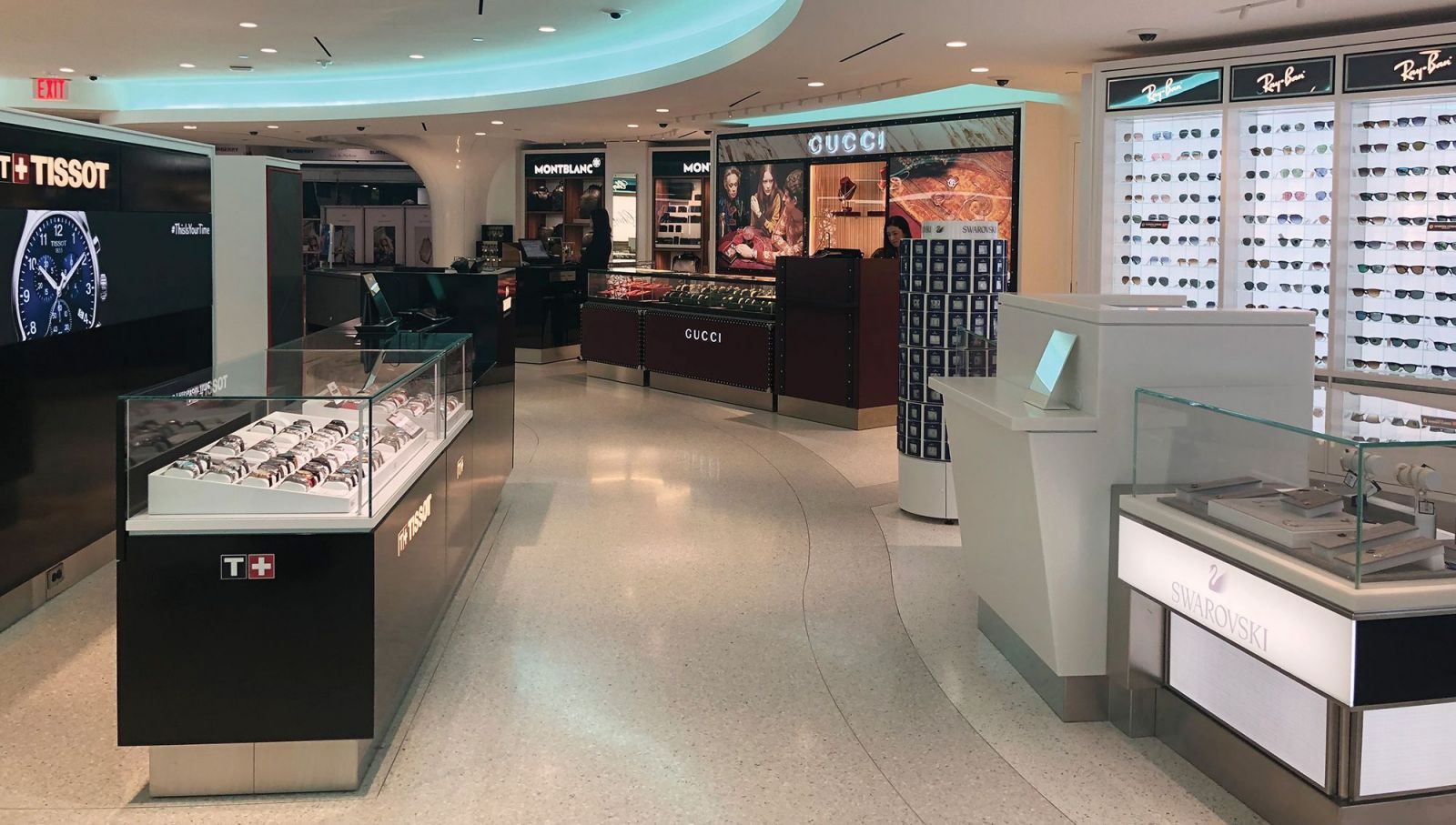 Clean sightlines. More open access. A better range of brands in added space. Those are some of the eye-catching features of International Shoppes' 5,800sq ft of upgraded space at New York JFK International Terminal 1.
The expansion and renovation project complements the separate opening at JFK T1 of International Shoppes' largest airport store, a 7,200sq ft beauty outlet, just over a year ago [and to which it will return with fresh investment, as noted below - Ed]. The recent refurbishment takes its treatment of liquor & tobacco, confectionery and luxury goods to a new level at JFK.
Liquor, tobacco and confectionery have each grown their space by around +50% compared to the previous store, with new brands across these categories and in watches, jewellery and sunglasses. Entranceways have been extended to allow greater visibility into the store, with aisles also widened for better orientation and ease of passage.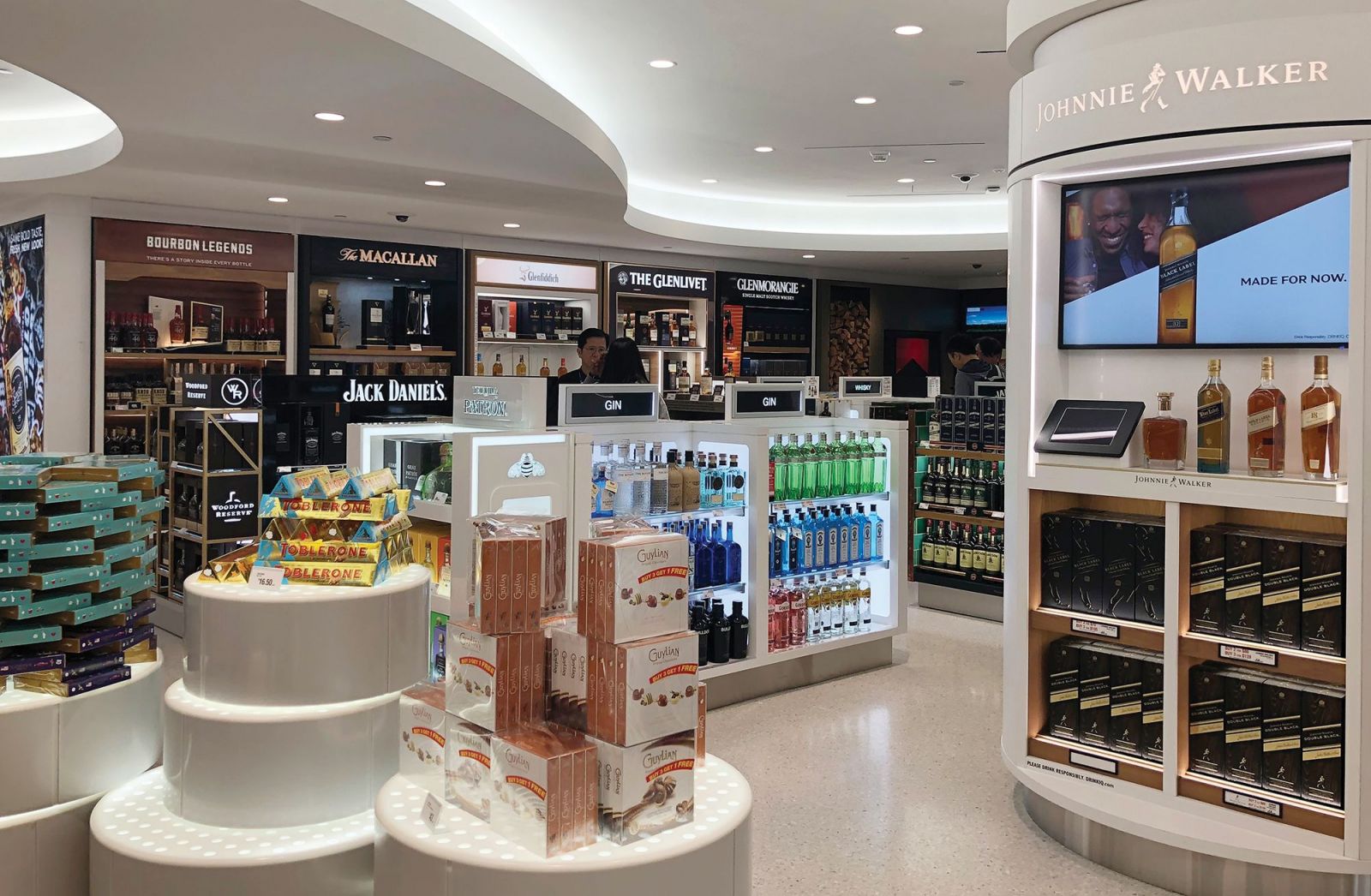 Panorama of partnership: Leading whisky brands benefit strongly from the upgraded space at JFK T1, with confectionery also much enhanced.
Yes, we started trialling at the end of January this year. In all our Avianca Airlines flights we had direct sellers and we were selling only through those direct sellers. But this is quite expensive. Of course, you need to pay them and they are taking away a seat from a normal passenger and you need to pay all the taxes in relation to that seat. And, on top of that, sometimes they have to stay away one night and therefore there are also food and accommodation costs.
So with Avianca we have made a review of that method and we have decided to keep those direct sellers only on the profitable flights. 3Sixty and Avianca are now looking to develop the idea further by arranging health and safety training for the retail attendants, which would open up the possibility of them using flight attendant seats and therefore cut some major costs of deploying them.
He adds: "With two expanded entry points you can see deep into the store and find the category you want easily. On one side where we had beauty previously we have extended the entrance to around 25ft; on the other where we had luxury we have opened up a wall so the entrance is 35ft compared to 10ft before, and there you can see all of the heavyweight brands. There are better sightlines and wider aisles for travellers, making it much easier for them to view and to walk through."
Spirits & wines benefit with a strong emphasis on single malts and bourbons in the expanded shop. There are personalised spaces for the first time for many brands, including Martell, Jameson, The Glenlivet, The Macallan, Glenfiddich, The Balvenie, Dewar's, Tito's, Crown Royal, Jim Beam, Glenmorangie and The Dalmore, as well as an area for local and craft spirits.
Confectionery is now placed at the front of the store as a footfall driver. Halpern says: "We have been able to bring in ten back wall fixtures for leading brands. It is really well showcased and an entry point into the store for the consumer. We see confectionery as a drawcard." Brand owners with personalised space for the first time include Hershey's, Mars, Ferrero and Tea Forte.
In tobacco, the retailer partnered with Altria to develop a new category design, revealed here for the first time in North America. Around one third of the category is dedicated to Marlboro. "It's an entirely new approach and delivers an immersive experience," says Director Matthew Greenbaum. "The Altria team deserve great credit. It also features the launch of a new high-end edition of Marlboro, bringing something new to the category." Another highlight in tobacco goods is a humidor developed with Davidoff.
"We have just started an extensive renovation of the beauty space, which will touch around 25% of the store"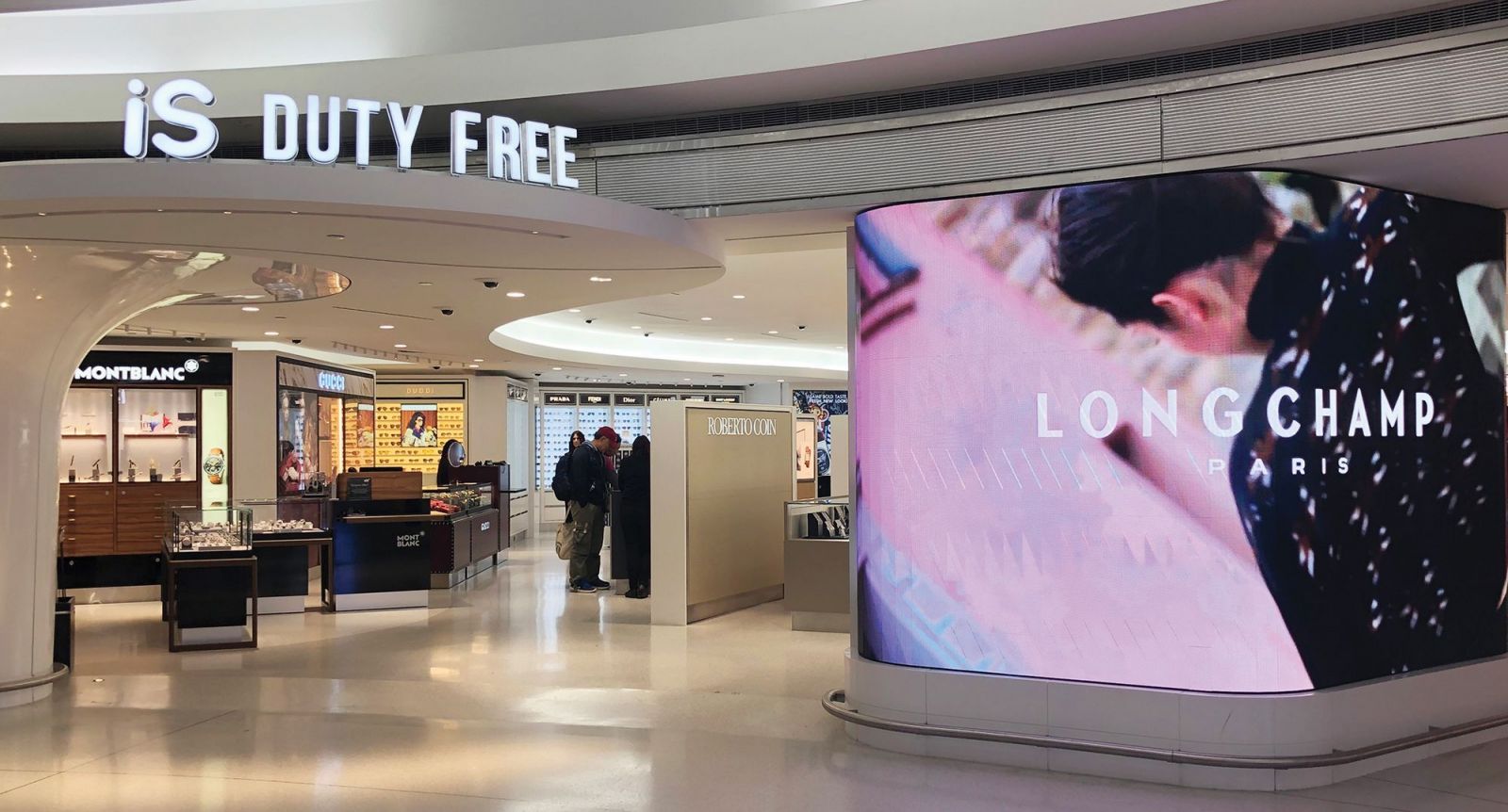 The store branding is complemented by supplier campaigns near the entrance to draw shoppers in.
New space has been developed for luxury brands, while sunglasses has also been much enhanced. Chopard is a new brand for International Shoppes at T1, while others with their own space for the first time (in shop-in-shops) include Gucci, Hermès and Tissot.
Other attractions include a tasting bar in the heart of the store. Greenbaum notes: "This is a great way to get people into the shop and to keep them circulating. We have tasting events every day, not only in spirits, but also in wine and confectionery."
The environment also carries a strong emphasis on engaging better with the consumer.
"We have really enhanced our digital footprint," says Greenbaum. "The store front features a 20ft floor to ceiling wrap that can broadcast key brand messages. In confectionery one column is wrapped in a digital display, for which we urge brands to create unique digital content. And above the tasting bar a circular display features brands that are on show. International Shoppes has also developed content so we can create continuity across each. Digital is a dedicated focus of ours now and it has helped to create an exciting, dynamic atmosphere in the store."
The IS Duty Free store branding is similar to that in the beauty store opened last year. The P&C store is performing "tremendously" says the retailer, and will now undergo a further upgrade, with 300sq ft extra allocated to the space.
Halpern says: "We have just started an extensive renovation of the beauty space, which will touch around 25% of the store and be completed over three phases by the end of the summer."
Tag Heuer, Omega and Chopard help elevate the luxury look; T1 is home to many Asian and European carriers and a high-spending passenger base.
Highlights include Chanel moving to a larger space with an added entrance. The brand will introduce its Les Exclusifs range and sunglasses will enter the mix too. Dior will move to centre of the store, with an increased footprint, and will introduce Backstage to the assortment.
SK-II will go from its current two small floor fixtures to a back wall and floor unit. This will give them "a presence that represents their sales," says Halpern.
Five brands will take back wall fixtures and floor units. Gucci will move from a floor unit to a back wall and floor unit and will introduce colour to the portfolio.
Clé de Peau, Atelier Cologne, Le Labo and Too Faced will enter the assortment with back wall and floor fixtures, while Bobbi Brown and Urban Decay will enter the store with personalised fixtures.
Halpern says: "We are excited about this development. We will continue to change the range as consumers demand."
JFK T1 serves only international flights and offers a rich variety of potential consumers. Airline users include Lufthansa, Air France, Korean Air, Japan Airlines, Aeroflot, Eva Air, Air China, China Eastern, Austrian Airlines, Turkish Airlines, Alitalia, Royal Air Maroc and others. Reflecting on trading in 2018, Greenbaum says: "The first half was very strong but we could feel the impact of the US-China trade war like everyone else. We still have good growth, and see an increased contribution from the Chinese and other Asian shoppers. With more flights to China, that will only build."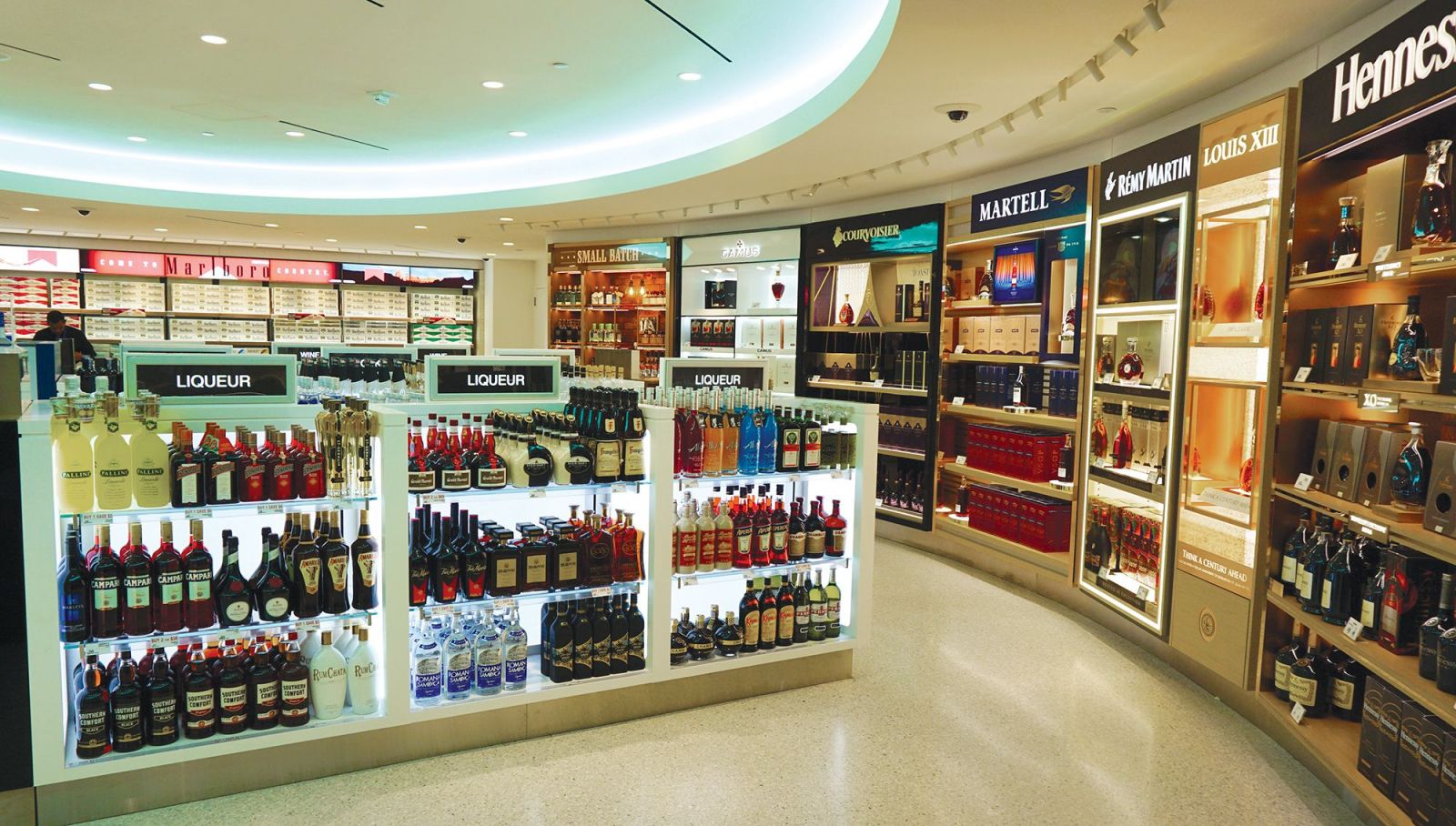 International Shoppes and brands have executed well across luxury, spirits and confectionery; now the focus of investment turns back to its T1 beauty shop.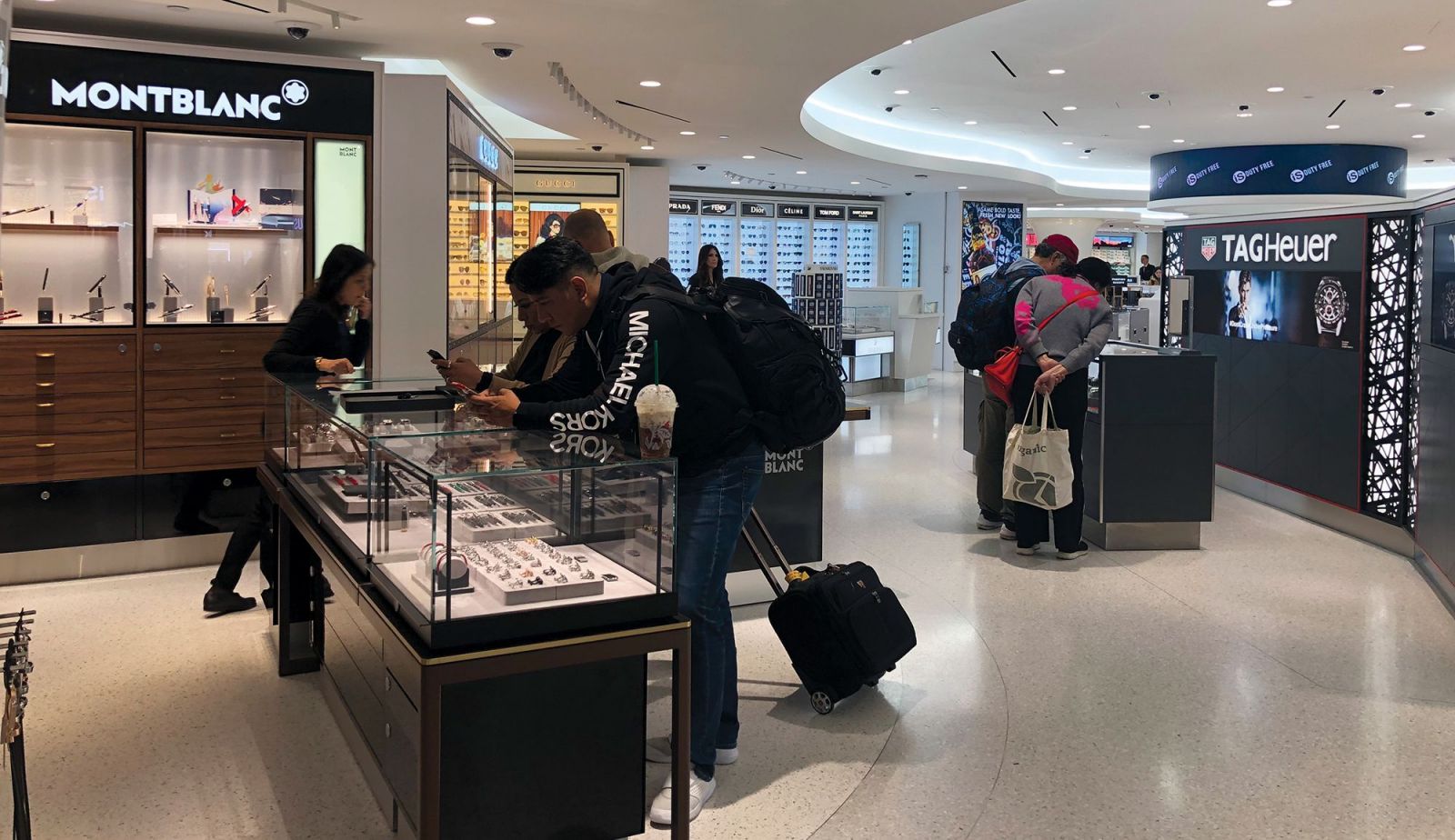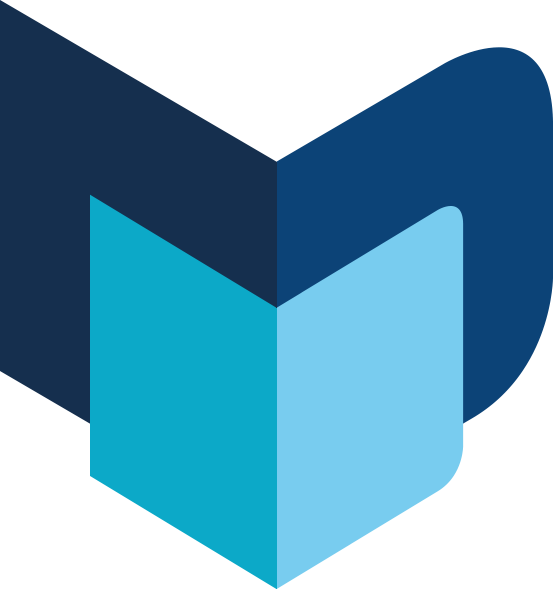 ---
The Moodie Davitt Report • The Online Magazine • March 2019