---
Dazzling Daxing evokes a sense
of wonder
China Duty Free Group (CDFG) will begin operations at the magnificent new Beijing Daxing International Airport this Sunday (27 October) when international flights commence.
Domestic flights have been running for several weeks since the airport's inauguration late last month in the esteemed presence of Chinese leader Xi Jinping. This weekend the first international flights begin, and CDFG is busily getting all its core category and specialist stores ship-shape for the start of trading.
The Moodie Davitt Founder & Chairman Martin Moodie toured the airport this week in the expert hands of Casey Lim, General Manager of CDFG and CDF-Sunrise Duty Free's Beijing operations and fellow CDFG senior executive Jason Jiang.
The airport is layered over four levels, offering spectacular panoramas, magnificent architecture and artworks, and plentiful natural light.
International passenger traffic will be light for the balance of 2019, climbing to some 5.5 million next year. By 2025 that figure will rise to around 15 million. Domestic passenger traffic will be much heavier, bringing total capacity to 100 million by 2040. That domestic skew explains the remarkable retail offer on the domestic level, which features blockbuster luxury brands such as Louis Vuitton, Gucci, Cartier, Hermès and many others.
CDFG also operates a series of fashion and beauty boutiques in the duty paid zone though its main focus is international.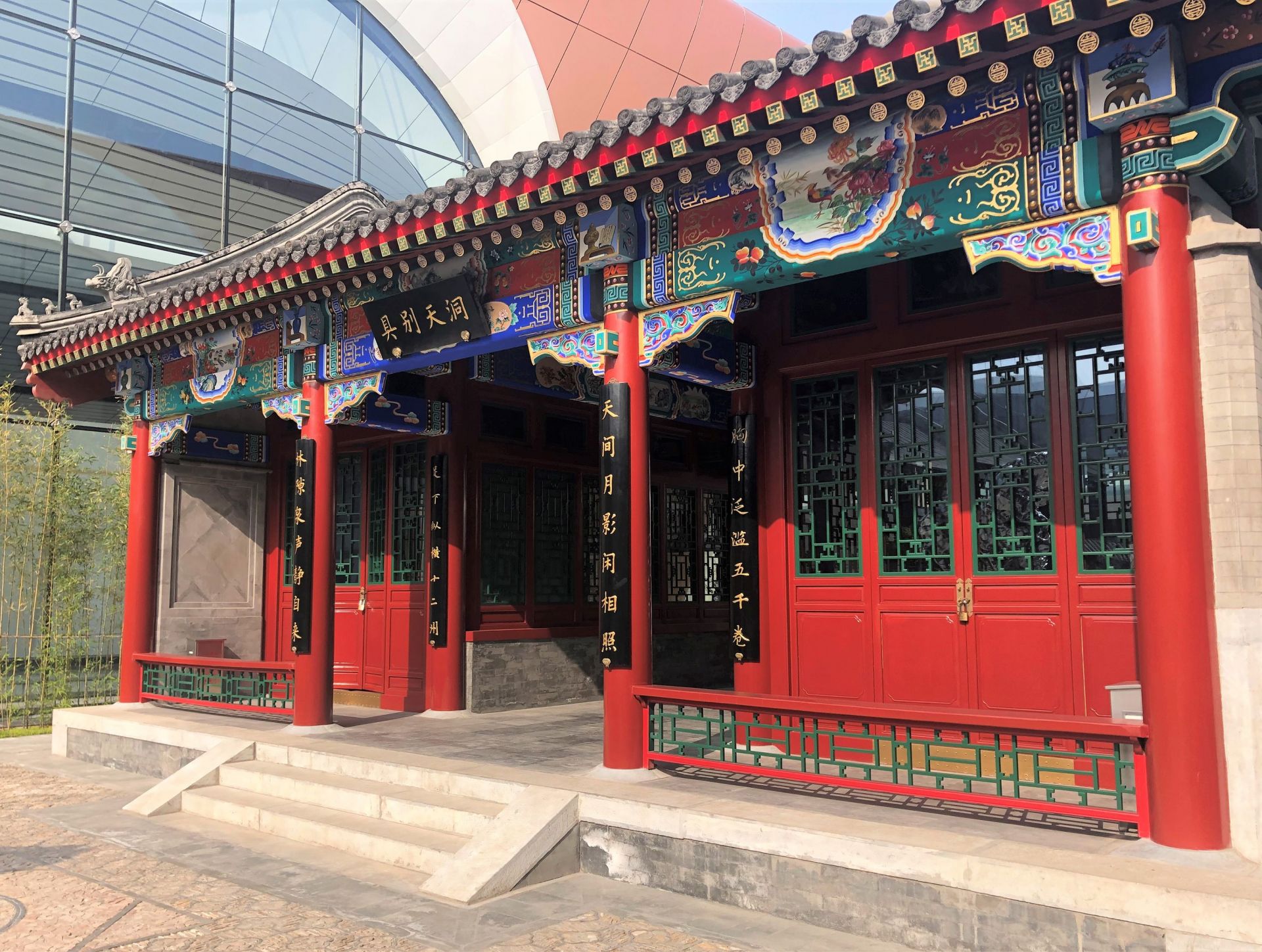 Atmosphere and heritage: Daxing International features a series of outdoor gardens, cultural buildings and artworks
Lagardère Travel Retail is the largest retail operator at the airport, with more than 30 units, covering luxury fashion, beauty, travel essentials, speciality and food & beverage on the domestic level. Lagardère Travel Retail CEO North Asia Eudes Fabre said: "Daxing is the ultimate milestone in a sense that people will come to talk about the before-and-after Daxing in Chinese airports – just like there was the before and the after with Beijing Capital International Airport T3 for the Olympics. I think the fact that there is such a strong brand line-up with a lot of firsts in a domestic airport in terms of brands, really opens the eyes to the entire luxury industry of the potential and of the value of the channel."
International traffic is expected to surge in 2022 when the Winter Olympics are held in China.
Look out for more coverage online next week and a special edition of our eZine Spotlight Series this December dedicated to the spectacular new Daxing International Airport in Beijing.
The images on this page offer a preliminary glimpse not only of the CDFG commercial offer but of an airport that almost has to be seen to be believed. Truly, a place of wonder.
This December the Moodie Davitt Report is publishing a special edition of its eZine Spotlight Series dedicated to the spectacular new Daxing International Airport in Beijing.
In this landmark publication, Founder & Chairman Martin Moodie talks to leading retailers, food & beverage operators and other commercial partners at the Chinese capital's wondrous new gateway.
We tour the international zone with China Duty Free Group and speak to the retailer's senior management; hear how Lagardère Travel Retail considers Daxing duty paid a new benchmark in Chinese airports; talk to Plaza Premium Group about its new Aerotel Beijing –the largest in-terminal international airport hotel in China; discuss F&B with SSP and others; and consider some of the stunning airport advertising being handled by JCDecaux.
For editorial details please contact Martin Moodie at Martin@MoodieDavittReport. For advertising, please e-mail Irene Revilla at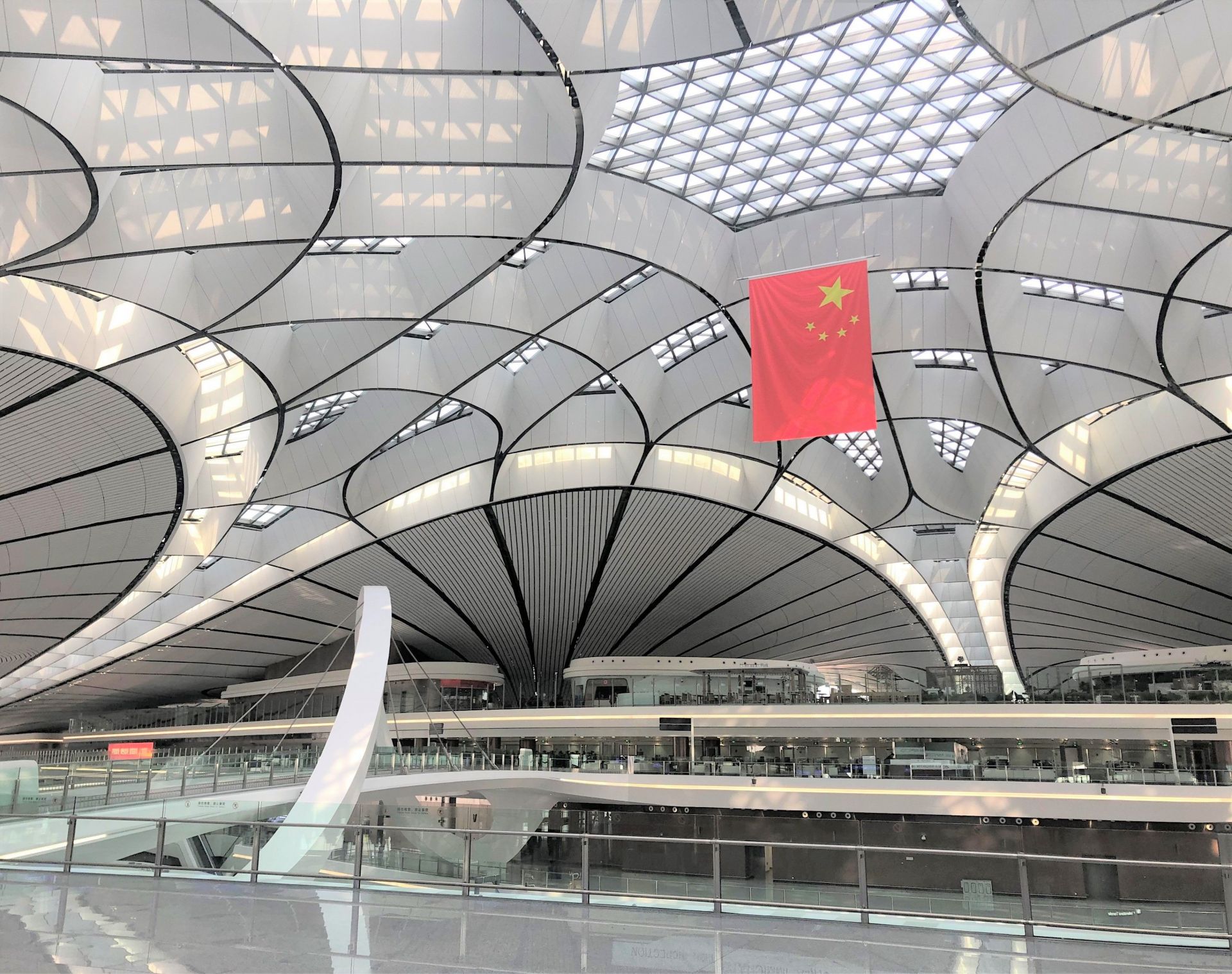 The Chinese flag flies regally high above the extraordinarily expansive architectural masterpiece that is Daxing International Airport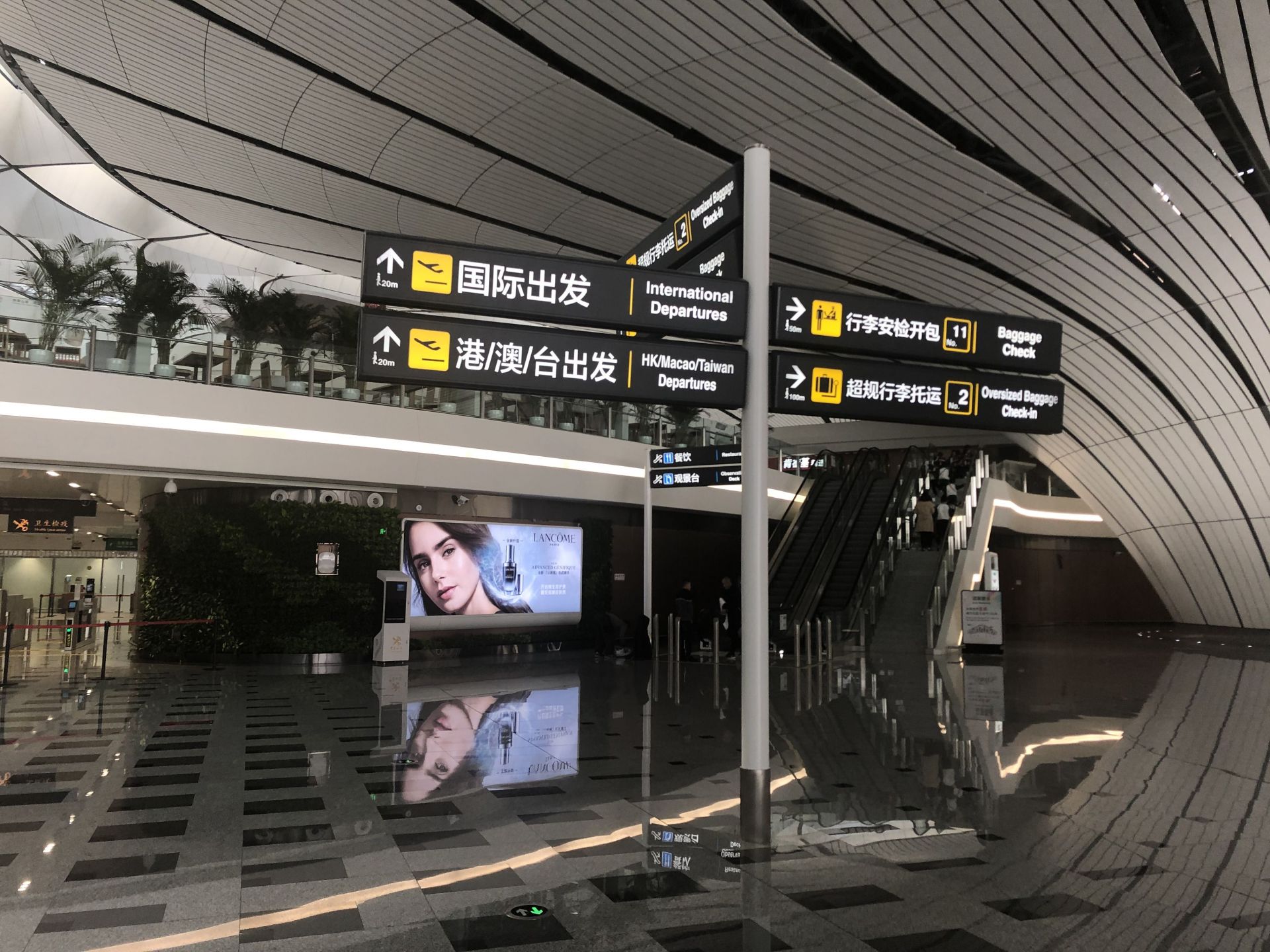 Embedded in lush green foliage, the words proclaim 'Beijing: One hub connecting the entire world'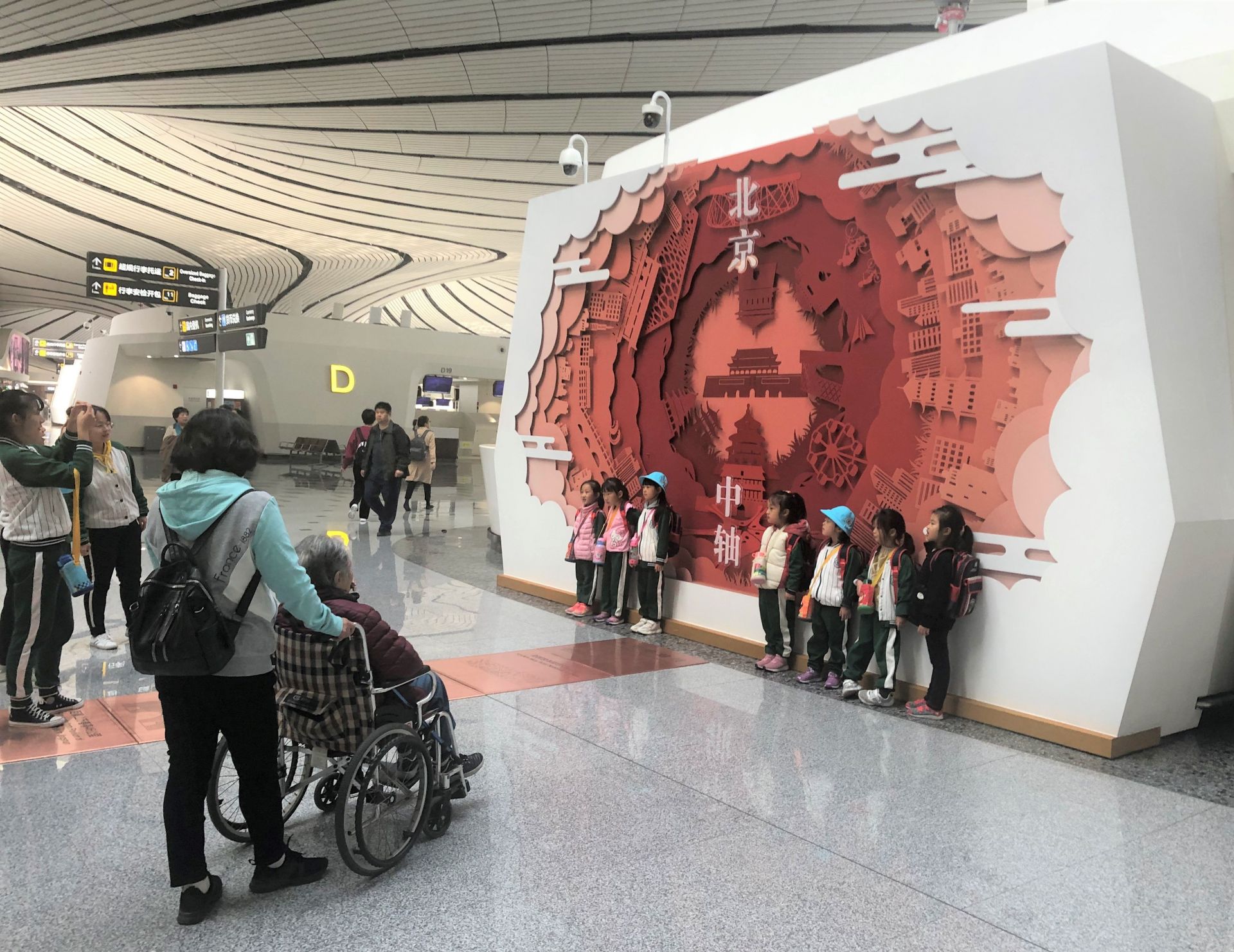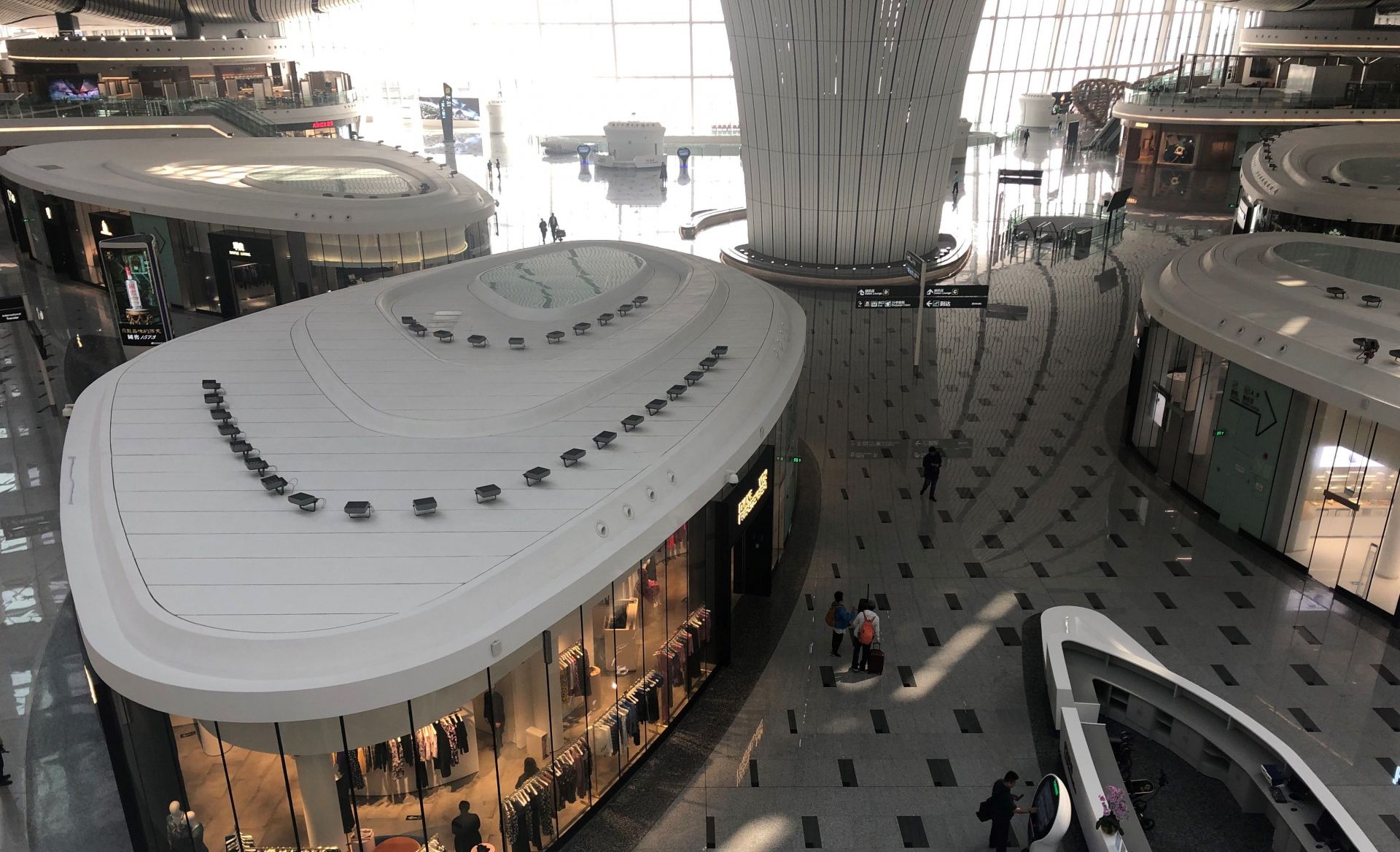 Lagardère Travel Retail manages more than 30 units, covering luxury fashion, beauty, travel essentials, specialty and food & beverage on the domestic level. Pictured is an aerial view of the elegant and expansive Diane von Furstenburg boutique.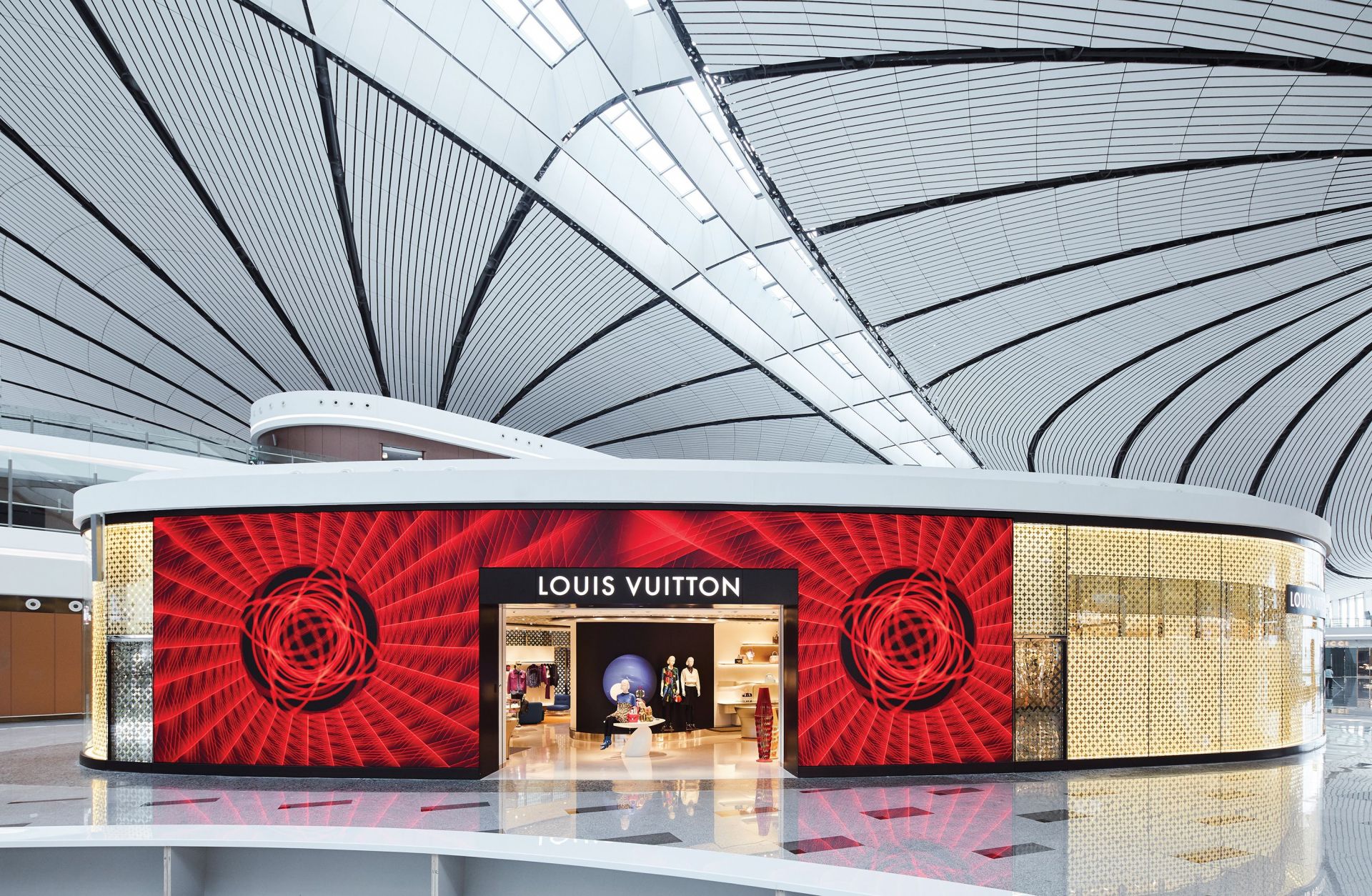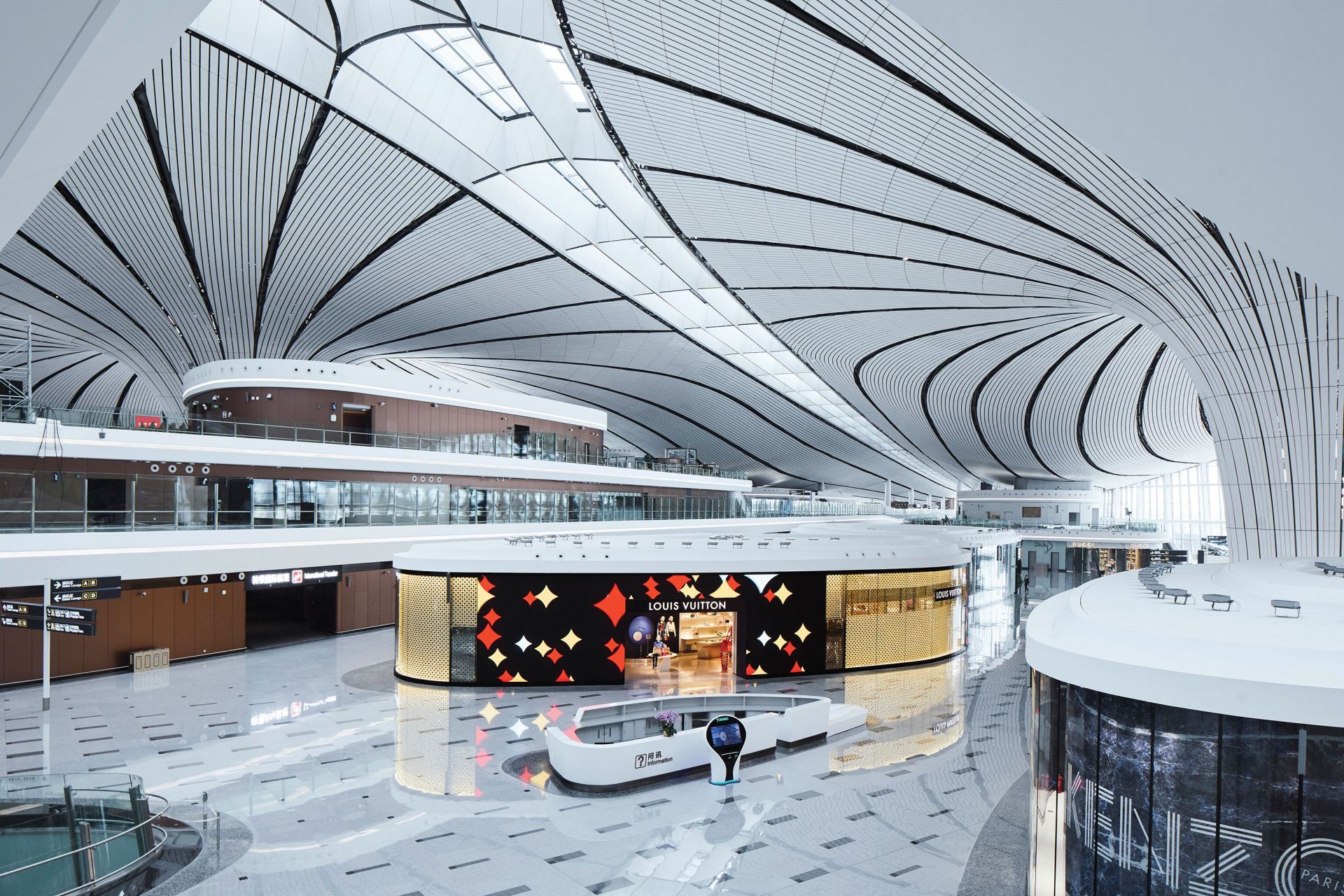 (Above and below) Daxing domestic level represents a redefining of airport shopping to local travellers. The centerpiece is this magnificent Louis Vuitton store, featuring stunning LED frontage (shown on the video below), while other big names include Hermès, Gucci, Cartier and Kenzo.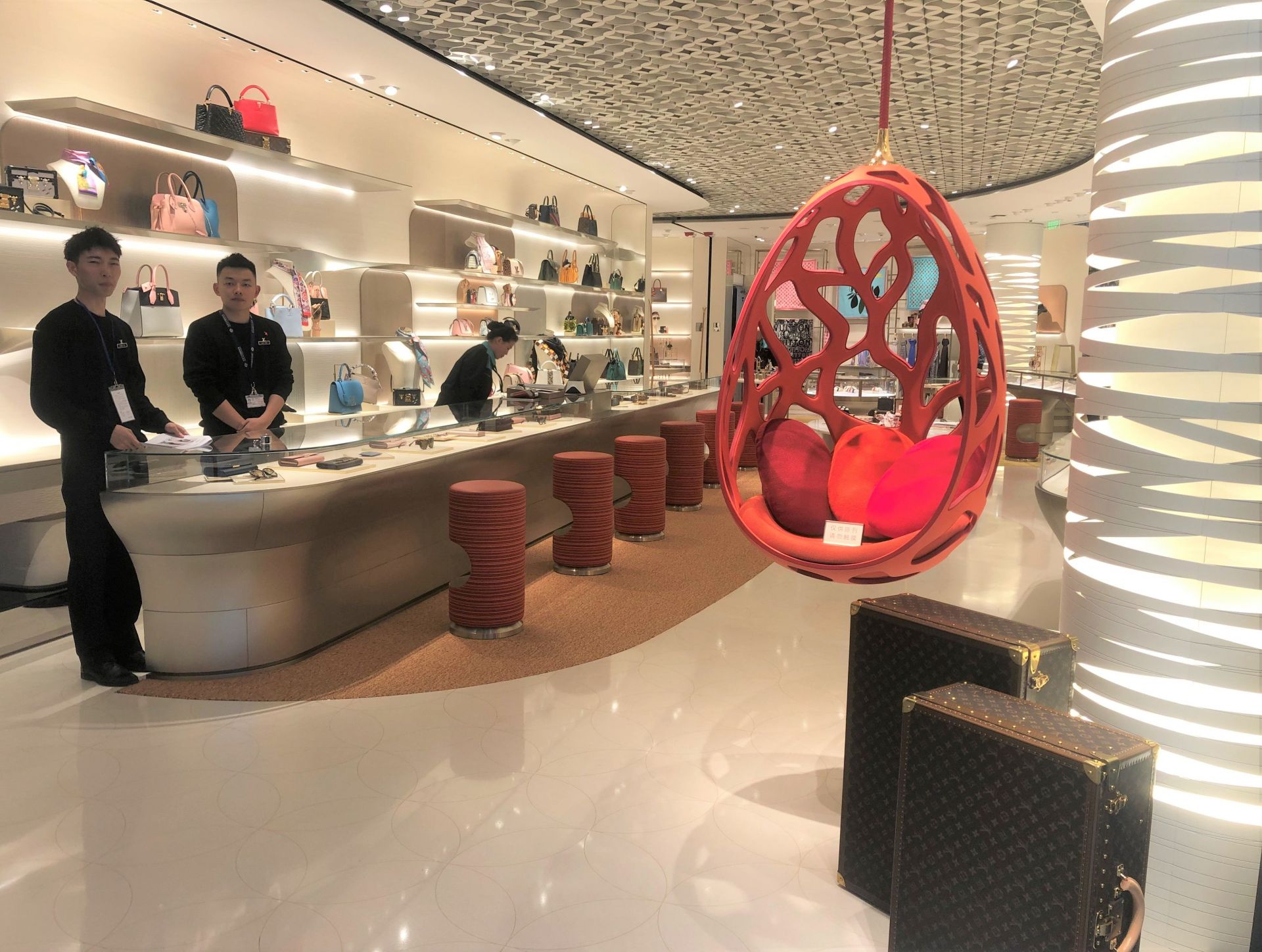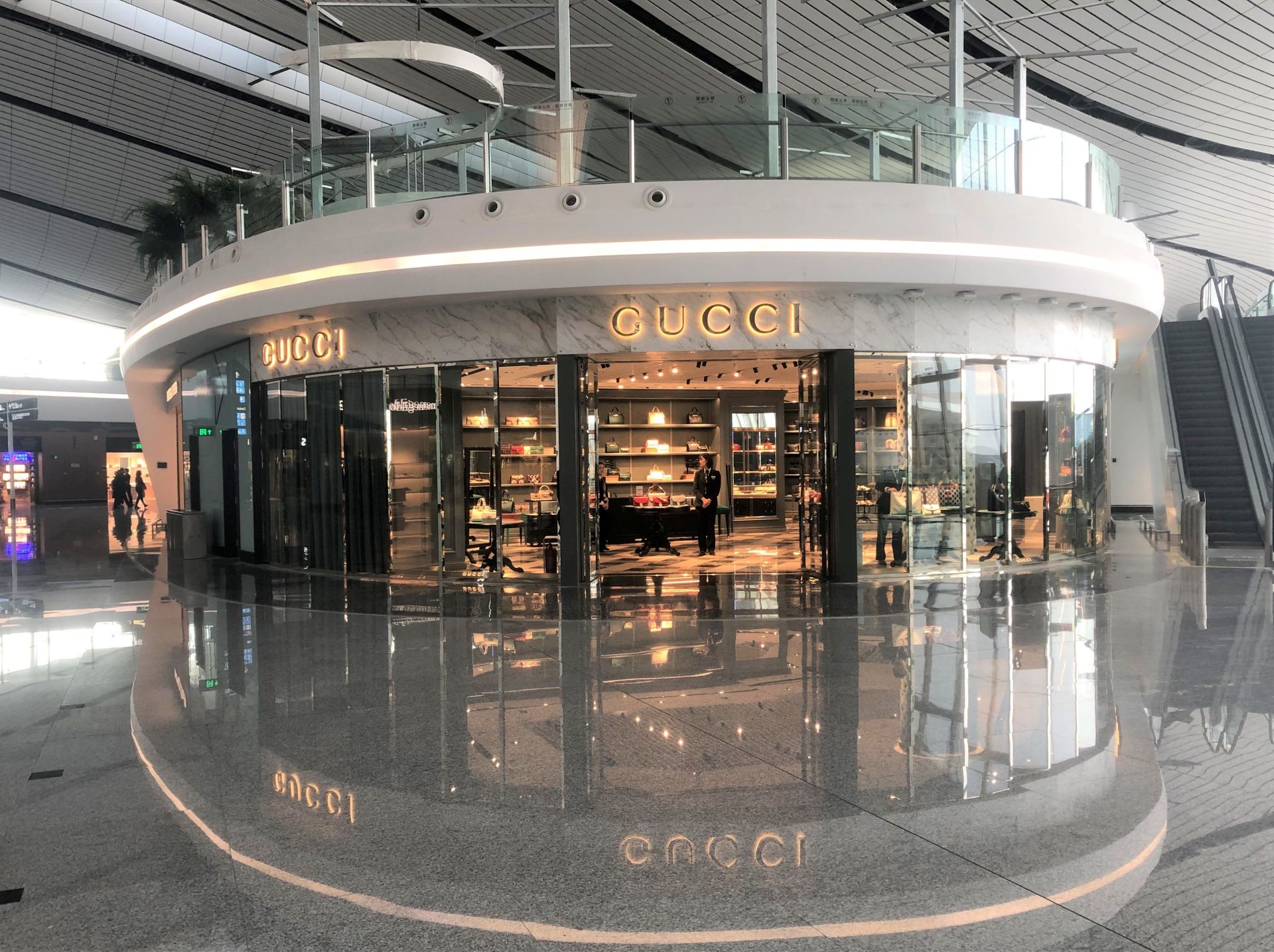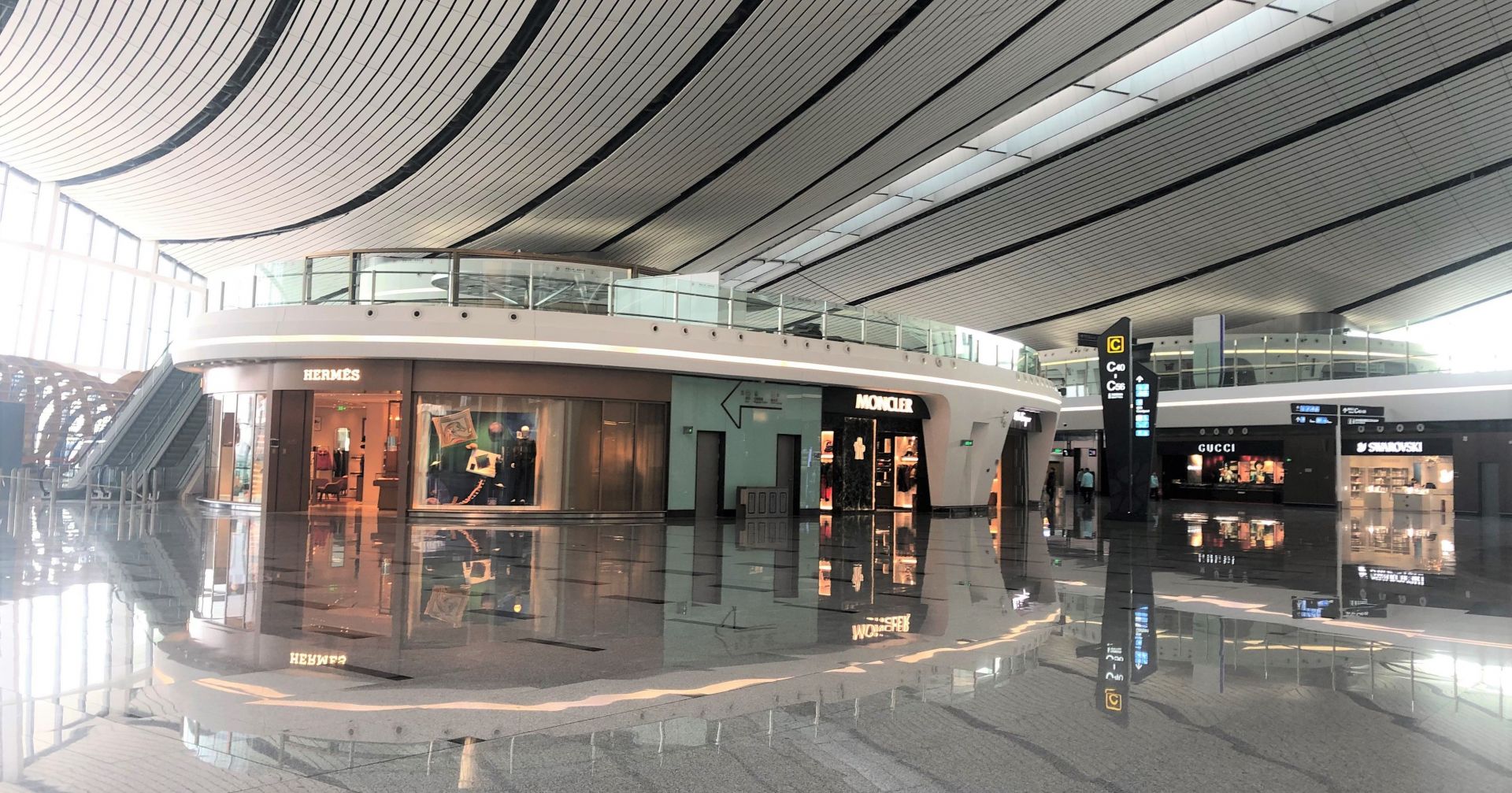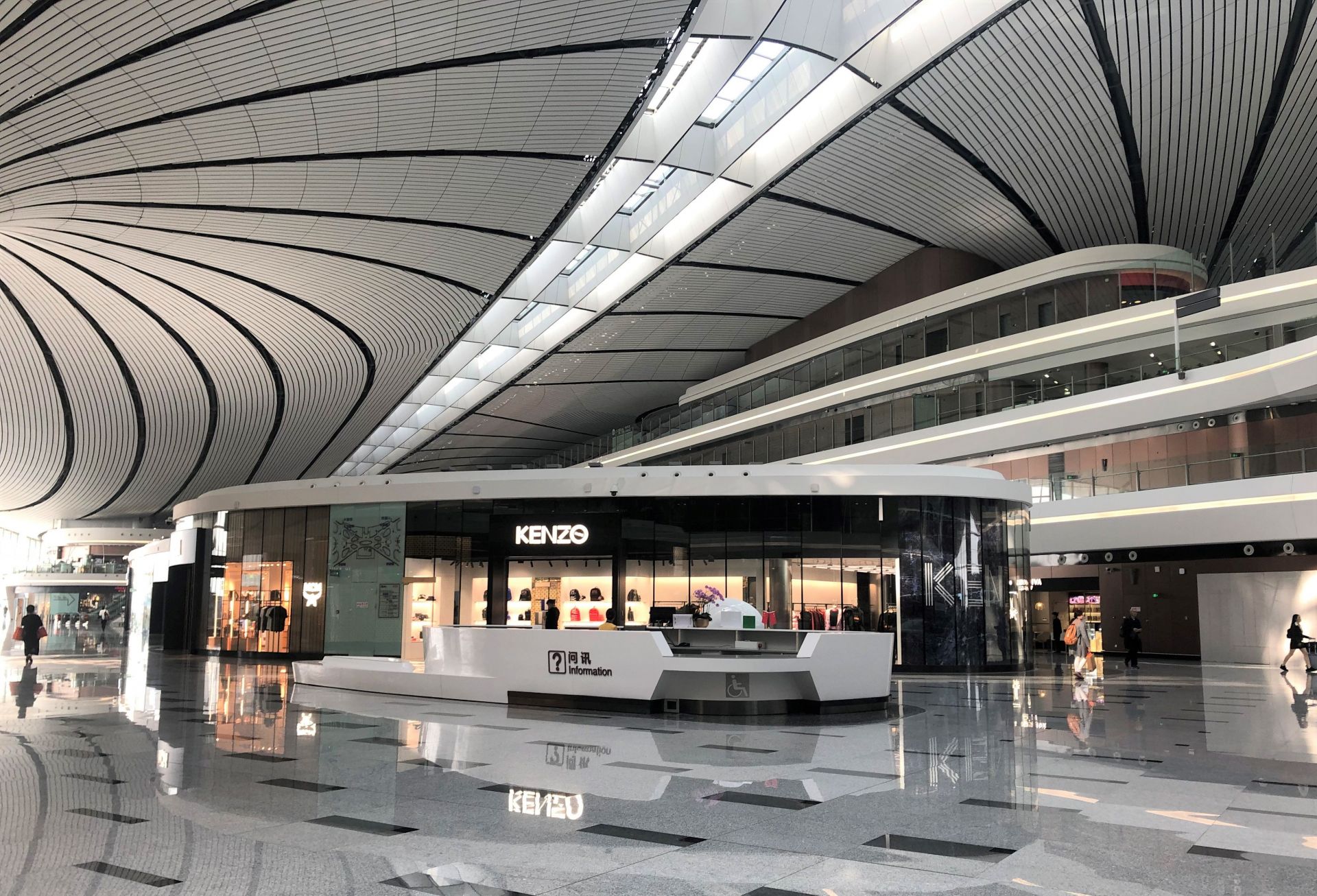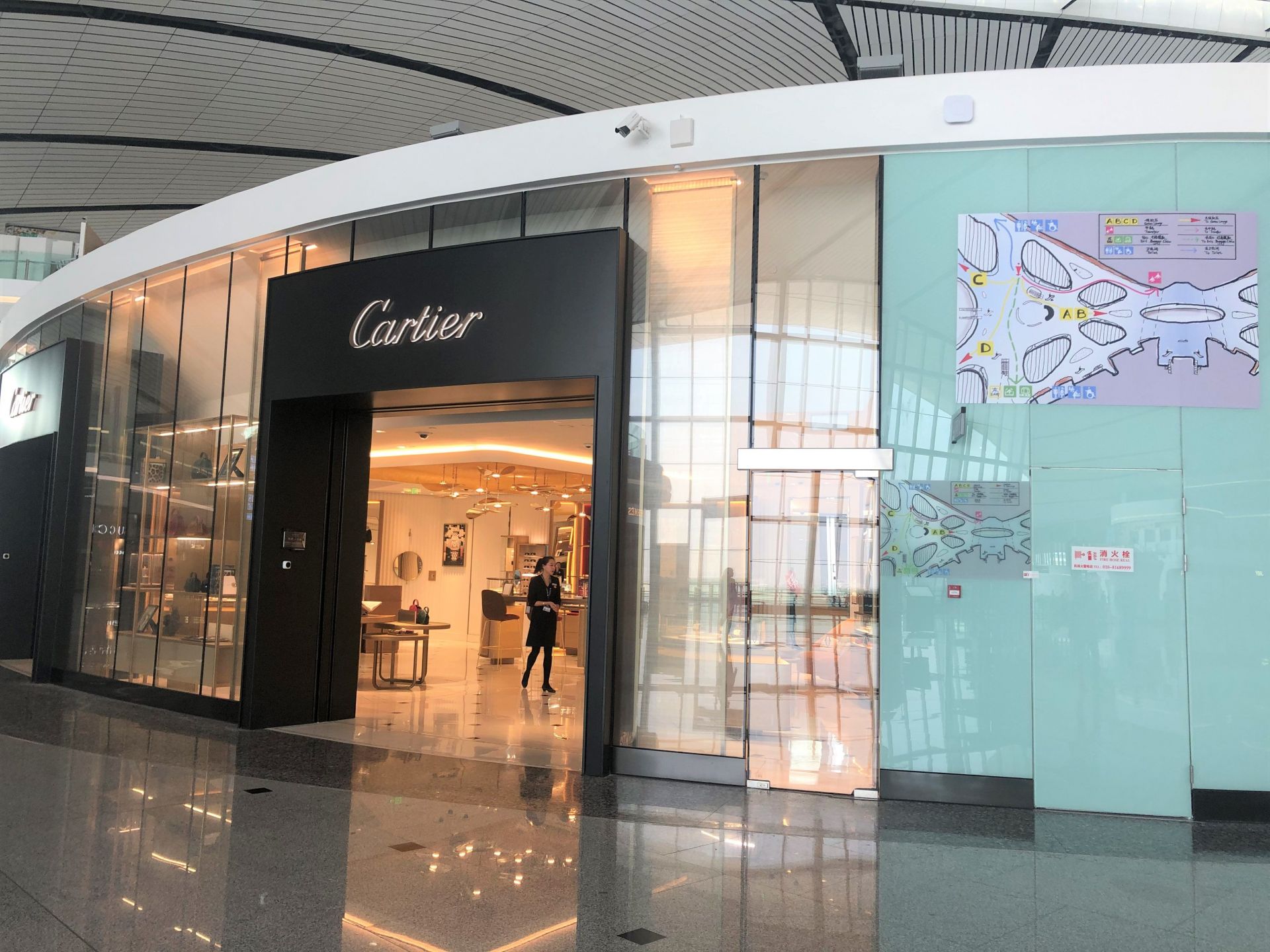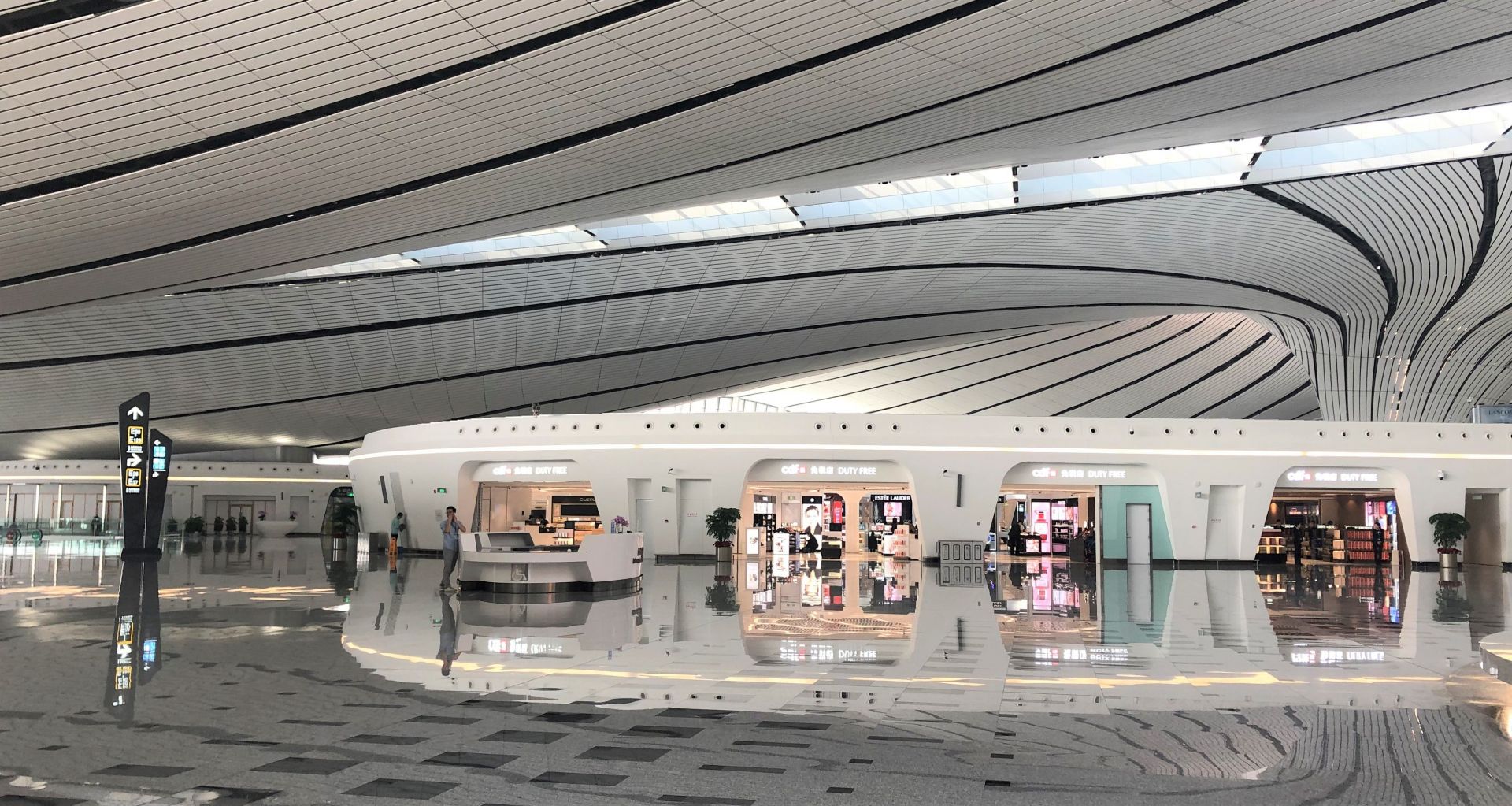 Final touches are being put to CDFG's elegant core category stores in preparation for this Sunday's commencement of international flights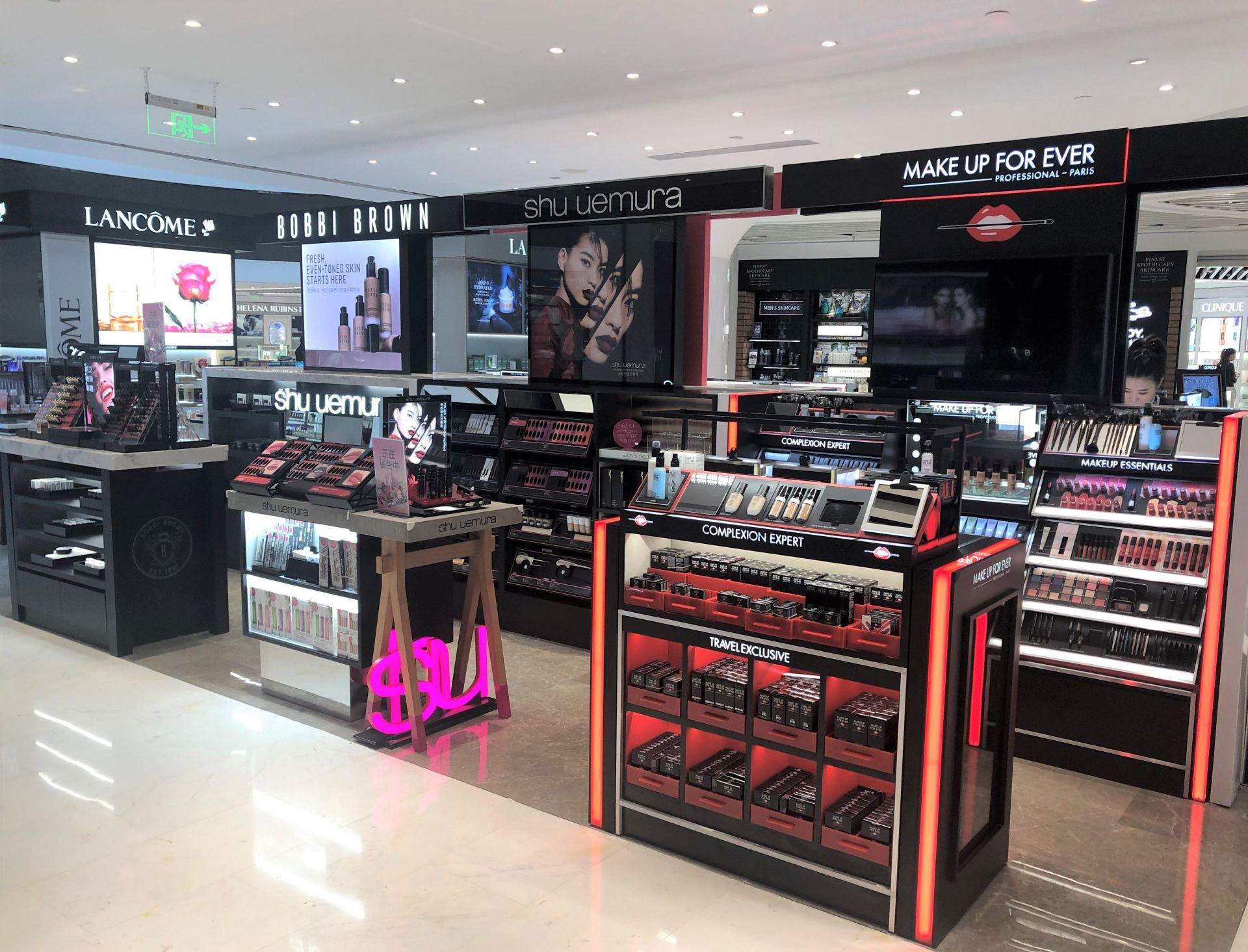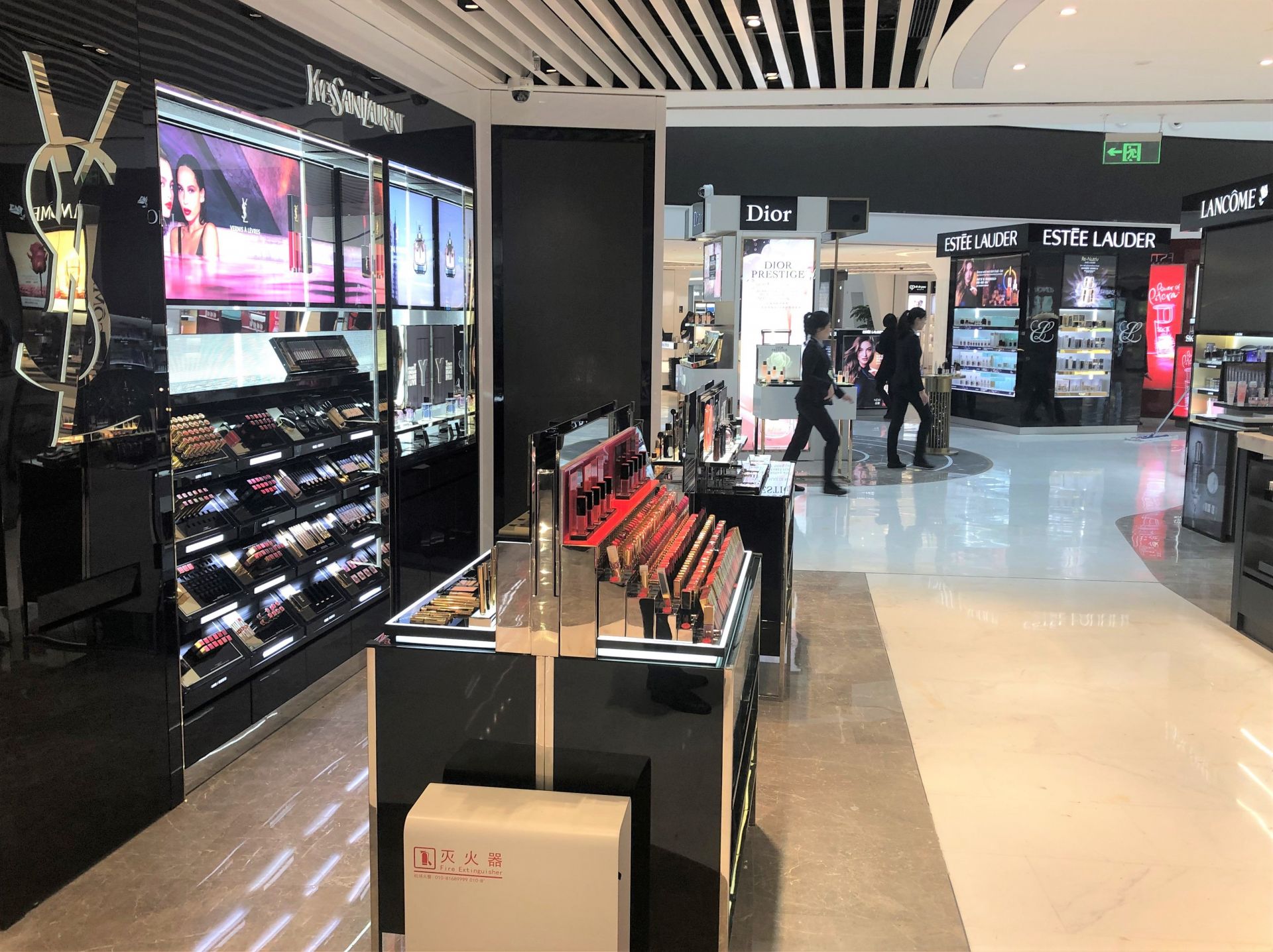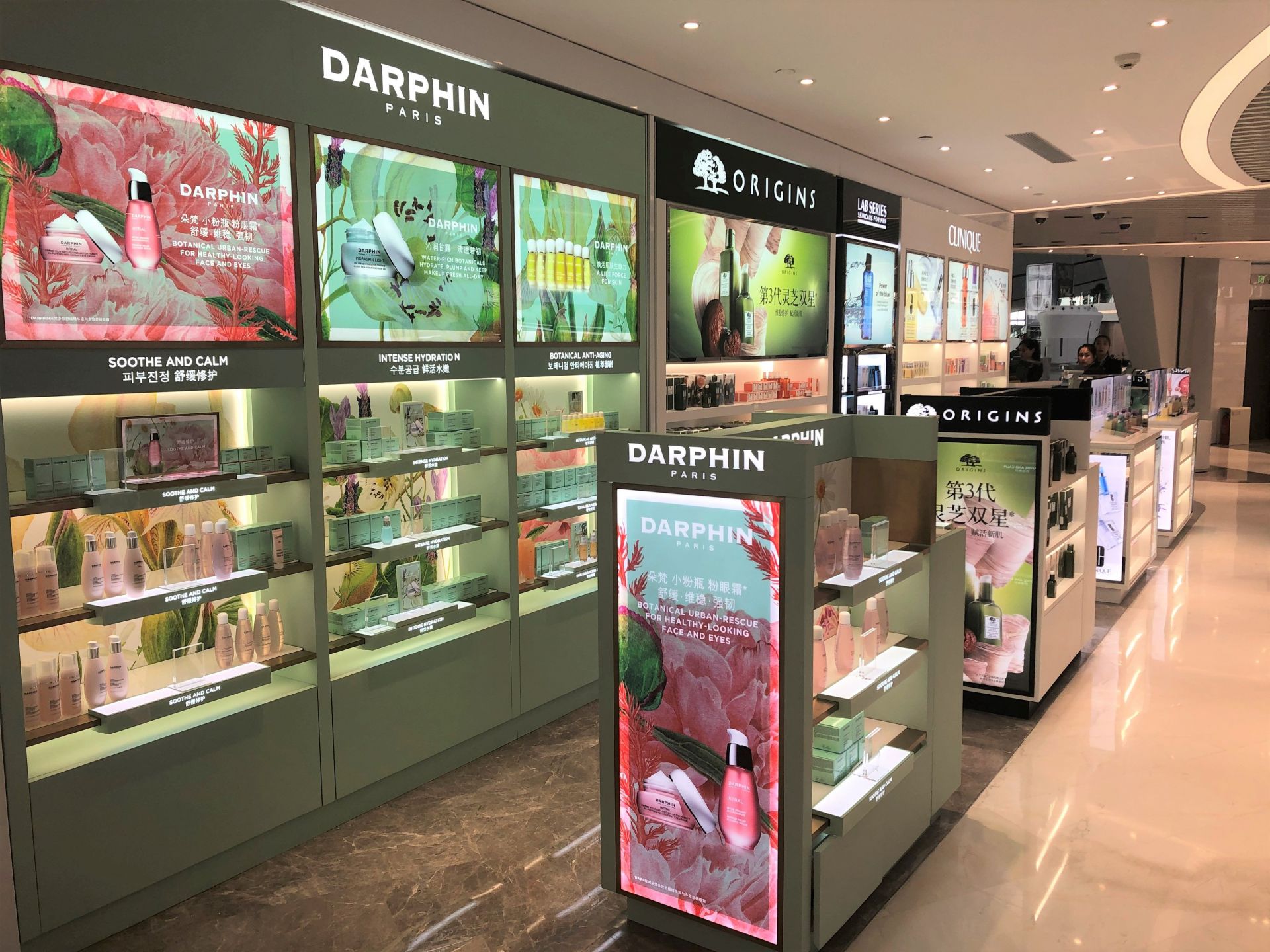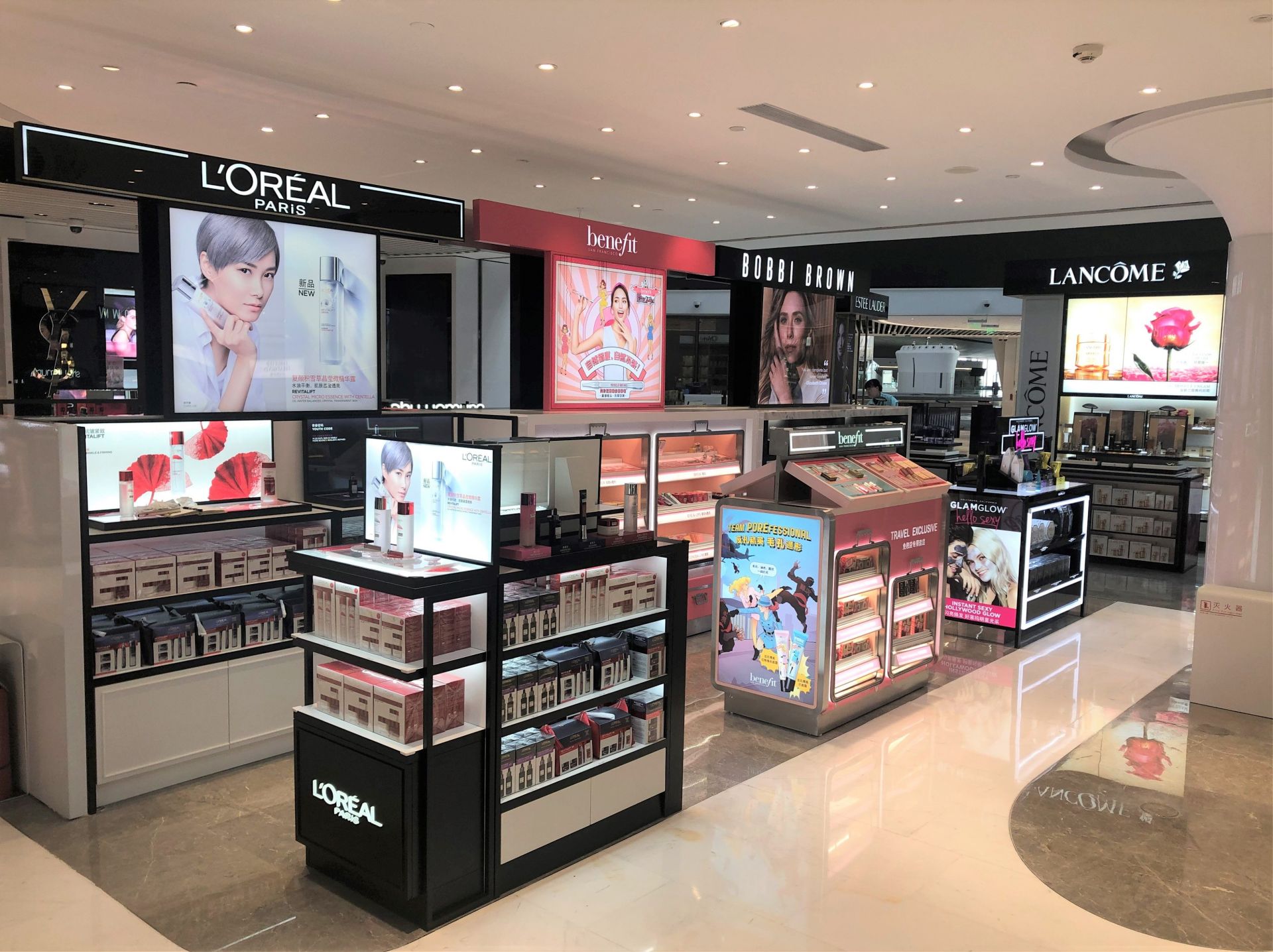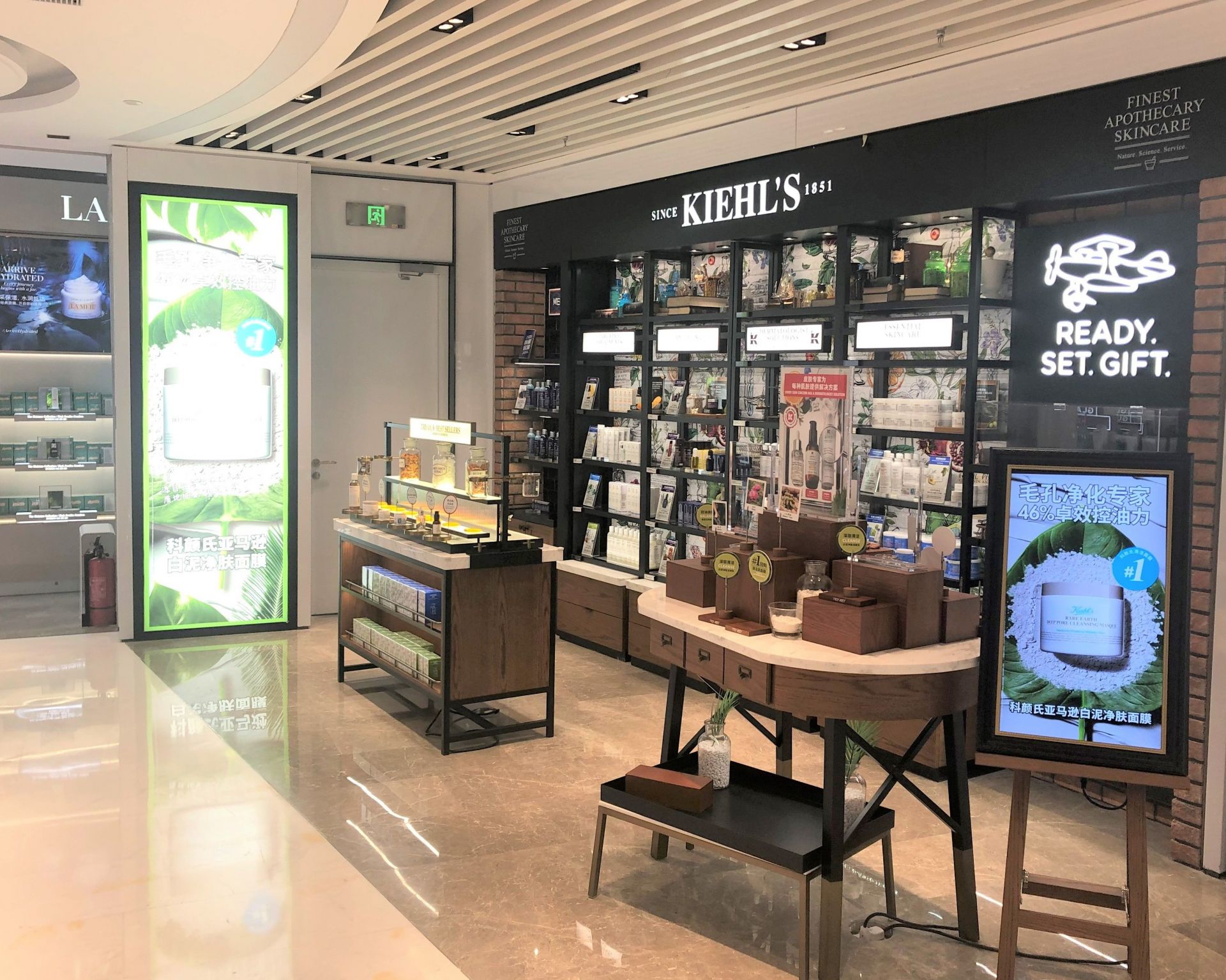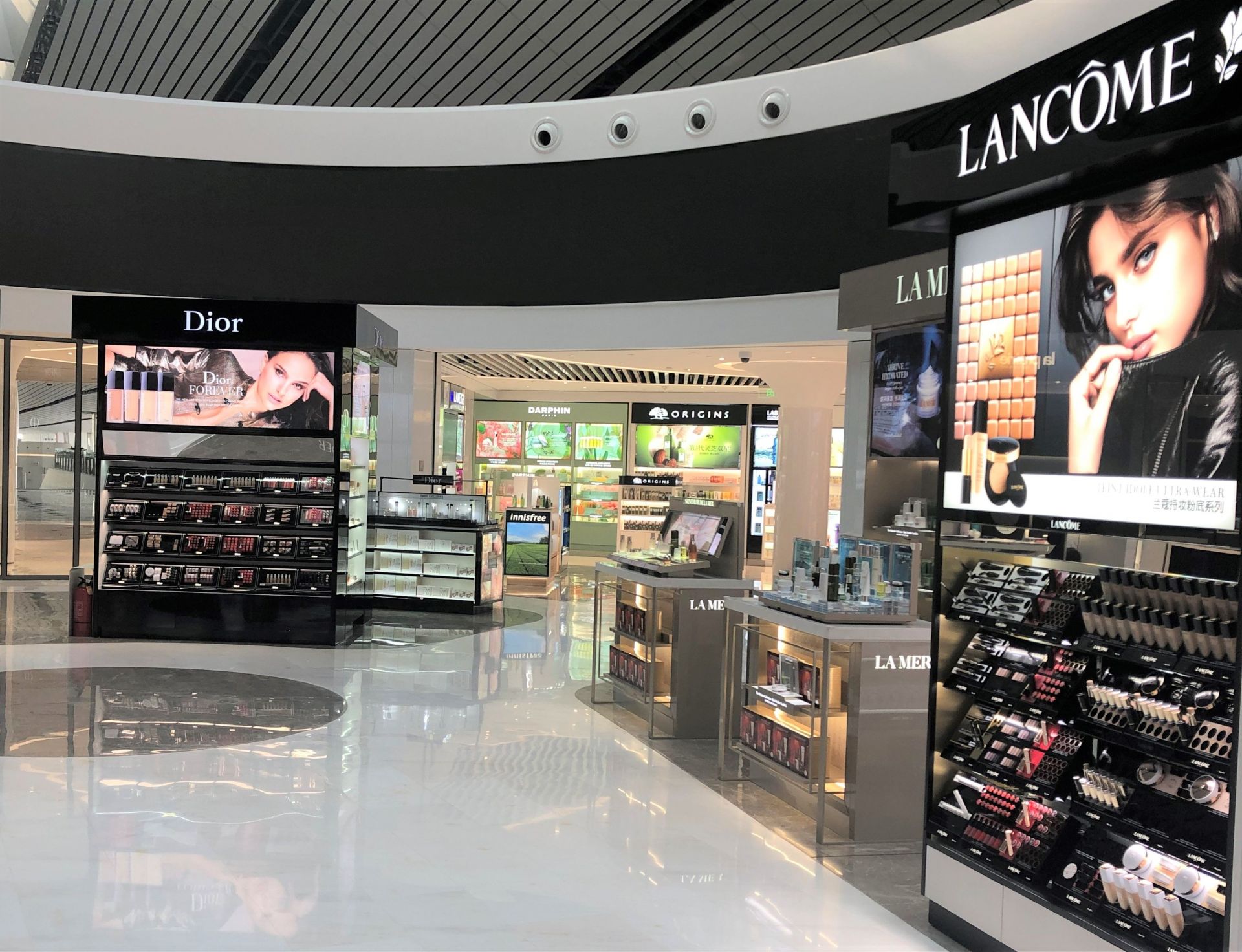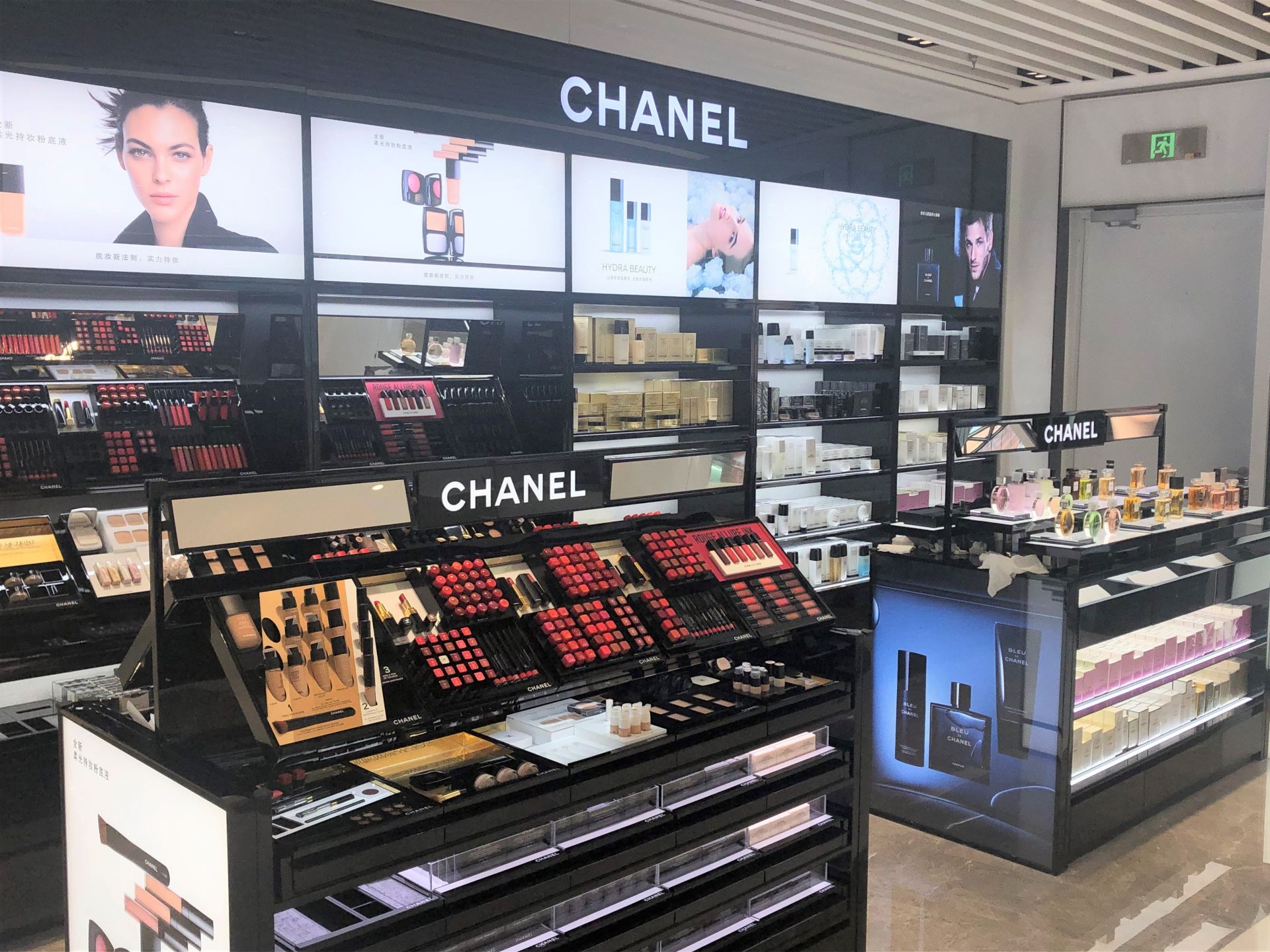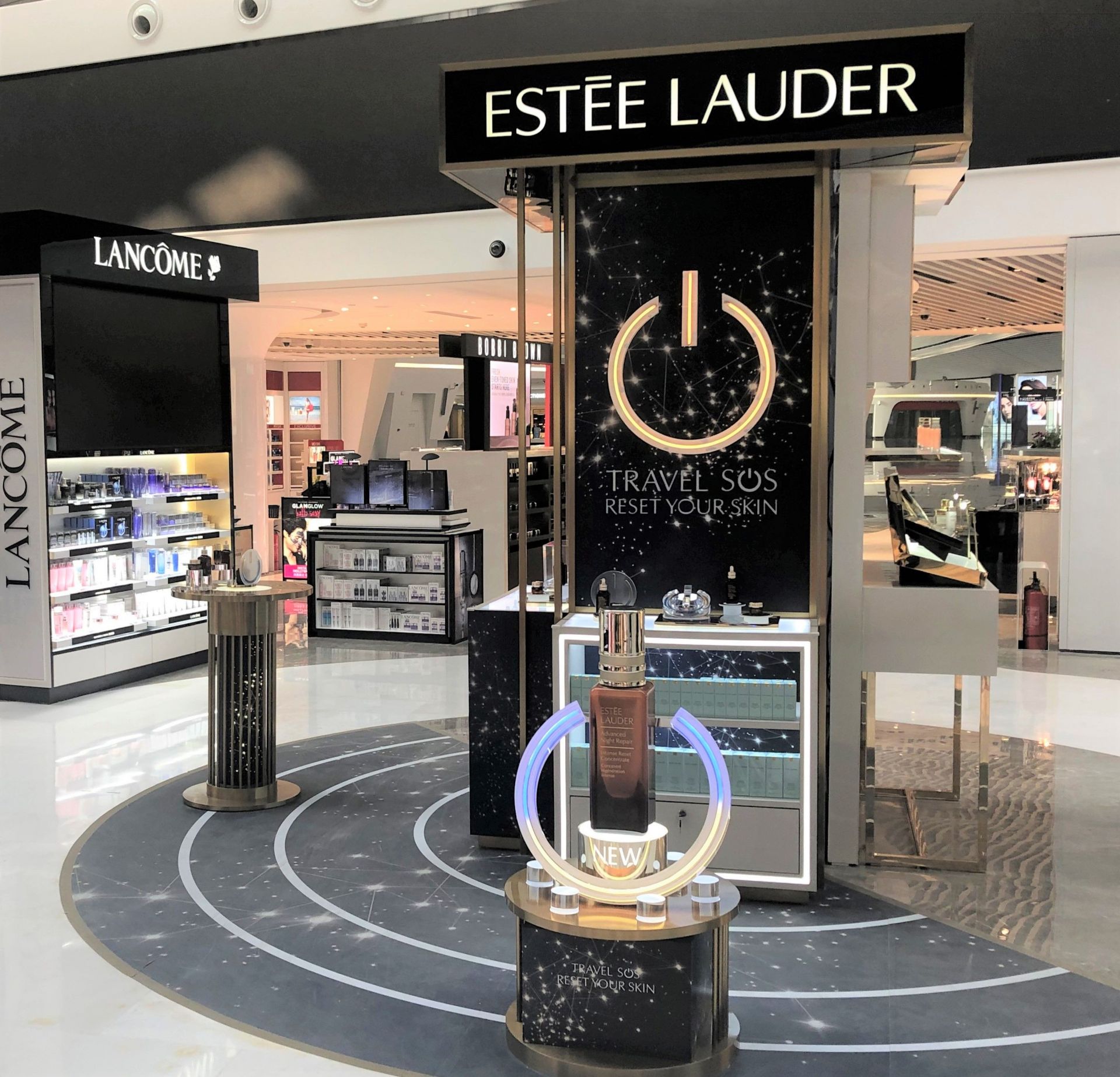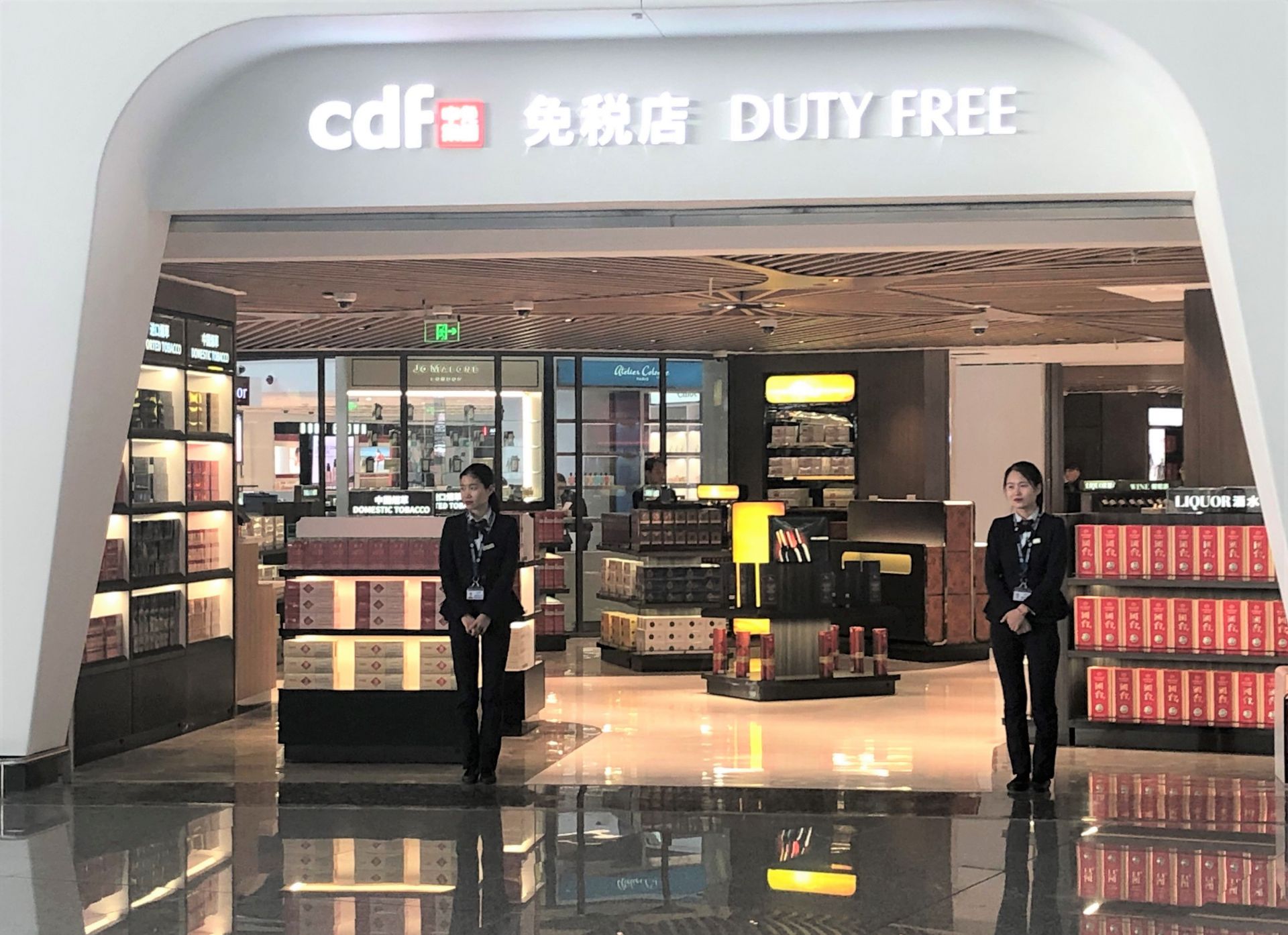 Final brand personalisation and stocking of the expansive liquor & tobacco offer will take place just in time for the big opening on Sunday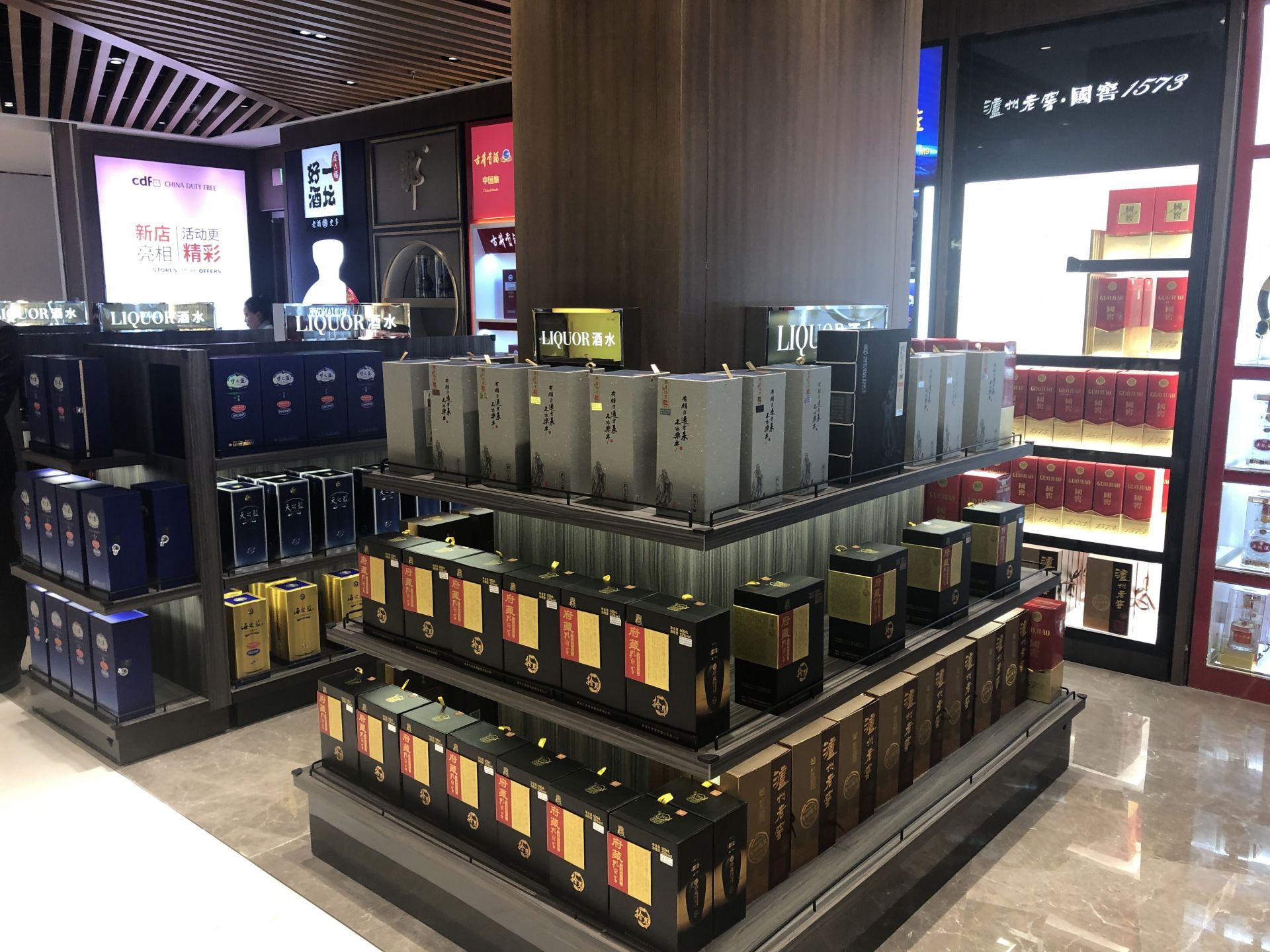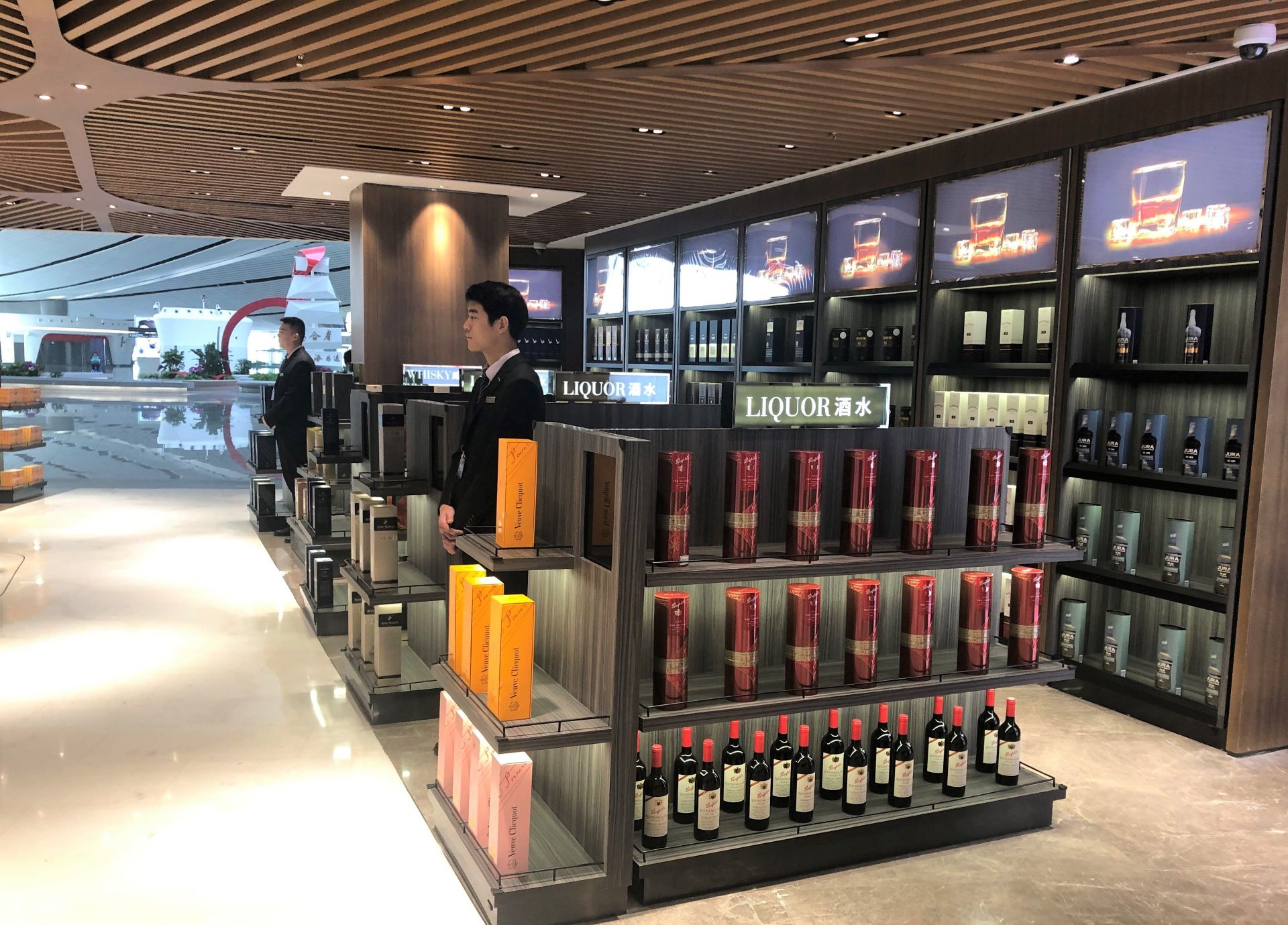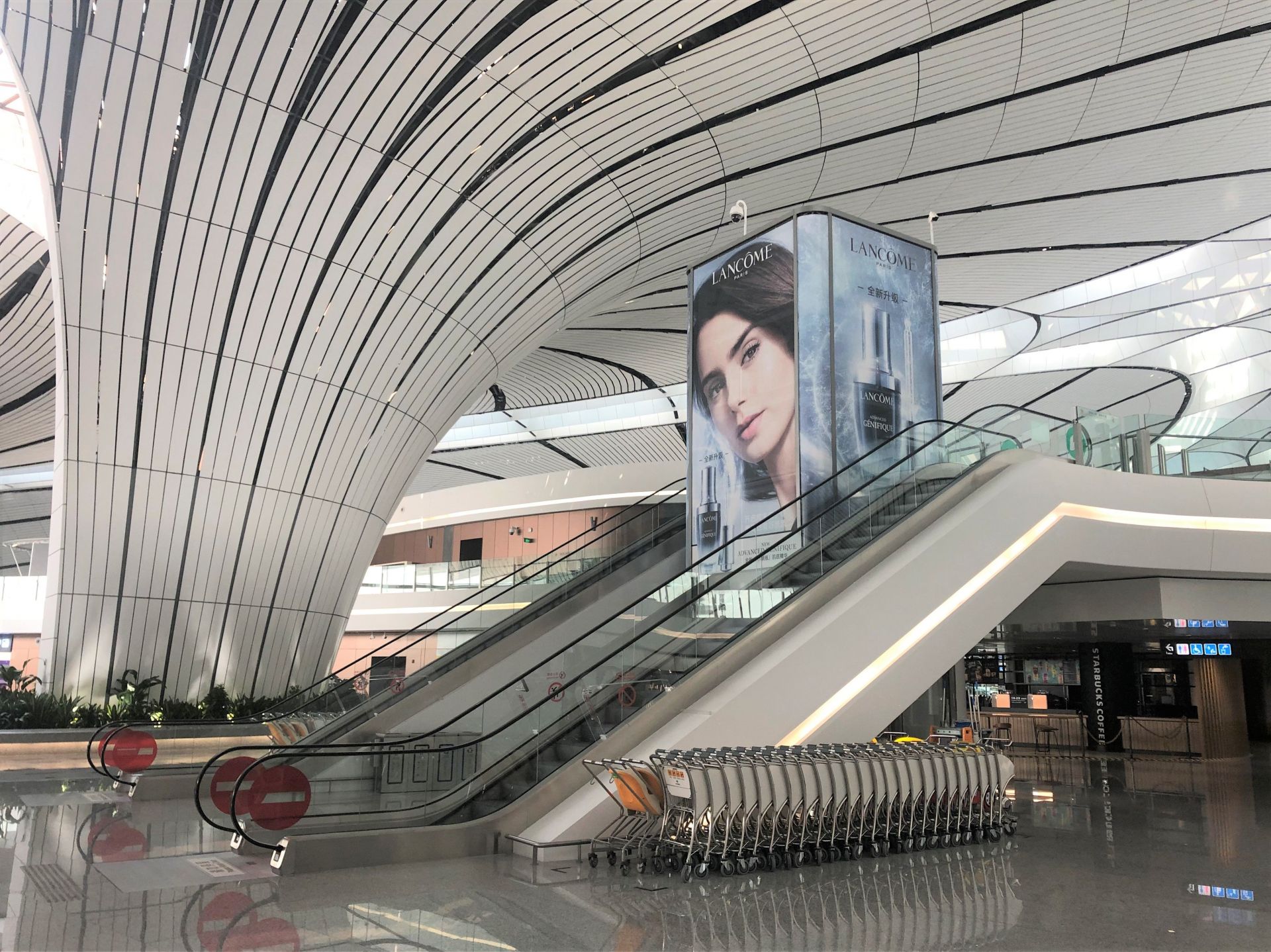 The eyes have it: Big beauty brands, notably Lancôme and Dior, have taken up impressively impactful advertising installations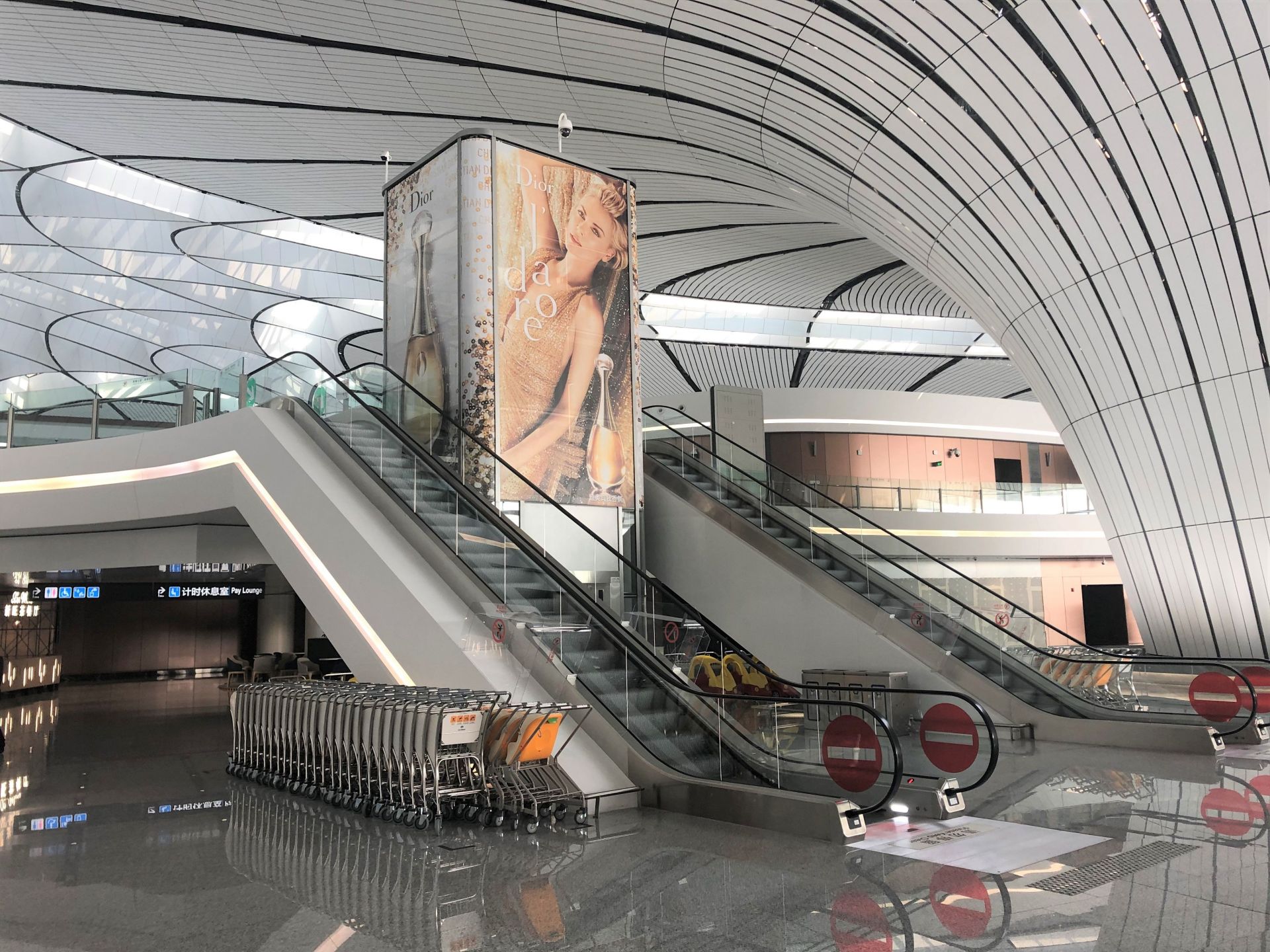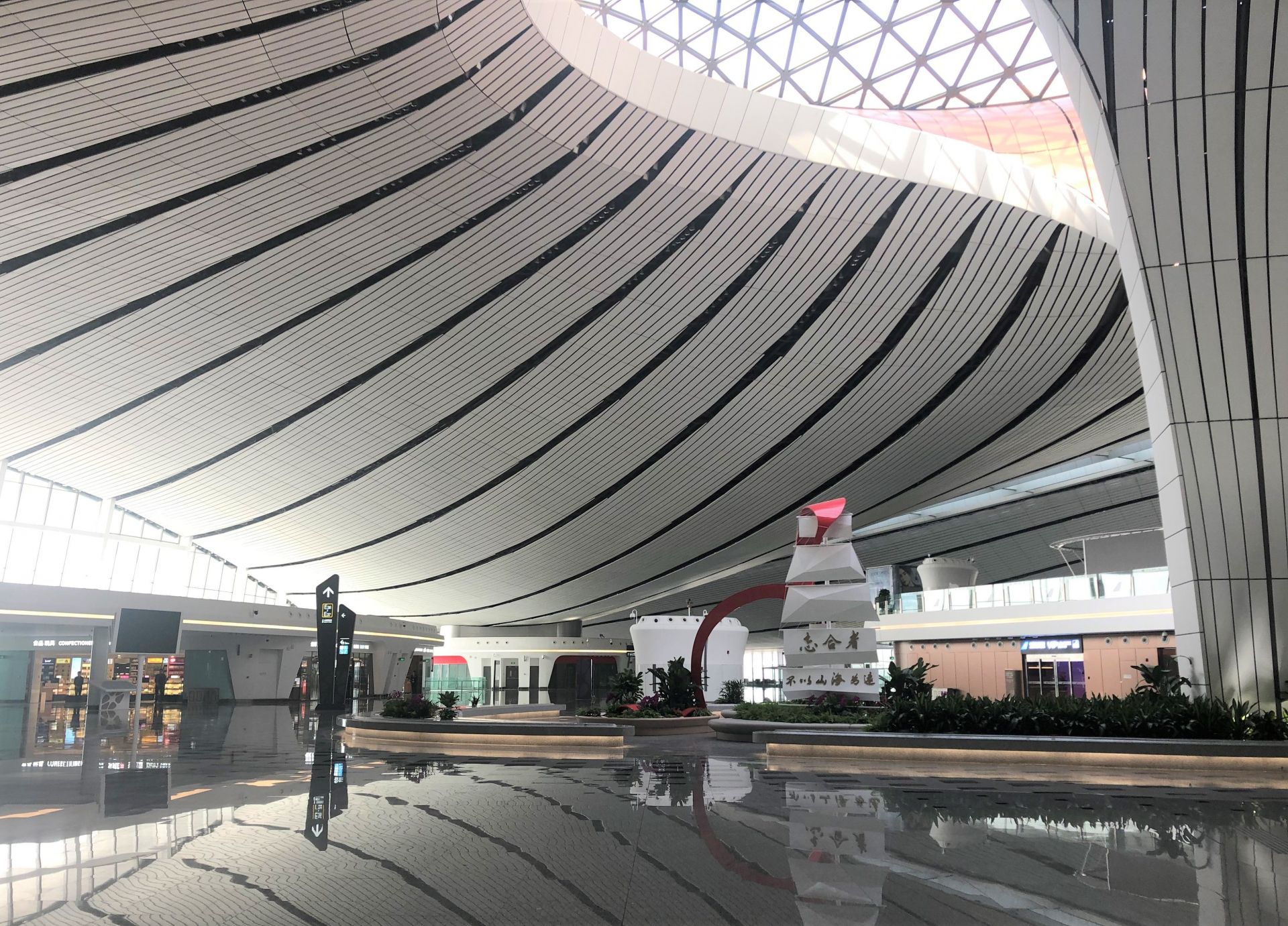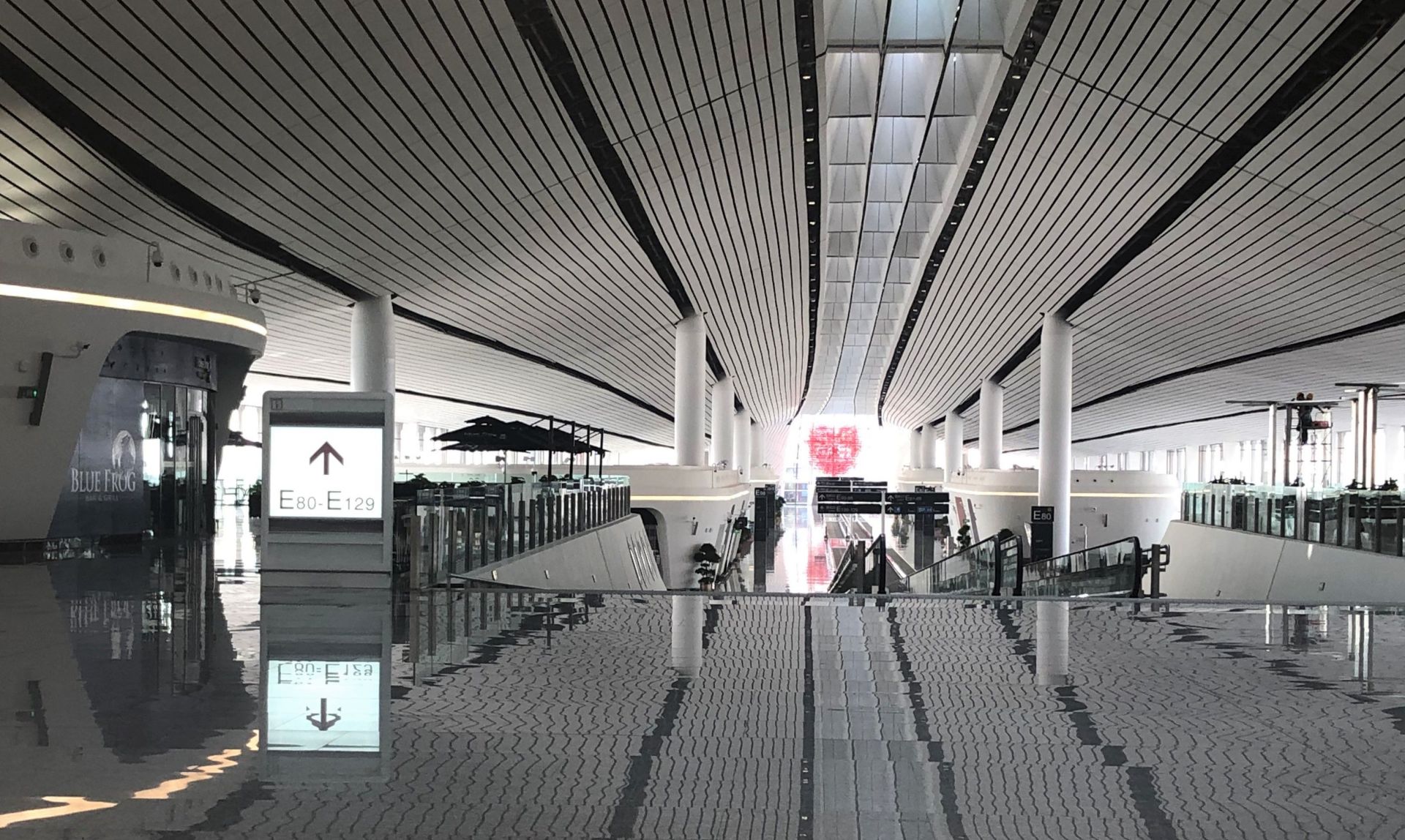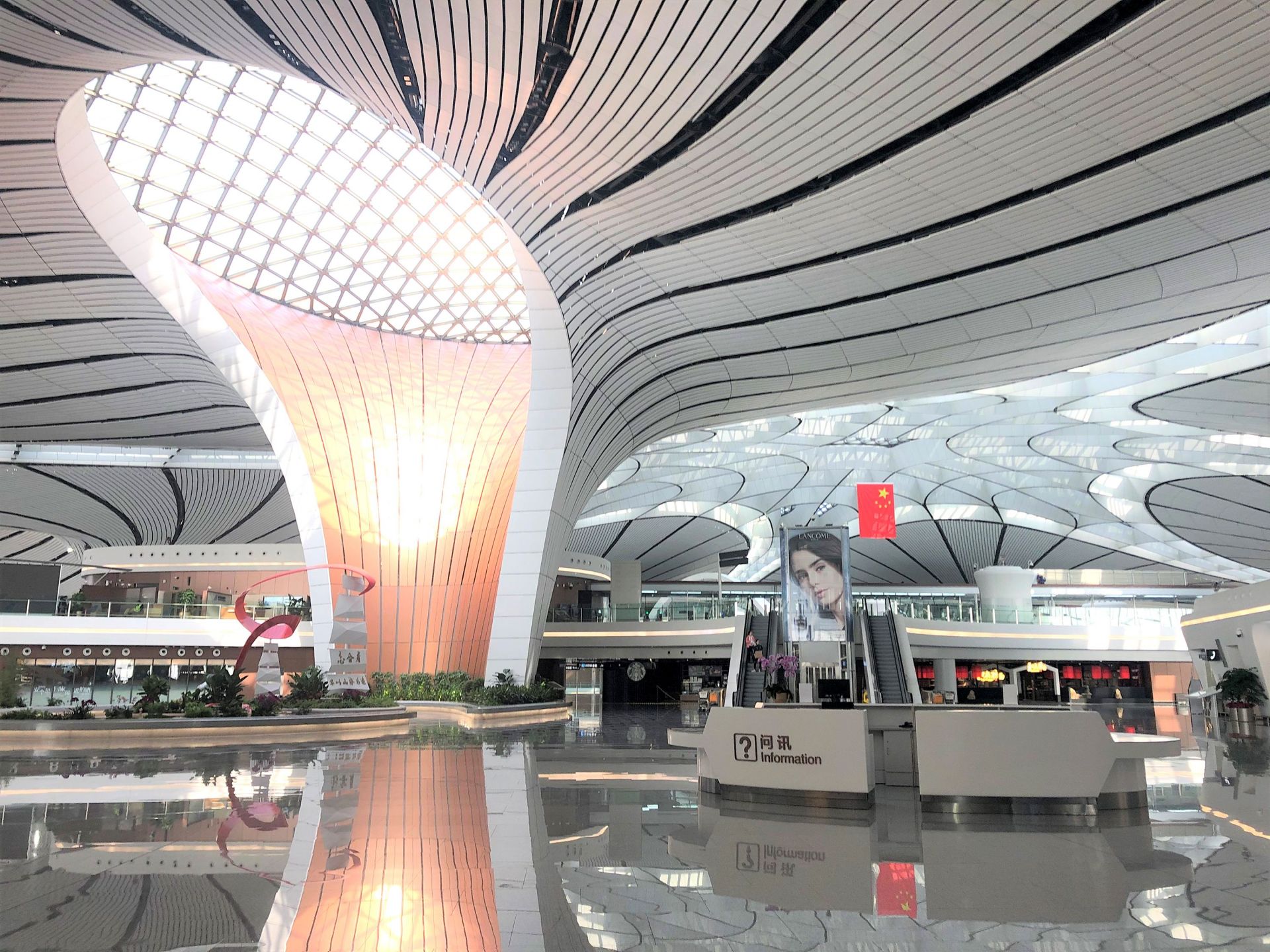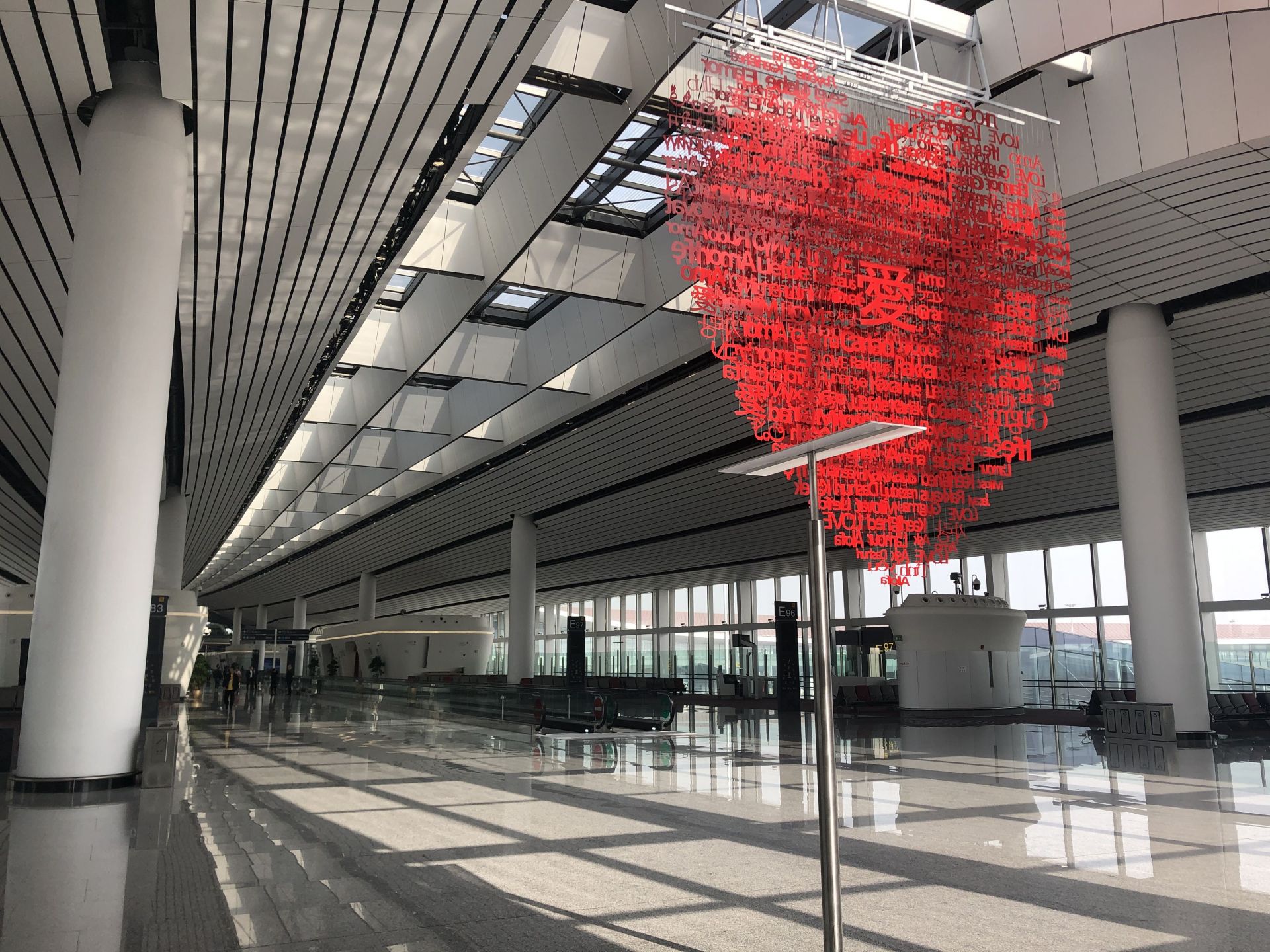 All you need is love: This beautiful piece of art spells love in multiple languages. It is one of many splendid artworks at Daxing.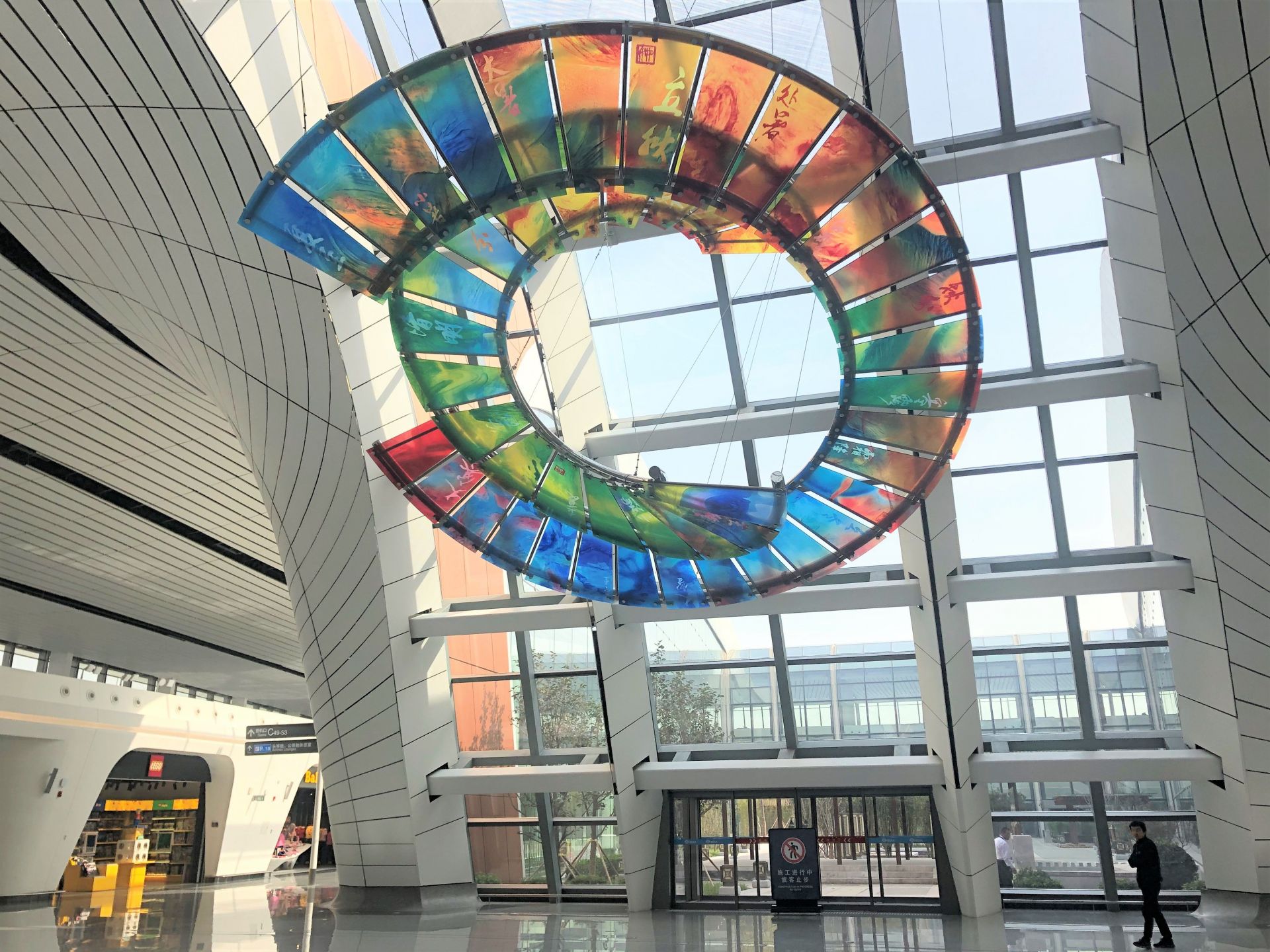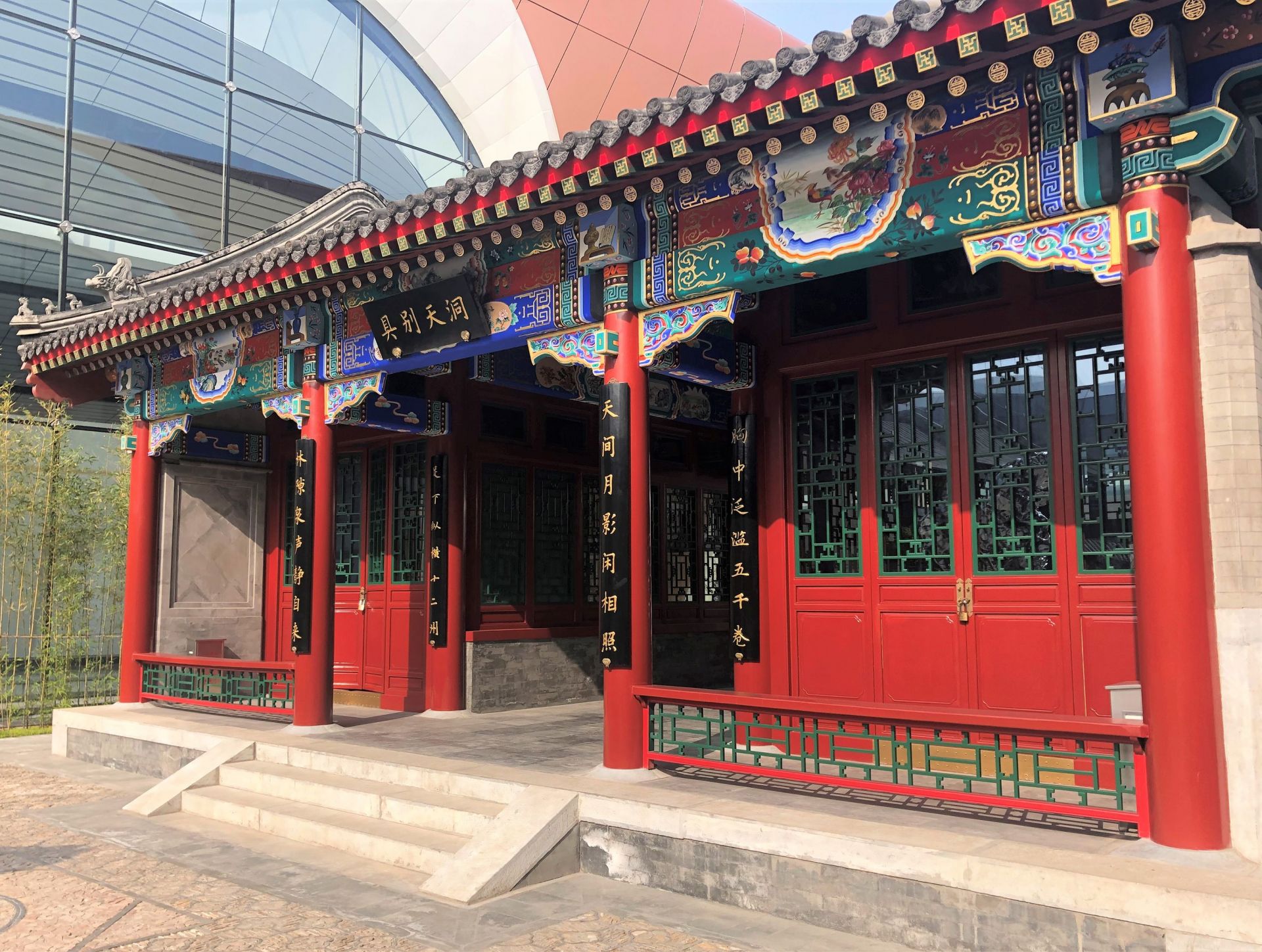 Daxing is a proud celebration of Chinese culture and heritage, featuring some captivating buildings and outdoor gardens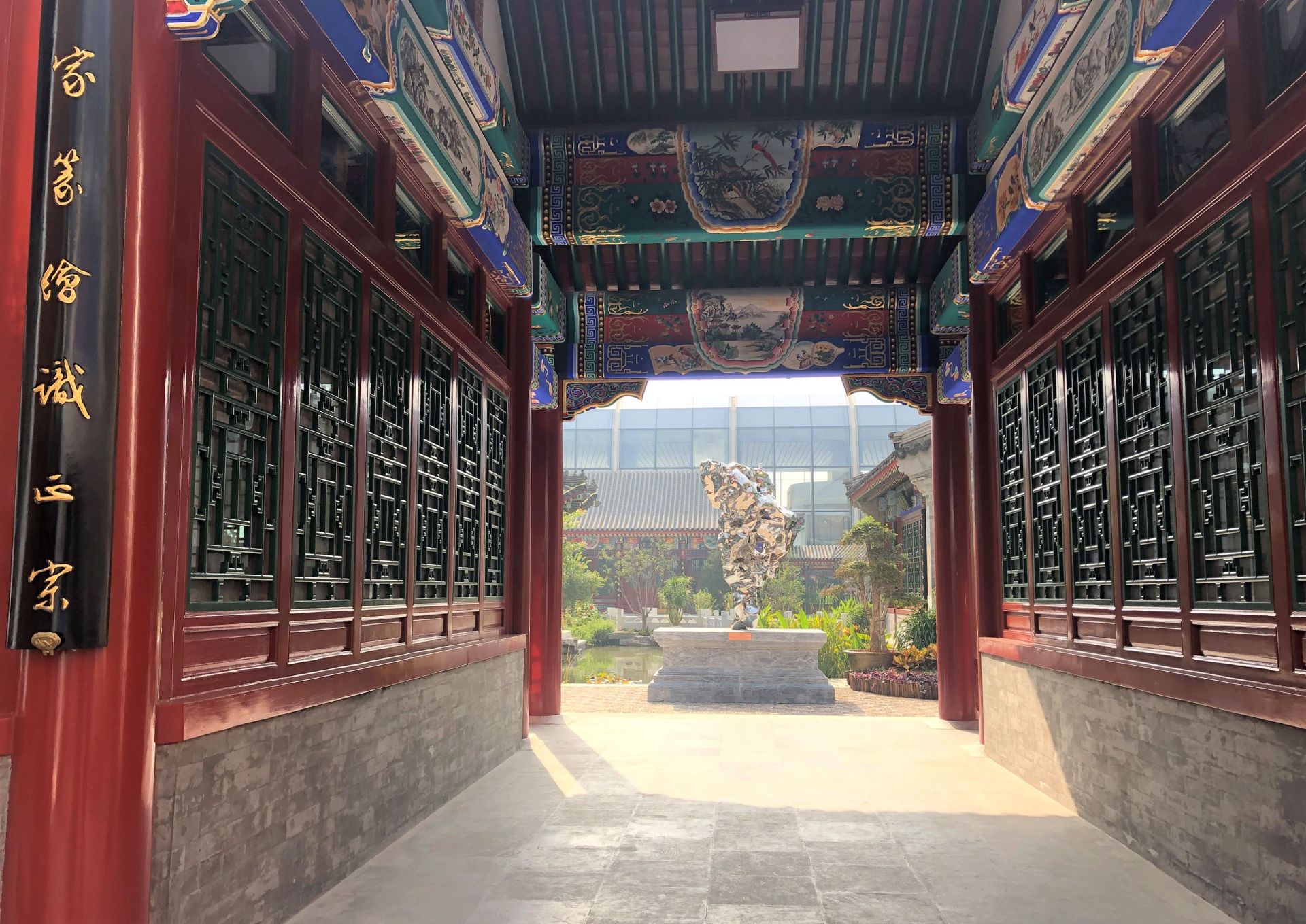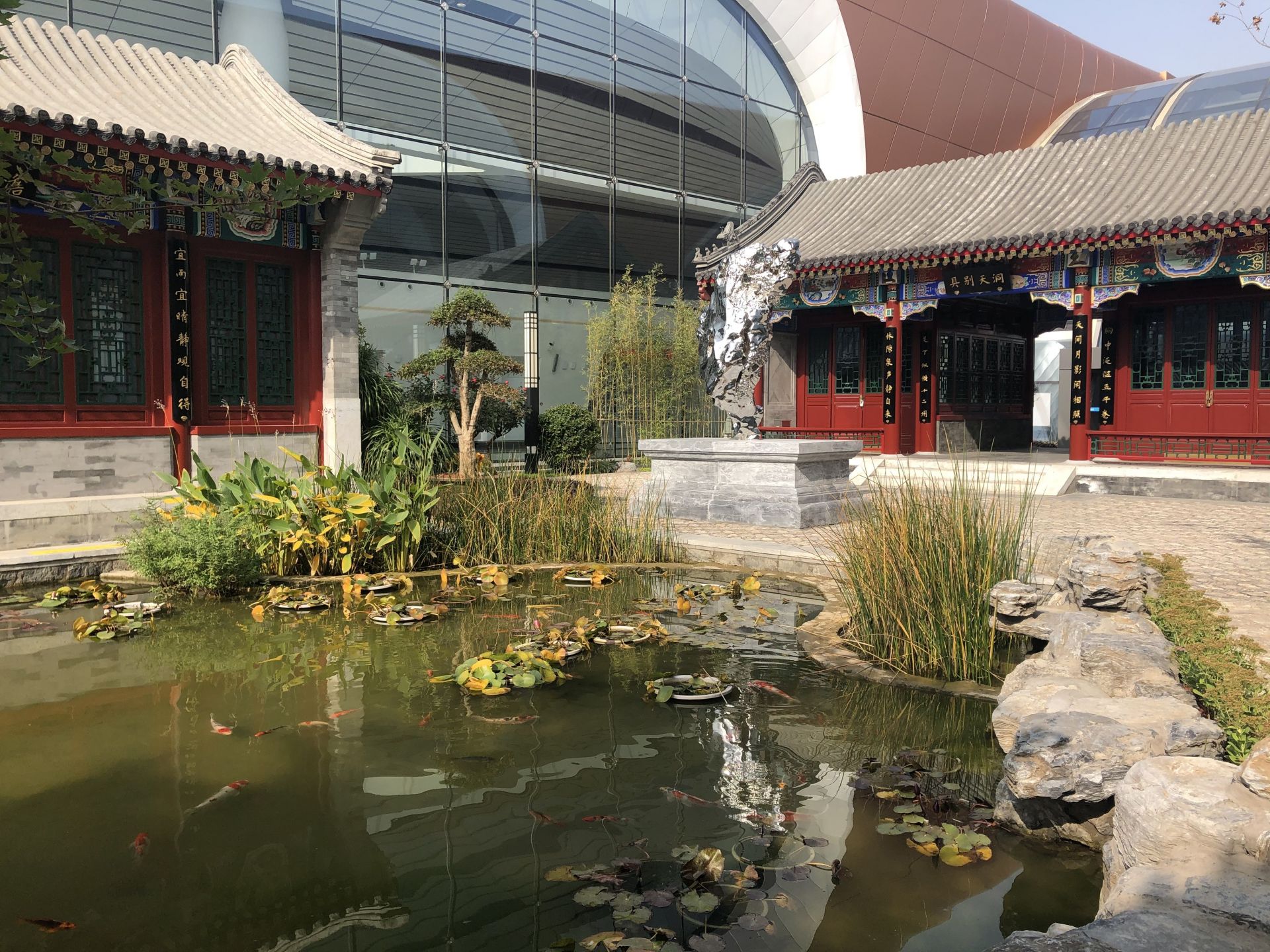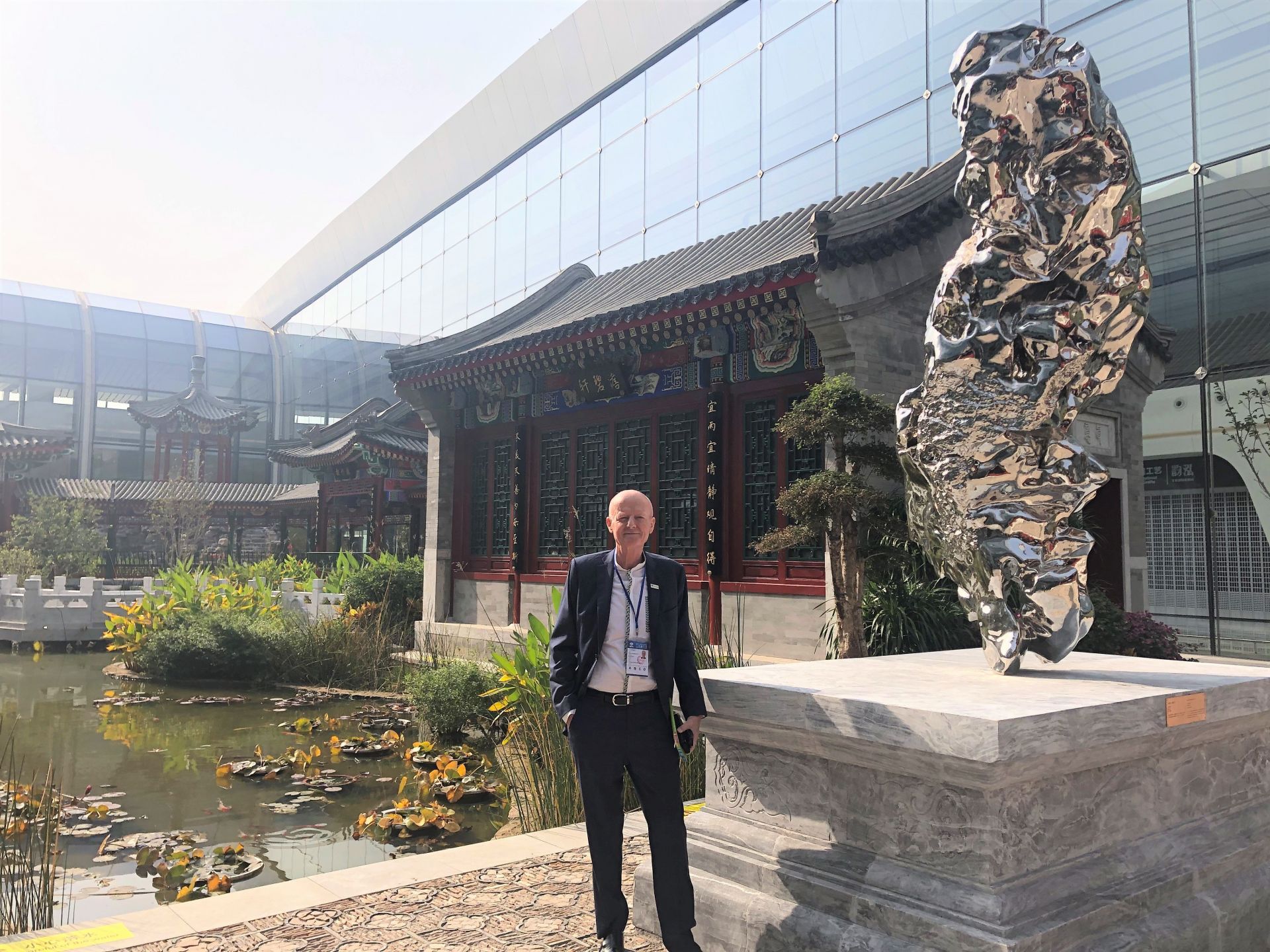 The Moodie Davitt Report Chairman Martin Moodie pictured by an intriguing artwork called Artifical Rock No. 175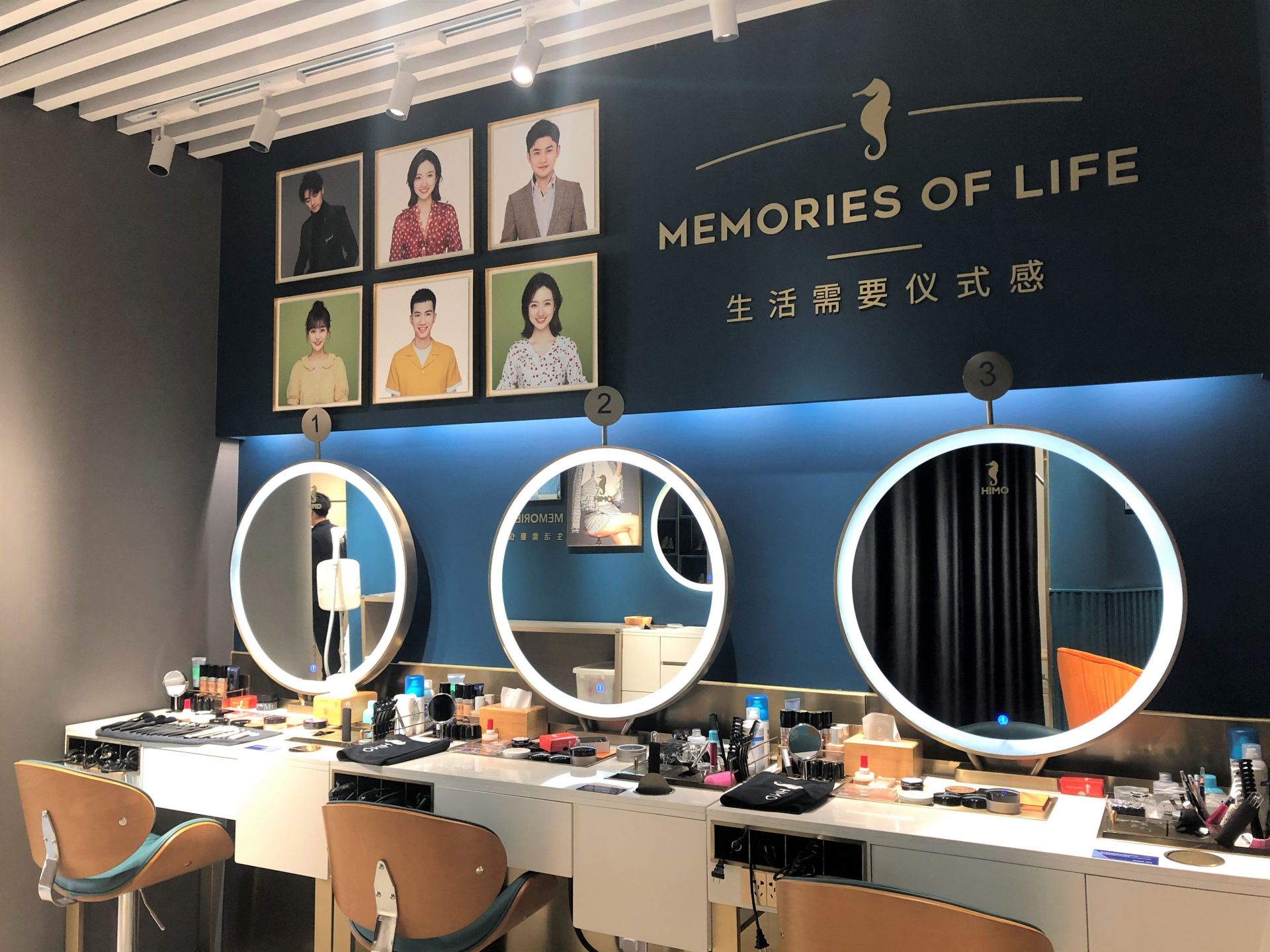 There are plenty of new concepts too. For example, Memories of Life, which offers passengers a beauty makeover and the chance to choose fashionable attire of their choice before a photo-shoot, the results of which they can send by digital media to loved ones.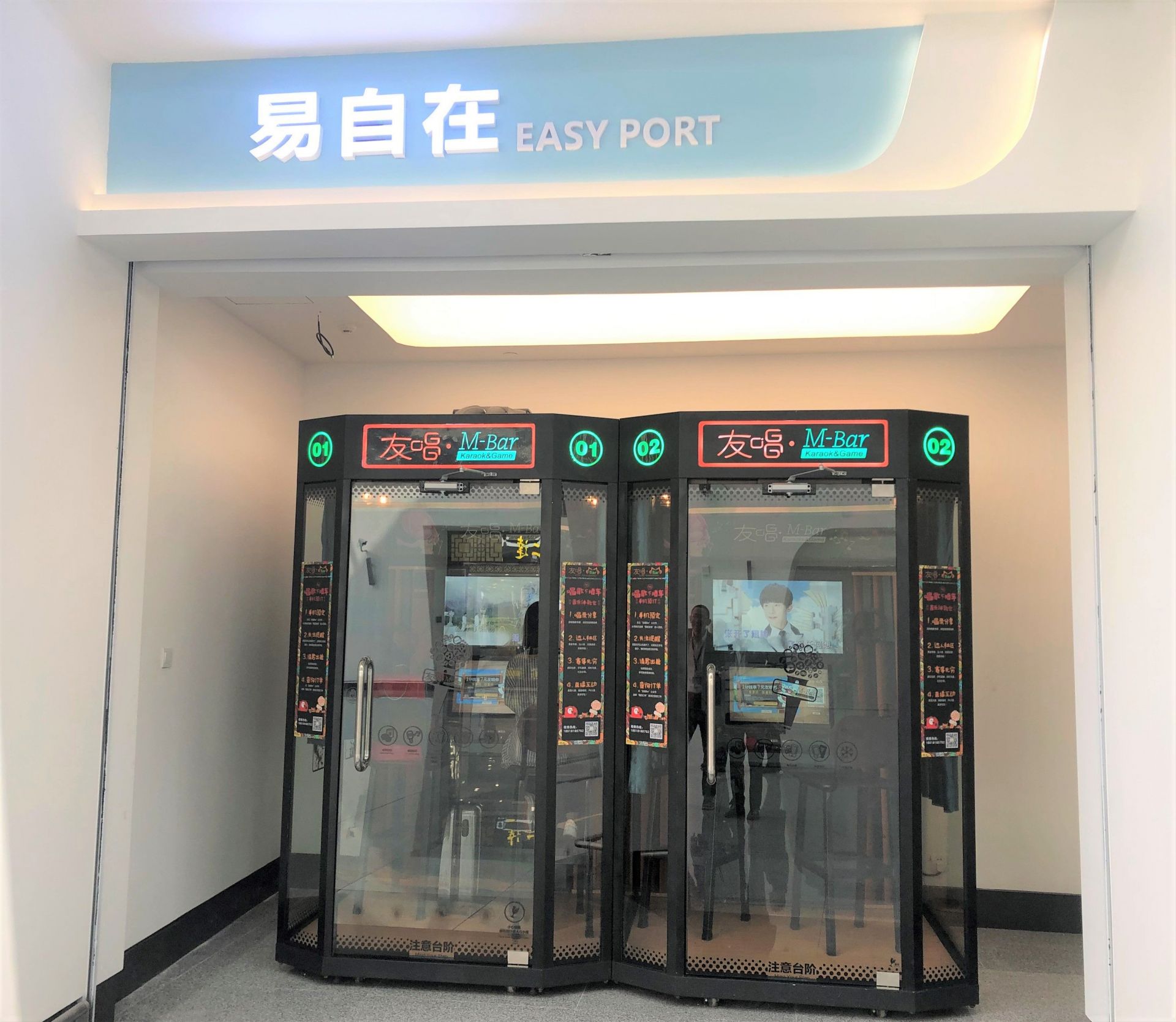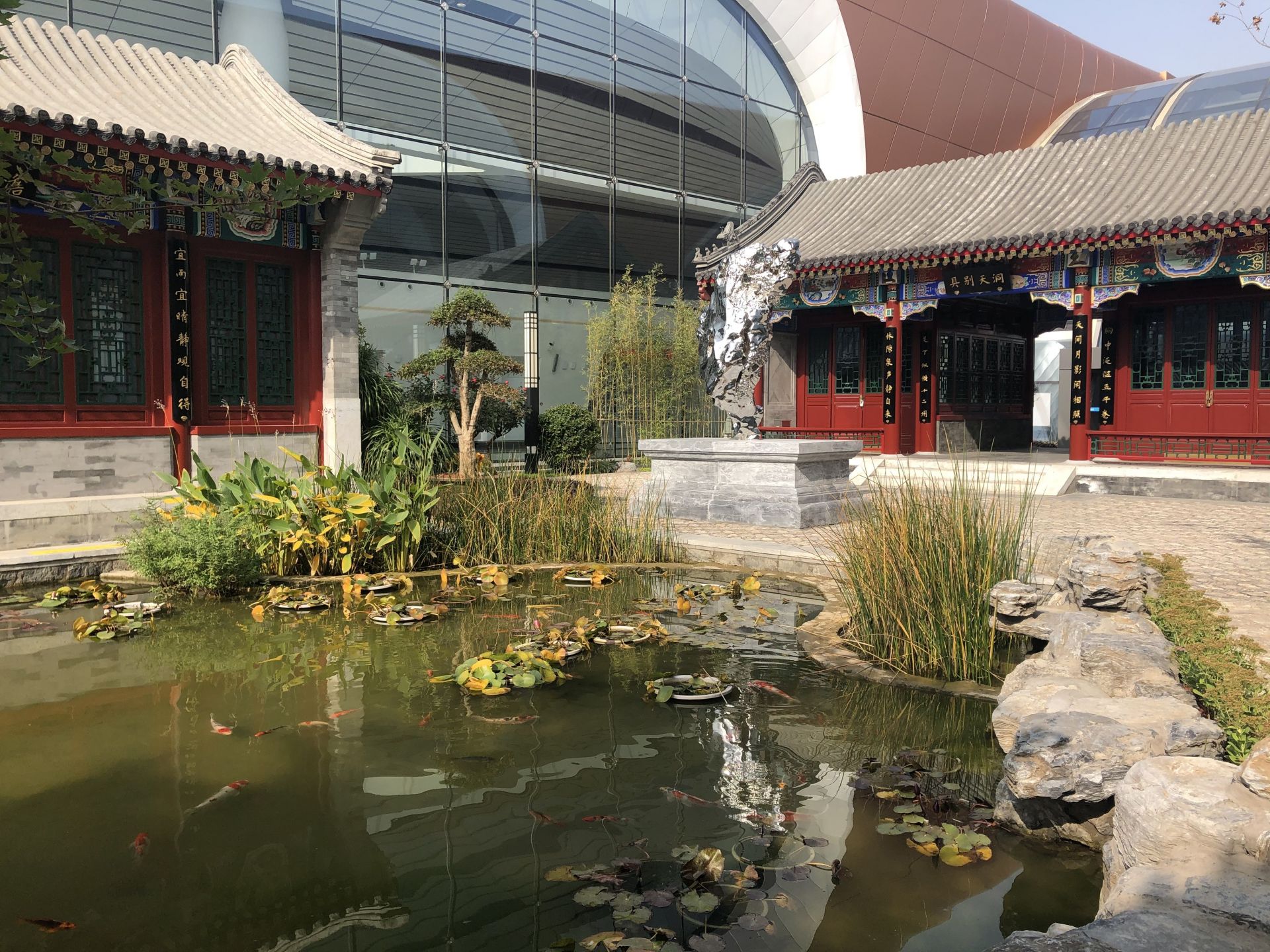 Striking the right chord: Mini-karaoke booths have caught on in a big way in China over the past two years and can increasingly be found in shopping malls, cinemas, subway stations and, now, airports. Users pay for the booths by scanning a QR code on their mobile devices and can then send the digital recordings by WeChat. So what's it to be? Leaving on a Jet Plane by Peter, Paul and Mary? How about Come Fly with Me by Frank Sinatra? Or maybe it simply has to be Elton John's Take Me to the Pilot?
Daxing also boasts an eclectic food & beverage offer, comprising local heroes such as luckin coffee and perennial global favourite Starbucks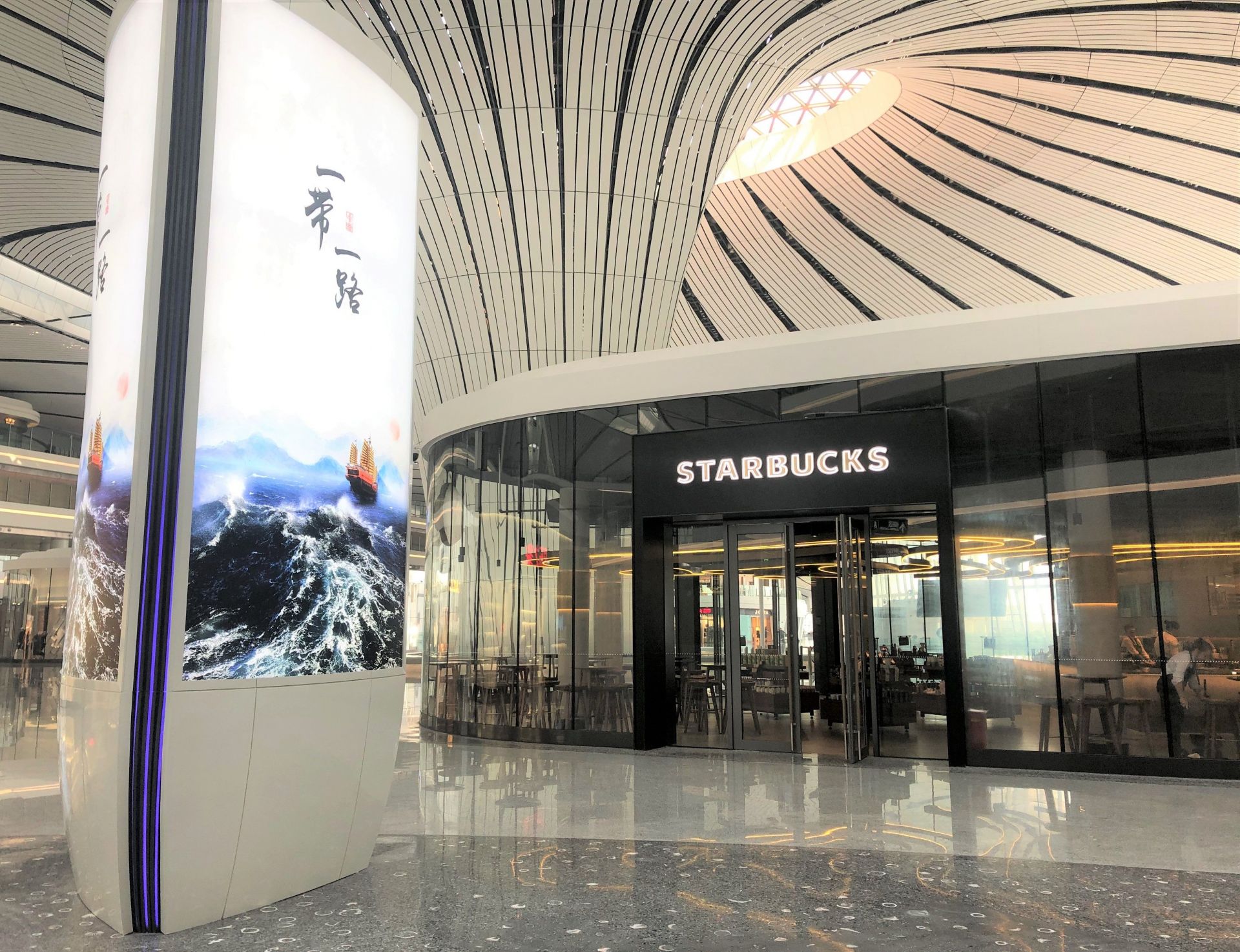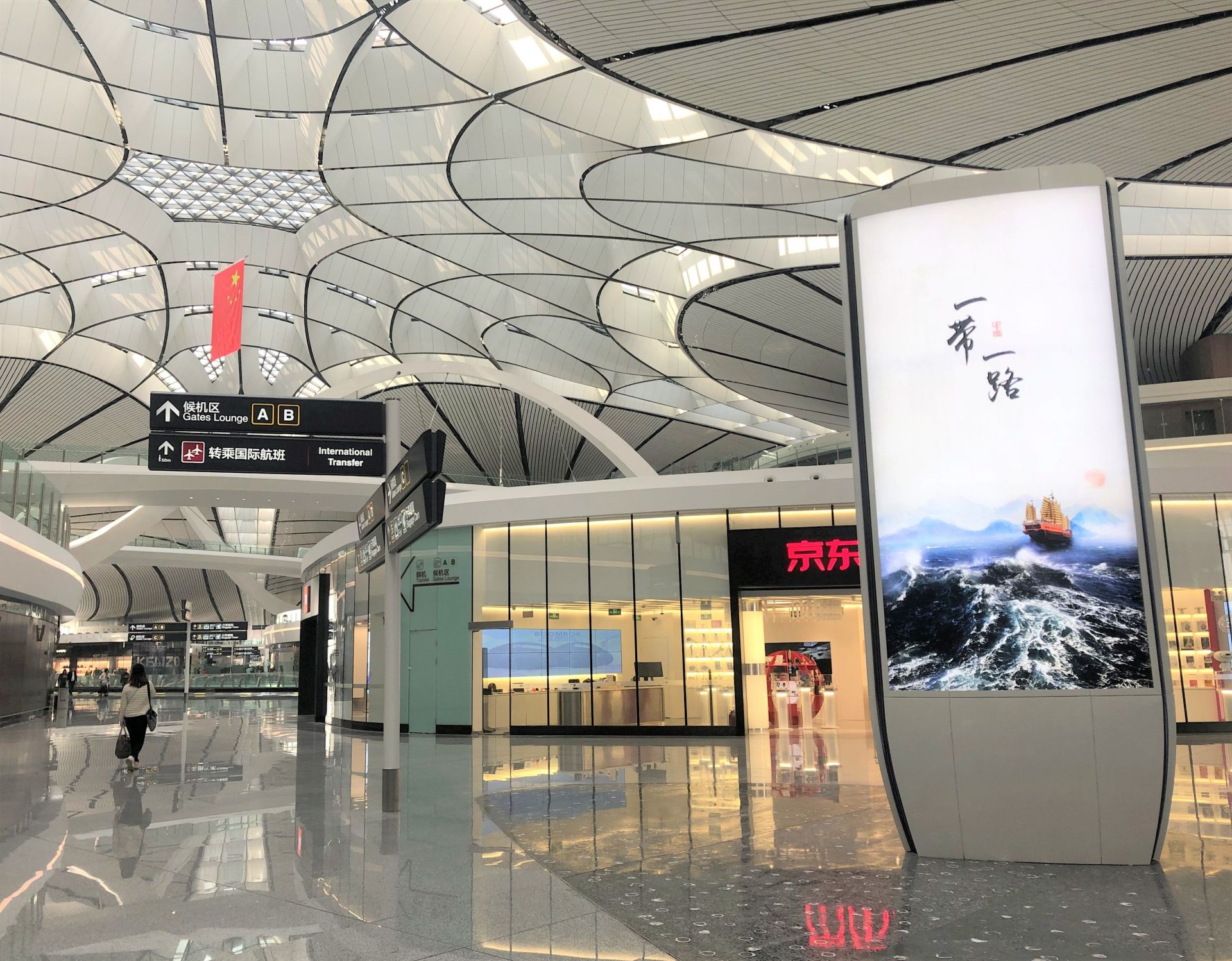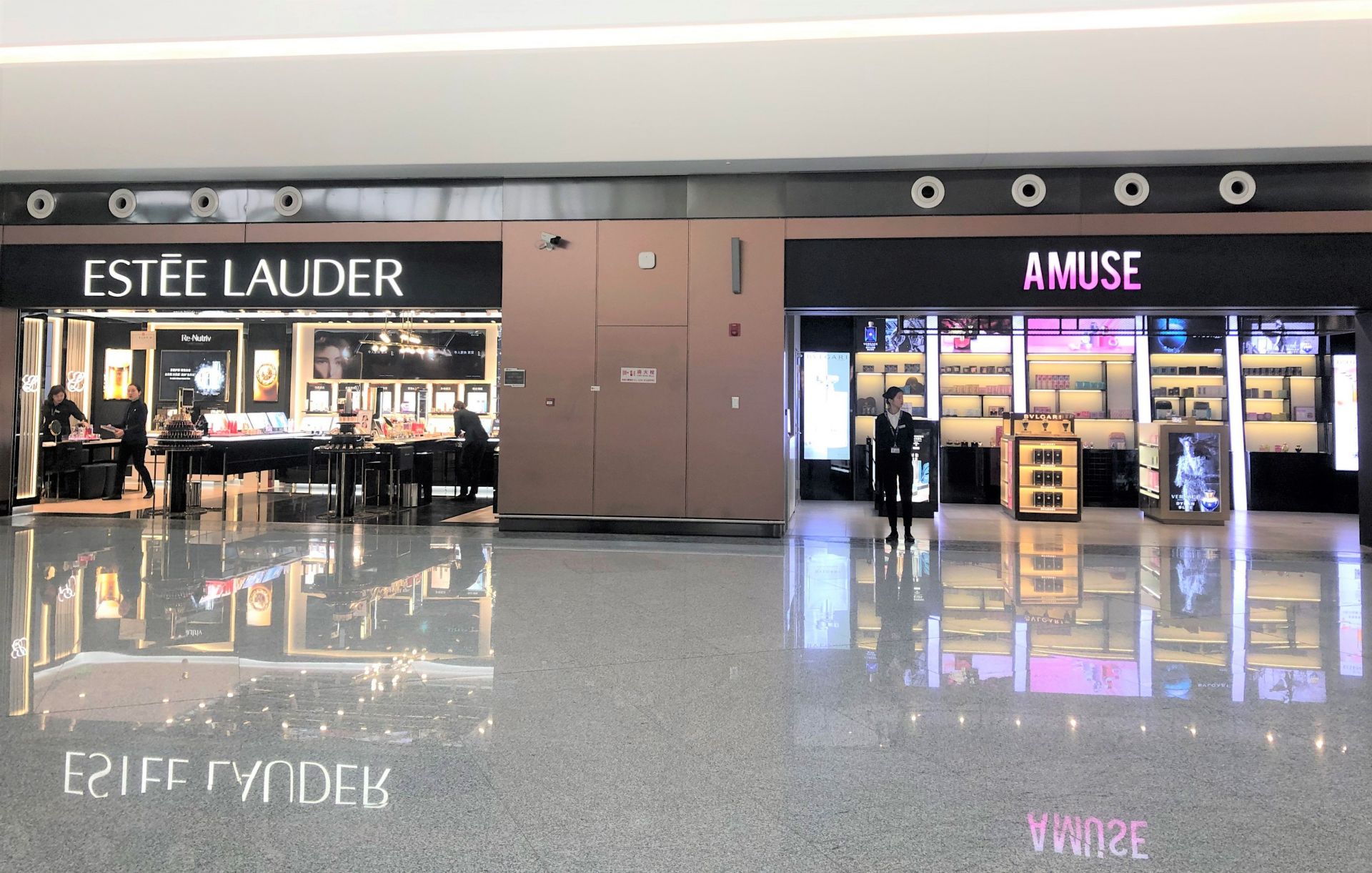 In beauty, Lagardère Travel Retail has opened an Estée Lauder monobrand boutique and an Amuse perfume store in the domestic zone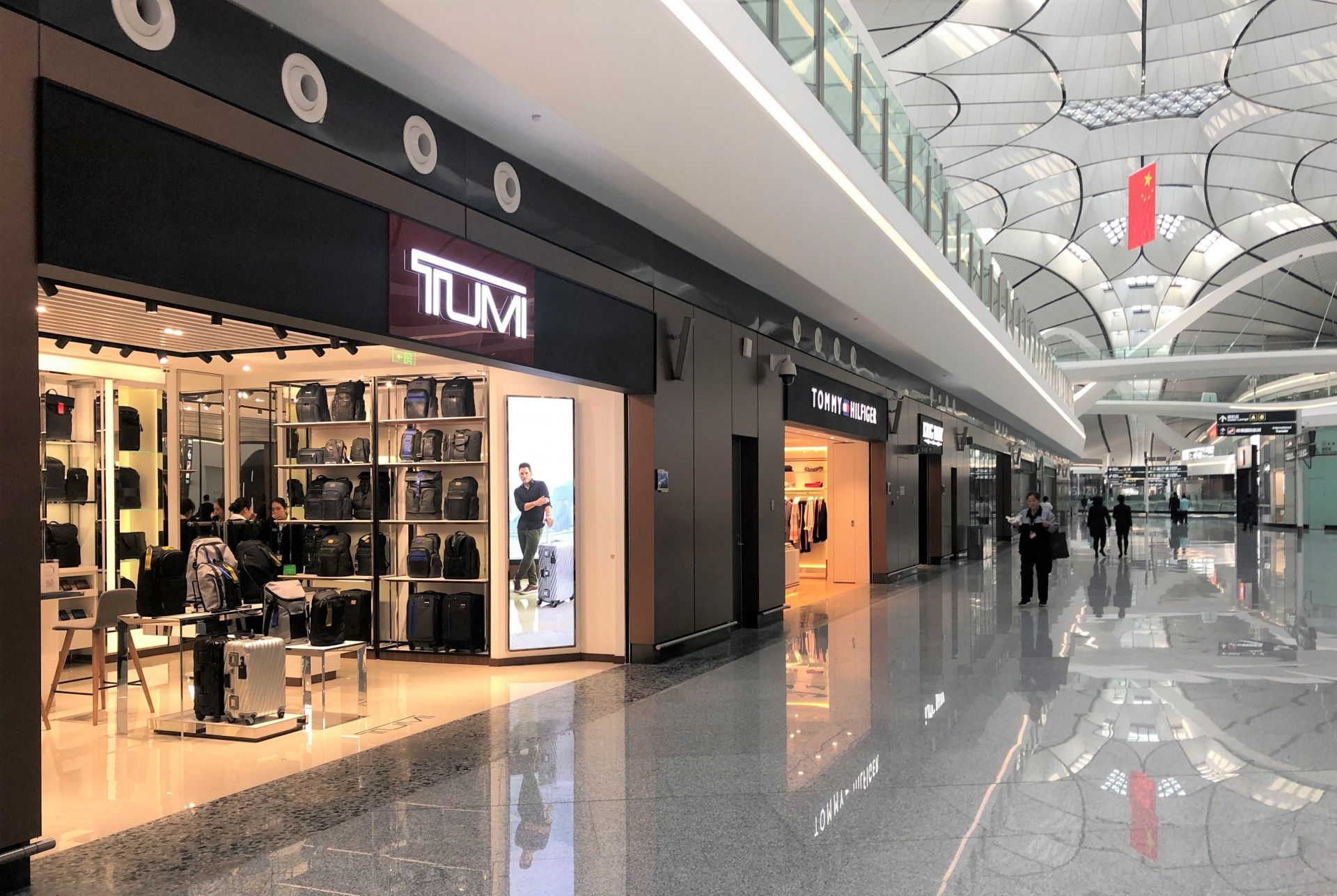 In fashion and accessories, the French travel retail powerhouse offers many brands, including Tumi and Tommy Hilfiger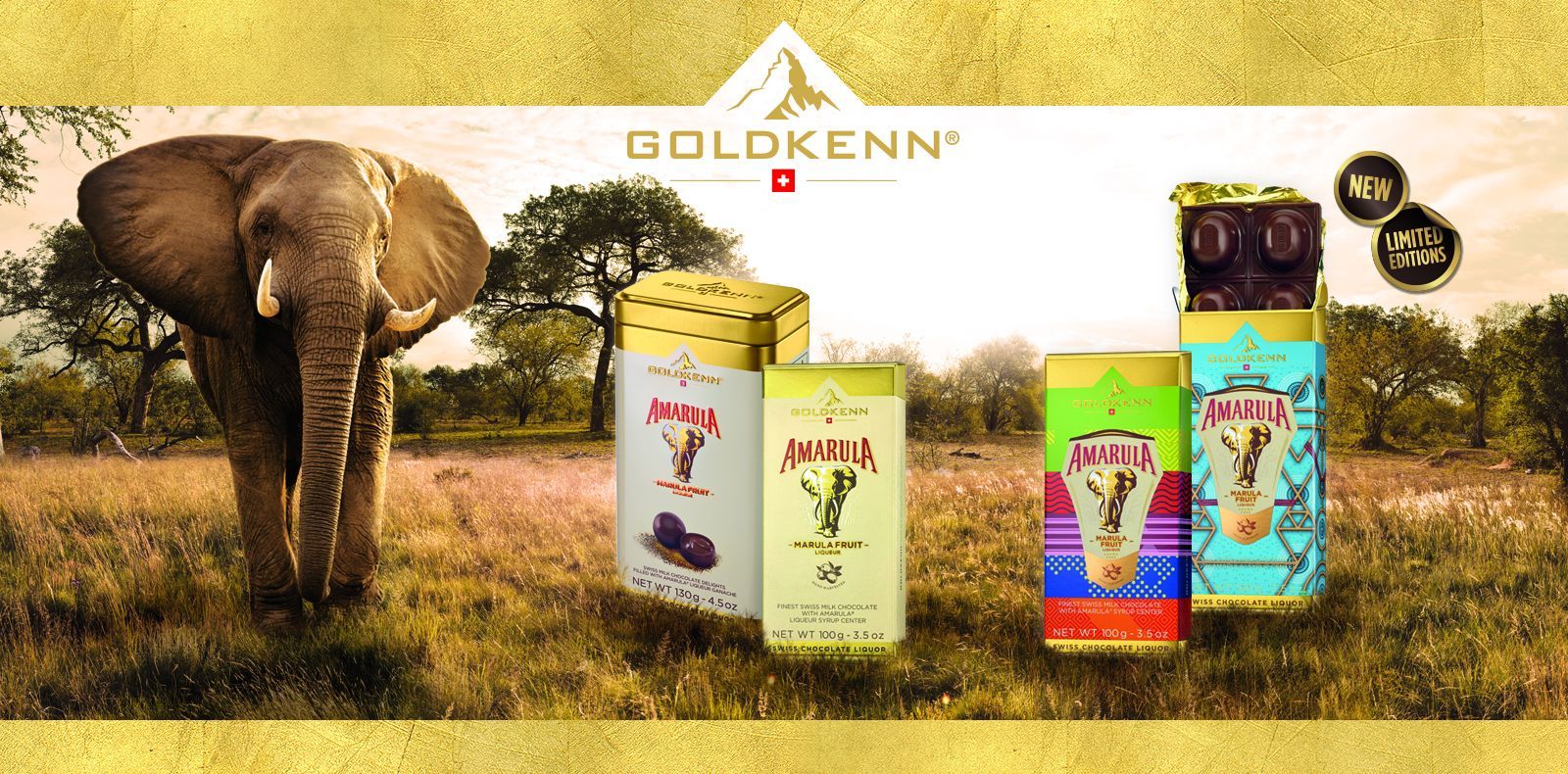 The Moodie Davitt eZine
Issue 270 | 25 October 2019
The Moodie Davitt eZine is published 20 times per year by The Moodie Davitt Report (Moodie International Ltd).

© All material is copyright and cannot be reproduced without the permission of the Publisher.
To find out more visit www.moodiedavittreport.com and to subscribe, please e-mail sinead@moodiedavittreport.com