---
Reimagining airport accommodation
Two deeply ambitious young Malaysian entrepreneurs have laid down plans to expand their unique mini-hotel venture across Southeast Asian airports and perhaps beyond. CHG owners

Ryan Loo

and

Vincent Tan

are set to build on the burgeoning success of their CapsuleTransit concept at Kuala Lumpur International Airport 2 (KLIA2), where facilities containing multiple sleeping areas and 'chill-out' zones are attracting over 5,000 travellers a month.

Martin Moodie

spoke with the owners about their fascinating professional journey and what lies ahead. Additional writing and editing by Mark Lane.
"Our vision is to see that there is a capsule hotel in every airport in the world." So says Ryan Loo, CEO and Co-founder of CHG, the Kuala Lumpur-based company that is taking the airport accommodation sector by storm with a disruptive model firmly in line with the needs and values of millions of transit travellers.
Loo and his founding partner Vincent Tan say their mission is to energise air transit travellers. And to accommodate them. Under the brands of CapsuleTransit, CapsuleTransit MAX and Interstellar, CHG will offer over 380 beds in Kuala Lumpur International Airport by the third quarter of 2020, serving approximately 10,000 customers per month.
CapsuleTransit, dubbed by Loo and Tan as "a trendy millennial hotel catering for urbanite and transit travellers", was first established at Kuala Lumpur International Airport 2 (KLIA2) in 2014 with 79 sleeping pods and various complementary facilities and services.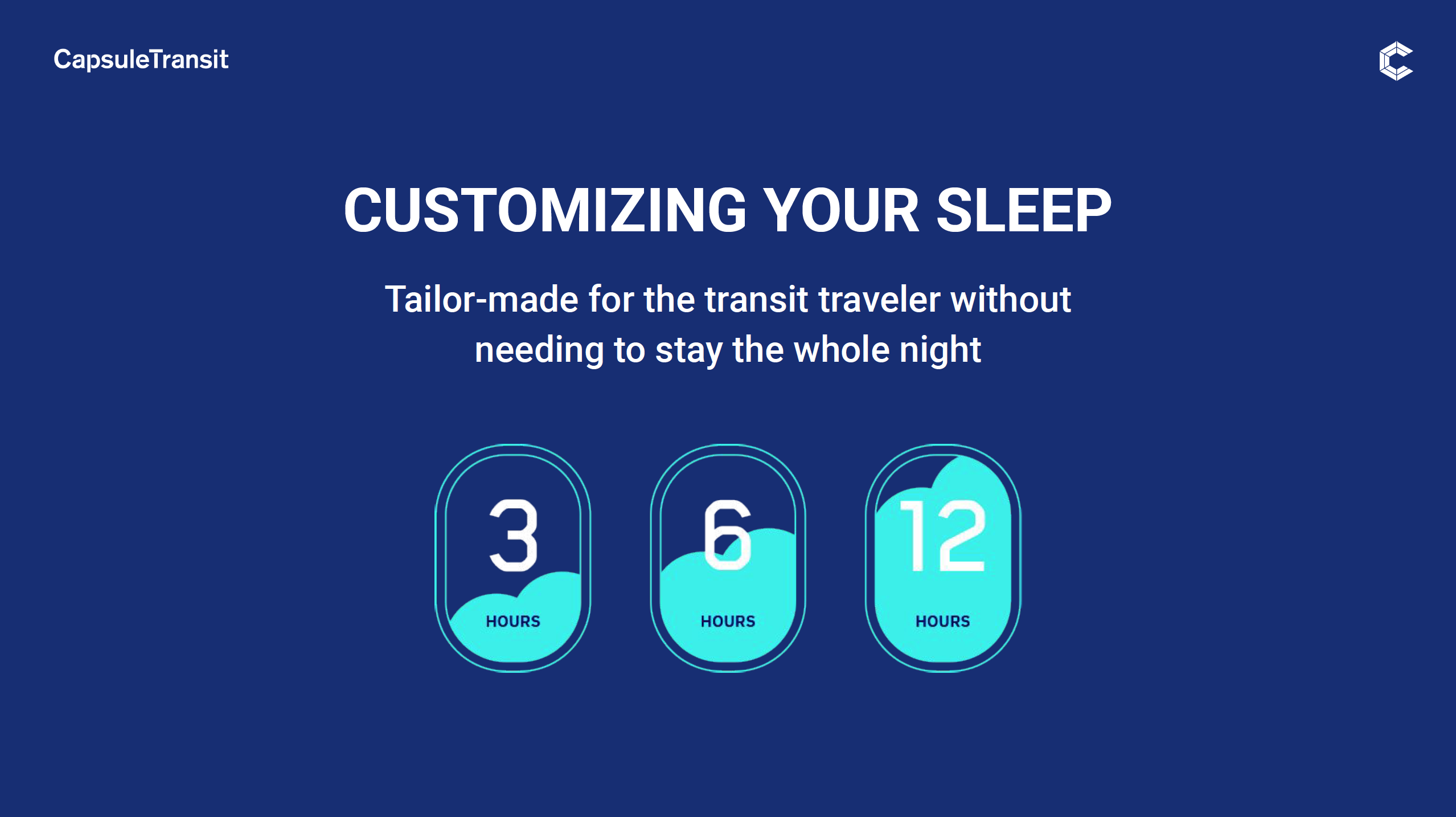 Tailoring the offer to the needs of the traveller
Today, both the original hotel and the company are a whole lot bigger. The KLIA2 operation now embraces 9,500sq ft of landside space, containing 204 'capsule pods', ranging in size from single occupancy up to units suitable for small groups of friends or family.
Each capsule has a bed (or beds) with ventilation, international power ports and a pull-out vanity desk. Shower rooms and luggage storage is inclusive with every booking and is a shared facility. Bookings can be made for durations of three, six and 12 hours. There is also a 'shower only' and 'storage-only' option. The target audiences are those who require somewhere to rest and freshen up ahead of early flights and also those whose flights are delayed, plus late arrivals and 'quick shower seekers'.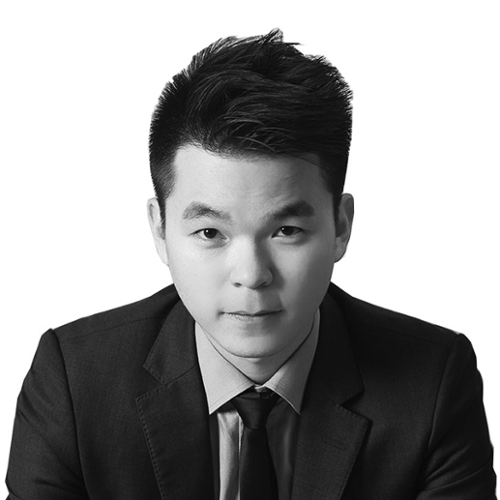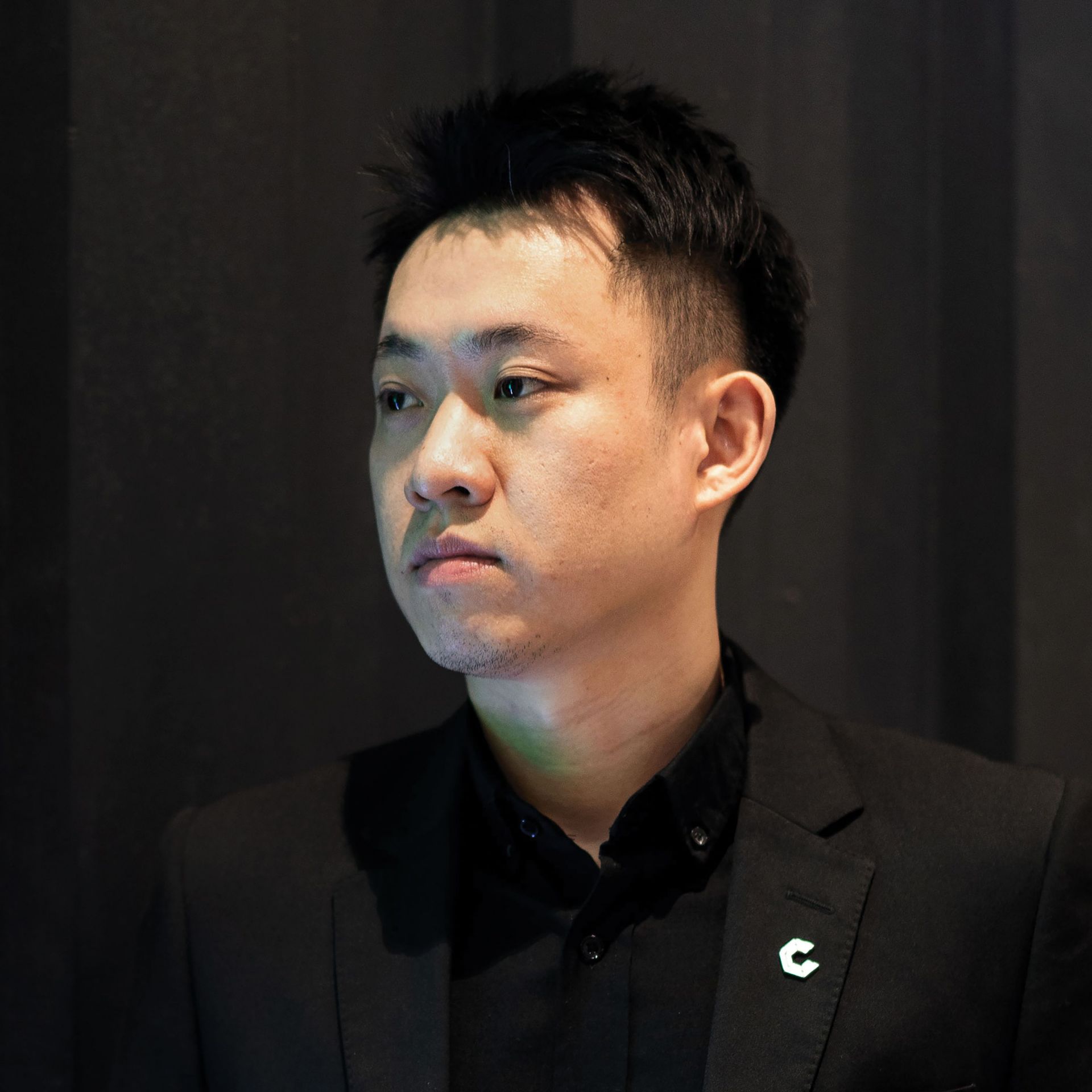 COMPLEMENTARY SKILLSETS
The co-owners come from contrasting backgrounds but share a common entrepreneurial streak. Loo graduated from Monash University in Melbourne Australia, where he majored in Mechatronics Engineering. After completing his studies, he moved into the family heating, ventilation and air conditioning firm back home but his real passion lay in building and architecture. At just 25, Loo and some friends ventured into property development, purchasing a 700sq m block to build a high-end bungalow. But like many entrepreneurial stories, this one got off to a tricky start.
"It was supposed to be a weekend project and it took us three years to build one bungalow, after which we couldn't sell it," Loo recalls with a rueful smile. "Part of the reason is that we were pricing it at US$1 million. No-one wanted to buy a bungalow we had just built for that money.
"I was 27 years old and I started reflecting. I said to myself, 'You know, actually, my dream is not to be a developer. I like building and I like architecture, but I don't really like selling.' I asked myself if there was anything I could build and then run as an operation. And hotels met my criteria."
But hotels require money. And with an unsold property on his hands, that was a commodity in short supply. Loo considered building a hotel on rented land but feared what would happen if for any reason the landowner decided on an alternative use for the plot.
"Then we would lose everything. So then I asked, 'What if we could move the structure that we built?' So that's how the idea came about… land is expensive to own when you are a budding company, so we rented a piece of land and came up with the idea of using shipping containers to construct a hotel. By using the containers there is the possibility of moving the product in the event the owner wants to claim back the land. It also quickens the construction process, which is important as land rental has to be paid during that period.
"Our original vision for Container Hotel Group [now CHG] was a simple one – to be the largest global hotel group for millennials," Loo comments. The result, with some clever touches, was a stylish and ergonomic hotel space, with a small carbon footprint.
Enter Vincent Tan, also from Kuala Lumpur, whom Loo had met as a student in Melbourne. Tan had studied digital communication and multimedia at RMIT University, later moving into the design, branding and advertising world back home in Malaysia. "My passion was always in wanting to create a global brand," he says. "I love branding and I love to create new things. And I guess a hotel is one of the best products I can create in terms of branding and the customer experience, right?"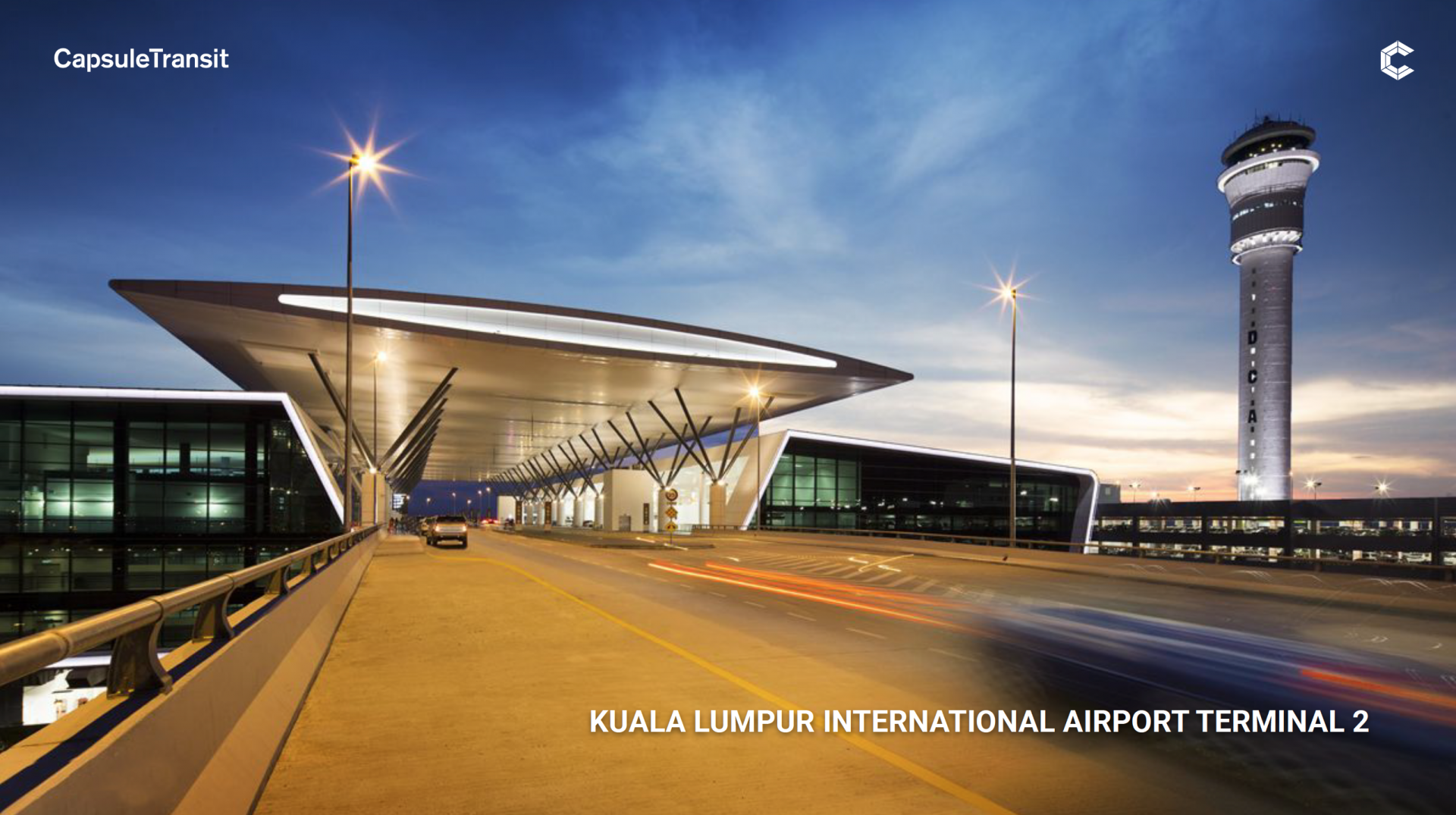 KLIA2, the proving ground for the company's innovative accomodation concepts. Now Vincent Tan and Ryan Loo are eyeing wider opportunities.
He found the perfect vehicle for his passion with Loo's container hotel concept and quickly accepted his friend's invitation to join the company. The pair's skillsets are complementary, Loo points out. "I was interested in architecture and building, but I wasn't good at branding. I wasn't good at creating a positioning, especially for international products. Whereas Vincent is very good on that.
"After building the first Container Hotel, I was exhausted at going it alone. And after I bumped into Vincent again, I said, "You know, why don't we just do this together?" With my strength and his strength combined, we felt we had all the assets to create a real success story."
The rest, as they say, is history, a narrative shaped by a single idea that has subsequently morphed into multiple expressions. The first Container Hotel, dubbed 'the lodge for the urban explorer', was completed in 2013 and two more followed in the Malaysian cities of George Town (2015) and Ipoh (2016). Other business ventures have followed, including Cocomomo, an urban hotel for pets with services and facilities ranging from boarding, grooming, spa, massage and therapy to an indoor park and swimming pool. The first Cocomomo opened in central Kuala Lumpur in 2017.
From targeting what Loo and Tan call the "millennial wanderlusts" with different hospitality brands, the company has steadily shifted its emphasis to serving transit travellers – leading to the re-branding to CHG.
It's all a question of focus, says Tan. "During our first five years, we were in the city hotel segment, in the airport, in pets, and we were even working on R&D in outdoor accommodation," he remembers. "We realised that we had to re-focus on the airport – that is where our strengths were."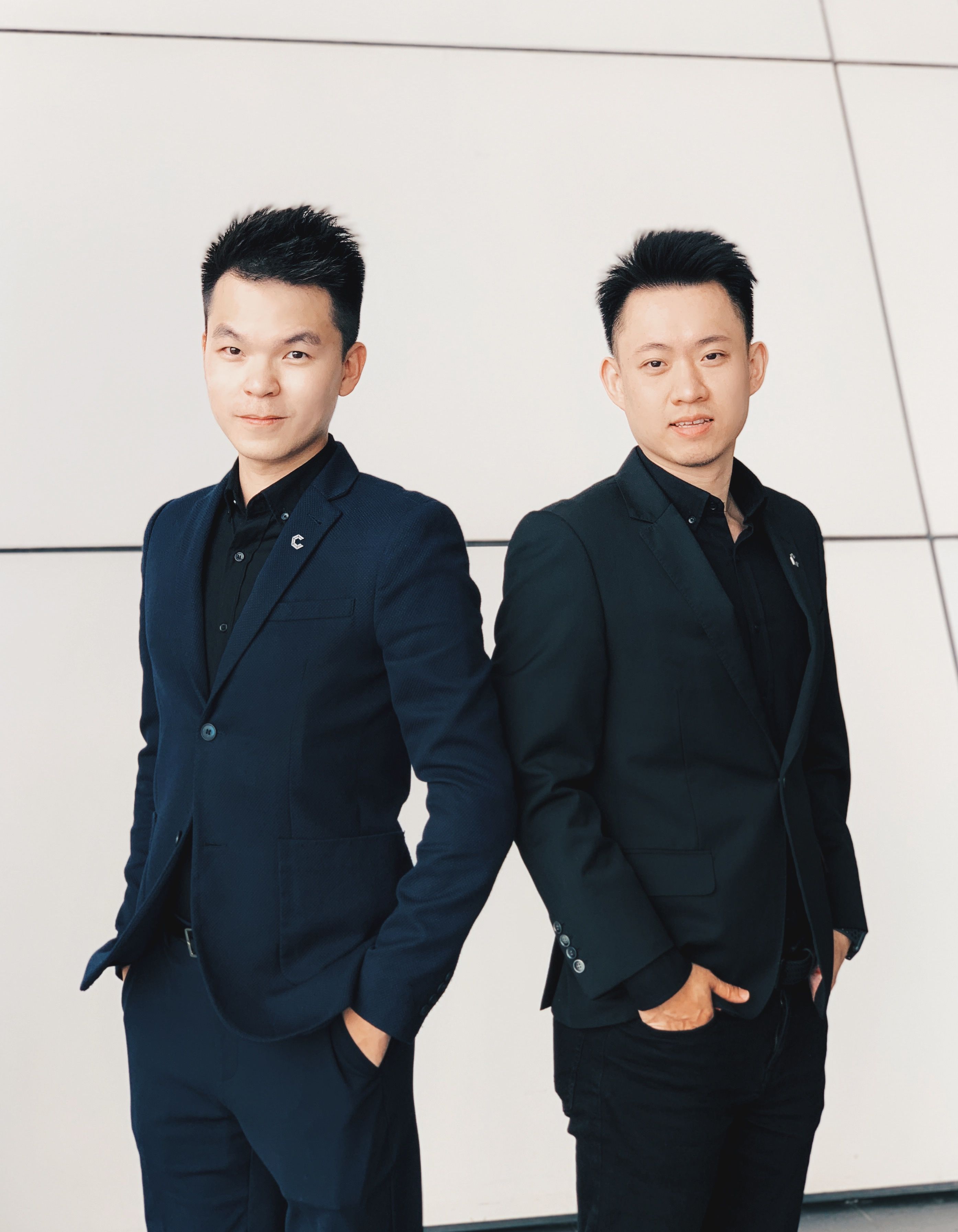 Young men in a hurry: Vincent Tan (left) and Ryan Loo
The two have just finalised an agreement to construct CapsuleTransit Max, a 15,000sq ft hotel featuring 112 ensuite rooms, and a lounge set to open in March 2020 in the landside zone of KLIA2.
To complete the first phase of their expansion in KLIA2, the pair have also secured a contract for 2,500sq ft on the airside to build 70 capsule pods, which will be an updated version of the existing CapsuleTransit. Since dwell times airside are inevitably shorter, the plan is for space to be booked in one-hour units.
Commenting on the CapsuleTransit business, Loo says, "We feel that the airport market is a very interesting one – it has a strong captive market and yet is underserved. The traveller pattern has changed a lot in recent years. Budget airlines are growing, and more millennials are entering the travel sphere. We see the need for a napping facility like CapsuleTransit in airports and we believe that our company can bring fresh ideas to serve this growing market. Our future focus is all in this exciting airport environment."
Interstellar introduces modular clusters of pods, which can be located in more limited airport spaces. Stays can be booked by the hour and be unlocked by a user-friendly app named CapsuleConnect set to launch at the end of 2019.
"Interstellar actually means the space between two stars," says Tan. "So, we re-imagined the future of travelling between two stars – you are in between space during your transit experience. We re-imagined the future of the transit experience and asked how can we implement it in the airport?
"The Interstellar model is designed to be standalone. There tends to be a lot unused pocket space around airports. So we can place them in those spaces. Then passengers can simply locate the nearest pod via the CapsuleConnect app."
"Interstellar is not just a pod," adds Loo. "It's a whole ecosystem that helps to improve the overall terminal and improve the passenger experience.
Interstellar pods are designed to blend seamlessly as a work of art into the airport's scenery. They have futuristic interior design, comfortable bedding and access to premium shower services, complete with designer soap and shampoo and luxury towels."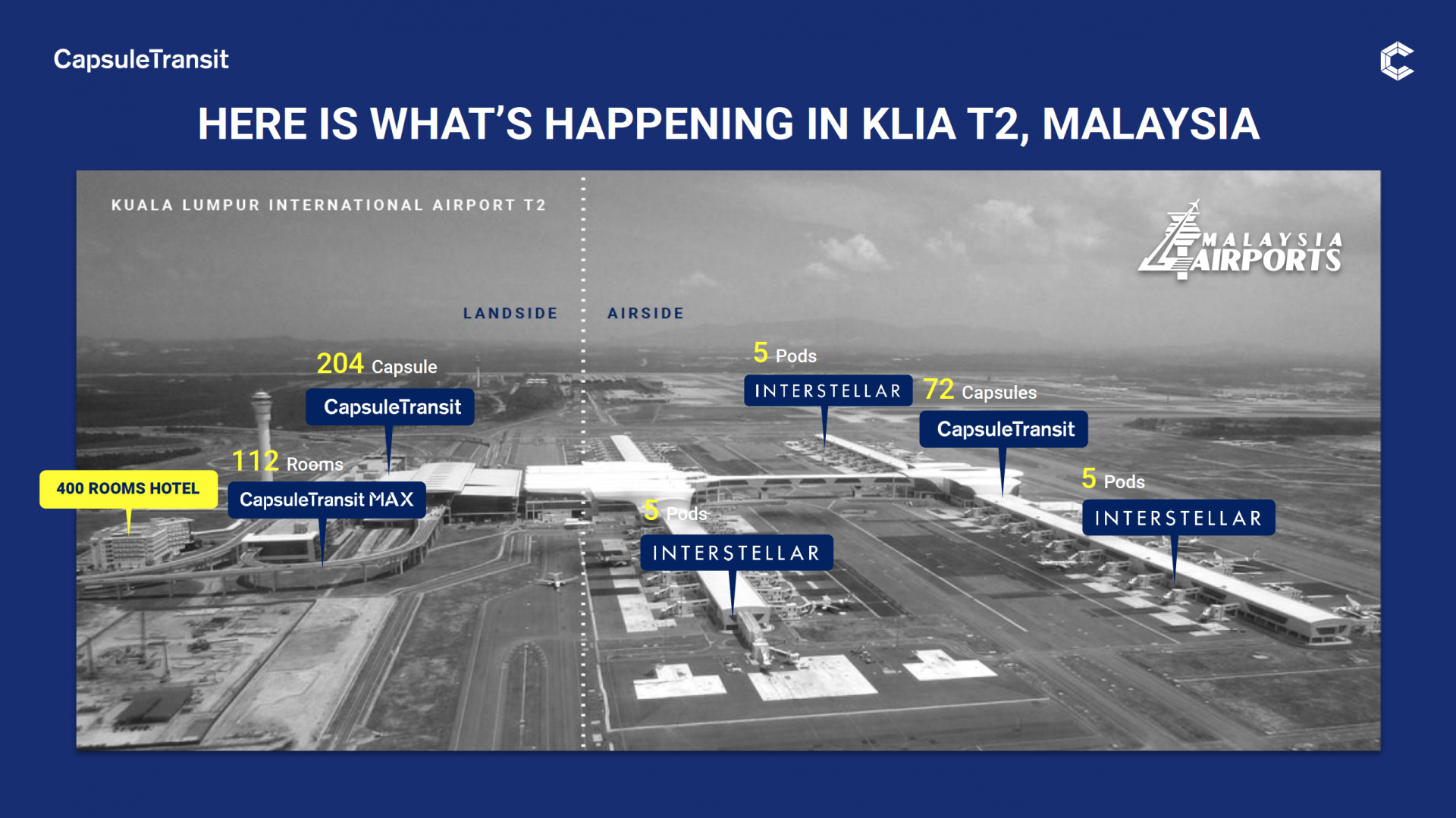 Different models (and modules) for different passenger needs is integral to the company's philosophy
THE POWER OF THREE
Why three brands – CapsuleTransit, CapsuleTransit MAX and Interstellar – not one? "The answer is that there are different airports with different needs," Loo replies. "CapsuletTransit suits the LCC model very well. CapsuleTransit MAX will suit the full-flight airport very well. And then Interstellar will help to unlock pocket space where it's very difficult to get a large space. With Interstellar, we can put six pods in maybe 50 square metres and unlock value for the airport."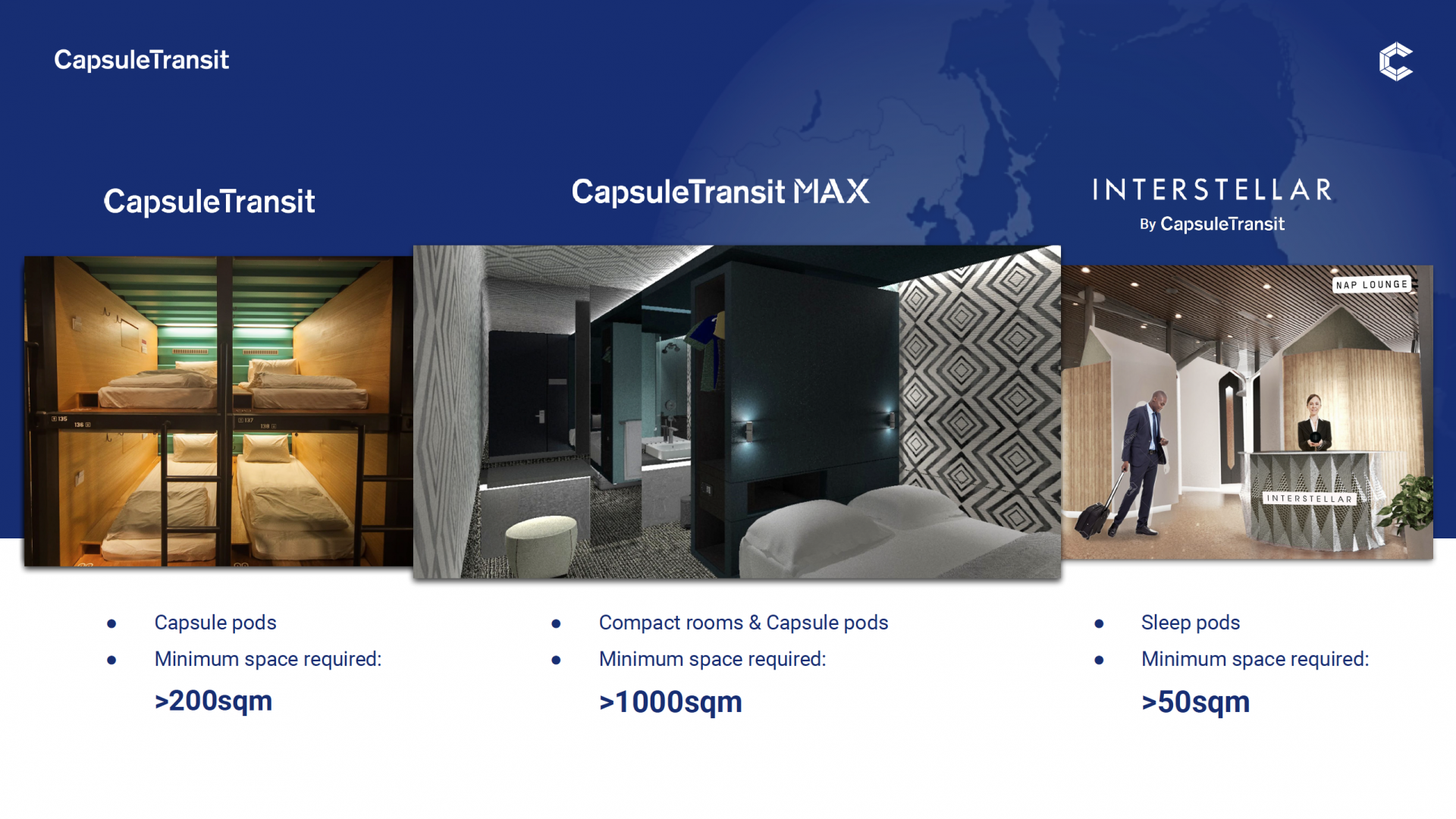 Tan picks up the story: "So, Capsule Transit is a focused service brand. And Interstellar is a premium-focused service. And Capsule Transit Max is premium full service. So, depending on the airport operator and the space they have, then we have different products with different pricing that cater for particular space."
Complementing their physical airport facilities, the entrepreneurs also have the possibility of reciprocal arrangements with other airport service providers, such as operators of lounges and food & beverage outlets.
With the Malaysian business set fair, Loo and Tan are now targeting other Southeast Asian airports. Tan reveals that the company is currently in talks with airport operators to introduce the CapsuleTransit concept to airports in the Philippines and Indonesia and says the company is continually exploring suitable opportunities to expand within the region.
Given the impressive success of their award-winning usiness model at KLIA2, there is no reason to believe that the owners' vision for CHG to see capsule hotels be brought to every airport in the world cannot be realised. With their proven ability to break conventional ideas on hospitality and turn disrupting ideas into reality, it seems like the fascinating entrepreneurial journey of Ryan Loo and Vincent Tan is only just beginning.

The Moodie Davitt eZine
Issue 270 | 25 October 2019
The Moodie Davitt eZine is published 20 times per year by The Moodie Davitt Report (Moodie International Ltd).

© All material is copyright and cannot be reproduced without the permission of the Publisher.
To find out more visit www.moodiedavittreport.com and to subscribe, please e-mail sinead@moodiedavittreport.com