---
Tours, typhoons, boycotts and
rugby balls
Chinese travellers continue to power inbound arrival growth in South Korea and Japan. The Moodie Davitt Business Intelligence Unit's Min Yong Jung analyses the latest traffic figures.
The combined number of Chinese inbound travellers to Japan and Korea rose by +25.1% year-on-year in September to 1.36 million Chinese visitors.
The dramatic rebound in group incentive tours in Korea and a low base from Typhoon Jebi in Japan last year accelerated the growth rate for the month. Continuing to woo Chinese visitors will remain key for the months ahead as the Korea/Japan geopolitical dispute, together with Typhoon Hagibis, dampens travel sentiment in both countries.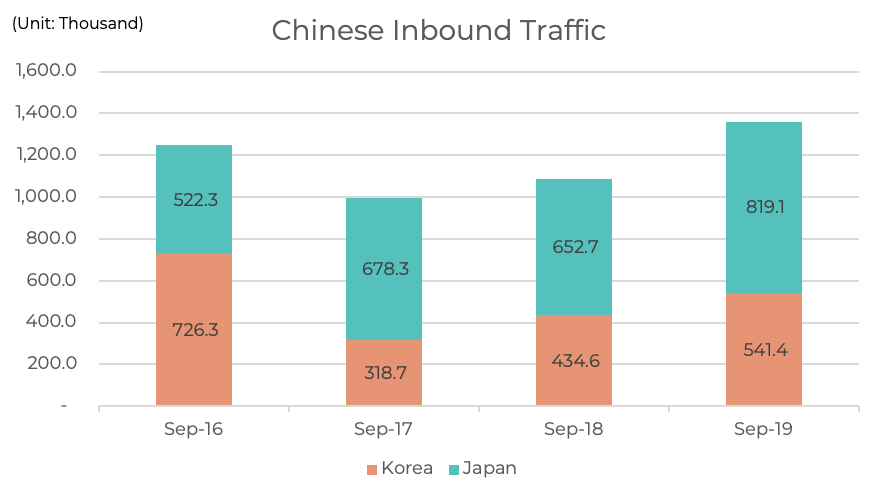 Source: Korea Tourism Organization, Japan National Tourism Organization, Moodie Davitt Business Intelligence Unit
Korea: Chinese group incentive tours drive total inbound arrival growth of +14.2%
Total inbound traffic to Korea increased by +14.2% to 1.459 million, with the number of tourists from China continuing to recover. The number of Chinese travellers to Korea rose by +24.6% year-on-year in September to 541,350.
While this is well shy of the monthly record of 917,519 recorded in July 2016 – before the THAAD missile deployment – the consistent growth rate witnessed of late suggests the recovery of Chinese visitors to Korea is a sustained one.
A key growth driver in September was the influx of Chinese group incentive tours to Korea. According to Korea Tourism Organization, Chinese group incentive tours have accounted for 74,641 Chinese visitors year-to-date, with close to 15,000 making their trips in September. The recovery in Chinese group incentive tours has increased from just 11,911 visitors in 2017 and 21,709 visitors in 2018.
Korea Tourism Organization, which plays a pivotal role in contracting with large Chinese corporations to attract incentive tours to Korea, is working towards an annual figure in excess of 100,000 visitors.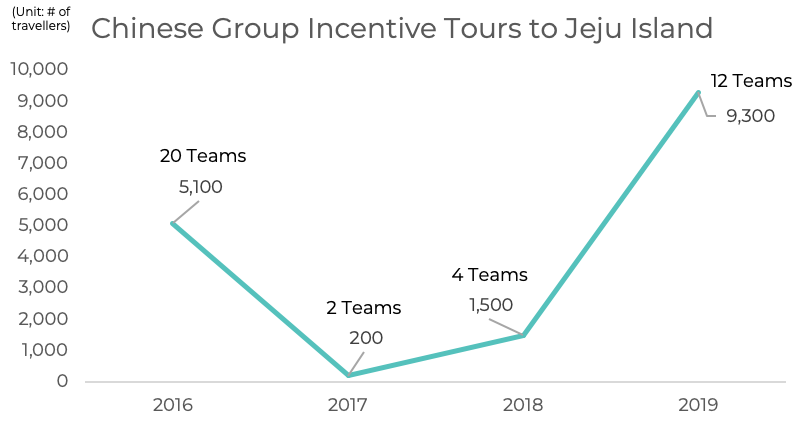 Source: Korea Tourism Organization, Moodie Davitt Business Intelligence Unit
Unlike the continued recovery in Chinese tourists to Korea, growth in the number of Japanese visitors to the country stalled over the last two months. Negatively affected by the geopolitical dispute between Korea and Japan, the number of Japanese visitors to Korea increased by a mere +1.3% year-on-year in September, worse than the +4.6% growth rate recorded for August.
The year-to-date growth of Japanese visitors to Korea prior to the latest two months was +25%. The two main drivers were the high value of the Yen and enhanced flight promotions by low-cost carriers.
The value of the US Dollar to the Korean Won hit a 100-day high of KRW1,172 on 21 October. A recent report on Korea's economy released by the LG Economic Research Institute forecasts the Korean Won to weaken further to an annual average of KRW1,220 in 2020. The combination of the weaker Won and higher flight and accommodation promotions offered by travel operators and low-cost carriers should act to prevent strong negative growth rates in Japanese travel to Korea. 
Japan: The number of Korean travellers to Japan declined -58.1% year-on-year but Chinese travel and the Rugby World Cup supported total inbound growth of +5.2%
The Korean boycott of travel to Japan continued in September with total Korean inbound traffic declining by -58.1% year-on-year. The growing number of Chinese travellers continued to make up for this shortfall, while visitors from countries participating in the Rugby World Cup braved sometimes adverse weather to attend games (though some were called off). Typhoon Hagibis landed in Japan on 12 October and that month's data points will provide evidence of the negative impact from the superstorm. But Japan suffered from a stronger storm in September 2018 that resulted in a low base for this month's results.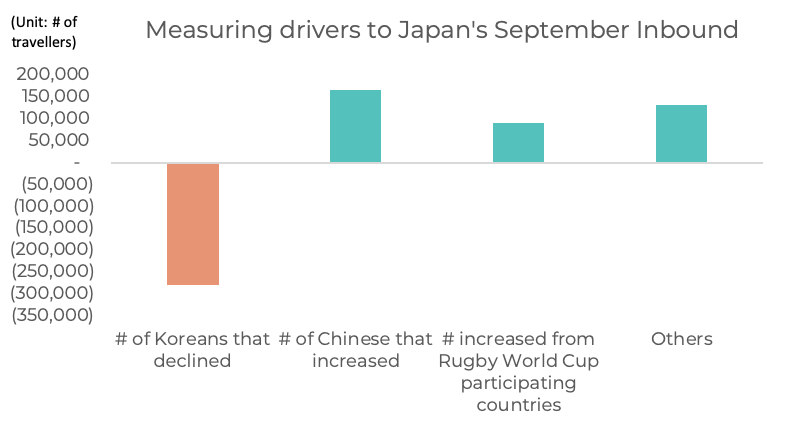 Source: Japan National Tourism Organization, Moodie Davitt Business Intelligence Unit
The key question following the Japan National Tourism Organization's September release is to what extent Typhoon Hagibis will depress travel to Japan for the next couple of months and how areas ravaged by Hagibis will hold up against additional storms expected to land in the near future. According to Japan's Kyoto News Agency, the death toll from Typhoon Hagibis stands at 80 and many parts of Japan are left flooded, damaged or without power or running water.
Not only are there road closures and train operation suspensions, but according to CNN Travel flights departing and arriving from both Tokyo airports (Haneda and Narita) on 12 October were cancelled, affecting a total of at least 1,187 flights and nearly 190,000 passengers. Of that total, All Nippon Airways cancelled a total of 602 flights (490 domestic and 112 international), affecting 101,000 passengers. Meanwhile, Japan Airlines cancelled a total of 585 flights (513 domestic, 72 international), affecting 88,000 passengers.
Rugby world cup participating countries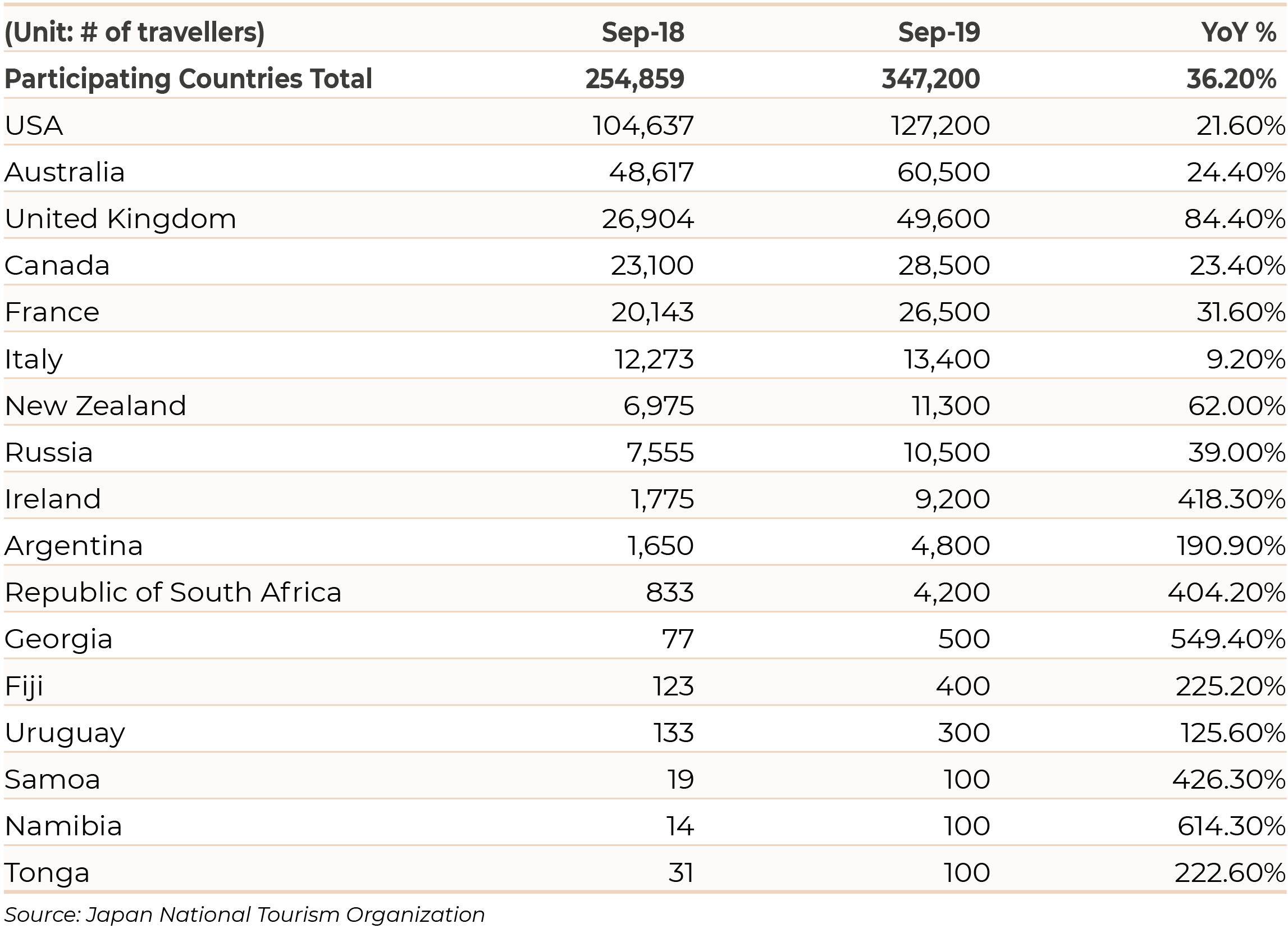 Typhoons are a common occurrence in Japan and a look at last year's Typhoon Jebi (economic loss estimated at US$12.6 billion) and its impact on travel will help to measure the data points that will flow through for October and November 2019. Typhoon Jebi was the most intense storm to make landfall on Japan since Typhoon Yanancy in 1993, which resulted in 11 deaths and more than 600 injuries across the Kansai region. Kansai International Airport ceased operations from 4-6 September, resuming some domestic flights before full operation after the damage was restored. As a result of Typhoon Jebi, inbound traffic to Japan declined by -5.3% in September 2018 and grew a mere +1.8% in October 2019.
While Typhoon Hagibis will have a negative impact, and the widespread Korean boycott will continue, it remains to be seen if Chinese consumers and Rugby World Cup participating countries can come to the rescue of Japan's tourism industry.
Growth rate of inbound arrivals to Japan by total, China and Korea

Source: Japan National Tourism Organization, Moodie Davitt Business Intelligence

The Moodie Davitt eZine
Issue 270 | 25 October 2019
The Moodie Davitt eZine is published 20 times per year by The Moodie Davitt Report (Moodie International Ltd).

© All material is copyright and cannot be reproduced without the permission of the Publisher.
To find out more visit www.moodiedavittreport.com and to subscribe, please e-mail sinead@moodiedavittreport.com