---
L'Oréal Travel Retail: Firing on
all cylinders
The biggest beauty player in travel retail is not resting on its laurels at a time when beauty is booming worldwide. Instead it is leading by example to drive the category to even greater heights – both in sales and CSR terms – writes Kevin Rozario.
'Beauty for all travellers'. That is the mission that L'Oréal Travel Retail has set for itself for the future. It seems a simple goal, but reaching out to 1.4 billion tourists (Source: UNWTO International Arrivals 2018) is no easy feat.
However, the group is better placed to do this than most of its rivals thanks to an extensive 27-brand line-up [soon to be 29 with the addition of Azzaro and Mugler from Clarins]. Those brands straddle a wide price spectrum as well as key market segments.
"We are uniquely positioned," L'Oréal Travel Retail Managing Director Vincent Boinay told his audience at the company's annual press conference at the TFWA World Exhibition in Cannes earlier this month, traditionally one of the event highlights.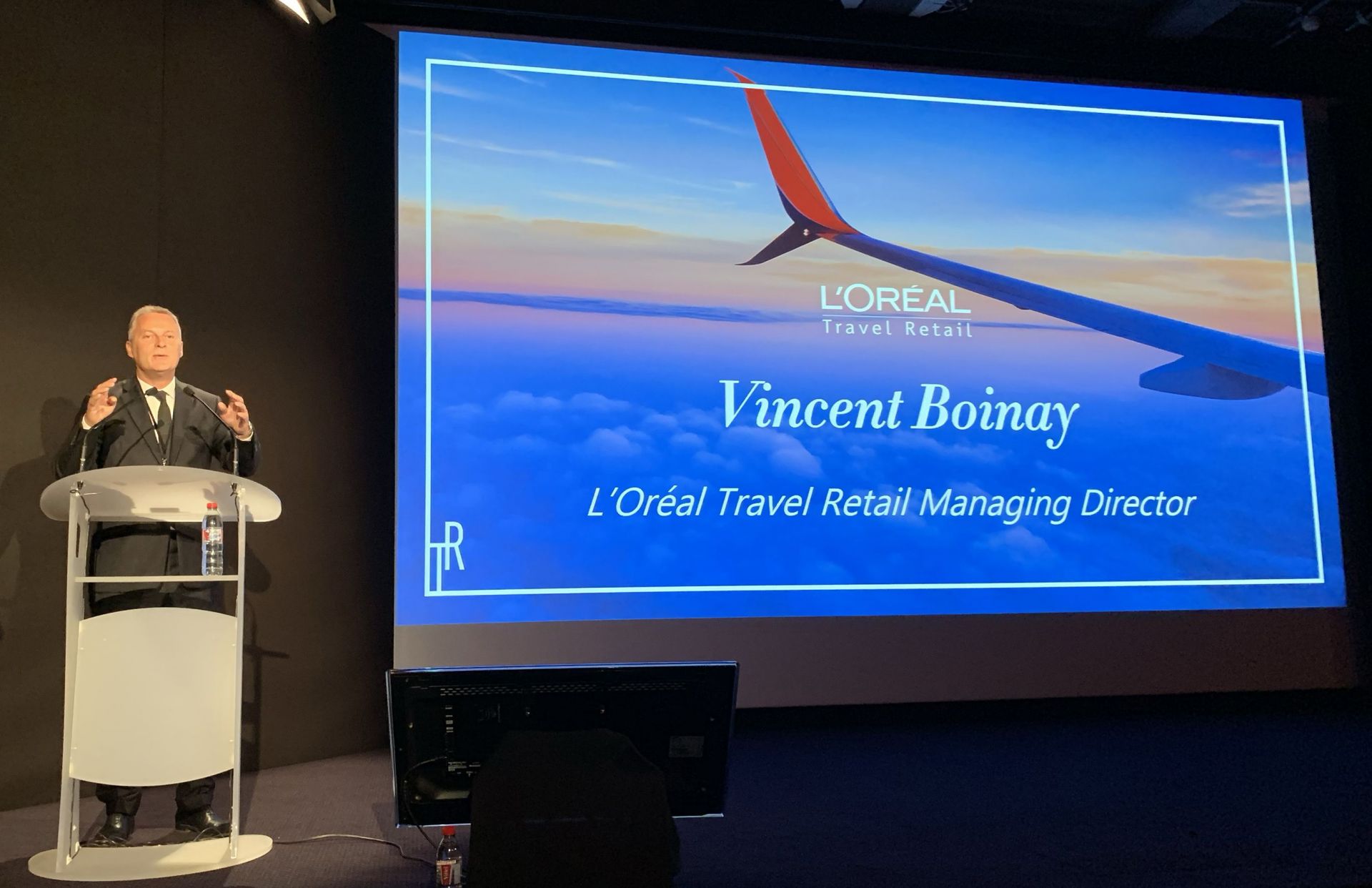 "We are changing the world in the way we do the business": L'Oréal Travel Retail Managing Director Vincent Boinay delivered an insightful presentation at the TFWA World Exhibition in Cannes, always a highlight of show week
"Only L'Oréal has a strong [enough] portfolio to answer all customers' needs, from mass market to luxury, and from haircare to dermo-cosmetics. With the right brands in stores, we can probably satisfy all travellers around the world."
Helping the company to meet its 'beauty for all' objective are some handy fundamentals: international traffic is rising "almost everywhere", noted Boinay; the appetite for buying beauty products is increasing; and more retail space is appearing thanks to new , or [the links show our first-to-press on-location coverage of just a handful of these -Ed].
Under Boinay's leadership, L'Oréal Travel Retail is taking full advantage of this buoyant scenario through tighter partnerships with retailers and a flurry of new product concepts and innovations. He cited the fragrances Lancôme Idôle, Libre from YSL and the scents from Valentino as examples. But there have been many more, notably in the crucial skincare segment that has driven Asian travel retail to extraordinary heights in recent times.
Pop-ups: a doorway to greater engagement
"We are changing the world in the way we do the business," said Boinay. "The expression 'pop-up' started in the vocabulary of the industry about three or four years ago – before that, we had podium promotions. Pop-ups have really become a new way to engage – a way to be outside the stores and to communicate with customers around the world, especially the Chinese."
In a market as definitely international as travel retail, there are inevitably some trouble spots. Boinay touched on the severe trading difficulties in Hong Kong thanks to the sustained protests there, and the struggles that some partners such as DFS have experienced. "But is [this situation] detrimental to global travel retail? The answer is no," he said. "If the Chinese don't go to Hong Kong, they will go elsewhere. And that's the beauty of travel retail."
There is no doubt that beauty is driving the growth of the channel and therefore playing a key role in the portfolio of retailers. This is why L'Oréal has continued to differentiate the beauty market and build out new segments.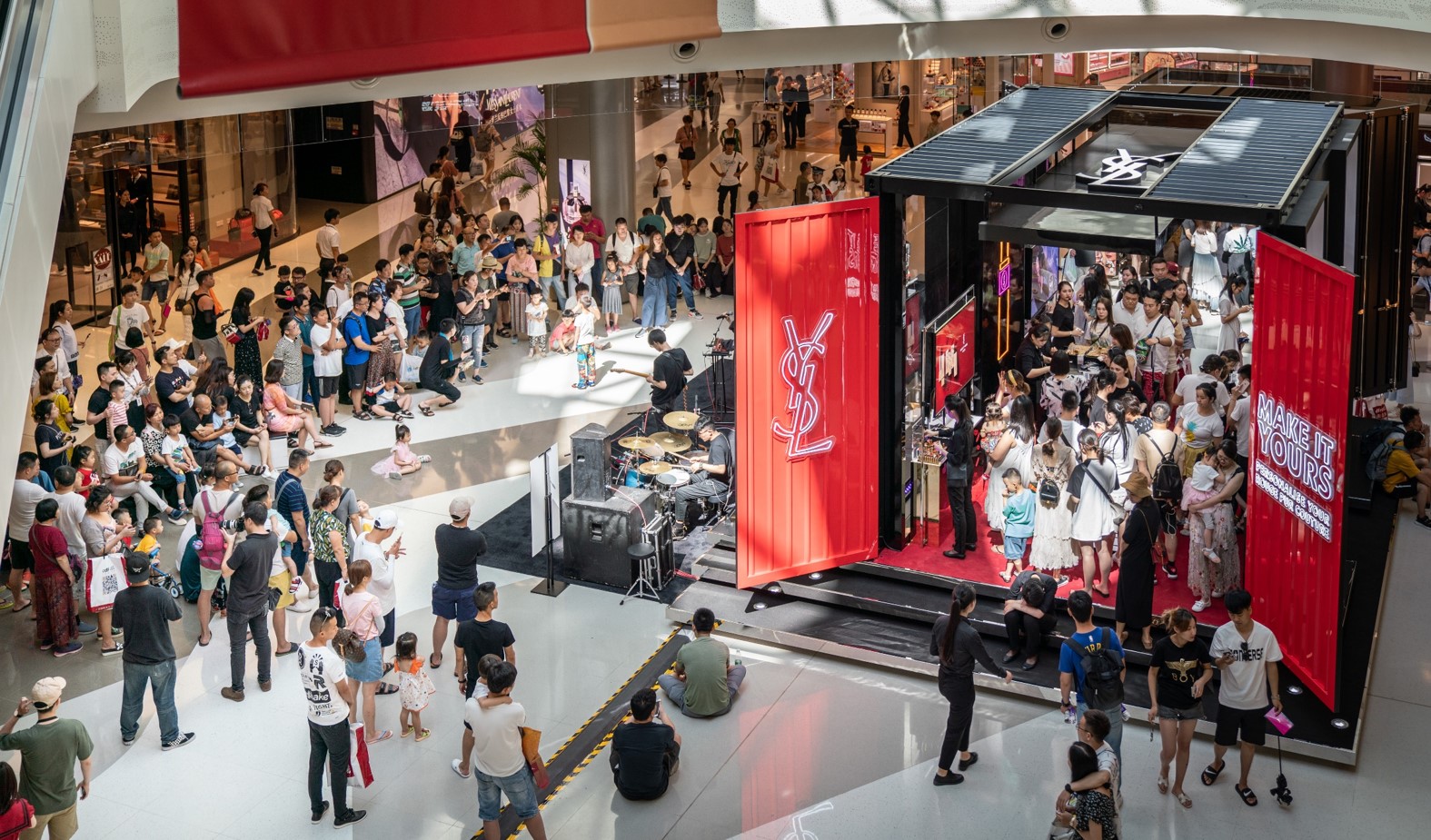 L'Oréal Travel Retail Asia Pacific took customers on a "personalised beauty and gifting journey – with a touch of rock and roll" when it partnered with China Duty Free Group to bring an exclusive YSL Beauté pop-up to the CDF Mall in Hainan's Haitang Bay
"Our biggest shop expansion ever"
In the Professional Products & Active Cosmetics Division, L'Oréal Travel Retail General Manager Piermarco Luzzatto-Giuliani outlined how the dermo-cosmetics segment was expanding in travel retail.
"By the end of 2019, we will have 90 shops carrying our two leading dermo-cosmetics brands – La Roche-Posay and Vichy – and we keep accelerating. It's our biggest shop expansion ever and proves we are serving several unmet travelling consumers' needs that drive incremental sales and average basket sizes."
Key to the success of the store roll-out has been the distinctive pharmacy-styled retail environment used to communicate the efficacy and the safety of the products. Also important has been a strong pipeline of new lines such as Mineral 89 and Hyalu B5 Serum.
"Where we are pushing our boundaries further is by taking digital AI (artificial intelligence) into our counters," said Luzzatto-Giuliani. "Through expert spot scans from La Roche-Posay, for example, you can get a dermatological recommendation for acne-prone skin and a full product routine in only 30 seconds."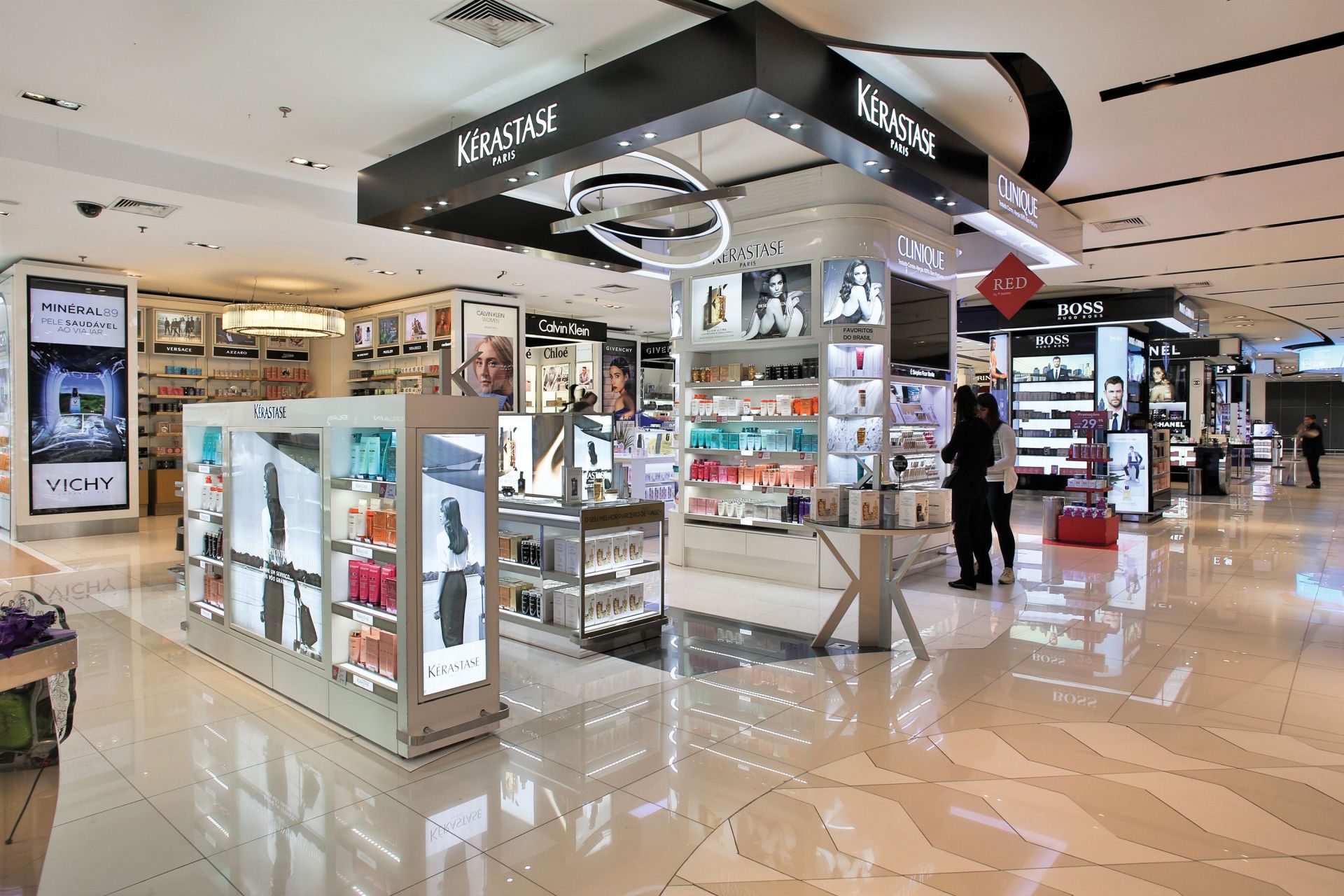 L'Oréal Travel Retail is stepping up its haircare game with a series of Kérastase openings, including this one at São Paulo Interntional Airport
Kérastase set for 50 doors
Another frontier is haircare, which L'Oréal Travel Retail is pushing via professional brand Kérastase. The campaign for the brand is fronted by model Emily Ratajkowski and is enjoying high double-digit sales across the world and very high double-digit sales in China.
"Kérastase is also being fuelled by breakthrough innovations such as the new Blond Absolu, the brand's biggest and most successful launch ever," said Luzzatto-Giuliani. For travel retail, Kérastase is expected to hit 50 travel retail doors by the end of 2019 with an acceleration in new openings this year in busy locations such as Moscow Sheremetyevo, Istanbul Airport, Palma de Mallorca and Beirut Airport "with more to come".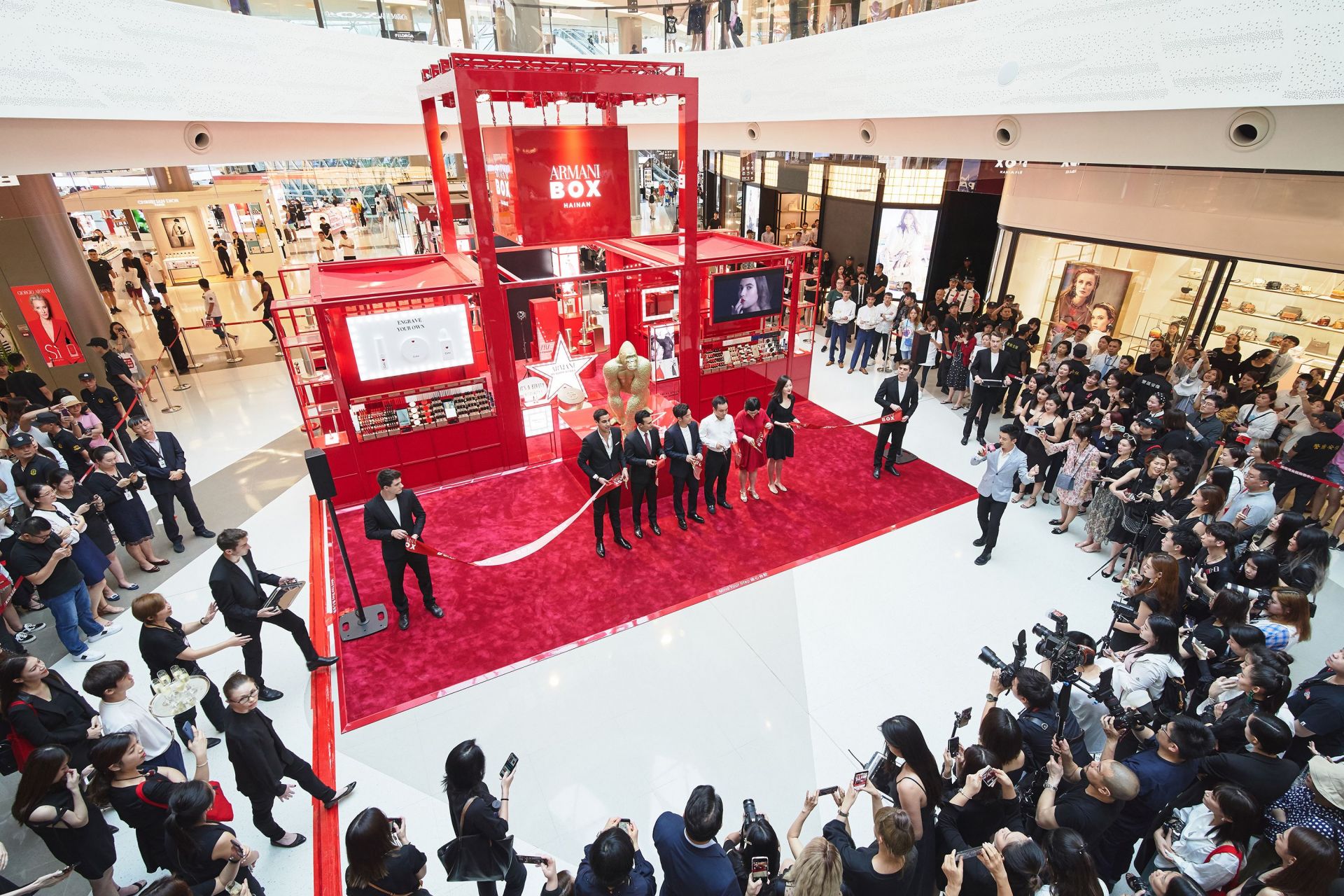 The travelling Giorgio Armani Beauty pop-up store, Armani Box, has caught the attention of many travellers. It is pictured here at Haitang Bay.
"Travel retail and luxury: a long-term love story"
The luxury segment remains core to L'Oréal's travel retail performance. L'Oréal Travel Retail Luxe Deputy General Manager Aglaé de Beauregard said: "Travel retail and luxury brands are a long-term love story and all our brands are at full speed from lifestyle (Diesel, Cacharel, Ralph Lauren) to couture (Yves Saint Laurent, Armani and Viktor & Rolf). We are leading the growth in the market."
This year could take L'Oréal Travel Retail even further thanks to two major projects that speak of empowerment independence and freedom: Idôle from Lancôme and YSL's Libre, whose TV ad is fronted by singer Dua Lipa. "2019 will be a true milestone for us and there is something even bigger and stronger coming," said de Beauregard, referring to the new male and female scents from Valentino (see panel). "We will bring Valentino Beauty to its fullest potential."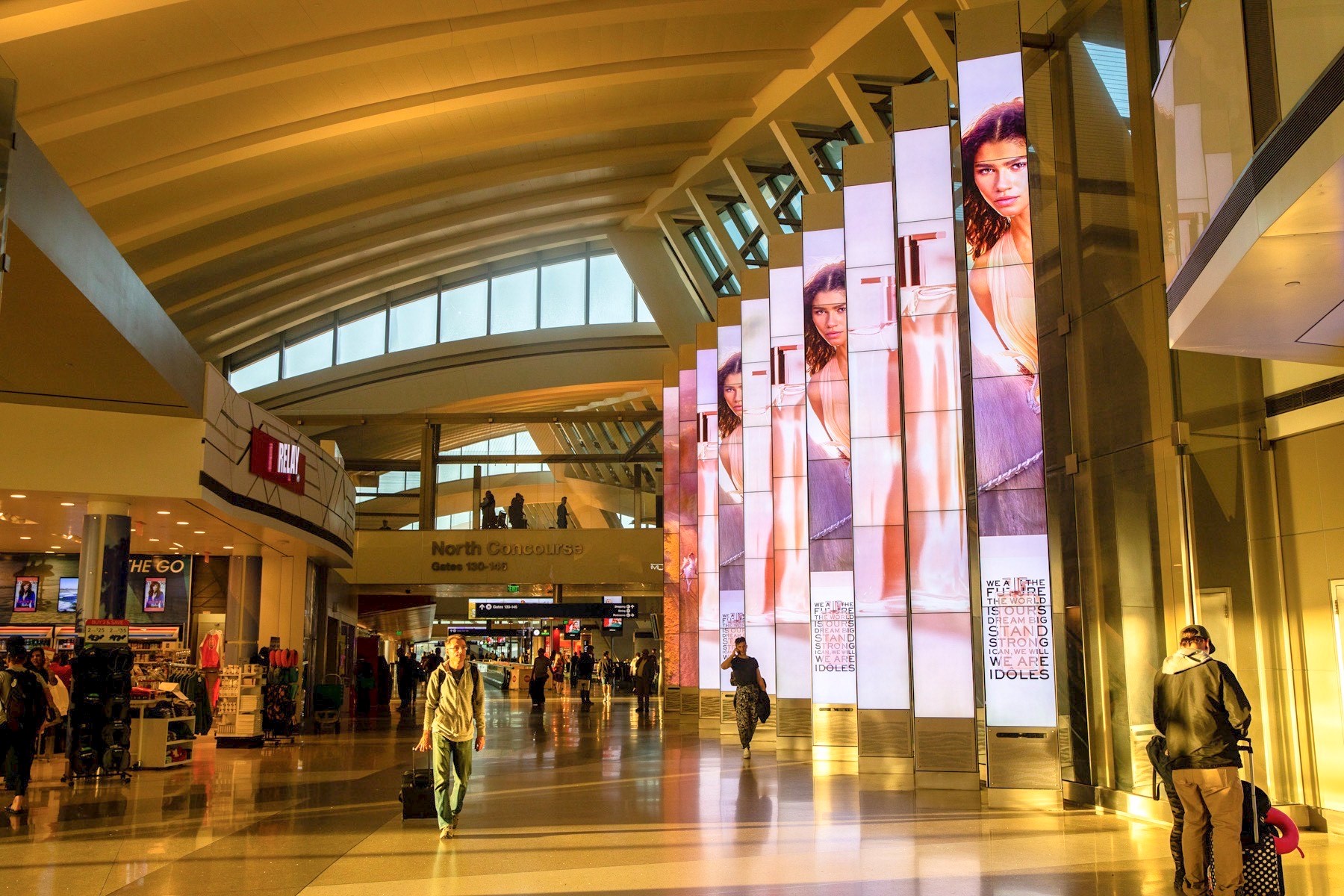 Lancôme and DFS partnered for the immersive Idôle pop-up at Los Angeles International (LAX), which was promoted on giant digital screens
When the price is right
At L'Oréal's most price-accessible division – Consumer Products – the push is also relentless, but in a different direction as 'entry' opportunities are a target. L'Oréal Travel Retail General Manager Consumer Products Division Eric Vergès said: "Year after year, the conversion rate of duty free beauty remains stable or slightly declining in some regions. It means we have a class of travellers who are reticent to become shoppers."
Vergès said that his portfolio offers a solution because brands such as the ubiquitous L'Oréal Paris, Maybelline, Nyx and Garnier can lure middle-class travellers "at very affordable prices".
Vergès cited three L'Oréal Paris products that he sees as crucial in the recruitment of new shoppers and whose ranges are being extended. Youth Code now includes two travel retail exclusives – a red edition for Asia and the Middle East, and a jumbo size; while in the Revitalift anti-ageing franchise, an accessibly-priced anti-wrinkle serum has been added at US$30.
The third line is the popular Rouge Signature which is the number one liquid lipstick in China and number two in the European Union. To maintain that momentum, the Brilliant Signature collection is launching in 2020 with 15 shades.
Vergès concluded confidently: "In 2020, in strong partnership with retailers, L'Oréal Paris will strongly contribute to the development of the travel retail beauty market."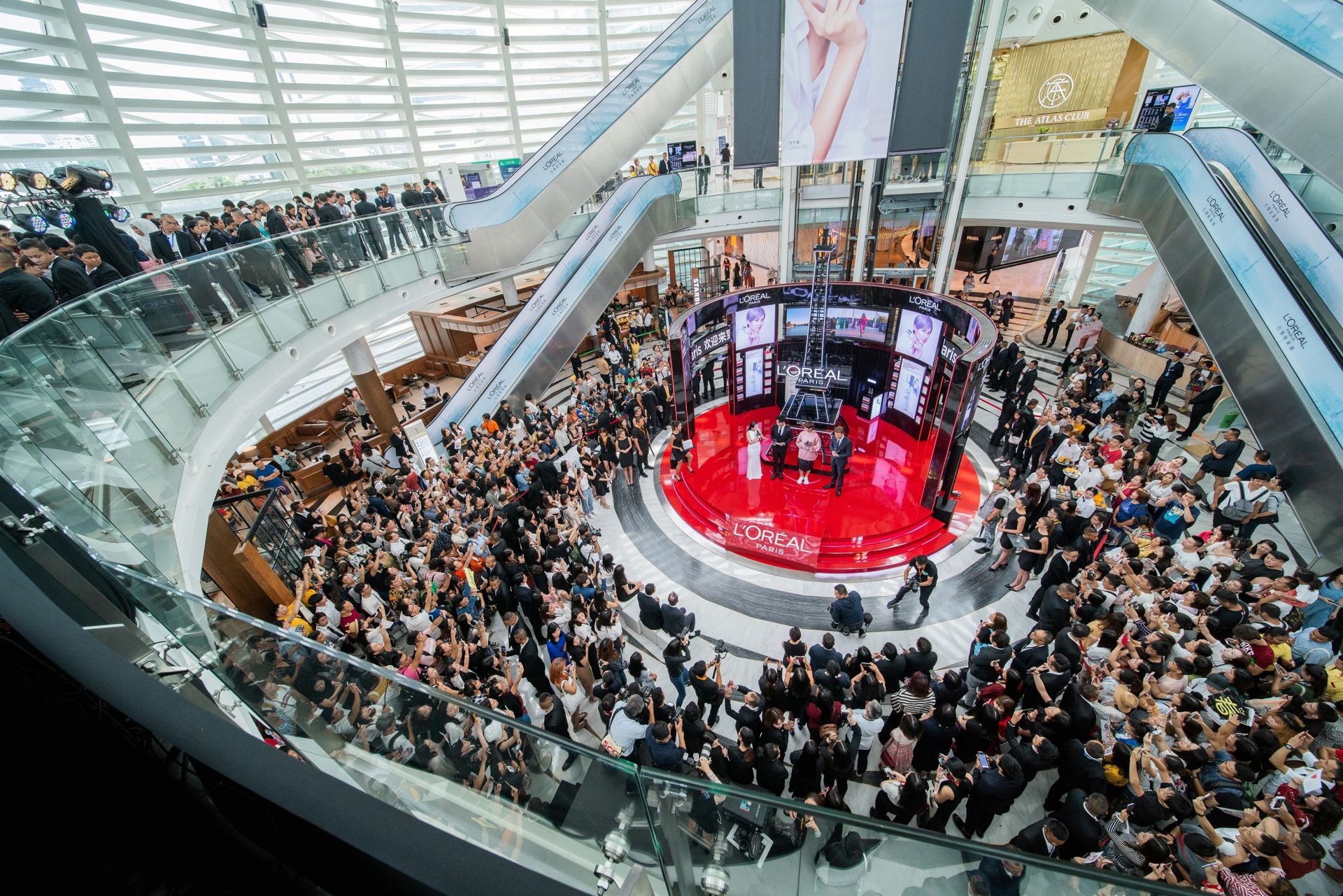 A large audience turned out for the special event celebrating King Power's 30th anniversary at L'Oréal Paris Travel Retail Asia Pacific's exclusive pop-up store inside the King Power Rangnam complex in downtown Bangkok
Making sustainability count
Last, but definitely not least, L'Oréal Travel Retail – a long-time champion of sustainability – has, this year, moved a step further by talking to retailers to explore the ambitious idea of carbon offsetting across airports.
"We are studying the possibilities because such a project could be extremely meaningful for the industry globally," said Boinay.
L'Oréal Group was acknowledged for the 10th time as one of the world's most ethical companies in 2019 by the Ethisphere Institute. In 2018, it achieved an 'A' score in all three of the rankings conducted by CDP for the third year running. The rankings relate to climate protection, sustainable water management and fighting deforestation.
L'Oréal is the only company in the world to have been recognised for achieving the highest level of performance for three consecutive years by CDP (an independent, international organisation that evaluates companies' environmental performance).
The move from L'Oréal Travel Retail, if successful, could be a turning point for the travel retail channel in terms of reining in carbon emissions which, per capita, must be among the highest of any similar industry.
For any corporation, sales and profitability are the obvious key indicators of success. For L'Oréal and its thriving travel retail division, add sustainability to that list.
How L'Oréal Travel Retail is making a sustainable difference (2018 figures)
Packaging – 100% of cardboard used for travel retail exclusives (specific travel sizes) was certified FSC (Forest Stewardship Council and PEFC (Programme for the Endorsement of Forest Certification)
Retail design – 90% of materials and furniture from the 2019 Tax Free World Exhibition will be reused or recycled
CO2 emissions – 100% of CO2 emissions from L'Oréal Travel Retail employee trips were offset by agroforestry, reforestation and environmental conservation projects, in partnership with PurProject
Strategic suppliers – 100% are selected based on the company's social, environmental and ethics policies
Diversity – L'Oréal Group is providing support to Emmanuelle Mörch, L'Oréal Travel Retail Kiehl's Product Manager and a professional wheelchair tennis player, in her build up to the 2020 Tokyo Paralympics
L'Oréal to build a new fragrance pillar with Valentino through Born in Roma
While the TFWA World Exhibition was taking place, L'Oréal was rolling out Born in Roma, the new men and women's fragrances from Valentino Beauty, writes Hannah Tan-Gillies.
The announcement was made during the company's press conference by Valentino Beauty Global President Garance Delaye, who highlighted the brand's key values of beauty, colour, and inclusivity.
The fragrance launch is the first under the . 'Born in Roma' was created in close collaboration with Maison Valentino Creative Director Pierpaolo Piccioli, who has redefined the maison's couture business. The new fragrances were inspired by Piccioli's Roman heritage and celebrate individuality and authenticity.
The women's fragrance, Born in Roma Donna, is a woody floral created by master perfumers Amandine Marie and Honorine Blanc. The scent is described as a 'haute couture floriential' offering jasmine flower notes mixed with vanilla bourbon, and woody base notes.
Born in Roma Uomo was created by master perfumers Antoine Maisondieu and Guillaume Flavigny. It offers accords of aromatic smoked vetiver mixed with mineral salt, ginger, and violet leaves absolute.
In 2018, Maison Valentino generated €1.2 billion of turnover. Under the new partnership with L'Oréal, it hopes to leverage its reputation in the luxury sector to create a stellar beauty offering under the rebranded umbrella of Valentino Beauty.
The brand's strong message of inclusivity creates synergy with L'Oréal Travel Retail's "beauty for all travellers" ethos. L'Oréal is confident that Valentino Beauty will soon be a key pillar in its brand portfolio.

The Moodie Davitt eZine
Issue 270 | 25 October 2019
The Moodie Davitt eZine is published 20 times per year by The Moodie Davitt Report (Moodie International Ltd).

© All material is copyright and cannot be reproduced without the permission of the Publisher.
To find out more visit www.moodiedavittreport.com and to subscribe, please e-mail sinead@moodiedavittreport.com