Hamad International Airport
---
Setting a new airport standard
Hamad International Airport will soon undergo a spectacular second phase of expansion – adding capacity and improving the passenger experience still further. Some 11,720sq m of landscaped retail and food & beverage space will feature alongside a world-class art collection, a tropical garden and a dazzling water feature.
Hamad International Airport is aiming to set a new standard in the traveller experience globally and become a destination in its own right.
The airport already stands as Qatar's five-star gateway to the world and has begun to reveal its spectacular plans for the second phase of its expansion – with more details to be revealed at The Trinity Forum on the 30-31 October [see our preview of the event on the following page].
Those plans include 11,720sq m of landscaped retail and food & beverage space, with the latest expansion phase designed to eventually take the hub's annual capacity to more than 60 million passengers. The two-runway airport currently processes 30 million passengers per year.
This video – which also appears on the front cover of this issue – offers a fly-through of the key elements of the airport expansion project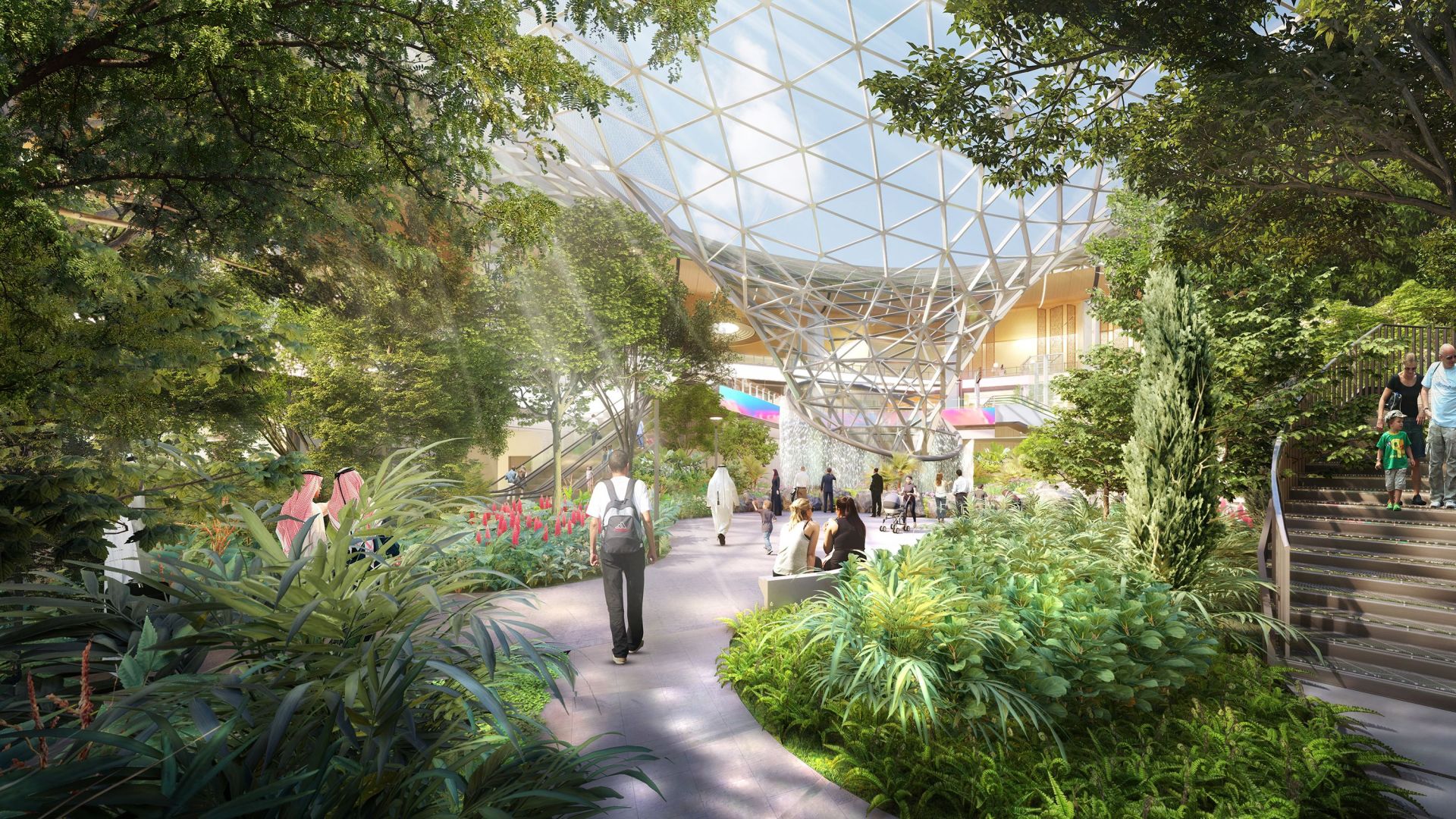 More space, more nature: 11,720sq m of landscaped retail and food & beverage space form an integral part of the second stage of Hamad International Airport's development, while lush tropical gardens will enhance the passenger experience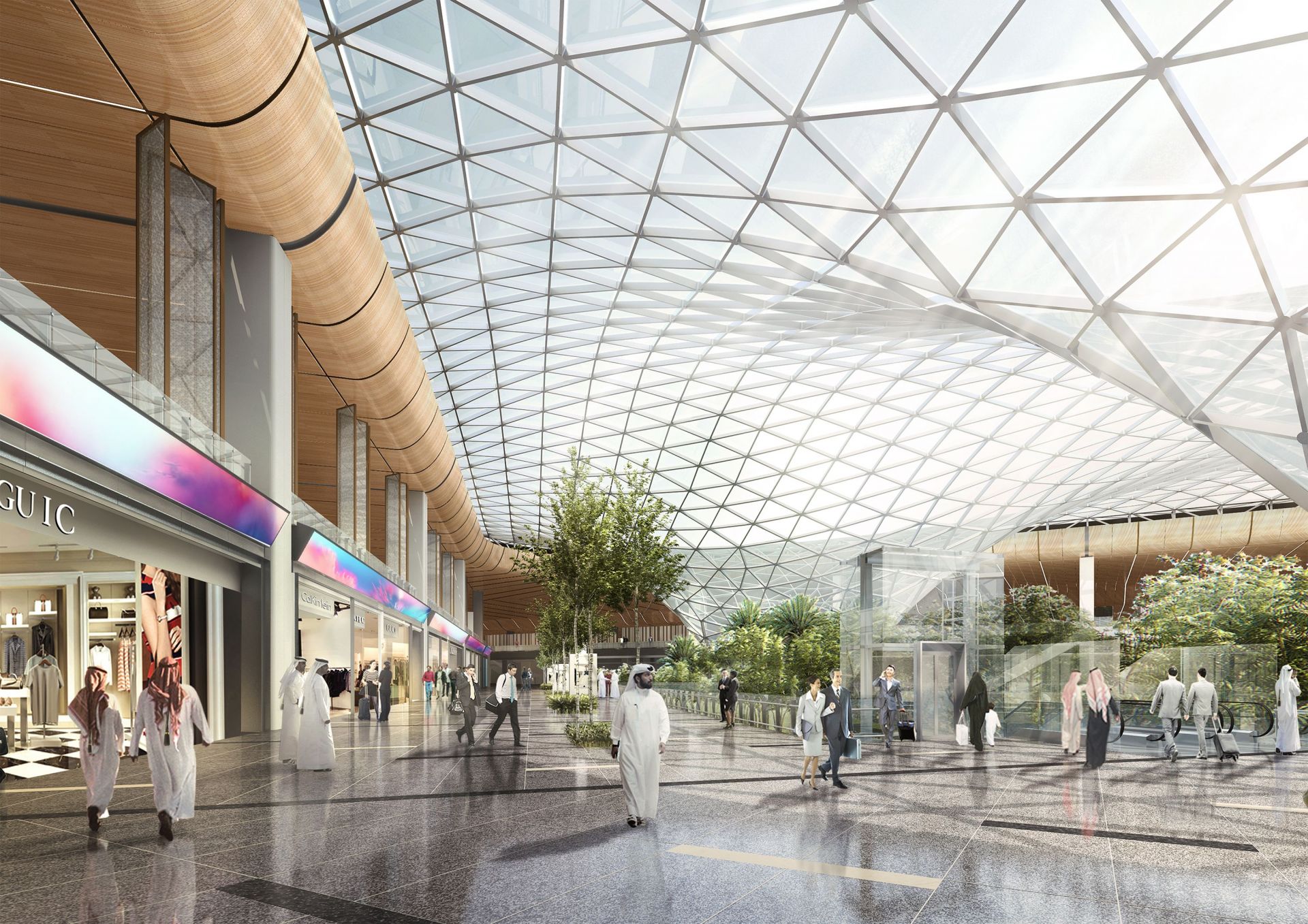 The contemporary retail and dining concepts will form part of a wider multi-dimensional offer of leisure attractions that will integrate a world-class art collection with an environment of lush greenery in one expansive terminal.
Standout features include a spectacular 10,000sq m indoor tropical garden in a central concourse and a 268sq m water feature that will act as a focal point of the project.
Hamad International will also deliver 9,000sq m of Al Mourjan lounge space located above the retail area with dramatic views towards the tropical garden. The lounge will include spas, gymnasiums, restaurants, business centres and other passenger facilities.
The second stage of airport expansion consists of two phases: A and B. Phase A is set to start in early 2020 and will comprise of the central concourse linking concourses D and E. It will increase the airport's capacity to more than 53 million passengers annually by 2022, the year that Qatar hosts the FIFA World Cup. Phase B will extend concourses D and E and, following completion after 2022, annual capacity will reach 60 million passengers.
The expansion should seamlessly integrate with the existing terminal to ease flows and minimise distances for connections.
Expansion construction is set to commence in the first quarter of 2020, with all contracts to be awarded by the end of this year.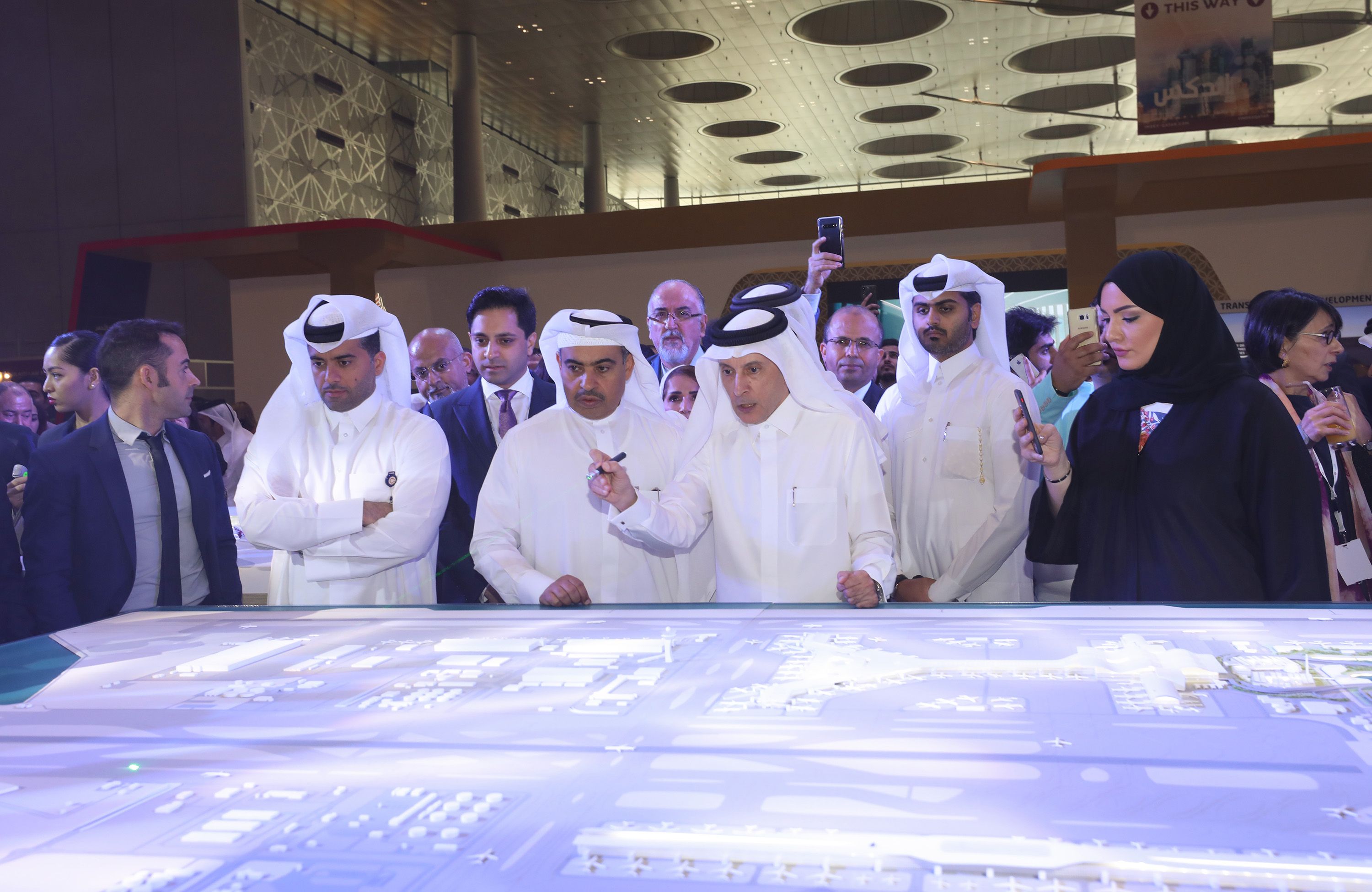 Main draw: H.E Mr Ali bin Ahmed Al Kuwari, Minister of Commerce and Industry (second from left) with Qatar Airways Group Chief Executive, His Excellency Mr. Akbar Al Baker (right) and Engr. Badr Al Meer, HIA Chief Operating Officer (left) unveiling the Hamad International expansion model to a global audience of real estate developers and investors at Cityscape Qatar this week (22-24 October)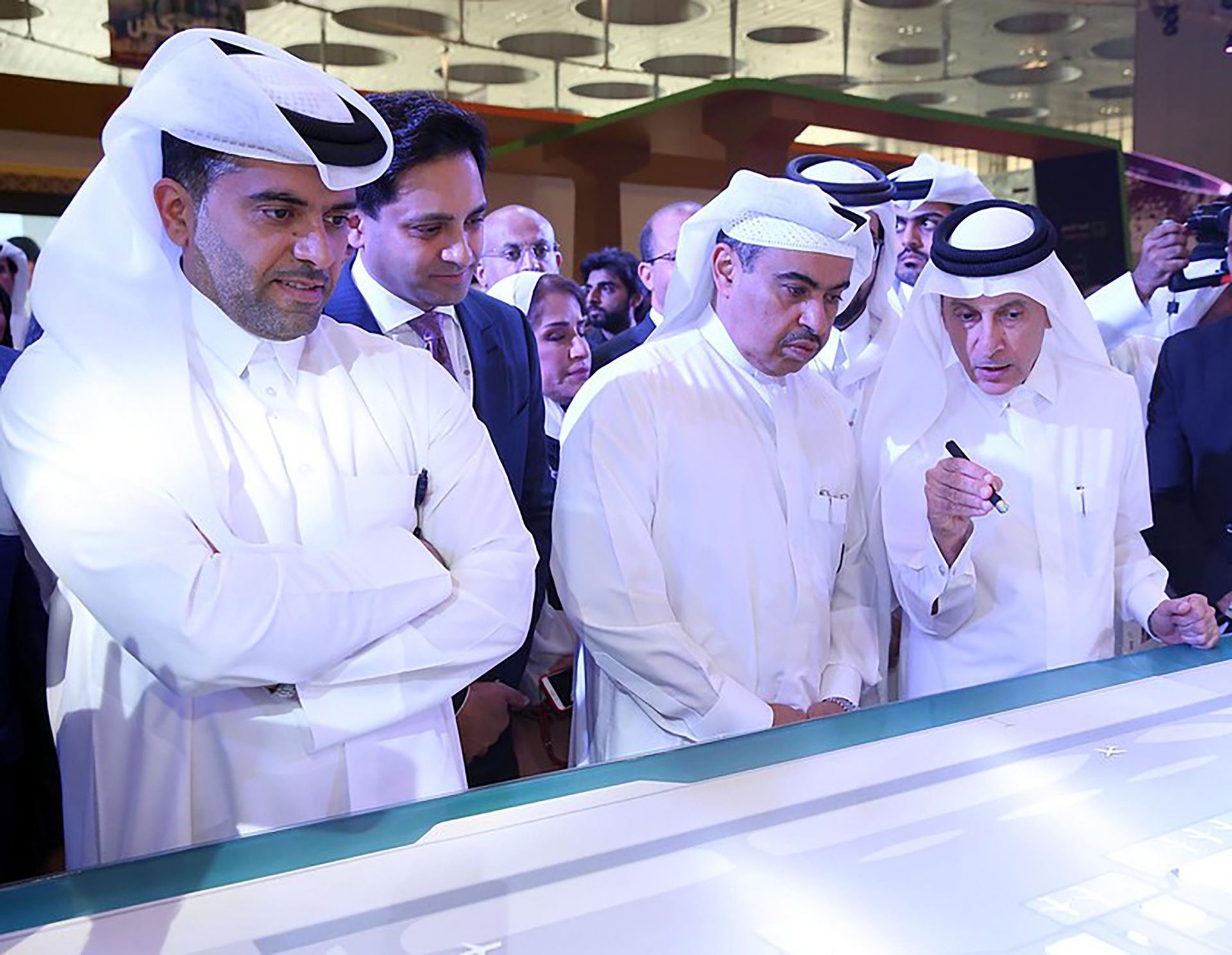 "The expansion is a vital part of the future success of Qatar Airways Group and, of course, of the country's preparations to host the 2022 World Cup and beyond," says Qatar Airways Group Chief Executive His Excellency Mr Akbar Al Baker.
"It is also a strong sign that Qatar's economy is robust and acts as a further economic stimulus, providing excellent opportunities for local and international contractors.
"Plans for the phase two expansion focuses on capacity and passenger experience – we want to provide even better airport journeys to more people around the world. The expansion will allow us to do this."
Hamad International Airport Chief Operating Officer Engr. Badr Mohammed Al Meer adds: "Since we started our operations in 2014, it has been our goal to provide our passengers with a unique travel experience, keeping their needs as our top priority. The expansion will continue to redefine the airport experience, cementing [our] reputation as a destination gateway and critical international hub.
"The beautiful new landscaped spaces and water feature will allow our passengers to benefit from the calming effects of nature, thus improving their level of comfort while with us. Our ultimate aim is to become a destination in our own right, not just a gateway."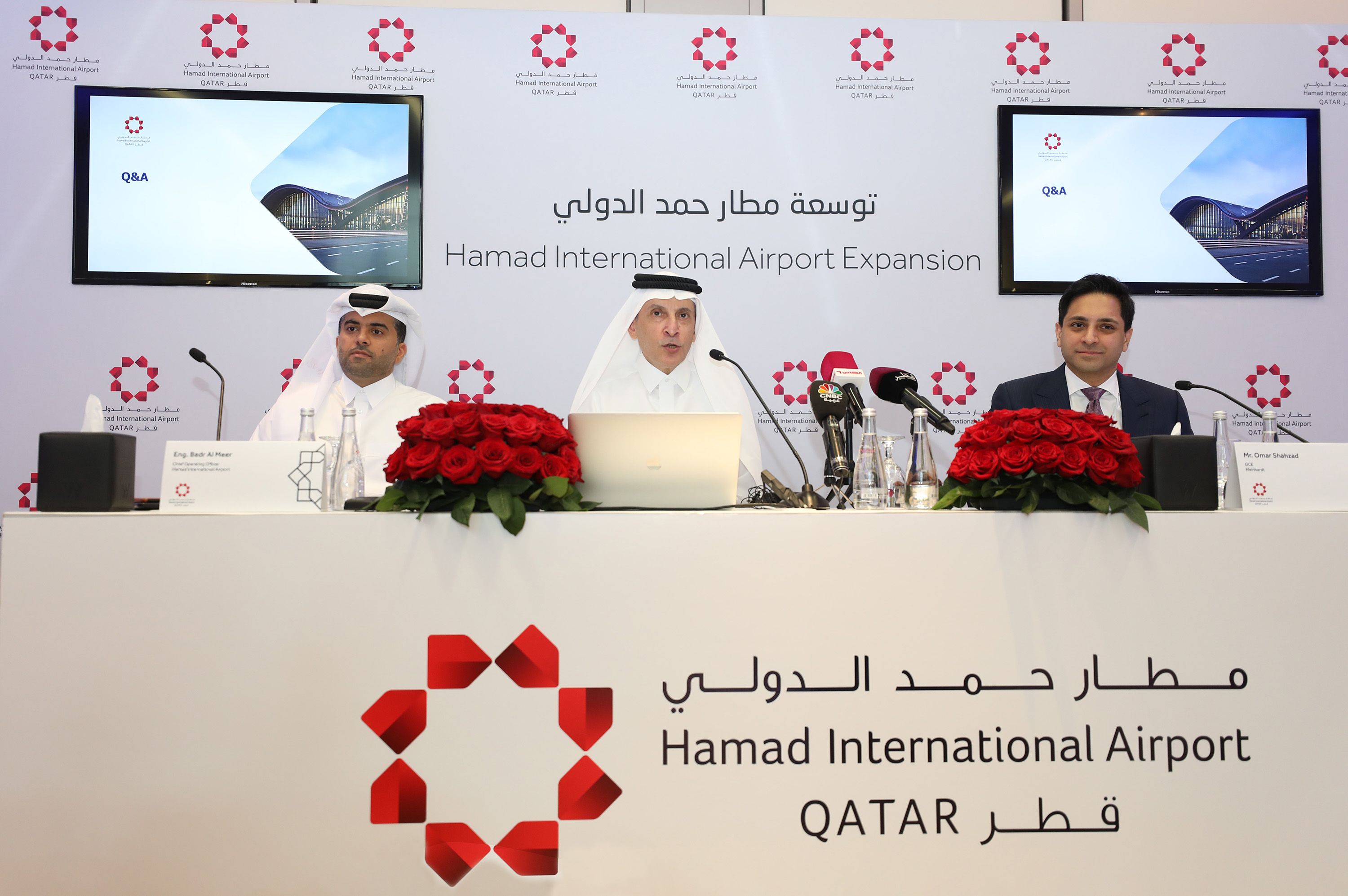 From left to right: Hamad International Airport COO Engr. Badr Mohammed Al Meer; Qatar Airways Group Chief Executive His Excellency Mr Akbar Al Baker; and Meinhardt Group Chief Executive Mr Omar Shahzad brief media about the expansion plans
A regional first for sustainability
The terminal will be the first in the Middle East & North Africa region to achieve a 4-star Global Sustainability Assessment System (GSAS) rating. The building will also be LEED Silver certified and encompass a number of energy efficiency processes.
Flora for the tropical garden will be sourced from sustainable forests from around the world. Designers have developed a column-free, long-span 85m grid shell roof with performance glass to control and filter the light required for the trees to acclimatise to the terminal environment.
Other key features include a new transfer area to cut connection times and improve the transfer experience as well as a central concourse that can accommodate nine additional wide-body aircraft stands.
A three-level cargo terminal – slated for 2023 – will increase cargo capacity handled to an estimated 3.2 million tons per year. It will have a building footprint of 85,000sq m, but a gross floor area of approximately 323,000sq m.
* 3D mock-up designs of the much-anticipated expansion will be on display to visitors over the course of The Trinity Forum 2019 in Doha.

The Moodie Davitt eZine
Issue 270 | 25 October 2019
The Moodie Davitt eZine is published 20 times per year by The Moodie Davitt Report (Moodie International Ltd).

© All material is copyright and cannot be reproduced without the permission of the Publisher.
To find out more visit www.moodiedavittreport.com and to subscribe, please e-mail sinead@moodiedavittreport.com