---
Shares in Dufry rose +3.9% in the period between 14 and 29 July (based on the closing price on those dates). It continues a period of recovery for the retail giant on the stock market this year since a 52-week low of CHF77.94 was recorded towards the end of June.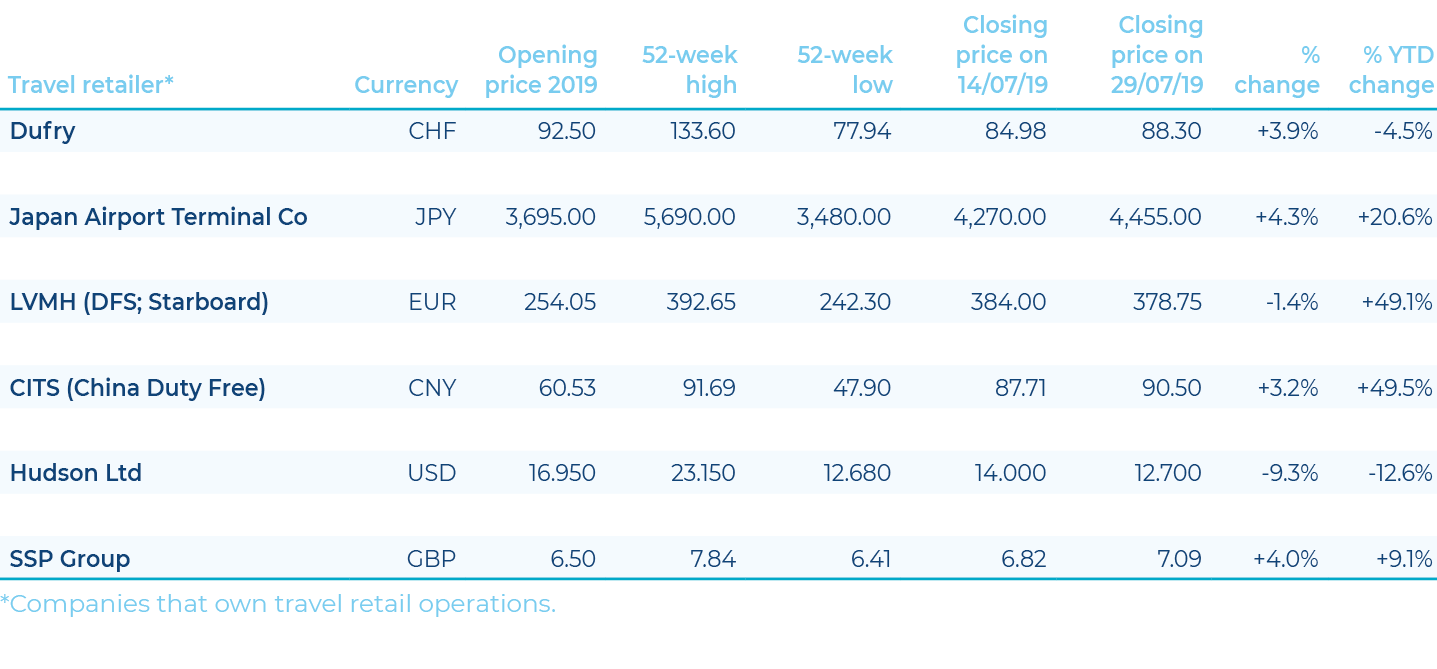 Dufry announced its first-half results on 30 July and the early response, in terms of share price, was negative. Turnover climbed by +2% to CHF4,180.1 million (US$4,216 million), driven by organic growth of +2.2% (there was a foreign exchange impact of -0.2%, which was affected by the strengthening of the US Dollar and weakening of the Euro and British Pound).
Excluding the tough South American market, where organic growth fell by -10.6%, like-for-like growth was +2.3% year-on-year.
Dufry Group CEO Julián Díaz said the rate of organic growth was "a positive development". The second quarter showed a further improvement compared with the first quarter, he added, with growth acceleration "picking up further in the first weeks of July".
The Shilla Duty Free's parent company Hotel Shilla posted the best second quarter results in its history on 26 July. Sales and accumulated operating profits both reached all-time highs. An initial spike in Hotel Shilla's share price gave way to a period of decline, with a -3.3% decrease recorded in the period tracked here.
Consolidated travel retail revenue (South Korea and offshore) increased by +16% year-on-year for the quarter to KRW1,226.5 billion (US$1,035 million). The Shilla Duty Free's Korean business posted an +18% increase in revenues, slightly ahead of Korea's overall duty free sales growth of +16.9% for the quarter.
This shows that despite continued concerns regarding the potential negative impact on daigou trading from the enforcement of China's new ecommerce law introduced on 1 January, Shilla's Korean business continues to prosper.
DFS co-parent LVMH Moët Hennessy Louis Vuitton is among our top performers on the stock market this year, and despite a -1.4% fall in the period tracked here has positive overall momentum. LVMH announced first half results on 24 July, with DFS Group making "solid progress", particularly in Europe.
The retailer "continued to benefit from strong demand at long-haul destinations in Oceania as well as Venice in Europe and its major markets in Hong Kong and Macao, despite a slowdown observed in recent months". LVMH noted that the key shopping periods of Chinese New Year and Golden Week had been "very successful" for DFS.
Food & beverage operator SSP Group reported a revenue increase of +9.2% on a constant currency basis (10.3% at actual exchange rates) in its third quarter. This comprised like-for-like sales growth of 2.0% and net contract gains of 7.2%.
Shares in the company rose +4% in the period tracked here, for a +9.1% increase since the start of the year.

The Moodie Davitt eZine
Issue 265 | 6 August 2019
The Moodie Davitt eZine is published by The Moodie Davitt Report (Moodie International Ltd) every month.
© All material is copyright and cannot be reproduced without the permission of the Publisher.
To find out more visit www.moodiedavittreport.com and to subscribe, please e-mail sinead@moodiedavittreport.com