---
Breaking the cycle of poverty


Welcome to Duty Calls. This regular feature aims to shine a light on some of the most laudable examples of altruism and sustainability within the travel retail industry by companies that go beyond the call of duty. In this issue, Colleen Morgan sees how this year's Women in Travel Retail-nominated charity Friends-International aims to help improve the lives and career prospects of marginalised young Cambodian women.
Asia Pacific charity Friends-International uses just six words to open its website: 'We save lives. We build futures'.
The words don't just sum up the organisation's mission. They also, in a nutshell, highlight the aim of one of its most successful projects: the Beauty Vocational Training and Education Support programme.
Friends-International was supported by The Moodie Davitt Report's Duty Calls charity event earlier this year and its Siam Reap-based beauty project is the Women in Travel Retail (WiTR) charity for 2019.
The beauty project is one of seven Friends-International vocational programmes offered to young Cambodians between the ages of 15 and 24. The other programmes cover hospitality, barbering, motor mechanics, electricals, welding and sewing.
The beauty programme runs for eight months with a curriculum that provides market-aligned quality technical skills within a classroom environment and beauty and nail training salons. The programmes also offer psycho-social counselling, basic literacy and numeracy, Khmer and English lessons. There is also a significant focus on soft skills: personal development via confidence-building, emotion and stress management.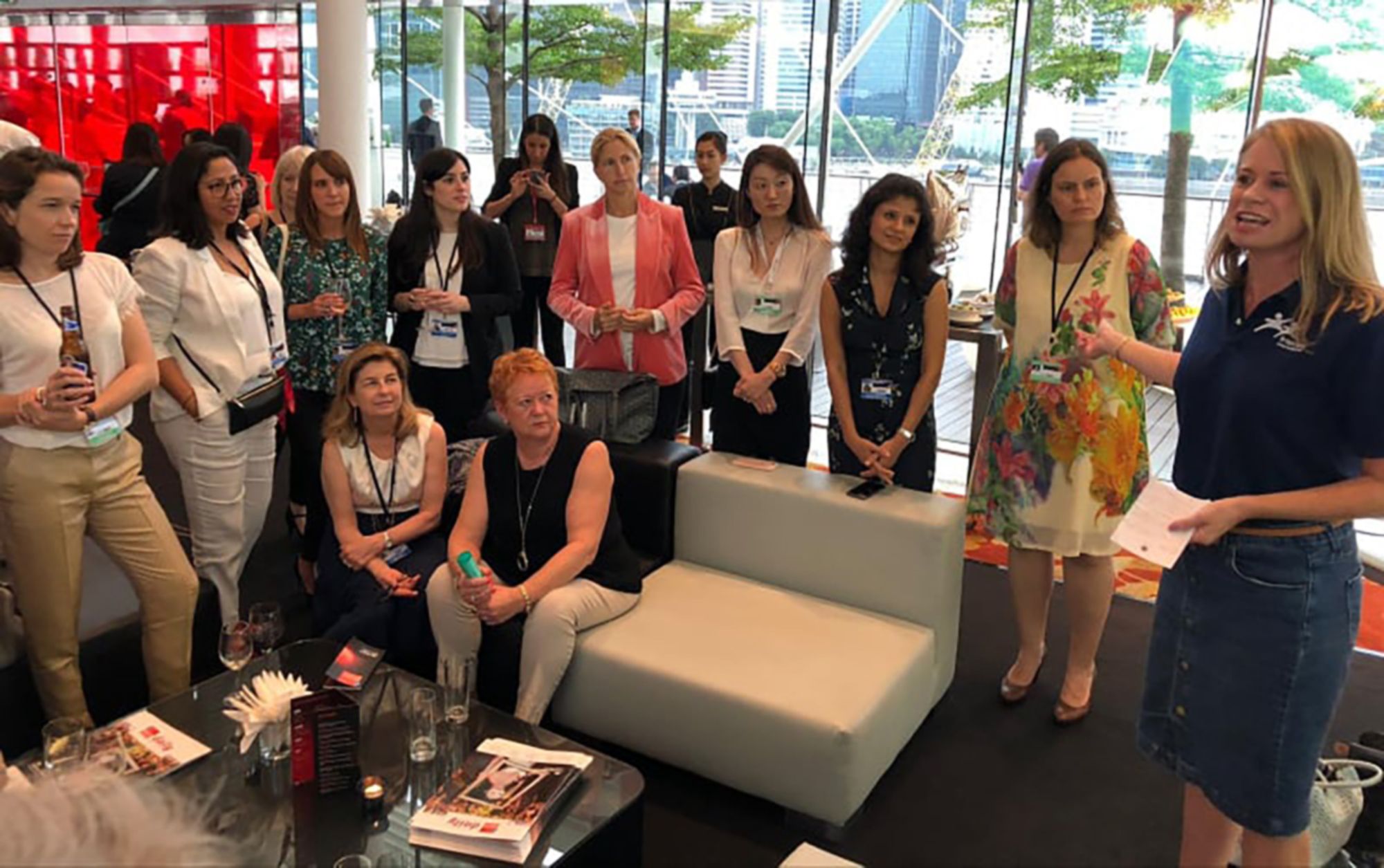 "You can make a difference": Friends-International Business Project Coordinator Renay Farrell (far right) speaking at a WiTR meeting in Singapore
In 2018, 43 young women participated in the beauty vocational training programme: 30 were newly enrolled, 27 were placed in employment and 16 rolled over to continue their training in 2019.
The vocational programmes link students to a range of basic social services such as medical referrals to hospitals, support to obtain legal documents (many Khmer children and youth born after the Khmer Rouge ruling do not own birth certificates, for example), a meal each day, transport to and from training, as well as short-term housing if required.
On graduation the students are offered assistance to secure employment or in starting up a business.
WiTR has already highlighted the beauty project at various meetings and events this year. WiTR members showed their support through a raffle at a networking event at the City of London Distillery in February. During the Summit of the Americas in Orlando, the WiTR's raffle and silent auction raised more than US$2,000, which was divided between the regional charity Hand in Hand for Haiti, and the Friends-International project.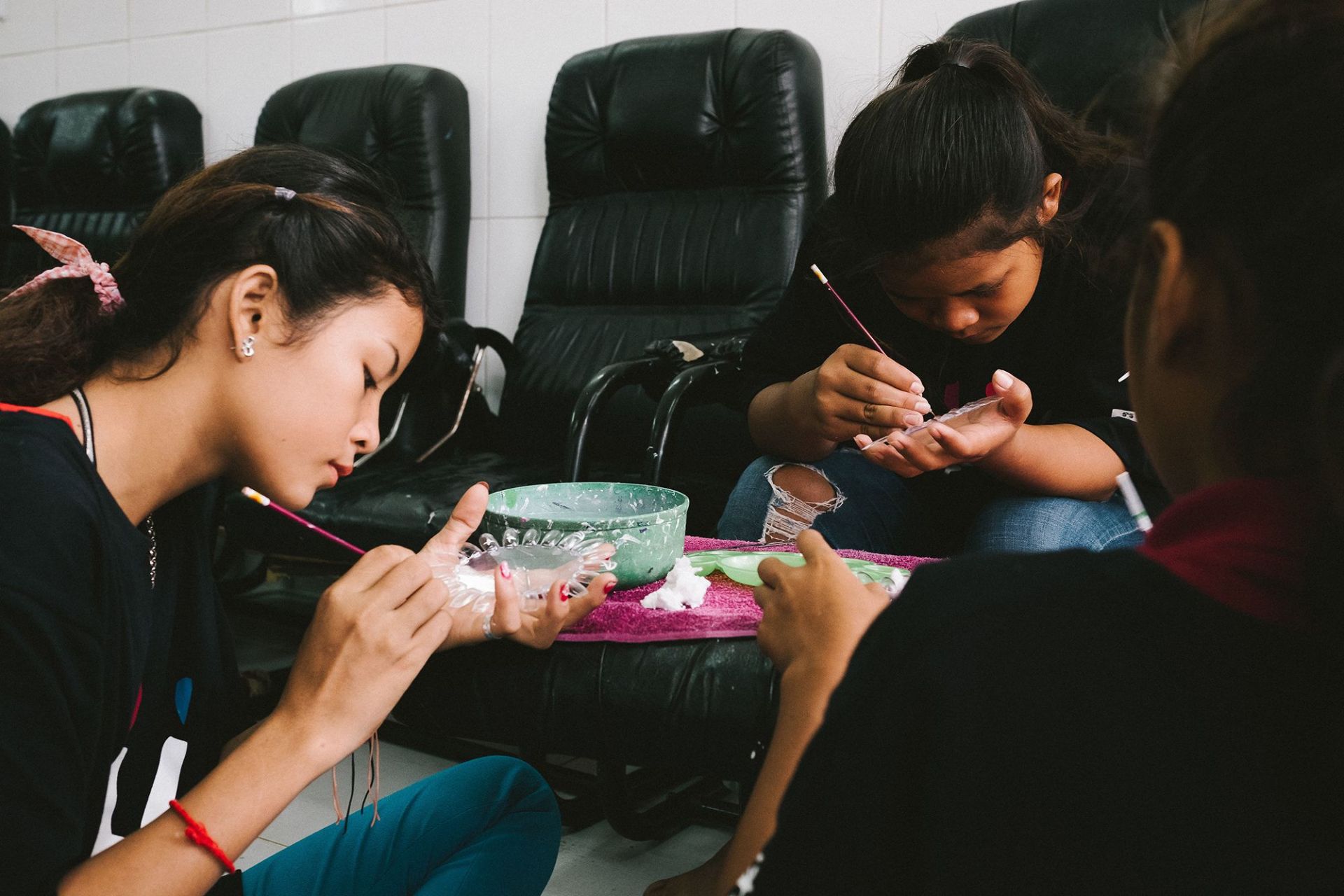 A good look: The Beauty Vocational Training and Education Support programme includes classroom lessons and in-salon practical experience
The project is further supported through a weekly get-together in Hong Kong which is spearheaded by WiTR North Asia representative Erin Lillis. Selected drinks are available at the Bobby's Rabble bar in Hong Kong at HK$50 (US$6.40) per glass, with HK$5 (US$0.64) per glass going to the charity.
Friends-International Business Project Coordinator Renay Farrell spoke at the WiTR meeting during the TFWA Asia Pacific event in Singapore in May. She highlighted the organisation's work in 23 countries and its focus on saving the lives and building the futures of marginalised children, youth and their families.
She mentioned programmes which provide outreach and social services, drug and alcohol rehabilitation, support groups, remedial education, the reintegration of children back to school, as well as training and jobs to their caretakers to ensure they stay in school.
"Vocational training is one of our key programmes to help break the cycle of poverty and improve the lives of the most marginalised children and youth. And the most at risk is always female youth," Farrell said.
"Marginalised female youth in Cambodia continually face many barriers to access employment including lack of education and the ability to pay for training.
"Often living on the streets, they are forced to work in hazardous occupations such as construction, scavenging, sex work or begging – leaving them vulnerable to health risks and abuse.
"By supporting the beauty vocational training programme, WiTR members and supporters will be actively taking a part in breaking this cycle."
Farrell said Friends-International has a growing network of local businesses who accept graduates as interns, apprentices or full-time employees. For self-employment, Friends-International can sponsor the equipment and material needed for start-ups until its students become self-sustainable.
"We have experiences where students have graduated, are placed in full-time employment thanks to the Friends-International Futures team, progress in their new roles and then return to be a vocational training teacher in our programmes," Farrell added.
WiTR aims to raise €15,000 to support the Friends-International beauty project throughout the year, culminating in a grand draw and auction at the 2019 TFWA World Exhibition in October.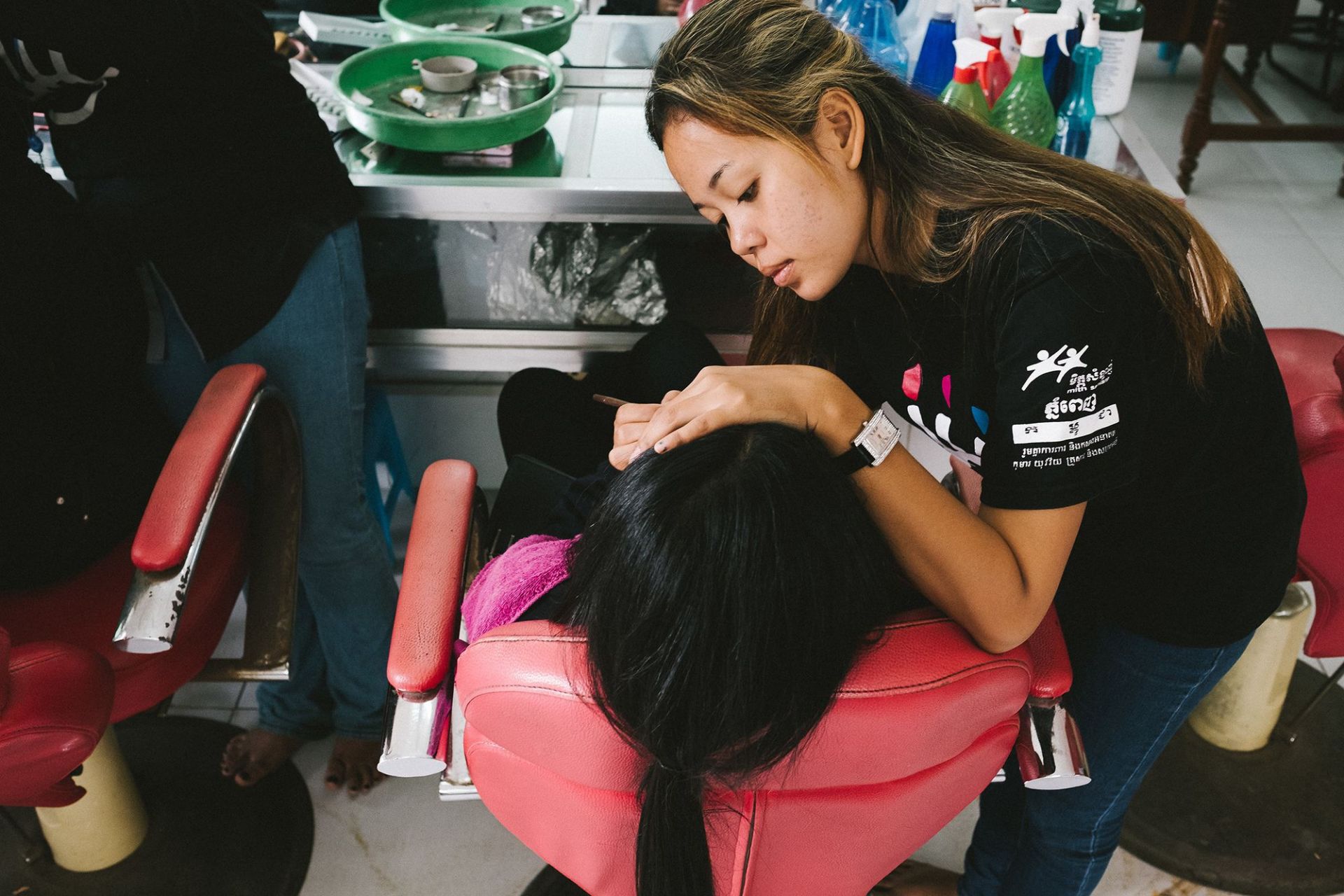 Brighter future: Some 43 young women participated in the beauty vocational training programme in 2018
Case study:
Theary's story
One of the latest participants in the Beauty Vocational Training and Education Support programme is Theary, a young woman from Phnom Penh. Theary's name is fictitious; her story, which is similar to that of many of the project's participants, is not.
"My mother was an entertainment worker, a karaoke girl as they are known in Cambodia and I have two sisters with different fathers. My mother placed me, and my siblings, in a number of orphanages throughout Phnom Penh."
In the institutions, Theary enjoyed basic elementary schooling but that came to an abrupt halt when she was returned to her mother. Theary's mother changed houses constantly; the instability spelt the end of any further education.
"I never felt safe so I decided to move in with my grandparents in a rural area. But I could never go to school because it was more than an hour away, by foot along a quiet road. My grandmother soon got sick and passed away and I was left with only my grandpa in that cottage. I felt very isolated; I was always scared and insecure."
Theary considered moving back to an orphanage. "But I met an old lady who told me about Friends-International and a new chapter of my life began."
Theary described her relief when she walked into the Siem Reap centre. "A few staff happily introduced themselves, and I was shown around before I decided to join the beauty training. I was offered a place to stay in the group home with three other girls. It was then that I regained all my hope to become someone better.
"I couldn't ask for a better opportunity: everything is free for me; I can access all the necessary facilities and it feels like home. I have lots of new friends and they are very nice to me. We are all from similar backgrounds."
Theary is in the second level of the beauty programme and is also taking other classes including Khmer literacy, English and computers.
"My life has changed a lot. I never thought of getting skills or trying to be anyone better, but Friends-International has changed my perspective on life. I enjoy my training here, getting to learn new things every day.
"In the future, I believe that I will be able to use my skills to support myself with a good job. I have big dreams to get a house where I can live happily with my mother and sisters. I hope I can get everything I want and make up for what I missed when I was young."
Theary said she had a message for other young people. She advised them to "study hard to get the skills you need for a good job and a better future". And she added a wish that Friends-International continues to help young people like her to achieve their goals.
The Moodie Davitt e-Zine Duty Calls feature highlights environmental and socially responsible initiatives around the globe where people and the planet are the priority. If you have CRS projects, big or small, that you would like featured in Duty Calls, please contact Jason Holland at Jason

The Moodie Davitt eZine
Issue 265 | 6 August 2019
The Moodie Davitt eZine is published by The Moodie Davitt Report (Moodie International Ltd) every month.
© All material is copyright and cannot be reproduced without the permission of the Publisher.
To find out more visit www.moodiedavittreport.com and to subscribe, please e-mail sinead@moodiedavittreport.com