The power of art in creating an emotional experience is in evidence in an unlikely venue; San Francisco International's new long-term parking garage. It is the latest addition to a vibrant and diverse public art programme at the airport.

Jason Holland

reports.
Spacious terminals present excellent opportunities for powerful artworks, as this column frequently highlights. Parking garages are perhaps less well-known or glamourous spaces for creative wonder.
But at San Francisco International Airport, a powerful lighting installation at a new long-term parking garage is providing travellers with a visual treat.
Called Coding, the installation has been designed by artist Johanna Grawunder and uses a range of technologies from dynamic lighting solutions provider Traxon Technologies to create a subtle light show that is visible throughout the day and night.
Coding uses the building's existing steel beams and mirrored windows to suggest dots and dashes, ultimately spelling 'San Francisco' in Morse code. The artwork was commissioned by the San Francisco Arts Commission.
"We are in the age of coding," said Grawunder. "San Francisco is a city of layers that can be discovered slowly in neighbourhoods and microclimates, or breathtakingly all at once, such as from the Golden Gate Bridge.
"Each layer has its own complexities and 'codes' to be cracked. Coding is an immersive environment installation defined through layers of codes – decorative elements that each express a specific quality and experience of the elevator tower at the long-term parking garage. These code-layers are dynamic day and night through the use of materials that respond to reflection, luminosity and programmed colour-changing light."
Head of Traxon e:cue, North America David Brooks highlighted the power of art in creating an emotional experience. "We're excited to work with Johanna Grawunder to help bring her artistic vision to light," he said. "Traxon's innovative lighting technologies have a wide range of applications, from artistic expressions such as Johanna's installation at San Francisco International Airport, to interior and exterior facades in a variety of industries including retail, hospitality, entertainment and many more architectural applications."
San Francisco Arts Commission Director of Cultural Affairs Tom DeCaigny commented: "San Francisco International Airport has established a reputation as not just a place where one catches a plane, but as a destination for some of the country's most ambitious public art installations.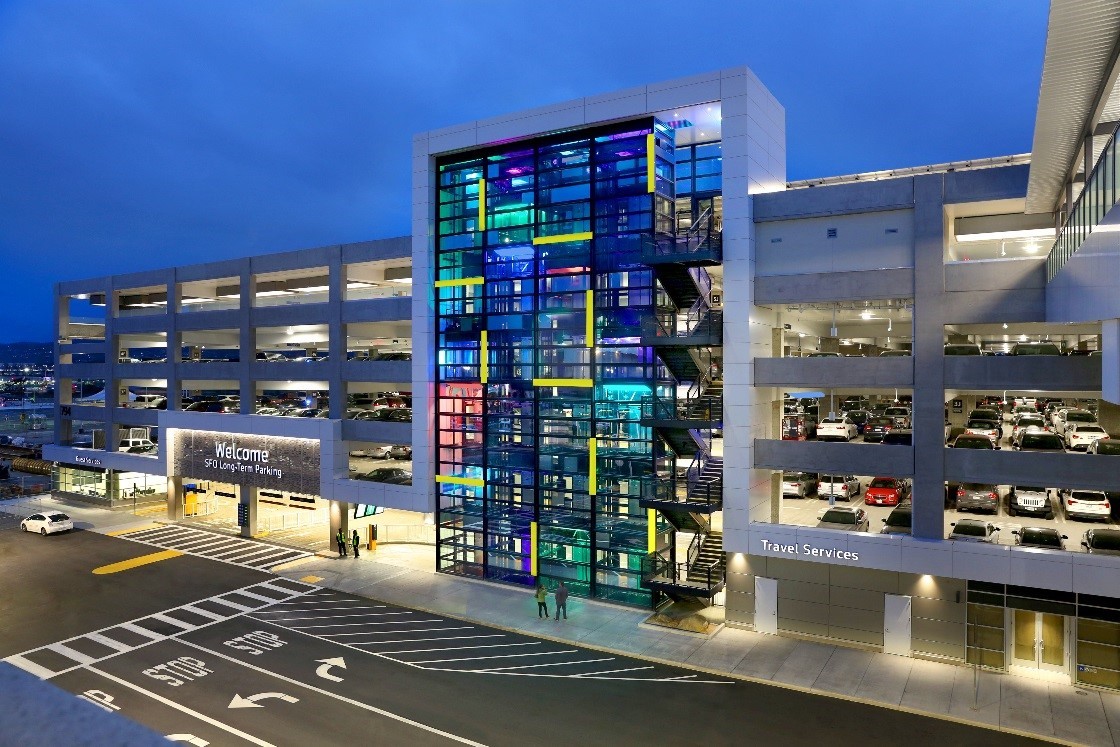 Light show: The car park's steel beams and mirrored windows suggest dots and dashes which spell out 'San Francisco' in Morse code
"With each new capital project, the San Francisco Arts Commission has the opportunity to innovate and stretch the imagination of what public art at an airport can be. We are incredibly grateful to the airport for partnering with us as we continue to push artistic boundaries."
Coding is on permanent display at the long-term parking facility, and complements the range of art installations that feature at the airport.
San Francisco International's public art programme is provided by the San Francisco Arts Commission and encompasses a permanent collection of paintings, sculptures, mosaics and environmental works that reflect the Bay Area's vibrant and diverse culture.
The collection comprises more than 80 pieces in a diversity of styles and media by artists of local, national and international acclaim. Here are some of the highlights:
The SFO Peephole Cinema – To Travel is to Live, by Signe Baumane, Kota Ezawa and Laurie O'Brien, Terminal 1
Here, silent film shorts are screened through small peepholes. The format of Peephole Cinema harkens back to Thomas Edison's early motion picture exhibition device, the kinetoscope, designed for films to be viewed by one individual at a time.
This year-long iteration of Peephole Cinema invites three artists to create short silent films inspired by their own travels, as well as the inspirational words of Hans Christian Andersen.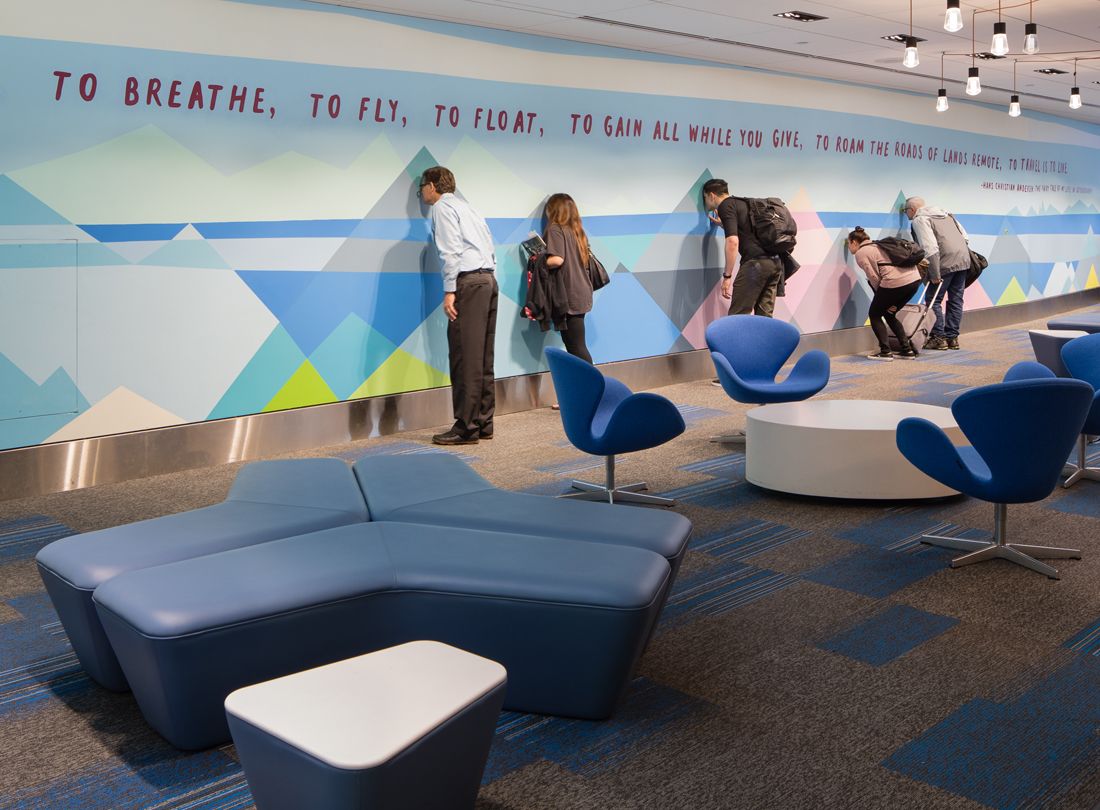 Voyage, by Val Britton, Terminal 1
This glass panel installation depicts an imaginary panoramic space in continuous flux. The artwork draws on the language of maps, inspired by information pertaining to San Francisco International Airport (maps, plans, weather patterns and flight routes). The drawn and painted abstractions make physical locations visible while giving the viewer the opportunity to shape their own psychological and emotional connections that constitute place.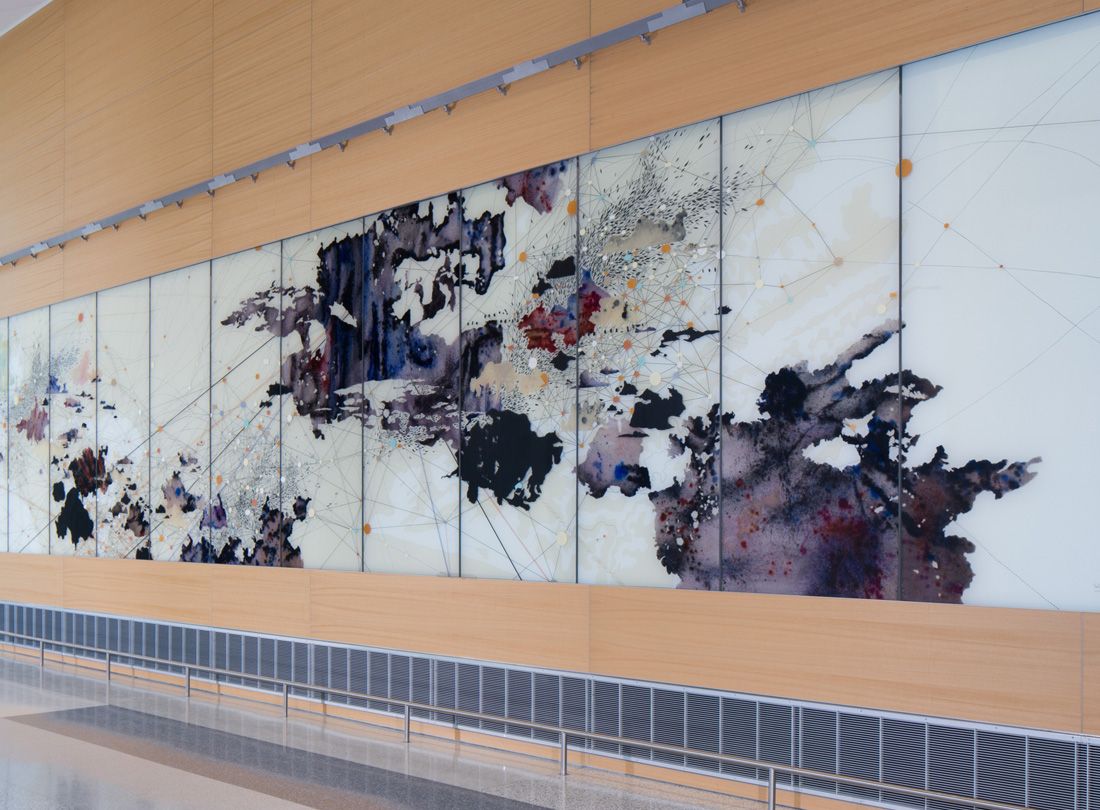 Above Bolinas, by Willard Dixon, Terminal 2
Willard Dixon is known for his panoramic, atmospheric paintings of Bay Area scenes. This Marin County seascape evokes a dreamlike calm in the meeting of softly rolling waves and hills.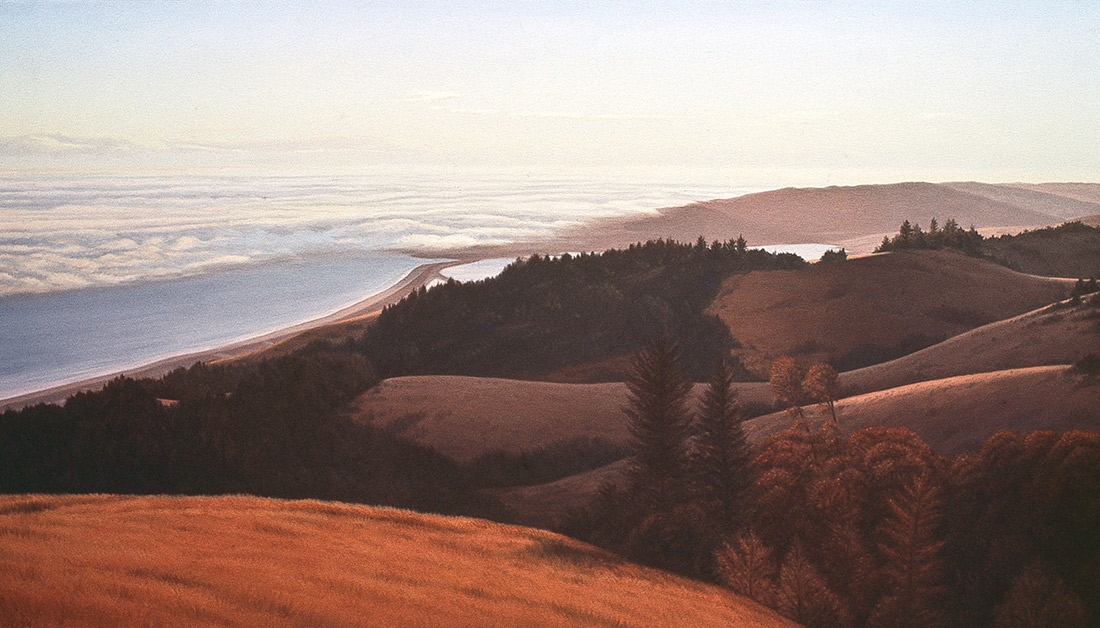 Strangerhood, by Lordy Rodriguez, Terminal 3
Using the language of cartography, Strangerhoodfeatures maps depicting six iconic San Francisco neighbourhoods reimagined as independent countries. The artwork focuses on Chinatown, North Beach, The Mission, The Castro, Haight-Ashbury, and Fisherman's Wharf, neighbourhoods chosen because of their strong cultural identities and tourism economies.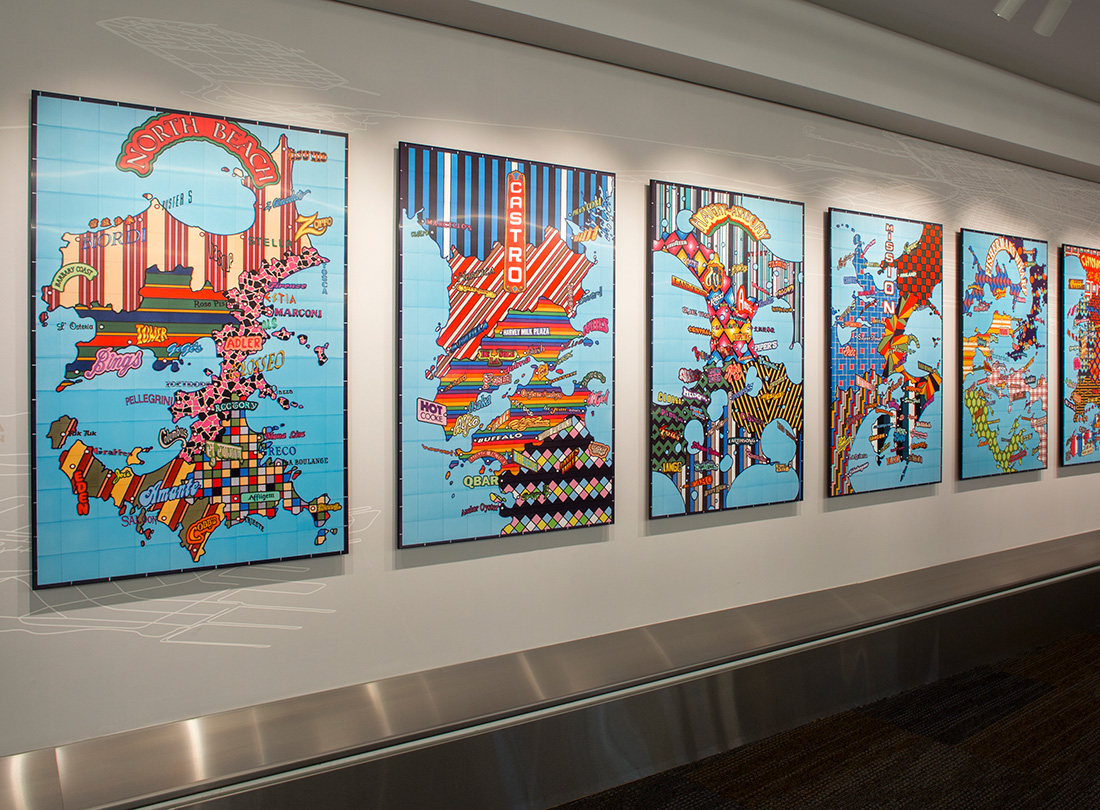 Everywhere a Color, by Leah Rosenberg, International Terminal
From the Golden Gate Bridge's iconic International Orange colour, to the Painted Ladies in the Western Edition, this artwork pays homage to San Francisco. Each strip corresponds to a landmark, moment, or object that is unique to the city.
No Other Lands Their Glory Know, by Alice Shaw, International Terminal
Visitors are invited to enjoy the natural splendour of The Golden State while at the airport, and this photographic image is of a redwood forest on Mount Tamalpais in Marin County, California just north of the City and County of San Francisco. The title for this artwork is taken from a line in a poem, The Redwoods, written by Joseph B. Strauss who was the chief engineer of the Golden Gate Bridge.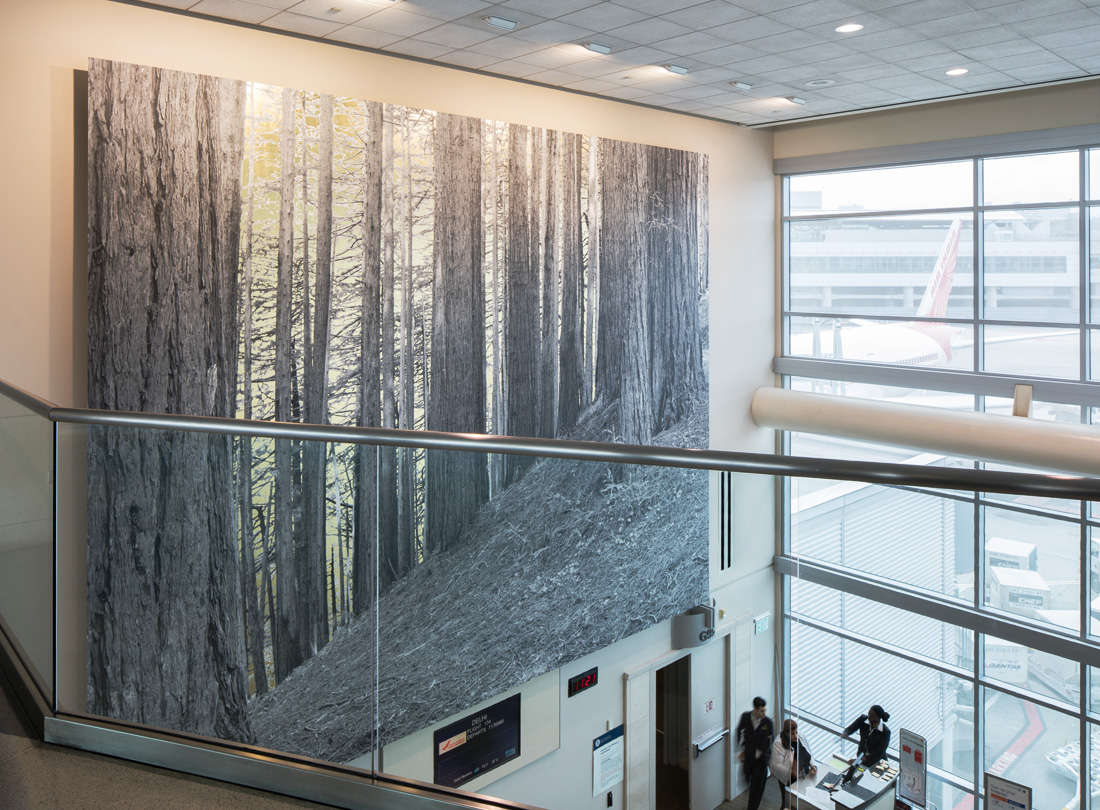 Sanctuary/Sanctuario, by Juana Alicia & Emmanuel C. Montoya, International Terminal
This painting is a family portrait of the Bay Area. Just as arrival at the airport is the beginning of a new life for many immigrants, so it is refuge to many shore birds that flock annually to surrounding wetlands. The mural is painted in traditional 'fresco buono', an ancient painting technique that mixes pigment directly into wet plaster.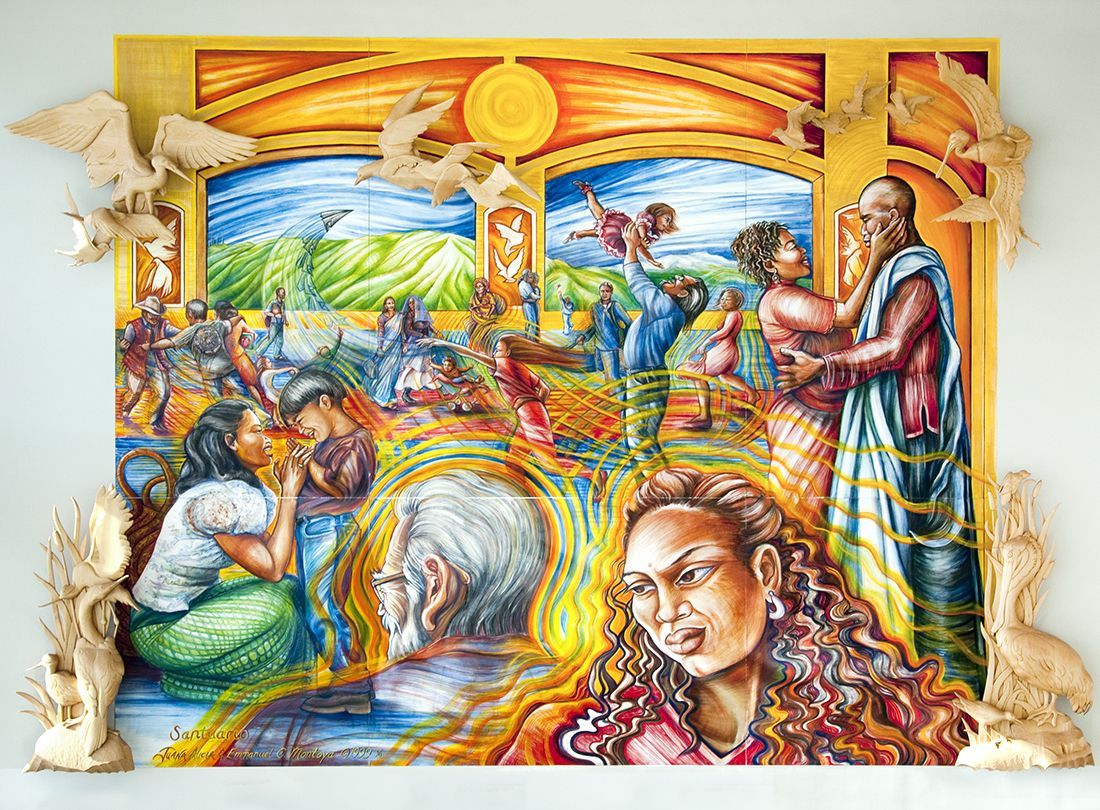 The Moodie Davitt eZine
Issue 265 | 6 August 2019
The Moodie Davitt eZine is published by The Moodie Davitt Report (Moodie International Ltd) every month.
© All material is copyright and cannot be reproduced without the permission of the Publisher.
To find out more visit www.moodiedavittreport.com and to subscribe, please e-mail sinead@moodiedavittreport.com