---
Results focus:
LG Household
& Healthcare


In a second piece of analysis from the Moodie Davitt Business Intelligence Unit's Min Yong Jung, the spotlight is on Korean cosmetics and household goods company LG Household & Healthcare, its successful Whoo brand, and the company's next-generation champion brands.
When LG Household & Healthcare (LG H&H) reported its second quarter results this week, it marked the company's 55th consecutive quarterly gain in sales and 57th consecutive quarterly gain in operating profit. That streak stretches back to 2005.
The Korean cosmetics and household goods company reported a +10.9% year-on-year increase in total revenue in the quarter, to KRW1.8 trillion (US$1.5 billion). Beautiful, LG H&H's cosmetics business division, continues to fuel the company's run of positive gains.
Unlike competitors which have seen their sales and profits disappoint, LG H&H has prospered from its decision to scale back mass brands and focus resources and attention on growing its luxury brand portfolio.
That strategy has put the company well ahead of its annual guidance for sales and operating profit to increase +5%.
The first half of 2019 saw the company's sales and operating profit increase +11.9% and +13.2% respectively year-on-year.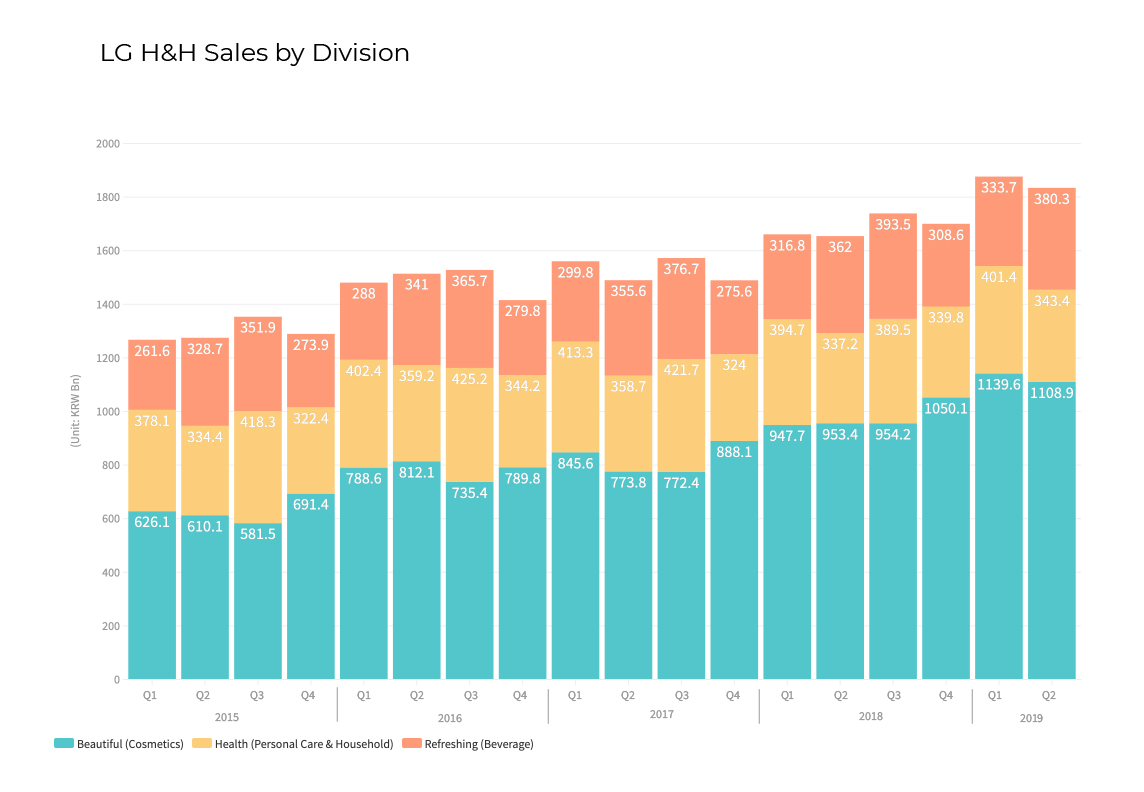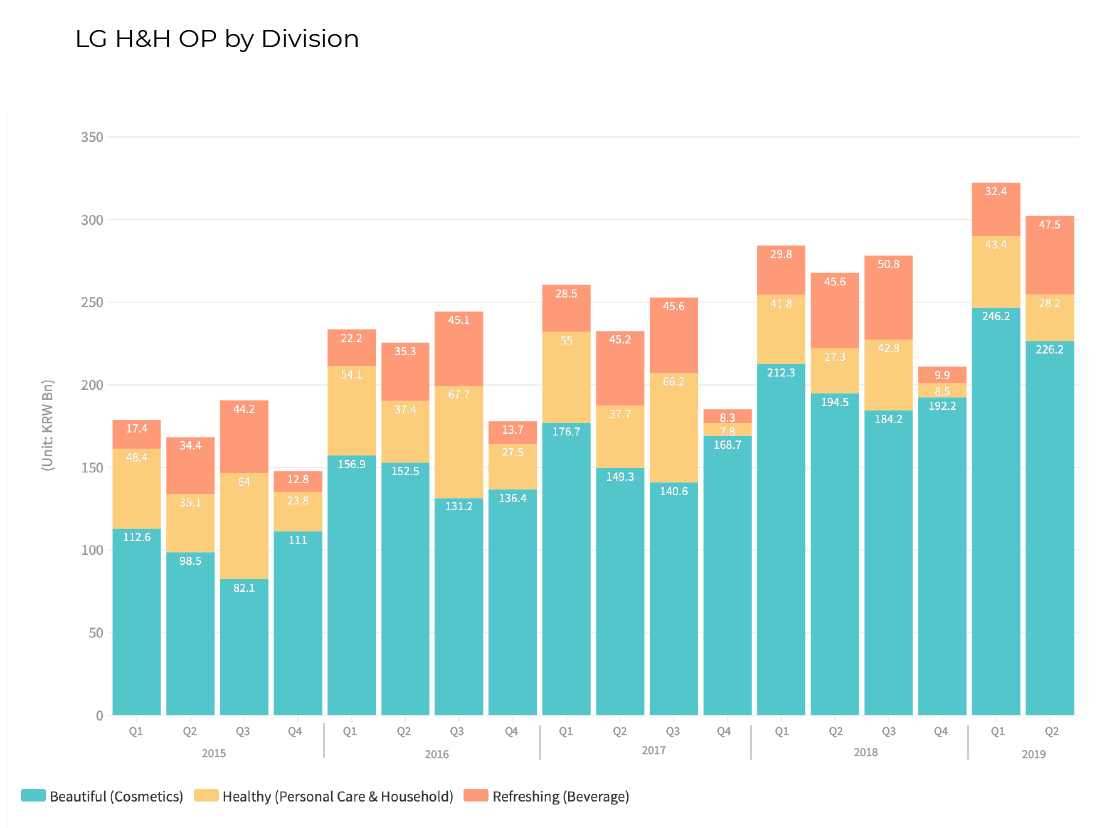 While risks and uncertainties relating to China's new ecommerce law remain [see page 12 for a full report on the topic], fast adapting daigous have proven to be avid buyers of LG H&H's premium brand offerings so far this year. And the company has been more than happy to cater to its deep pocket buyers.
LG H&H's cosmetics business saw second quarter sales and operating profit increase +16.3% to KRW1.1 trillion (US$930.7 million) and KRW226 billion (US$191.2 million) respectively, performing ahead of the company's other main business divisions.
Premiumisation remains the key focus for LG H&H's cosmetics business and the recent launch of special edition higher priced sets such as 'Whoo Hwanyu Royalty' and 'Bichup Yechan' within the flagship Whoo brand are evidence of that strategy. The sets sold mainly to Chinese nationals in duty free stores and helped raise the brand's luxury image, enhanced the average selling price of the brand and contributed to Whoo's +24% overall sales growth and +30% duty free sales growth.
Whoo first broke the KRW1 trillion barrier in 2016 and almost doubled in size to record sales surpassing KRW2 trillion in 2018, putting the brand on par with global luxury brands.
LG H&H's strategy to launch higher-priced sets targeting Chinese nationals extends beyond Whoo to premium next generation champion brands su:m37° and O HUI. LG H&H has launched higher priced luxury lines for these brands, called Losec Summa and The First respectively.
Sales growth of the luxury lines outperformed growth of lower-priced lines: Losec Summa grew +67% compared to su:m37°'s +7%, and The First grew +43% compared to O HUI's +12%.
LG H&H's delivery of consistent and reliable results that are in line with the company's expectations masks the difficult local market situation. Chinese nationals continue to drive sales and profits but sales dependent on Korean nationals are still underperforming.
Sales in department stores have fallen for six consecutive quarters and the second quarter saw LG H&H's department store sales decline -12.7%.
Other channels dependent on sales to Korean nationals were discontinued by the company in order to focus on channels and businesses that offered growth opportunities.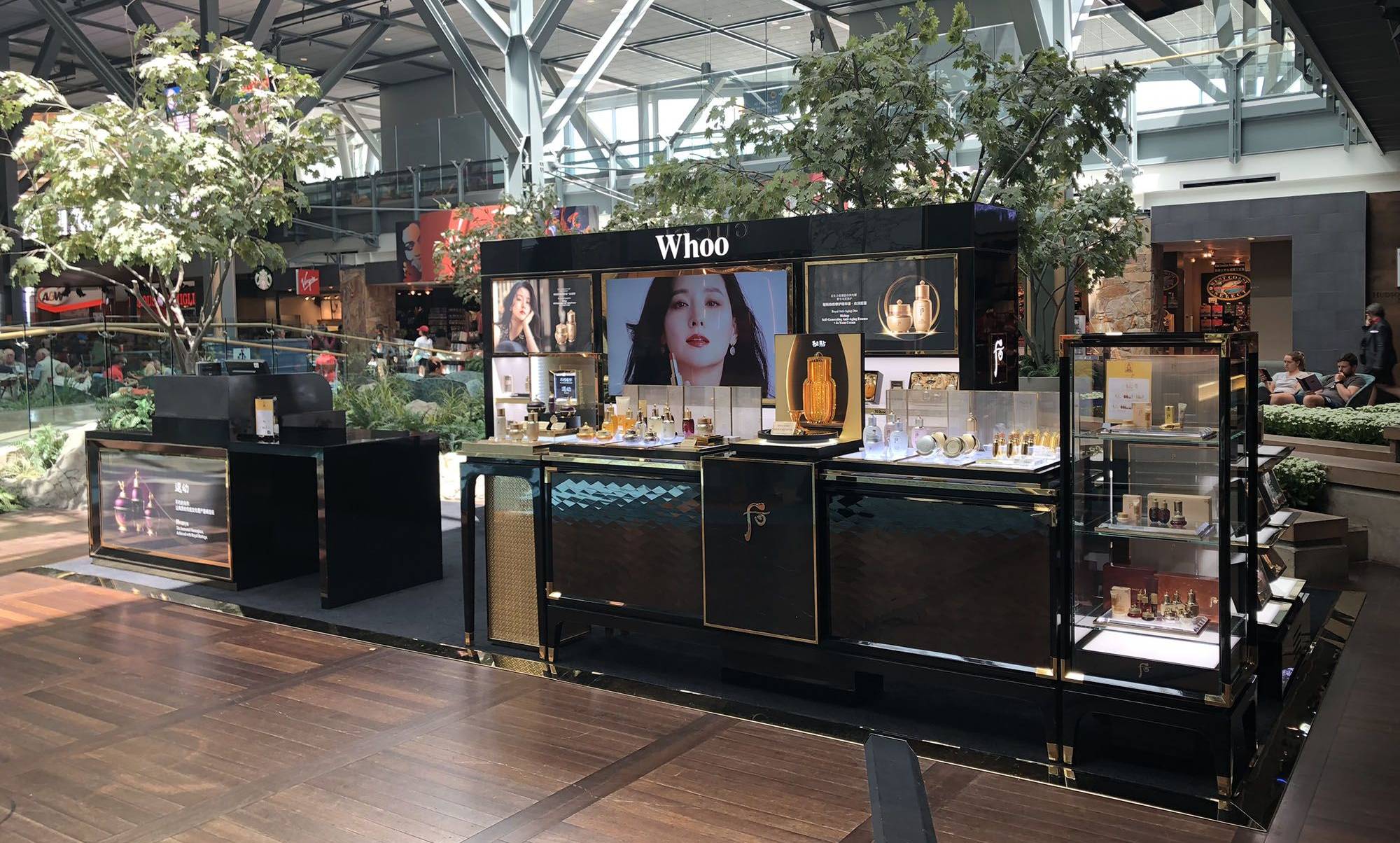 LG H&H's Whoo brand has prospered in travel retail in recent times, particularly with Chinese shoppers. This History of Whoo pop-up, the brand's first airport store outside of Asia, opened at Vancouver International in June 2018
LG H&H takes a differentiated approach towards daigou resellers, viewing the group as an opportunity to increase brand awareness in China and enhance duty free sales in Korea.
That approach has allowed the duty free business to prosper and Mainland China business to build. Second-quarter duty free sales grew +25.3% year-on-year, outpacing the Korean market's total duty free sales growth of +19%.
Companies and brands that witnessed the rise of LG H&H's Whoo brand in China may rue the missed opportunity because of their decision to enforce stringent duty free sales limits.
While the two may appear unrelated, resellers play an integral role not only in introducing brands to consumers but also carrying the products to sell in channels that are hard to penetrate for larger fast moving consumer goods (FMCG) companies.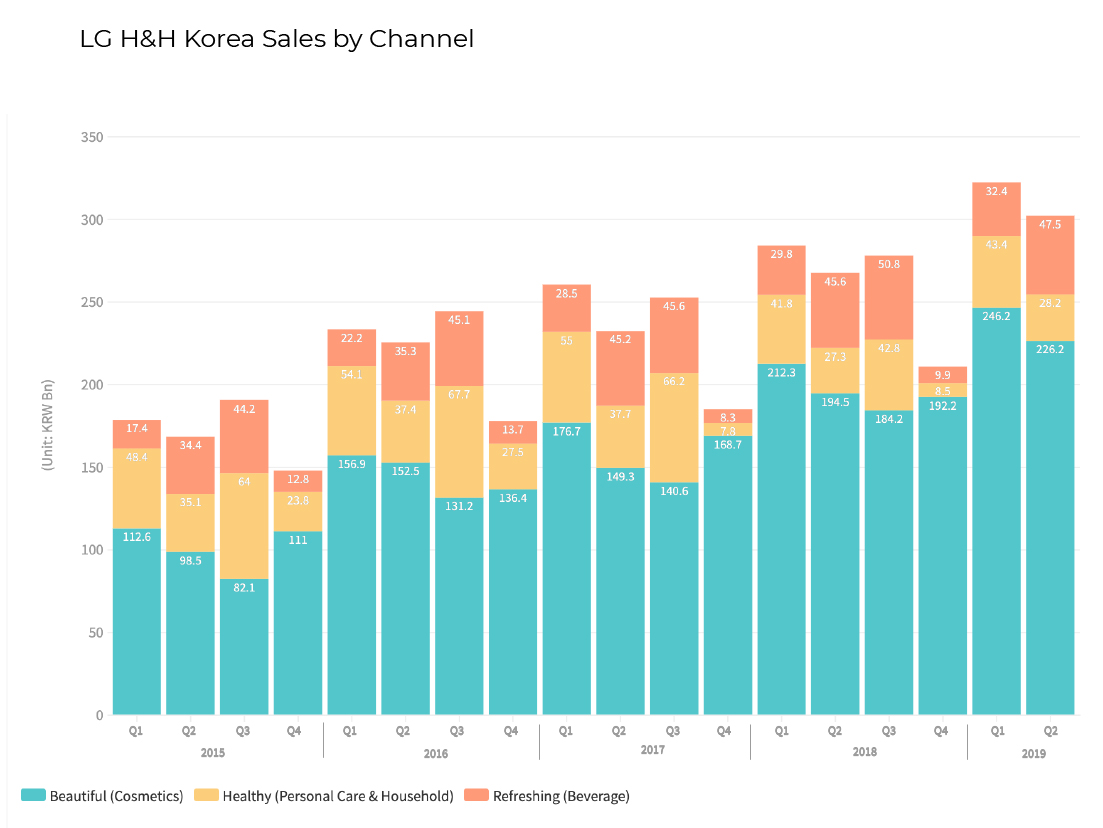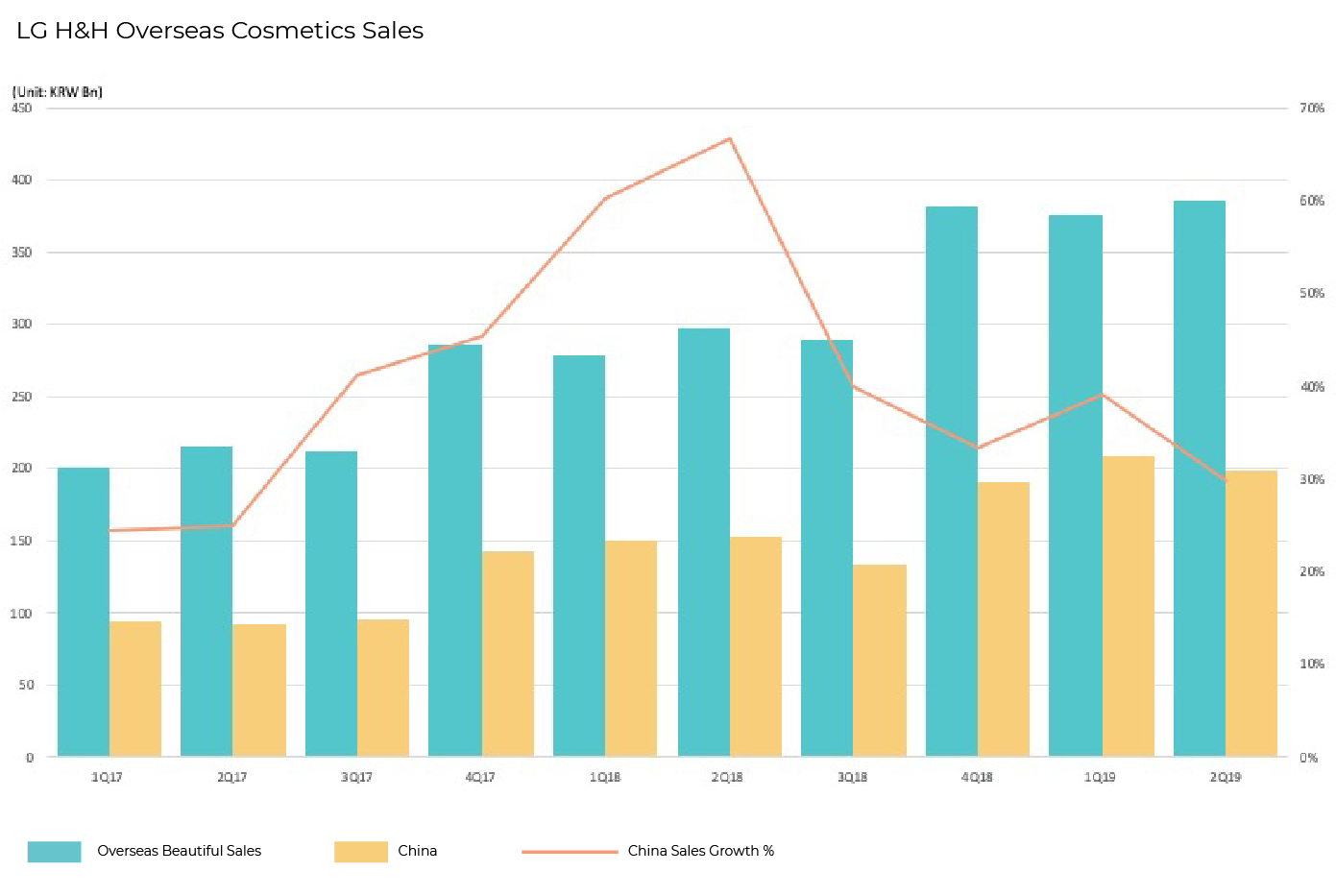 LG H&H's China sales grew +30% year-on-year, with Whoo up +34% and su:m37° seeing a +43% increase. There are 206 stores in China selling Whoo products, and 90 stores offering the su:m37° brand, which means there is still room to grow by expanding retail distribution.
Despite the noise concerning China's ecommerce law and the potential risk to duty free sales in Korea, LG H&H expects China to maintain its current +20-30% growth rate, with the company's premiumisation strategy the key to success.
Set for success: Hwanyudongango (left) and Cheongidan are among Whoo's best-selling ranges

The Moodie Davitt eZine
Issue 265 | 6 August 2019
The Moodie Davitt eZine is published by The Moodie Davitt Report (Moodie International Ltd) every month.
© All material is copyright and cannot be reproduced without the permission of the Publisher.
To find out more visit www.moodiedavittreport.com and to subscribe, please e-mail sinead@moodiedavittreport.com