---
Despite continued duty free sales growth, the share price of South Korea's main duty free retailers has fallen significantly since early May. From 2 May to 10 July, shares in Hotel Shilla dropped 27%, and are down 16.2% in the period tracked here (closing prices between 18 June and 14 July).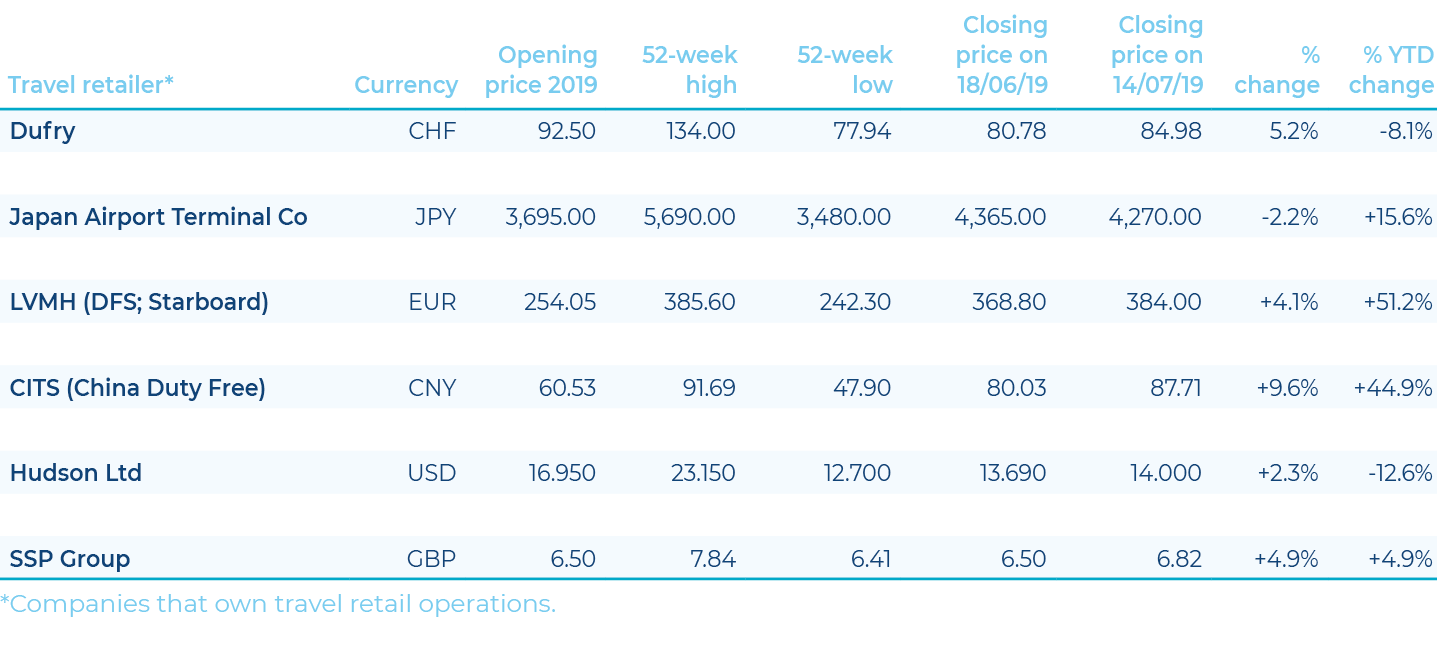 "Despite resellers continuing to buy in bulk, regulatory risks and fears about the impact of the new China ecommerce law continue to weigh on the share price of duty free retailers in South Korea," said The Moodie Davitt Report analyst Min Yong Jung recently.
On a more positive note, shares in Hotel Shilla are still up since the start of 2019, by 6%.
Conversely, shares in Dufry have fallen 8.1% since 1 January. A 52-week low of CHF77.94 was recorded towards the end of June, but a recovery since then means shares in the company are up 5.2% in the period tracked.
DFS co-parent LVMH continued its strong 2019 performance, peaking at a 52-week high of €385.60 and finishing at €384. The company's year-to-date differential is now a stellar 51.2%.
China Duty Free Group parent China International Travel Service is also performing strongly, with its share price up 9.6% in the current period, with a 52-week high of CNY91.69 recorded on 2 July. Aside from Dufry and the Swiss-based travel retailer's subsidiary Hudson Group, Duty Free International is the only
company among those we monitor to have a negative year-to-date differential so far in 2019 (down 7.7%).
The Malaysian duty free retailer recently reported a 15.5% year-on-year revenue increase of MYR135.6 million (US$32.97 million) for the first quarter of its 2020 financial year. The rise was primarily attributed to contributions from the newly acquired Brand Connect Group and higher demand for certain duty free merchandise.
Despite the revenue boost, the retailer saw three key profit indicators drop year-on-year. Profit before income tax was down 15.1%, net profit fell 21.6%, and net profit attributable to shareholders slid 20.7%.
"Given the present economic outlook and increasingly competitive business environment, as well as cautious consumer spending, the Group's business performance is expected to remain soft and challenging due to macroeconomic trends such as slower global growth," Duty Free International stated.
"The Group will continue its efforts in optimising operational efficiency and effectiveness by close monitoring of the key cost drivers and improving its core business in order to remain resilient in the retail industry."

The Moodie Davitt eZine
Issue 264 | 16 July 2019
The Moodie Davitt eZine is published by The Moodie Davitt Report (Moodie International Ltd) every month.
© All material is copyright and cannot be reproduced without the permission of the Publisher.
To find out more visit www.moodiedavittreport.com and to subscribe, please e-mail sinead@moodiedavittreport.com