Keynote interview: Vincent Boinay (continued)
---
Questioning the tender model
Senior travel retail suppliers and retailers have consistently questioned the logic and sustainability of the airport tender model down the years, and Vincent Boinay adds his influential voice to the chorus.
I ask him about the financial pressure on brands caused by the current legacy model. Does the supplier tend to carry a disproportionate weight of that auction-based, minimum guaranteed-driven bidding formula? Does he feel the system should – and can – change? Or is it something that brands simply have to live with?
"It's one of the most important questions," he responds. "If I look at the interview we did four years ago, I was telling you that we must and should change. And, with a very candid answer today, I will respond to you – has the industry really changed? No. And are we growing? Yes. Are we developing the activity overall? Yes. Is it more complex and difficult? Very much. The question is really to share the value of what we are creating. The industry is full of very smart people. They will change.
"They will evolve from airports to retailers because we can't just bear as a cost on our shoulders this legacy business and the model. So we need to make sure that it's more balanced and it's more sustainable… otherwise we are back to this idea of uniformity, standardisation and efficiency. And then airport retail is not going to be that exciting and people will shop elsewhere – especially at a time when everything is one click away."
How can a thought leader such as L'Oréal change the game and the rules? Boinay turns the question to what the group is doing, delivering an agenda that can keep the sector ahead. The price of inertia is unacceptable, he insists.
"If we are not bringing this beauty experience, if we are not bringing technological innovation, if we are not bringing innovation in products and services, if we are not a bit more personalised in the way we do the business, if we don't augment the service and the experience then somebody else will do it.
"And they will beat Amazon or Alibaba. They will beat the big retailers of the High Street. They will beat new players that we don't even know today.
"So that's why it's our duty as industry leaders to make sure that we keep investing behind the brands. Because at the end of the day what customers are looking for are brands and product innovation, especially in beauty.
"And this is where L'Oréal is the best equipped of all beauty world leaders. But it requires means, fuel and capacity to invest and to demonstrate to customers and travellers around the world that shopping at the airport is a great experience."
Given more space and therefore more ability to play across all those customer profiles through a suite of categories, brands and price points, does Boinay believe beauty can drive incremental revenues throughout the stakeholder chain – not just for the brands?
"Definitely. Look at the big numbers. The beauty industry today in travel retail is worthy roughly US$31-32 billion. It was four times smaller ten years ago. And when you look at the big ratios – conversion and penetration – they haven't changed that much. But the potential is here – we can still grow and recruit customers."
It's a bullish but not complacent view of the channel's future. Do nothing different and the wider business will see steady, traffic-driven growth, he says. Invest in the right way and the potential is limitless. "We are confident because of the fundamentals I was describing, because of the portfolio we have, because of the relationships we've built with the retailers around the world and that we are now starting to build with airport authorities."
If those key indicators could be enhanced by one or two percentage points, imagine the impact on the business. "It would be absolutely transformative – and transformative for everybody, not just for the beauty players, but also for the airports and the retailers," agrees Boinay. "And, when we say limitless beauty, limitless ambition, it's a reality. What prevents us from keeping growing in the coming years? Tell me. Nothing – if we do it right."
What about the storm clouds that travel retail, a sub-sector of the tourism industry, itself so vulnerable to geo-political events, faces? The escalating Chinese-American trade war; currency volatility possibly greater than any time this century; and various political crises such as those in the Middle East and Hong Kong and deteriorating relationships between South Korea and Japan?
"We live in a VUCA world – this acronym for volatile, uncertain, complex and ambiguous," Boinay responds.
"But it has been like this for the past ten years. For me, it's extremely important to have a good relation to speed – be neither too fast nor too slow.
"There is a Chinese proverb saying there are two ways to lose the battle when you play Go. The first one is to be too offensive. The second one is to be too defensive. It's exactly the same thing for us. We have to be in control. And we have to be consistent and sustainable in what we are doing.
"This is what works long term in every business and partnership. And, yes, we will have a crisis somewhere sometimes. But if the fundamentals are respected, we will overcome the crisis.
"And this is a key strength of travel retail. It's a unique world where, yes, we argue [among stakeholders] and yes, we battle. But at the end of the day, we are building a business together. And this is probably why we are stronger than ever today, and we can be confident in the future."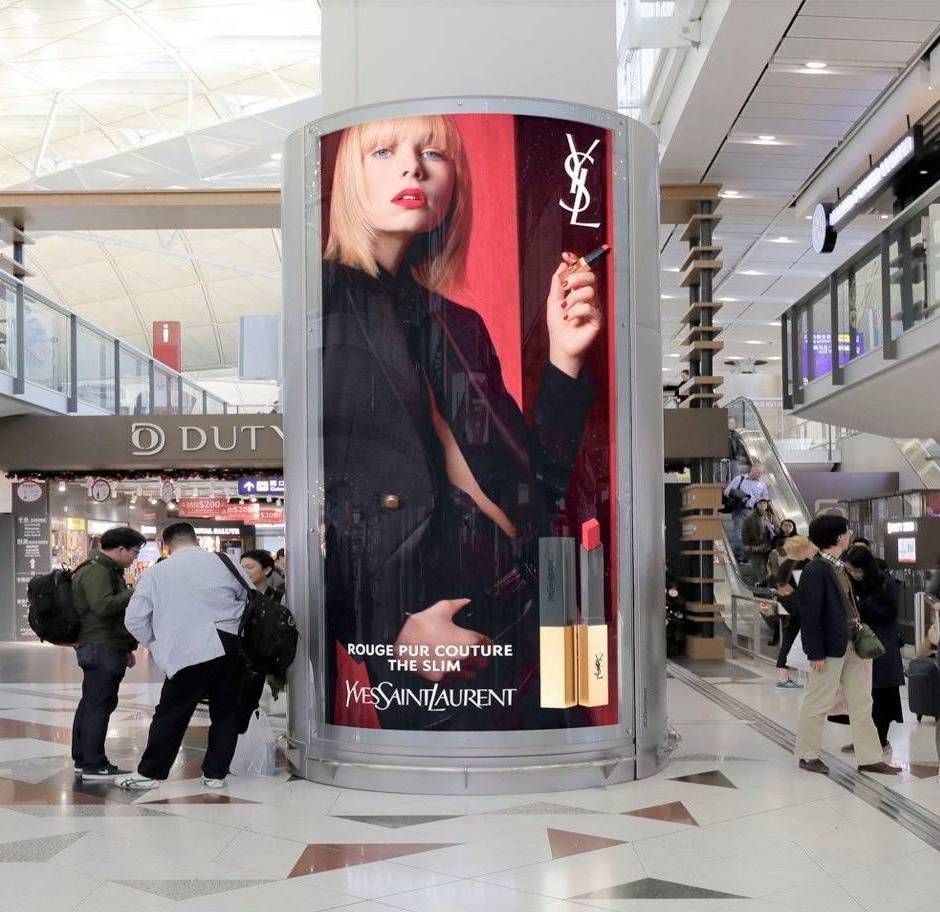 Travel retail's rising star
I suggest that travel retail has never been in the internal ascendency to the extent that it is now for brand houses such as L'Oréal, with the channel consistently the star of the show in recent financial results announcements.
Boinay agrees: "Yes, for L'Oréal it is about how to win in a winning channel. That's our mission. Our ambition is limitless. Let's do it! We have the greatest portfolio of brands within the beauty industry. We can talk to any traveller, any type of traveller around the world, any ethnicity, any nationality, any age group, any purchasing power. So we have the cards. Let's play!"
Boinay sums up the current travel retail scene in three words: "Fun, fast, and furious." One suspects he wouldn't have it any other way.
All well on the Sixth Continent – mostly
L'Oréal Group's travel retail sales surged by +21.2% year-on-year in the first half of 2019, helping to propel the company to an overall +7.3% (like-for-like) revenue increase ofto €14.8 billion.
That stellar showing followed travel retail's powerhouse performance in 2018 when sales rocketed by +27.1% to break the €2 billion threshold – key to L'Oréal posting its best annual groupwide sales growth in over a decade.
Following the first-semester results, L'Oréal Chairman and CEO Jean-Paul Agon said, "L'Oréal has delivered its strongest first half like-for-like growth in more than a decade, outperforming a dynamic market which has, for the second year running, posted one of its highest-ever growth rates."
While L'Oréal Travel Retail Managing Director Vincent Boinay cautions against any over-optimism following such spectacular results, his mood is undeniably upbeat.
"At the end of the day, look at the curve of this activity. Look at the fundamentals: international traffic is up five to six percent. Airports are mushrooming around the world. And China said they will open 70 airports in the coming five years. A secondary airport in China would be a number one airport anywhere else in the world."
Travel retail will grow on the back of such traffic and infrastructure in emergent markets, but more mature locations are also set to flourish, he believes, citing the example of Paris Charles de Gaulle Airport. "Charles de Gaulle five years ago was not on the map of travel retail; today it is, because they have done a great job. And they are not the only one.
"When we look at the world today, the challenge remains in the US where the potential is immense, but it is probably actually a frontier [market]. People say it's a mature market and that there are a lot of customers. But it's very low spending and that's probably linked to the facilities, to the airports and often to the quality of retail."
Elsewhere, the prognosis is consistently upbeat. The mantra of 'Beauty for all travellers' is clearly paying off.

The Moodie Davitt eZine
Issue 267 | 17 September 2019
The Moodie Davitt eZine is published 20 times per year by The Moodie Davitt Report (Moodie International Ltd).

© All material is copyright and cannot be reproduced without the permission of the Publisher.
To find out more visit www.moodiedavittreport.com and to subscribe, please e-mail sinead@moodiedavittreport.com