---
Turmoil on the streets, silence
in the stores
Hong Kong International Airport this week posted its biggest year-on-year fall in passenger numbers for a single month in a decade. With the political crisis and street protests showing no sign of easing, The Moodie Davitt Report Senior Retail and Commercial Analyst Min Yong Jung examines the repercussions for travel retail.
Hong Kong Financial Secretary Paul Chan has called for violence to be replaced by dialogue as he revealed that tourism for the special administrative region plunged by almost -40% year-on-year in August.
In a post written in traditional Chinese, Chan said that tourism in Hong Kong had suffered a year-on-year decline much worse than the -5% drop seen in July. He added that the occupancy rates of hotels had more than halved and that the retail and catering industry were both suffering similar declines.
Reliable industry sources contacted by The Moodie Davitt Report claim downtown duty free sales in Hong Kong were off by over -50% for August

A timeline of events detailing the growing unrest in Hong Kong and a month-by-month look at the effect on passenger traffic
"The local social events of the past few months, especially the continuous violent shocks, blocking airports and roads have severely damaged Hong Kong's international image as a safe city, trade, aviation and financial centre, and have also hit the local economy, including tourism, The impact on the retail and hospitality sectors is particularly severe," Chan said.
Chan's statement added: "The most worrying thing is that the road ahead does not seem to be easy to get better… I hope that everyone can let go of their differences, stop the violence, replace the opposition with dialogue, and find a viable and constructive way out for the Hong Kong society."
As reported, months of protests have shaken the previously stable luxury retail market in Hong Kong. The Hong Kong Retail Management Association reported a -11.4% year-on-year decline in retail sales for July and has predicted an even bigger drop for August. The luxury market and consumer discretionary sector of the economy remains most affected with sales dropping -16.4% year-on-year compared to consumer staples such as food, supermarkets and fuel declining a mere -0.4%. One of the world's leading luxury brands posted an -80% year-on-year slump in downtown Hong Kong sales during a calamitous August, The Moodie Davitt Report has learned.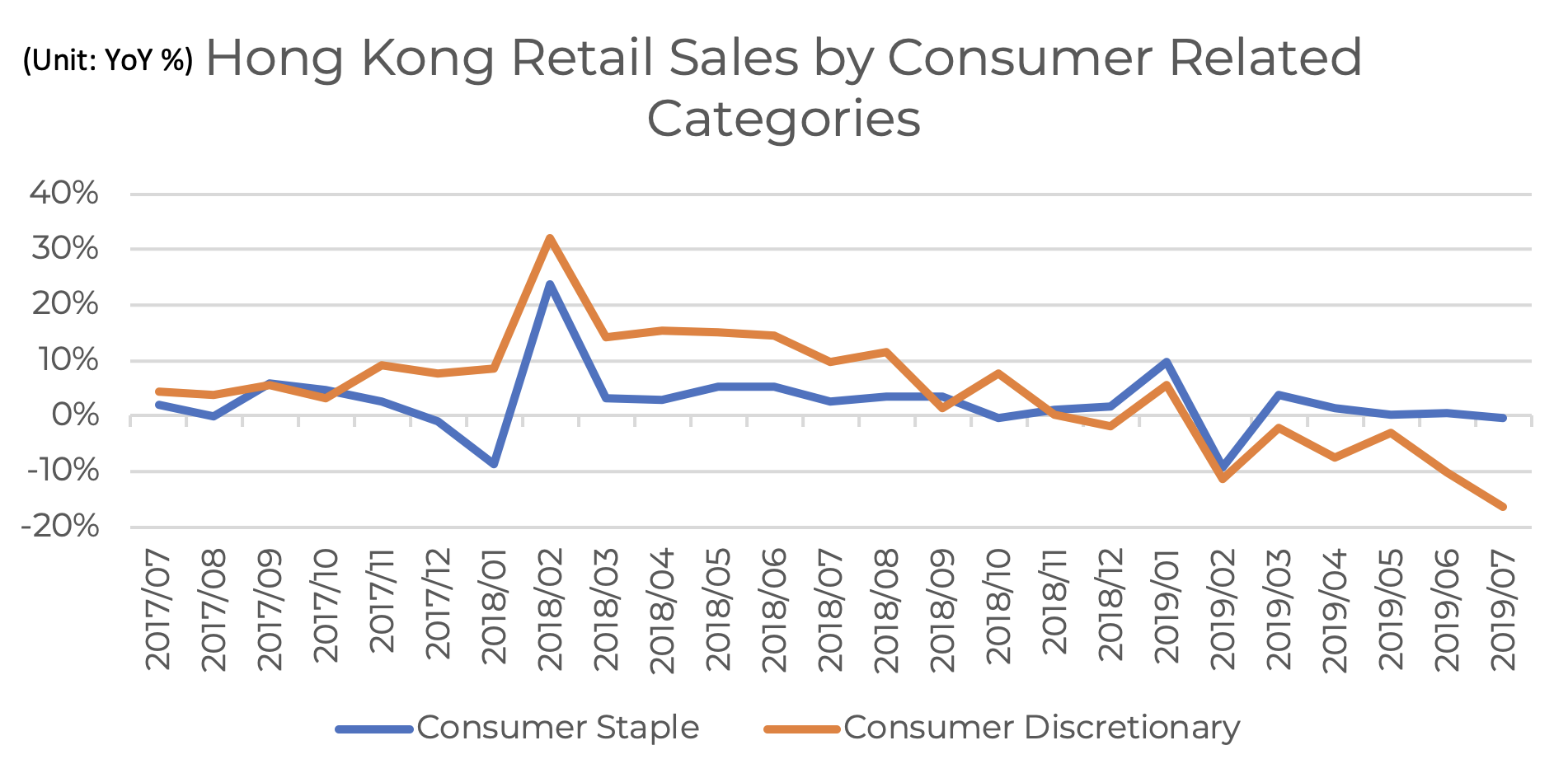 Source: Census and Statistics Department Hong Kong Special Administrative Region, Moodie Davitt Business Intelligence Unit
Note: Consumer staples = food, alcoholic drinks, tobacco, supermarkets and fuel. Consumer discretionary = clothing, footwear, consumer durables, department store, jewellery, watches, clocks, valuable gifts, medicine and cosmetics.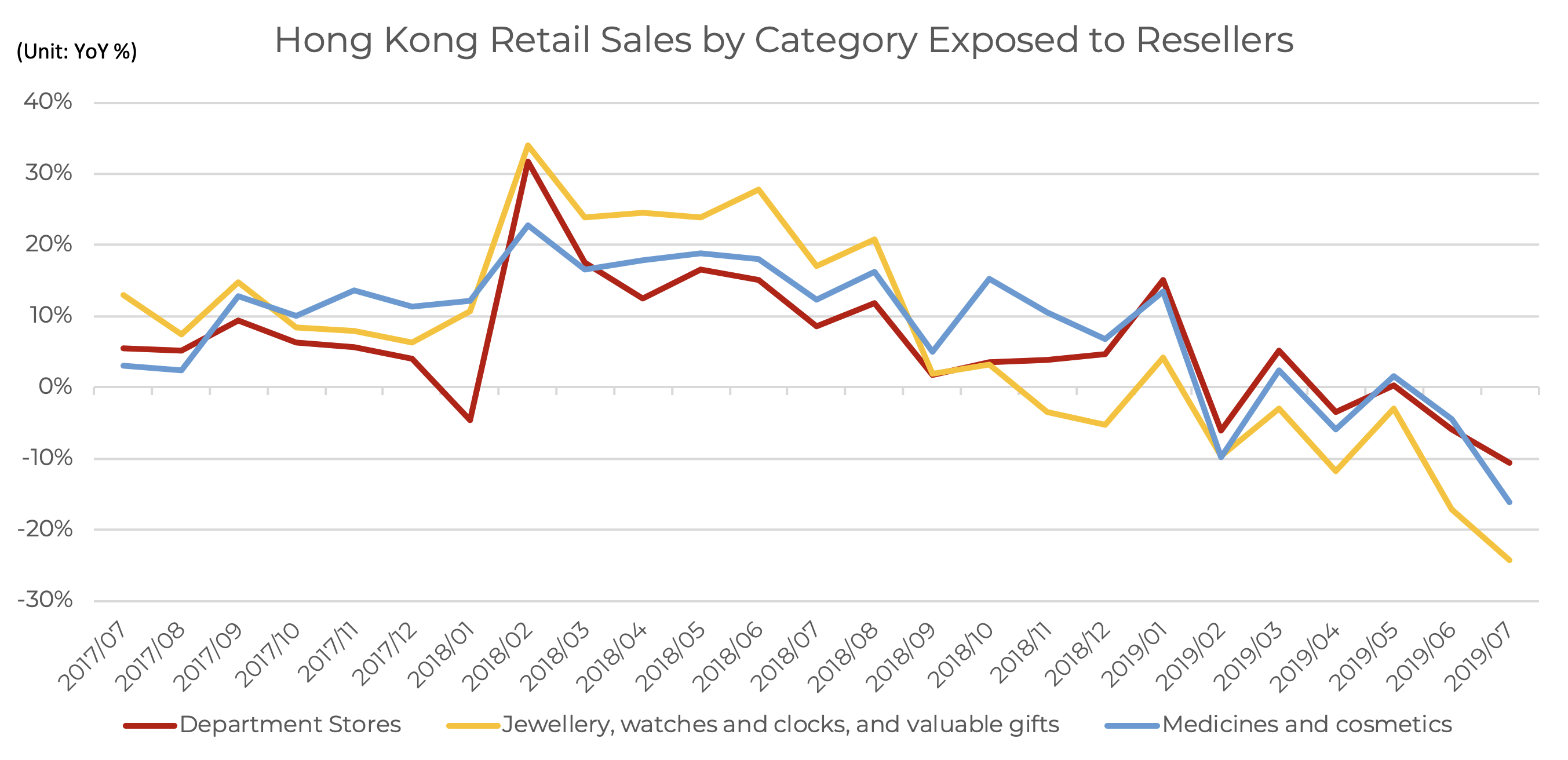 Source: Census and Statistics Department Hong Kong Special Administrative Region, Moodie Davitt Business Intelligence Unit
Hong Kong's government recently agreed to one of the demands of the protesters by withdrawing the controversial extradition bill. But protesters remain adamant all goals of the protest movement must be accepted. Despite the government's decision to withdraw the bill to amend the extradition law, the protesters are still striving for
Retraction of the characterisation of the protests as 'riots';
Release and exoneration of arrested protesters;
Establishment of an independent commission of inquiry into police behavior;
Universal suffrage for Legislative Council and Chief Executive elections;
Resignation of Hong Kong Chief Executive Carrie Lam.
The protests, which started on 31 March, show little signs of abating. Protesters staged large protests on the weekends of 7-8 and 14-15 September and plan more rallies.
Protesters have also twice brought a halt to flights at Hong Kong International Airport (HKIA) and have caused severe disruption to operations in order to promote their cause to international travellers. The 3rd largest airport in the world and Asia's busiest international hub posted a -12.4% decline in passenger numbers this August – its biggest monthly decline in a decade.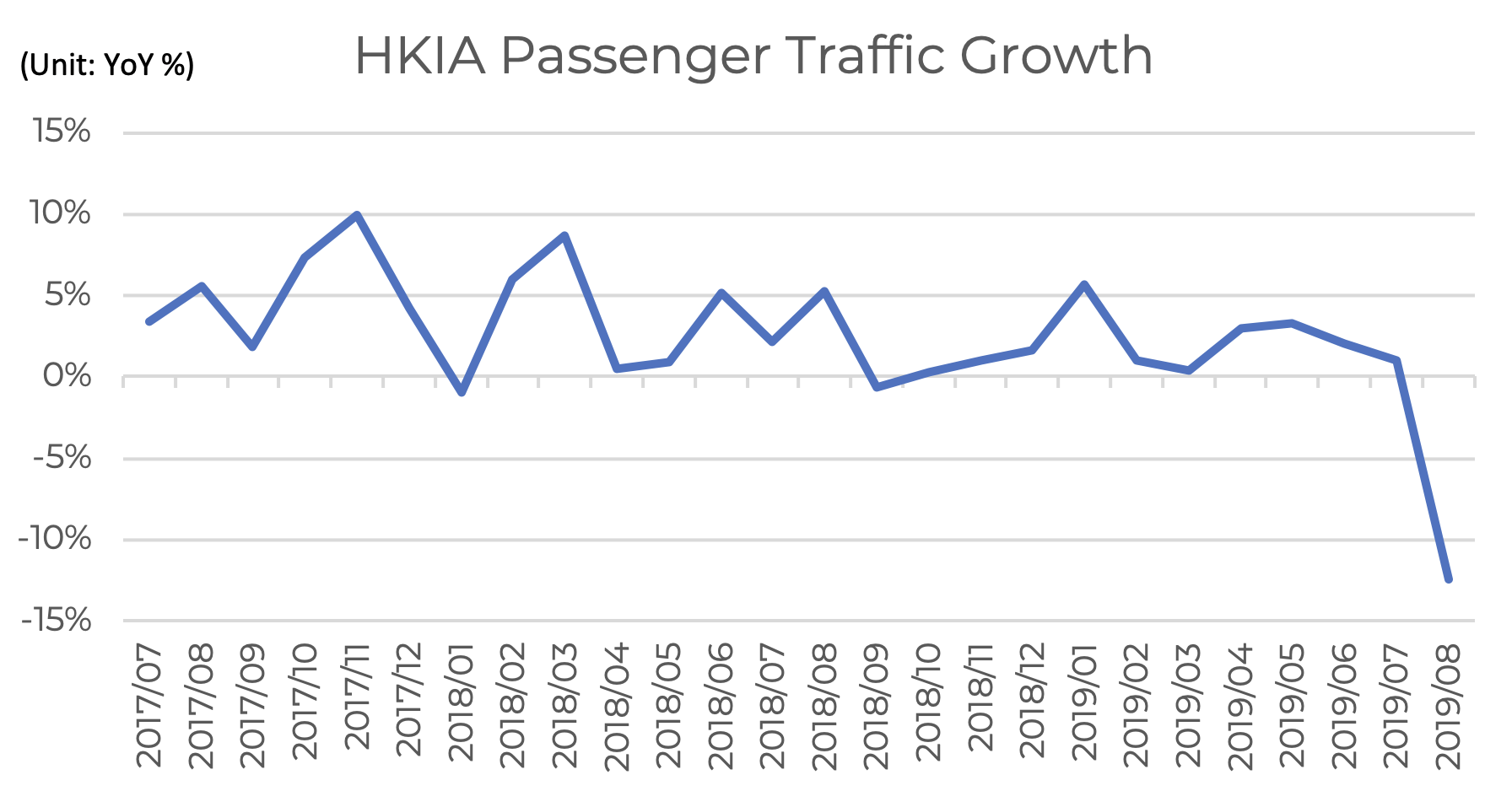 Source: Hong Kong International Airport, Moodie Davitt Business Intelligence Unit
Cathay Pacific also posted a -11.3% slump in total passenger traffic (including subsidiary Cathay Dragon) for August – again a decade-long biggest monthly drop. Reliable industry sources contacted by The Moodie Davitt Report claim total retail sales at HKIA were down -15% and downtown duty free sales off by over -50% for August.
While it is difficult to calculate how long the protests will last and therefore how prolonged the drop in Hong Kong's inbound visitors will be, previous cases that have resulted in a decline of Chinese visitors to other countries suggest declines could continue for between 11 to 15 consecutive months. A specific look towards how Chinese visitors react is important because Mainland Chinese visitors accounted for 78.3% of total visitors to Hong Kong in 2018.
Diplomatic tension between China and Japan over the territorial sovereignty of Senkaku Islands in September 2012 resulted in Chinese visitors to Japan declining for 11 consecutive months before regaining ground.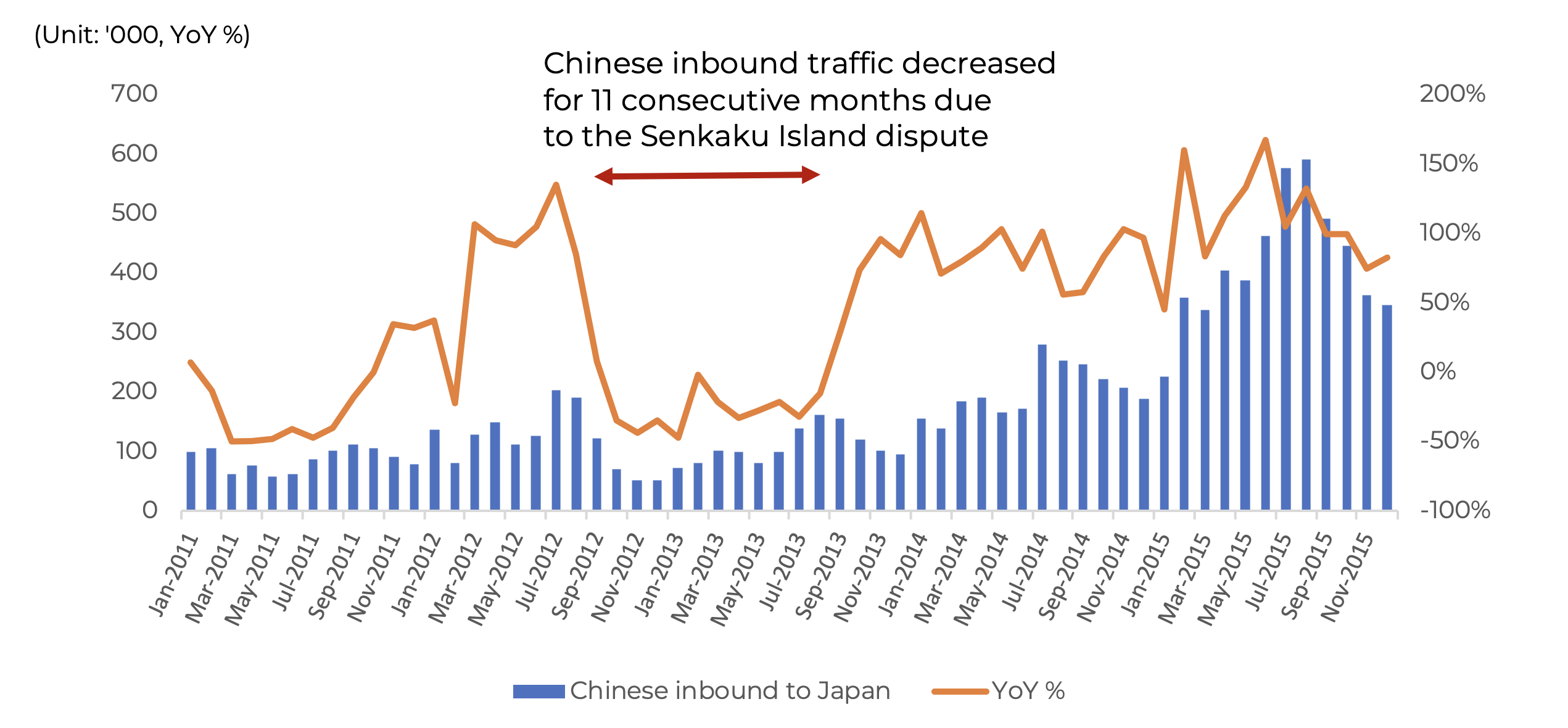 Source: Japan National Tourism Organization, Moodie Davitt Business Intelligence Unit
Similarly, the inauguration of President Tsai Ing-Wen, who openly opposed China's 'One China' policy, in May 2016 resulted in Chinese visitors to Taiwan declining for 15 consecutive months.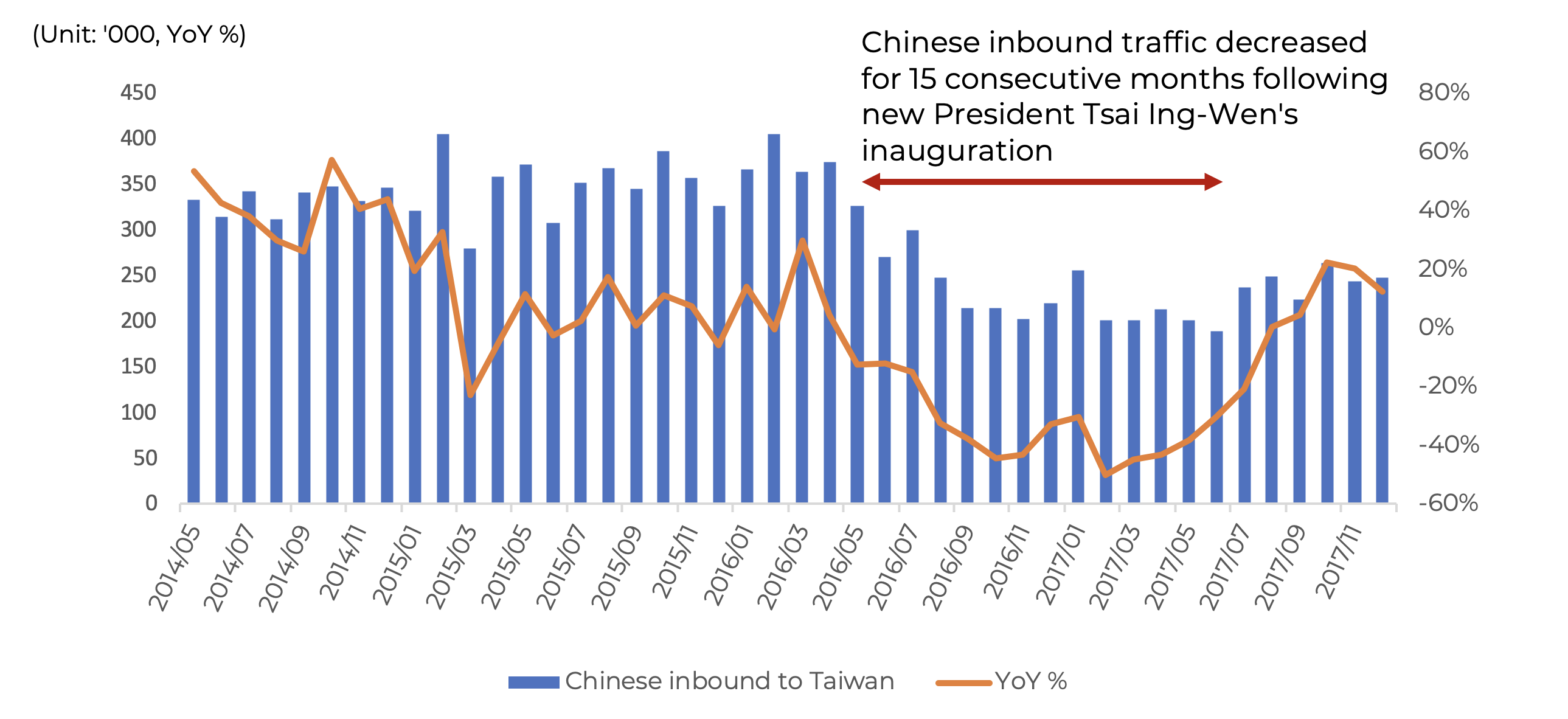 Source: Ministry of Transportation and Communications, Moodie Davitt Business Intelligence Unit
As always in such a crisis, where there are losers there will be winners. A decline in visitors to Hong Kong, mainly Chinese, will likely result in gains for Thailand, Singapore, Vietnam, Japan and Korea. The crucial Mid-Autumn Festival began in China on 13 September and according to Chinese Travel website Tuniu, 25% of Mainlanders chose international locations and 36% chose domestic destinations for travels during the holiday period. The top ten international destinations outlined by the website were Japan, Thailand, Indonesia, Maldives, Germany, Russia, France, Malaysia, Switzerland and Italy.
In the wake of the protests, Fitch Ratings downgraded Hong Kong's rating on Friday 6 September from AA+ to AA.

The Moodie Davitt eZine
Issue 267 | 17 September 2019
The Moodie Davitt eZine is published 20 times per year by The Moodie Davitt Report (Moodie International Ltd).

© All material is copyright and cannot be reproduced without the permission of the Publisher.
To find out more visit www.moodiedavittreport.com and to subscribe, please e-mail sinead@moodiedavittreport.com