Craft spirits special report
---
Masters of the craft
Demand for artisanal, craft alcohol continues to surge, providing an opportunity for travel retail to attract a new generation of customers. The Moodie Davitt Report's Head Wines & Spirits Correspondent Liam Coleman talks to brands and retailers that are championing one of the sector's most dynamic sub-categories.
There is a huge opportunity for travel retailers to capitalise on craft spirits today, especially with growing numbers of travellers that are curious about the provenance, heritage and ingredients of brands.
The size of that opportunity looks even greater when one considers the keen interest among many millennials in products that tell a great story, and which are best sold and explained in an interactive and engaging environment. Travel retail, at its best, can play a lead role in developing that narrative.
But what are these consumers looking for in terms of artisanal products and experiences?
"We are speaking about small batch, local products, niche brands, disruptive offers. Brands with a story," says Lagardère Travel Retail Head of Beverage & Tobacco Guillaume Robert.
This is a point echoed by DFS Group Group Director of Merchandising Spirits, Wine & Champagne Frederik Vanden Bulcke. He says: "Craft to us is a celebration of small-batch, high quality beers and spirits that are often infused with local ingredients and innovative flavours that embody a unique identity and heritage.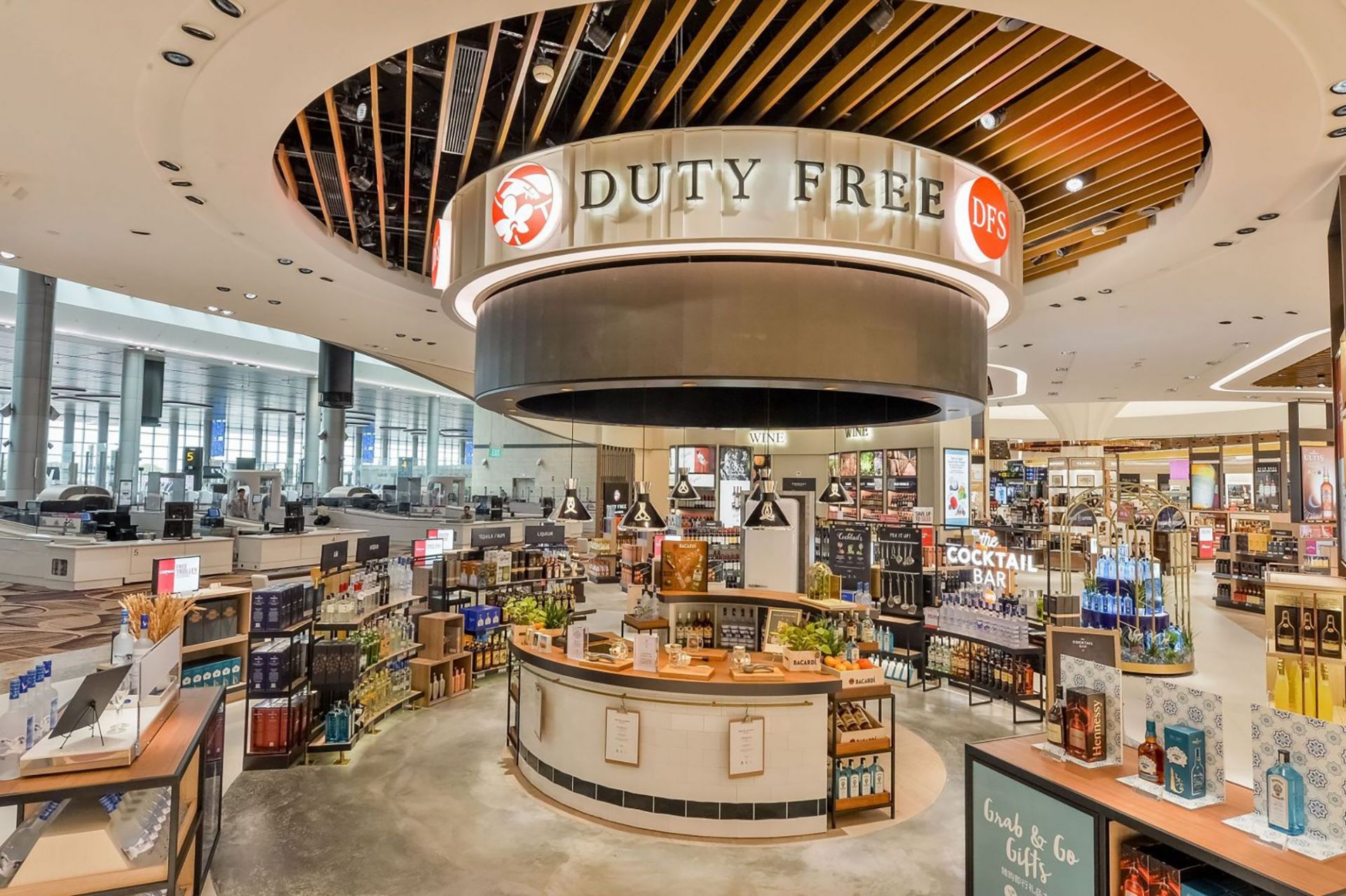 This Cocktail Bar at Changi Airport Terminal 4 offers an immersive opportunity to capitalise on the current millenial love of mixed drinks
"It celebrates the stories and passion of a new generation of brewers and distillers who put innovation, authenticity and local culture into everything they do. Today's drinkers are often seeking niche brands that exemplify precisely that, and DFS is proud to maintain its market-leading position by offering interesting brands with a strong story that reflect true artistry of craftsmanship."
From a brand perspective, Halewood Wines & Spirits Managing Director Global Travel Retail Simon Roffe says that demand for craft spirits from millennials is in part driven by the rise of cocktail culture: "There is a cocktail trend in metropolitan bars, which fuels demand for base spirits that will mix well in long drinks. As the choice of interesting craft spirits grows, so the appetite for unusual profiles becomes more voracious."
To make the most of this blend of curiosity and thirst for newness, DFS is running the Changi Cocktail Festival for a second time in Singapore. The event, which is taking place across all four terminals of the airport during September and October, gives customers the chance to taste spirits and recreate cocktails from across the world.
The base spirits used and promoted as part of the festival – Whitley Neill, Marylebone and Sipsmith for gin; Santa Teresa for rum; Copper Dog and Legent for whisk(e)y; and Ketel One for vodka – are by and large small-batch, niche brands.
Changi Airport Group Senior Vice President of Airside Concessions Teo Chew Hoon comments: "With the resurgence of the cocktail culture… this will be an all-round novel experience for the millions of passengers who fly through Changi Airport."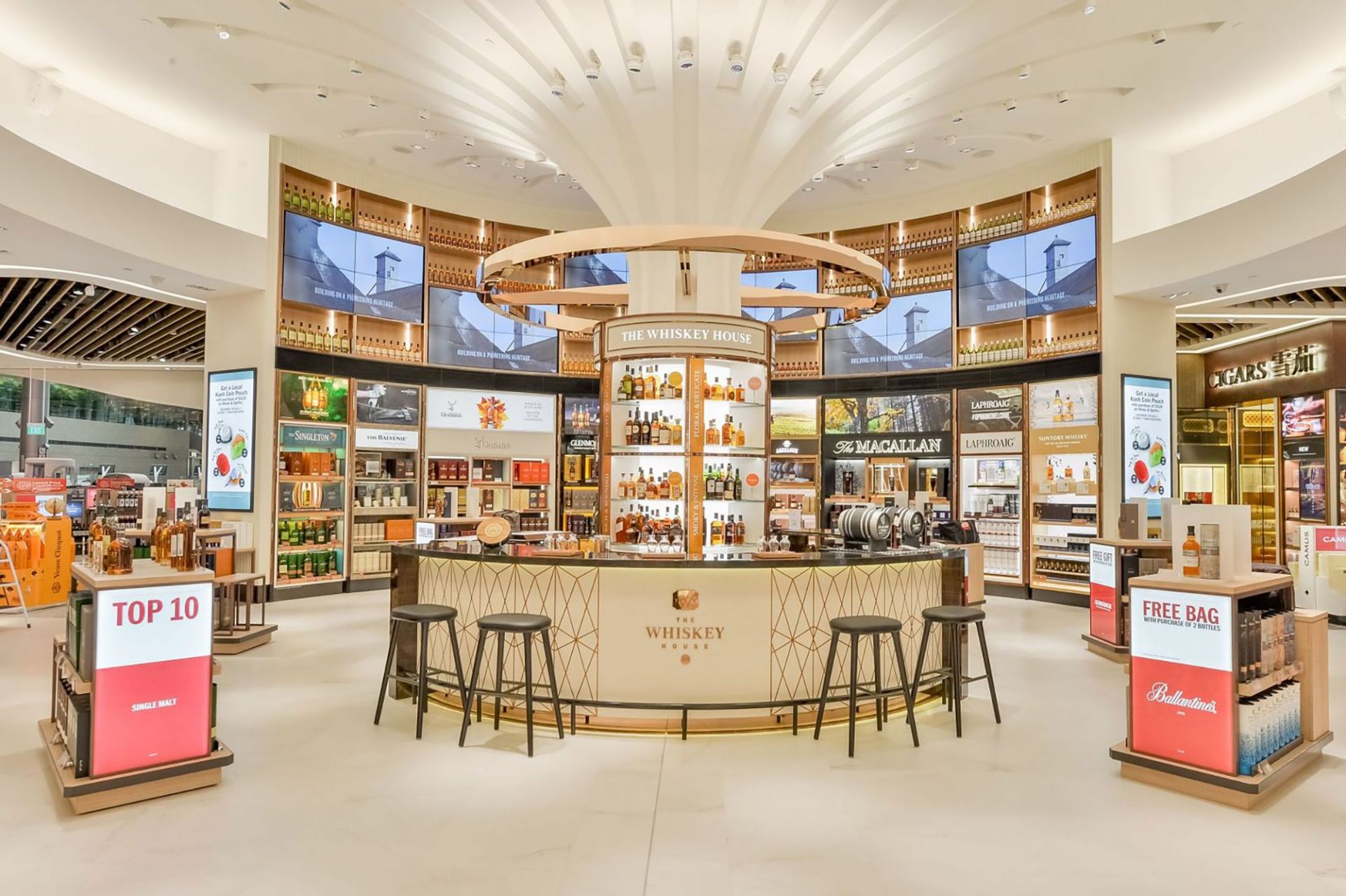 The Whiskey House in Terminal 4 of Changi sees smaller artisan brands alongside bigger names
Furthermore, some of the SKUs introduced for the Cocktail Festival are either new to the Asian market or Changi exclusives, such as the Sipsmith Raffles 1915 Gin. This serves to enhance the Sense of Place at the airport, which fits demand for local products.
"This [the Cocktail Festival] is a reflection of DFS's commitment in providing our customers with a curation of the very best. Knowing that localisation is a huge shopper motivation, we partner with brands small and large to develop localised editions exclusive to DFS through liquid or packaging differentiation," Vanden Bulcke says.
He adds that this is by definition more possible with craft liquor brands: "We work closely with craft distillers on DFS limited editions and exclusives. Since they are smaller scale, they are more flexible in developing such exclusive items."
He continues: "Differentiation is key. Each product must have a reason why it is on our shelves, be it the quality of liquid, the brand story, its rarity or exclusivity, or a price value perspective.
"Localisation is rapidly becoming an important element when it comes to selecting our assortment, in particular for regions like North America. Over the last year, we have built up a localised spirits assortment for our airport locations in San Francisco, Los Angeles and New York to great success – some of these are actually our top performing brands in the region.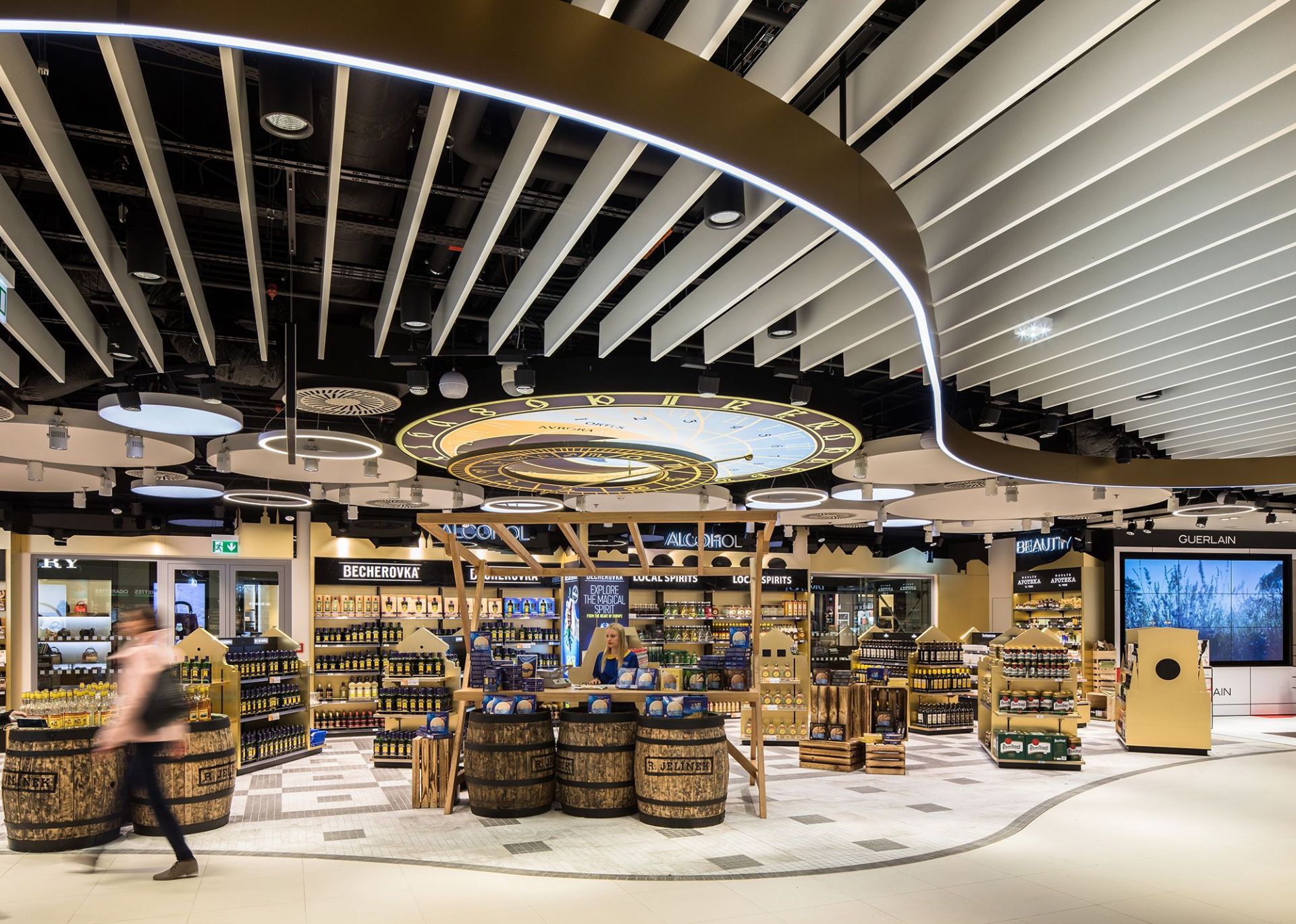 Art of the artisan: Lagardère has curated a rustic-themed environment built around local brands at Václav Havel Airport Prague
"These brands make the perfect gift or souvenir, while representing exceptional quality as many of them are produced in small batches and demonstrate strong innovation when it comes to liquid and packaging."
Gebr Heinemann too has been talking up the role of craft. As we reported previously, Gin Sul is not only the best-selling gin at Hamburg Airport, it is the best selling liquor SKU. Other brands are making their mark too. As Chief Commercial Officer Kay Spanger told us: "Harahorn is a Norwegian gin we helped develop with a partner. We tried it in other places and sold 2,000 bottles in Frankfurt. So for them travel retail is their way to develop outside their home market. We see more of this happening."
From a brand perspective, Roffe adds: "The unique nature of the travel retail landscape means that speciality areas can be presented as the home of local hero brands and destination products which can be purchased as souvenirs as well as gifts."
Craft spirits don't always find their voice in travel retail; it's no easy task when they are set against traditional powerhouse brands, which continue to dominate. DFS Group, a pioneer of the category at Singapore Changi Airport over nearly 40 years, was one of the first to allocate craft its own area at Terminal 4.
"We opened the Craft Collection with about 15 craft spirit brands and five craft beer brands in 2017," Vanden Bulcke says. "We currently house up to 50 brands globally, where we are constantly rotating and refreshing our assortment so that we can offer newness and surprise to our customers traveling. The Craft Collection features warm and enticing merchandising - blending conversational signage, product educational information and decorative, lifestyle elements. Tasting is a critical component of the experience, with three craft beers permanently available for tasting on draught tap."
Having decided not to bid in the latest liquor & tobacco tender, DFS will exit the concession it has run for nearly 40 years in June 2020. It means there will be high expectations on the new partner – whether that is Lotte Duty Free, The Shilla Duty Free or Gebr Heinemann – to create a compelling environment with a focus on craft liquor that matches DFS's fine executions.
DFS itself is weighing up introducing the Craft Collection as a concept across its more airport operations elsewhere, Vanden Bulcke adds, although there are relatively few where it runs a large spirits business.
He says: "We recognise the importance of a great and immersive in-store experience, particularly when it comes to craft spirits. We ensure that, where possible, tasting bars are part of our store designs and we partner with our brands to create interactive and disruptive brand setups.
"In fact, we have taken this further and have developed our own proprietary concepts such as The Cocktail Bar, The Whiskey House or the Craft Collection. These spaces are designed and developed by DFS, and then we invite brands to overtake and activate their brand identity. These concepts form the anchor of our Changi Airport stores and are being rolled out to additional stores," he says.
More retailers are introducing proprietary concepts to promote craft in the travel environment.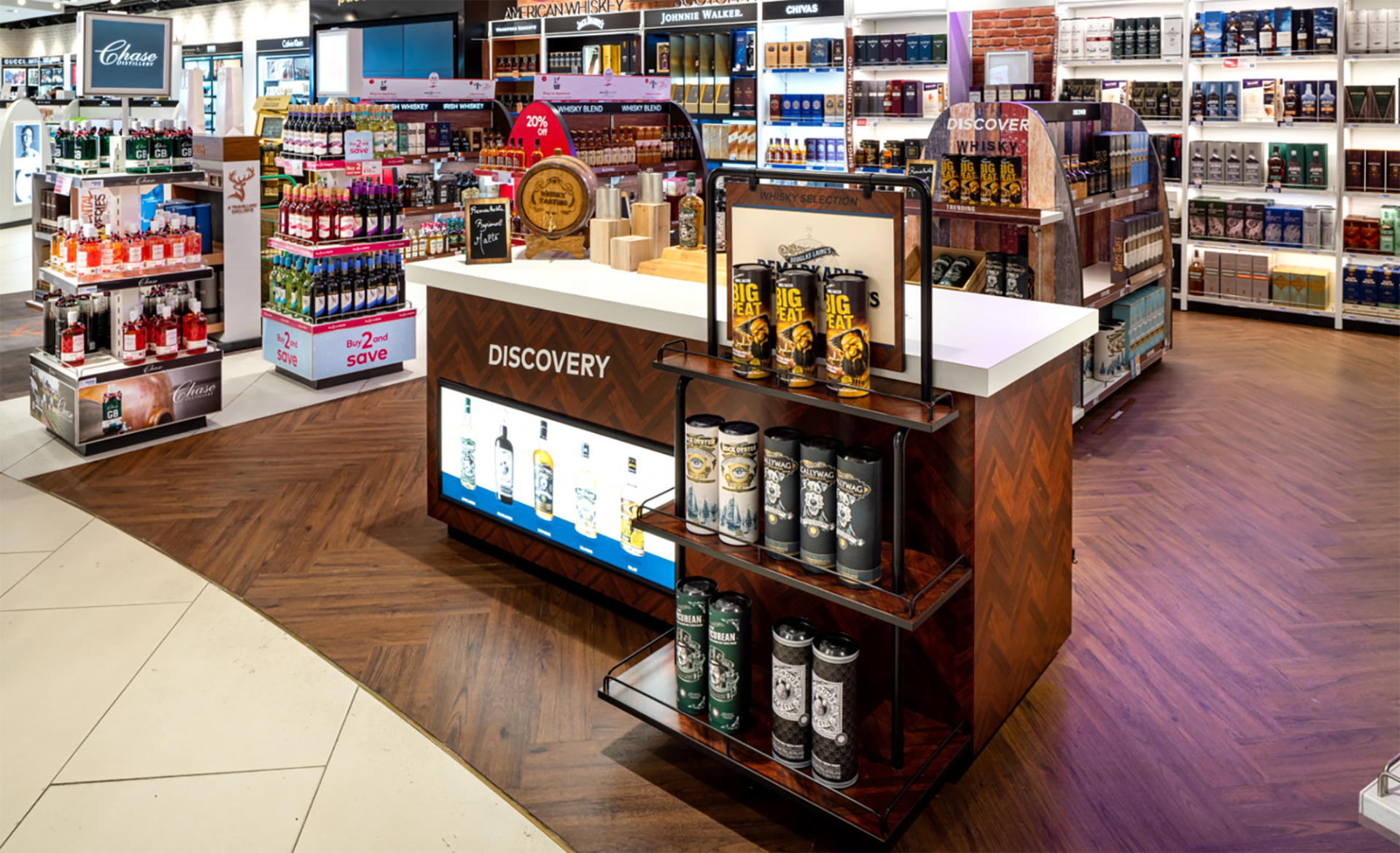 The Discovery Area in Lagardère Travel Retail's store at London Luton Airport is an inviting environment for showcasing new craft brands
Lagardère Travel Retail has introduced the Discovery Area, which the retailer says is an opportunity to both promote new brands and attract new consumers passing through the airport.
Robert adds that such zones can act as a gateway to attracting new consumers to the retailer's wider offer.
Heinemann aims to go further with the focus on craft, with opportunities in rum, tequila and even mescal, according to Kay Spanger. Gin however remains a core driver of craft for the Hamburg-based retailer.
Earlier this year Heinemann ran a promotion called Ginspiration Days at Copenhagen Airport to promote both craft gin newcomers and more established brands, a campaign that proved so successful it will now be introduced by the retailer in other airport environments.
Gebr Heinemann Head of Activity Management Liquor Tobacco Confectionery & Food Ann-Kathrin Fürer says: "The Ginspiration Days represents a perfect example of creating a powerful experience that promotes the distinctiveness of the travel retail environment.
"Above all, the combination of regional and global brands, as well as top sellers and newcomers, makes the experience highly varied for passengers. It's further proof that special travel retail campaigns can contribute to reaching amazing results for our brands."
Meanwhile, Dufry has partnered with craft spirits brands to run eye-catching in-store promotions. A recent campaign in partnership with Chase Distillery saw a Land Rover car take over part of the store in a number of airports to draw attention to the brand before customers were invited to try the products.
Speaking about the positive impact of that campaign, Chase Distillery Business Development Manager Global Travel Retail Katherine Berry adds: "Large-scale activations and sampling have really worked for Chase to help portray our unique 'Field to Bottle' message. We have recently invested heavily in our first ever advertising campaign 'All in the Chase', which celebrated the Chase business championing field-to-bottle spirits. In travel retail, 'All in the Chase' made its out-of-home advertising debut in Heathrow Terminal 2 as part of a six-week JCDecaux digital campaign."
A proprietary concept that Dufry (World Duty Free) has seen deliver boutique brands to travellers over many years is World of Whiskies. For two decades, in fact, it has helped champion rare, small-batch craft whisky brands alongside collectibles from the larger whisky houses. One could say that this represented the first true craft liquor concept in travel retail.
Yet craft whisky is not a new trend in the same way as craft is for other spirits, and Halewood's Roffe says that other spirits should be given the same treatment by the biggest duty free retailers. "It would be wonderful to have distinct 'Craft Gin Collection', 'Artisan Rum Range' and 'Premium Vodka Variety' areas in travel retail to spotlight these small suppliers," he argues.
Other brands agree that more can be done by retailers to capitalise on the potential of craft. Tito's Managing Director International John McDonnell says that his brand aims to create a sense of in-store theatre through sampling and that retailers should maximise engagement opportunities like this. "Engaging with consumers is key to success, so we implement sampling initiatives to get consumers to experience the Tito's taste profile and create retail theatre, so they learn about the Tito's craft story at the same time," he says.
Katherine Berry from Chase Distillery adds: "[I would like retailers] to be able to offer the craft spirit brands the opportunity to activate at key trading periods to really maximise growth and to also portray their key brand messaging."
That is the challenge for some, but also the category's wider opportunity. Consumer curiosity about craft is acute, and with the right space and the right products, travel retail environments can tell a story like no other channel.

The Moodie Davitt eZine
Issue 267 | 17 September 2019
The Moodie Davitt eZine is published 20 times per year by The Moodie Davitt Report (Moodie International Ltd).

© All material is copyright and cannot be reproduced without the permission of the Publisher.
To find out more visit www.moodiedavittreport.com and to subscribe, please e-mail sinead@moodiedavittreport.com