---
Dufry, Lagardère Group and Hudson enjoyed a period of recovery on the stock market (closing prices between 28 August and 11 September) after experiencing 52-week lows last time (between 29 July and 28 August).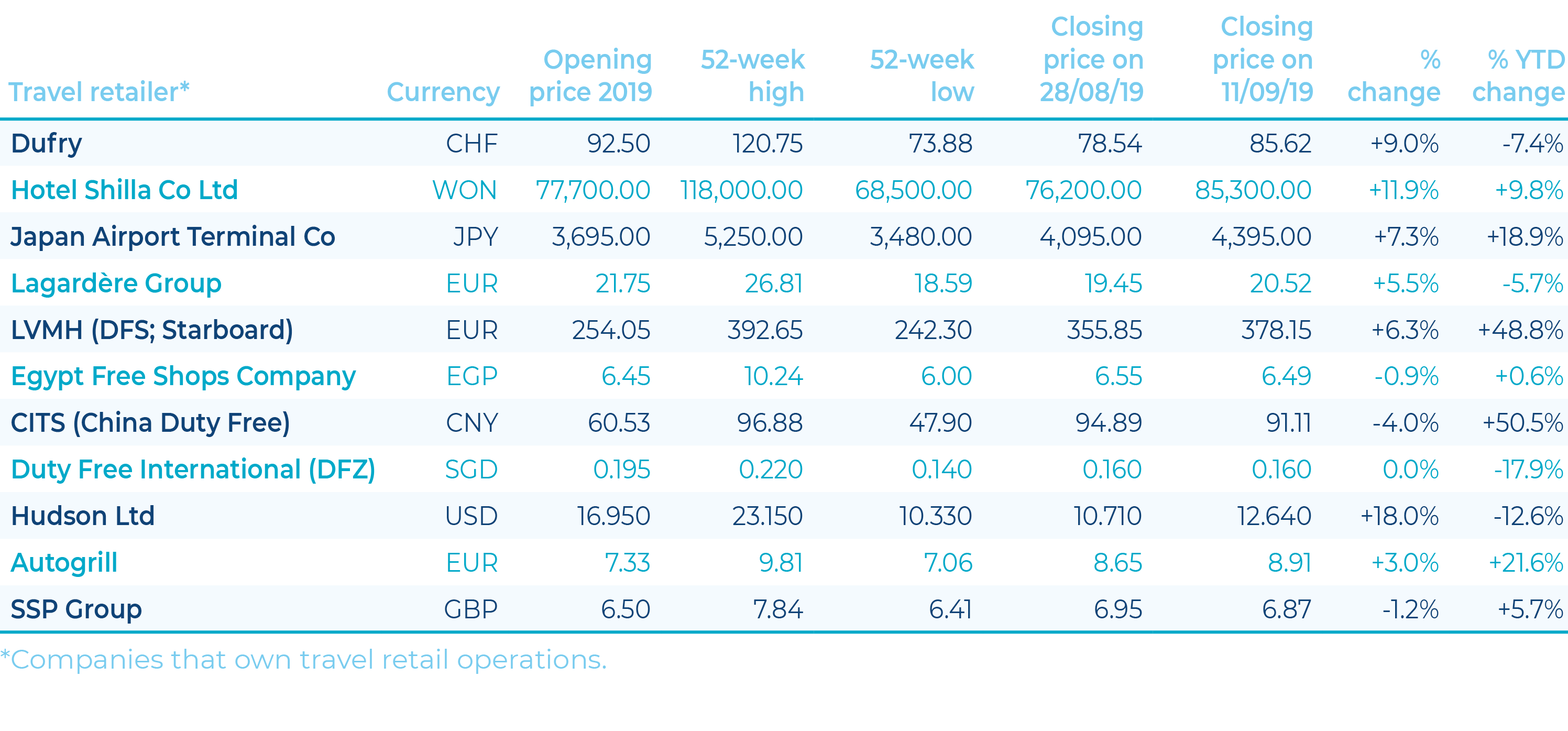 Shares in Hudson rose +18%, although that price is still -12.6% below where it sat on 1 January and -45.4% down from the company's 52-week high.
Shares in Hudson's parent company Dufry were up +9% in the current period, while shares in Lagardère Group rose +5.5%. The retailers' stock prices are down -7.4% and -5.7% respectively since the start of the year.
China Duty Free Group parent China International Travel Service (CITS) was the only player among the travel retail-related companies we track in this column to see its share price increase compared to last time.
It was one of only a few to see its price drop this time, by -4%. No alarm bells should be raised though; the company is still our top performer in 2019 with a year-to-date differential of +50.5%.
DFS co-parent LVMH Moët Hennessy Louis Vuitton is now just behind CITS, with shares in the company up +48.8% since 1 January. A +6.3% increase was recorded in the current period.
Food & beverage company Autogrill and Japan Airport Terminal Co are also performing well in 2019, although their respective year-to-date differentials of +21.6% and +18.9% are still some way behind our top two. Shares in Autogrill rose +3% in the current period, while shares in Japan Airport Terminal Co were up +7.3%.
After Hudson, The Shilla Duty Free's parent company Hotel Shilla was the biggest riser on the stock market this time, in terms of percentage increase, at +11.9%. The company made a strong start to 2019 but shares have fallen sharply since the beginning of May, but its stock price is still +9.8% ahead of where it was on 1 January.

The Moodie Davitt eZine
Issue 267 | 17 September 2019
The Moodie Davitt eZine is published 20 times per year by The Moodie Davitt Report (Moodie International Ltd).
© All material is copyright and cannot be reproduced without the permission of the Publisher.
To find out more visit www.moodiedavittreport.com and to subscribe, please e-mail sinead@moodiedavittreport.com