Stories of the year
2018 has been a memorable year, veering from the sublime and spectacular to the turbulent and tragic. We round-up the biggest openings, tenders, events and other stories.
Terminal openings of the year
With its vast scale and the ambition behind it, Istanbul New Airport looks set to play a big part in defining the next decade of global aviation. It opened officially but only partially on 29 October, but it will be next year before it becomes fully operational and with its suite of commercial activities open to travellers.
The airport features a 32,000sq m dedicated food & beverage area, and a 52,500sq m duty free shopping zone – the largest of its kind in the airport world, managed by Gebr Heinemann and Unifree. With a capacity of 90 million passengers in phase one (of four), Istanbul is set to take an even greater share of voice in the airport world.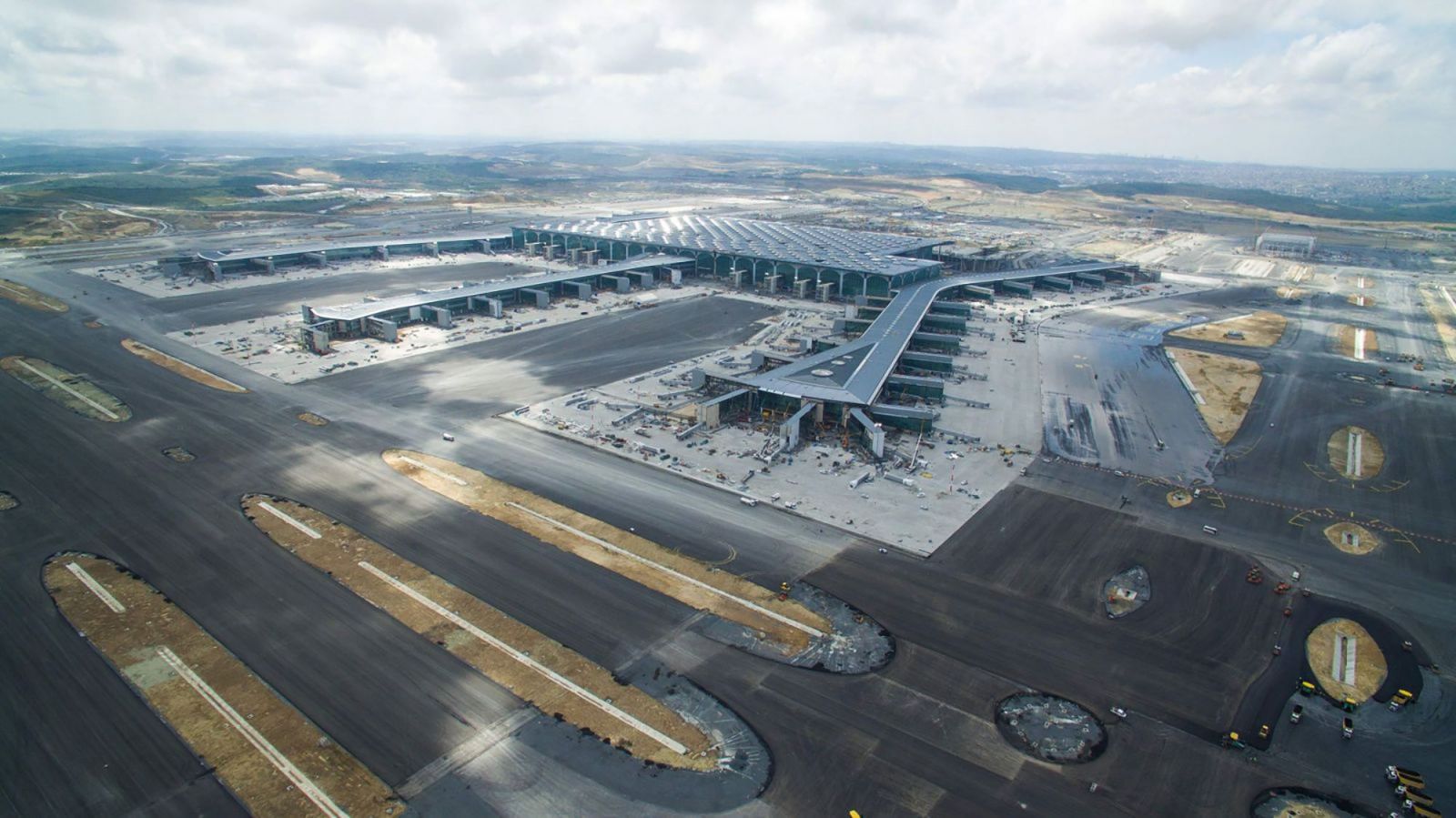 Istanbul New Airport will become the biggest in the world when it is completed, spanning a huge 76.5 million sq m and with capacity to serve 200 million passengers.
A smaller airport opening, but in its own way just as impressive, was that of the new Muscat International. The grand unveiling on 11 November (it opened to travellers in March) was among the most spectacular and memorable we have attended, and that is mirrored by an eye-catching commercial environment inside, one that blends modern executions with strong Sense of Place.
A major highlight is Muscat Duty Free's offer, which is among the highest in class within the ARI network and one of the most impressive stores of an airport of this size anywhere. It features a range of new concepts and many first-to market brands. It houses a tailored luxury range with accessible offers across all categories, and features some striking merchandising and eye-catching installations.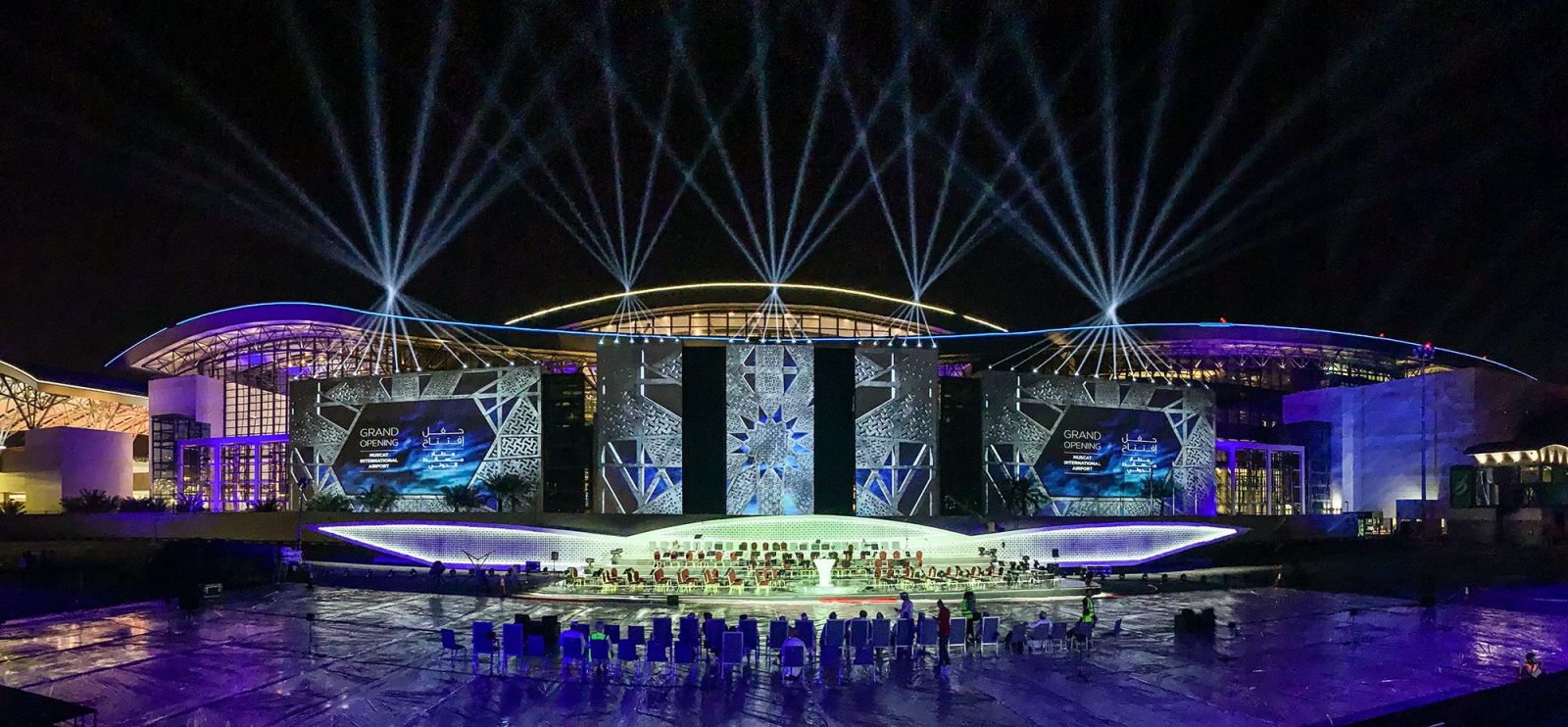 The magnificent stage created on the apron at Muscat International Airport, scene of the Grand Opening. Flight schedules were even moved to accommodate the event.
Elsewhere, the opening of Incheon International's new Terminal 2 in January represented a watershed moment in the airport's multi-phase US$5 billion expansion.
The new terminal was designed to provide extended dwell time in the shopping area while offering an environmentally-friendly, spacious and automated shopping experience. T2 has total floor space of 397,000sq m and features three times T1's indoor garden space and a +20% increase in ceiling heights. Natural lighting abounds while the 54 art displays reflect the airport's status as South Korea's main gateway.
Six duty free retailers – Lotte Duty Free, The Shilla Duty Free and Shinsegae Duty Free as well as small & medium enterprises SM; Entas Duty Free and CItyPlus – manage duty free space across a combined and in many cases deeply impressive 10,000sq m.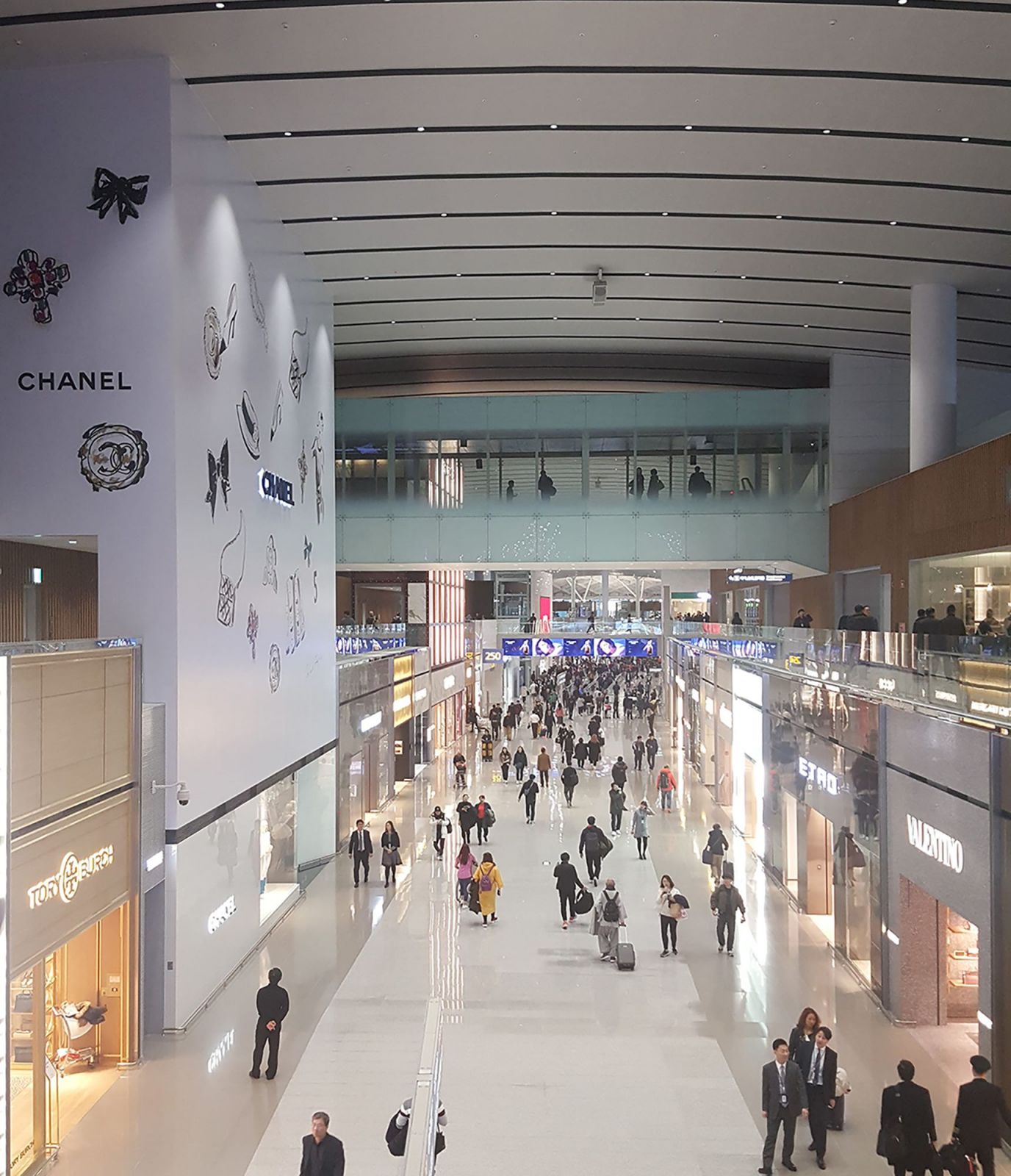 Incheon International's T2 delivers an extensive and often innovative shopping and dining experience. Incheon posted the highest duty free sales of any airport in the world in 2017.
Downtown store openings of the year
At the start of 2018, King Power International hosted one of the most spectacular store openings ever seen in travel retail, as it unveiled the redesigned, refurbished and expanded King Power Rangnam downtown duty free store.
Opened originally in 2006, King Power's biggest downtown store has undergone a transformation into a shopping, leisure and entertainment destination. The retail space covers 22,000sq m and there are over 40 new brands across the categories.
Highlights include the upscale ground floor fashion area, housing boutiques from leading luxury names. The second floor retail area is home to a vast and striking beauty zone, while the top floor is a showcase for Thailand and Thai products. At the time a celebration and symbol of Thailand's thriving tourism and travel retail industry, it now stands as a poignant reminder of the vision of King Power International Chairman Vichai Srivaddhanaprabha, so tragically killed on 27 October (see People of the year).
Shinsegae Duty Free went Gangnam-style for its own downtown store opening in July, promising a "mindmark" consumer experience. That means offering not only duty free shopping but also a Korean cultural and lifestyle immersion.
Located in Central City, Seocho-gu, Seoul, the store is spread over five floors and is part of Shinsegae's attempts to create a "tourism cluster" around the Seocho and greater Gangnam area, focusing on shopping, gourmet, art and health/wellbeing and medical services.
The store itself offers over 350 brands under three broad concepts – Young, Trendy and Luxury. The retailer said that, in particular, it had boosted its luxury shoes, watch and accessories ranges in recognition of changing luxury goods consumption patterns globally and to attract free independent tourists (FITs).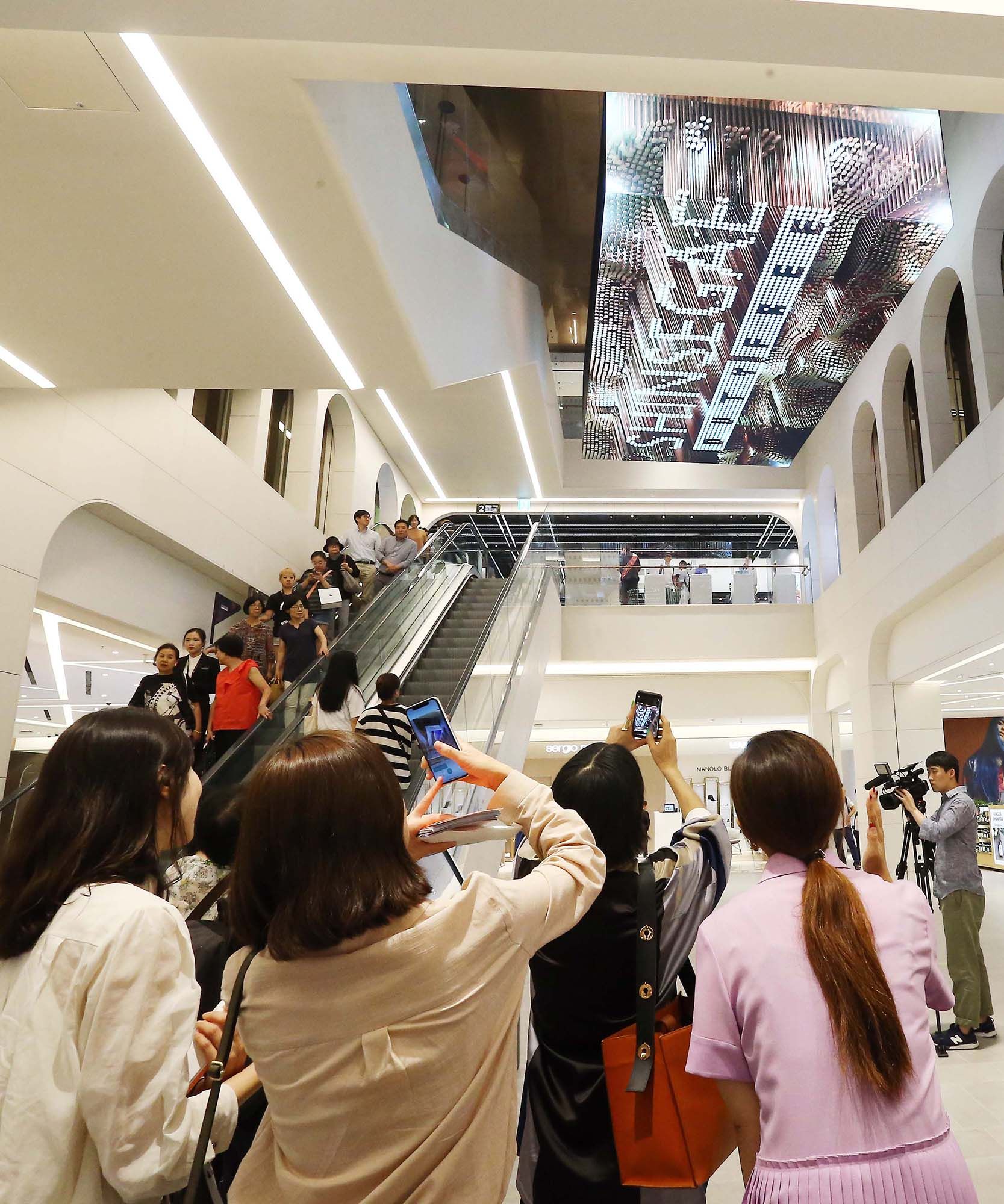 Photo opportunity: Customers entering Shinsegae's downtown store in Gangnam, Seoul, are met by a spectacular 3D media façade on 7m ceilings.
Airport store openings of the year
There were a great many striking and spectacular airport store openings in 2018. Among the highlights was the revamped World Duty Free New Generation Store at Heathrow Airport Terminal 3, at one of Dufry's critical global locations.
The New Generation Store is particularly notable for its extensive use of digital technology to boost customer engagement by connecting with the most represented nationalities (including Chinese) in their own language and addressing the individual preferences of the different passenger profiles.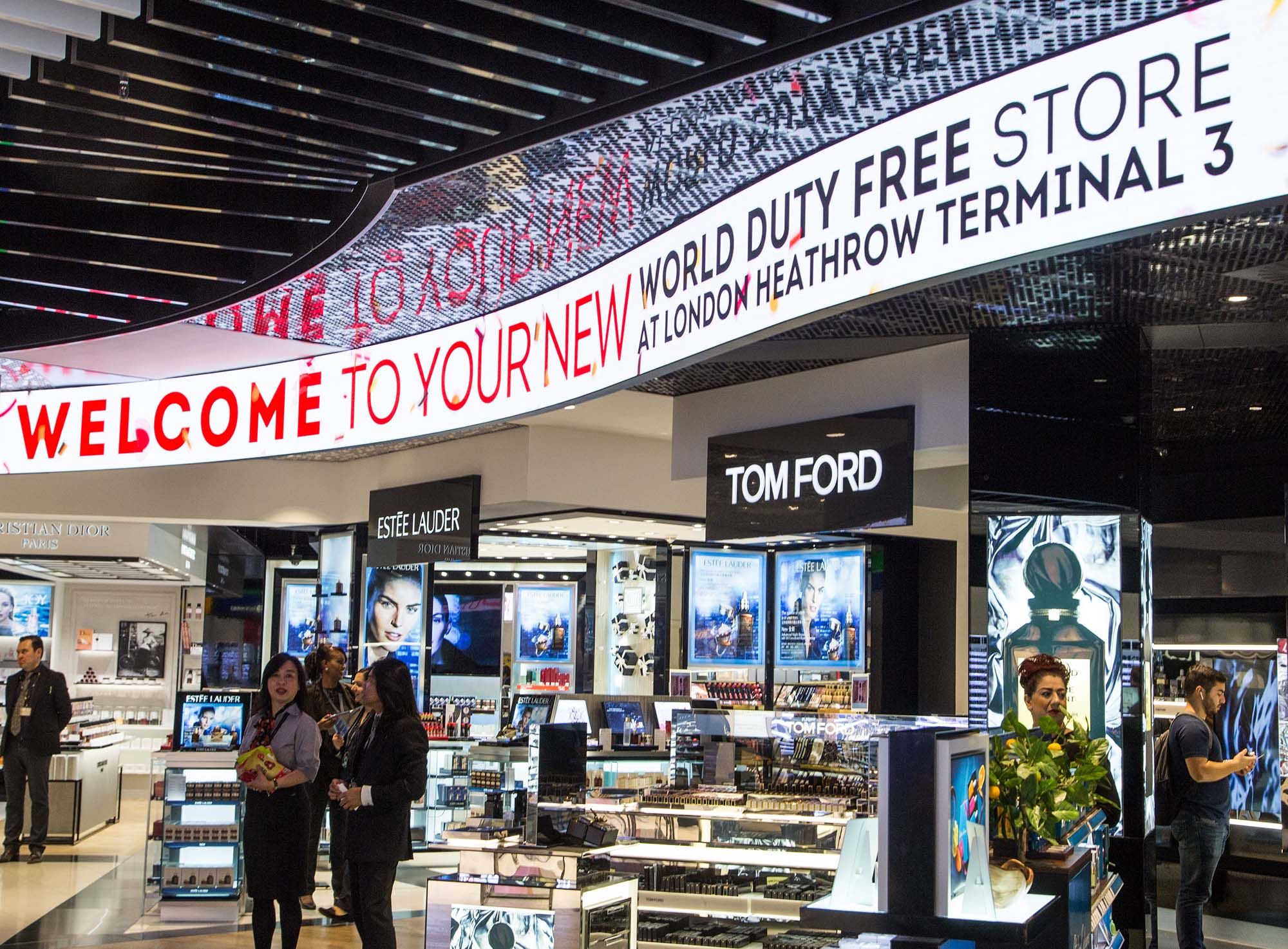 High-impact digital screens wrapped around the World Duty Free Heathrow T3 store welcomed travellers on the first day of operations, and present theatre and promotional opportunities as well as promoting a Sense of Place.
Among Gebr Heinemann's openings this year, its Imperial Duty Free store (with joint venture partner Sheremetyevo Airport) in Moscow was perhaps its most impressive. The Terminal E walk-through store certainly set a new standard for travel retailing in Russia, and Gebr Heinemann Co-Owner Claus Heinemann even called it "the best store I have seen in travel retail." That store opened alongside a new fashion accessories, watches & jewellery concept, with Moscow Sheremetyevo also home to the retailer's impressive Terminal B operations, after that facility opened for domestic travellers this year.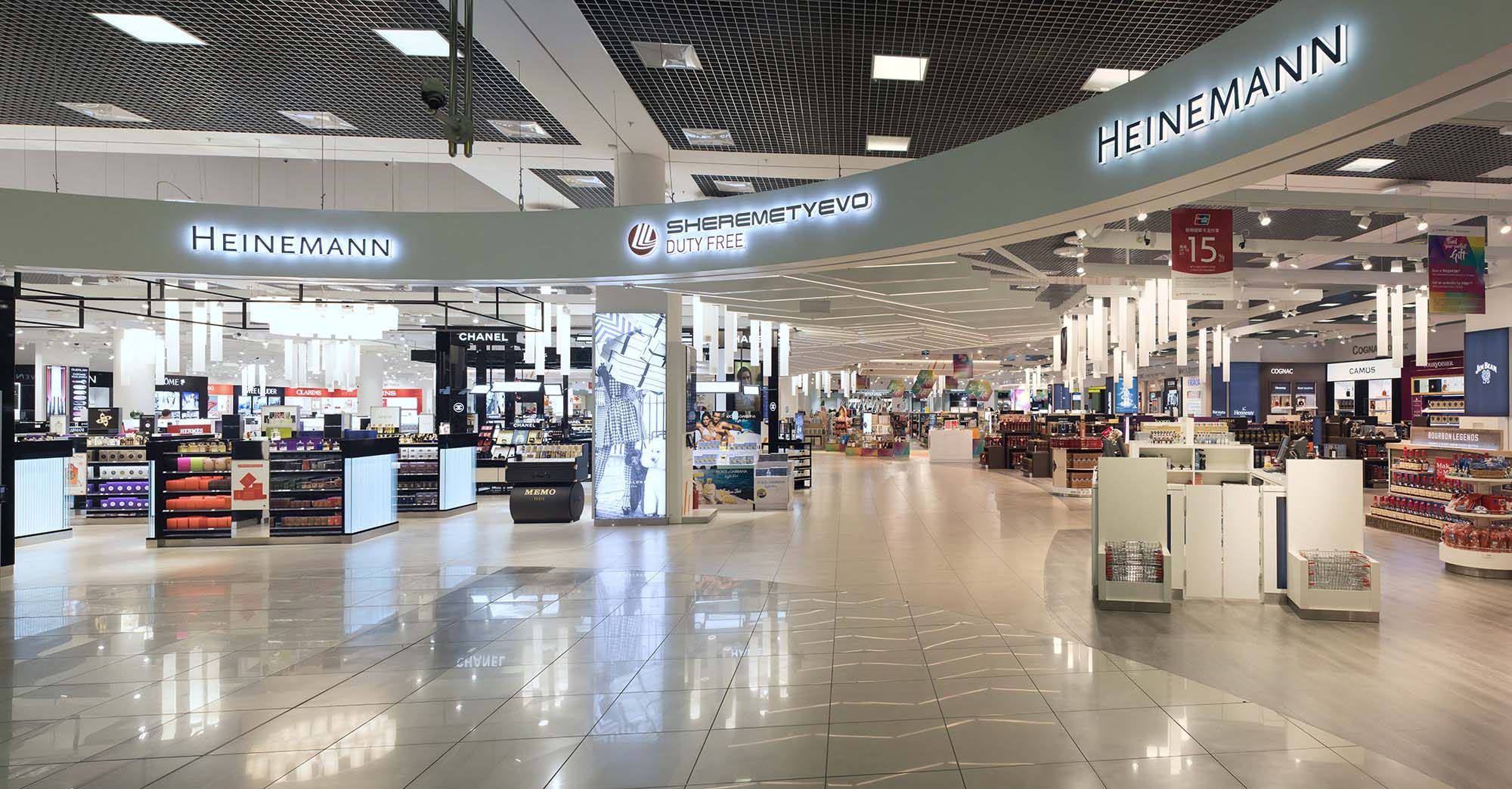 The new Terminal E walk-through store at Moscow Sheremetyevo Airport was designed to grab consumers' attention, and the Imperial Duty Free partners expect to see double-digit sales growth as a result.
Paris Aéroport and Lagardère Travel Retail inaugurated a dynamic and eye-catching new concept at Paris Charles de Gaulle (CDG) Airport Terminal 2E in March, as part of a magnificent upgrade of Hall K.
The Société de Distribution Aéroportuaire (SDA) joint venture between Groupe ADP/Paris Aéroport and Lagardère Travel Retail revealed a striking 600sq m Buy Paris Duty Free Beauty concept created especially for the Paris airport environment. The 'New Age Beauty' concept blends strong personalisation with what the company calls 'Parisianisation', with many brands having developed bespoke concepts or line extensions just for this environment. Since then, Hall K has developed further as a luxury arena, with the opening of Louis Vuitton in a first for CDG in September.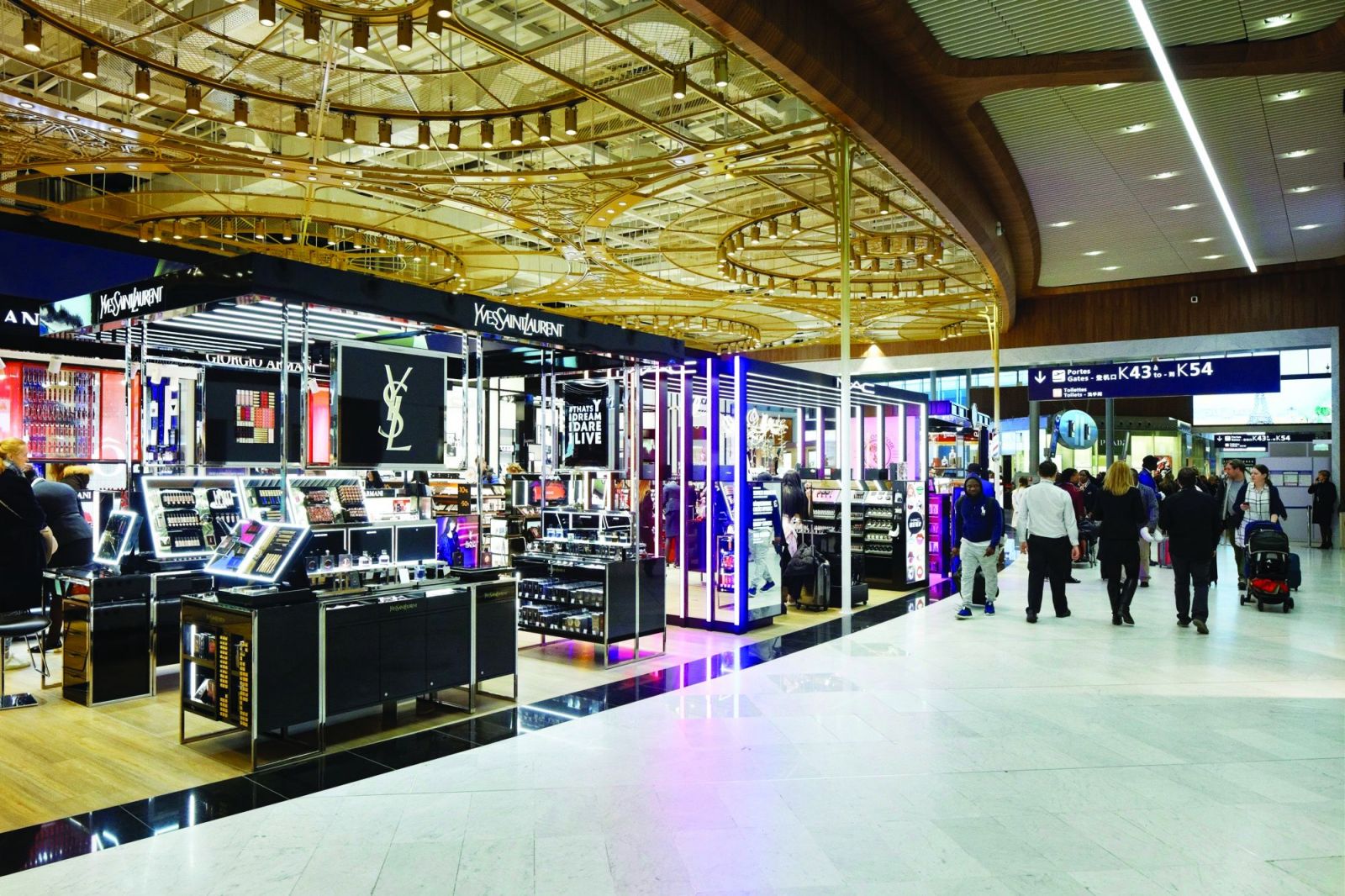 The high-class Buy Paris Duty Free concept at Charles de Gaulle Airport Terminal 2E added a new dimension to beauty retailing in Paris, with powerful brand executions and many eye-catching design details.
In North America, DFASS Group (now 3Sixty) and retail developer CBI Retail Ventures (together with DBE partners MDT Strategic Ventures and Charles Bush Consulting) inaugurated one of the largest, most eye-catching and innovative duty free stores in the Americas, at Dallas Fort Worth International Airport Terminal D.
The TRG Duty Free store spans 19,000sq ft (1,765sq m) over two levels and brings together forward-thinking design, spectacular artworks, an ambitious level of digitalisation, powerful brand executions and local flavour. This could be a template for the ambitions of 3Sixty as a player to watch in North America and beyond in years to come.
(For coverage of the core category duty free store openings at Hong Kong International, see below).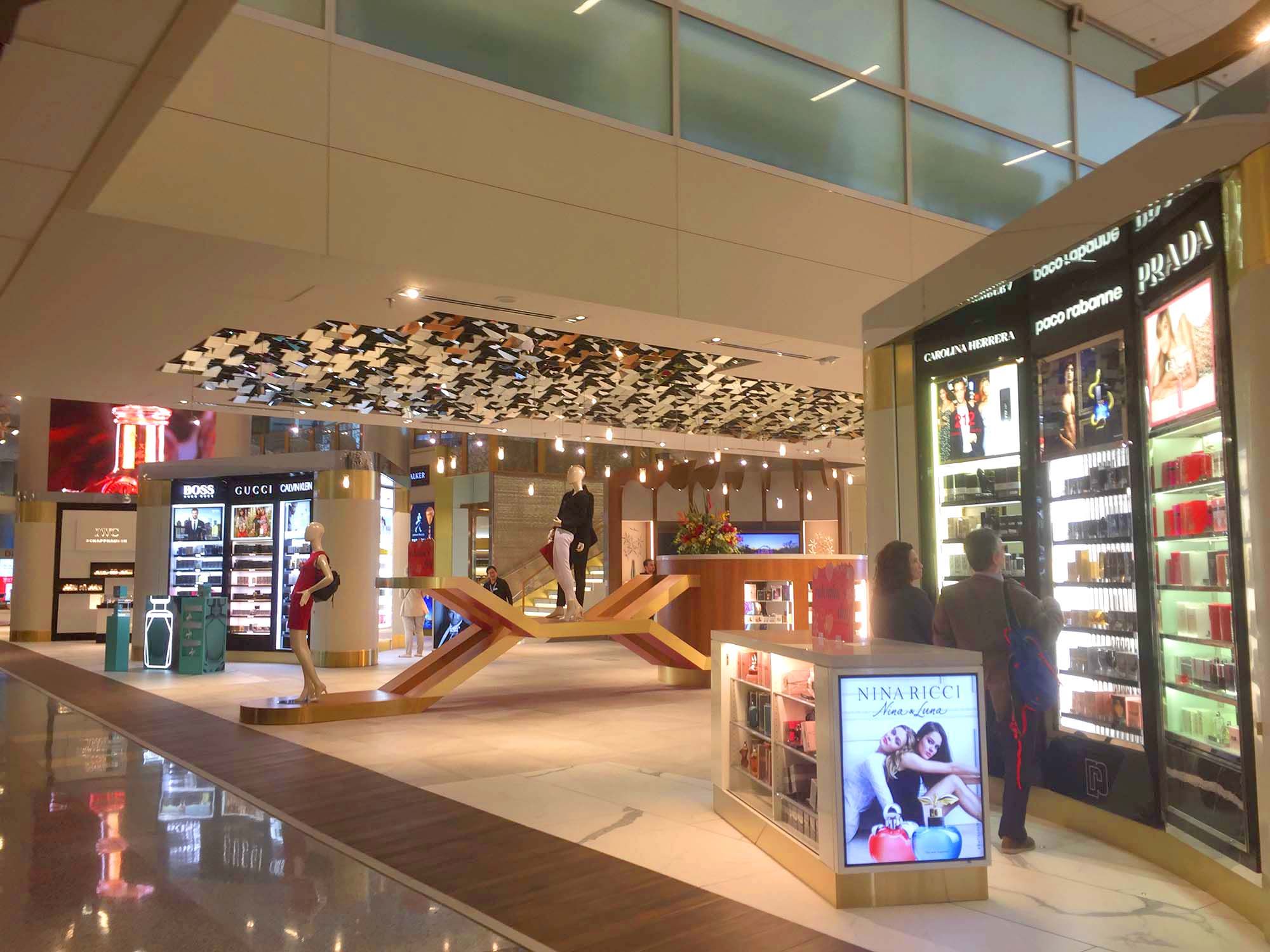 The TRG Duty Free store's inviting entrance, with its central promotional zone and eye-catching ceiling design, greets passengers as they exit the Terminal D security point at Dallas Fort Worth.
Aiming high in Hong Kong
It has been a banner year at Hong Kong International Airport, with the opening of Duty Zero by cdf, the joint venture between China Duty Free Group and Lagardère Travel Retail; Shilla Travel Retail's Beauty & You concept; and Heinemann's Sweet Dreams stores.
Duty Zero by cdf's eight-store network embraces 3,391sq m of shopping space and features multiple customer interaction zones offering brand appreciation, product education and sensory elements.
A good example of the latter is Hennessy's first airport flagship store, in which the LVMH Moët Hennessy Louis Vuitton-owned brand has raised its travel retail game to a new level. The stunning House of Hennessy offers a rare opportunity for travellers to "immerse themselves in the untold stories" of the leading Cognac brand through immersive rooms, the use of interactive technologies, design and exclusive and limited-edition products.
Beauty & You puts a strong emphasis on experience, service, digitalisation, and new in-store concepts aimed at attracting a diverse audience and featuring many powerful brand executions. Crucially, the stores combine fragrances, skincare and make-up with fashion & accessories, featuring many brand and category adjacencies. In so doing, Shilla has attempted to redefine the notion of beauty and has certainly modernised its treatment in travel retail.
In the confectionery category, Heinemann Asia Pacific's Sweet Dreams by Heinemann stores at Hong Kong International have also made a big impression. Each store has a distinctive theme and with vibrant colours and engaging and immersive experiences, they are capturing the attention of travellers both young and old.
With the stores complete since mid-year, the emphasis now is on productivity and performance, as each retailer strives for the profitability that previous incumbent DFS (across categories) struggled to attain during its unluckily timed tenure.
Tender stories of the year
A star-studded line-up comprising many of the world's most famous luxury brands was awarded contracts at Hong Kong International Airport Terminal 1 earlier this month, as revealed exclusively by The Moodie Davitt Report. Ten newcomer brands will bolster what is already one of the airport world's most powerful luxury offers.
Airport Authority Hong Kong awarded the contracts following a hotly contested tender for multiple luxury store concessions. The biggest talking point was the selection of Louis Vuitton as one of the two icon store retailers (alongside Chanel).
Renditions of the stunning Louis Vuitton icon duplex store at Hong Kong International Airport. Note the subtle plane image near the entrance. [Pictures courtesy of Louis Vuitton].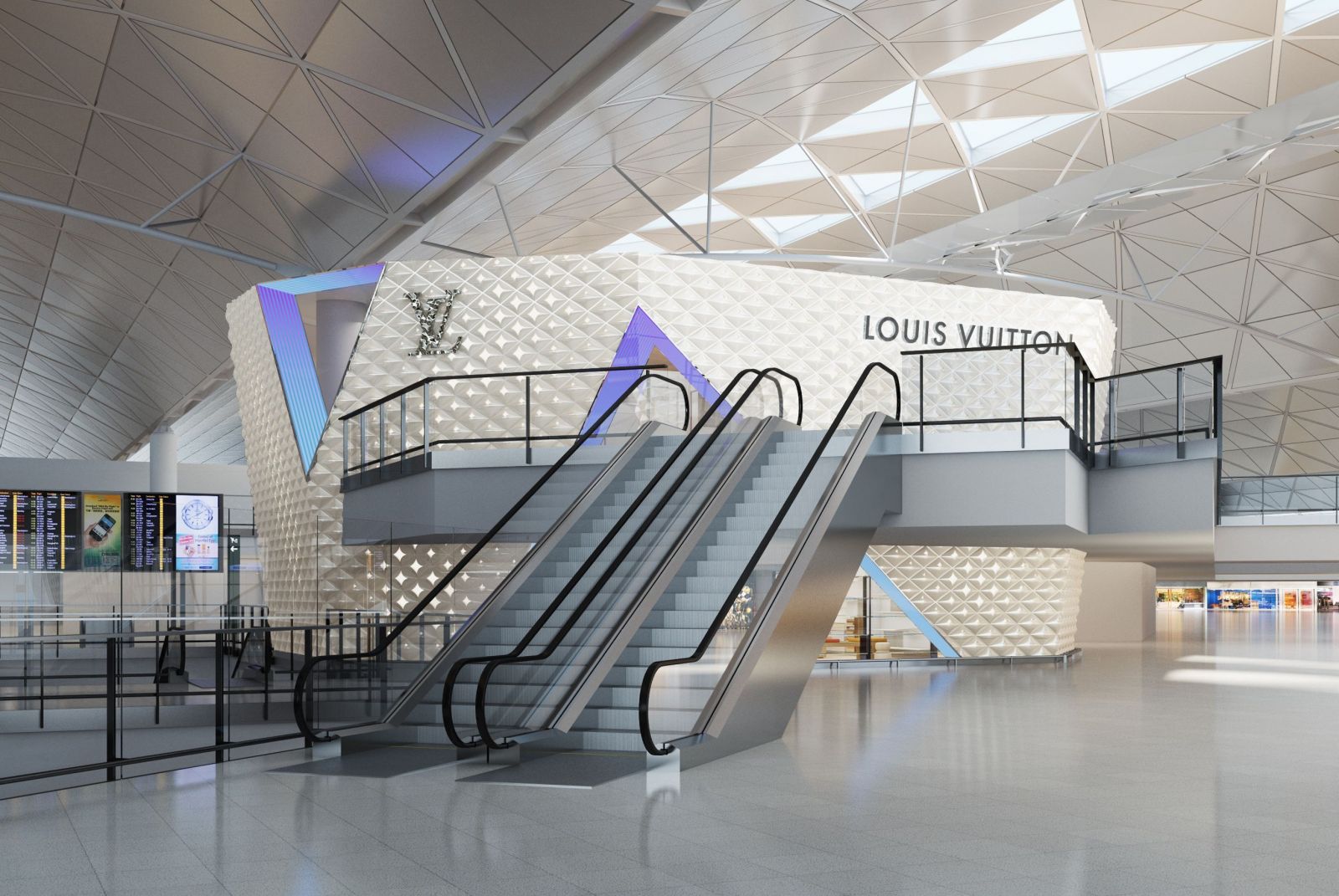 In another major development, in August Ever Rich Duty Free was named as the winning bidder in the dual tenders for the 12-year Taoyuan International Airport Terminal 2 duty free concessions, ahead of intense international and local competition. Tasa Meng captured the other contract.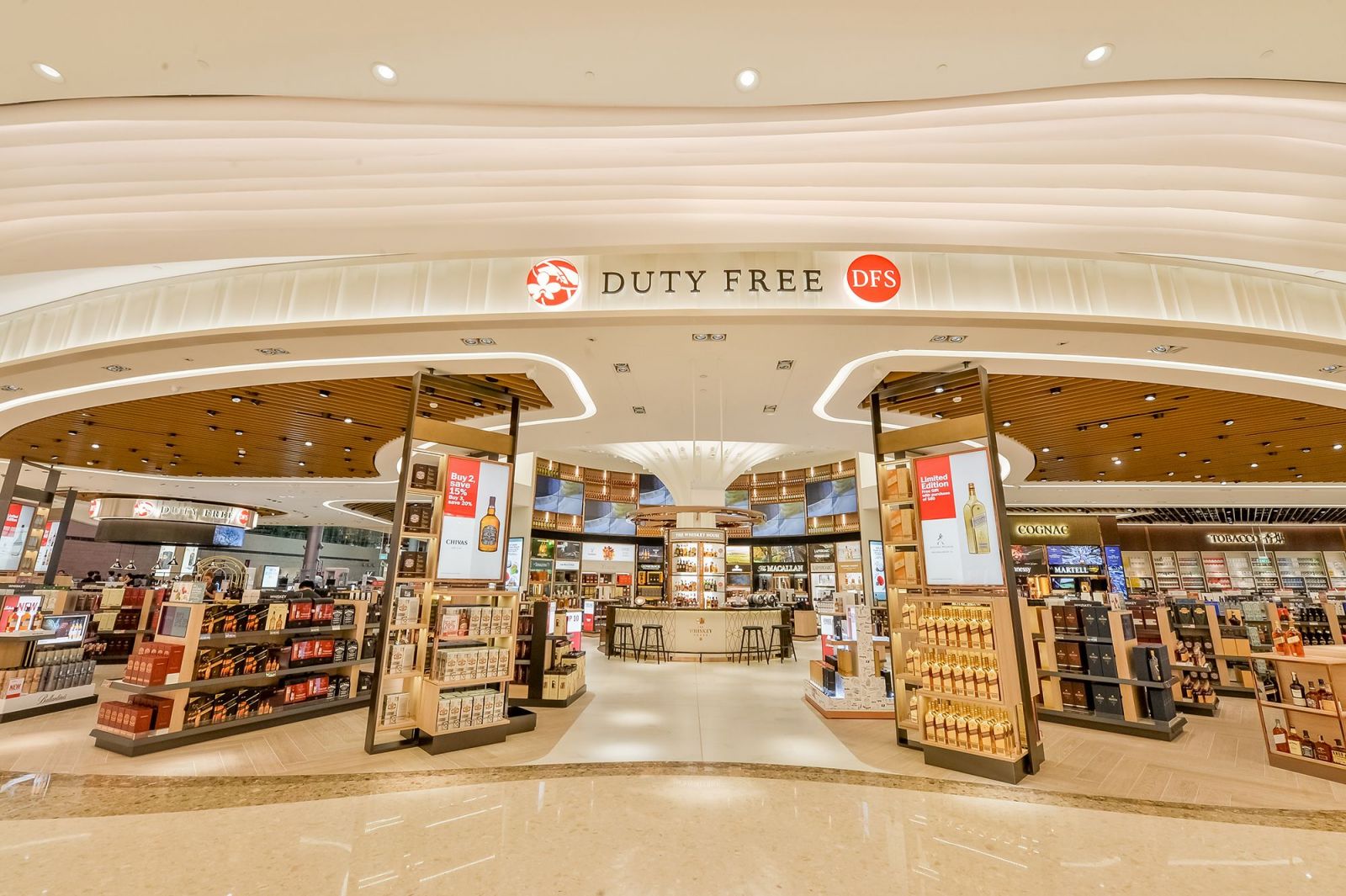 Concession coup: DFS and Shilla gained vital contract extensions at Singapore Changi Airport (DFS at T4 pictured).
What happens in Chinese travel retail resonates around the world, so tenders for the country's key airport concessions naturally attract strong global interest. China Duty Free Group (CDFG) hailed a "landmark moment in the history of China's duty free industry" when its 51% subsidiary Sunrise Duty Free (Shanghai Co) signed a seven-year contract with Shanghai International Airport Co for duty free operations at Shanghai Hongqiao International and Shanghai Pudong International airports in September.
The contract starts from 1 January 2019 and runs to 31 December 2025. Sunrise was the long-term and much-respected incumbent at both airports.
In a stellar year for Shinsegae Duty Free (see Downtown stories), the retailer won the concessions exited by Lotte Duty Free at Incheon International Airport Terminal 1. That exit came against the backdrop of burdensome rent increases and tough trading conditions in 2017 (amid the Korea-China THAAD dispute), which hit profitability hard among all Korean duty free retailers. Lotte maintained its core liquor & tobacco business in T1.
At Singapore Changi, there were recent big boosts for DFS Group and The Shilla Duty Free as they gained two-year extensions to their six-year concessions after these expire in 2020. That's reward for some of the pioneering upgrades each has made in its respective categories, from duplex stores (both) to a concept based around the famous Raffles Hotel Long Bar (DFS) and the luxurious Shilla Beauty Loft. It's also a signal that, although their contract tenures have not always been easy, both retailers have been responsible for some of the highest-class, most ambitious launches, activations and campaigns the industry has seen.
All of that investment comes at a cost, and both retailers now have extra time to leverage their upgrades and generate profits. And for Changi Airport Group, continuity of such anchor tenants will have been very attractive.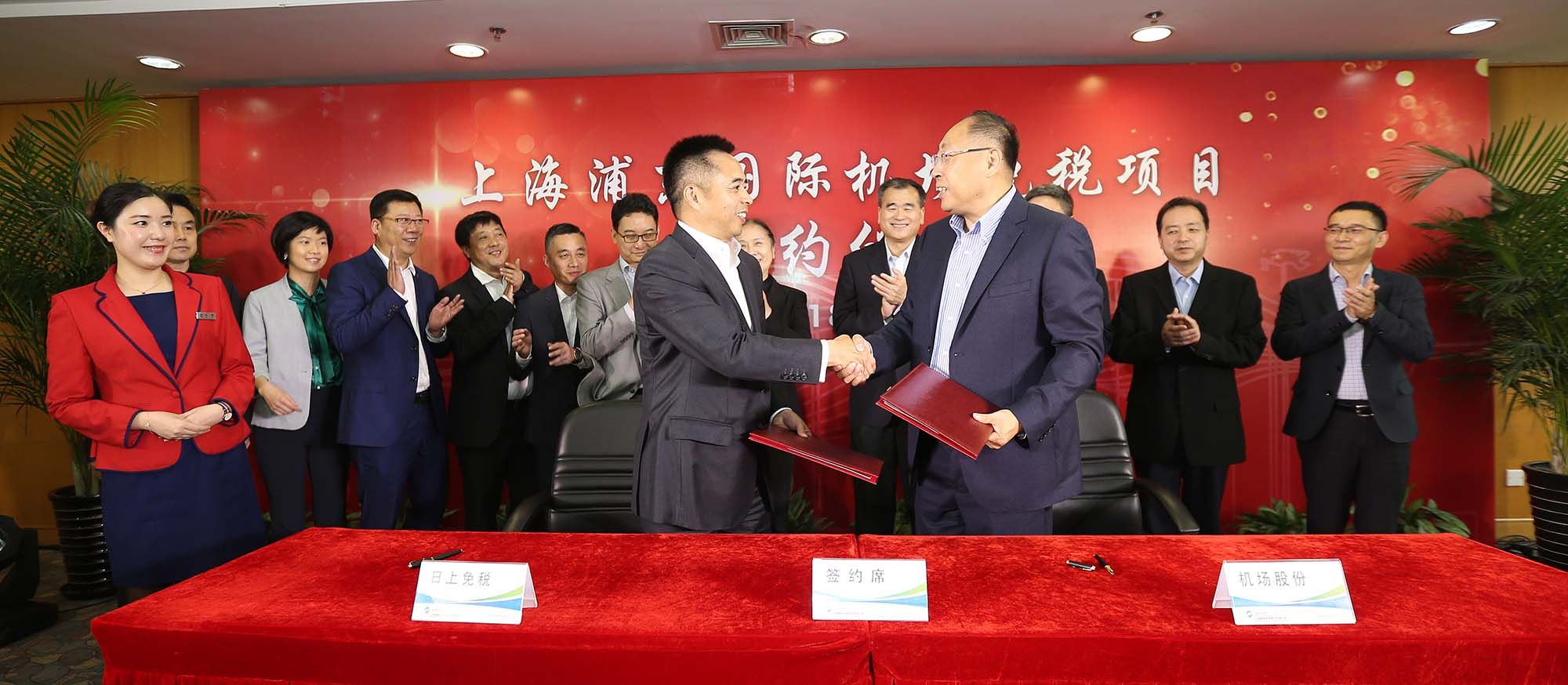 CDFG President and Chairman of Sunrise Shanghai Charles Chen (left) and Shanghai International Airport Co General Manager Hu Zhihong shake hands after signing a seven-year agreement covering duty free operations at Shanghai Hongqiao and Shanghai Pudong in departures and arrivals.
Consolidation moves
We revealed one of the biggest recent stories in Australasian travel retail as Lotte Duty Free struck a deal in the summer to acquire James Richardson's Australia and New Zealand duty free business, trading as JR/Duty Free. The transaction excludes JR's interests in its thriving duty free businesses in Israel and also its Tahiti interests.
Starting with this acquisition, Lotte Duty Free said that it aims to become the number one global travel retailer by 2023. As well as its Korean operations, it aims to build on its overseas base in downtown Jakarta; Guam Airport; Kansai Airport and Tokyo downtown; Bangkok downtown; and Da Nang and Nha Trang Cam Rhan airports in Vietnam.
Another major consolidation move in 2018 was Lagardère Travel Retail's acquisition of North American airport restaurateur Hojeij Branded Foods (HBF) and subsidiary Vino Volo, an airport wine bar and retail chain. For more on this deal, see The Foodie Report in this edition.
Rewriting the rules of tobacco
For World No Tobacco Day on 31 May, global tobacco giant Philip Morris International (PMI) placed full-page advertisements in several mainstream international and national media titles proclaiming that it was building a future without cigarettes.
"Ultimately, we want to be in a position to stop selling cigarettes altogether. No cigarette company has done anything like this before. But the vision is clear. And the benefits are clear too. For everyone," it said.
It was a momentous statement of intent, with big implications for the future of the category. In a visit to Philip Morris International's impressive research and development centre in Switzerland, The Moodie Davitt Report discovered more about the company's US$4.5 billion push into research and development of alternatives to cigarettes – what it has dubbed 'reduced risk products'.
Of those, the one with the most commercial momentum is IQOS, a product launched (in Japan) in 2014 that is designed to create a flavourful nicotine-containing vapour, without burning or smoke. PMI states that six million consumers have already switched from traditional cigarettes to IQOS, and that almost 10,000 men and women are moving away from cigarettes and converting to IQOS every day.
The future of reduced risk tobacco products is also a development of profound importance for travel retail. How the PMI vision of a smoke-free world plays out will have consequences for the wider channel for years to come.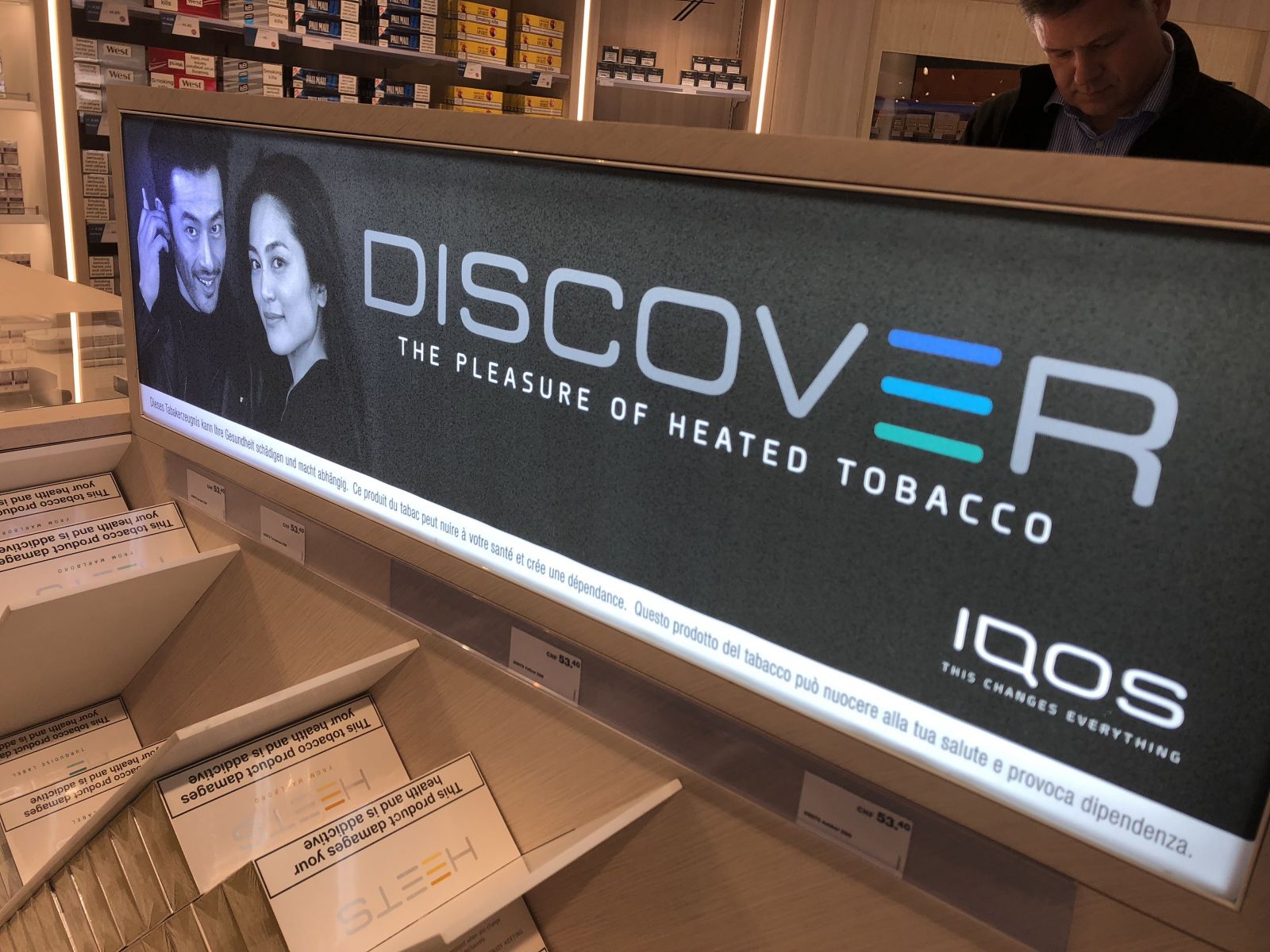 Slick, high-profile merchandising units are designed to make IQOS stand out from the mainstream tobacco offer.
How DFASS turned a full 3Sixty
At a memorable event in Miami's historic Alfred I. duPont Building, DFASS unveiled a new corporate identity and mission statement, rebranding to become 3Sixty.
A new strapline, 'Duty Free & More', is designed to "futureproof" the business and the company's ambitious plans, 3Sixty said.
"This is the single biggest significant change we've had in the business," company founder Bernard ('Benny') Klepach told The Moodie Davitt Report.
"Changing the name is a big decision, but we think that today the industry is undergoing a major generational change. There's an opportunity where omni-channel, or e-commerce, plays a big role in our industry.
"And there's no doubt in my mind… we're the best positioned to take it to the next level. But not only in the Americas; we're doing it in Asia successfully and we plan on having e-commerce be a big part of our business."
Far more than a rebranding, the move represents a total repositioning of what the company does, what it stands for and where it's headed.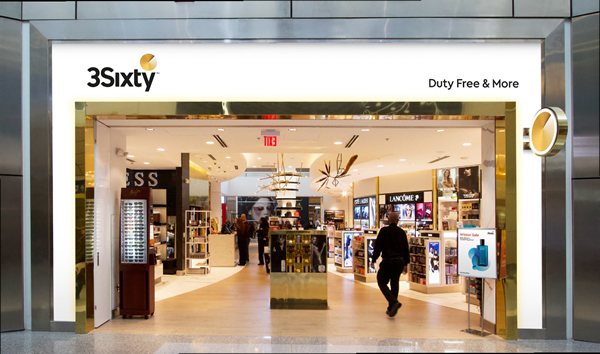 The 3Sixty brand identity is being rolled out across the company's inflight and airport network.
Korean Air sets the standard for inflight retail
Against an inflight retail climate in which some carriers are pulling onboard operations, Korean Air remains the gold standard.
Embracing excellence of service and the need for newness and regular rotation of the assortment, the carrier remains the world's leading airline for onboard sales.
Korean Air expects its inflight retail sales to hit US$143 million this year. That represents a fall of some -5.3% on last year's turnover of about US$151 million, but is nevertheless a good result considering the tough trading environment for duty free in South Korea.
Like its downtown and airport counterparts, Korean Air has been affected by the row between China and South Korea over the latter's deployment of the THAAD anti-missile system in early 2017.
The dispute led to a slump in Chinese visitors last year and through early 2018. While Chinese tourism is recovering, it remains far short of 2016 levels.
Korean Air's inflight sales were driven by cosmetics and liquor, which together will account for almost 63% of onboard revenue this year.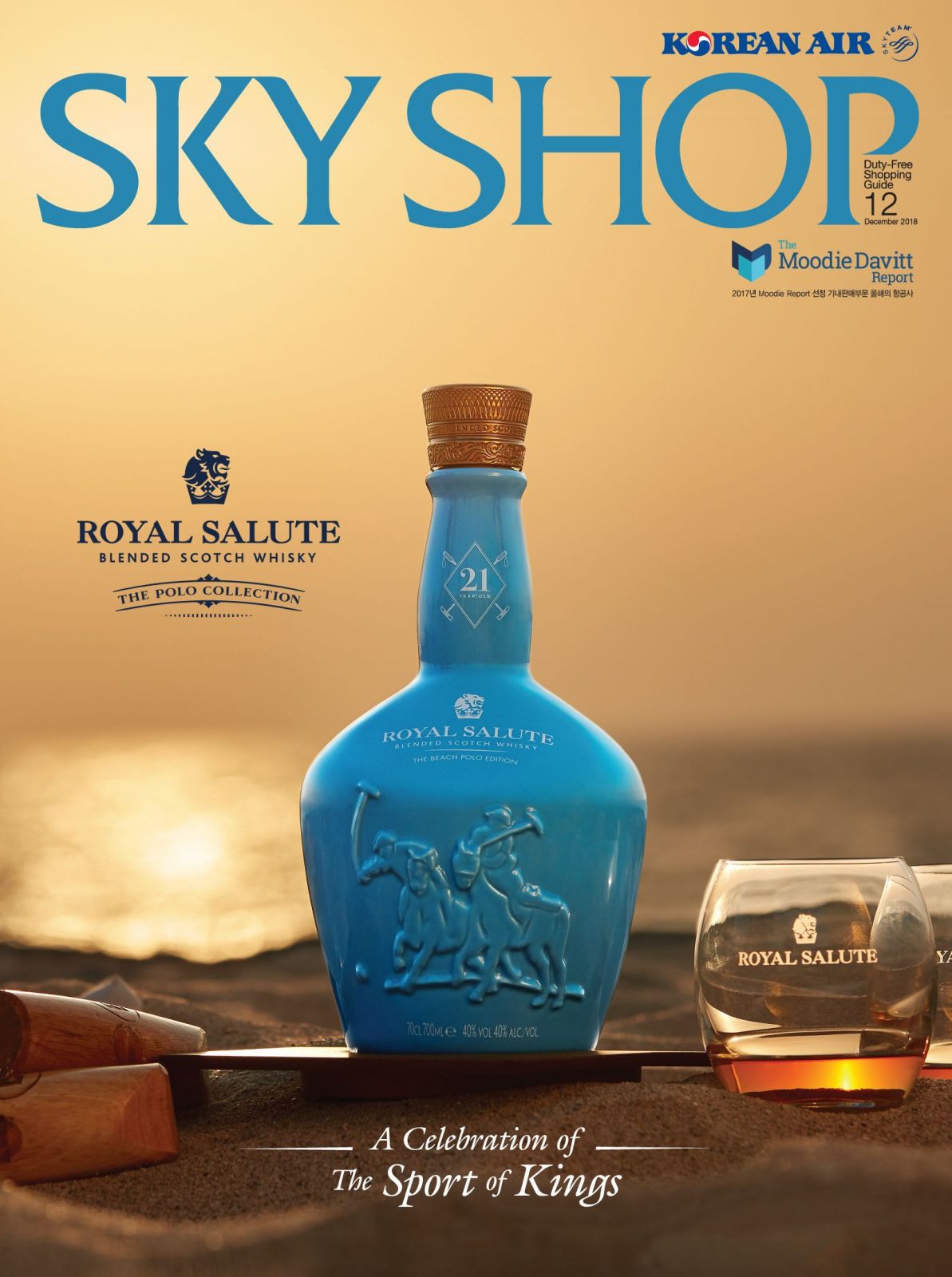 Korean Air's latest SkyShop inflight retail magazine features a cover image of ultra-premium Scotch whisky Royal Salute, a perennial favourite in South Korea. The Moodie Davitt Report logo is also prominent, after we named Korean Air our Inflight Retailer of the Year once more last year.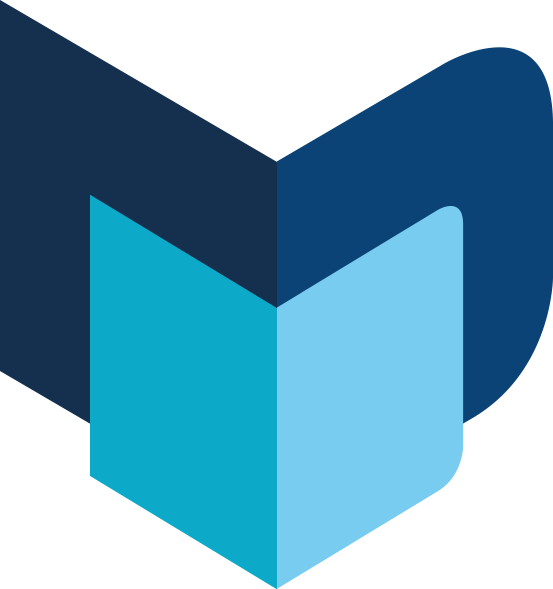 ---
The Moodie Davitt e-Zine | Issue 254 | 21 December 2018