Redefining airport
F&B design
As travellers demand authentic, local experiences from their journey, BCV Architecture + Interior is aiming to redefine how airport food & beverage locations should look. Jason Holland spoke to Co-Founding Principal Chris von Eckartsberg (pictured below).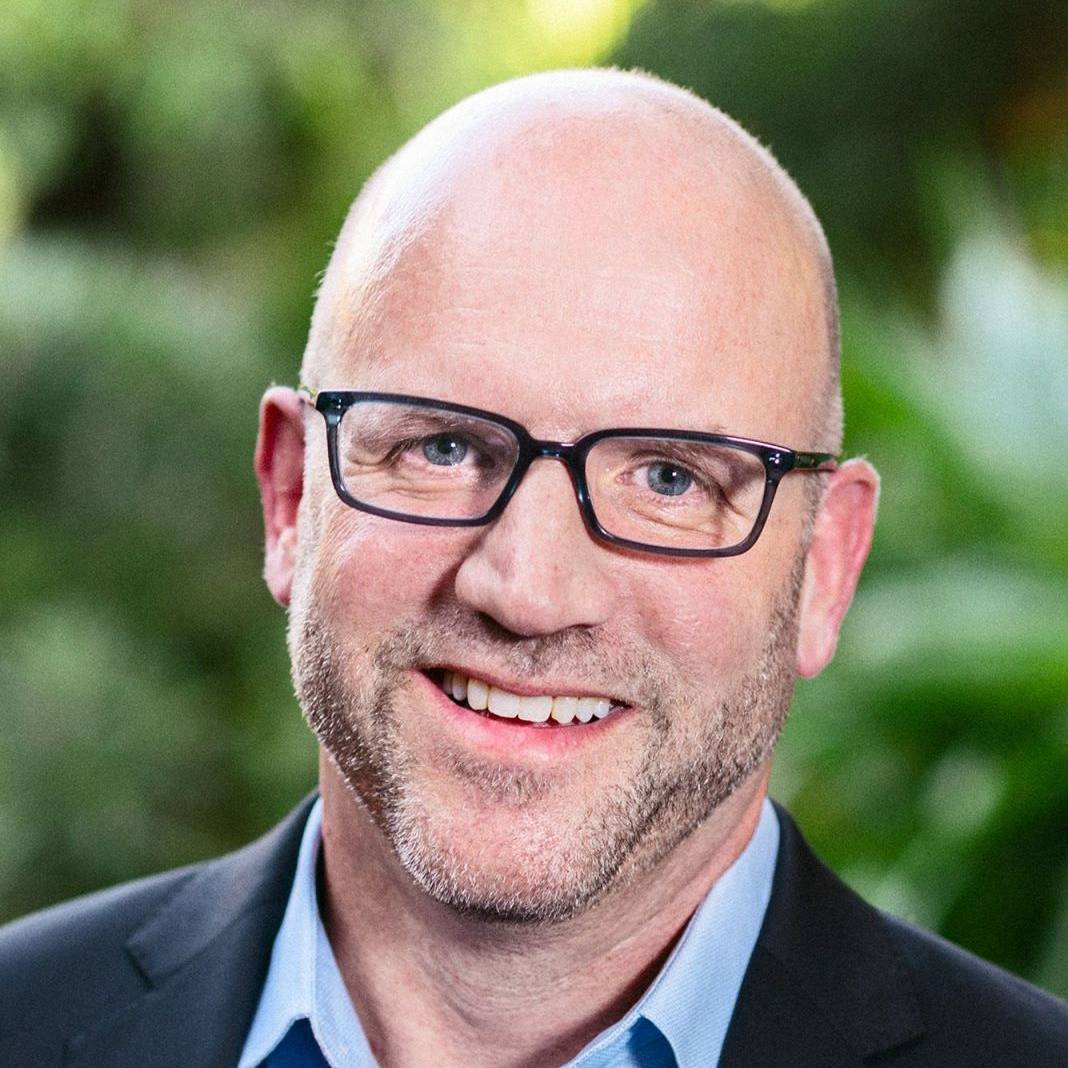 Airports in the USA are evolving into lifestyle hubs. So says BCV Architecture + Interior, a multidisciplinary firm known for the diversity of scale in which it works, from master planning and urban design to market halls, wineries and custom residences.
The company is now intent on revolutionising the design of airport food & beverage locations. No longer good enough is what the company says is "the generic feel of most airports where the most 'local' thing you can find is an overpriced t-shirt with the town's name printed on it". Instead, BCV aims to deliver the "curated, local experiences people crave".
That means each project must take into account the area's cultural context. A good example is airport restaurant developer and operator Tastes on the Fly's Napa Farms Market concept, created in collaboration with BCV and marketplace consultant Steve Carlin.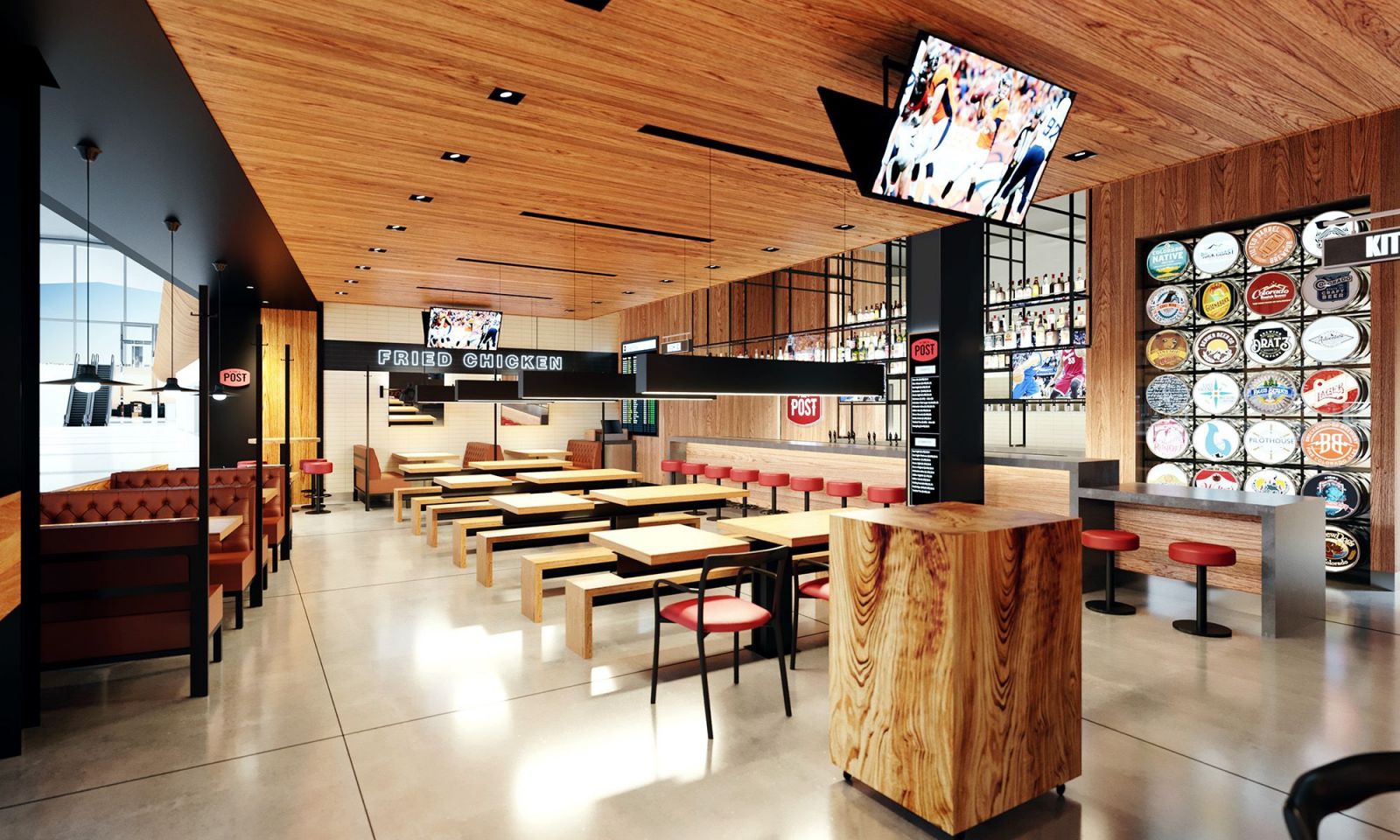 The roadhouse diner aesthetic of The Post Brewing Company is reinforced through the dining area's Pullman booths with coat rack posts, flexible banquet bench seating, and a series of Denver-style chunky wood and steel supported picnic bench and table units.
Central to the philosophy and offering of the marketplace concept at San Francisco International Airport is the phrase 'Farm to Flight'. BCV and Tastes on the Fly have more recently worked on a second iteration of the concept at San Francisco International, as well as Berkshire Farms Market at Boston's Logan International Airport.
"The original Napa Farms Market concept and its more recent iterations are rooted in the desire to bring fresh, locally-sourced and inspired products to airport travellers," says BCV Architecture + Interiors Co-Founding Principal Chris von Eckartsberg.
"Napa Farms Market includes local purveyors like Cowgirl Creamery, Acme Bread and Tyler Florence, as well as a range of quality grab-and-go options. Napa Farms has won every major airport concession award and been named 'Best Airport Restaurant' by Food & Wine."
Von Eckartsberg says the ultimate aim is to bring the best of the surrounding community and region to travellers, and this is what airports are now demanding. This can mean creating a new brand concept, like Napa Farms Market. But it can also mean bringing an existing brand to the airport in a new way.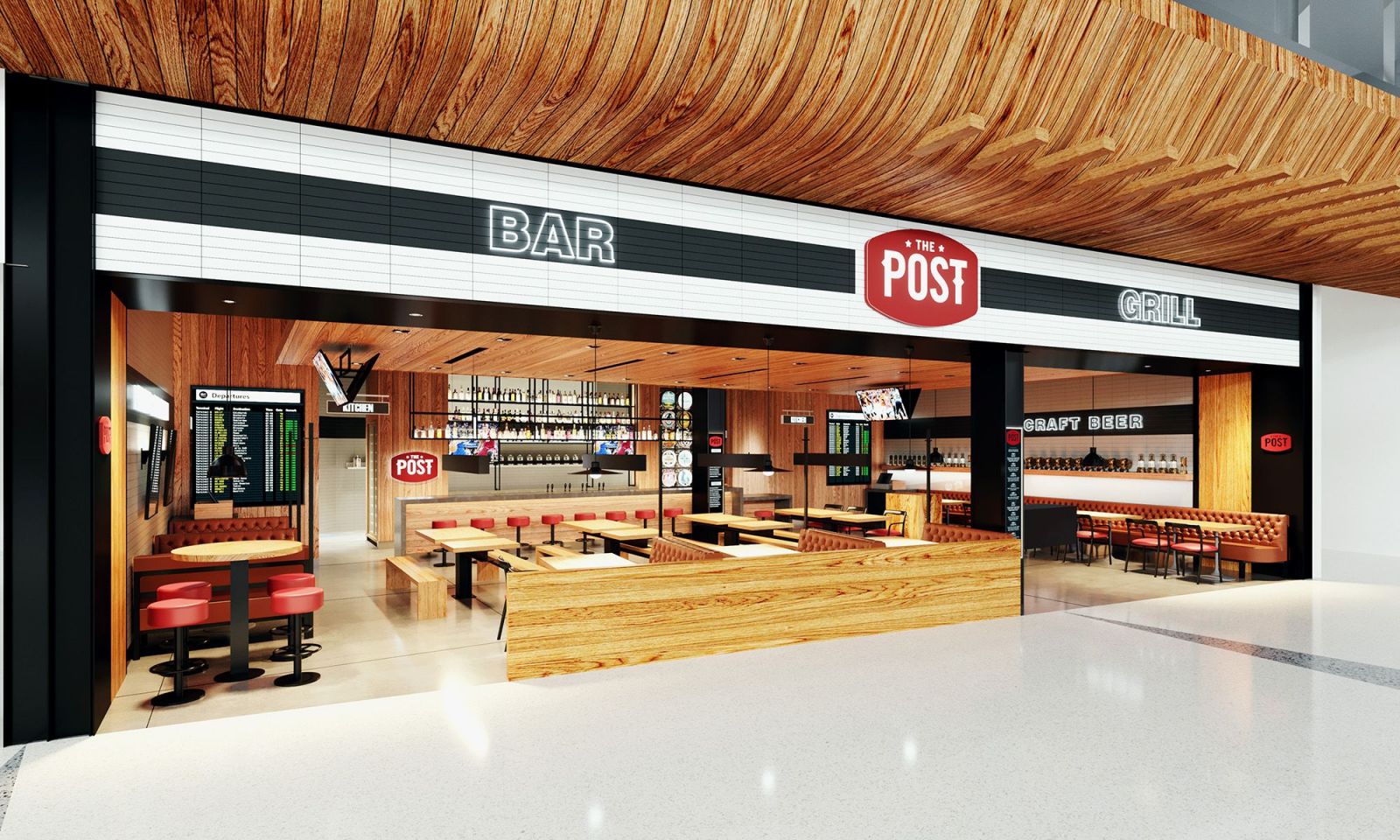 The design of The Post Brewing Company balances a mix of full-service restaurant and active bar area, providing for a variety of dining options throughout the day.
BCV has been named as design architect for two such units in Denver International Airport's ambitious Great Hall renovation project: Jax Fish House & Oyster Bar and The Post Brewing Company. Both are popular local restaurants with loyal followings, explains von Eckartsberg.
Jax Fish House & Oyster Bar first opened in Boulder in 1994 and has five locations, four of which are in Colorado. Jax was Colorado's first restaurant to be recognised by the Monterey Bay Seafood Watch Program for its sustainable seafood practices. The new location in the Great Hall will offer a raw bar and hot food menu created by Executive Chef Sheila Lucero that explores local produce and mindfully sourced seafood, featuring fresh oysters delivered daily as well as a seafood-friendly wine list, crafted cocktails and local beers.
The Post Brewing Company, which has four locations in the Denver metro area and earned national fame when it appeared on the Food Network's Diners, Drive-Ins and Dives, brings to the Great Hall an all-day breakfast, lunch, brunch and dinner menu, created by Chef Brett Smith. The firm's humanely-raised, all-natural fried chicken is gluten-free, and the menu caters to dietary preferences of every kind – from vegan to carnivore to locavore. The Post Brewing Company's beverage menu includes craft beer along with other Colorado favourites, wine, spirits and non-alcoholic drinks.
"We aim to create authenticity in the design by presenting an evolved modern version of each, which identifies with the existing locations but also creates a unique Sense of Place within the airport," says von Eckartsberg. "We want travellers to settle into the richly-textured leather Pullman booths at The Post and feel that they're in an authentic, highly-crafted space."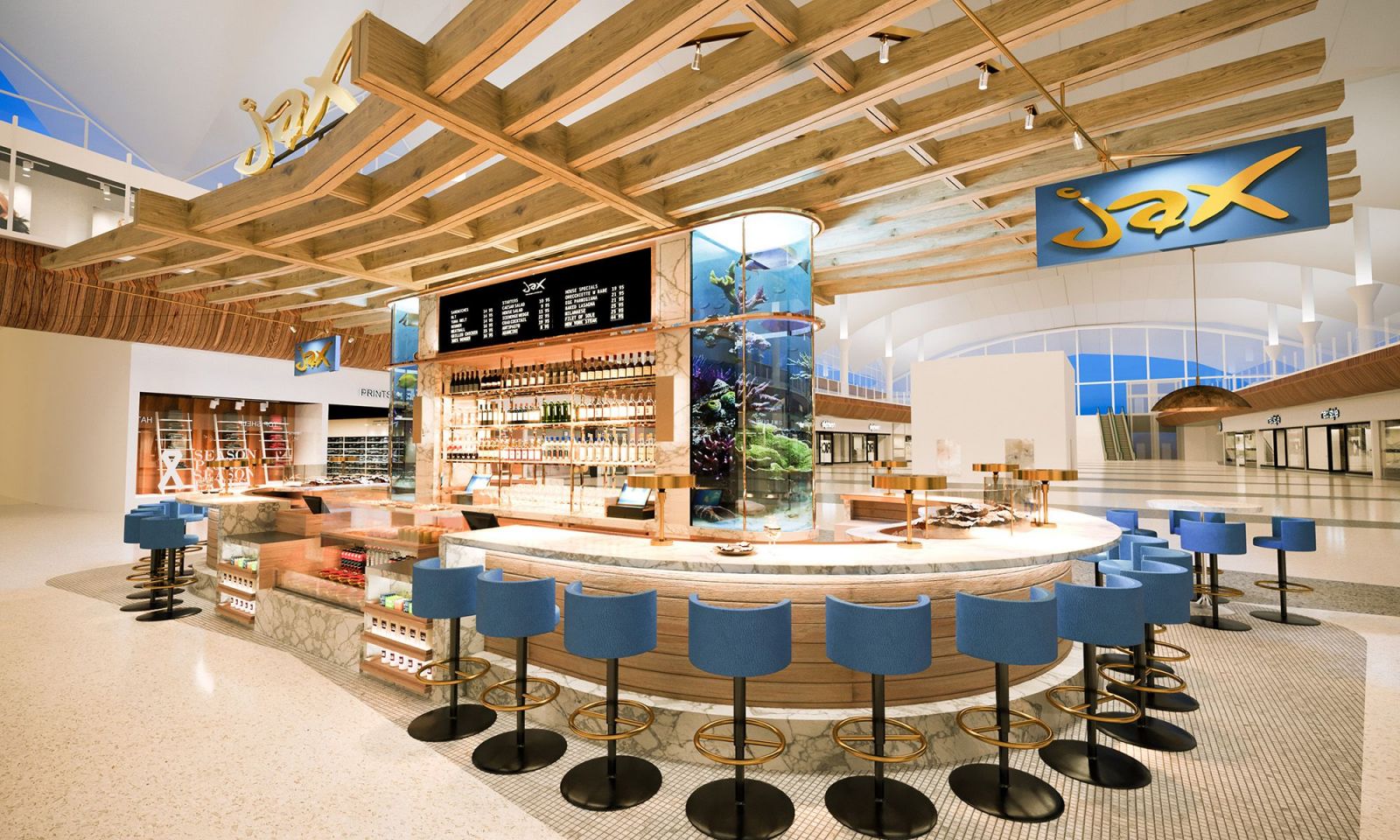 As a bar-in-the-round, there is no backside to the Jax Fish House & Oyster Bar experience. Bar seating allows for unobstructed people watching, along with the shucking of oysters and preparation of crafted cocktails.
BCV believes it is essential to achieve a balance between beauty and functionality in the dining environment – a philosophy that is made all the more important at Denver International, given its unique setting with views of the Rocky Mountains.
"It is vital that we integrate durable, time-tested materials that can withstand all-day use year in, year out," von Eckartsberg explains. "At Jax, for example, we are incorporating a mix of marble, oak, brass and copper – classic, enduring materials. Our design of The Post is a modern take on the classic Rocky Mountain diner, featuring a mix of steel, wood and tile. The Post will have a range of offerings throughout the day and balances a mix of seating options and a full-service bar area to accommodate visitors at all hours."
Although it sounds straightforward, a clear sense of movement and flow, as well as considered signage and wayfinding, are vital aspects of creating a successful space within the airport environment, according to von Eckartsberg. Additionally, an overall plan that functions well for employees is crucial, he says.
"Situated in the centre of the Great Hall, the Jax design leverages its high-visibility location towards a 'see and be seen' attitude. As a bar-in-the-round, there is no backside to the Jax experience and we needed to carefully consider staff operations within this setting.
"Within the butterfly-shaped lease outline for this space, the bar is situated as a 'racetrack' form in plan, with a grab-and-go centred on one side, and accessible bar seating centred on the opposite side. At either end of the racetrack, shucking stations engage with the bar diners directly, for an exhibition-like food preparation experience."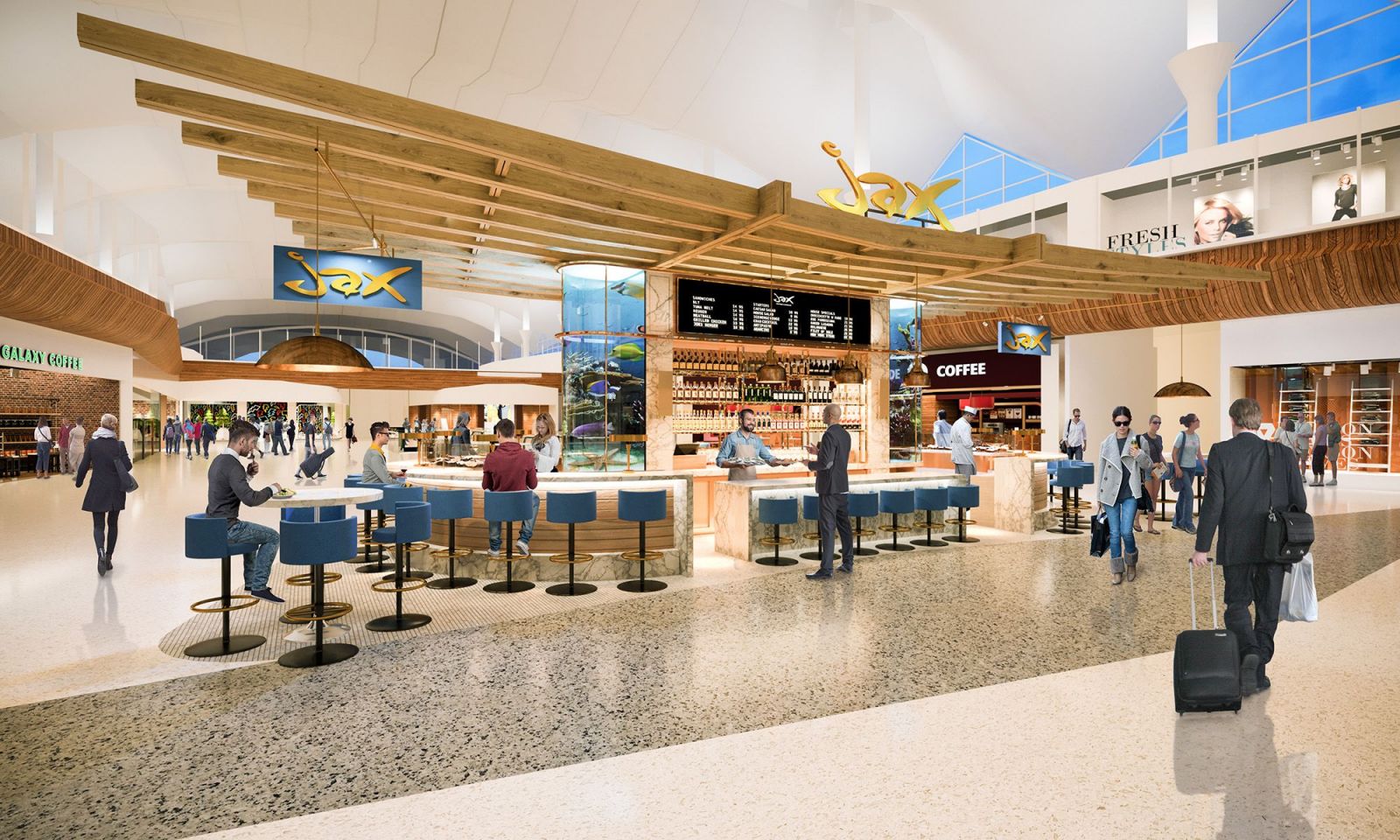 One of the signature elements of Jax at Denver International will be the aquarium 'pillars' anchoring either end of the back-bar, related directly to the shucking stations that face outward to the Great Hall. The aquariums serve as focal points for travellers navigating the Great Hall, and provide for visual stimulation when seated at the bar.
Von Eckartsberg notes that while each of the airport projects BCV has been involved in is unique in programme and execution, there are common programmatic themes. [As well as the projects mentioned, BCV has worked on several concepts at San Francisco International including airport locations for Bay Area brands like Samovar Tea and Mustards Grill and a sports bar concept for the San Francisco Giants football team].
These common themes include "the need to balance complex space requirements like bar programme, dining seating and grab-and-go options within the lease area". He adds: "We also always enjoy looking for ways to engage and draw the visitor into the space, creating environments that are welcoming but also offer separation from the concourse for those who have time to sit and enjoy a meal."
There are also significant differences between airport restaurants and the projects BCV works on in different sectors. "The airport setting differs from much of our other work in that the design and construction process occurs within a high security environment, which means a highly complex buildout," says von Eckartsberg. "Several of our past and ongoing projects have occurred alongside major terminal renovations, which involves accommodating a design to an evolving overall armature."
BCV sees an exciting future in airport food & beverage, as evidenced by the projects it is undertaking. "We are always looking to partner and collaborate with clients who share our vision for what the airport dining and hospitality experience can be," says von Eckartsberg.
BCV Architecture + Interiors has designed an evolved and reimagined aesthetic for Jax within Denver International's Great Hall.
As far as what that future will look like, von Eckartsberg stresses the key tenets of Sense of Place, experience, and authenticity.
"We believe that airports will continue to focus on bringing local flavour to the concourse, and will work to expand the diversity of offering, both in cuisine and concept. In the Bay Area, we have also seen the various ways that brands create immersive experiences for guests, helping them to gain a deeper understanding of the unique ethos and processes behind the company.
"We look forward to exploring how this is translated to the concourse. That said, we see trends toward efficiency in labour that can in turn drive some design decisions. We also see a general trend toward more experiential, quality design."
Travellers are no longer satisfied with mediocre food courts and concepts. They demand design-centric, hyper-local and authentic dining options that create an enhanced passenger experience – and reflect their lifestyle.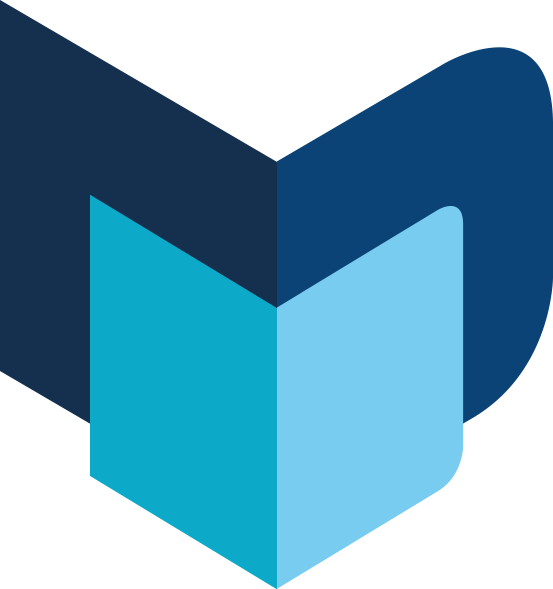 ---
The Moodie Davitt e-Zine | Issue 254 | 21 December 2018