---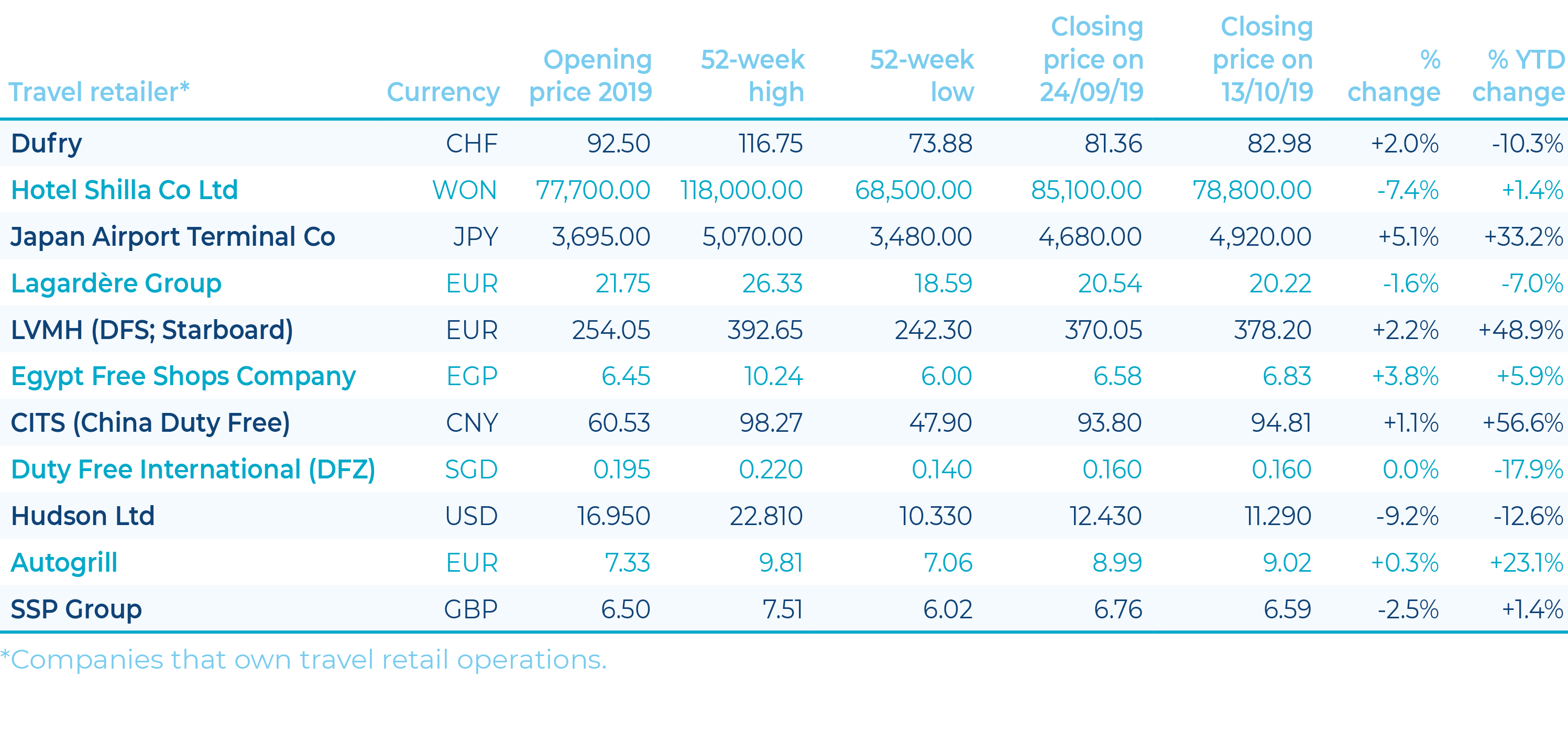 Shares in Dufry-owned North American travel retailer Hudson Group spiked on 11 October after the company acquired assets related to the operation of Brookstone travel, entertainment and wellness stores in US airports from Apex Digital Inc.
The agreement covers 34 airport shops, of which 30 are currently open and operating. Of the 34 units, 33 are in airports where Hudson has existing operations.
Shares moved from a close of US$11.30 on 10 October to a peak of US$12.21 the next day.
However, shares in Hudson are down -9.2% in the period tracked here (closing prices between 24 September and 13 October), falling from US$12.43 to US$11.30 ahead of the deal being announced.
Hudson Group CEO Roger Fordyce said: "The addition of Brookstone to our already diverse portfolio of branded concepts further strengthens our retail offering and nicely complements our travel convenience business. Hudson Group will now operate, manage and, most importantly, grow our Brookstone branded retail footprint in North America."
Shares in The Shilla Duty Free's parent company Hotel Shilla fell -7.4% in the current period. By contrast, shares in Japan Airport Terminal Co continued to climb, with a +5.1% increase this time.
China Duty Free Group parent China International Travel Service (CITS) saw its share price reach a 52-week high of CNY98.27 on 8 October.
After DFS co-parent LVMH Moët Hennessy Louis Vuitton announced its results for the first nine months of 2019, shares jumped from €357.00 at the close of 9 October to an opening of €375.45 on 10 October, an increase of +5.17%.
LVMH recorded a +16% increase in revenue to €38.4 billion in the period. Organic revenue grew +11% compared to the same period in 2018.
The Selective Retailing business group achieved organic revenue growth of +6% (+11% reported) in the period, despite a sharp downturn in the Hong Kong market for DFS. DFS Group also recently announced big cuts to its workforces in Hawaii and Singapore, driven principally by an Asian tourism slump in Hawaii and the impending exit from the Changi Airport liquor & tobacco concession.
In the period tracked here, shares in LVMH rose +2.2% and are now up +48.9% since the start of the year – making the company our second-best performer so far in 2019, behind only CITS' +56.6% increase.

The Moodie Davitt eZine
Issue 269 | 15 October 2019
The Moodie Davitt eZine is published 20 times per year by The Moodie Davitt Report (Moodie International Ltd).
© All material is copyright and cannot be reproduced without the permission of the Publisher.
To find out more visit www.moodiedavittreport.com and to subscribe, please e-mail sinead@moodiedavittreport.com