9 May 2019
---
The Moodie Davitt Stock Watch serves as an indicator of overall business confidence in the global travel retail & duty free industry. Share prices of major publicly listed companies that own travel retail operations are monitored on a weekly and year-to-date basis to offer an indication of business confidence in the sector.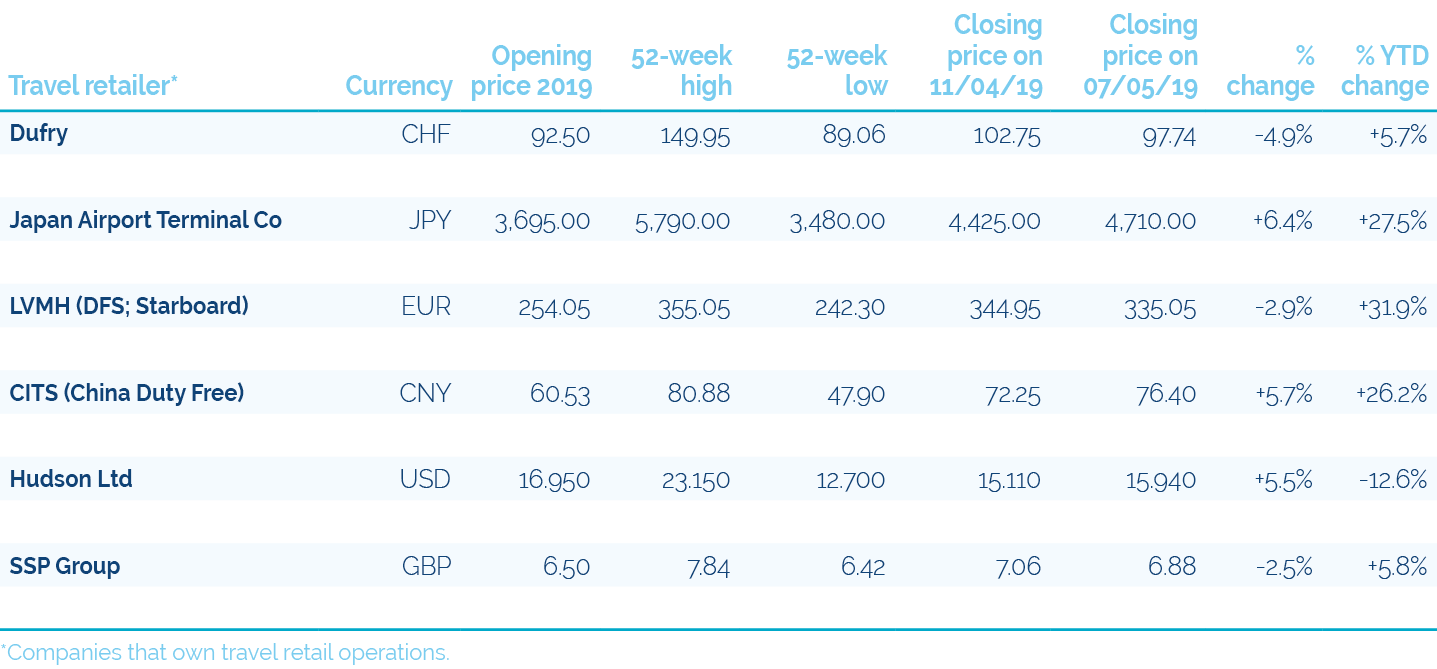 Shares in three of the travel retail-related companies we track reached 52-week highs during the period monitored here (closing prices between 11 April and 7 May).
Egypt Free Shops Company continued its strong performance in 2019, with a 10.9% overall rise during the period, reaching EGP10.24 on 23 April but dropping to EGP9.43 at the end of 7 May.
LVMH closed the period down 2.9% despite hitting a 52-week high of €355.05 on 3 May. China Duty Free Group parent China International Travel Service continued its positive momentum with a 5.7% increase, reaching CNY80.88 in late April but falling slightly since then.
Shares in Duty Free International decreased 5% in the period. On 26 April, the company posted a 9% decrease in 2018 revenue to US$136.41 million. Pre-tax profit was down by 2%, while net profit increased 9% to US$12.89 million.
The decrease in pre-tax profit was largely attributed to lower revenues, and lower gains arising from changes in fair value of option and higher professional fees. Furthermore, airport retail rentals for KLIA and KLIA 2 increased.
"The business environment in which the Group operates is expected to remain challenging," said Executive Director Lee Sze Siang. "As the Group continues to pursue its strategies of improving operational efficiency and expanding its customer base through product and service quality, it will put in place strategies to strengthen its distribution and marketing channels to remain competitive and profitable in the next twelve months."
Shares in Lagardère Group were up 1.3% in the period. The announcement of first quarter results provided a temporary boost on 7 May. Group revenue totalled €1,708 million for the quarter, representing a rise of 9.8% on a consolidated basis.
Lagardère Travel Retail revenue hit €930 million in the quarter, up 15.9% on a consolidated basis.