---
Social media
and the millennial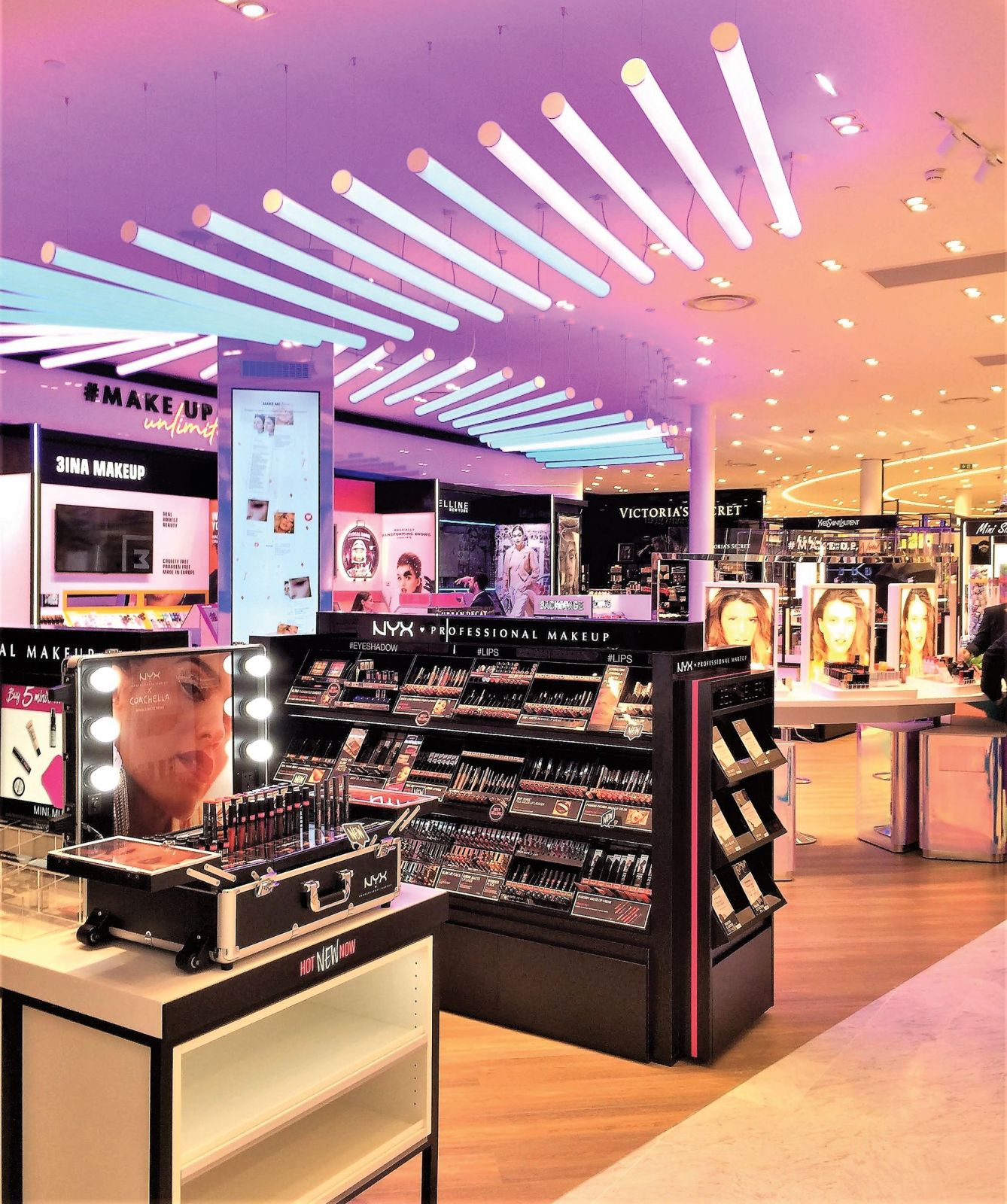 The beauty areas are bright and appealing with a large Victoria's Secret expected to drive strong sales.
The vibrant, accessibly-priced make-up section – where hashtags are prominent on the signage – has been designed to attract millennials. It offers a number of ways to interact with staff including a make-up table allowing up to three passengers to play with different products with the help of make-up artists, as well as to digitally visualise certain looks. These can be uploaded to a column in the store dedicated to social media posts. Brands featured here include Nyx (the first presentation in a European airport), 3ina, Benefit, Dior Backstage and Urban Decay.
SDA has also added a 'Natural Care' section to the beauty area. This was in line with consumer interest in this segment, which tends also to be at a lower price position, according to SDA. Brands here include Caudalíe, Korres, Nuxe, Origins, Ren and Rituals.
Victoria's Secret has one of the largest branded spaces in the store, because it is so popular. Romet commented: "This was the first time we were able to bring Victoria's Secret into the beauty category within a Buy Paris store." SDA was the first to have Victoria's Secret anywhere in the French market (at Orly West). "We made millions of euros with them to the extent that they decided to open in downtown Paris which should happen soon," says Bodescot.
"So we also opened one in Charles de Gaulle (T2F) and this is our third. Because we are selling both beauty and lingerie we have made the ambience of this store intimate and discreet. It is not right at the front and we have separated the categories in-store."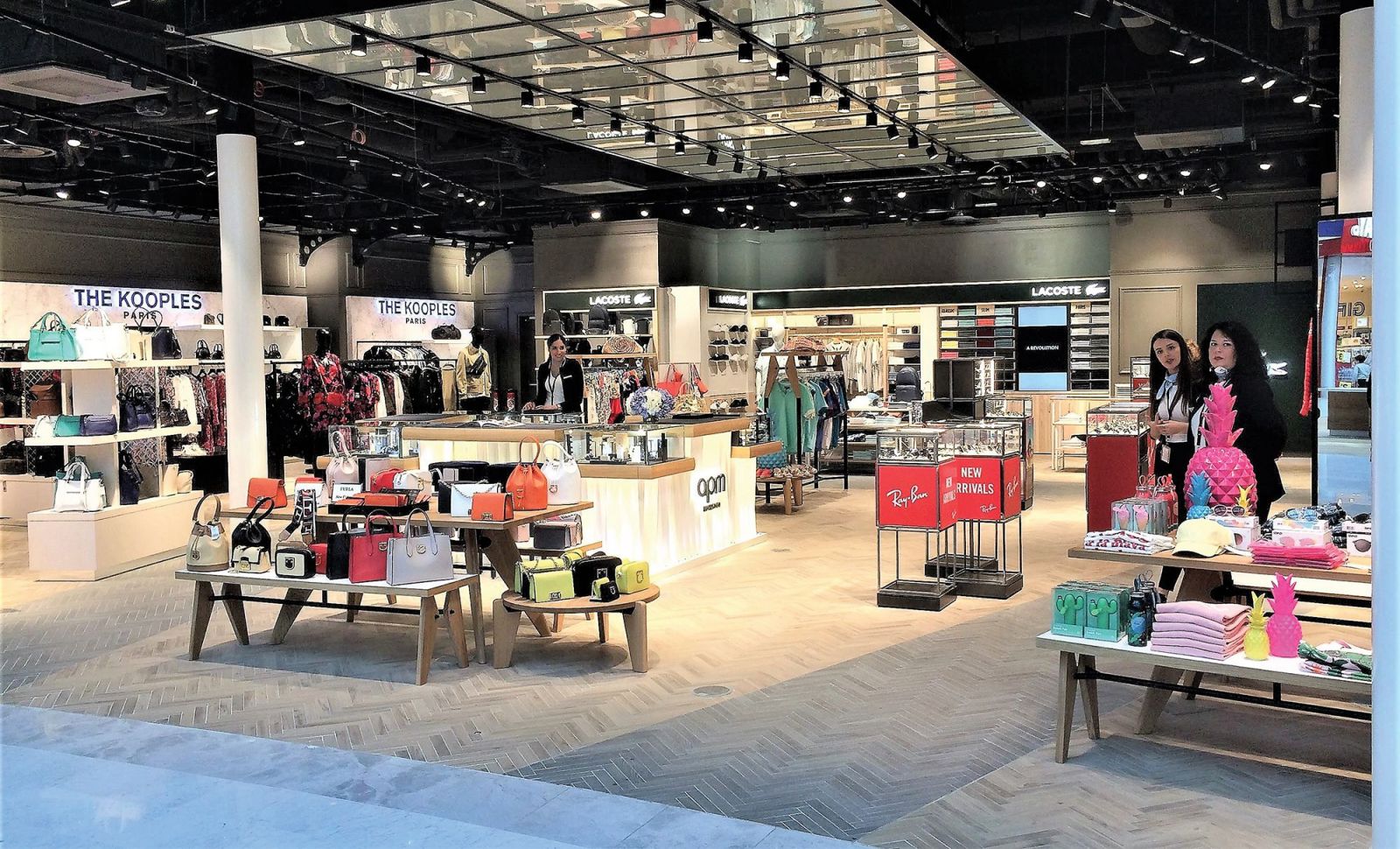 The fashion offer is a mix of prestige and street fashion, but not luxury. It caters well to the French profile at Orly.
Next along the path on the left is the tobacco section along with a high-tech humidor which connects the beauty and wine and spirits areas. To the right is a 'barber shop' experience where men can get a beard trim and, at the same time, discover a mix of grooming and spirits products from brands such as American Crew and Jack Daniels.
The path then takes a bend to the right where French delicacies under the branding Le Marché Parisien come into view. Also hard to miss, is what has become a signature feature of many of Lagardère Travel Retail's top locations – a national classic car, in this case a Citroën 2CV.
Bodescot comments: "Le Marché Parisien is a sub-brand of Buy Paris Duty Free offering French gourmet foods from across the country. It recreates, in a way, a dry seasonal market."
Heading towards the end of the store is a large confectionery area to the left ,with high-end Parisian brands, Maison du Chocolat and Fauchon, both very prominent. They maintain the strong French theming throughout the shop.
On the right before the checkouts is an area that is another reminder of how different Orly is to Charles de Gaulle, with 'Superdeals' and 'Magic Deals' signage, the giveaway. "We showcase a large number of offers and promotions near the till points and this reflects the profile of French nationals – they believe that shopping at the airport should mean a good deal," says Bodescot.
"We want to be seen by these passengers as a shopping destination and that means offering them the right price, so we have carefully adapted our Buy Paris concept to achieve this. It's a little bit like the difference between London Heathrow and London Gatwick."
The changing face of Orly Airport
Orly 3 is one piece of a much larger infrastructure investment at the airport. The terminal can process five million passengers and brings world-class customer service and comfort levels to the south Paris gateway.
Effective 16 April 2019, airlines starting their phased operations from Orly 3 include: Transavia, Level, Air Corsica, Pegasus Airlines, BA Cityflyer and Air France.
The international commercial zone at Orly 3 is designed according to the 'Rue Parisienne' concept which is expected to be replicated in other terminals.
Security has been enlarged and reconfigured in anticipation of outgoing traffic growth.
An upgraded baggage system improves capacity to 2,500 pieces per hour using OCR tracking. This cuts baggage waiting time on arrival.
A multi-modal Grand Paris Express station is under construction directly outside Orly 3 that will see two Paris metro lines (14 and 18) plus tramway 7 connect to the airport by 2024. The direct services to central Paris will make the journey much easier and substantially cut travel times (Orly to Gare de Lyon is estimated at 23 minutes).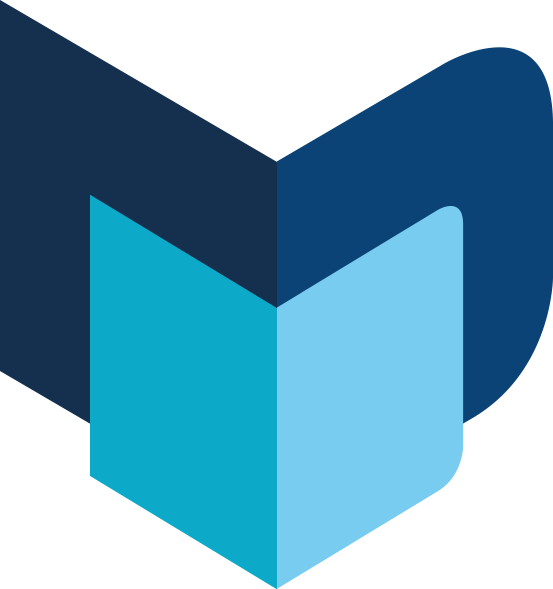 ---
The Moodie Davitt eZine | Issue 261 | 9 May 2019