Camus couldn't be aiming any higher with its brand and portfolio makeover. "Our goal is to produce the world's highest-quality Cognac," says Camus Chief Marketing Officer Jean-Dominique Andreu. "That is Cyril Camus' aim and we are using all our resources to reach that goal." Andreu discussed that heady ambition and what he dubs a "new brand manifesto" with Martin Moodie just before the big unveiling in March.
As someone well-versed in the traditions of the drinks industry – both from an entrepreneurial and corporate perspective – Jean-Dominique Andreu acknowledges both the need for great care and the seriousness of the mission "when you start to touch the furniture" of a fifth-generation company.
Andreu joined Camus in January 2018 following a diverse career path that had seen him establish and run French boutique spirits producer Maison Ferrand from 1989 until 2007; create brands such as Pierre Ferrand, Plantation rum and Citadelle gin; acquire A de Fussigny Cognac in 2007; and become Regional Managing Director – Europe for Stoli Group, for whom he worked from 2012 to 2017. But the reincarnation of the Camus brand stands out as a career highlight, he says.
"It's new liquid and a 100% new brand platform," Andreu explains, talking over lunch in London a month before the project was announced publicly via French television and The Moodie Davitt Report. "We have introduced new packaging and POS, together with a new campaign including new social media and PR."
Ten casks of Camus Caribbean Expedition Cognac arrived in Bridgetown, Barbados this January after a month and a half's voyage aboard tall ship De Gallant. The journey was part of a project to explore how Cognac matured on the ocean and in the tropics.
He says that the objective of that new "brand manifesto" is to put Camus "top of mind" with consumers and to demonstrate the brand's "savoir faire" in Cognac-making. "Cyril [Camus] has a very specific idea of what Cognac should be. He has put a lot of effort into improving the quality of the liquid since taking over as head of the family business 15 years ago. His passion has always been to have the most aromatic Cognac possible. So, for example, all the wines are distilled with the lees – with the sediment, and we have a unique distillation process. We have very fruity and very floral aromas and are not so heavy on the oak.
"It is a very specific style and I think the Cognac is absolutely astonishing. But this was not expressed in the packaging, in the marketing and in the price. The brand really lacked the premium image that it deserved [among consumers]. So, Cyril decided to entirely reposition the main line. We are communicating on things which we were already doing, but not expressing in the right way."
The new-look repositioned and upgraded line-up – featuring Very Special, VSOP, XO and travel retail-exclusive Extra – will be introduced to global travel retail at the TFWA World Exhibition in Cannes in October after an initial exclusivity with China Duty Free Group and Lagardère Travel Retail across their individual and joint locations.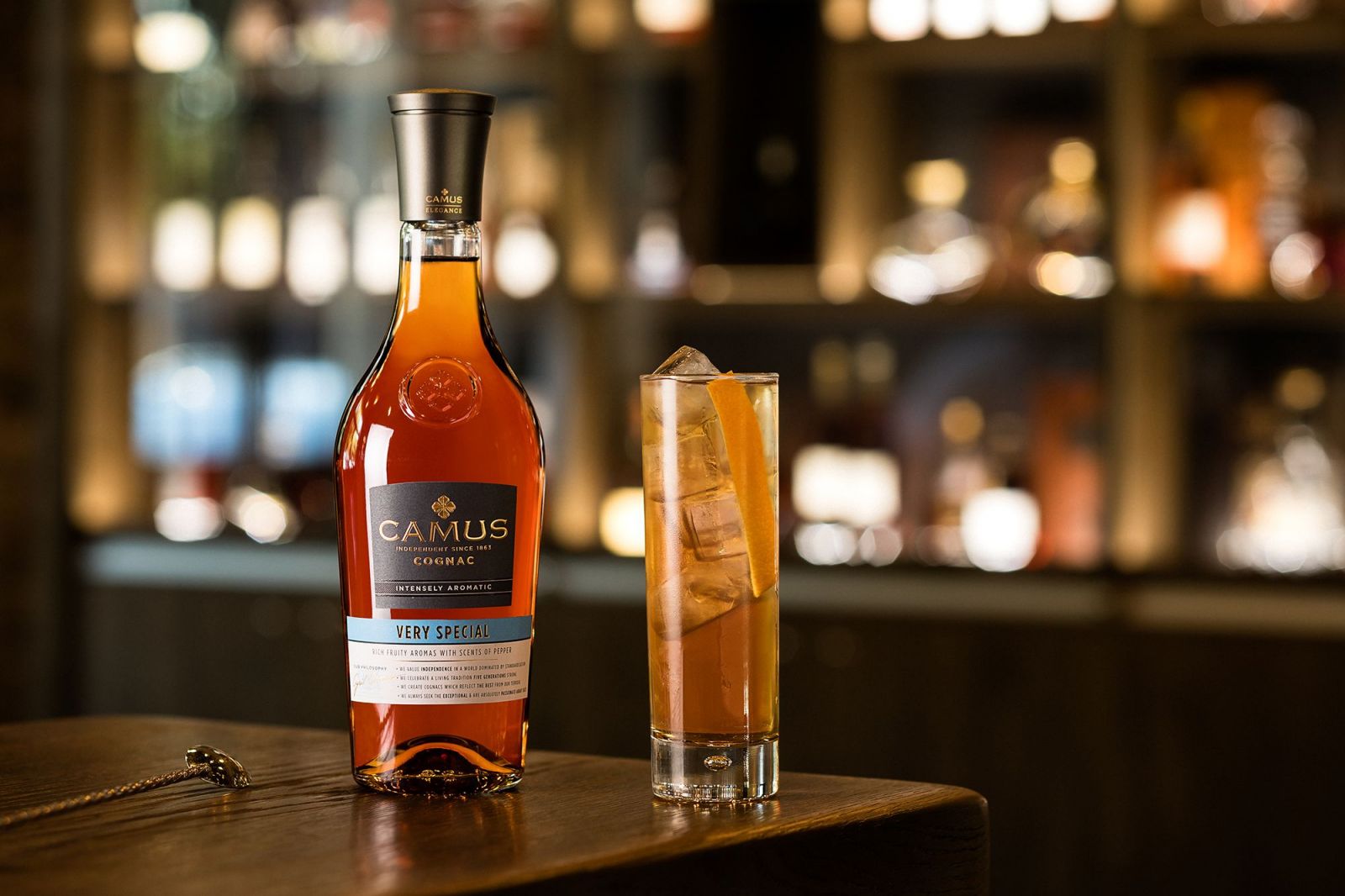 Camus is working with some of the world's most creative bartenders to explore the aromatic Cognac's versatility in mixed drinks.
It was also introduced in late March to high-end on-trade locations in China, France and the USA. Importantly, the brand's price points have been upgraded to be aligned with (and in some cases above) category leader Hennessy – a huge statement of confidence by Camus (and retailers) in the Cognac's intrinsic quality.
"This is why I wanted to state our philosophy: 'Independence in a world dominated by standardisation'. Then, 'We celebrate a living tradition five generations strong'. – Boom!"
A major promotional campaign, dubbed 'An instant of intensity' (linked to Camus' unique production method – see graphic), has been launched to support the programme. A secondary tag line, 'Independent since 1863', reaffirms the firm's family roots. Each bottle features the words 'Intensely Aromatic' and, uniquely, the tasting notes and production philosophy is stated on the front rather than back label of both bottle and box. Unusually, the side of the box carries detailed technical information concerning the wines being distilled on the lees, the house's unique distillation process and the 100% small oak cask ageing.
Under the VSOP classification, for example, the front label reads:
We value independence in a world dominated by standardisation.
We celebrate a living tradition five generations strong.
We create Cognacs which reflect the best from our terroir.
We always seek the exceptional and are absolutely passionate about taste.
Why so much information up front? "The consumer today is interested in what people believe in," Andreu responds. "Younger millennials, Generation Y and so on, they want to know what Camus is. Lots of people before thought that Camus was one of the big liquor groups. They did not know the Camus family; they didn't know that Cyril has special belief when it comes to Cognac.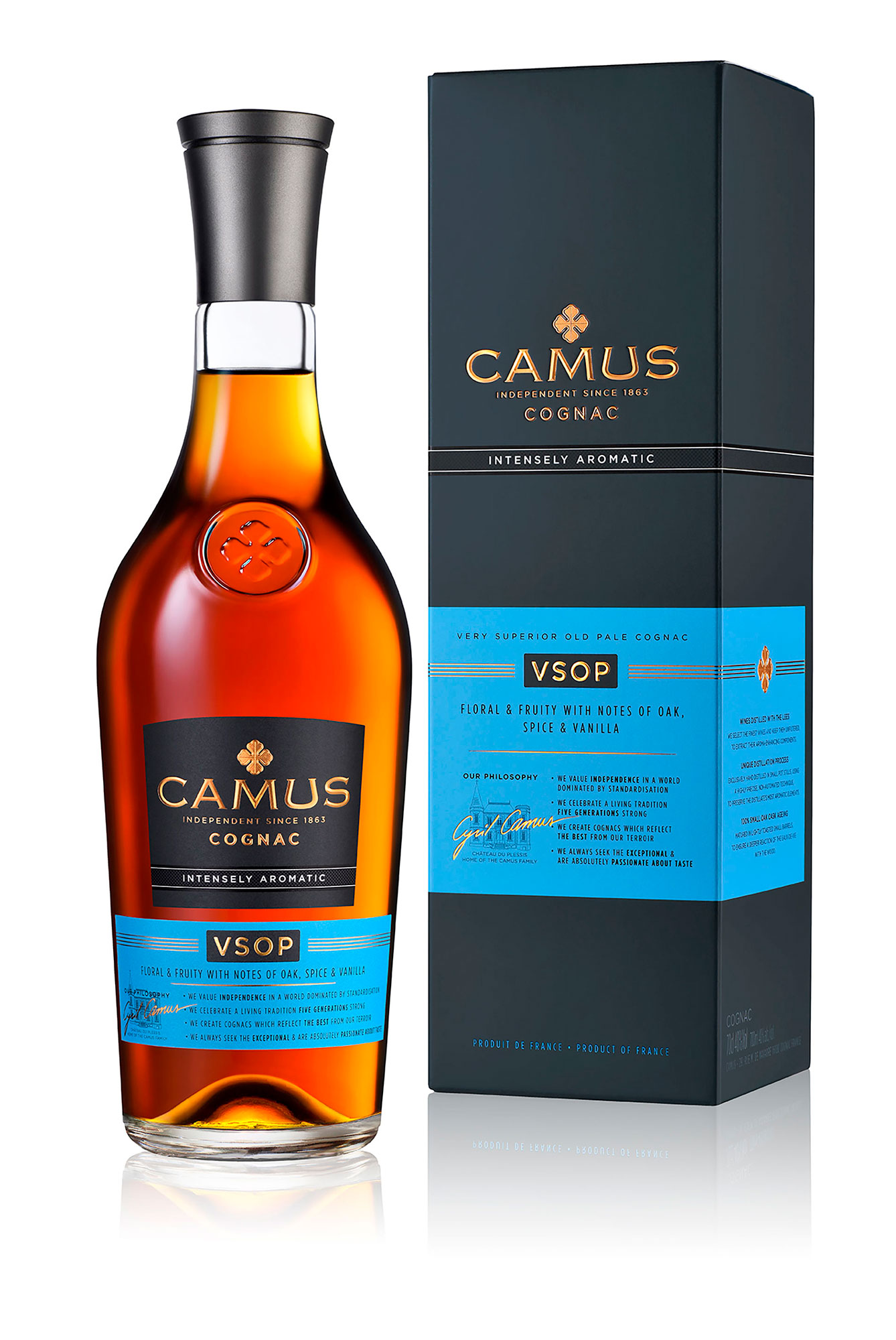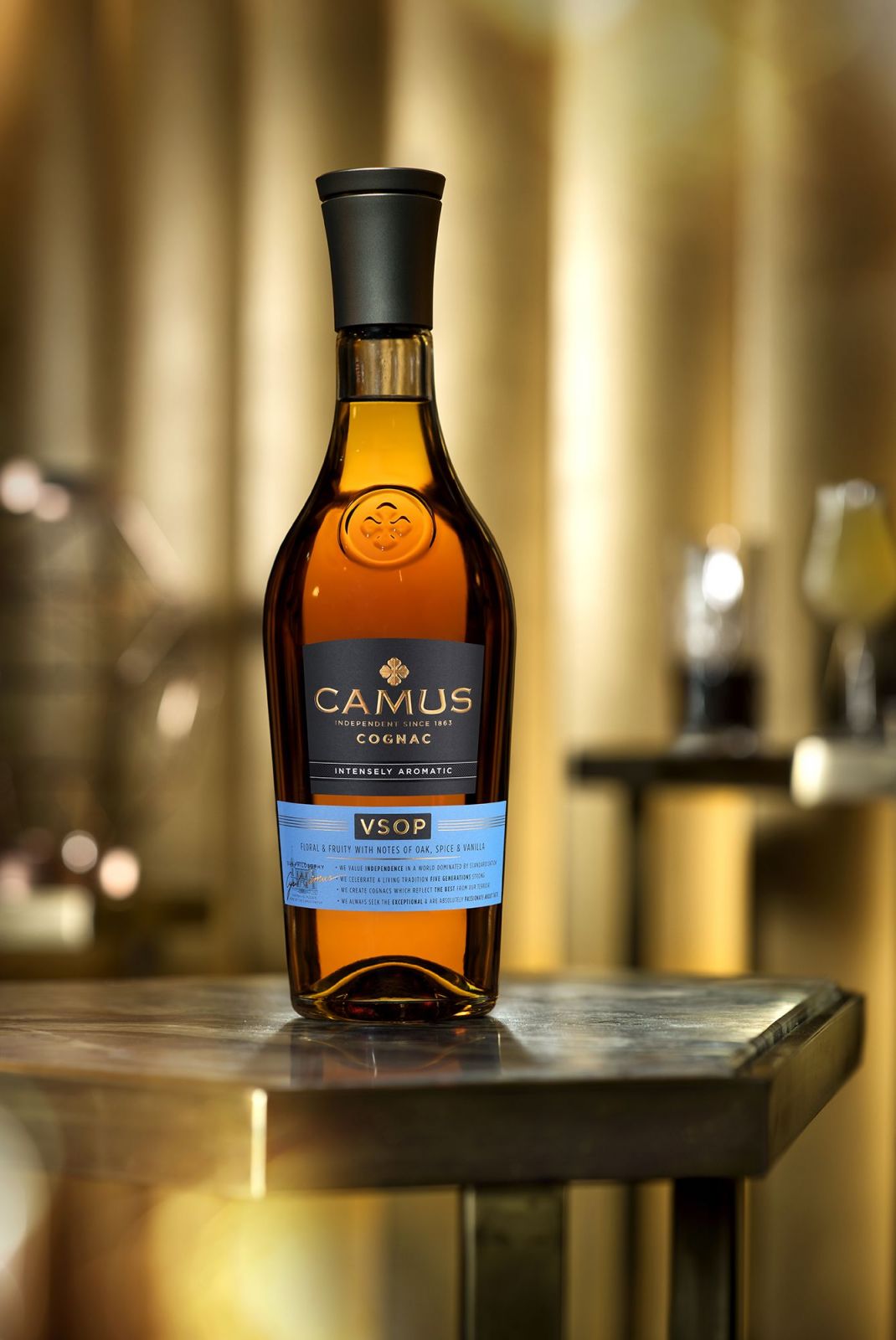 Emphasising the craft that underpins Cognac: Note the prominence of the tasting notes, house philosophy and unique selling points.
"Why is the Camus family doing Cognac today? What does Cyril believe in? What is his own vision of Cognac? This is what is interesting to the consumer today. We have a brand, which is personalised by one person. It's a brand which carries his name and he is the boss and owns the company.
"This is why I wanted to state our philosophy: 'Independence in a world dominated by standardisation'. Then, 'We celebrate a living tradition five generations strong'. – Boom!
"And then: 'We create Cognac which reflects the best from our terroir. We always seek the exceptional and are absolutely passionate about taste.'
"And our tasting notes are written big [on the front of bottle and box] – 'Floral & Fruity with notes of Oak, Spice & Vanilla' for the VSOP.
"VS can mean cheap Cognac. This is Very Special… actually, it's fantastic Cognac."
"The packaging is completely focused on the liquid. It's very modern, and not targeted specifically to the Cognac drinker, but to all people who appreciate fine spirits. This is a very ambitious restatement of the company DNA.
"Actually, this is not something new, because this is the direction Cyril gave to the cellar master when he took over the company, though until now it was not reflected in the packaging. But this is much more than a re-pack – it's a complete brand platform with lots of cool and interesting elements. We want to establish Camus as a serious stand-alone brand. If somebody is looking for a special Cognac, something really interesting, he will go for this."
Notably the acronym VS is not used, Camus opting to use the fully spelled out 'Very Special' instead. The semantics are crucial, Andreu insists. "VS can mean cheap Cognac. This is Very Special… actually, it's fantastic Cognac," he says. "You know, the big problem we have got with this craft spirits movement today is that there's a lot of craft rubbish. Whereas integrity for Cyril is super important. He believes in what he says. He's very strict on the message that the company must deliver [on its promises]. But we also want to say what we are… so we have created something that stands out with the USP on the side and the philosophy and tasting notes on the front."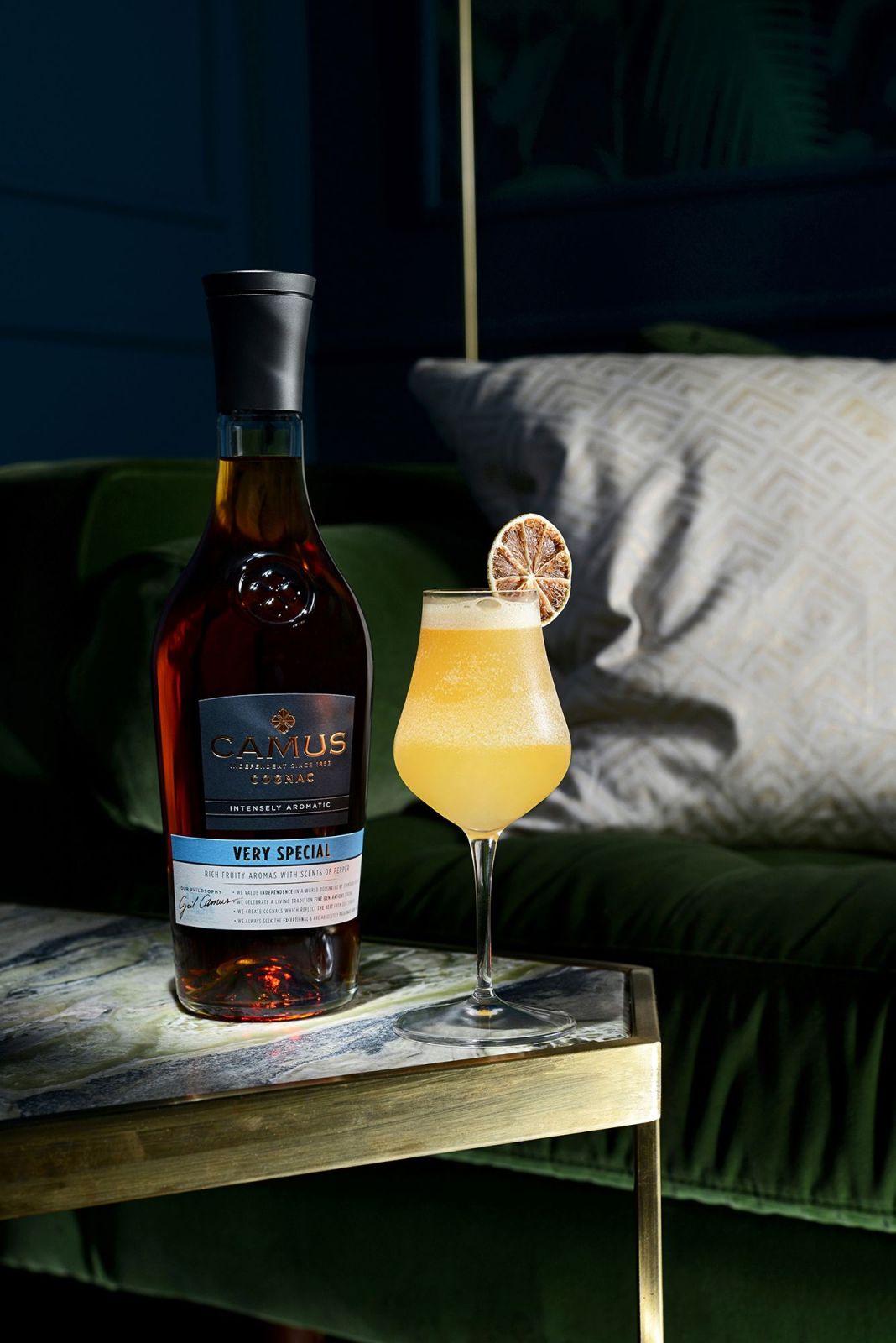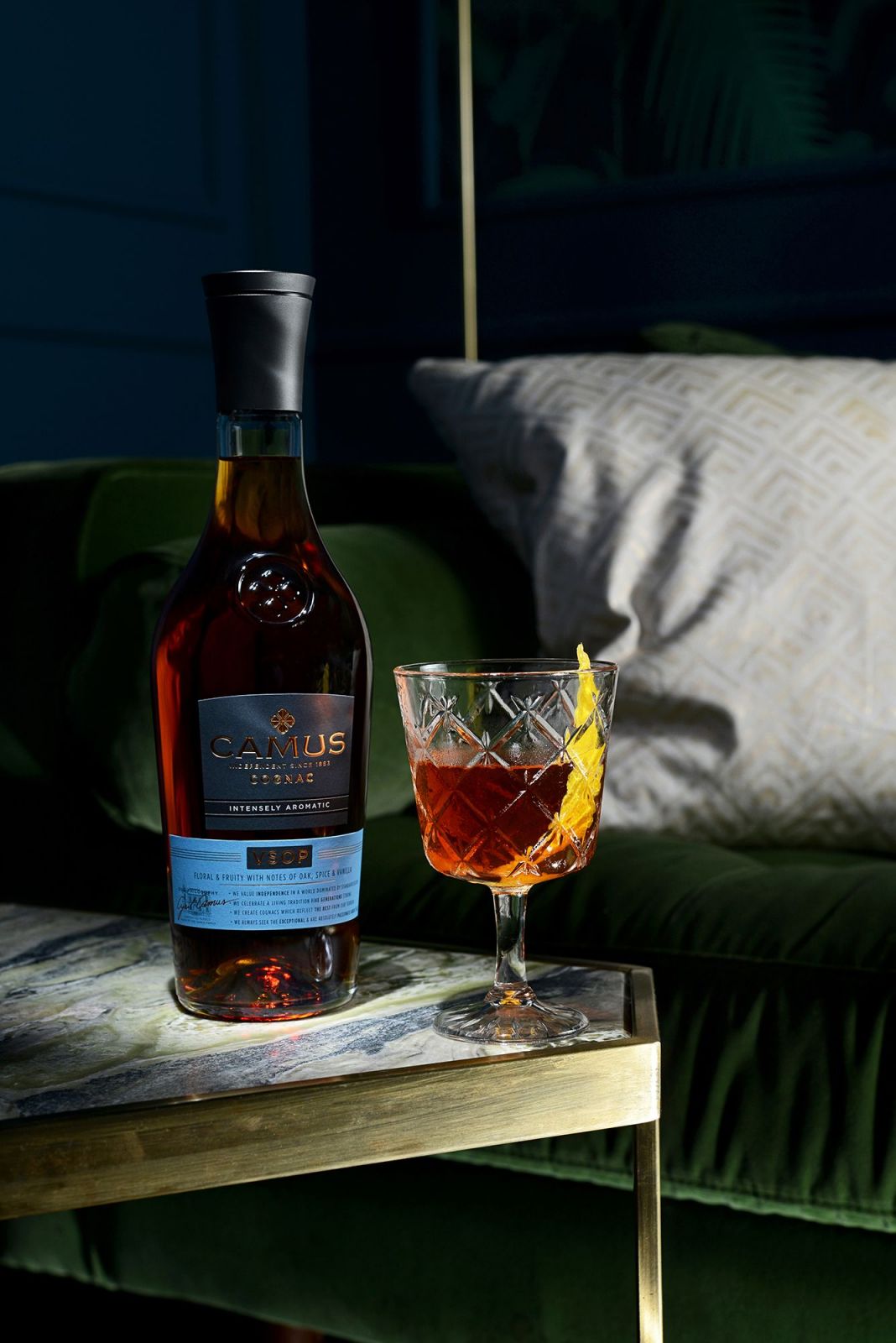 Cognac reimagined through new signature cocktails.
Camus is also introducing a Single Estate Borderies range, featuring VSOP and XO expressions. Additional new niche lines include Camus Port Cask Finish and Camus St. Aulaye Monbazillac Finish and Camus Caribbean Expedition Cognac. The latter is a limited-edition Cognac matured first in oceanic conditions (on a sea voyage to Barbados) and then in tropical weather.
Speaking of the innovative new expressions, Andreu says that an earlier, limited-edition version of Port Cask Finish, sold only in the French domestic market, had proven highly successful. The new edition will be rolled out in both duty free and local market channels.
Camus St. Aulaye, Dordogne, Mombazillac Finish is a particularly intriguing concept. Cognac is mainly produced in the Charente and Charente Maritime areas but Dordogne, which has a markedly different climate and soil, is also part of the Cognac AOC, featuring some wine-growing areas. Cyril Camus decided to help the local village to continue to maintain its heritage with the special bottling.
That launch typifies the Camus family approach, Andreu says. It will always do things its own way. "We are the last one of the [major] Cognac houses to have the old system of family, which owned the business and passed it from generation to generation. Cyril has owned the business since his father [Jean-Paul] gave it to him. This independence is very, very important for us. We have one mission – to produce and sell the best Cognac in the world. It's a bold statement, but I think we have reason to support it."
The furniture, dating back five generations, has been reconstructed rather than simply touched. But no-one can doubt the quality of the refurbishment.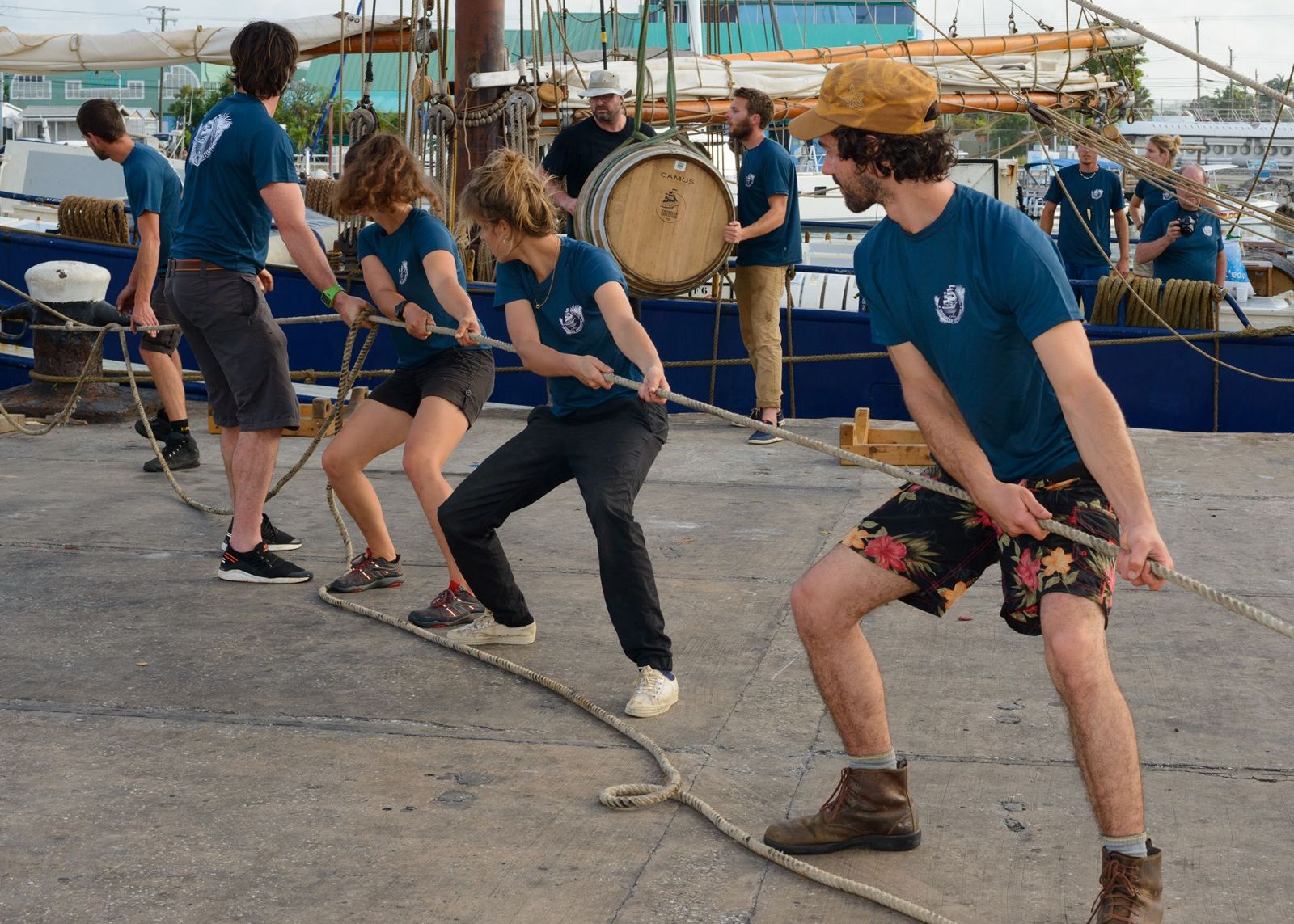 Making waves: Camus Caribbean Expedition Cognac's marine maturation promises to produce a unique and intriguing spirit.
From vine to glass
The Camus family owns 188 hectares (465 acres) of vineyards within the small, historical and sought-after Borderies cru, known for giving deeply floral aromas to the eaux-de-vie. All Camus Cognac blends contain at least some Borderies eaux-de-vie.
Camus uses a patented, bespoke distillation process whereby the 'heads' are extracted and tasted litre by litre, and a small portion of them – highly concentrated in aromas – are reintegrated into the heart of the distillate to produce intensely aromatic Cognacs.
Raising the bar
Camus is working with some of the world's most innovative and renowned bartenders to underline the new positioning.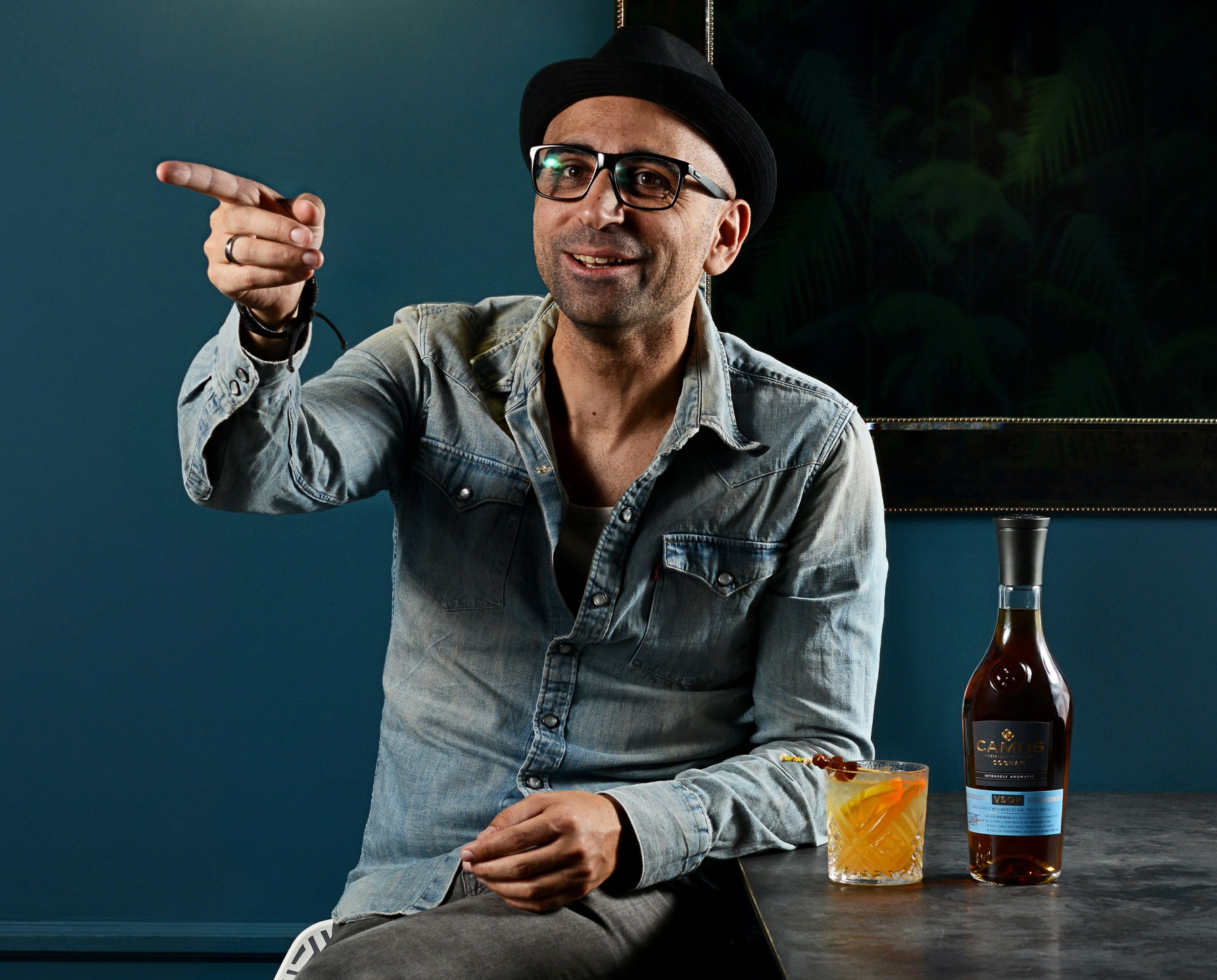 Christopher Gaglione: Creator of the Soléra bar in Paris; official consultant for Hotel de Berri and a designer of high-end tools for cocktail serving. He is considered one of the key innovators for mixology in Paris.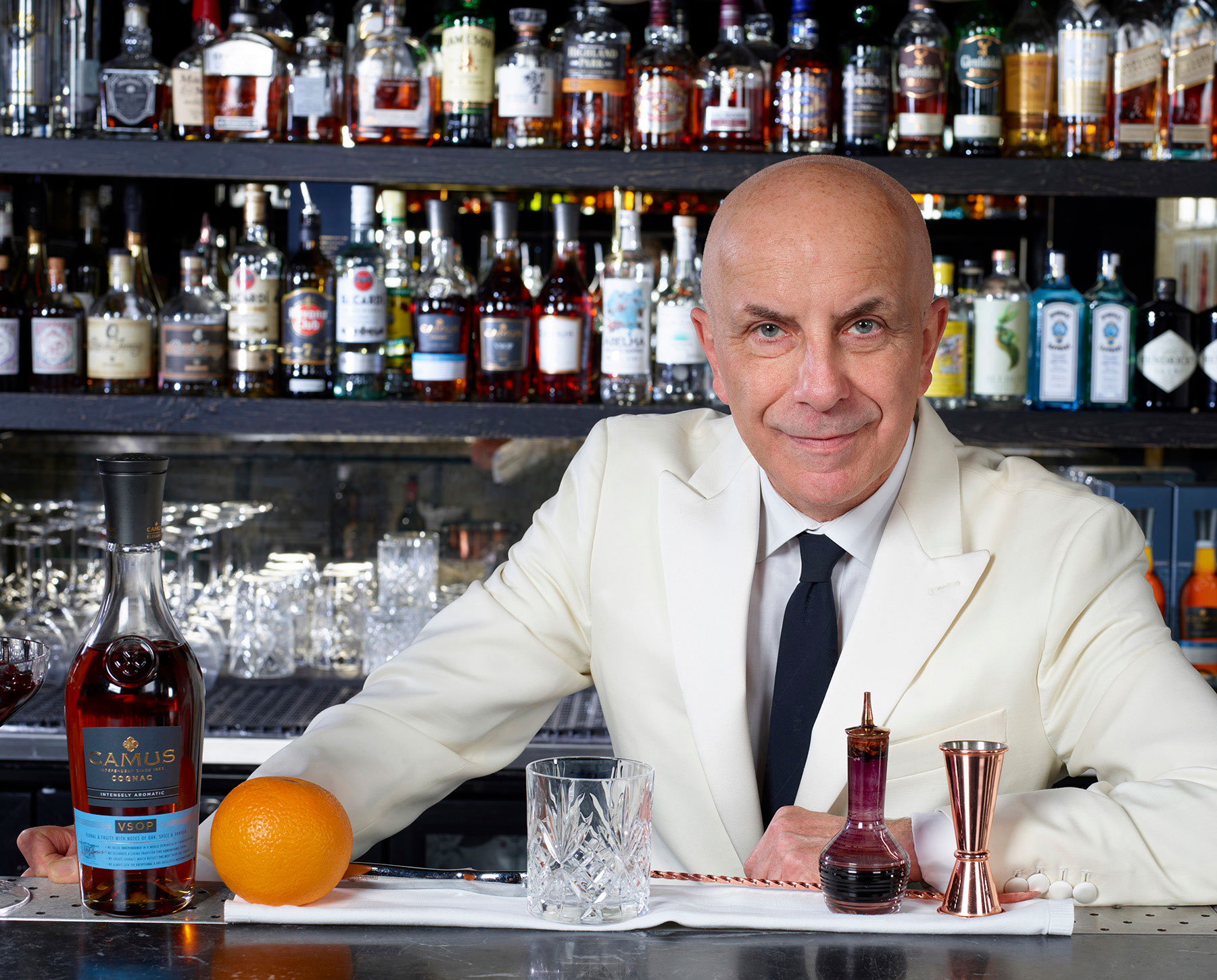 Alessandro Palazzi: Dubbed the 'godfather of mixology in London', he is the head bartender at the iconic Dukes Bar in London. Palazzi is recognised globally for his touch on classic cocktails and is renowned as the 'King of Martini'.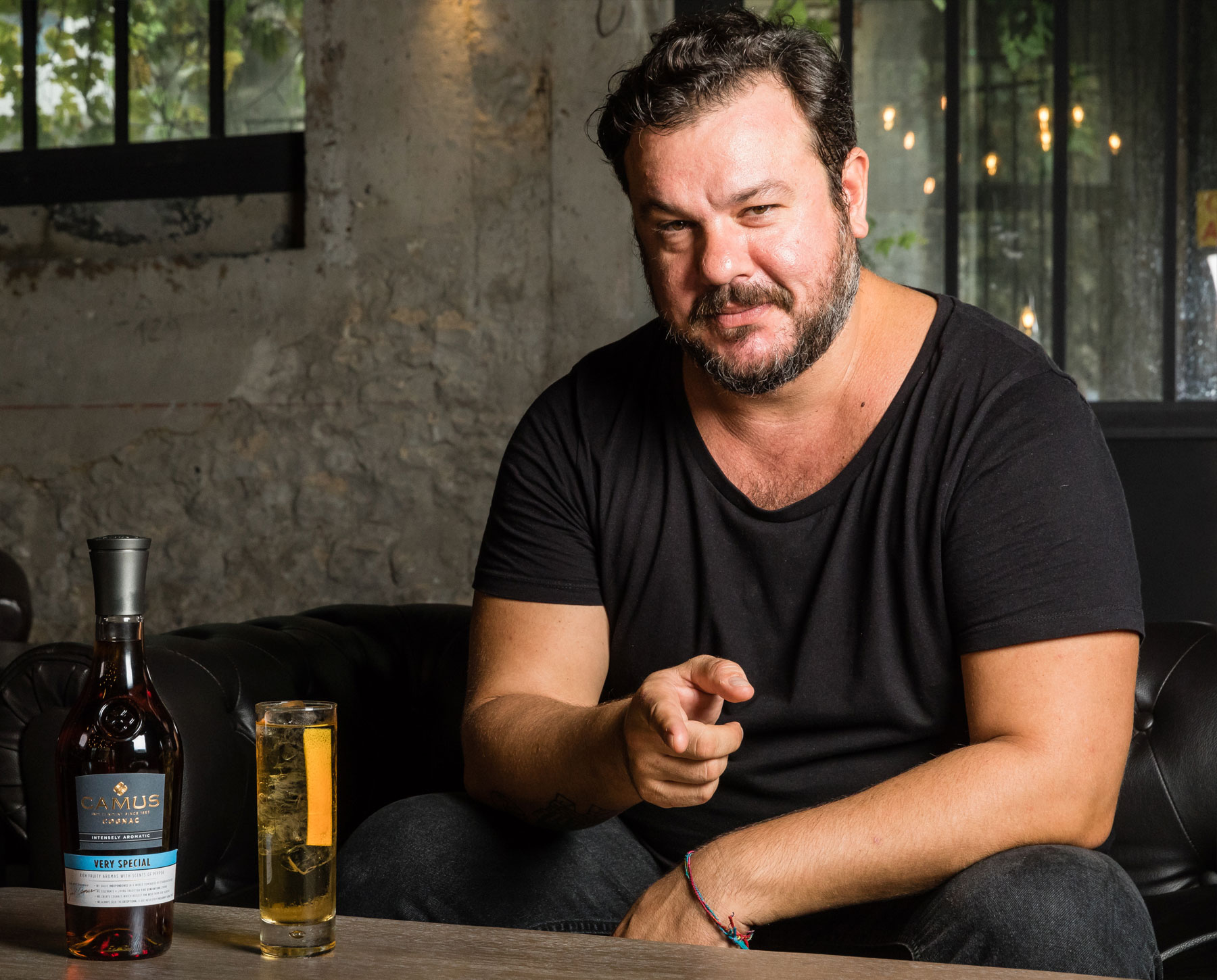 Patrick Pistolesi: The Italian-Irish cocktail genius created Caffé Propaganda, named the best Italian bar in 2016. He is a Japanese culture enthusiast renowned for creating cocktails with a kick. He is a key reference for Highball cocktails.
Each has created a range of signature Camus-based cocktails to reflect the new positioning.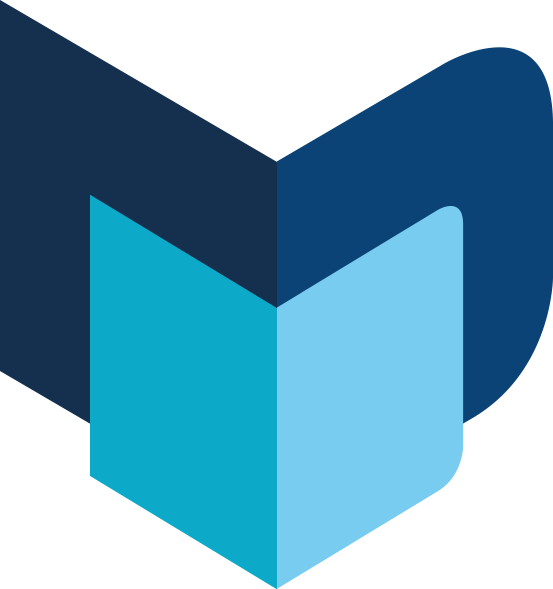 ---
The Moodie Davitt eZine | Issue 259 | 15 April 2019