---
China Duty Free Group parent China International Travel Service (CITS) bucked the trend as the only player among the travel retail-related companies we track in this column to see its share price increase in the current period (closing prices between 29 July and 28 August).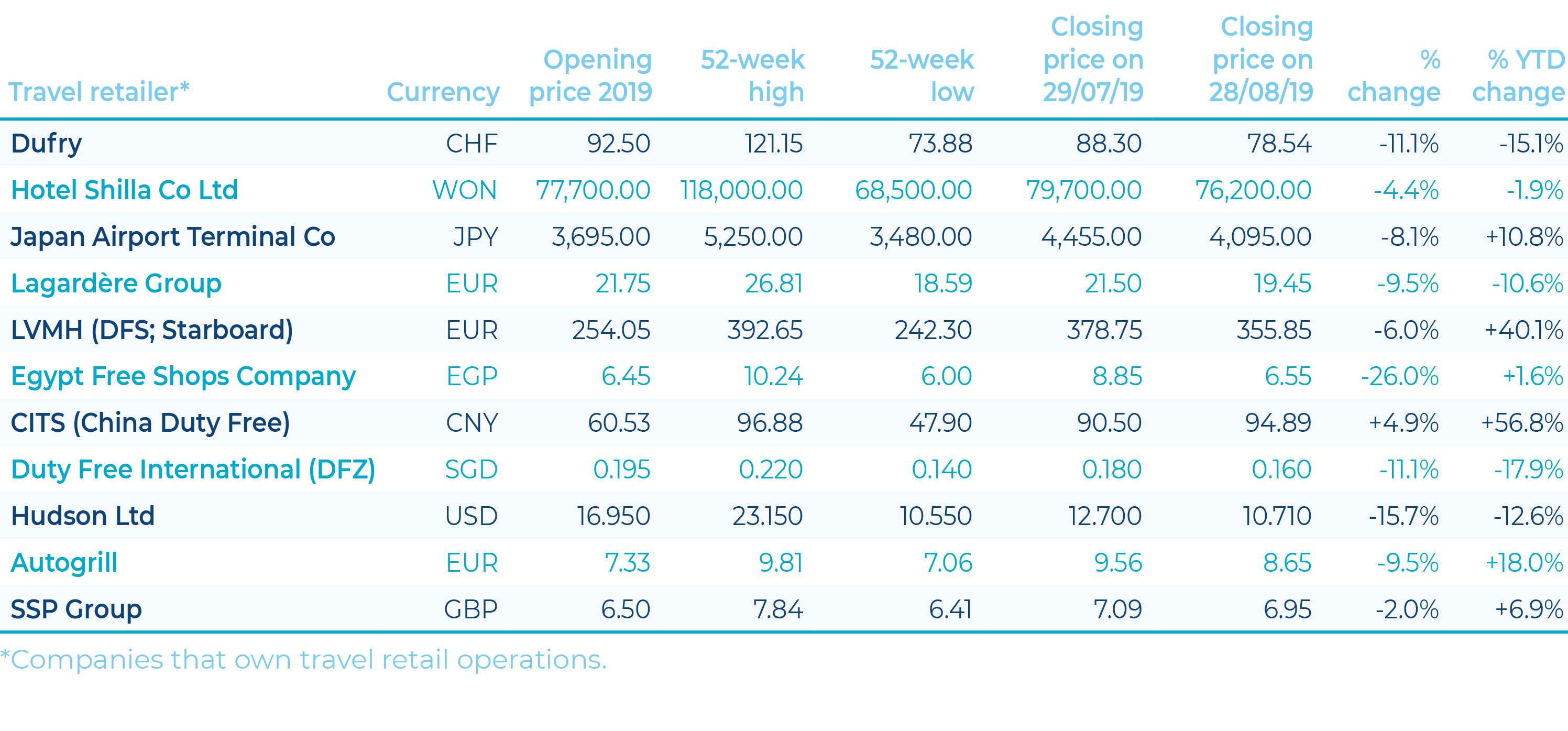 That should come as no surprise given CITS' surge on the stock market in 2019, up +56.8% since 1 January and by some distance our top performer so far.
The biggest faller on the stock market this time, in terms of percentage decrease, was Egypt Free Shops Company (-26.1%). This decline has had a major impact on the company's year-to-date differential, which stood at +37.2% in the last column but is now just +1.6%.
Dufry (-11.1%), Lagardère Group (-9.5%), Duty Free International (-11.1%) and Hudson (-15.7%) all fell significantly, and hit 52-week lows during the current period. Those four companies also have heavy negative year-to-date differentials, ranging from -17.9% to -10.6%.
The only other company among those we track to have declined since the start of 2019 is Hotel Shilla, at a more modest -1.9% (-4.4% in the current period).
Shares in Autogrill fell -9.5% this time. The food & beverage company reported a +4.3% year-on-year increase in consolidated revenue for the first half of 2019, to €2,272 million, on 1 August. Solid like-for-like revenue growth of +3% was largely driven by a positive performance in North America and International markets, Autogrill said.
A strong performance in the airports channel, with +8% revenue growth at constant exchange rates to €1,383 million, was a key revenue driver. All regions contributed to growth in the business.

The Moodie Davitt eZine
Issue 266 | 4 September 2019
The Moodie Davitt eZine is published 20 times per year by The Moodie Davitt Report (Moodie International Ltd).
© All material is copyright and cannot be reproduced without the permission of the Publisher.
To find out more visit www.moodiedavittreport.com and to subscribe, please e-mail sinead@moodiedavittreport.com