---
Picking up the pieces of a major regulation change
Korea is set to change its duty free pick-up system for local products from onsite pick-up to designated 'export pick-up desks' located at Incheon International Airport. What could this mean for duty free store purchases in Korea and for the reseller market? The Moodie Davitt Business Intelligence Unit's Min Yong Jung offers a scenario analysis.
The Korea Customs Service (KCS) recently announced a major proposed change to its duty free pick-up system. If introduced, duty free sales of local goods to resellers would be reclassified as exports and similar processes and regulations applicable to normal exports would be implemented.
The new regulation is expected to be introduced before the end of the year, and will prevent any 'MGs' (major guests: large-scale resellers with corporate registration) and 'SGs' (small guests: small-scale resellers) who purchase over US$5,000 worth of goods from picking up local products onsite at duty free stores as they can at present.
The KCS will instead designate a new 'export pick-up desk' located at an as yet unspecified site within the Incheon Free Economic Zone (IFEZ), in which Incheon International Airport is positioned, to report and process the goods as exports. KCS officials say the reason behind the change is to allow for better management of duty free products in the Korean market. They wish to correct problems associated with unaccounted duty free goods being sold within Korea, a common complaint by Korean domestic retailers.
While resellers have continually adapted to changes in regulation and persisted in increasing their order volumes to match growing demand in China, the change to limit onsite pick-up of local produce may create short-term headwinds to daigou activity.
There is no change to Koreans in their purchase and pick-up at duty free stores. While the duty free purchase limit (the amount Koreans can purchase at Korean duty free stores) for Koreans was raised from US$3,000 to US$5,000 in July 2019, the effectiveness of this move in boosting Korean national spending in duty free is questionable as the duty free allowance (purchase limit for tax exemption upon re-entry) remains at US$600.

Source: Moodie Davitt Business Intelligence Unit
The KCS has introduced changes to the pick-up of duty free purchases by foreigners and acknowledged the presence of resellers by introducing a different treatment of resellers in their pick up of local products by purchase amount and size of entity. Larger scale MGs are required to go through the new export pick up desk while SGs can decide whether to use it or not depending on if their total purchase amount exceeds or is below US$5,000.

How the duty free pick up system currently works (above), and how it would work with the introduction of the new regulation (below). Source: Moodie Davitt Business Intelligence Unit

The concept of MGs and SGs is widely used in the duty free industry but was first used by the KCS in official documentation. The majority of resellers purchase above the US$5,000 limit and will be required to register their purchase and pick up their products at the export pick-up desk.
The onsite delivery of Korean local products was deemed to be a strong selling point for resellers as they could pick-up the products in major duty free stores situated in close proximity. Resellers typically visit numerous stores in the Seoul area to purchase bestselling products that are sold in limited quantities per store.
Several Korean duty free operators contacted by The Moodie Davitt Report view the change in regulations as an introduction of red tape requiring resellers to make the journey to Incheon to pick-up and report the details of their purchase as an export. The airport is more than 50km from Myeongdong.
This could persuade some resellers to refrain from purchasing local products and may result in a further decline in the share of Korean products sold, as resellers prefer to purchase foreign goods. The share of Korean-made products of total duty free sales of cosmetics goods has been declining. The fall comes despite the onsite pick-up advantage with Korean cosmetics brands increasing their presence in the mainland at competitive prices and local Chinese cosmetics brands growing in competitiveness.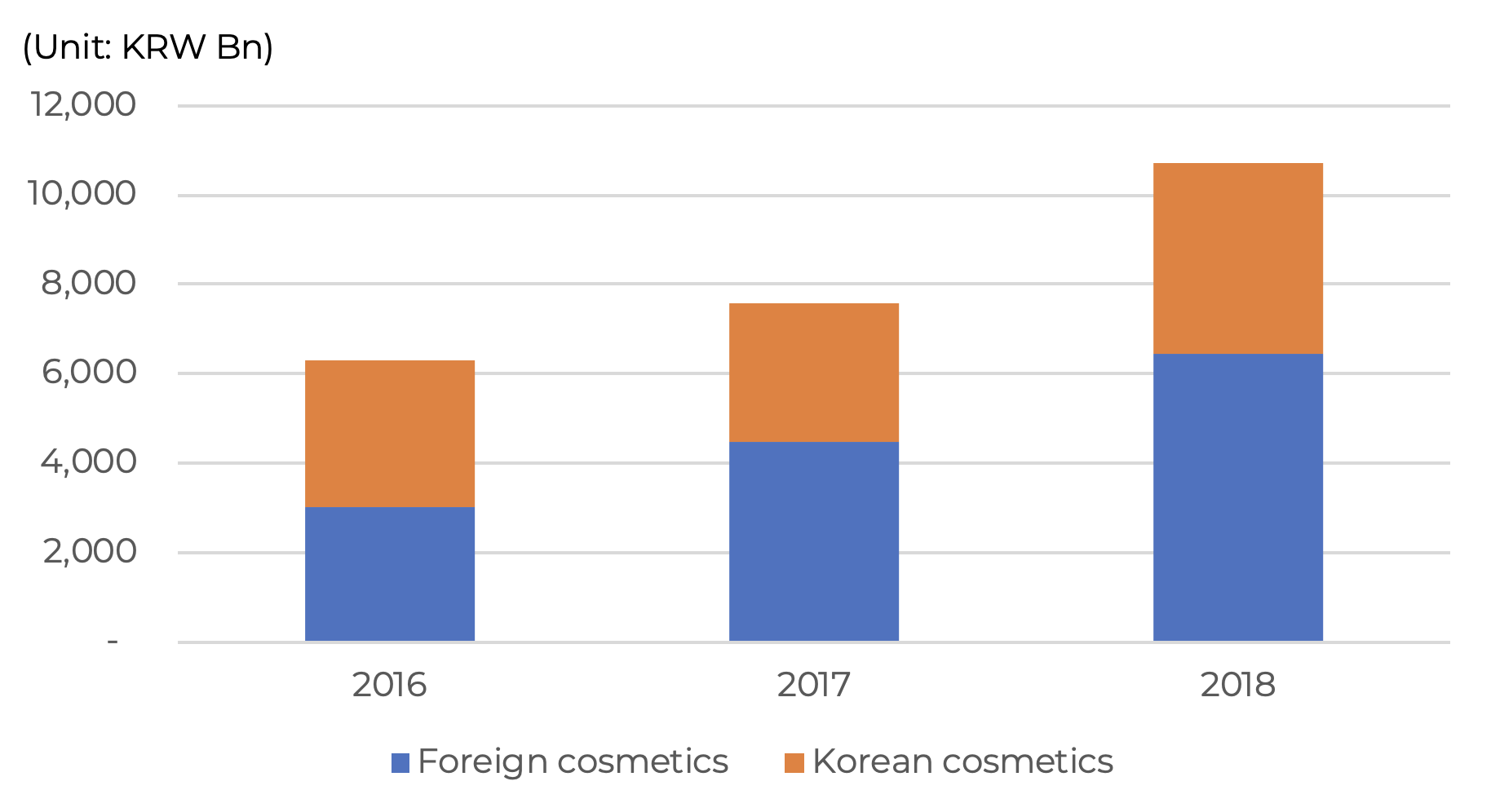 A comparison of foreign and Korean cosmetics sales in the past few years (above) and as a percentage of total duty free cosmetics sales (below). Source: Moodie Davitt Business Intelligence Unit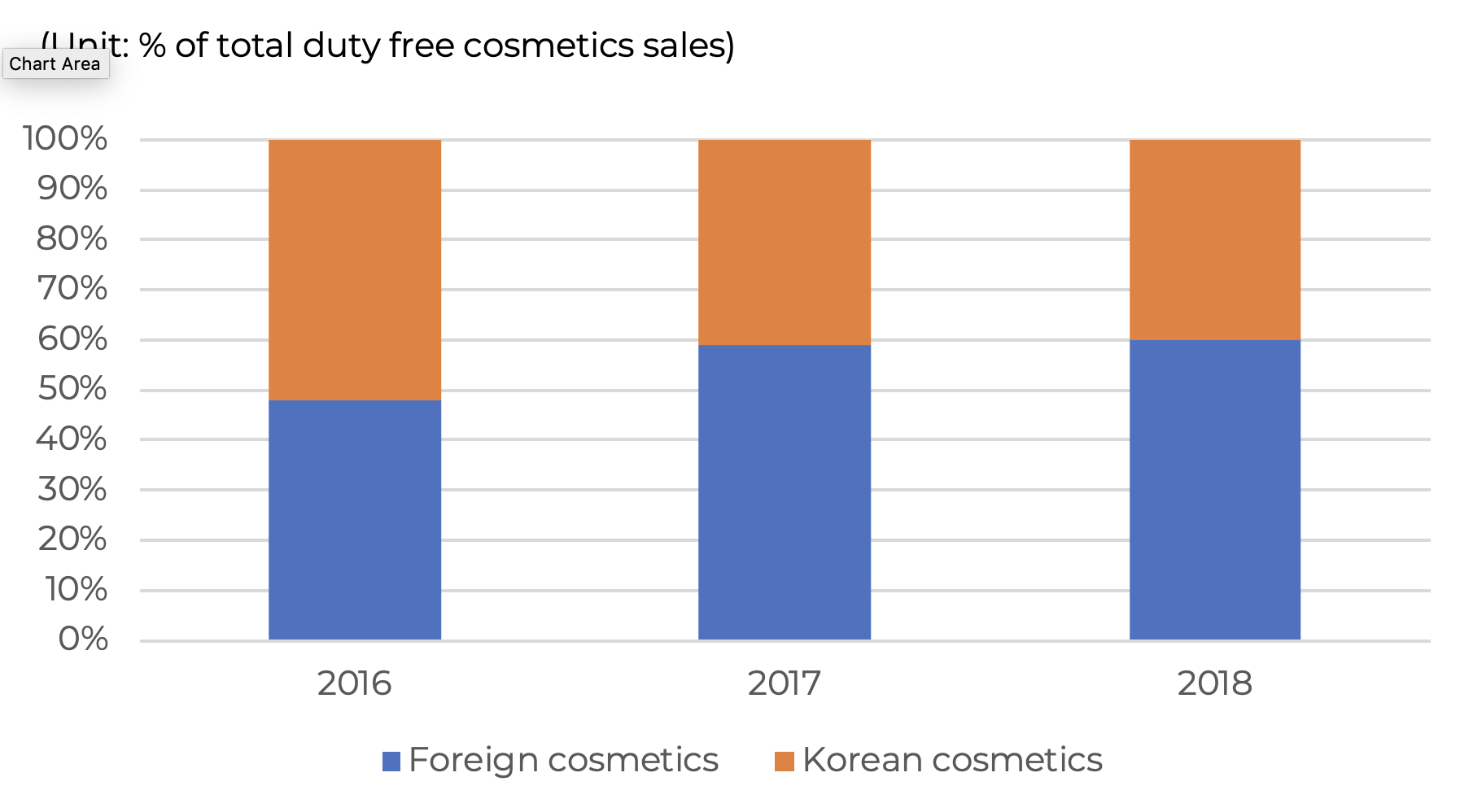 Once the new regulation is implemented, resellers will benefit from being able to register their products as exports. Korea applies a 10% Value Added Tax (VAT) on purchases but this tax is exempt for direct exportation of goods, services rendered to foreign countries. A reseller will not have paid any VAT for the duty free purchases but purchases made for packaging will be subject to tax exemption.
Other costs, such as the purchase of fuel for transportation, entertainment expenses or meal expenses, are excluded from VAT exemption. One large scale daigou commented that costs for boxes, tape and other material for packaging takes a small portion of their costs and doubts that this benefit will have much impact for resellers.
While tax exemption may be less appealing, the removal of limits that prevented duty free purchases may be more enticing for daigou resellers. Regulations in Korea previously limited sales of local goods at duty free stores to 50 products per store. The KCS noted this limit could be removed with the introduction of the export pick-up desks. An increase in orders for local products though can only happen if brands cooperate to relieve the duty free sales limits currently in place.
Should Amorepacific relax its duty free limit (which is mainly on its luxury brands), duty free sales should grow above the industry average rate. The company has underperformed the industry average for two consecutive quarters.
The KCS promises that the purchase records of resellers will remain within Korea and not be distributed elsewhere. But resellers, duty free operators and brands remain concerned with how this will play out in reality. The registration and build-up of data would fit perfectly with China's new ecommerce law by providing regulators there with additional information about the product purchasers. Despite the KCS's promise to keep the information in Korea, resellers remain cautious and concerned about future developments.
The Korean media reported on a task force team operating at KCS to prepare a detailed plan for the creation of the export pick-up desk. With a plan in place, the KCS can locate a site within the IFEZ and prepare the necessary IT infrastructure with relative ease. Industry experts believe that the implementation of this new change could happen by the end of the year or early next year.
The KCS is determined to apply the changes and industry participants remain concerned about what this could mean for duty free sales in Korea.

The Moodie Davitt eZine
Issue 266 | 4 September 2019
The Moodie Davitt eZine is published 20 times per year by The Moodie Davitt Report (Moodie International Ltd).

© All material is copyright and cannot be reproduced without the permission of the Publisher.
To find out more visit www.moodiedavittreport.com and to subscribe, please e-mail sinead@moodiedavittreport.com