---
Escalating tensions: South Korea and Japan dispute spills over to travel sector
The age-old rift between the two countries has begun to impact sales of consumer goods and the travel industry following the implementation of a nationwide boycott in Korea against Japanese goods and tit for tat reaction. Senior Retail and Commercial Analyst Min Yong Jung of The Moodie Davitt Business Intelligence Unit assesses the latest developments.
While world attention focuses on the extraordinary political unrest in Hong Kong, a growing geopolitical rift between South Korea and Japan continues to escalate with less attention, at least outside the two countries. The dispute has alarming repercussions for numerous business sectors, including travel retail.
The worsening dispute between the two north Asia powers has begun to impact sales of consumer goods and the travel industry following a nationwide boycott in South Korea against Japanese goods on 5 July.

A timeline of major events in the escalating row between South Korea and Japan. Source (all charts): Moodie Davitt Business Intelligence Unit
According to data released by Korea's National Assembly Member Kang Byung-won, imports of beer and sake from Japan were down -34.6% and -42.1% year-on-year respectively in July. Other Korean media publications suggest the boycott by Korean consumers is intensifying and early August data shows that imports of Japanese beer sales are down -98.8% year-on-year, with sake sales also falling -70%.
Foreign beer imports into Korea have risen sharply over the years, fuelled by growing popularity based on price competitiveness. Retailers and brands have reduced prices and increased promotions to capture demand from the rise in the number of people drinking alone. As a result of the introduction of a 'buy four imported beer cans for KRW10,000' [approximately US$8] campaign, the market share of foreign beer at Korea's largest hypermarket chain E-mart has grown from 17.7% in 2015 to 25.3% in 2018.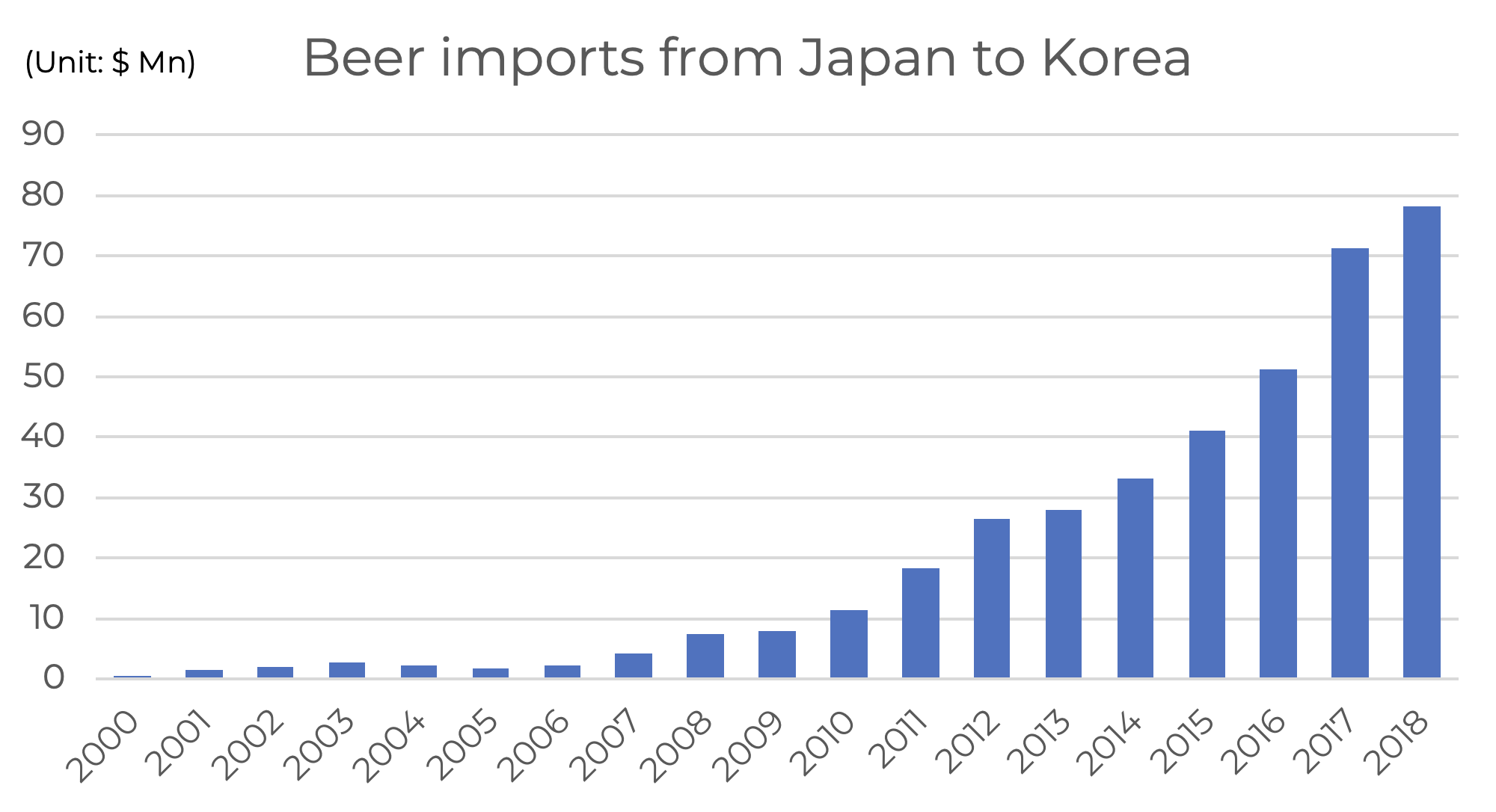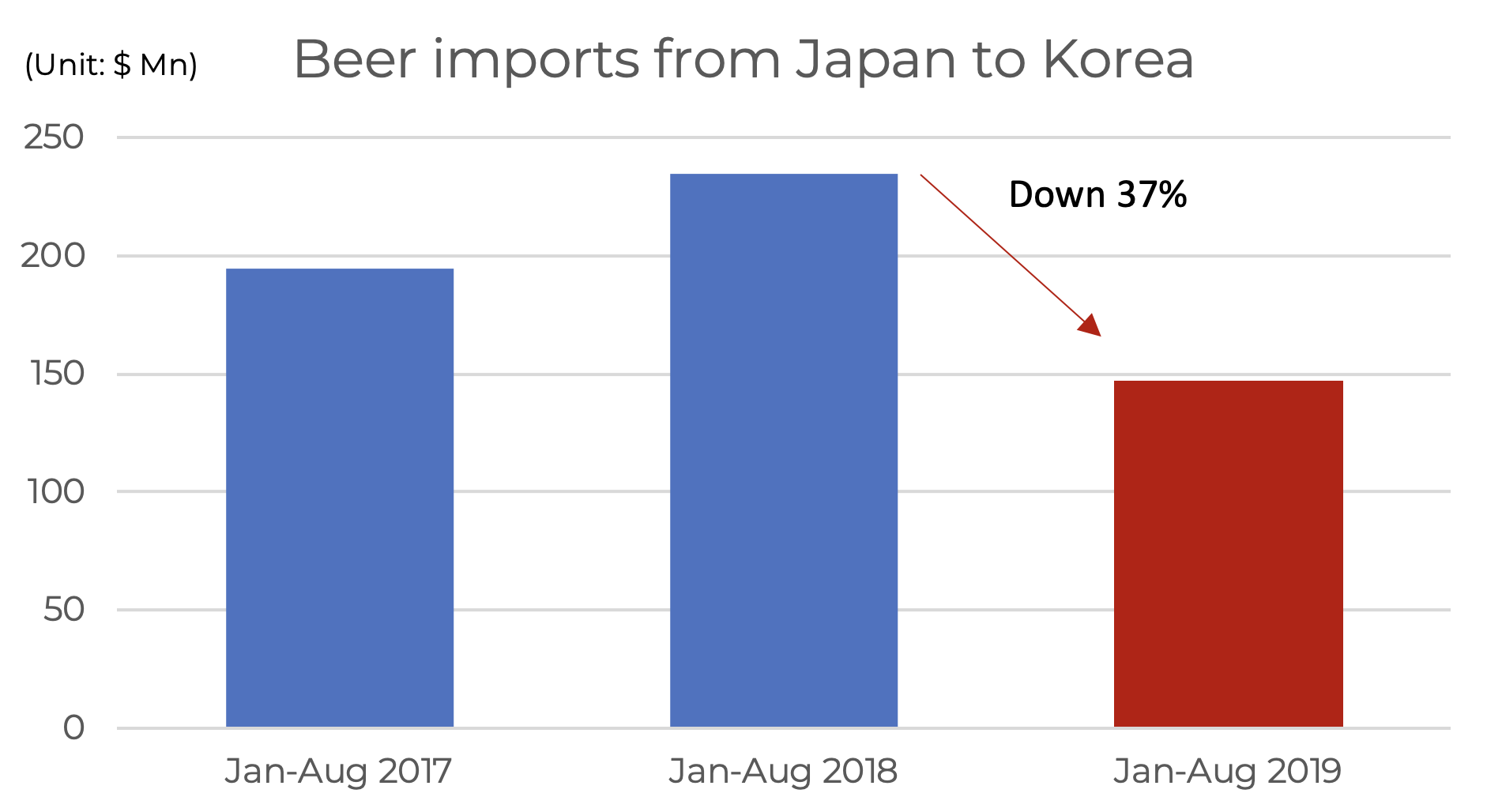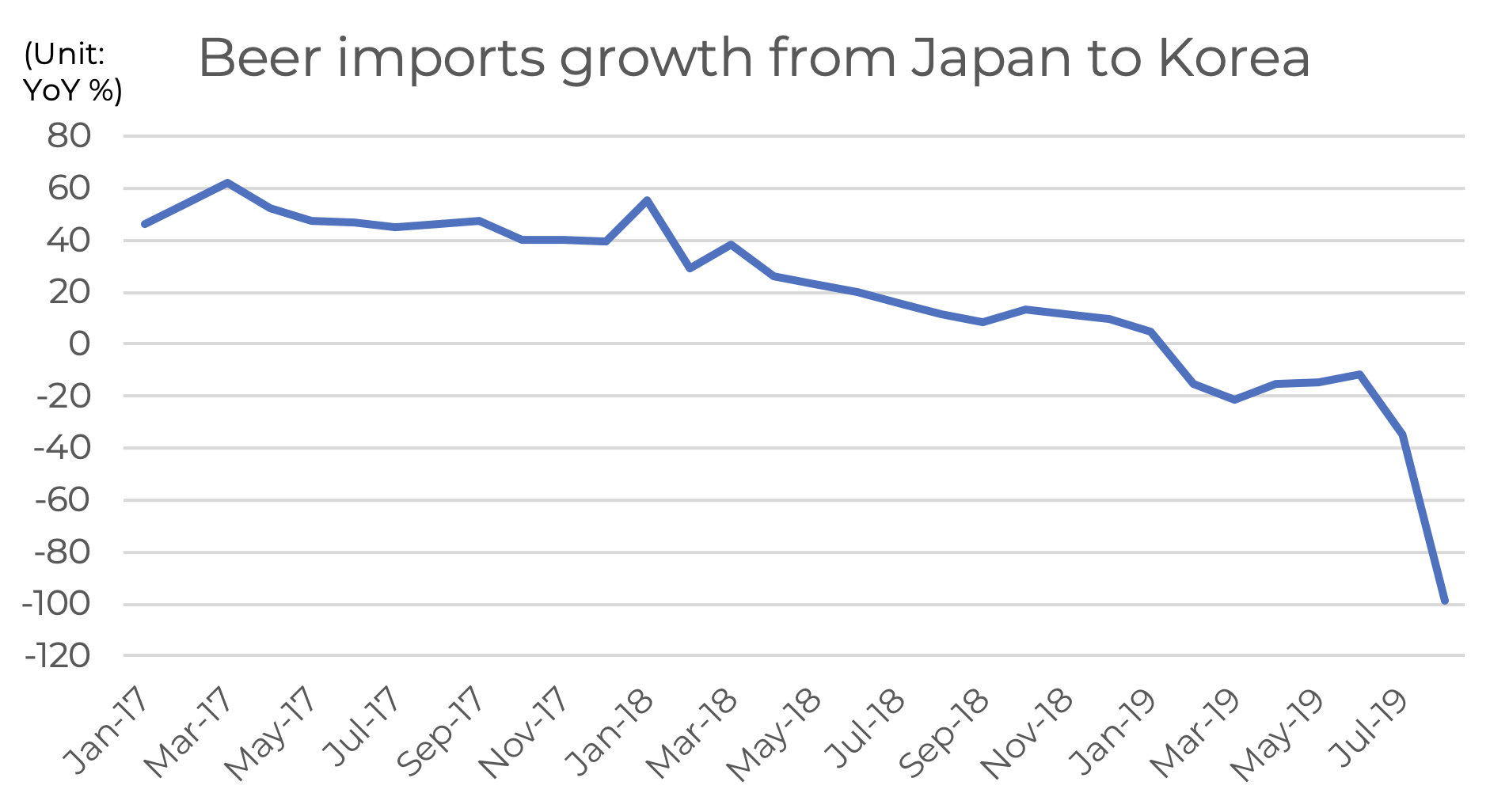 Japanese beer, sake, golf clubs, automobiles and travel are at the front line of Korea's campaign to boycott Japanese products. Consumers in Korea are posting their cancelled Japan travel notifications and providing information as to which products are made in Japan or owned by Japanese companies to promote and enhance the boycott movement.
The 'boycott Japan' movement in Korea is gathering momentum. While it remains to be seen if it will last for an extended period of time, data provided by National Assembly Member Tae Gyu Lee shows credit card spend (tally of eight major credit card companies in Korea) on major Japanese brands (Uniqlo, ABC Mart, Muji, DHC and others) declined -51.3% from KW10.2 billion (US$8.4 million) in the last week of June to KW4.98 billion (US$4.1 million) in the fourth week of July.
From the list of brands above, Uniqlo was the most affected by the boycott movement with sales down -70.1% in the stated period. Travel and spending in Japan by Koreans is also affected but to a lesser degree than consumption in Korea, with spending in major Japanese cities down -18.1% since the start of the boycott campaign. Seasonality does not seem to be an issue as spending last year was increasing incrementally throughout July and higher than the last week of June.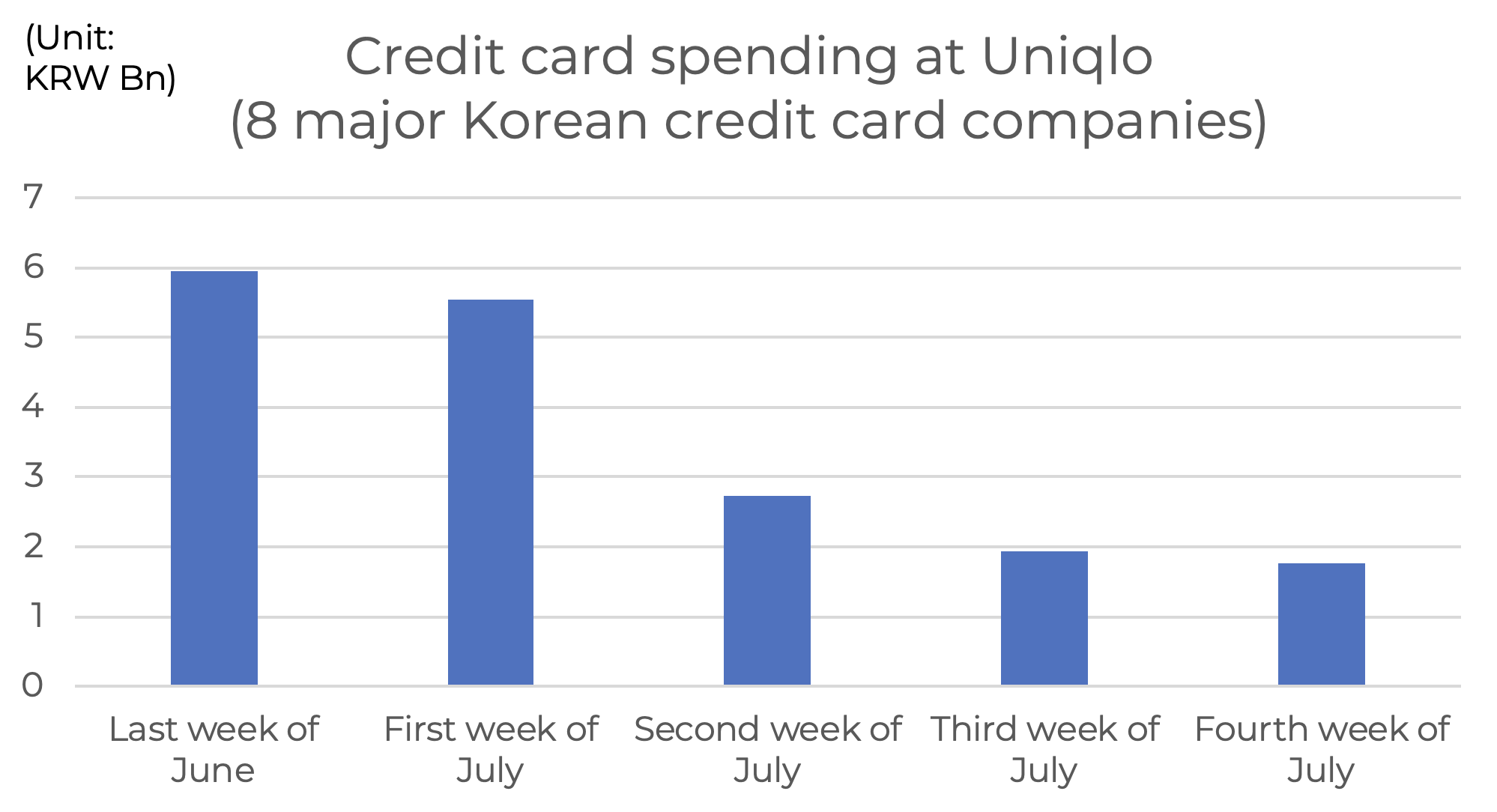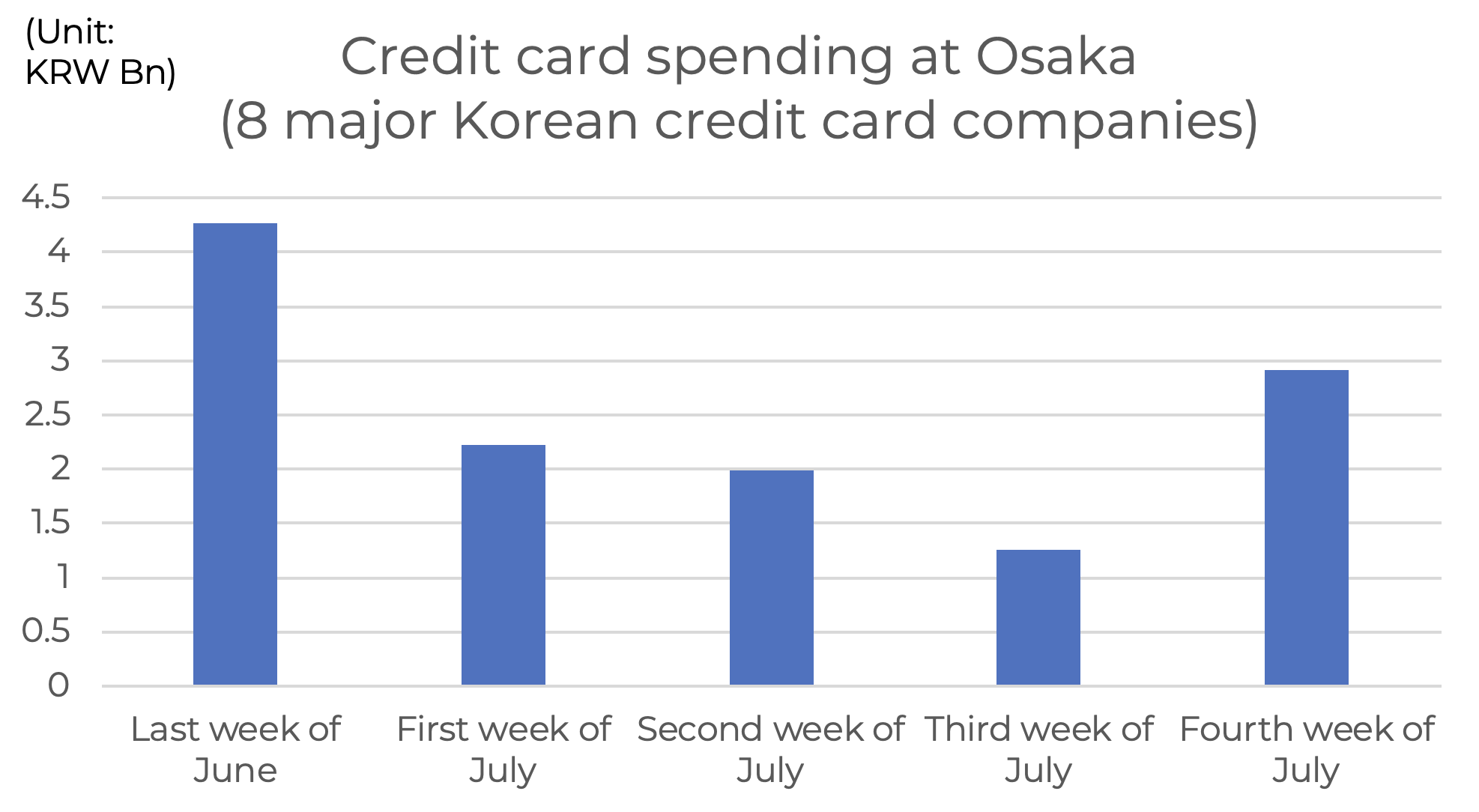 The rift between Korea and Japan stems back to the Korean Supreme Court's decision to order Japanese companies (Mitsubishi Heavy Industries and Nippon Steel) to compensate families of South Korean family members who were either forced into labour or unfairly treated during Japan's occupation of Korea during World War II. The Japanese government protested and claimed that the matter had been resolved with the 1965 peace treaty and again with President Park Geun-hye's government in 2015.
Both governments have removed one another from their 'white list' of countries entitled to receive preferential treatment and continue a retaliatory approach against one another. Despite President Moon's Liberation Day national address calling on the need to join hands with Japan and work towards "dialogue and cooperation", both governments have taken retaliatory action against one another that has spilled over into the political, economic and military domain. The Korean government's decision to exit an intelligence-sharing pact (General Security of Military Information Agreement) with Japan against the latter's decision to downgrade Korea's trade status on 22 August is a major development in a continuously escalating situation for both countries.
The boycott of Japanese goods by Korean consumers is clearly affecting travel to Japan. A survey of Korean consumers conducted by Korea Consumer Insight and Sejong University showed Japan was extensively visited by Korean consumers in 2018 and 2017. Among 11,153 surveyed, 31% had visited Japan in 2018, up from 29.1% in 2017.
The increase in demand for travel to Japan had been driven by the close proximity of the two countries, which allows Korean travellers to reach their destination within two hours, as well as a strong demand for Japanese food, culture and products. As a result, Korea's tourism deficit against Japan has continued to widen since dipping into negative territory in 2013. With the escalation of the boycott campaign, observers are watching closely to see whether Korea will post positive gains from the tourism industry against Japan.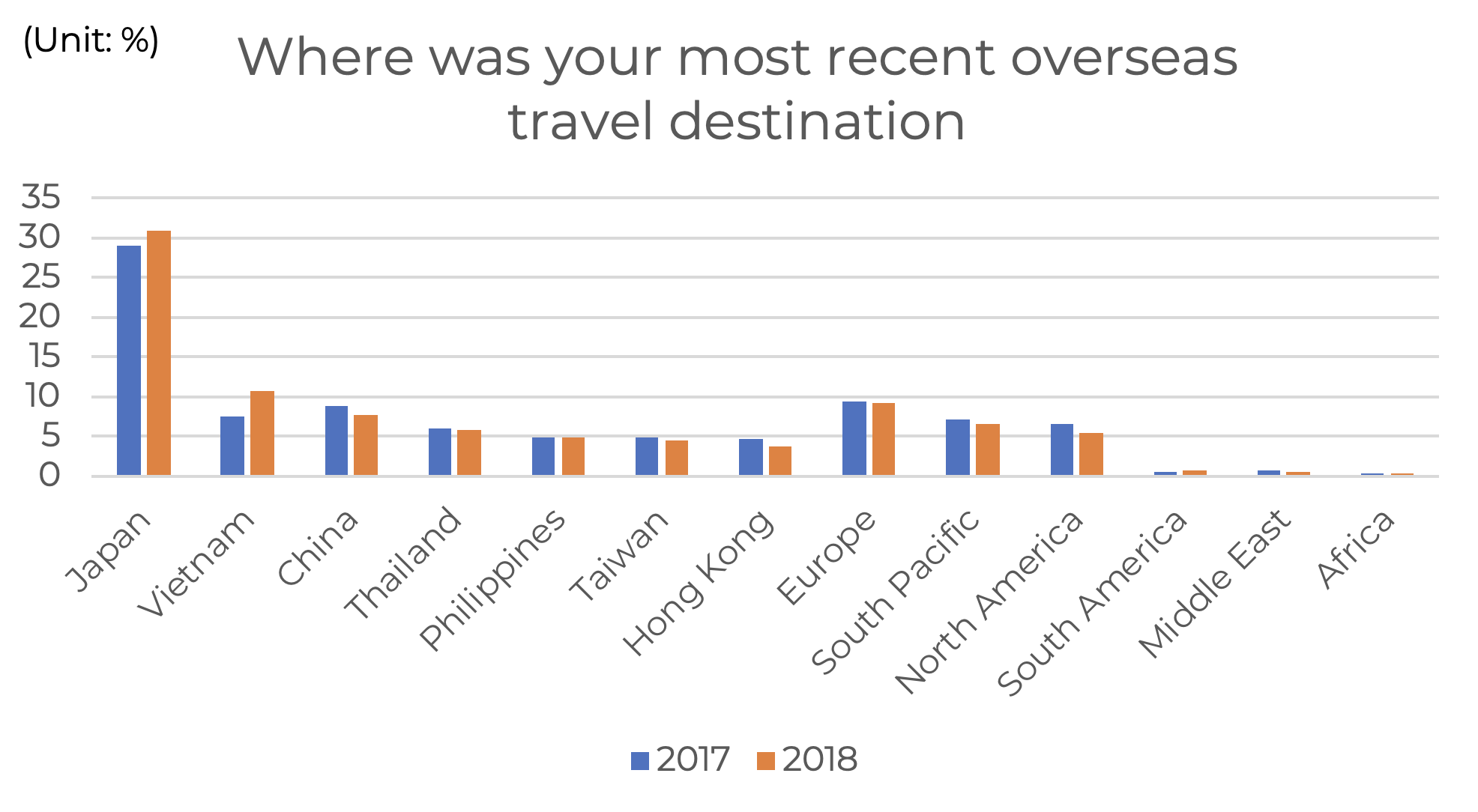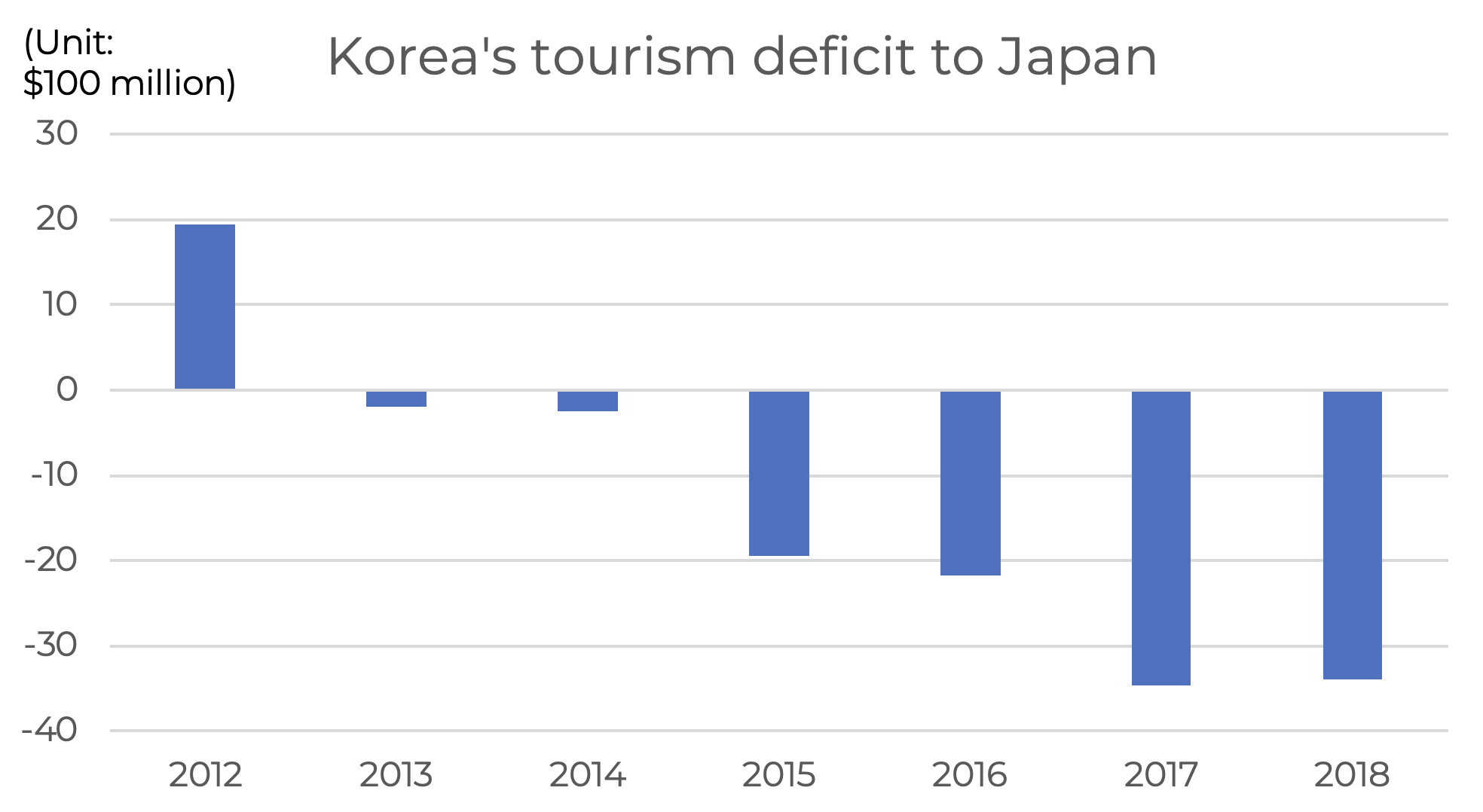 While the number of Japanese visitors to Korea peaked in 2012 and until today has failed to regain past highs, Korean visitors to Japan have continued to post new records annually up to 2018. The number of Korean visitors to Japan nearly tripled in 2018 compared to 2014.
The difference in visitor figures implies a greater impact on Japan if a travel boycott is implemented successfully in both countries. However, a potential decline in Japanese visitors comes at an unwelcome time for Korean duty free operators as risks from China's new ecommerce law introduced on 1 January and new duty free licence tenders (meaning even more intense competition) are worrying potential headwinds.
Japanese visitors to Korea accounted for 20% of the country's total visitors in 2018, but with Chinese resellers (daigou) and other visitors accounting for 83.7% of downtown duty free sales, the impact on duty free sales will be much less than the overall downturn in visitor exposure.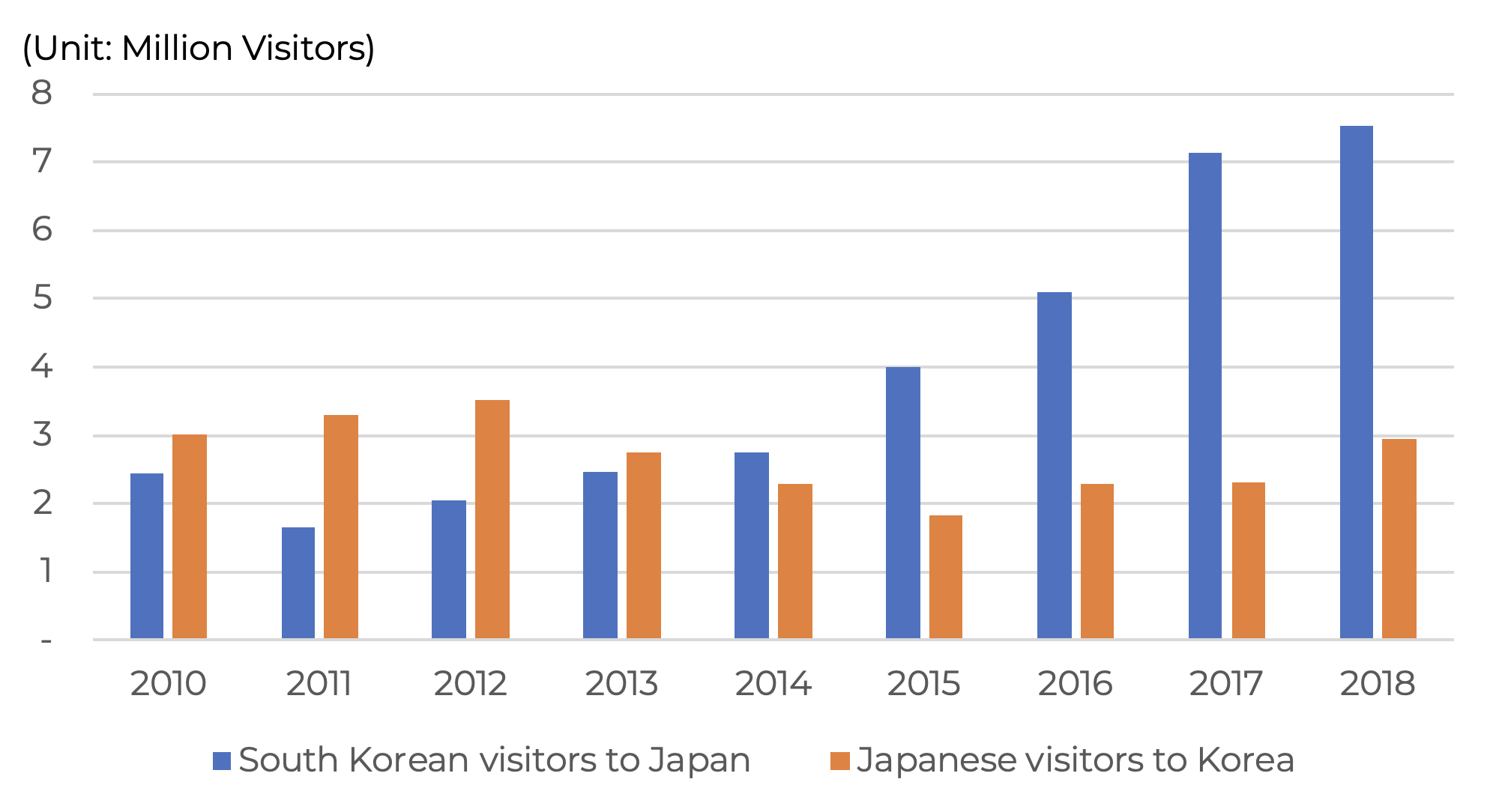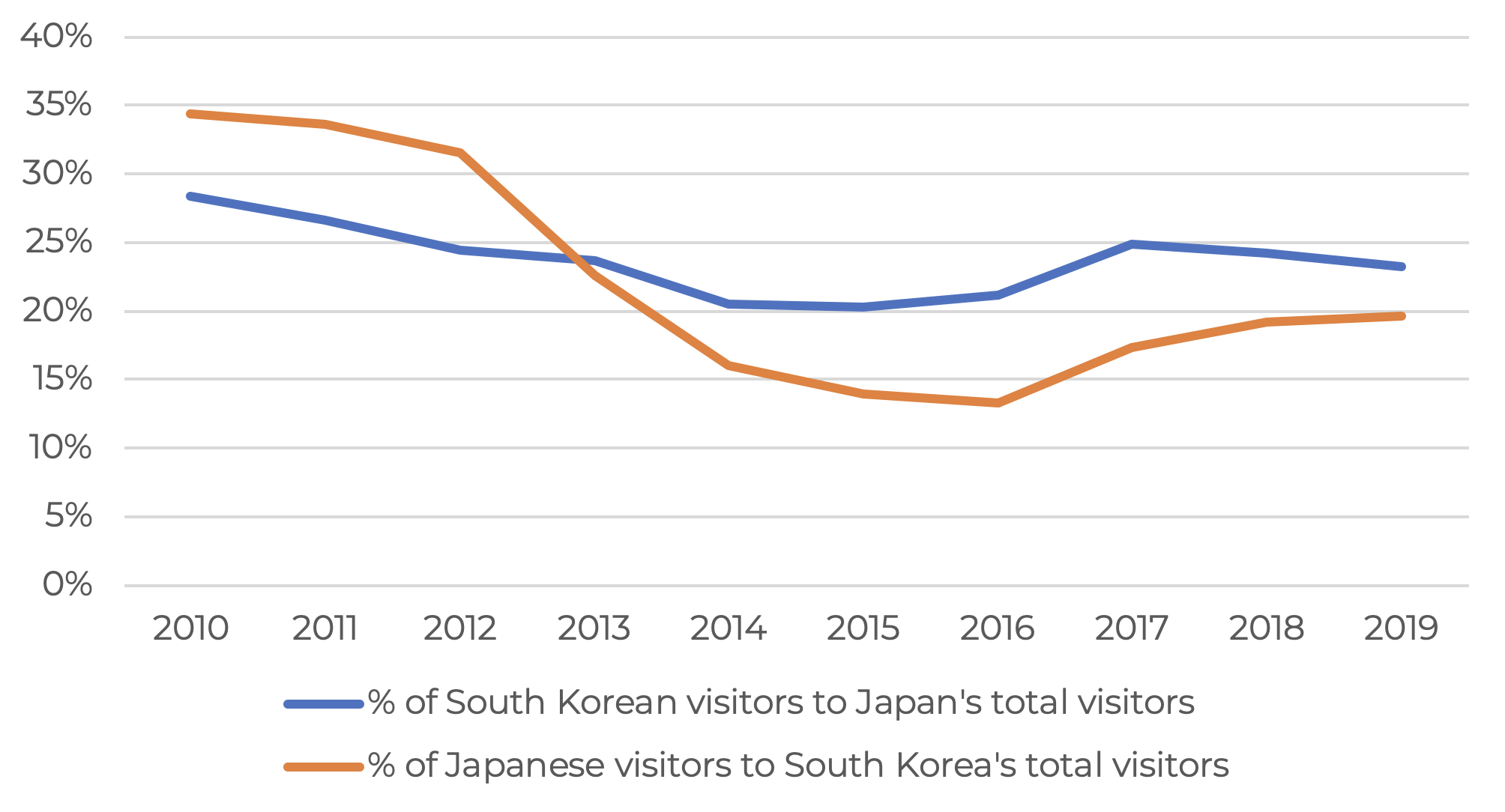 A new report released by the Hyundai Research Institute estimates the impact of a decline in tourism on the economy of both nations. The report, 'The Economic Damage and Implications of the Travel Cliff between Korea and Japan', estimates that Japan's economic growth will decline by -0.1 percentage points compared to -0.05 percentage points for Korea. The report assumes Korean visitors to Japan will decline by -81.2%, based on the -75.1% drop in Chinese tourists to Korea during the THAAD conflict in 2016.
While both leaders have taken actions to lower the tensions between the two countries [President Moon called on Japan to choose dialogue and cooperation in a national address on 15 August, while Prime Minister Abe refrained from visiting Yasukuni Shrine), it will take a significant effort to bring both sides on favourable terms in the near term.

The Moodie Davitt eZine
Issue 266 | 4 September 2019
The Moodie Davitt eZine is published 20 times per year by The Moodie Davitt Report (Moodie International Ltd).

© All material is copyright and cannot be reproduced without the permission of the Publisher.
To find out more visit www.moodiedavittreport.com and to subscribe, please e-mail sinead@moodiedavittreport.com