---
AOE flies high
Kian Gould, Founder and CEO of Germany-based company AOE, is travel retail's 21st century disruptor, the mastermind of numerous airport and retailer transitions from traditional travel shopping models to sophisticated omnichannel programmes. Now he has brought OM³, his 'high-scale omnichannel multi-merchant marketplace solution' to the airline world, to power KrisShop.com. He told Martin Moodie all about it.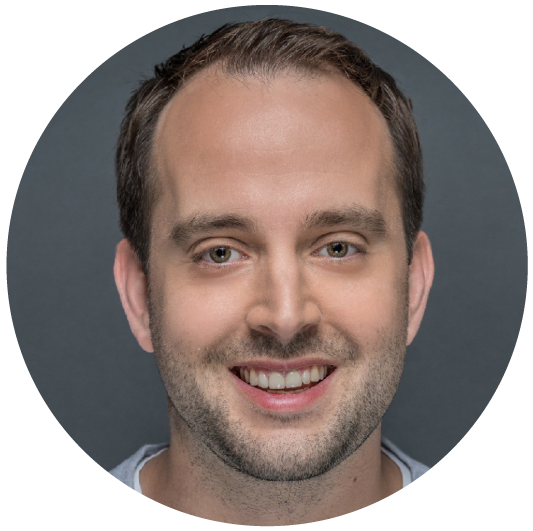 Martin Moodie: Kian, you have been the positive disruptor of the travel retail industry in recent times. But your activity has largely, although not totally, been focused on the airport community. Here we're talking the marriage of an airline, a ground services provider, and an established inflight retailer in 3Sixty, formerly DFASS. What drew you to this challenge and how big is the opportunity in the airline space?
Kian Gould: Initially when we entered the travel retail space, we considered the airline sector a bit of a dying breed: inflight retail was becoming less and less attractive, many big airlines were already cancelling it due to the cost of carrying so much weight on the plane, and so on.
But when we met with Singapore Airlines' KrisShop team for the first time, we saw that they had a vision to revolutionise this entire business. We had been tinkering with the idea before, "What could we do in the airline space?"
As you know, we've been building a lot of multi-retailer ecommerce marketplaces. Then we saw that if you take this airline model away from the restrictions of onboard and you essentially make it a combination of pre-order, home delivery, seat delivery and lounge delivery, and you start building a massive SKU base, then you quickly realise that you are no longer restricted to having just one retailer providing you the products.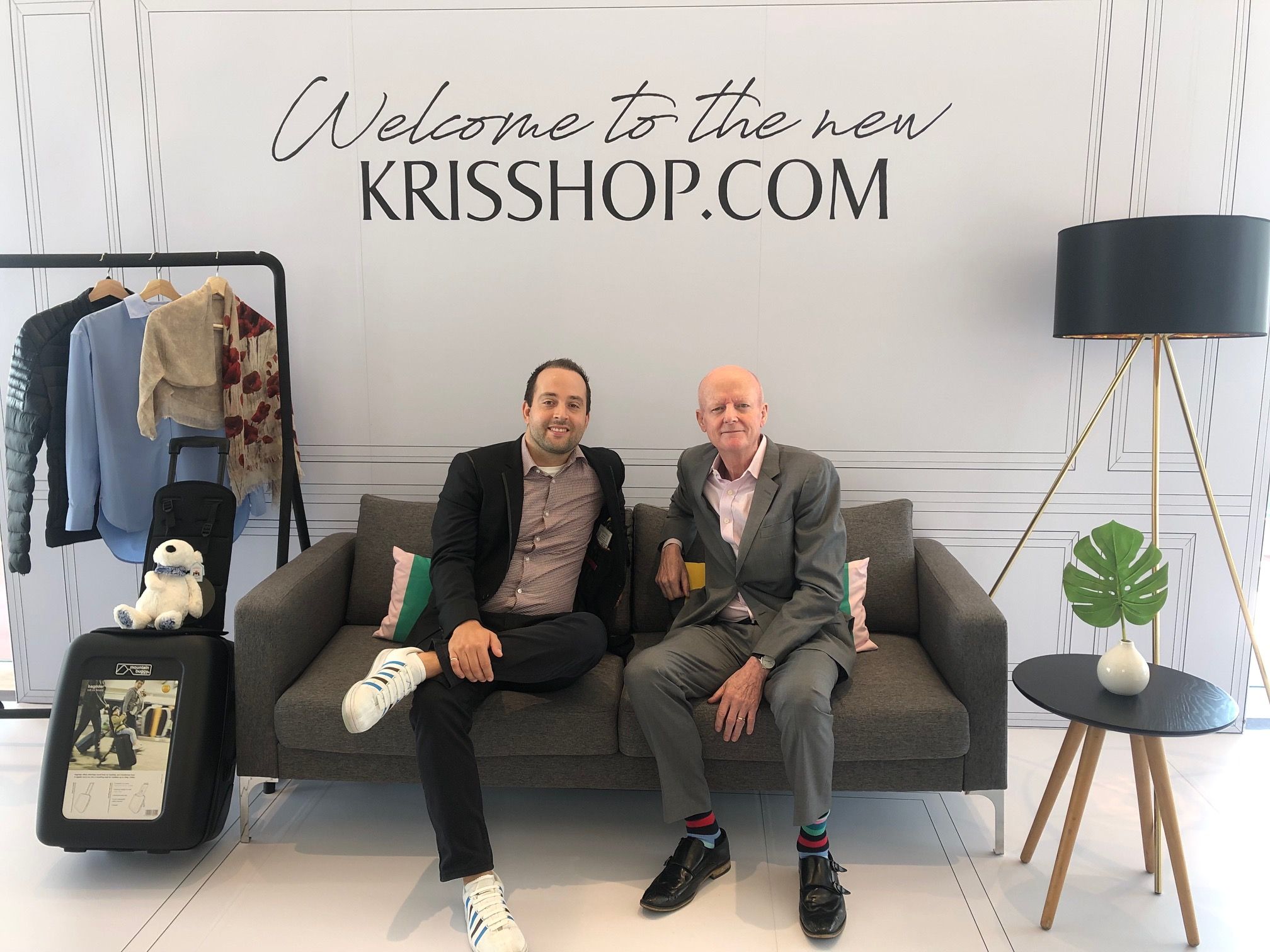 Kian Gould (left) with The Moodie Davitt Report's Martin Moodie on the big launch day
For example, as you know Singapore Airlines has had a long history of doing furniture shopping, selling wine fridges, selling bedding – all kinds of things that are completely against the typical inflight model. And that's where we found that essentially what we're doing is very similar to an airport… where you must integrate with all the different retailers.
To the customer, of course… it's simply one experience, one customer journey, one payment, and so on. But in the background, there is a lot of complexity. And a lot of the airlines have shied away from that in the past simply because of the technological complexity. A lot of them also preferred to simply outsource the whole inflight to a company like 3Sixty just because they didn't want to have all that effort internally.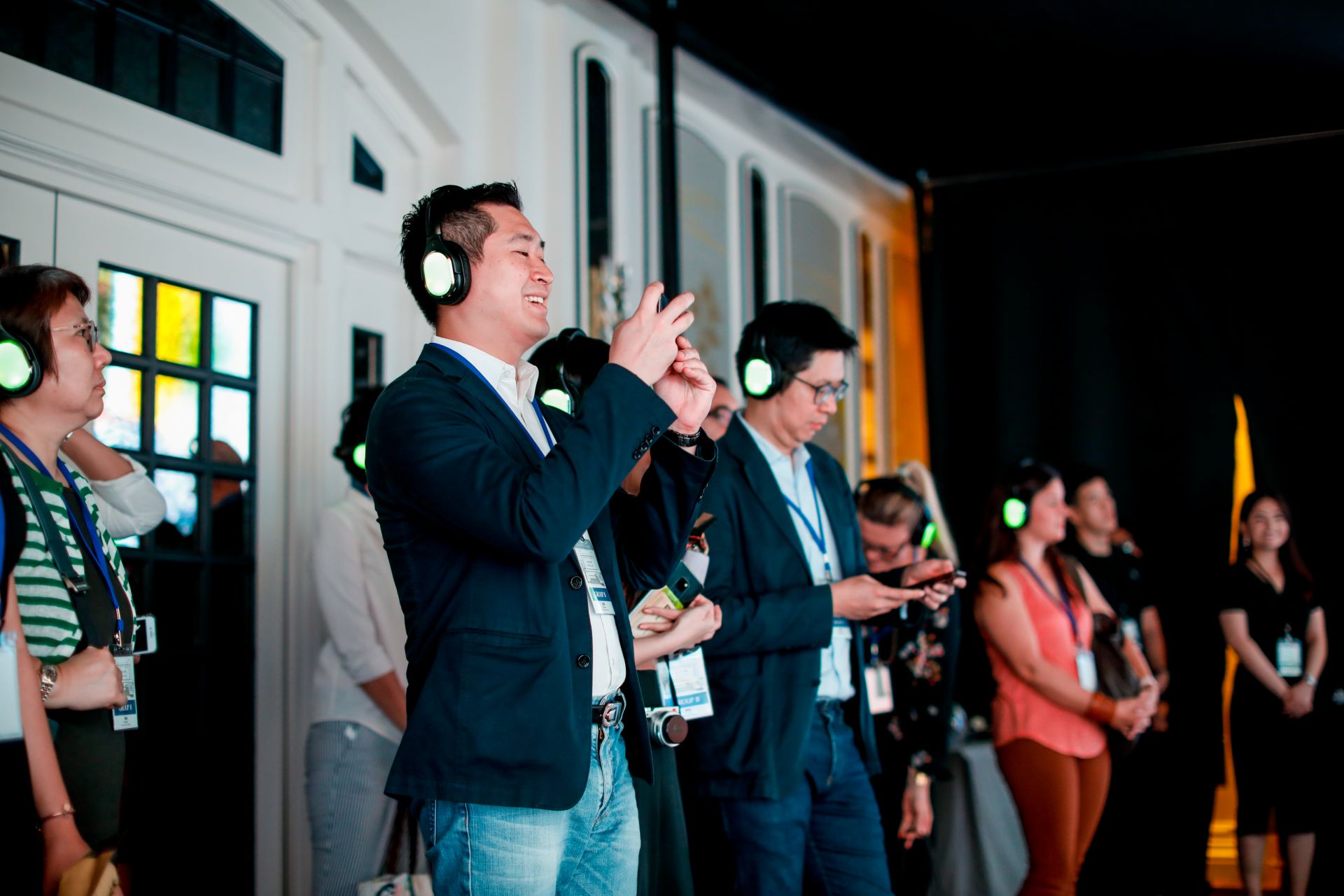 In keeping with the hi-tech touch of the OM³-driven KrisShop platform, the launch tour began with a journey through an immersive LED installation room that introduced guests to the new KrisShop programme
"The reason that we decided to really invest in this sector now is that we realised how powerful the data that airlines have is"
And now?
Now, what we're seeing in the market since we announced that this joint venture was happening is that more and more of the big full-service carriers are starting to look at how can they become ecommerce marketplaces. How can they be providers of much more sophisticated ecommerce programmes?
That drove us to the point that we now have our own airline division. We have hired a very key person from the airline industry to run our airline division at AOE [to be announced soon -Ed].
The reason that we decided to really invest in this sector now is that we realised how powerful the data that airlines have is. This has been one of the biggest challenges for the airports that we work with – that we need to really accumulate the data first before we can personalise, before we can recommend, and so on. Especially if an airport has no data at all on their passengers, that's a big hurdle.
Whereas the airlines have years of loyalty data, years of customer data. And so that makes it possible to create much more personal experiences for the passengers, especially the elite loyalty members, and so on. And that makes it really exciting, because people are frankly overwhelmed by yet another shop. So, the key is to create experiences that are driven by what they're actually interested in.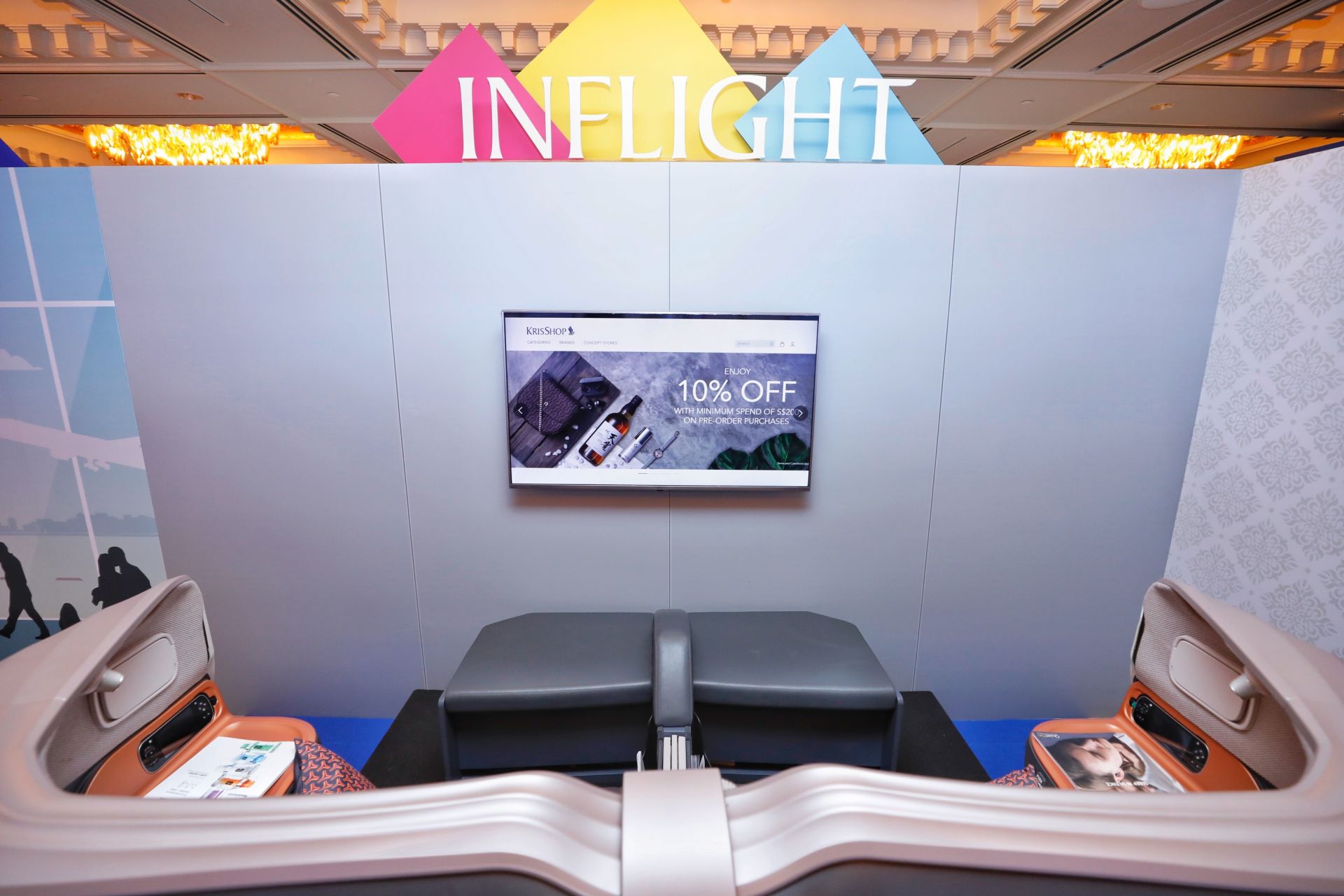 And of course Kian, it's not just about the data. It's the relationship in every sense with the consumer. The airline gets to that travelling consumer long before anyone else does, from online or travel agent booking through to check-in through to the lounge and then the onboard experience.
In that regard, it has always struck me that the airline had both the knowledge and the audience, but it didn't really have the platform to deliver to them. Because, in the pre-Wi-Fi age particularly, it was confined to old-fashioned trolleys being wheeled up and down the aisle, inflight catalogues printed at great expense, and so on. It had become a sometimes archaic retail model. But in the digital age, the world really opens up to this whole concept of marketplace, doesn't it?
Yes, although to some extent, we're still in the pre-Wi-Fi age, because you cannot expect to have proper Wi-Fi coverage on every plane on every airline – it's going to take five years until you get to that point most likely.
But we're not dependent on that. We can be there for the customer, whatever the technical ability allows at the moment. What we know from all the research that m1ndset has done is that shopping in travel retail is much more planned than impulse-driven nowadays anyway.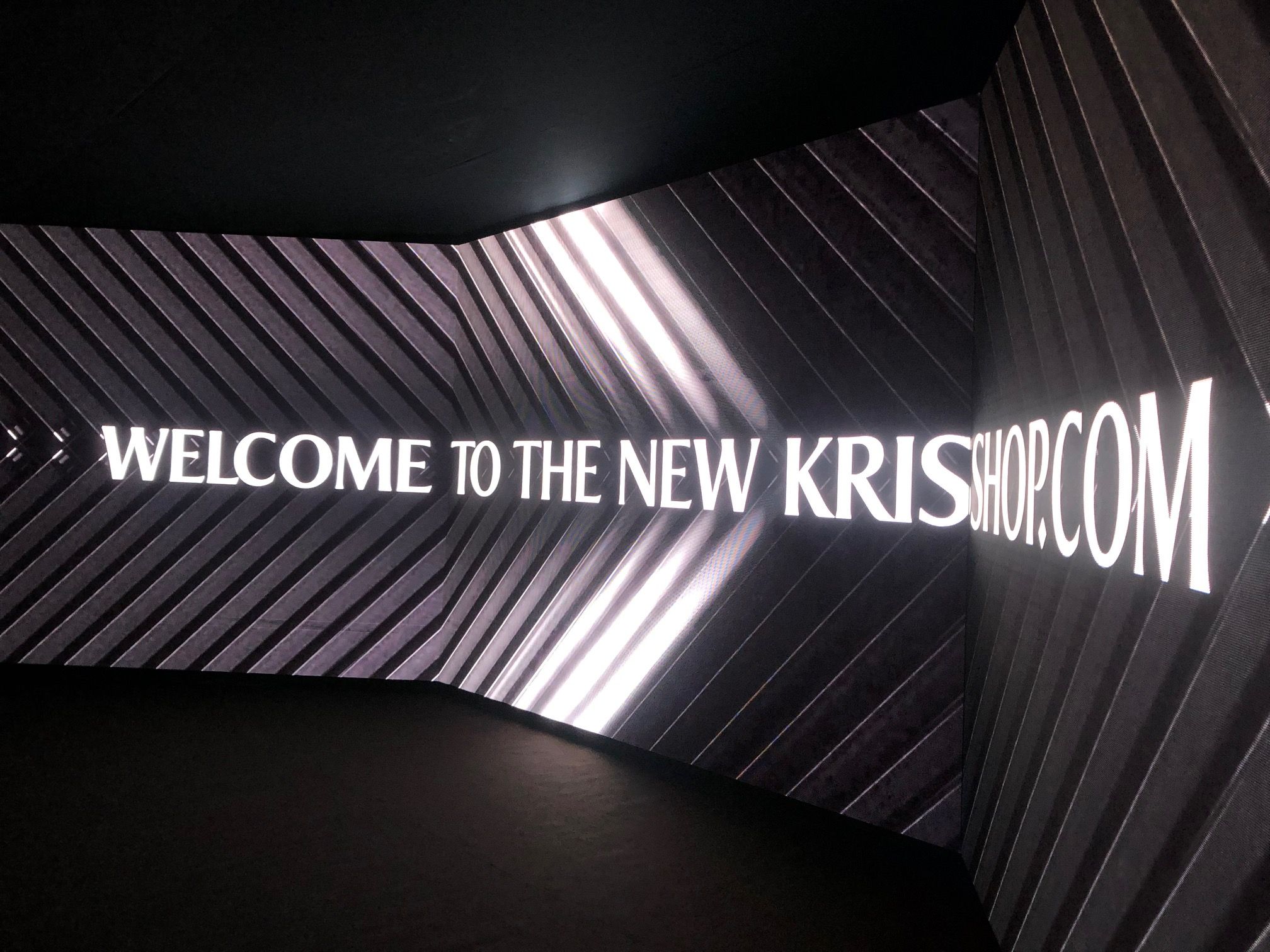 So, it's about "How do I get to the passenger at the moment when they're actually deciding to plan their trip?" So, one of the things that we're already live with is Ctrip integration. So, when you're booking a flight through Ctrip with Singapore Airlines, you get products from KrisShop exposed to you during your booking flow. It's not a manual decision that you need to make anymore – "Ah, I should go to the KrisShop, because I am flying with Singapore Airlines". It's now part of the journey.
This becomes super crucial because in the past, I would say, KrisShop has mainly been used by very frequent fliers from Singapore Airlines, KrisFlyer members etc. There's a lot of loyalty members that are using their miles to shop there as well, but now we're extending that to a much broader community, including customers that have never had a significant relationship with Singapore Airlines.
At its most simplistic, what does the OM3-driven KrisShop platform deliver that the long-running KrisShop.com didn't?
A lot of it has to do with the real-time sophistication in the backend. A project like Project 60 (P60) where we deliver up to 60 minutes before the flight onto the seat is only possible when everything is integrated in real-time. We are fully stock-integrated. The warehouses are all live in real-time. The fulfillment is in real time. And, of course, we also have integration with the flight booking system of the airline. So we know if a flight gets re-routed, cancelled or moved.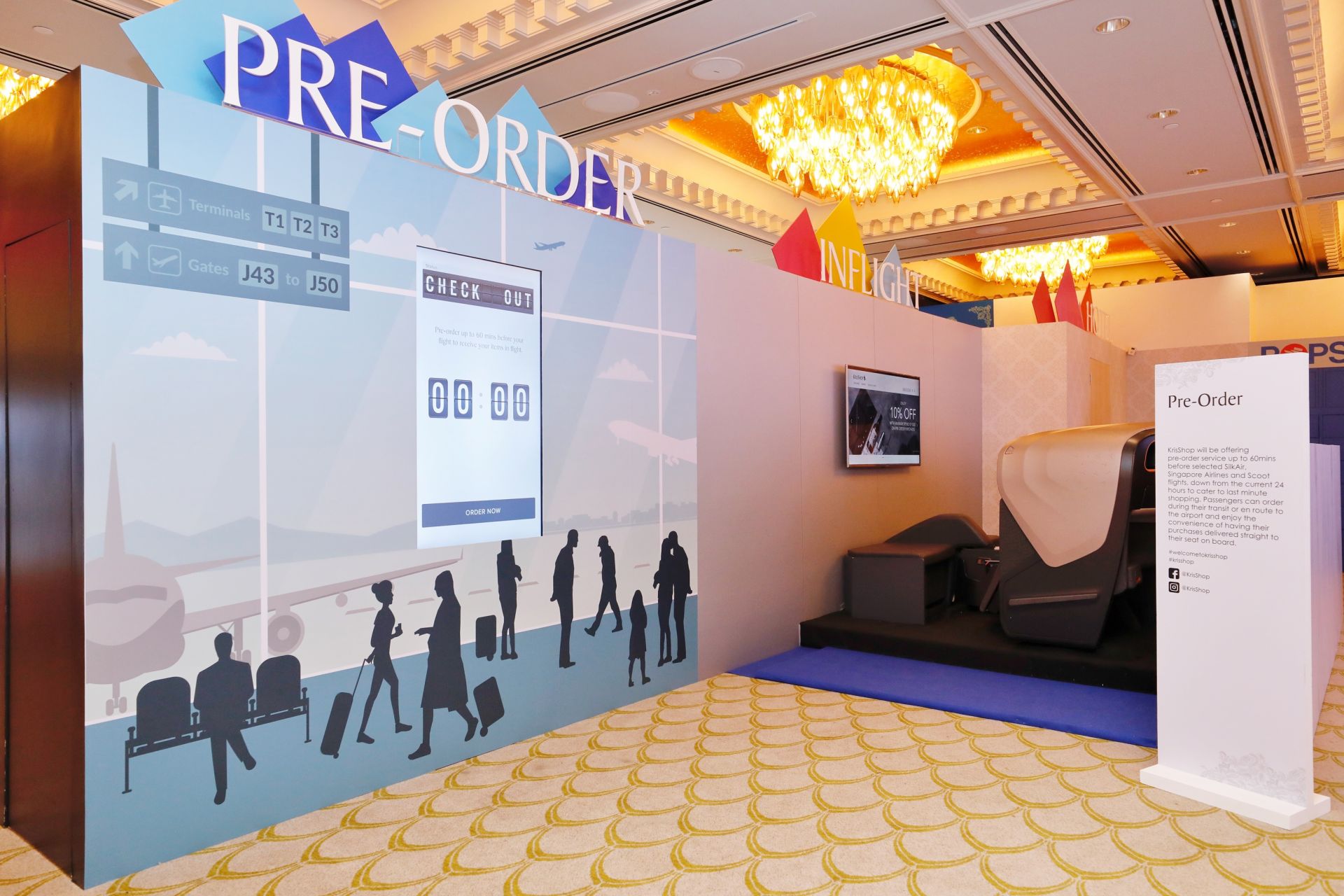 Of course, real-time earn-and-burn with loyalty miles is a key thing that basically no airline has at the moment. There's always a long delay in the loyalty usage. On top of that, we've put a lot of effort into aspects such as brand pages [on the KrisShop website]. As you know, a lot of the premium brands don't just want to be part of a marketplace, they want their own shop-in shop.
So, for example, we have an Apple store on the KrisShop that looks like the real Apple store. The design is like that, the experience is like that. But, similarly, we also have these concept stores, like With Love From Singapore, which goes much more into experiential shopping. Because if you think about it, with most big shops like Alibaba or Amazon or these kind of big marketplaces, people go there with an intention to buy a certain product. They don't typically go there to shop around. You don't go on Amazon saying, "Hey, what's new?" because they probably have a million new products. You go there because you say, "I want headphones".
It's different with KrisShop, because the idea is really that they are very regular visitors – they have a relationship with Singapore Airlines. They come to see what's new, and they want to explore different categories. And so we have things like KrisShop Cares. We also just launched the Formula 1 brand page, for example and a lot of people are buying this Formula 1 merchandising.
But, again, it's a different experience than the normal KrisShop. So, we've put a lot of effort into the design and the experience so that it's a much more personal and intimate experience. And, as we move forward and know more and more about these shoppers, the experiences will be much more targeted to what they are interested in, to the extent that, for example, KrisFlyer Elite members will only see products that others don't even see. Singapore quality and so on.
"A lot of airlines are trying to find a shortcut. But there is no real shortcut when you want to create a sophisticated experience for your passengers."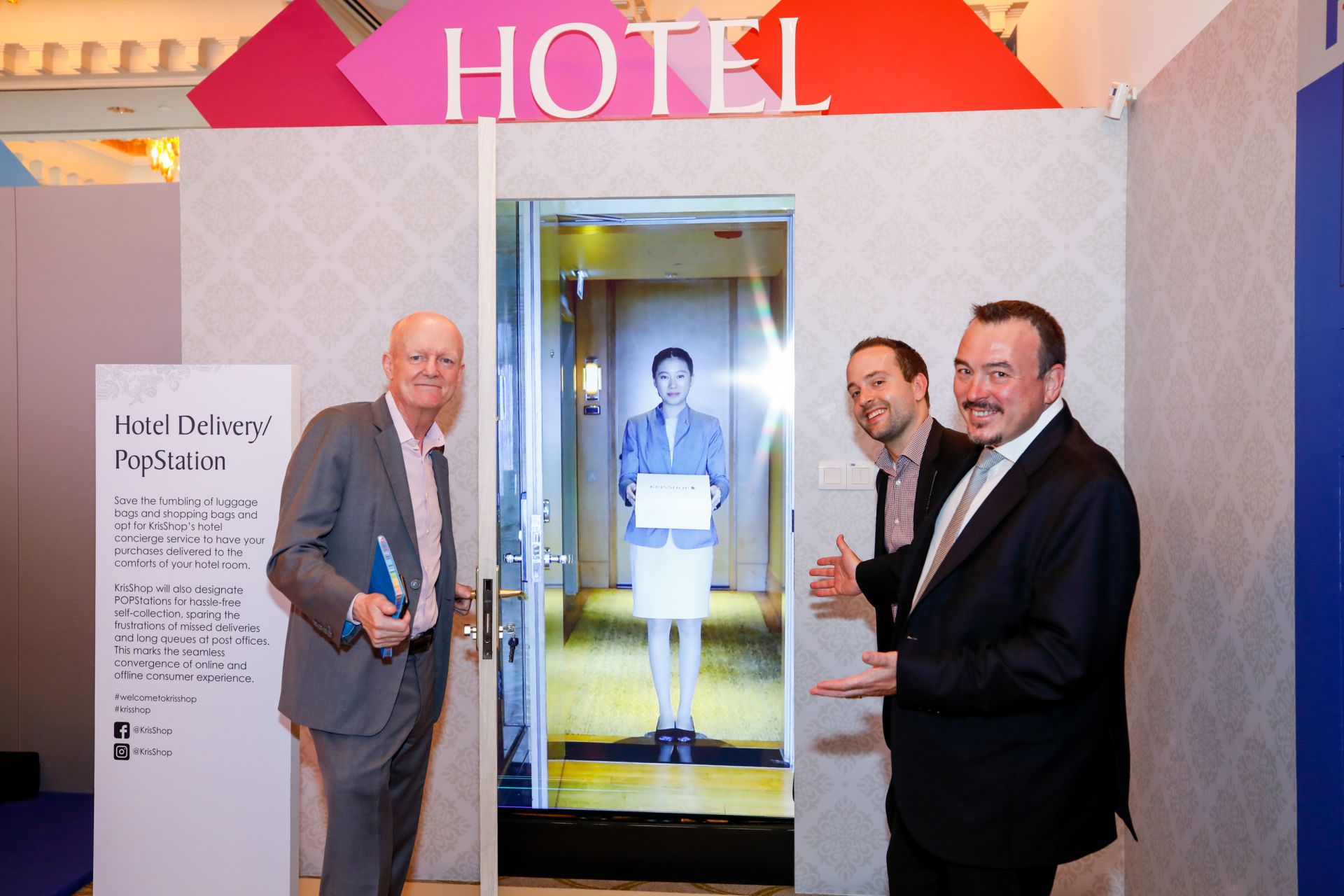 Room service: 3Sixty Chief Operating Officer Alex Anson (right) and Kian Gould demonstrate the hotel delivery model to Martin Moodie
At the launch, KrisShop CEO Chris Pok was unequivocal in his statement of ambition. He described it as effectively a game-changer, a new era for inflight retail. How do you see this development in wider industry terms?
A lot of the airlines are currently thinking about the fact that inflight retail used to always be a pretty safe EBITDA contributor. Not only from the actual sales, but also from catalogue advertising etc. If you just cut all of that out, you're simply missing a significant EBITDA driver.
A lot of airlines are thinking, "How can we do this now in a more digital way, in a more customer-centric way?" So, to that extent, I can very clearly say that there's no airline around the world that is currently set up in as sophisticated a way as KrisShop is. They have come a very long way in the last two years in setting up their warehouses, their logistics, their infrastructure, their ecommerce platform etc.
So I believe that this will have an impact on how airlines consider the new value proposition. Because what I've seen from a lot of airline meetings is that they're kind of trying to find a shortcut. But there is no real shortcut when you want to create a sophisticated experience for your passengers.
I think the full-service carriers especially will go much more in that direction again, because the multiplication effects that you can generate are much higher than was ever the case with the classic inflight retail business.
How technologically complex and challenging was this task compared to some of the other groundbreaking work you've done around the travel retail world, particularly in airports?
In terms of the manpower that it took to build the current system and infrastructure, it is comparable to when we did our first project for Frankfurt Airport. So, of course, we could build on a lot of the established multi-retailer and omnichannel fulfilment and order management and personalisation aspects and all of that, but there were still a lot of airline-specific things.
For example, Singapore Airlines uses very complex voucher logic, very complex miles and mixed-payment logic. There is a lot of logic also involved with integrating into the airline ecosystem. And they do also have some additional complexities when it comes to the difference between duty paid, tax free, global home delivery etc. So, yes, it did take almost a year to build the current solution with a very large team.
A very big day for AOE then?
Yes. It's the beginning of what we will call the OM3 Airline Edition and we are currently already discussing with about six different airlines to do similar projects. The first one was already announced: Avianca will go live with the first release at the end of this year.

The Moodie Davitt eZine
Issue 266 | 4 September 2019
The Moodie Davitt eZine is published 20 times per year by The Moodie Davitt Report (Moodie International Ltd).

© All material is copyright and cannot be reproduced without the permission of the Publisher.
To find out more visit www.moodiedavittreport.com and to subscribe, please e-mail sinead@moodiedavittreport.com