---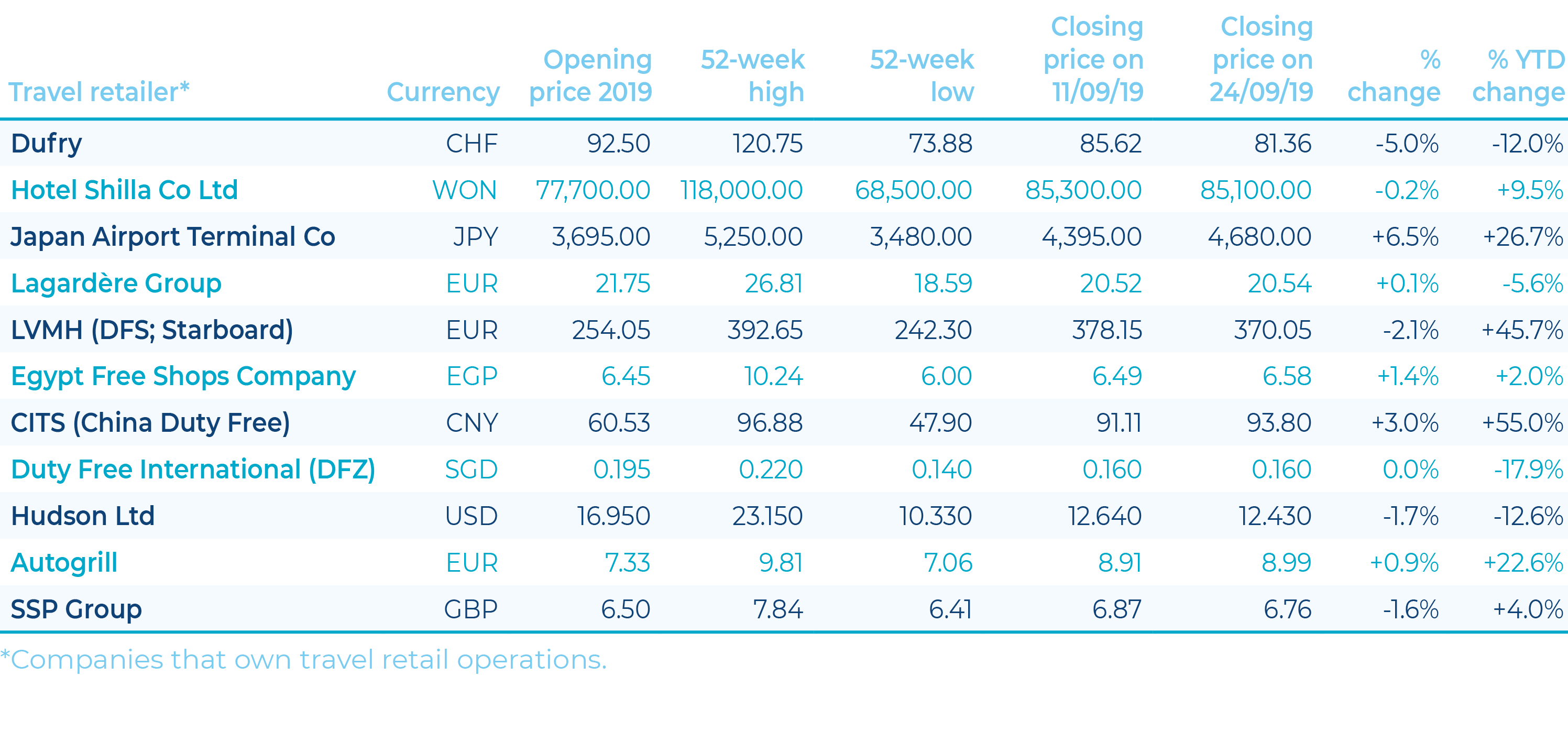 Our top two performers on the stock market so far in 2019 among the travel retail-related companies we track remain the same. China Duty Free Group parent China International Travel Service (CITS) stretched its lead after recording a +3% increase in the period tracked here (closing prices between 11 and 24 September).
By contrast, shares in DFS co-parent LVMH Moët Hennessy Louis Vuitton slipped -2.1%. Both companies are far ahead of the rest in terms of year-to-date differentials, at +55% and +45.7% respectively.
Japan Airport Terminal Co leapfrogged food & beverage company Autogrill into third place with a +6.5% increase this time – the highest among the companies we track – meaning shares in the company are now up +26.7% since 1 January.
Shares in Autogrill went up slightly, by +0.9%, taking it to +22.6% for the year. It is the only other company to have a positive double-digit year-to-date differential. Although The Shilla Duty Free's parent company Hotel Shilla is not far off that, at +9.5%, despite a -0.2% decrease in the current period.
Retailers Dufry, Lagardère Group and Hudson saw some recovery between 28 August and 11 September, but their performance was not so positive this time. Shares in Dufry fell -5%, and its subsidiary Hudson fared slightly better at -1.7%. Shares in Lagardère were up only slightly, at +0.1%.
The trio have negative year-to-date differentials: Dufry at -12%, Lagardère Group at -5.6% and Hudson at -12.6%.
The only other company to have seen its share price fall since 1 January is Duty Free International – and its decrease is the highest of the lot, at -17.9%.

The Moodie Davitt eZine
Issue 268 | 26 September 2019
The Moodie Davitt eZine is published 20 times per year by The Moodie Davitt Report (Moodie International Ltd).
© All material is copyright and cannot be reproduced without the permission of the Publisher.
To find out more visit www.moodiedavittreport.com and to subscribe, please e-mail sinead@moodiedavittreport.com