---
Making sense of 'Sense of Place'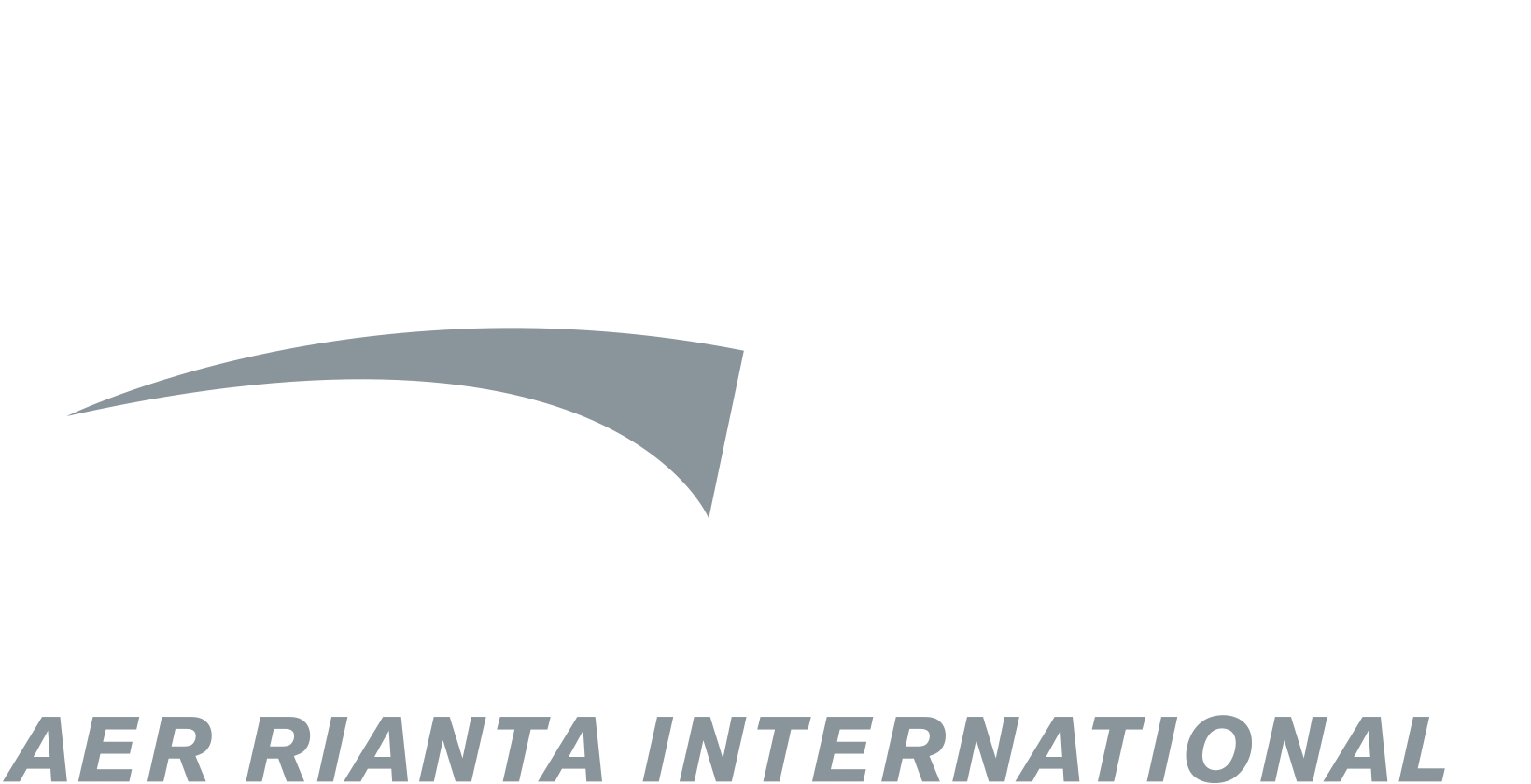 At the TFWA World Exhibition in Cannes the phrase 'Sense of Place' will be shared repeatedly, but The Design Solution Director

Nick Taylor

is not sure we're all talking about the same thing. Here's why.
As a retail designer, I'm delighted that my specialism has become established in the travel retail landscape, writes Nick Taylor. The design of stores and terminal space are now recognised for their critical contribution and value both to the traveller experience and to the commercial performance of airport floorspace.
'Sense of Place' has been a distinct factor in numerous developments over the past few years, from individual stores such as my own team's work for Dufry's Tequileria at Cancun Airport, to the amazing scale and innovation created by Safdie Architects for Singapore's Jewel Changi Airport. Safdie re-imagined the centre of the airport as a major public realm attraction, echoing Singapore's reputation as 'The City in the Garden'.
I fully appreciate the progress made on the role of design in the airport experience. Where store design once barely registered as a travel retail industry issue, it is now firmly established as a critical element in the drive to optimise the shopper experience and grow revenue for retailers, brands and airports.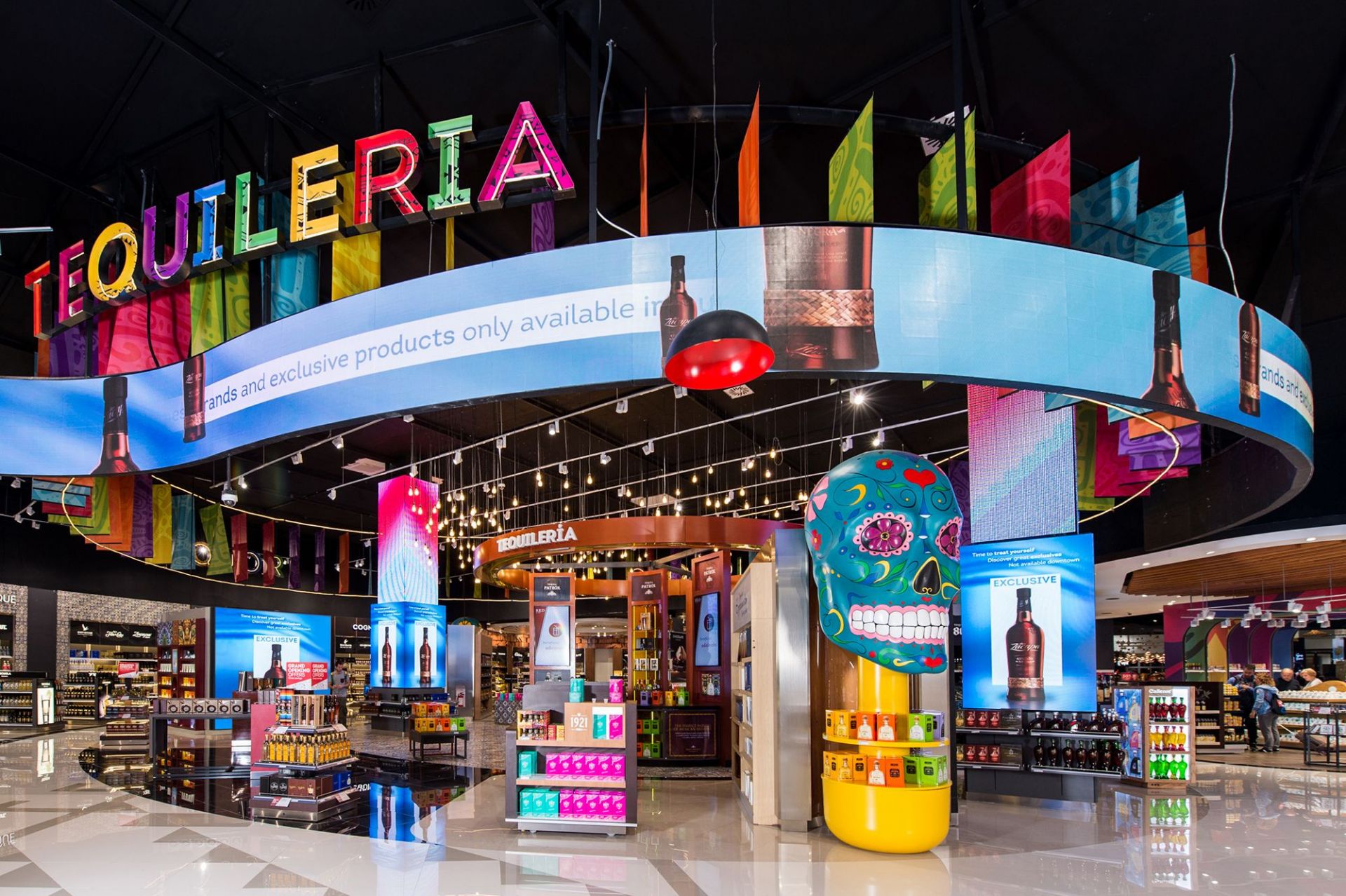 Central focus: The Tequiliera at Dufry's store at Cancún International reflects the spirit's importance both to Mexico's heritage and its role as a key sales driver
However, there is a problem. At the TFWA World Exhibition in Cannes the phrase 'Sense of Place' will be shared repeatedly, but I'm not sure we're all talking about the same thing. Here's why.
At The Design Solution we blend our design work with our complementary expertise in airport commercial planning. By understanding the whole holistic space we ensure that the beautiful looking stores are also optimally planned to work coherently alongside essential issues such as passenger paths and exposure to the retail offer. We work with like-minded, innovative retailers, such as Dufry, ARI and Baltona, to create unique experiences at each location and, right from the start of every project, we are seeking to inject a distinct sense of the geographical location.
Unfortunately, the prevalence of the phrase 'Sense of Place' has diluted its strength; shifting from a positive signal of a dynamic, original approach to airport retail design to becoming a shield that often masks half-hearted strategies. At its worst, 'Sense of Place' might comprise little more than a gondola in a corner of the store, stacked with clichéd local souvenirs, tinned biscuits and a drooping flag.
Part of the problem is that, as an industry, we've never defined 'Sense of Place'; it's simply become embedded as a catch-all term that everyone thinks they understand.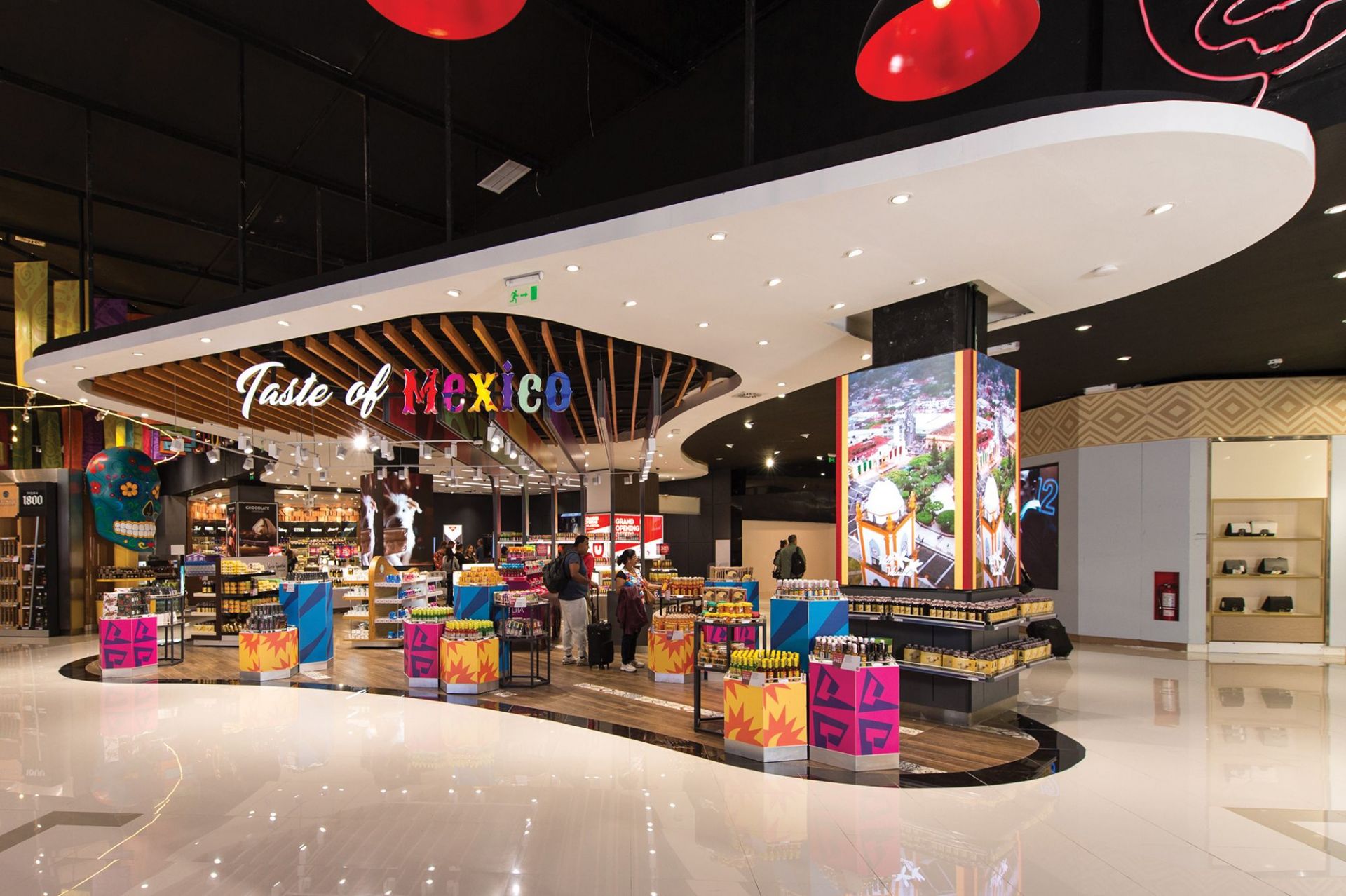 Shades and tastes: Nick Taylor advocates a holistic approach to 'Sense of Place' and a proper understanding of how it relates to customer experience
'Sense of Place' has become a phrase that everyone feels they instantly understand and share. I'm also pleased that the travel retail media has picked up the issue so strongly (not least through the specialist 'Design and Development' section on The Moodie Davitt Report website), further driving awareness and raising standards and establishing 'Sense of Place' as an essential tool for the industry.
However, that phrase has become, almost single-handedly, the industry's common descriptor for what is actually a very complex and constantly evolving issue – incorporating everything from passenger psychology and walk-through stores to regional heritage and local cheeses. I'm concerned that the concept of 'Sense of Place' has become over-used, confused and devalued.
As competition for the traveller's wallet increases, it's crucial that retail design presents a deeper expression of each unique airport, sharing the unique story of each location. However, there is sometimes a misconception in travel retail that 'Sense of Place' is dominant over the overall design concept when, in fact, it is actually simply a component of the concept (albeit a very important one).
So, whether we are assessing a single shop unit or a whole airport, my view is that we are aiming to create a contemporary and unique interior design that shares an element or vein of locally-inspired design references. In a shop, these local references are carefully married with the product being sold, so you are at the same time enhancing the whole 'feel the category' mood of the space to engage the shopper.
To illustrate that point, here's a deeper example we can all share. Most of the delegates heading to Cannes this weekend will arrive through Nice Côte d'Azur Airport, winner of last year's Frontier Award for 'Best Airport Operator'. In 2015, Nice set out on a radical four-year development programme across both terminals, including support from my team at The Design Solution on commercial planning and design.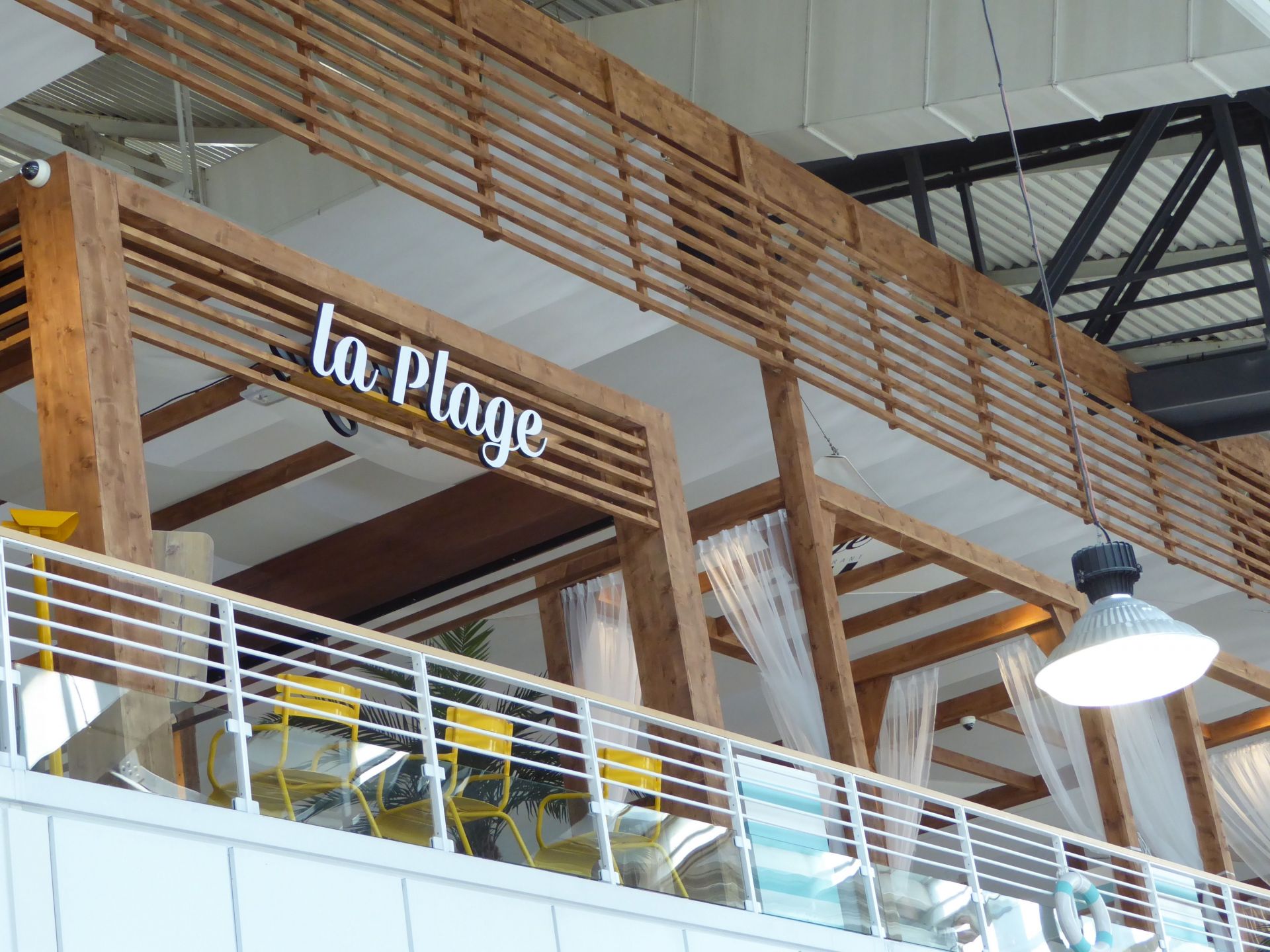 Planning and execution: Nice Côte d'Azur Airport offers a clarity of vision, ambition and commitment when it comes to Sense of Place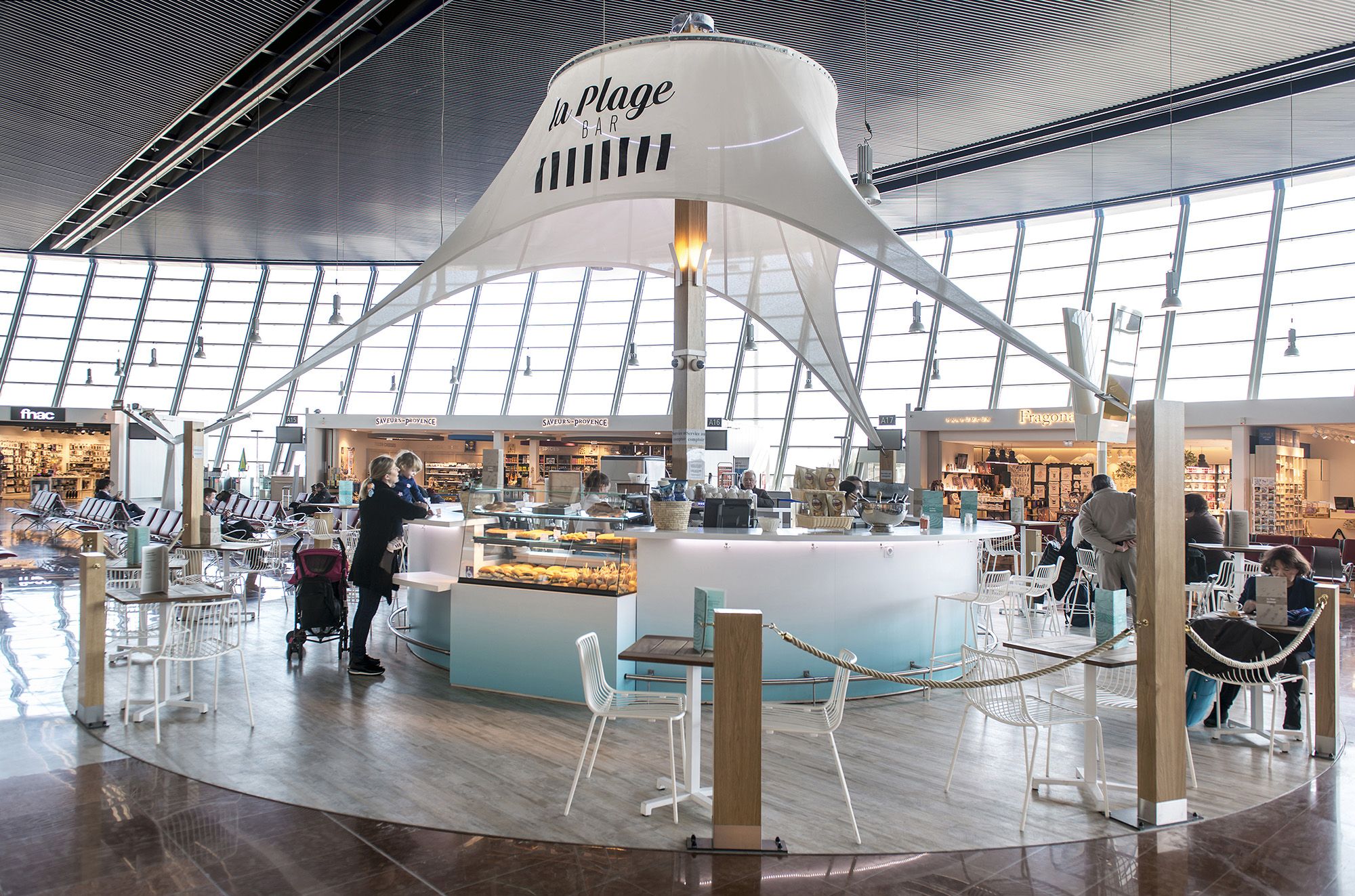 Last year, Aéroports de la Côte d'Azur Chief Commercial Director Filip Soete stated that the airport was achieving significant growth, well above expectations, and was on track to achieve its ambition to double its commercial revenue in four years. How did they do that?
Filip and his team worked incredibly hard to achieve that transformation, opening almost 80 new stores and restaurants (totalling around 8,000sq m), but this was not simply a case of extra commercial space driving performance. The key factor was their commitment to create a unique airport experience as their vision for "the most surprising commercial experience in a European airport".
Nice Côte d'Azur Airport carried out a major transformation across the terminals, both in commercial planning and in design, reaching every square metre of terminal space. This included the repositioning of security in each terminal to enable smoother passenger flow, allowing for more dwell time and a larger boarding area to present the new, broader and more varied commercial offer.
By blending commercial planning and design the airport created the space and ensured that passengers would reach it easily and would be fully exposed to the offer. And they did all that with a unique local spirit that begins with the airport's name and has been embedded across the whole airport through an interior design that celebrates the Côte D'Azur and its coastline and an offer that expresses the very best of the extended summer season of the region.
For example, the food & beverage offer was hugely expanded with a distinctly local flavour, ranging from L'Estivale by Michelin-starred chef Mauro Colagreco and La Plage by Thierry Marx to the world's coolest hot dogs at Monsieur Albert.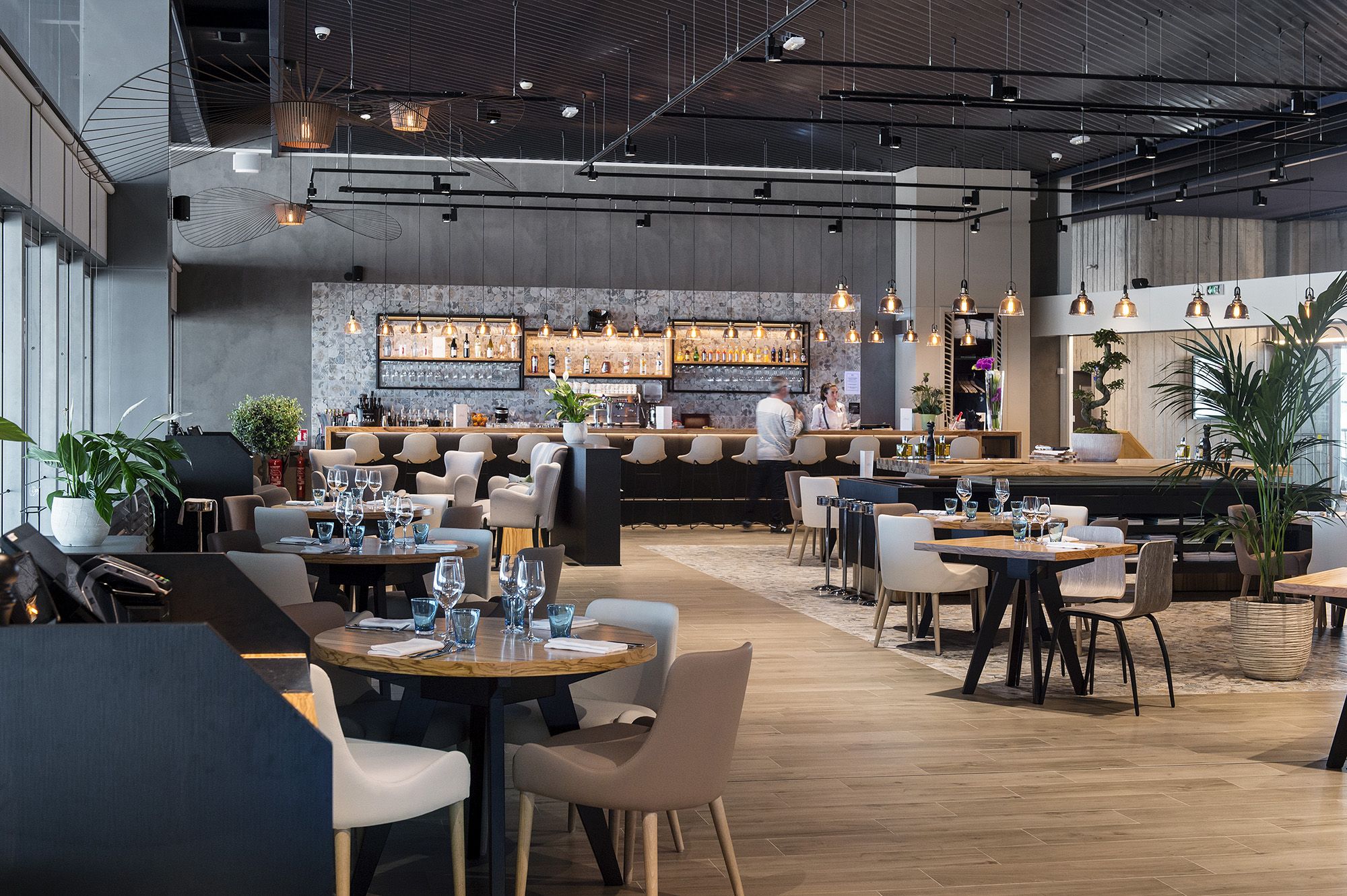 French flair: The food & beverage offer at Nice Airport has a distinctly local flavour, including L'Estivale (above) by Michelin-starred chef Mauro Colagreco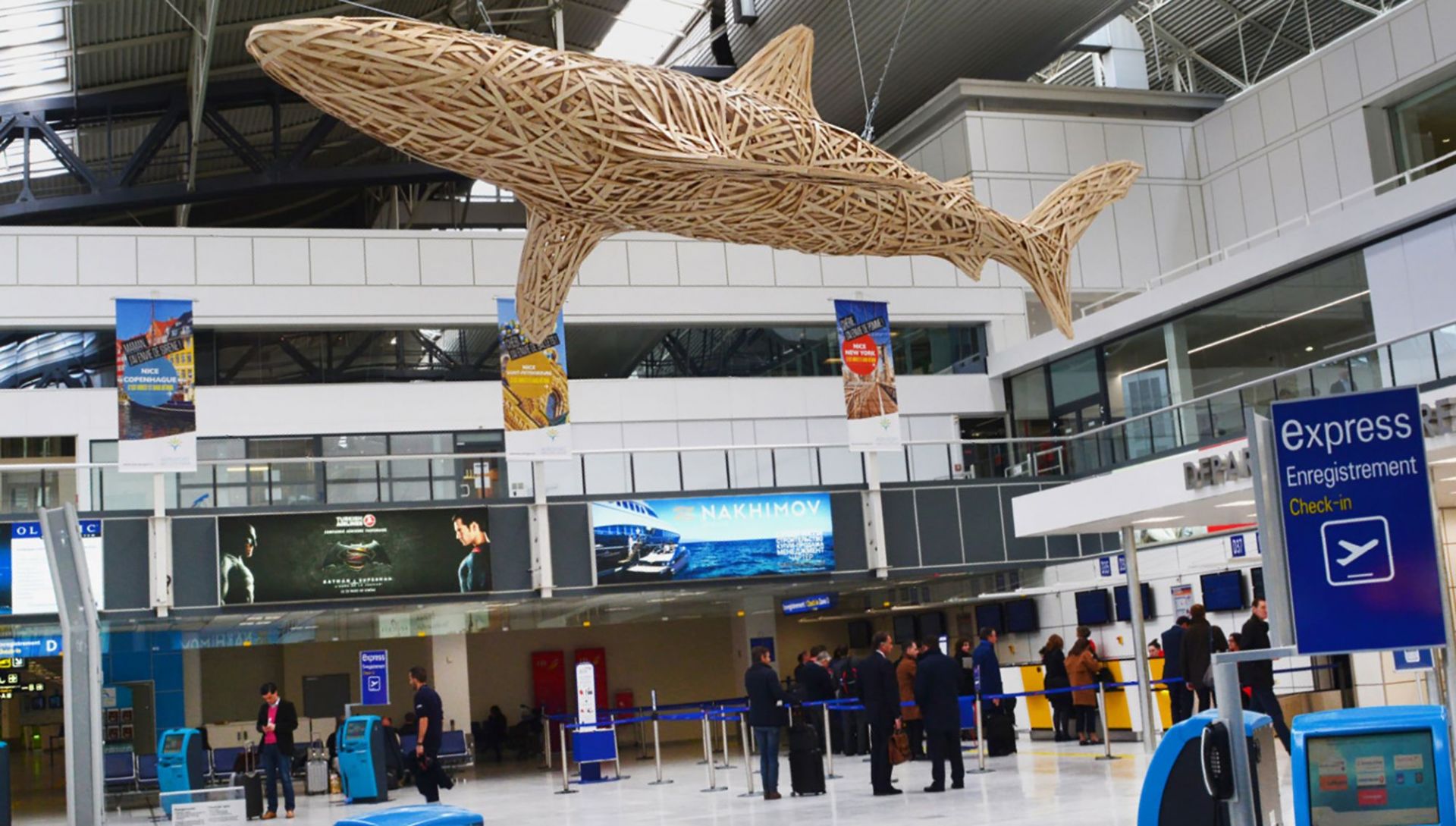 The powerful retail range includes the first Versace store on the Riviera and the first airport store from Fragonard and The Kooples. The commercial spaces, including La Promenade (3,500sq m, 40 stores), are designed and co-ordinated to share a true spirit of the Riviera, including a strong emphasis on natural light and the lifestyle, flavours and colours of the Côte d'Azur.
The Aéroports de la Côte d'Azur team was fully committed to sharing the local story right across the passenger, shopper and diner experiences, embedding a 'Sense of Place' into absolutely every aspect of the airport. This detailed, comprehensive approach goes well beyond the simplistic, tokenistic offerings seen at some airports whereby a supposed 'Sense of Place' is actually just a designated space in a store with a basic display of local products and no design cohesion with the holistic retail space or the terminal.
Soete comments: "Right from our initial planning phase, over four years ago, our core vision was to deliver the most surprising commercial experience at a European airport. The expression of an engaging and authentic Sense of Place was absolutely central to that ambition to help drive differentiation by creating a memorable airport experience that was unmistakably Nice Côte d'Azur.
"To achieve this we chose to work with partners, including The Design Solution, who shared our passion to create something totally new and original. We wanted to express the spirit of the French Riviera through the strong presence of exciting local brands and also across the whole airport journey, creating a distinctly 'local' experience that was shared in everything from the design of the space and the welcome from staff to the menus in the restaurants and the product ranges in the stores.
"The airport industry faces rising pressure for airports to differentiate their passenger experience and I believe an authentic and comprehensive expression of a local 'Sense of Place' is not only the key strategy to delivering that ambition but is also the fundamental driver of non-aeronautical revenue performance."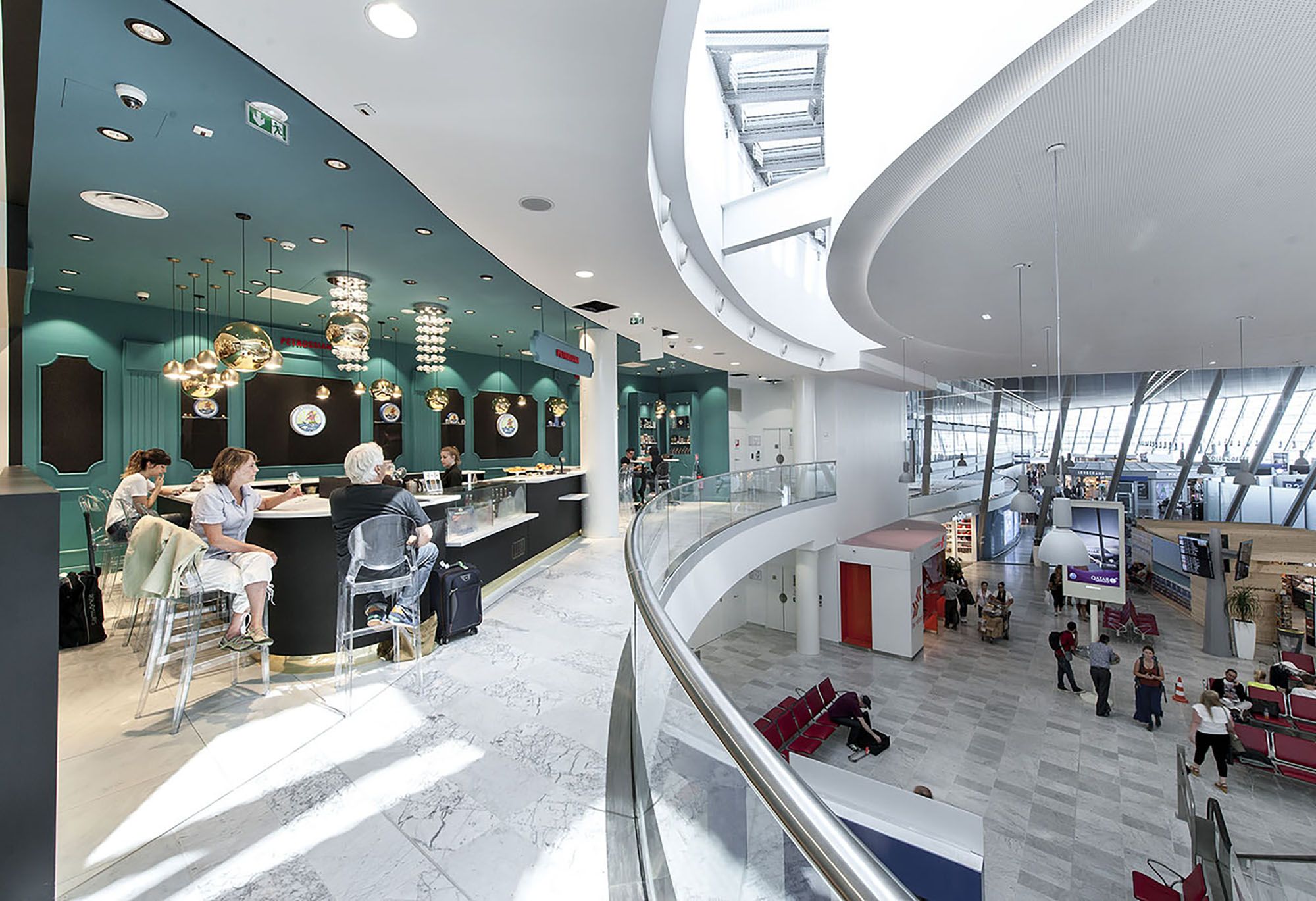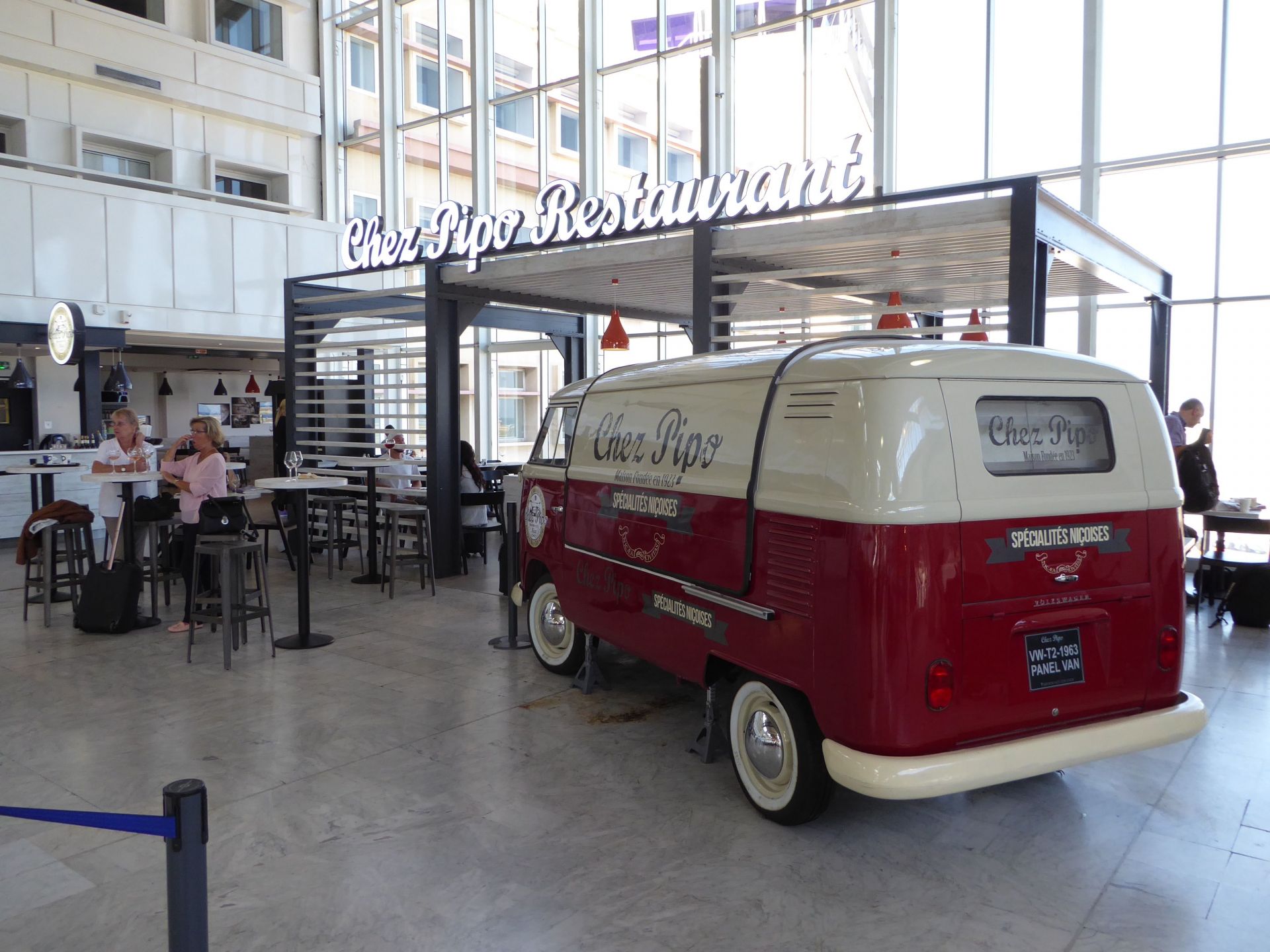 To my mind, the measure of success comes from the local reference points being clear enough that the traveller instantly understands and enjoys them, but they then also discover something deeper, something beyond that immediate familiarity.
Further illustrating the range of factors in play, it's pertinent that Nice also focused strongly on driving its service levels higher too; achieving a significant rise in its Airports Council International Airport Service Quality (ACI ASQ) scores. The airport understood that its staff and the quality of service provided to the customer are actually key factors in expressing a 'Sense of Place'.
When this sort of holistic approach to 'Sense of Place' is properly understood and ingrained across the airport experience, then 'Sense of Place' works for any airport, of any size, at any location.
As designers, we're always aiming to engage the traveller by sharing a unique sense of local character and identity. When an airport has the quality and clarity of vision, ambition and commitment shown by the Aéroports de la Côte d'Azur team, then we have the opportunity to create something that is deeply local, engagingly original and commercially effective. It's an approach that demands that airports and retailers develop a much deeper understanding of the myriad elements that combine to create a unique and effective 'Sense of Place' – but you know it makes sense.

The Moodie Davitt eZine
Issue 268 | 26 September 2019
The Moodie Davitt eZine is published 20 times per year by The Moodie Davitt Report (Moodie International Ltd).
© All material is copyright and cannot be reproduced without the permission of the Publisher.
To find out more visit www.moodiedavittreport.com and to subscribe, please e-mail sinead@moodiedavittreport.com