Definitions and executions of Sense of Place vary greatly – with mixed results and success. Here,

Marek Kolasinsk

i of consultancy The Blueprint Partnership offers a more focused overview of the opportunities it presents and why the concept should be considered as an investment rather than a cost.
As you walk into the terminal, you are greeted by an extraordinary display of light and decorations that take your breath away. A soft piece of music suffuses the air, seemingly coming from everywhere at once, yet you cannot identify exactly where from. The smell of summer greets you and takes your mind back to the beach where you've just spent two wonderful weeks. You close your eyes for a minute, savouring the memory before reopening them to the harmony of light, sights, smells and sounds that surround you and you feel welcome, almost as if you've just got home.
Is it too much to imagine that going through an airport could be a pleasant and relaxing experience where going from kerbside to the plane is one seamless journey filled with a sense of peace and anticipation for the trip ahead? Are we so far away from the description above, where travellers arriving at or leaving an airport do so happily? So happily, in fact, that they decide to arrive at the airport earlier just to spend more time in an environment they find welcoming, comfortable and safe and in which they want to spend time – and money – because the experience is worth it.
This is the holy grail of the duty free and travel retail industry: to bring together the right set of elements to bestow upon travellers that all-important level of satisfaction that will make them feel happier and partake in more of what the airport has to offer.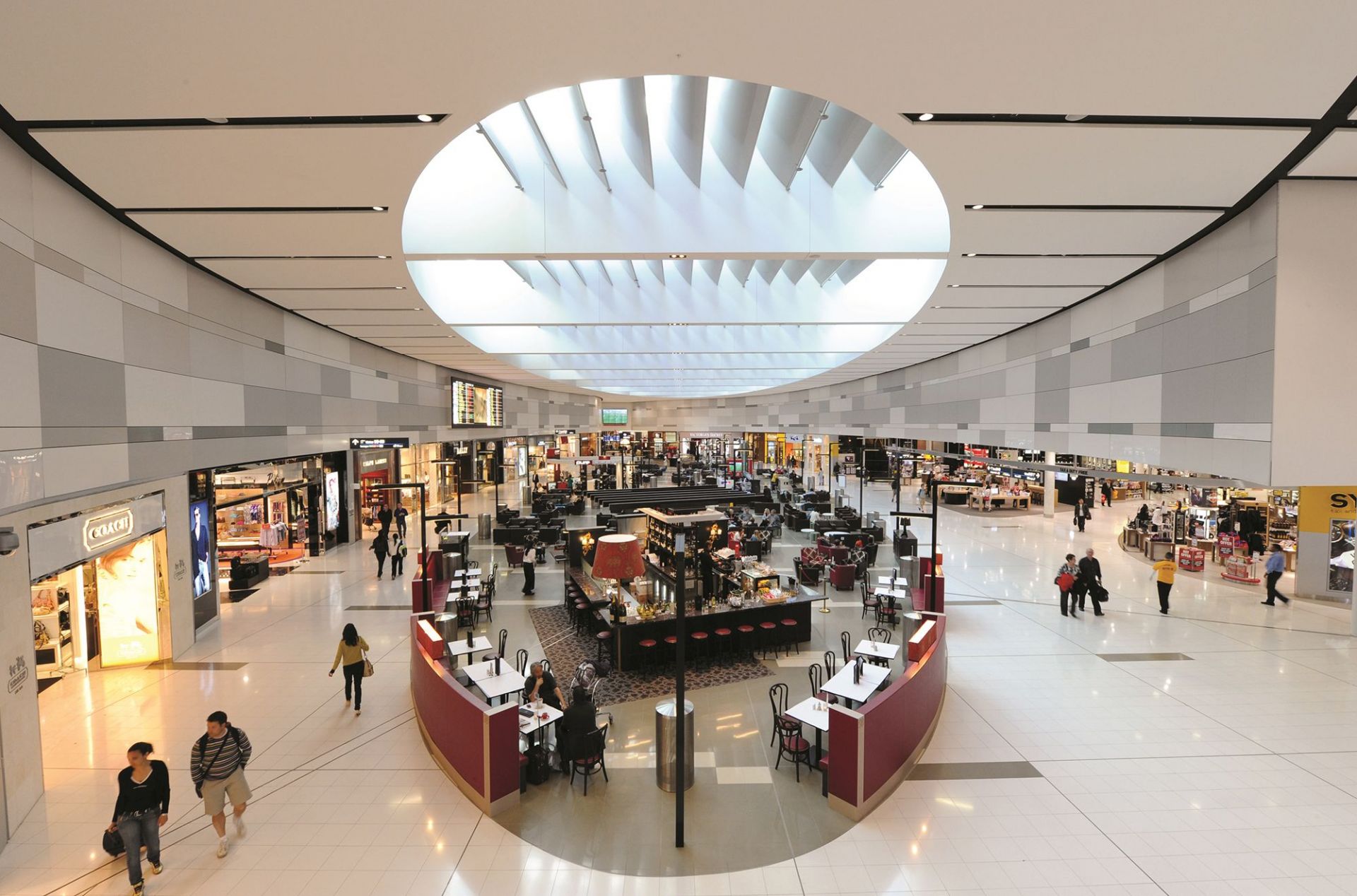 Themes not landmarks: Sense of Place at Sydney Airport means focusing on what the city is known for: sun, water and colour
In order to do so, airports are investing heavily in the traveller experience and in what they define as a 'Sense of Place'. From Changi to Dallas Forth Worth, the buzzword has taken the industry by storm and, it would seem, is going to revolutionise travel retail like never before.
Only, Sense of Place is not a new concept and airports have been implementing it for several years – some more successfully than others – without a clear definition of what Sense of Place actually means.
"The concept of Sense of Place is sometimes confused, with the outcome being the installation of garish symbols of the locale that the airport operator believes to be expected by the passenger, rather than an overall defining design element and experience," says Glyn Williams, former General Manager, Retail at Sydney Airport, who was recently appointed Senior Vice President, Asia Pacific at Harding Retail.
In fact, Williams finds the term Sense of Place too limiting and speaks instead of Senses of Place. He cites the work carried out at Sydney Airport where, "rather than replicating iconic tourist locations, the decision was made to focus on what Sydney is known for: sun, water and colour".
This was achieved in different stages; from the installation of bay windows that bathed the terminal in light while offering unrivalled views over the bay and city skyline, to the selection of local café brands, and the choice of a palette of colours and materials that would be reminiscent of Sydney. The overall effect created "a streetscape that flowed and was connected", enthuses Williams, "making travellers feel as if they were still within the city they live in or had come to visit."
Sydney Airport is but one example where the careful study of what really created a Sense of Place has resulted in a boost in traveller satisfaction and, by correlation, in commercial revenues. Other examples abound. Williams points to Zurich, Oslo and Copenhagen airports as all having "beautiful design and amazing retail" while providing "an incredible amount of passenger comfort". "The key thing is that they understand what they want to be; they have a clearly defined and well executed strategy," he says.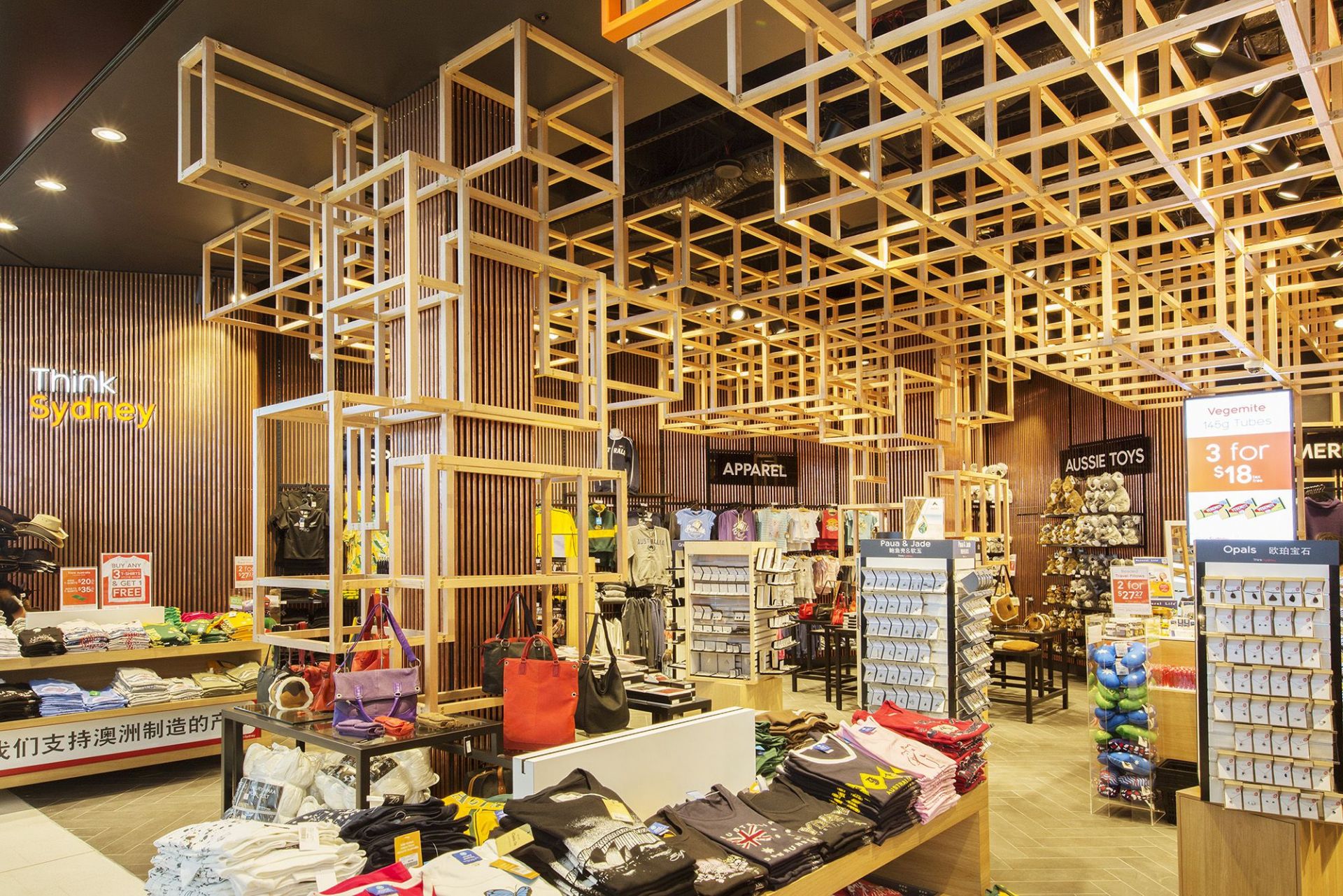 Always Australian: The Think Sydney store offers an obvious means of providing something unique to the airport, but Sense – or "Senses" – of Place pervade the entire retail experience, which was formerly presided over by Glyn Williams (pictured below at Sydney Airport)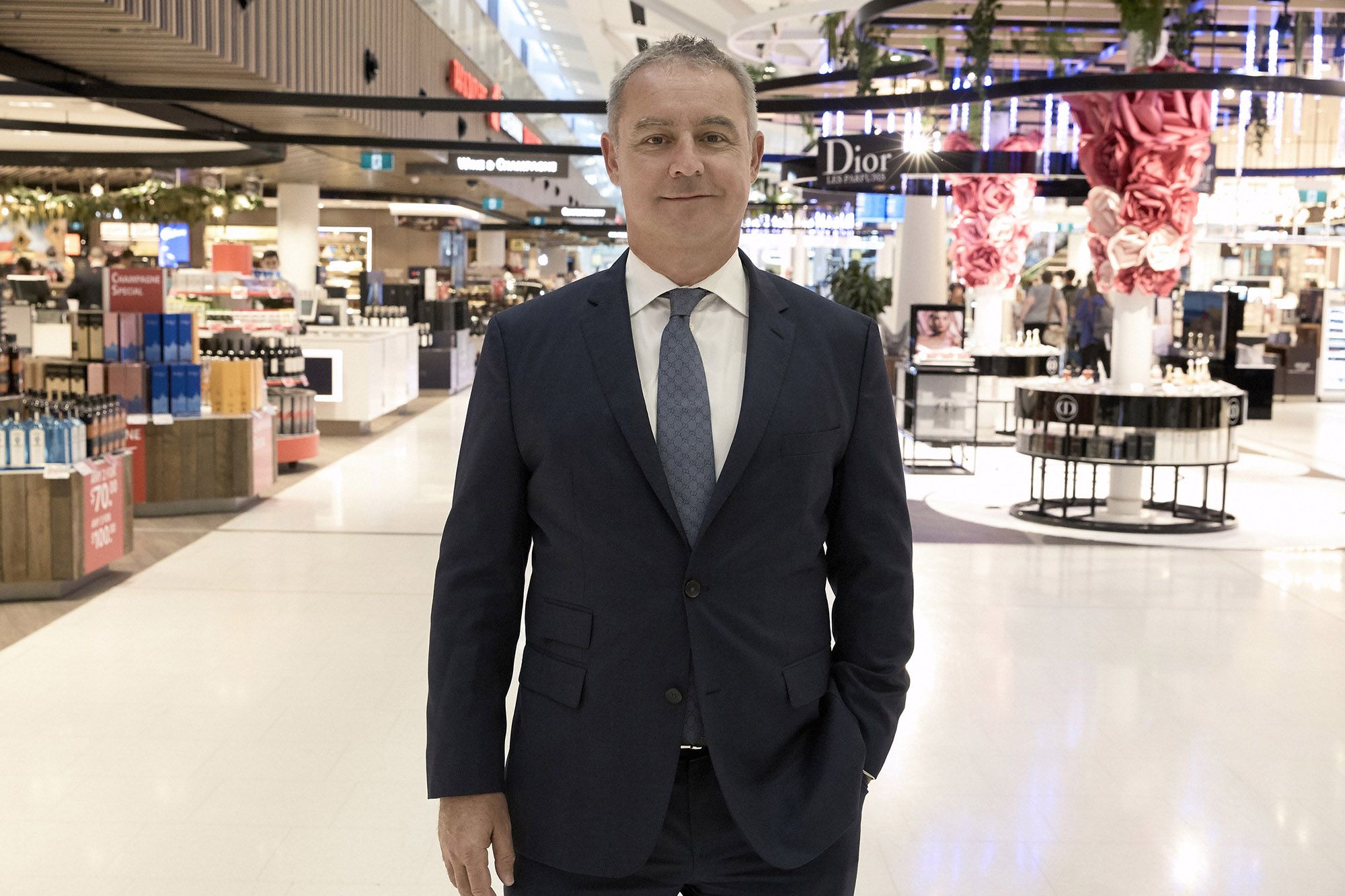 Be innovative
This is the crux of the matter: Sense of Place cannot be a gimmick. Travellers are too clever and experienced today to be fooled by some plasterboard construction that is more reminiscent of a fairground than an international airport. Sense of Place needs to be firmly and seamlessly incorporated within an airport's development strategy, one that has a clear mission statement and vision and puts the travellers and their needs firmly at the centre of everything they do.
Long gone are the days where all that was needed was to arrange the safe transit of travellers from check-in counters to boarding gates with a few commercial and food & beverage elements thrown in along the way to boost non-aeronautical revenues. Looking at global statistics, even though passenger numbers are growing year-on-year, average spend per passenger itself is in decline. And this despite airports becoming more efficient in processing travellers.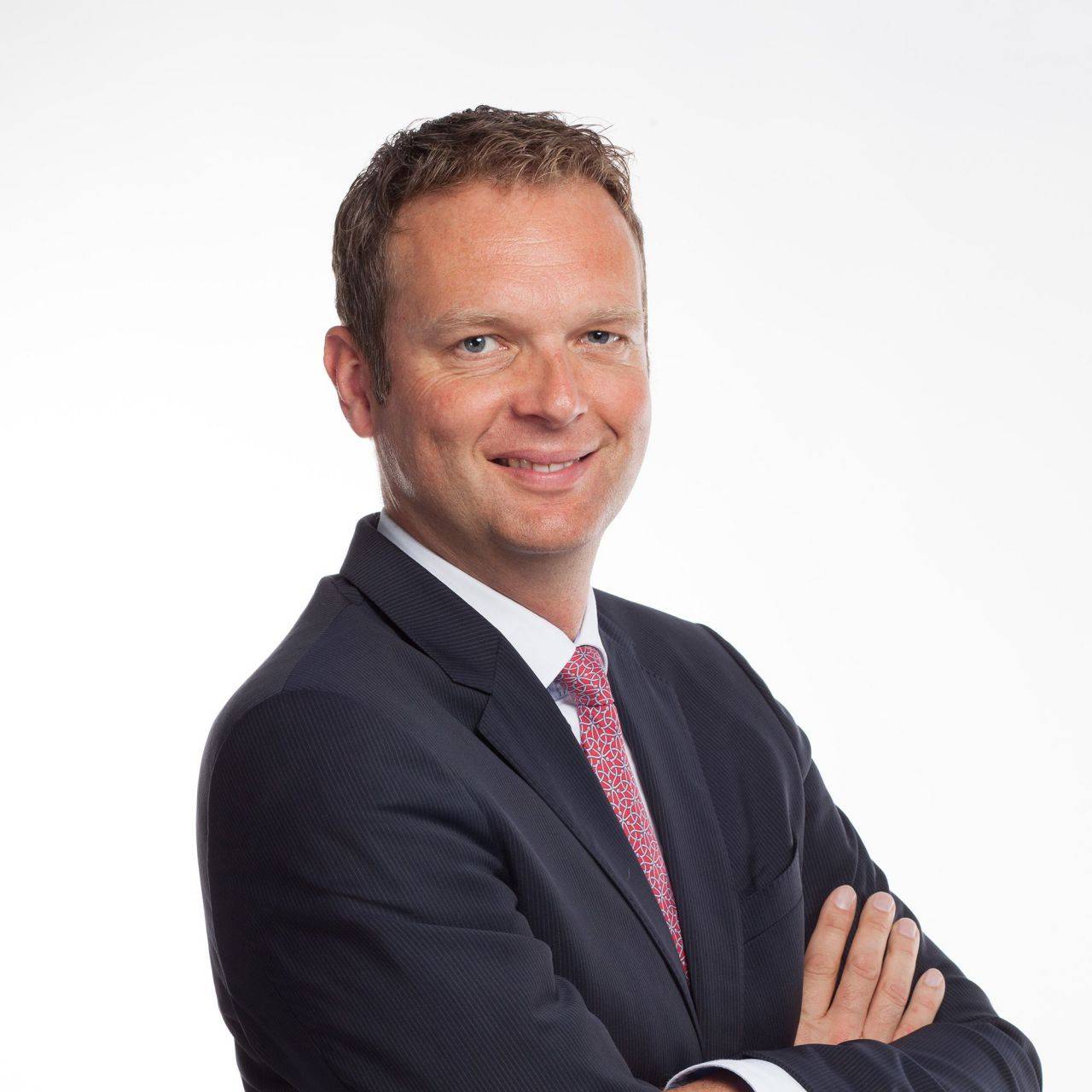 "Most travellers understand very well what Sense of Place means, and while talking to them as part of our research, they very often mention that this element is often missing at many airports," says Peter Mohn, owner and founder of research agency m1nd-set [pictured left].
"Sense of Place is definitely becoming more important, especially since many travellers mention the fact that shops look very alike around the world, and they would expect airports (and the shops) to be more creative in implementing a stronger differentiation from other airports and the domestic high street channel."
But the current concession model does not leave much room for manoeuvre for retailers and brands. High leasing fees and minimum guarantees have a tremendous impact on a retailer's margins, and they often cannot afford to invest heavily into the stores and displays. In order to meet their obligations, these retailers turn to the brands, asking them for more margin in order to – just – pay the rent and staff. The end result is a world where retailers use similar designs in all their operations to minimise design and building costs, while only those brands who can afford to not make any money in the channel – writing it off as a marketing cost – are present.
In other words: the same brands presented in the same way no matter where you are in the world.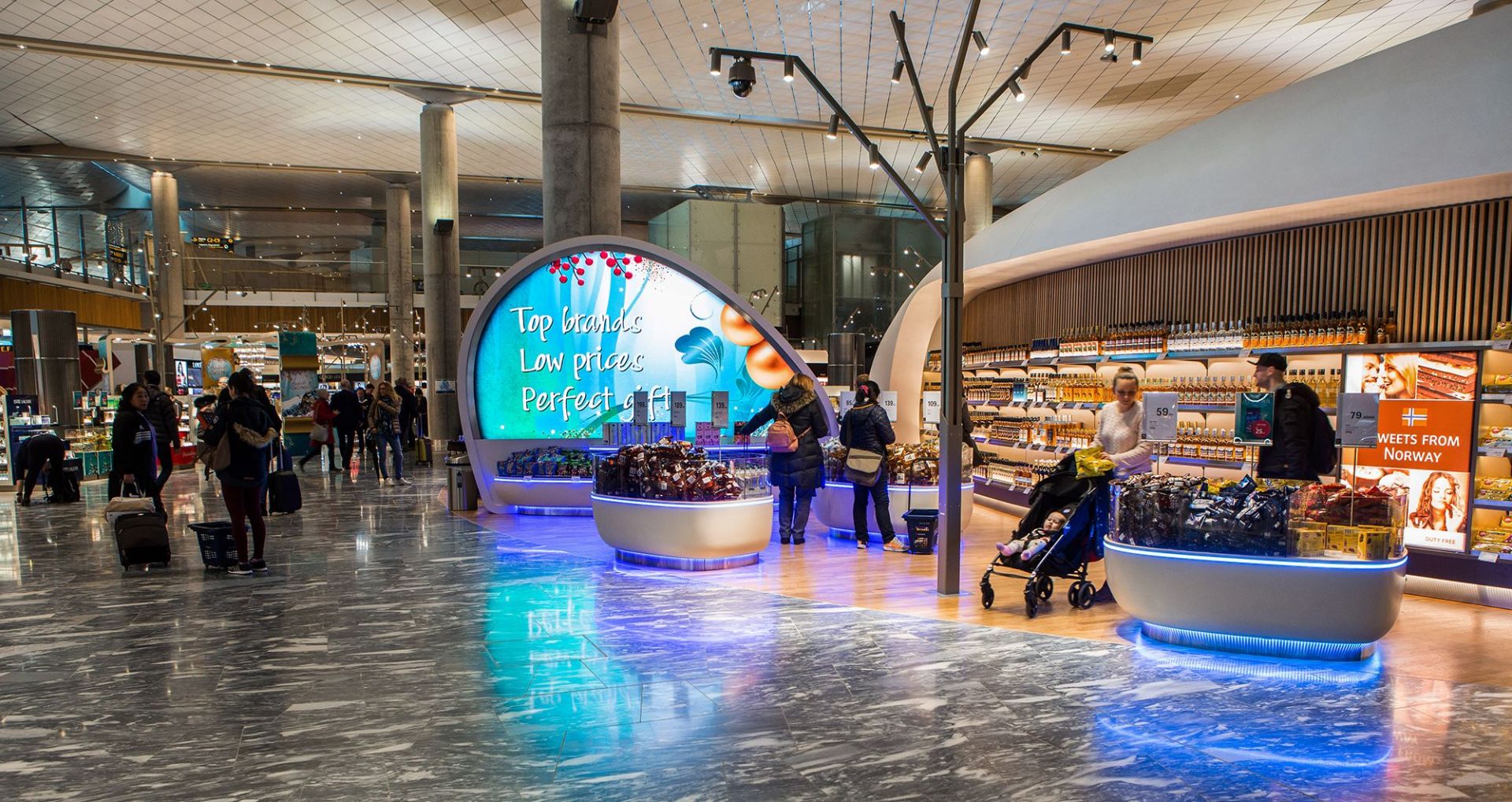 Stand-out spaces: Oslo (above) and Zurich (below) airports were among those picked out by Glyn Williams as having "beautiful design and amazing retail". MK Illumination developed the atmosphere lighting solution on display at Zurich Airport below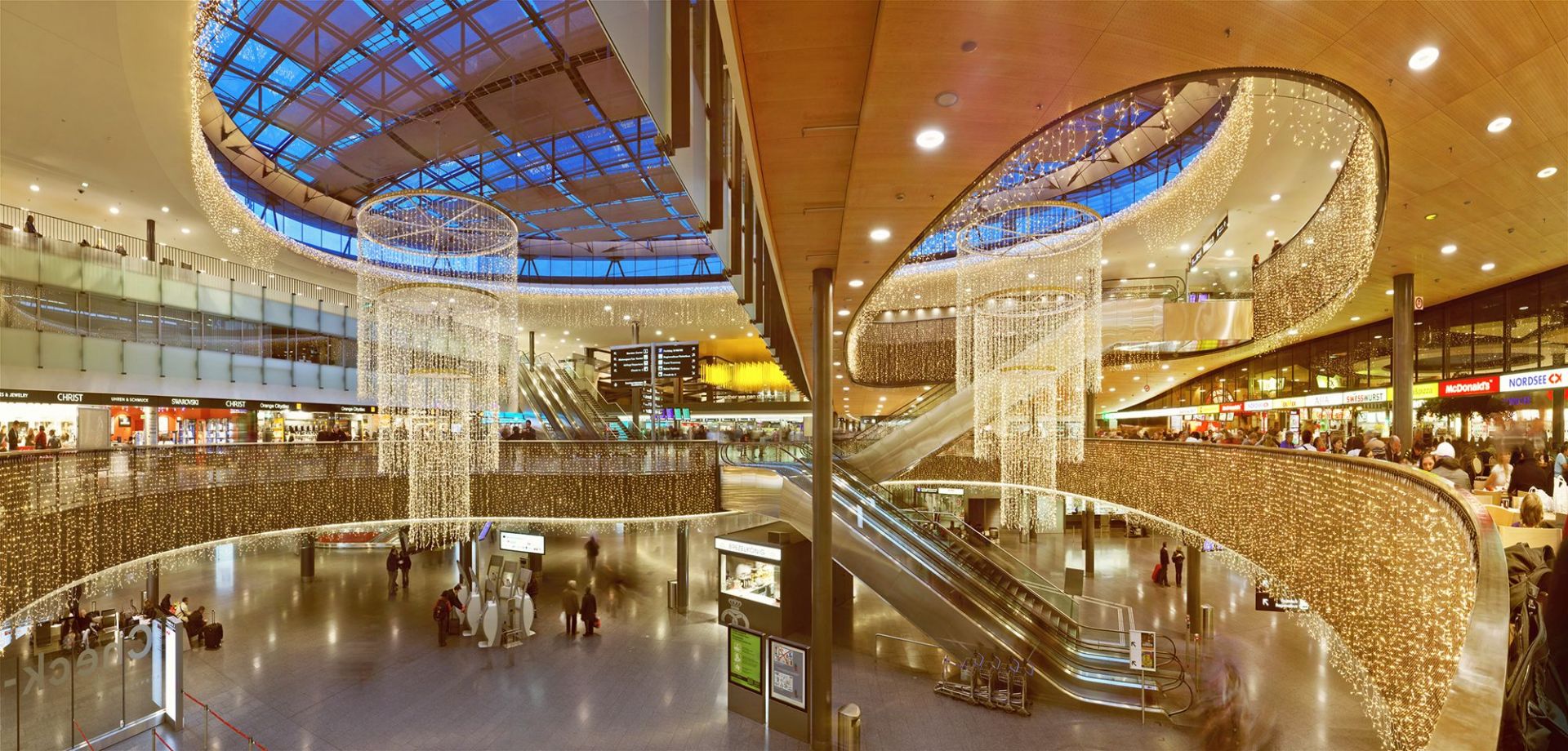 Be different
But things are changing, albeit at a glacially slow pace. At The Blueprint Partnership, we have noticed a willingness among retailers to get out of their comfort zone and take more risks with lesser-known brands to differentiate their offering to travellers.
With declining spend per passenger figures, retailers and airports alike are more open to innovative ideas, new brands and an element of differentiation that fits perfectly within their Sense of Place strategy.
Blueprint specialises in developing synergies between their business partners, airports and retailers – all to the benefit of travellers who will be presented with new experiences and a differentiated offer more targeted to their wishes, impulses and, of course, to a better defined Sense of Place.
Travellers are, by definition, in a different state of mind when they travel and we owe it to them to create a truly unique and engaging set of experiences. These can be implemented in many different ways, from design and a tailored commercial offer with relevant locally sourced products, to specific food experiences that are reminiscent of the local cuisine. And from atmosphere lighting solutions that boost travellers' satisfaction and happiness, to festive events and campaigns inspired by local customs. The possibilities are virtually endless.
For instance, working with MK Illumination – a global leader in atmosphere lighting solutions at airports – Blueprint is helping airports around the world create environments that are tailored to the travellers' needs. These range from decompression zones to festive lighting; and from impacting on passenger flows to creating foci to draw the attention of passengers to less frequented areas in a terminal.
For Blueprint, Sense of Place needs to appeal to all of a traveller's five senses. We do it through light, music, food and by sourcing brands we feel are currently missing in a retailer's portfolio, which present a specific appeal to travellers. And we do it by bringing our partners together to create synergies that will benefit all stakeholders in the channel.
One such example of synergy was bringing together sound branding agency Little Giant and audio equipment manufacturer Cornered Audio to deliver a unique sound experience within airports. Little Giant creates and composes music and tunes that are tailored to a company and epitomises its DNA, which the agency has done for a number of corporate giants such as Novo Nordisk, H&M and Danske Bank. Cornered Audio, on the other hand, has developed a range of speakers that fit in – and take full advantage of – corners to deliver perfect, modular and customisable sound to small and large spaces alike. The speakers remain out of sight and therefore have minimal impact on a space's design and architecture.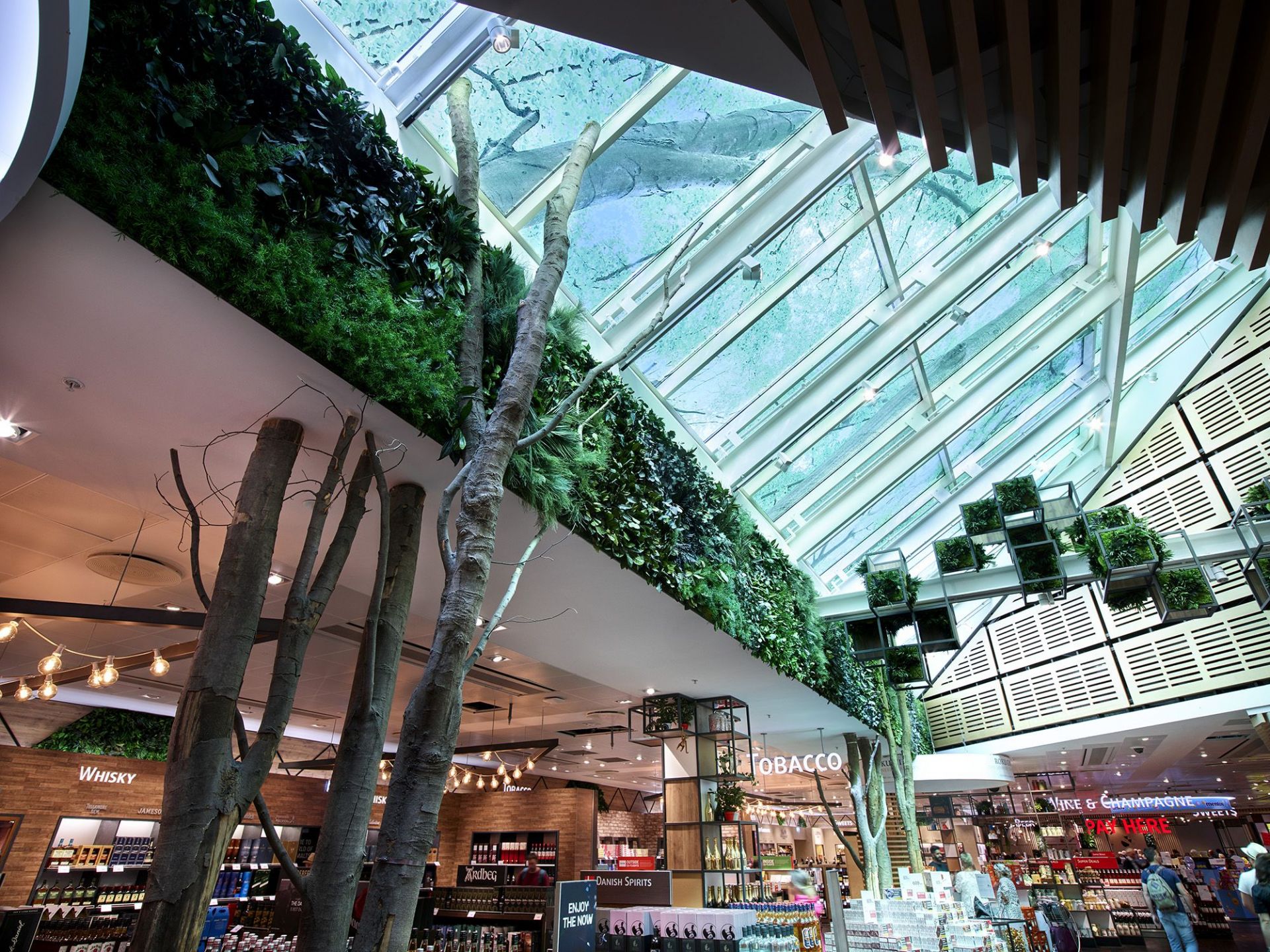 Nature and light: Copenhagen Airport is another to offer a clear vision of what it wants to achieve in using the concept of Sense of Place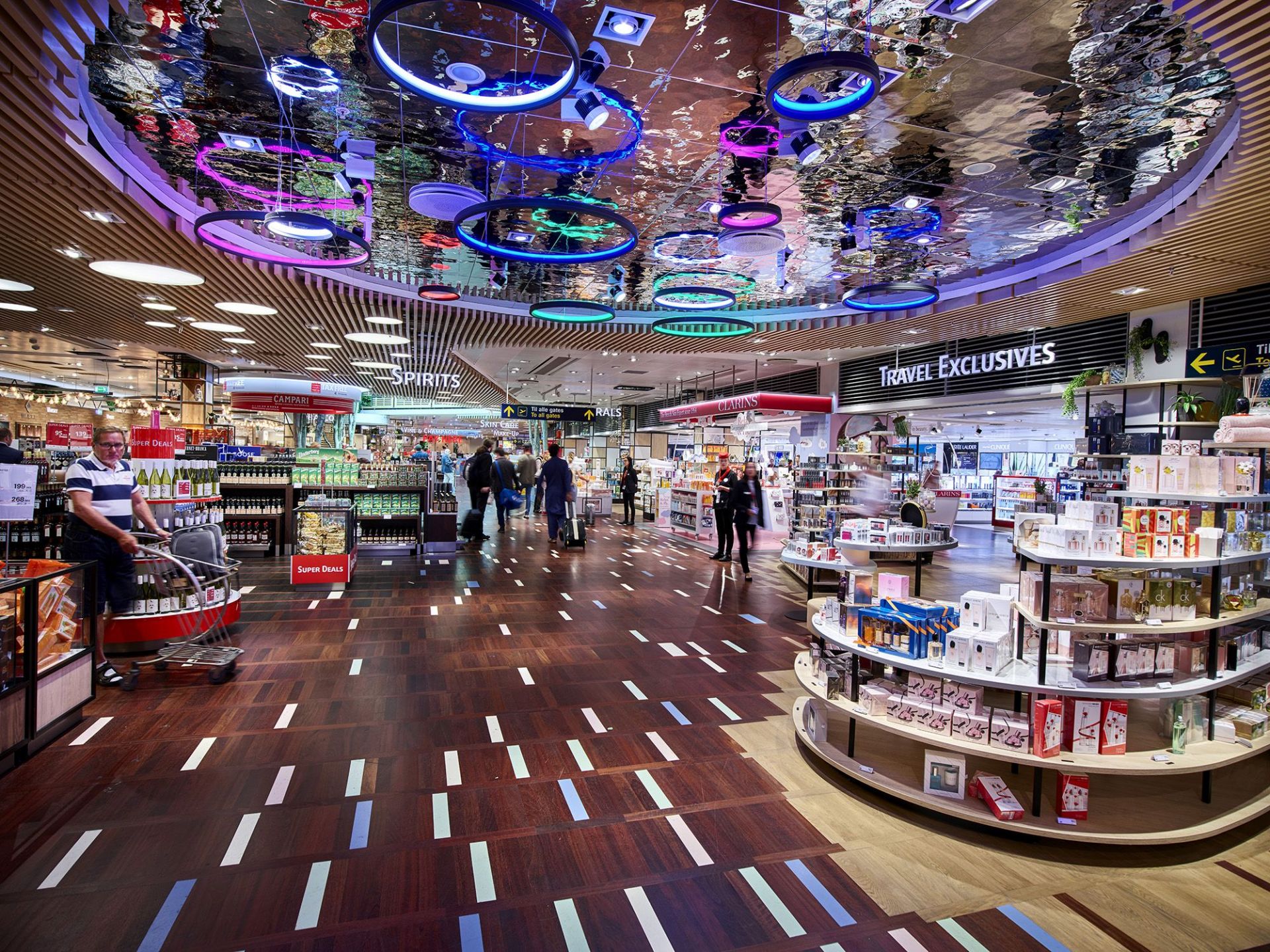 Investment, not cost
Airports and retailers are, rightly, worried about controlling their costs. Sense of Place – and everything it entails – should be seen as more of an investment in creating that perfect environment where travellers can come to relax and unwind before taking their flight.
"We should never lose sight of the fact that a relaxed and engaged passenger can lead to greater sales," says Williams. "Consider your own experiences of when you are relaxed, say on holidays, and in an attractive retail environment; isn't it always easier to justify that you need to reward yourself?"
And if personal experience is not a strong enough element of proof, Mohn confirms that traveller research shows that Sense of Place does matter. "M1nd-set data clearly shows a correlation between shops offering a good Sense of Place and the overall satisfaction and happiness with an airport and their shops," he concludes. "The actual spend is mostly influenced by other factors, such as perceived value for money, but we have seen that there is a connection between a positively perceived Sense of Place and shopper spend."

The Moodie Davitt eZine
Issue 268 | 26 September 2019
The Moodie Davitt eZine is published 20 times per year by The Moodie Davitt Report (Moodie International Ltd).
© All material is copyright and cannot be reproduced without the permission of the Publisher.
To find out more visit www.moodiedavittreport.com and to subscribe, please e-mail sinead@moodiedavittreport.com