---
How has Shinsegae International grown its private label brand?
Demand for private label cosmetics brands is growing across the world. The Moodie Davitt Business Intelligence Unit's Min Yong Jung assesses how Shinsegae International has had notable success with its Vidi Vici brand and ponders the role this market segment might play in the future.
Many retailers around the world have made the strategic decision to expand private label brands and have pursued strategies for this purpose. According to data from analyst Nielsen, the market share for private label brands increased in 12 out of 19 countries assessed and has exceeded 30% in 17 countries.
While some countries and sub-categories of retailers have proven to be more successful than others, the developments at Korean fashion and lifestyle company Shinsegae International and its in-house brand Vidi Vici are worth a special mention.
Coined by enthusiasts in China as 'Petit Chanel', Vidi Vici has grown from an obscure brand with little to no financial contribution to a brand that generated close to half (46%) of Shinsegae International's operating profit in 2018. Parent company Shinsegae Department Store's duty free licence played an integral role to the development of Vidi Vici, with more than 70% of the brand's sales sourced from the duty free channel.
Shinsegae International's cosmetics division sales have grown by +152% and +252% in the past two years, taking an increased share of the company's total sales – from just 2.8% in 2016 to 20% last year. This was made possible with Shinsegae Department Store allocating prime floor space in its coveted luxury department stores to Vidi Vici.
Having seen Vidi Vici placed next to foreign luxury cosmetics brands such as Lancôme, Chanel and Estée Lauder, Chinese resellers were quick to convince their customers in mainland China of the virtues of this luxury brand in Korea. The strong growth of the business, fuelled by reseller demand in the duty free channel, exemplifies how offline retailers with a duty free operation can create a luxury cosmetics private label brand that is able to utilise daigous as a means to increase brand recognition in China.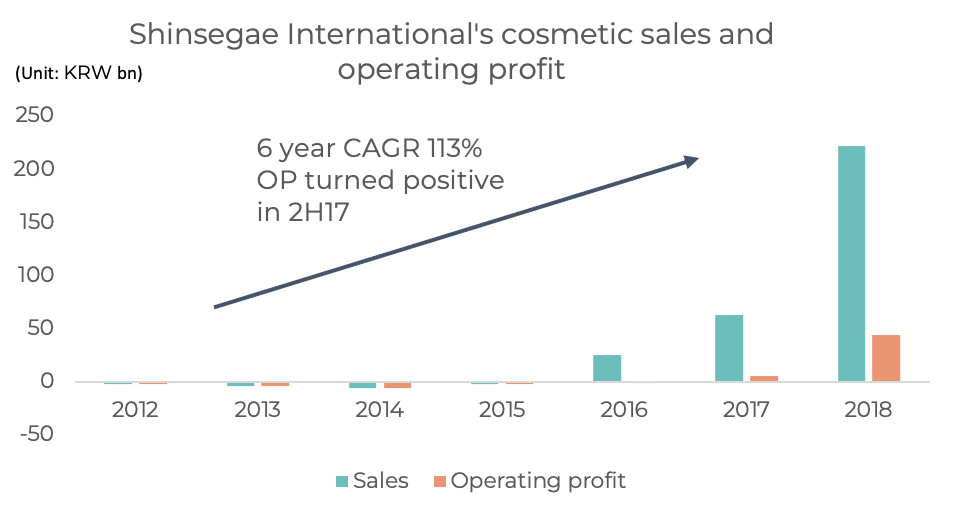 Source: Shinsegae International, Moodie Davitt Business Intelligence Unit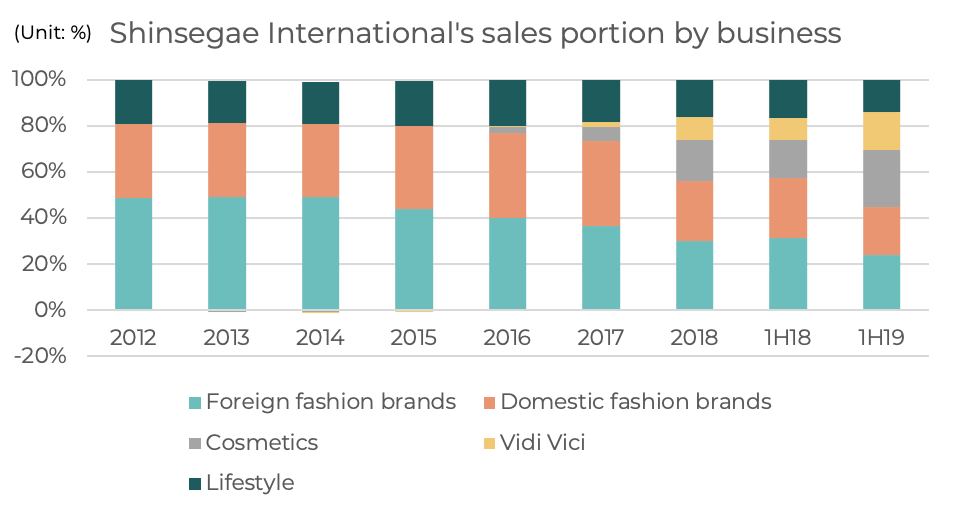 Source: Shinsegae International, Moodie Davitt Business Intelligence Unit
Luxury cosmetics brands in Korea's duty free channel enjoy higher margins compared to other channels in the country. As a result of growing duty free sales, Shinsegae International's operating profit has grown +118% year-on-year in 2018, with cosmetics and Vidi Vici growing +666% and +3,173% respectively. The exponential profit growth in the company's cosmetics business has seen its dependence on this business for profits climb from 22% in 2017 to 79% in 2018.
Shinsegae International purchased Vidi Vici back in March 2012 and has steadily increased its ownership of the company each year until fully acquiring the brand in January 2016. Vidi Vici had little presence at Shinsegae International until the current management took over the reins. New CEO Cha Jung Ho arrived from Hotel Shilla's travel retail business armed with extensive knowledge of duty free and strategies to build up Shinsegae International's cosmetics division.
It is unlikely even Shinsegae leadership could have expected such a positive response from resellers; the company's 2020 sales target of KW200 billion (US$167 million) was met a full two years in advance, in 2018.
How a private label brand can thrive in duty free
The new leadership at Shinsegae International has armed resellers with the following essentials required for sales to flourish in the duty free channel:
Differentiated and enticing brand story;
Luxury product with high value;
Light, portable and small products to fit into parcel packages or carry-on luggage.
Fulfilling the second and third requirements is relatively easier, as the world's biggest cosmetics manufacturers Cosmax and Korea Kolmar are in Korea and accessible to those armed with a sales platform and the finances to place new orders. Shinsegae International's main suppliers are Italy's Intercos Group and the joint venture company Shinsegae Intercos Korea (50% ownership each).
The first requirement is elusive and the most difficult of the three to achieve. Shinsegae's solution was to artificially create a luxury image by placing the brands next to luxury cosmetics brands on the first floor of their self-owned and operated department stores for Chinese tourists and resellers to see.
"Only the most luxurious and well-known brands are invited to open up shop in the first floor luxury cosmetics area," notes a department store employee. "For an entirely new brand without history or a cemented brand identity to set up shop next to SK-II, Lancôme or Chanel is unthinkable. This would not have been possible without Shinsegae Department Store making it happen."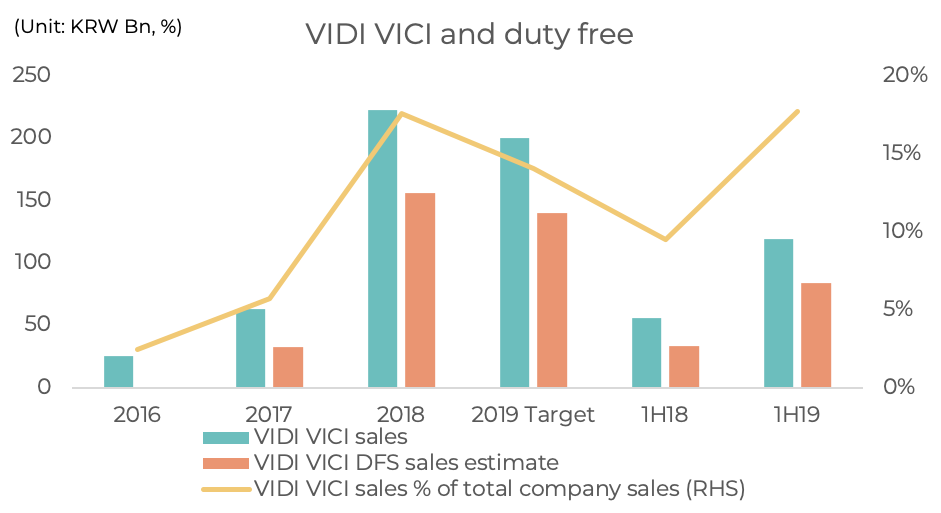 Source: Shinsegae International, Moodie Davitt Business Intelligence Unit
Building a strategy
Current Shinsegae International CEO Cha Jung Ho is largely credited with transforming the company's cosmetics business, which had been a perpetual loss-making division prior to his arrival in 2017. With extensive knowledge and experience in the duty free industry, Cha has built up a successful private brand business for cosmetics (Vidi Vici), lifestyle (Jaju) and fashion (Design United). His impact was immediate, with sales and profits pricking up under his leadership.
Shinsegae International Cosmetics CEO Lee Gil Han is a seasoned veteran in the duty free industry with experience both at Hotel Shilla and the HDC-Shilla joint venture company. Lee has taken over as the head of the cosmetics business and will oversee the growth of new brand Yunjac and the company's direct ventures abroad.
The semiconductor industry isn't the only industry where Samsung employees are coveted. Experienced employees at Hotel Shilla have found their way into newly emerging duty free operators and cosmetic brand companies.
Cha Jung Ho
Current role: Shinsegae International CEO
Previous positions: Hotel Shilla Travel Retail VP; Hotel Shilla Travel Retail Director; Samsung C&T

Lee Gil Han
Current role: Shinsegae International Cosmetics CEO
Previous positions: Shinsegae International Global Fashion VP, HDC Shilla DFS CEO; Hotel Shilla Travel Retail Marketing Director; Samsung C&T
What's next for Shinsegae International?
There are two main future strategies:
Add to existing product portfolio:

Instead of basking in the glory of creating one successful brand, management has been quick to identify the need to add to its brand line-up. Yunjac, which has roots in oriental medicine, was launched in October 2018 with the same strategy as Vidi Vici.

Yunjac opened its first shop on the first floor of Shinsegae's Myeong-dong department store, next to global luxury brands such as SK-II and Lancôme. The brand soon gained access to Shinsegae's Myeong-dong duty free store, in February 2019. Unlike other local brands that only receive small shelf space, Yunjac opened its doors to a warm welcome from both Shinsegae Department Store and Chinese resellers.

Monthly sales of Yunjac, from 2-29 February, were KW980 million (US$818,400) and brand followers on Chinese app Xiao Hong Shu increased +1,000% month-over-month. Early indications suggest the brand is well on its way to meeting its sales target of KW100 billion (US$83.5 million) by 2020.

In addition to Yunjac, Shinsegae International is planning to launch an additional luxury brand and a new fragrance brand this year, both incorporating the same strategy that catapulted Vidi Vici to success.


Build up China onshore:

Th

ere are no immediate plans to establish new stores in China and the focus remains on stabilising and adding to the fast growing cosmetics business using the duty free channel, and relying on

daigous

. But the long-term plan is to add to the existing business model by building up a direct channel in China.
Who else can employ this strategy?
The three major luxury department store operators in Korea are Lotte, Shinsegae and Hyundai Department Store. Shinsegae has led the way by creating a luxury private label brand that sells in China, and industry experts expect the other two companies to follow in its footsteps soon.
While Lotte is considered more conservative, a subsidiary of Hyundai Department Store – Handsome – recently announced entry into the cosmetics business. While the company confirms that this announcement was made to protect the trademarks of its established fashion brands, Korean media has stated that the company has imminent plans to roll out a cosmetics business with a focus on the duty free channel. The Moodie Davitt Report expects a similar approach will be taken in regions with growing exposure to Chinese travellers, with demand for private label cosmetics brands growing across the world.

The Moodie Davitt eZine
Issue 268 | 26 September 2019
The Moodie Davitt eZine is published 20 times per year by The Moodie Davitt Report (Moodie International Ltd).

© All material is copyright and cannot be reproduced without the permission of the Publisher.
To find out more visit www.moodiedavittreport.com and to subscribe, please e-mail sinead@moodiedavittreport.com