Celina Esteban on adapting the brand mix to
a new customer profile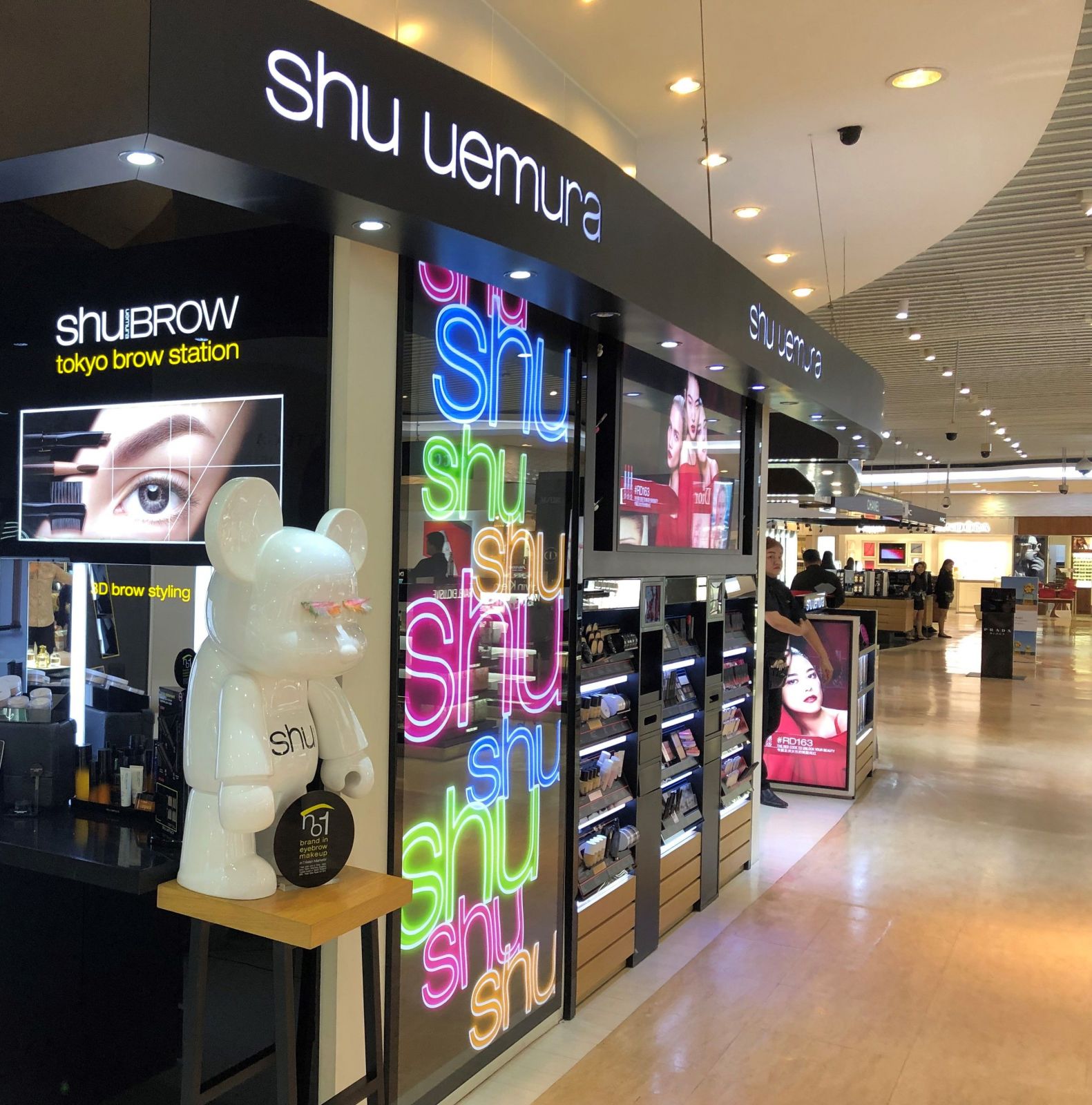 L'Oréal-owned Japanese skincare house Shu Uemura (pictured here at Fiestamall) is one of many international cosmetics brands to identify growing opportunities in Philippines travel retail.
Celina Marie M. Esteban leads Marketing & New Concept Development for Regent Travel Retail Group, charged with developing a booming business in cosmetics, fragrances and fashion. She spoke with Martin Moodie about a changing product portfolio, one designed to cater for an evolving consumer demographic.
"Today we work with all the major beauty groups," says Celina Esteban, talking to The Moodie Davitt Report over breakfast at the Discovery Primea hotel in Makati, metro Manila's financial hub.
Regent Travel Retail Group, of which she is Managing Director, serves both Duty Free Philippines and (tax paid) travel retailer Regent Group. The company has adapted proactively to a marked shift in the travelling consumer demographic and the future is exciting, Ms Esteban says.
Regent Travel Retail Group takes a holistic view of the beauty category across the duty free and travel retail channels, placing brands where they are best suited in terms of customer profile and suitable space. "We've been able to grow our brand portfolio, even opening stand-alone shops for brands with a more specialised retail format like MAC or Kiehl's by constantly looking for new space opportunities," Ms Esteban explains.
While business has thrived for many years in the Philippines, Regent Travel Retail is a relatively new player, charged with expanding the travel-related business into new locations & channels, including domestic airports.
"I have the advantage of being able to look at the travel retail business as a whole and seeing which locations have the right consumer mix for what brands – and then pairing them up," says Ms Esteban. "For merchandising, we have focused over the last couple of years on ensuring that we have a great brand selection, particularly in cosmetics, for the Chinese customer.
"In both our duty free and our travel retail business, we're making big inroads with designer brands, which we have been working hard to get into the country. Our longtime relationship with the big groups has allowed us to unlock these new entries over the last year and so the brand mix has evolved quickly. And I think there's growing customer recognition of the quality new environments that we're coming up with – LUXE and Cebu, in particular."
Having returned, like her brother Joey, to the Philippines after years abroad (in her case in the USA, where she held several senior positions for L'Oréal-owned GiorgioArmani beauty and fragrances in New York from July 2008 to October 2016), Celina Esteban is excited about the rapid retail transformation in her home country.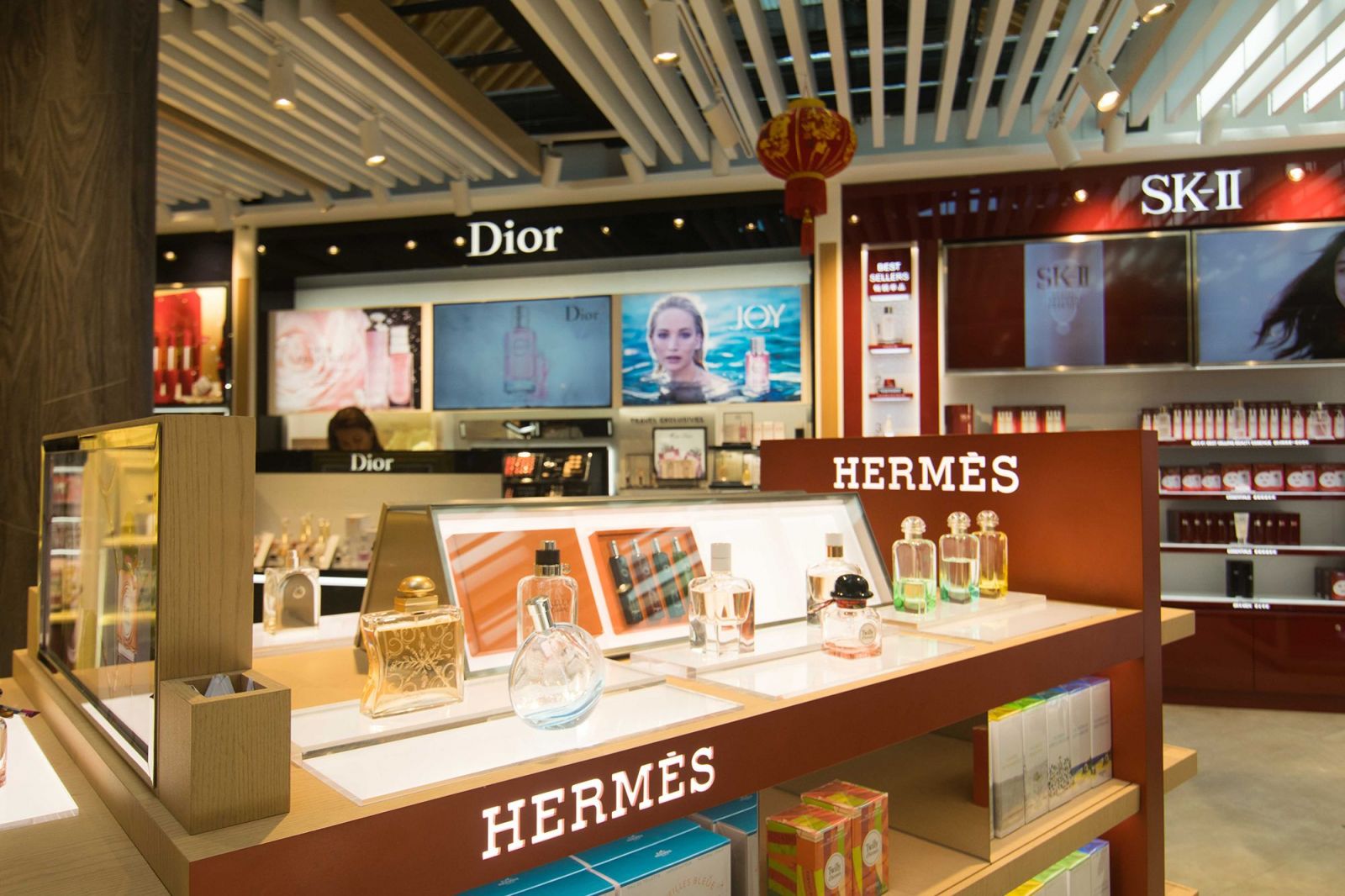 "Our fragrance mix is extremely high for the region – we're at 45 to 50 percent," says Celina Esteban.
"The last few years have driven a new set of brands into this market that have really taken over – like Armani and YSL in cosmetics," she reflects. "So, I knew, especially coming from the outside, that we needed to ensure our assortment was the right one versus what we've had for a very long time. Of course, core brands are still super important but it's about making the strategic decisions to bring in new brands in certain places – and to delist others."
It's not just about ultra-luxury, Ms Esteban says, citing the importance of the value sector, particularly Korean cosmetics and emerging Japanese brands. To fulfil strong demand for such products and price points, Regent Travel Retail is building a small format concept called 'Beauty to Go' for locations which attract a younger or value oriented customer. Today, there are two standalone stores in Ninoy Aquino Internatinal Airport Terminal 3 and a shop-in-shop concept at Fiesta Mall.
Even at the splendid new Mactan-Cebu International Airport T2 and LUXE downtown stores, Regent Travel Retail has introduced up and coming brands. This is targeted principally at Chinese consumers seeking an emergent brand assortment rather than more familiar names.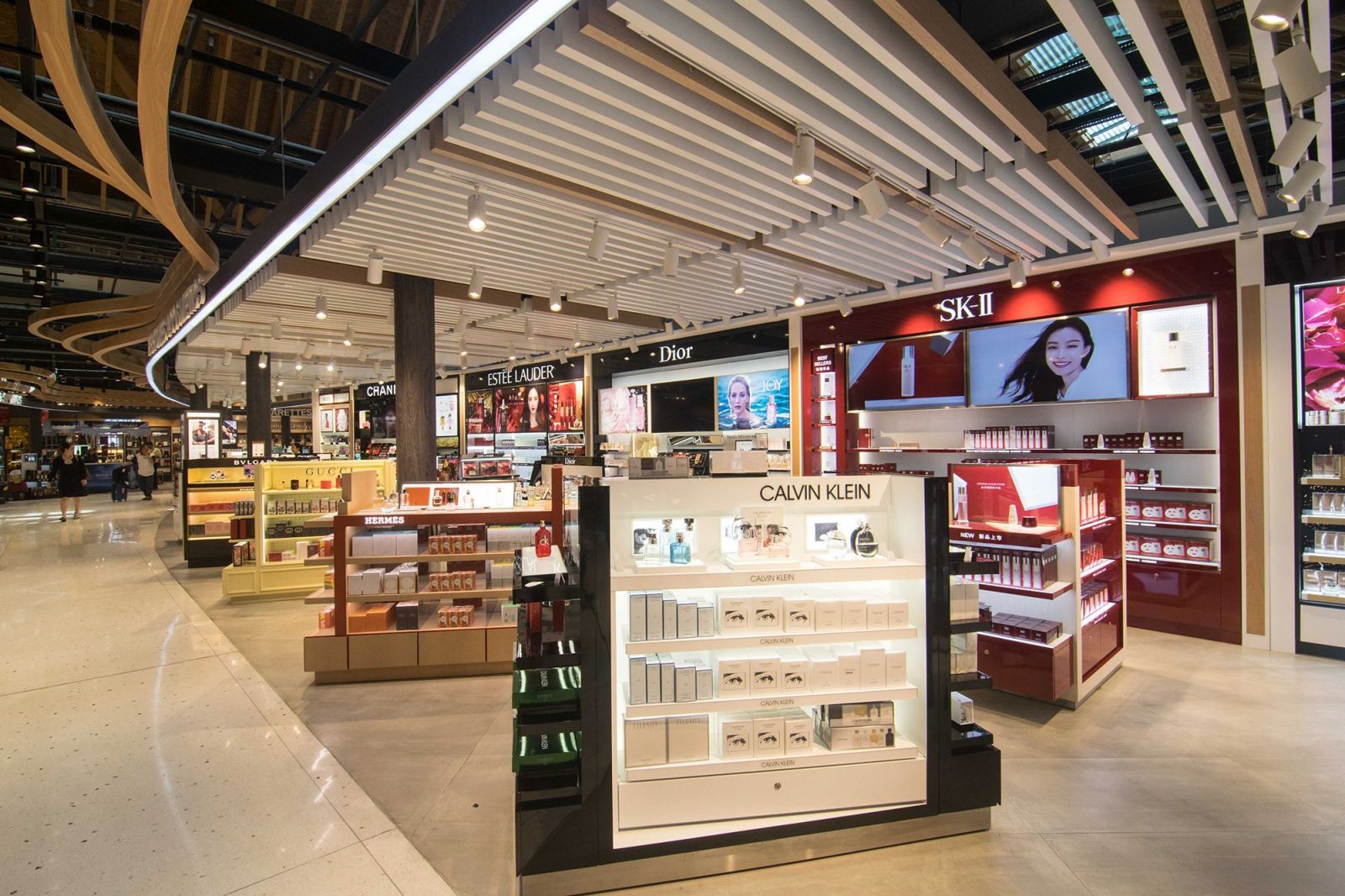 "In Cebu we now focus on bigger presentations of our core brands. Only Gucci, Hermès and Bvlgari [among fragrances] have very large gondolas, everyone else has a more petite format. While fragrance is still our strength, it's about resizing it depending on the location."
"We're evolving beyond fragrance into makeup and skincare," says Ms Esteban of the category mix. "It's a combination of global brands, Korean brands, American brands and some of our bigger fragrance names because we know that there's a need for a non-traditional beauty concept."
Celina Esteban is not only focused on beauty.Together with her brother Joey, she's also bringing in emerging fashion brands, intent on creating a similar multi-brand accessory concept. Though skincare remains the biggest sector within cosmetics, makeup is booming. "Industry-wide, makeup is what's really innovating and driving all the repeat purchases," she reflects. "Our makeup business has been less than 20 percent of our total P&C, partly because our fragrance mix is just extremely high for the region – we're at 45 to 50 percent – but it's growing strongly."
That traditional emphasis on fragrance is very much driven by the Filipino customer. But the category's prime in-store positioning also ensures that it does surprisingly well with other demographics too. Mactan-Cebu International is a case in point, where the fragrances offer is surprisingly extensive given the Korean/Chinese/Japanese-dominated passenger mix.
"We're constantly making refinements," says Ms Esteban. "For example, in the new Cebu duty free store where we used to have walls and walls of fragrance, now we focus on bigger presentations of our core brands. Only Gucci, Hermès and Bvlgari [among fragrances] have very large gondolas, everyone else has a more petite format. While fragrance is still our strength, it's about resizing it depending on the location."
With the booming makeup category, it's also not just a question of the big international and designer brands but, also Korean labels and some smaller American brands. The Estée Lauder Companies' MAC plays a starring role across the company's retail footprint, appealing to a diverse combination of Filipinos, Koreans and Chinese. New cosmetics this year include LVMH-owned brands Benefit and Make Up For Ever, supporting a strong existing portfolio which includes Dior, Armani, YSL, and Tom Ford.
"The brands have been very supportive. There is a desire among those that are not there to enter these doors, and that includes designer brands and makeup brands. It's just a matter of figuring out the puzzle [of space allocation] at this point."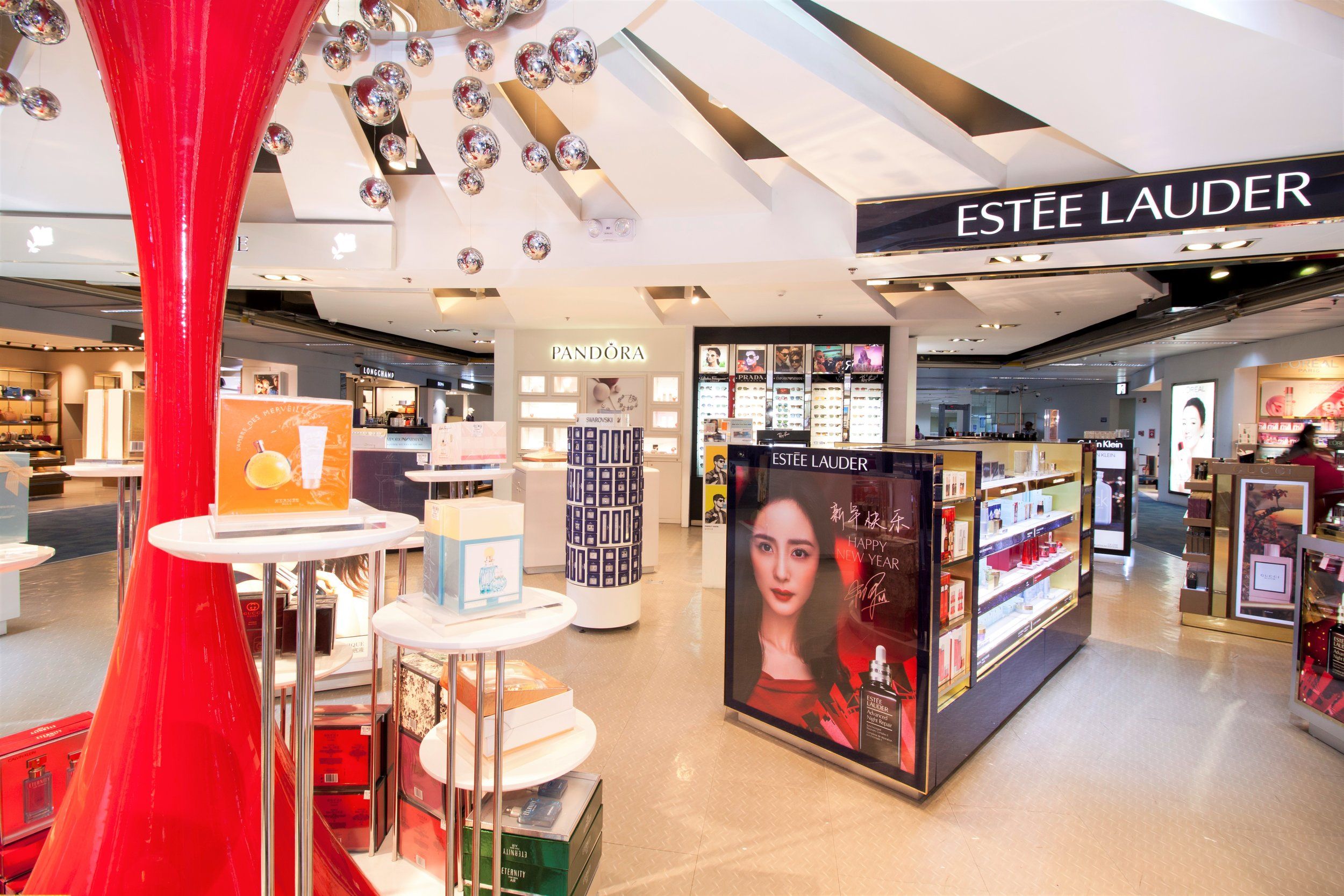 Beauty brand emporium: Ninoy Aquino International Airport Terminal 1 is the national gateway's main door for Chinese traffic.
"The moment is now"
The company's biggest remaining project for 2019 is the renovation of its offer at Ninoy Aquino International Airport T1, targeted for the second half. While Cebu generates bigger overall sales, T1 is a critical location for the company as that is where most of the burgeoning Chinese traffic travels through.
"We hit well over a million Chinese arrivals last year and that is something we need to communicate to the trade more," says Ms Esteban. "All of these merchandising improvements, store openings and expansions are a result of the shift which only started four years ago. For the first couple of years it was a wait-and-see approach. But we know the moment is now… it's a critical time which we have to capture."
The government and the tourism department are also highly supportive, says Ms Esteban, helping to drive awareness of the country's attractions through high-profile new communications campaigns.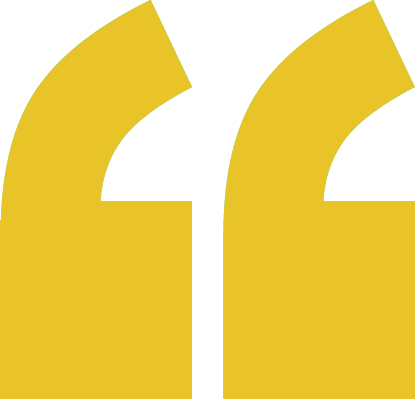 "Travel retail in the Philippines, we believe, is at a turning point"
It's not just about the Chinese traveller, though. The fast-changing Filipino segment is also rich in growth potential, she notes. "Income is growing and we have a rising millennial traveller base. Then there is the rise of all the budget airlines. Filipinos are travelling frequently in Southeast Asia and to Japan and Korea, whereas when I was growing up our people mainly went to America – you made a big month out of it and that was your once-every-three-year vacation.
"Now, because it's so much easier to travel in the region, we have younger Filipinos going outside of the country much more frequently. And so, they're exposed to many brands when they're travelling. Filipinos are also very, very highly engaged on digital and social media – we're the biggest per-capital users of Facebook.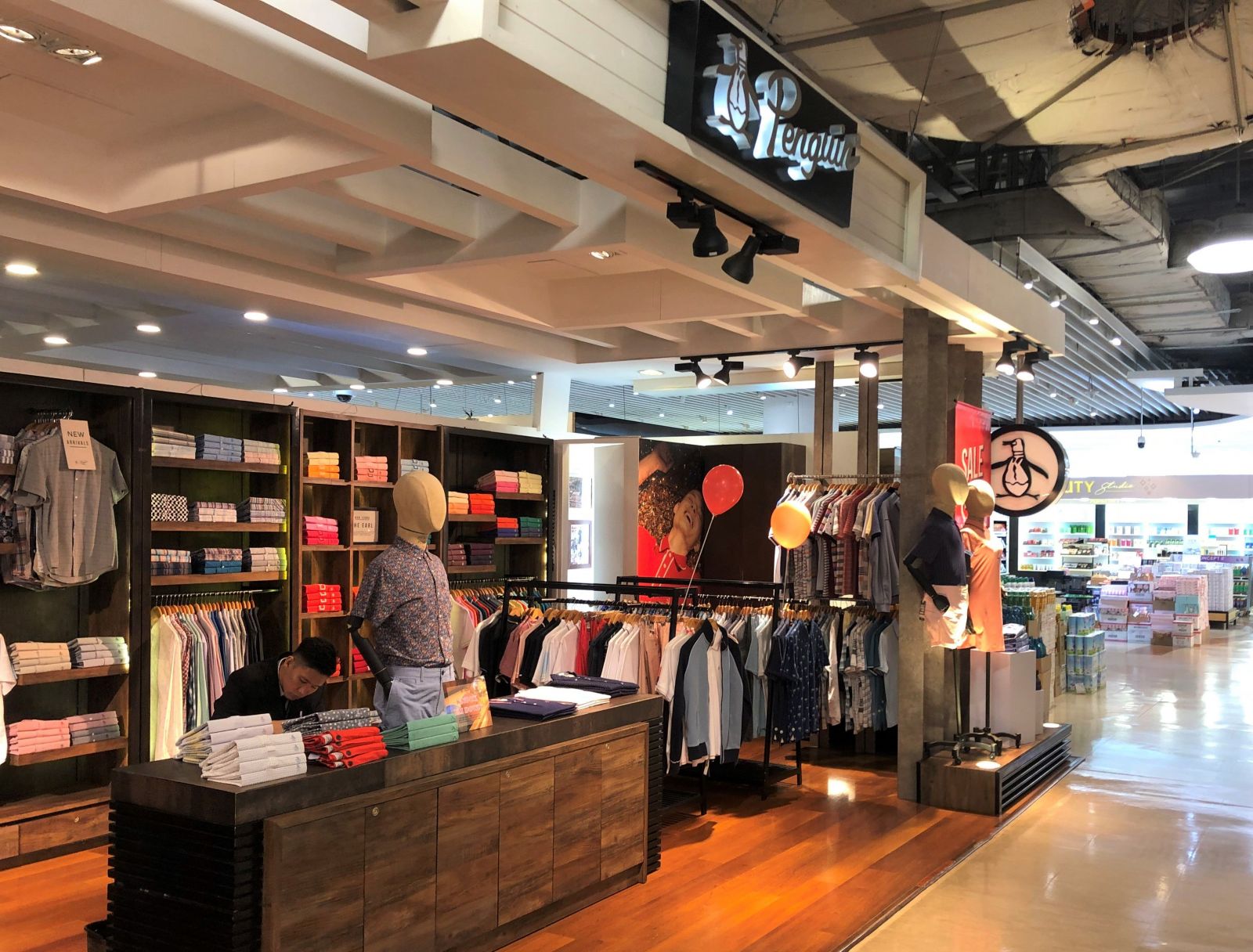 Part of the company's extensive and diverse fashion line-up at Fiestamall.
"Travel retail in the Philippines, we believe, is at a turning point," adds Ms Esteban. "It needs to become top of mind to this emerging class of Filipinos with higher consumption. They have the same traits as millennials all over the world – starting to live on their own, wanting to spend for themselves. And while the Chinese are definitely going to drive the majority of our sales, we think there's also a big opportunity to target younger Filipinos. We also have a big Korean base; Cebu is 40 percent Korean if you look at the pax count."
Merchandising and communications strategies are being driven by this multiple consumer base, and Celina Esteban's New York marketing background is proving invaluable. "We have a lot of opportunity in marketing… which is great," she says. We can't just rely on openings or launches. But everyone is battling on price, which is a bit worrying. We can get into a spiral of discounting and promotions, which has been the difference between travel retail and the local market in the past.
"That's especially so with cosmetics. And so, from a marketing standpoint it's about making sure that we focus on engaging events and department-wide initiatives. So, we did our first specific gift-with-purchase promotions for Chinese New Year across not just one store but in Manila T3 and in Cebu T2."
The Chinese New Year gift-with-purchase featured a locally sourced handmade woven bag based on the traditional bayong– a local carryall bag made from dried leaves. Regent found a group that uses local weavers who hand weave in their homes and work with a reusable hard plastic instead of leaves.
"They're very proud that their items are being featured where tourists visit. We know that anything we do in the Philippines has to have a Filipino twist," says Ms Esteban. "The brands do a good job giving cosmetics pouches and samples and so on. But there are certain things which will differentiate shopping in the Philippines from elsewhere. So, there's a complementariness between international brands with some kind of local touch."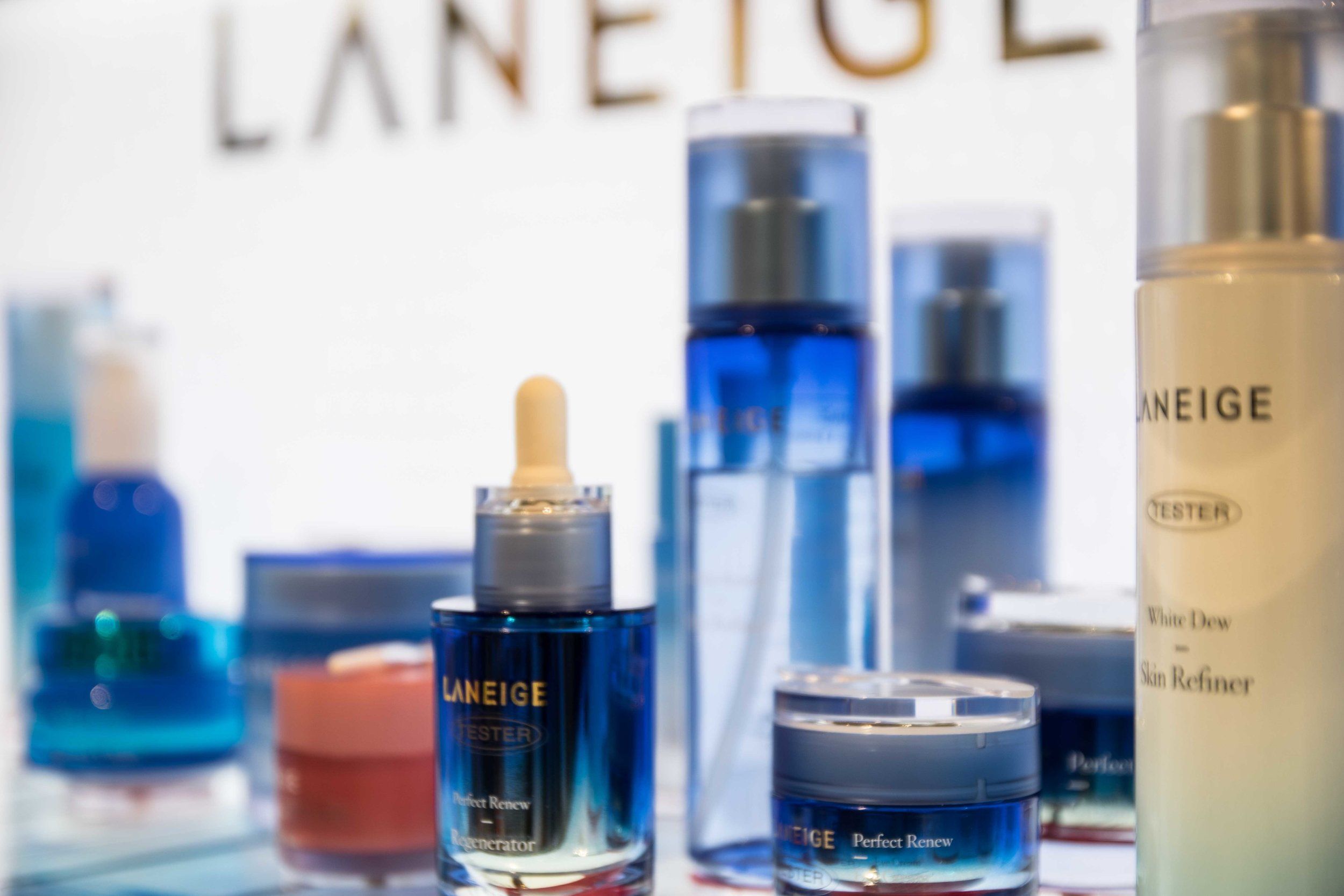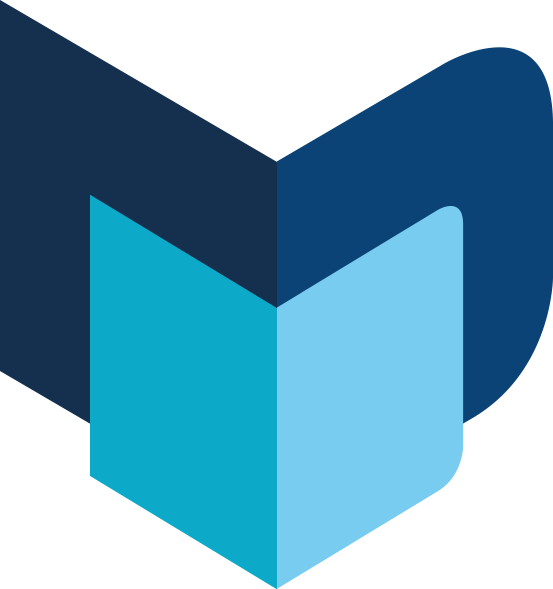 A Moodie Davitt Report publication | Philippines Travel Retail 2019