FAB 2018:
Social media reaction
We present some of the best social media posts and award winners' reactions from FAB 2018.

Twitter engagement FAB Conference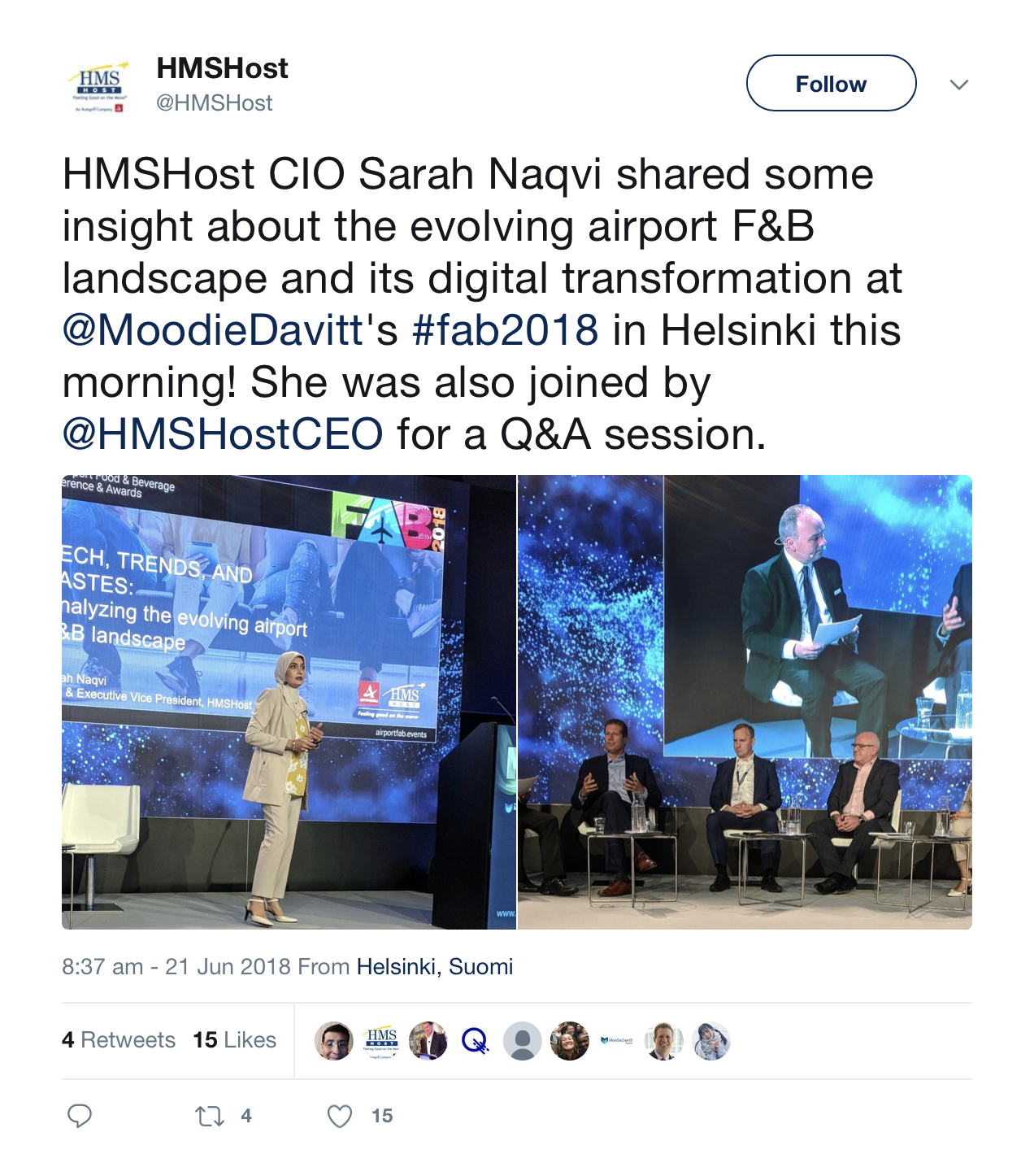 "We are truly delighted and honoured to receive the accolade of Best Airport Casual Dining Restaurant of the Year 2018 for our fabulous Kitchen by Mike Restaurant at Sydney Airport and to win for Best Overall. Bringing Kitchen by Mike to life at Sydney Airport means everyone travelling can eat fresh and wholesome food before their flight."
Emirates Leisure Retail Managing Director Adam Summerville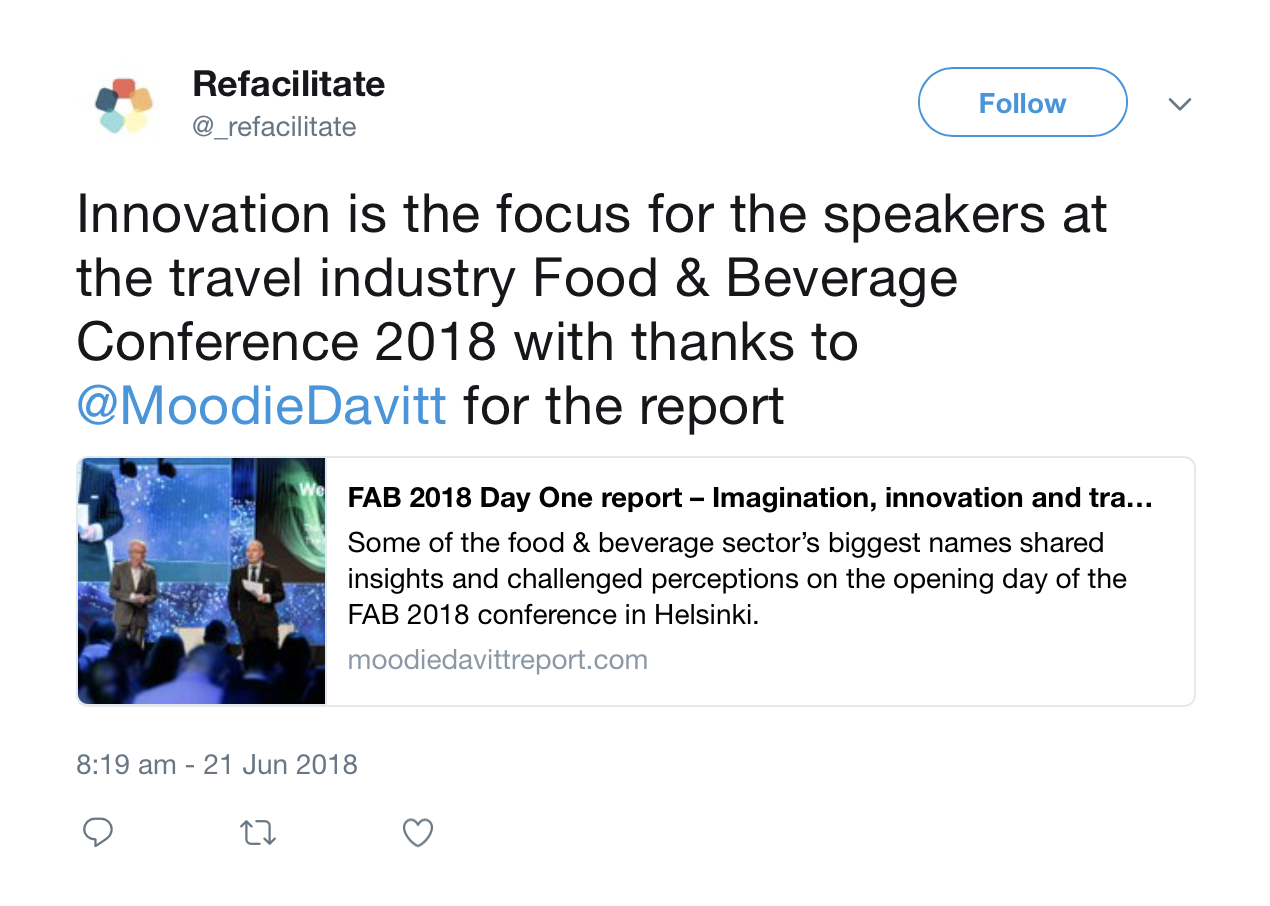 "People have been stuck at airports throughout history; there's even a movie about it. In #LifeInHEL, a Chinese man lived inside Helsinki Airport for 30 days testing its services. Food & beverage played a key role as regards experiencing wellbeing, emotions and Sense of Place, and was successfully implemented to the campaign jointly with our key operators and partners SSP and HMSHost. Helsinki Airport restaurants and cafés were visible in almost all of the episodes as well as in other daily social media content resulting in a whopping total media coverage of 2.3 billion people."
Finavia Commercial Director and Vice President at Helsinki Airport Elena Stenholm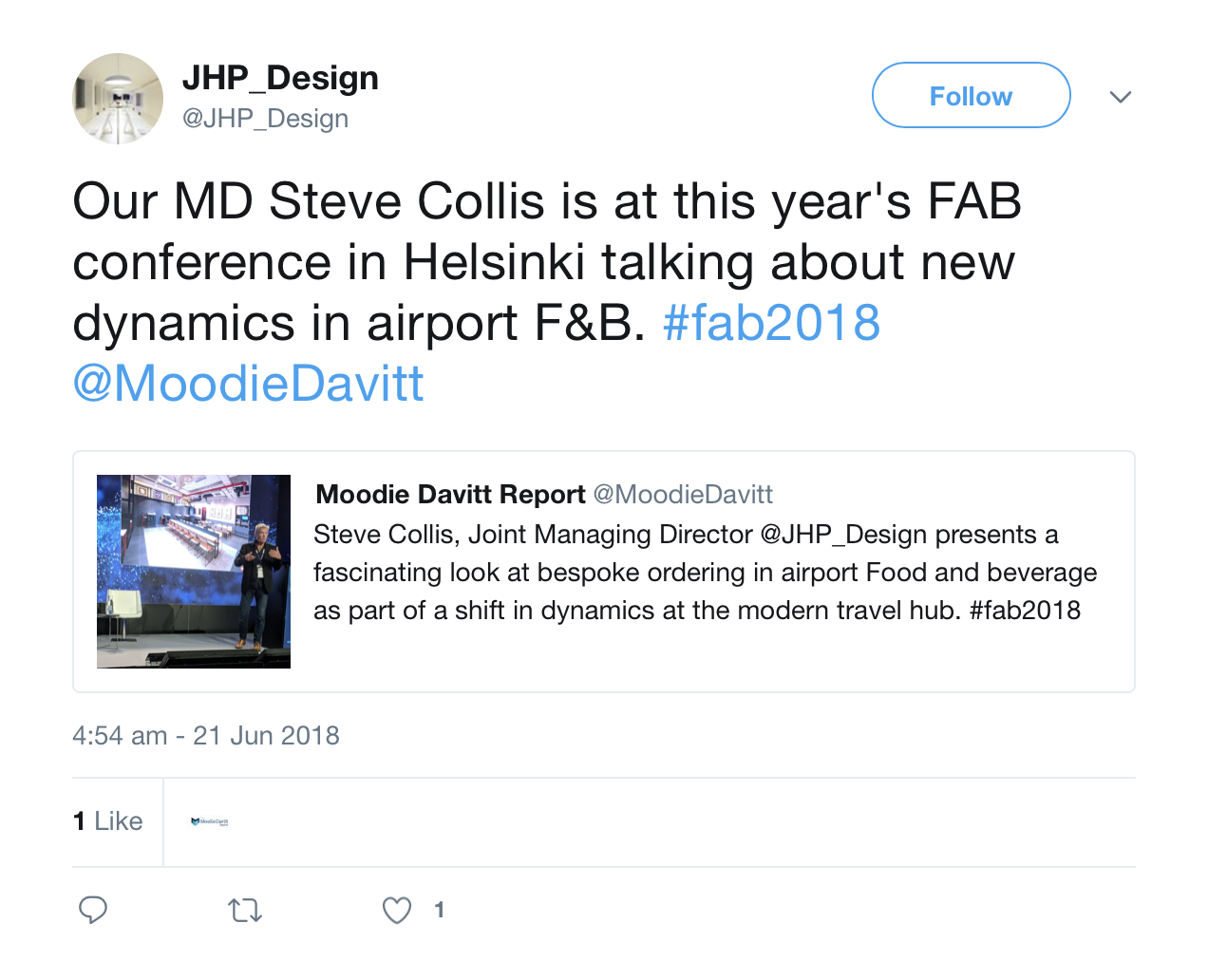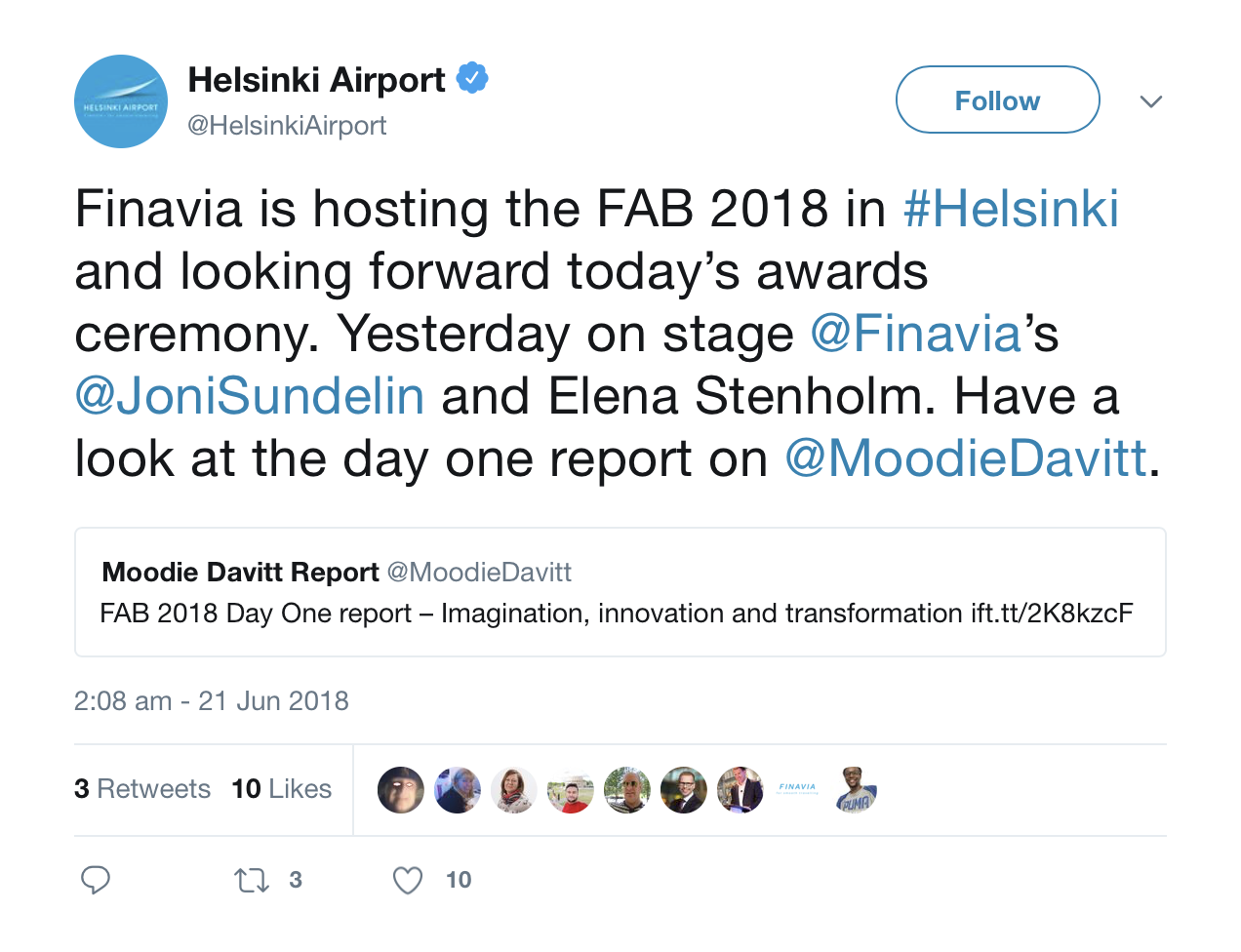 "I am so proud that Kitchen by Mike has been awarded the overall winner of Best Airport Casual Dining Restaurant of the Year at the 2018 FAB awards held in Helsinki. A massive thank you to my partners Emirates Retail and Leisure, the incredible Kitchen by Mike staff that make it all happen, and to Sydney Airport."
Chef Mike McEnearney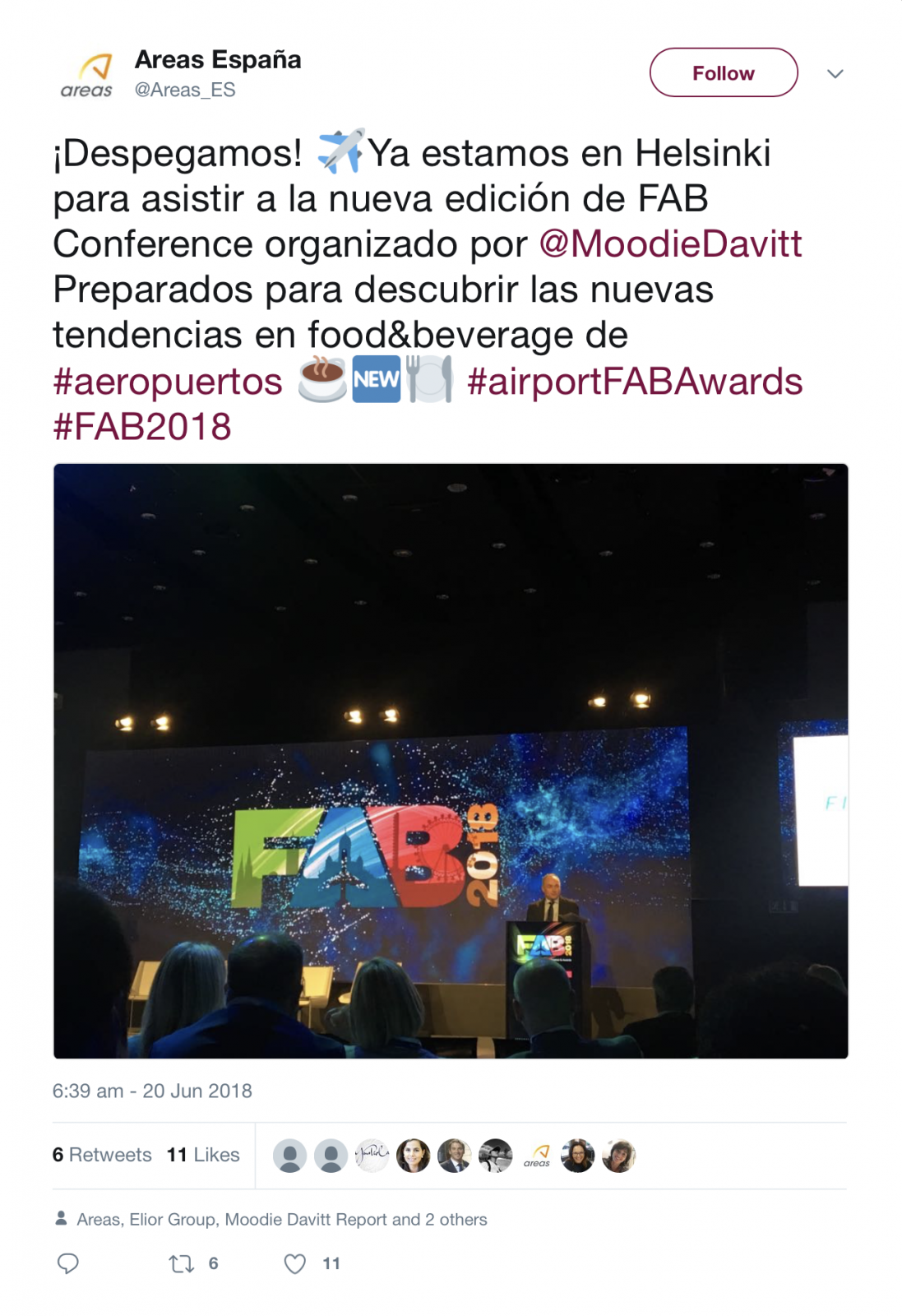 "At HMSHost, we're revolutionising the way travellers think about their airport dining experience to immerse them in the local food culture. We offer travellers the most in-demand restaurants featuring the latest culinary trends and popular favourites. These esteemed FAB honours are not possible without the invaluable partnerships we have with our brand and airport partners, along with the dedication of HMSHost's exceptional team of associates across North America who continue to drive the travel dining industry forward."
HMSHost President & CEO Steve Johnson
Twitter engagement FAB Awards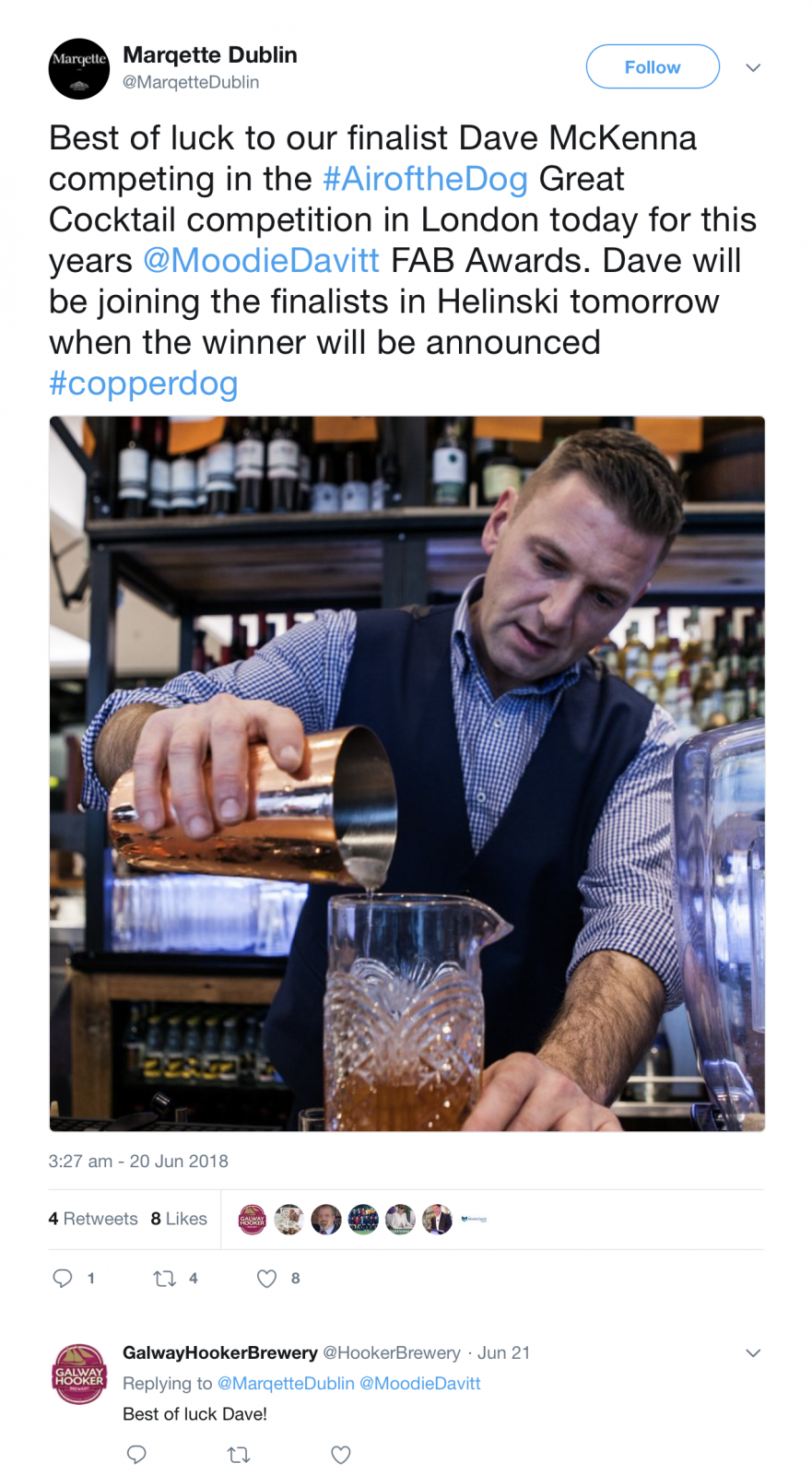 "We feel honoured to have successfully represented the evolving Indian travel sector at the prestigious FAB 2018 Awards. We are constantly striving to bring together operational excellence and innovative concepts to challenge the existing market parameters and to work towards the transformation of travel experience in India. To be recognised and awarded at a global platform motivates us further in this endeavour, and we hope to continue our efforts to put India on the international travel F&B and retail map."
Travel Food Services Chief Operating Officer Gaurav Dewan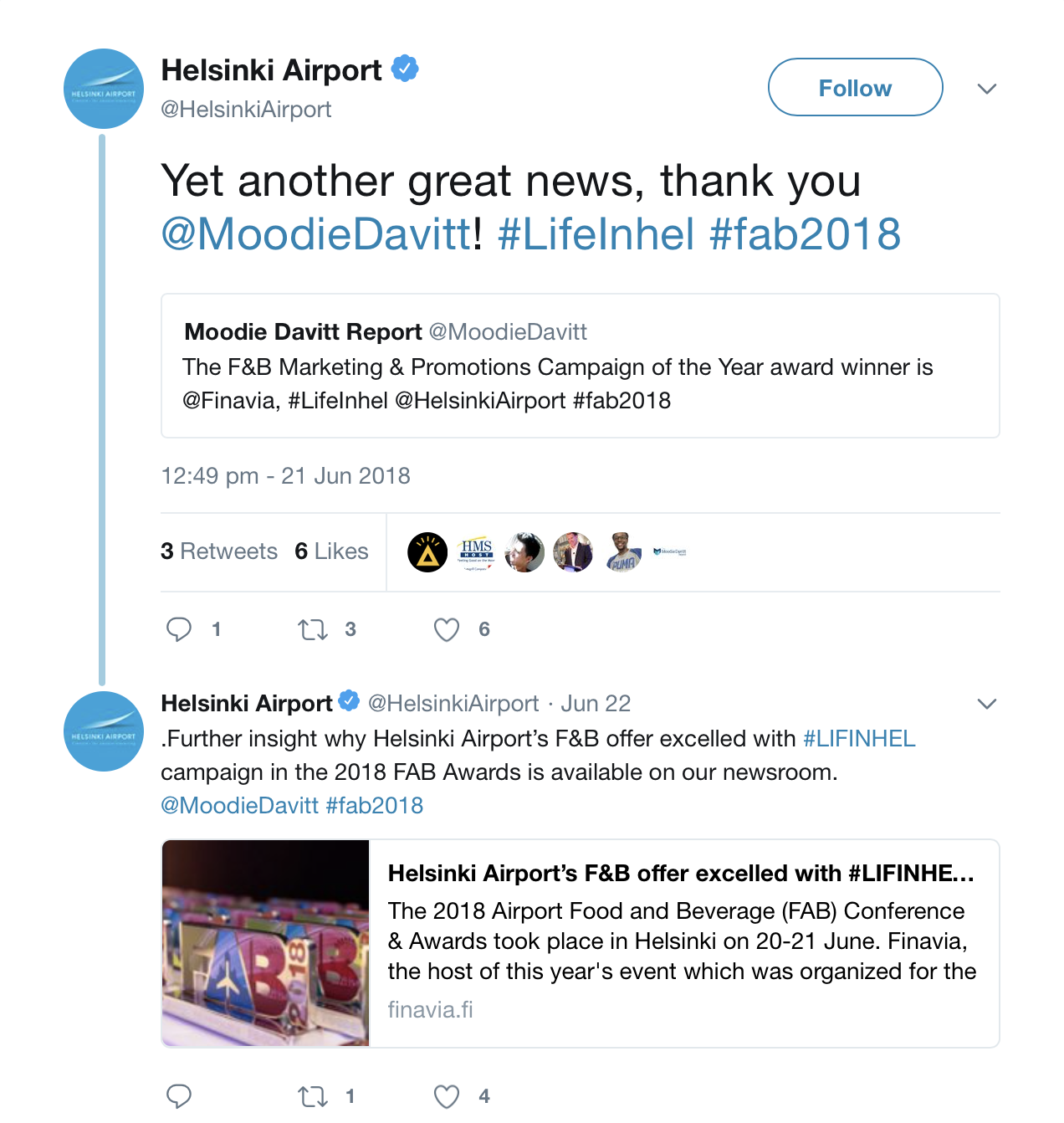 "[It is] a terrific achievement considering the calibre of nominees in this category [Airport Food Hall of the Year] and is a fantastic way to recognise the dedication and contribution from each and every staff member in Marqette. As a local business, Marqette strives to create jobs, support local suppliers and expand upon Ireland's understanding of food standards within the airport environment, all the while maintaining exemplary customer service."
Marqette Chief Executive Michael Wright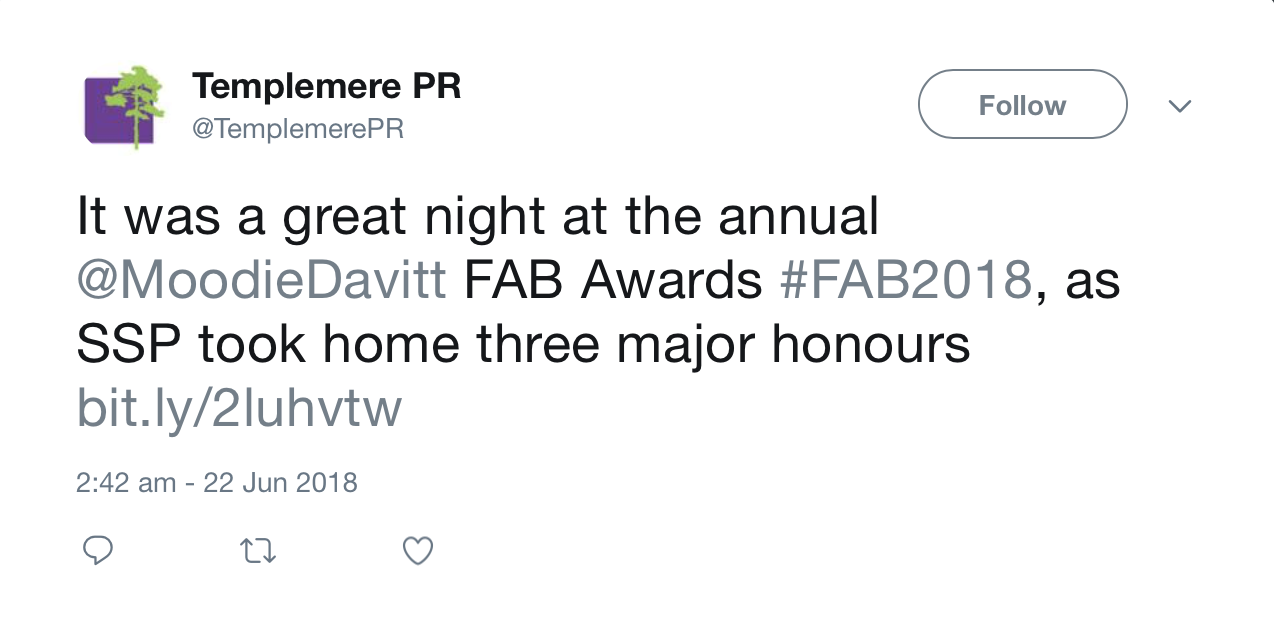 "We're delighted to have received these awards, which represent the highest accolades in our industry, and we're incredibly proud of all of our winners. Their achievements reflect our mission to deliver the very best in travel food & beverage to our clients and customers all around the world. I'd especially like to congratulate D'Angelo for being named Team Member of the Year, which rightly recognises the passion and commitment he demonstrates each and every day."
SSP Group CEO Kate Swann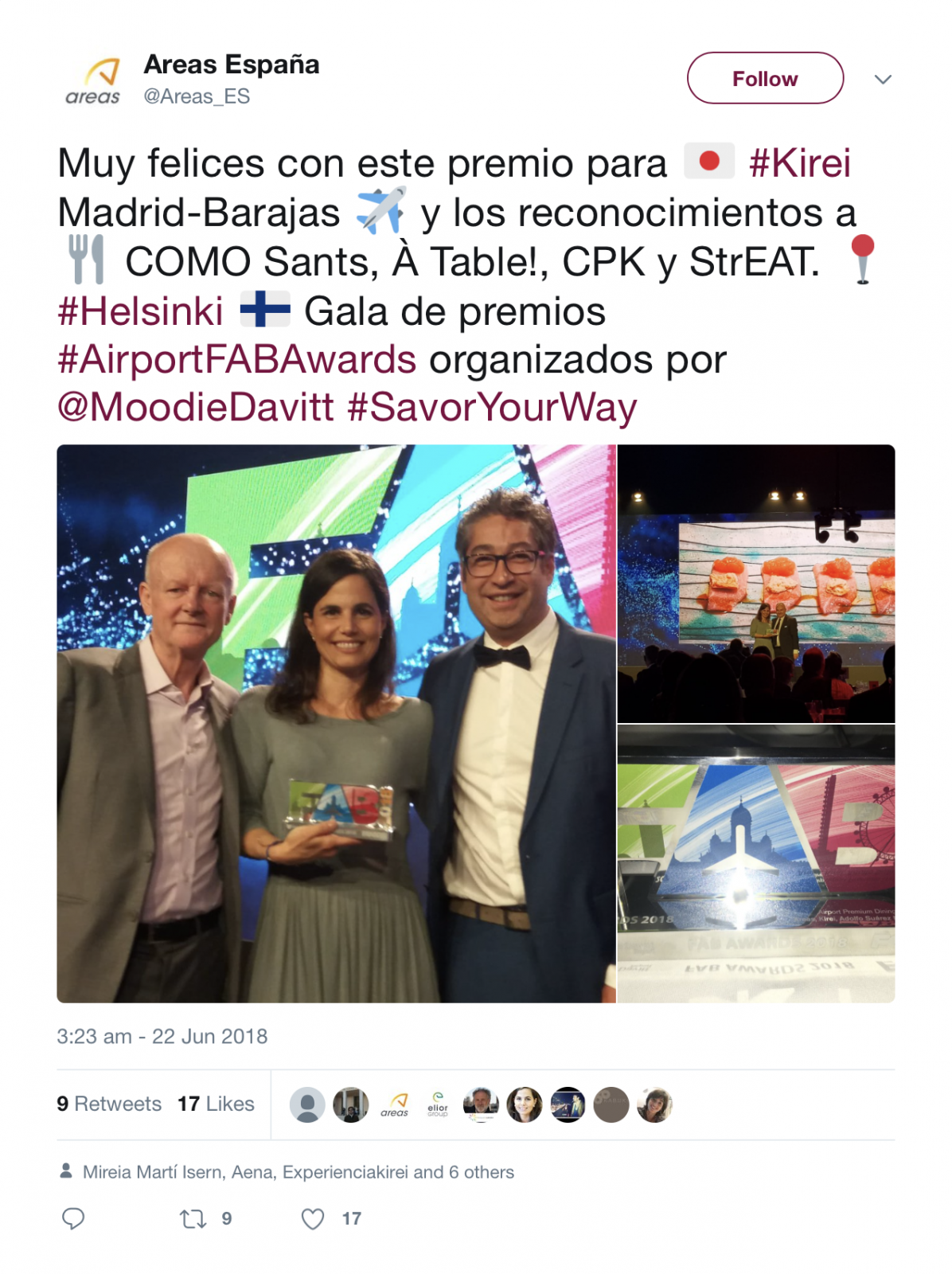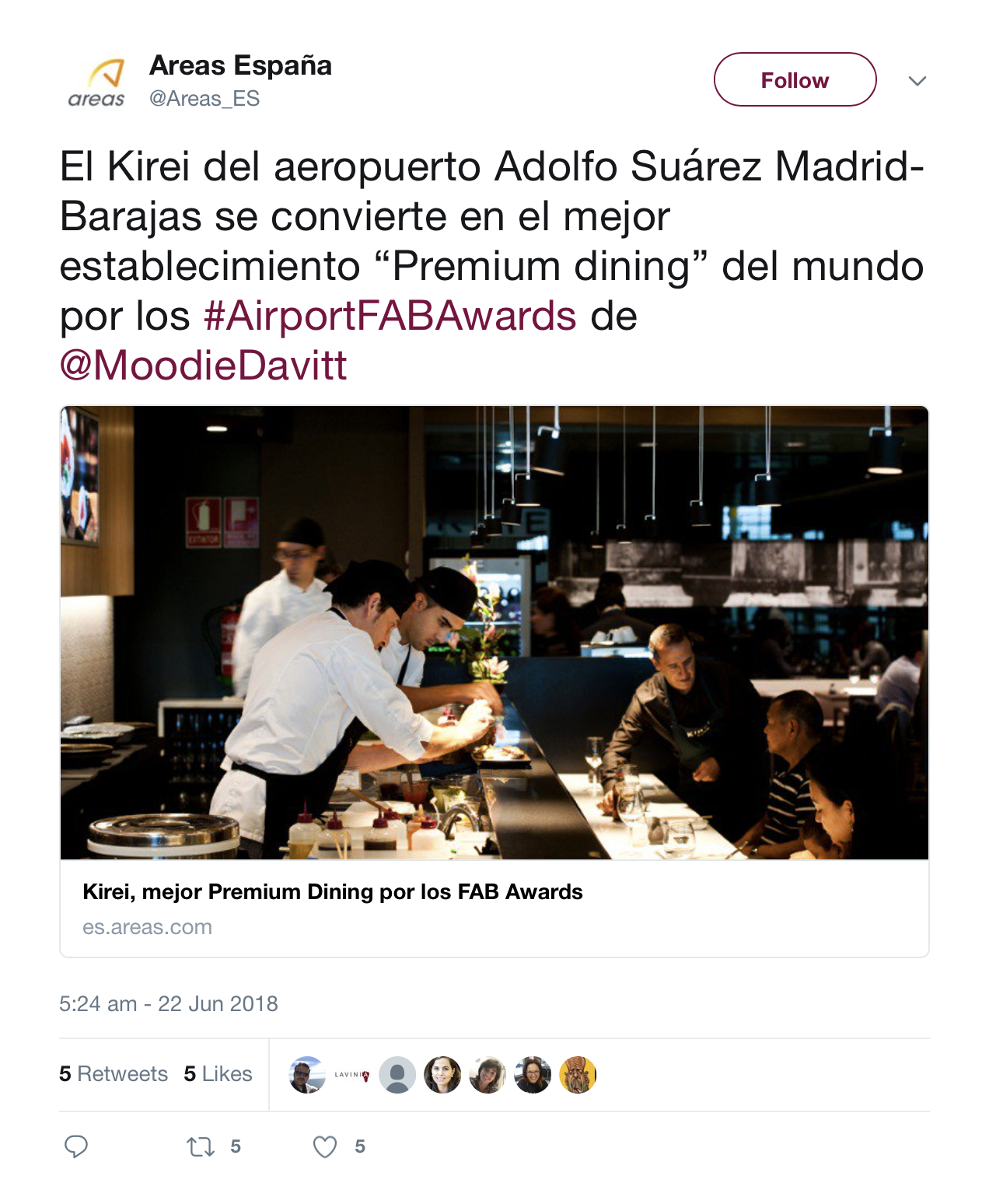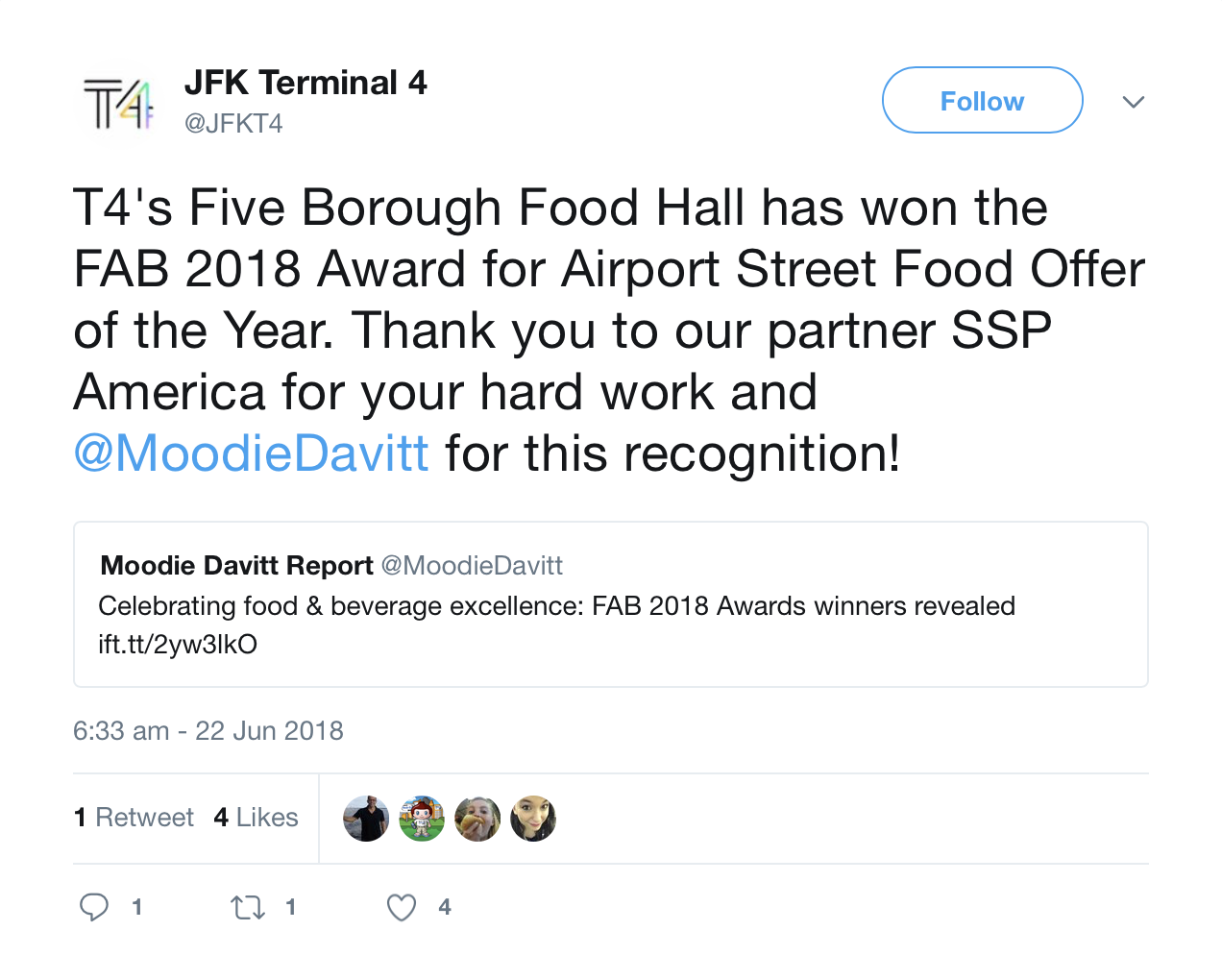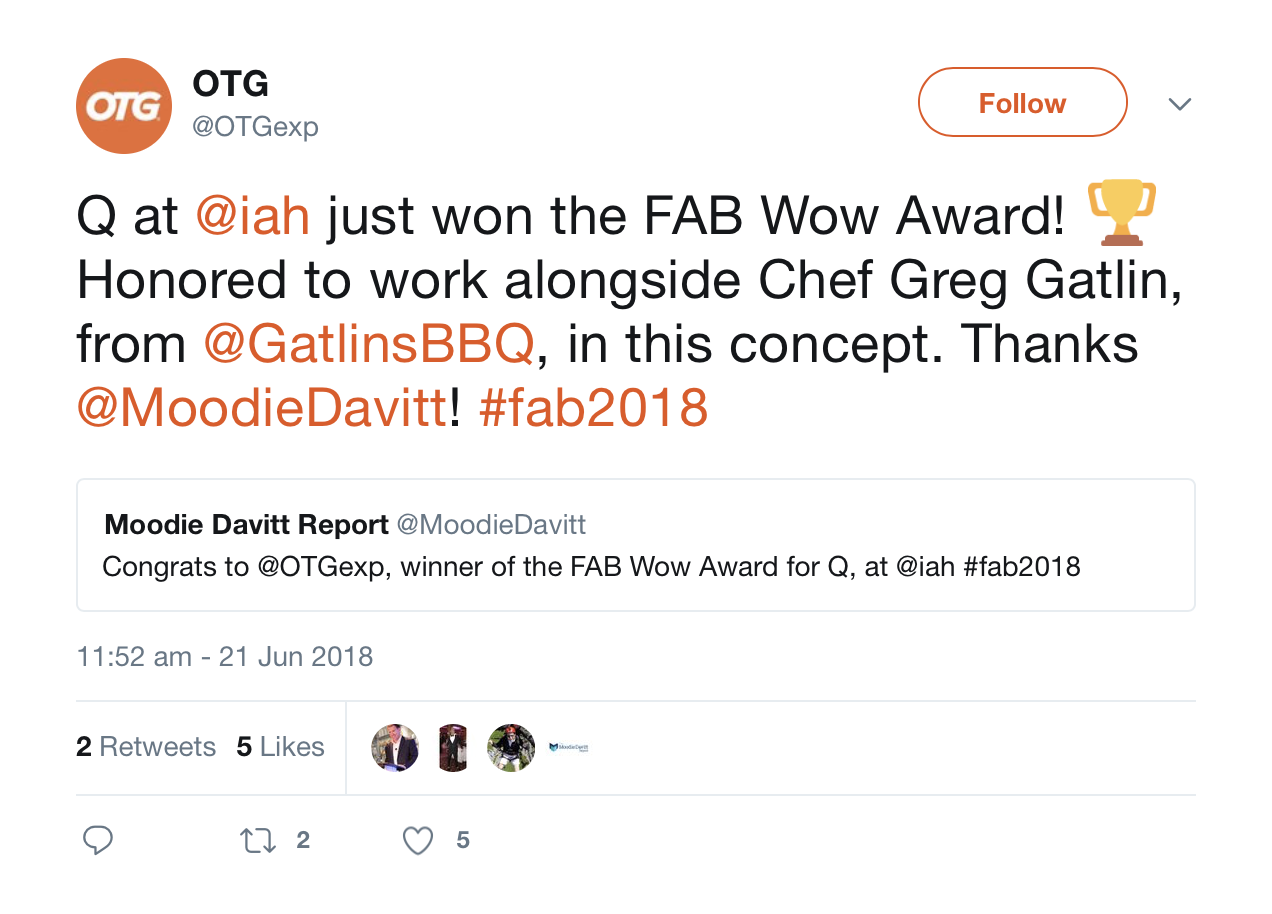 "This latest honour at the FAB Awards in Helsinki [New Food & Beverage Concept of the Year] is a testimony of our commitment to provide world-class products that have 'innovation' at its core. The biggest reason for our growth has been the convenience factor. With Frshly, one can get delicious food from their favourite restaurants at the click of a button, right where they are – at the airport, railway station, office, or even the mall – in less than 90 seconds. This is possible because we work in an innovative ecosystem, integrated with robotics and built-in algorithms, to offer consumers access to a collaborative platform of food providers. We strive to seamlessly combine our passion for food with our drive to innovate."
Frshly Founder and CEO Satish Chamyvelumani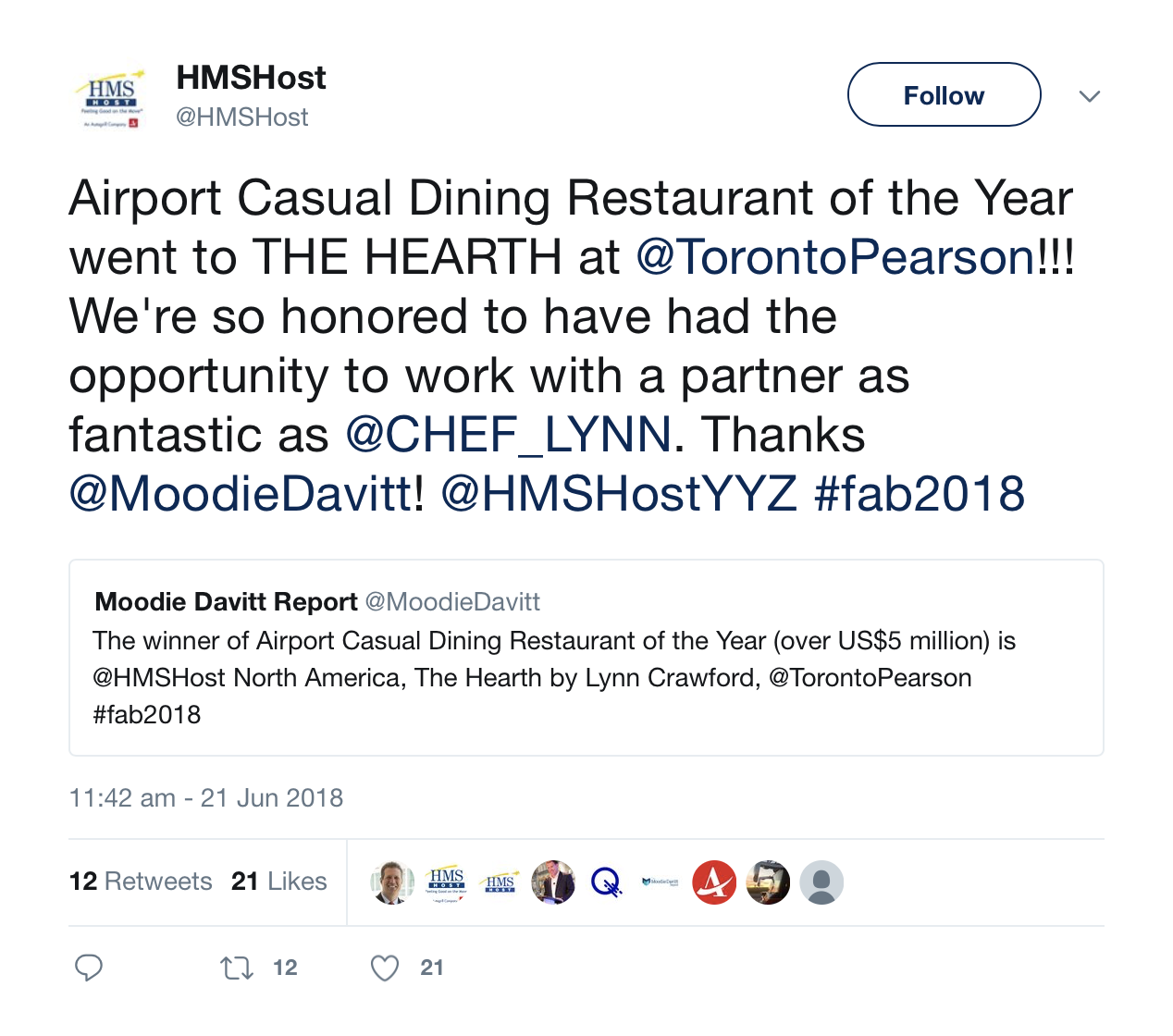 "This is a fantastic achievement for Marqette and for Dublin Airport. Winning this prestigious award two years running [Airport Food Hall of the Year] underscores the high quality of the experience that Marqette offers to our customers on a daily basis."
Dublin Airport Head of Food & Beverage team Kate Flood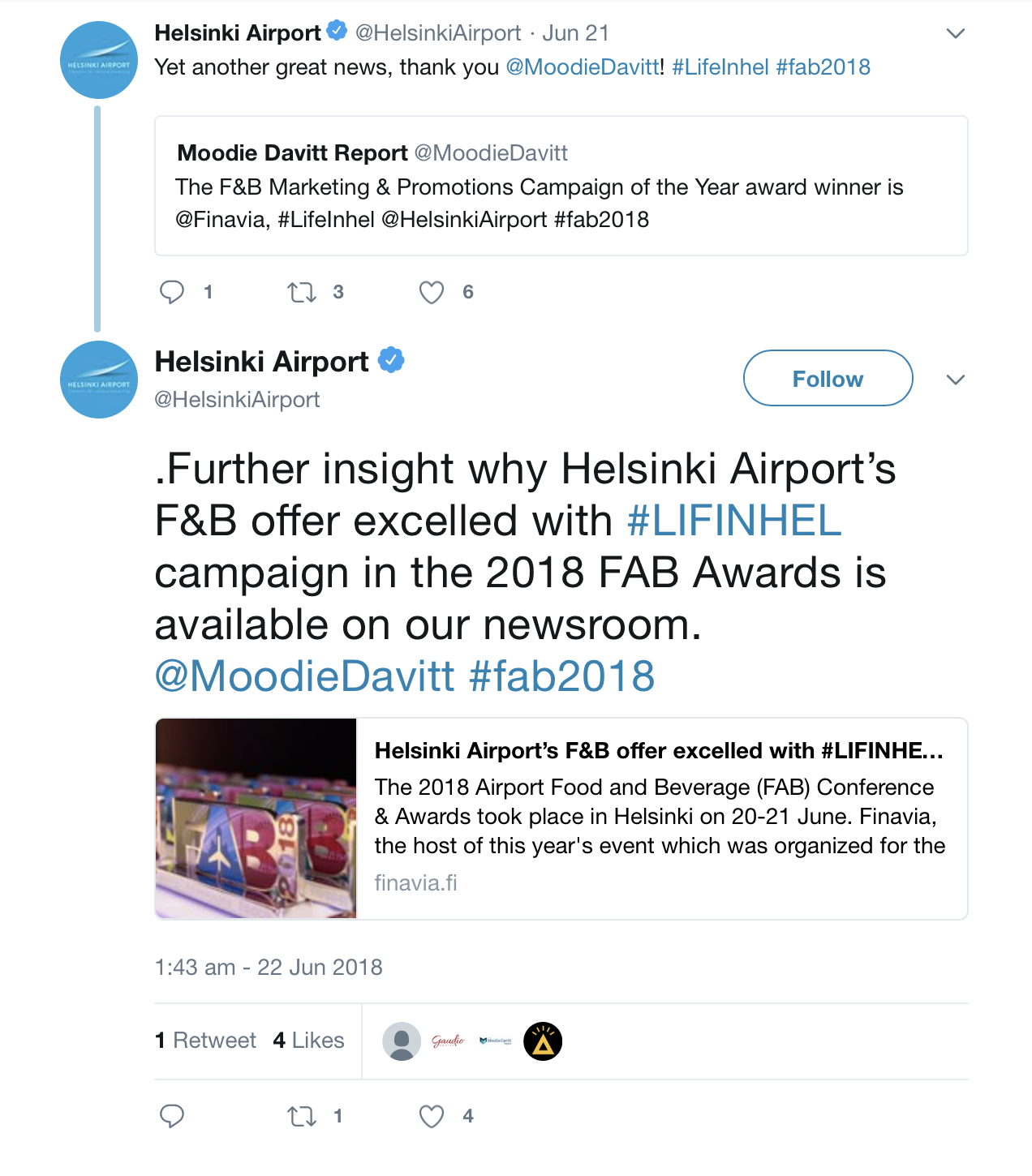 "We are thrilled to have won the [Airport Food Hall of the Year] award again. We have a team of hand-picked professional passionate managers who love what they do and thrive on these accolades. Thank you to FAB for acknowledging Marqette's commitment to provide great fresh food and service daily to the travelling public at Dublin Airport."
Marqette General Manager Michael Thornton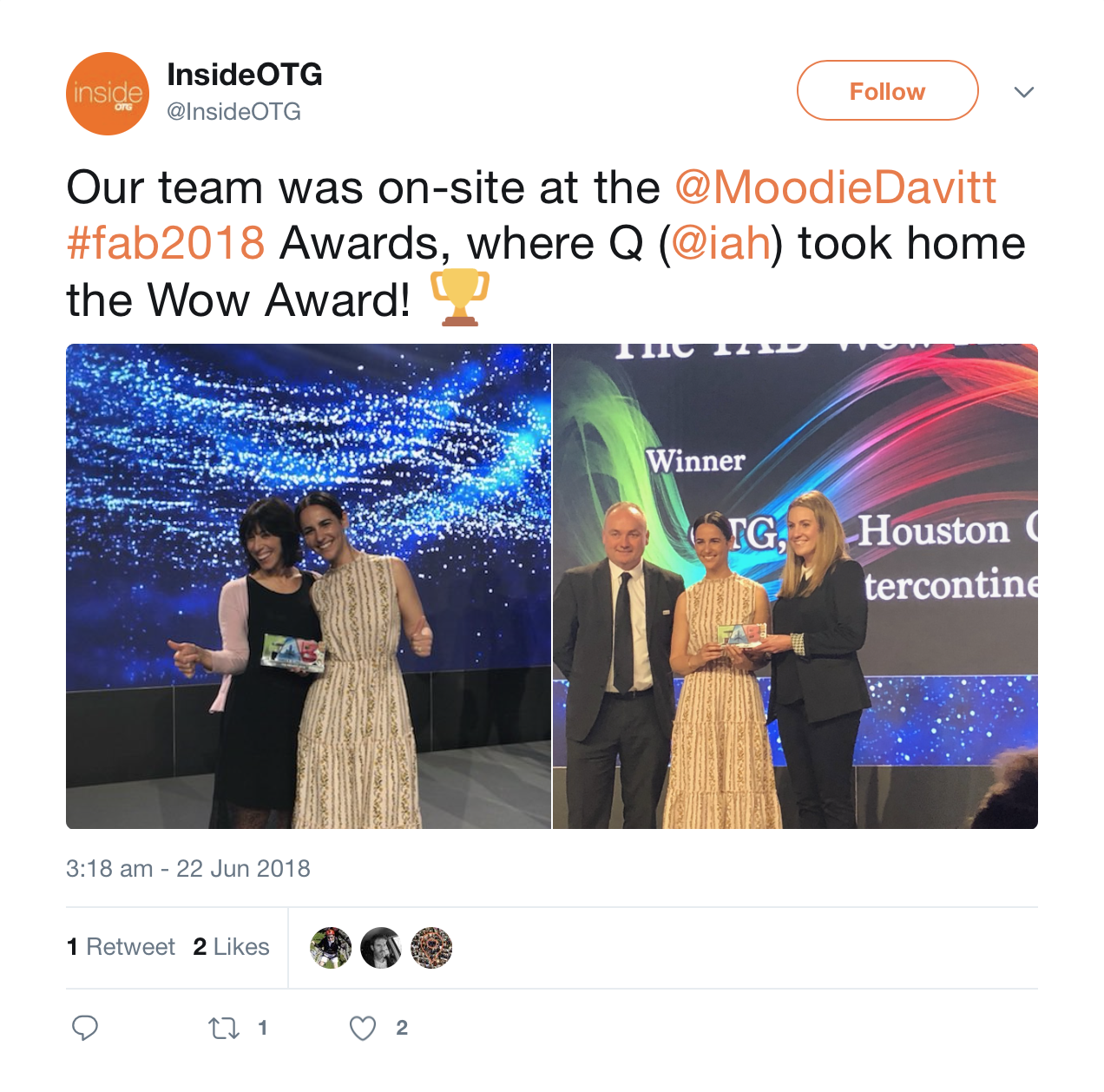 Impressions for FAB 2018
( Over a four-day period – including the day before and after)

These tweets generated 52,900 impressions over the four-day period.
---
The Moodie Davitt e-Zine | Issue 243 | 16 July 2018