Towards a new retail and consumer experience
A compelling session to begin day two focused on digitalisation and e-commerce as opportunity, not threat.
Four perspectives from four diverse actors in the travel retail channel made for an engaging session to begin day two at The Trinity Forum, with digitalisation of the offer and experience the central theme.
The panellists were: Budapest Airport Head of Retail & Advertising Dr. Patrick Bohl; AOE Chief Executive Officer Kian Gould; Auckland Airport Omnichannel Manager Jayne Wear and AirAsia Deputy Group CEO (Digital, Transformation and Corporate Services) Aireen Omar. Between them, they framed technology as the biggest opportunity for the travel retail industry today.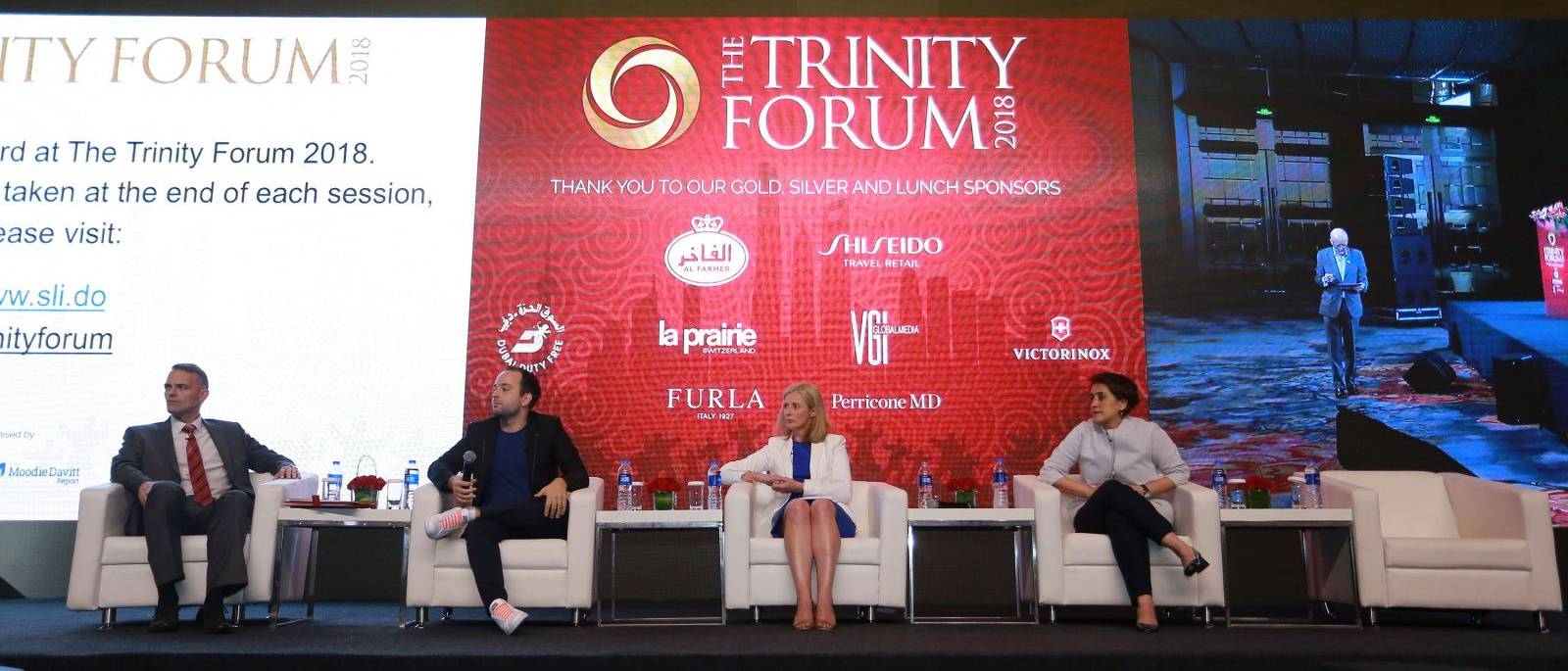 'Towards a new retail and a new consumer experience': From left to right, Budapest Airport Head of Retail & Advertising Dr. Patrick Bohl; AOE Chief Executive Officer Kian Gould; Auckland Airport Omnichannel Manager Jayne Wear; and AirAsia Deputy Group CEO (Digital, Transformation and Corporate Services) Aireen Omar.
Bohl explained that Budapest Airport is firmly committed to the process of digitalisation across its services, led by retail and dining. Across Europe, passengers may be spending less, but we cannot lay all the blame on e-commerce, he argued. As an industry, we need to be more engaging to draw the customers in. It's a difficult challenge that requires heavy investment, he said, noting the tough competition from competitors outside of the travel channel.
Bohl used the BARTA campaign (Brand, Airline, Retailer, Technology, Airport) as an example, explaining that the results had "exceeded expectations".
A three-month promotional partnership launched by Budapest Airport, Heinemann Duty Free and Wizz Air, the campaign ran from March to April this year. Any departing Wizz Air passenger spending over €50 or €75 at Heinemann Duty Free stores received a €4.50 or €7.50 voucher to spend onboard the airline. Bohl said the campaign saw a 77% redemption rate without cannibalising sales elsewhere. "There was no need to change the concession model or any other contracts to kick this off," he added.
So encouraging were the BARTA results, he said, that a second wave of the campaign has just been launched.
Budapest Airport Head of Retail and Advertising Patrick Bohl said that a +5% uplift in sales would deliver an extra billion dollars to European travel retail. All-embracing partnerships such as Budapest's BARTA trial incentivise (and deliver) greater conversion for both airport and airline.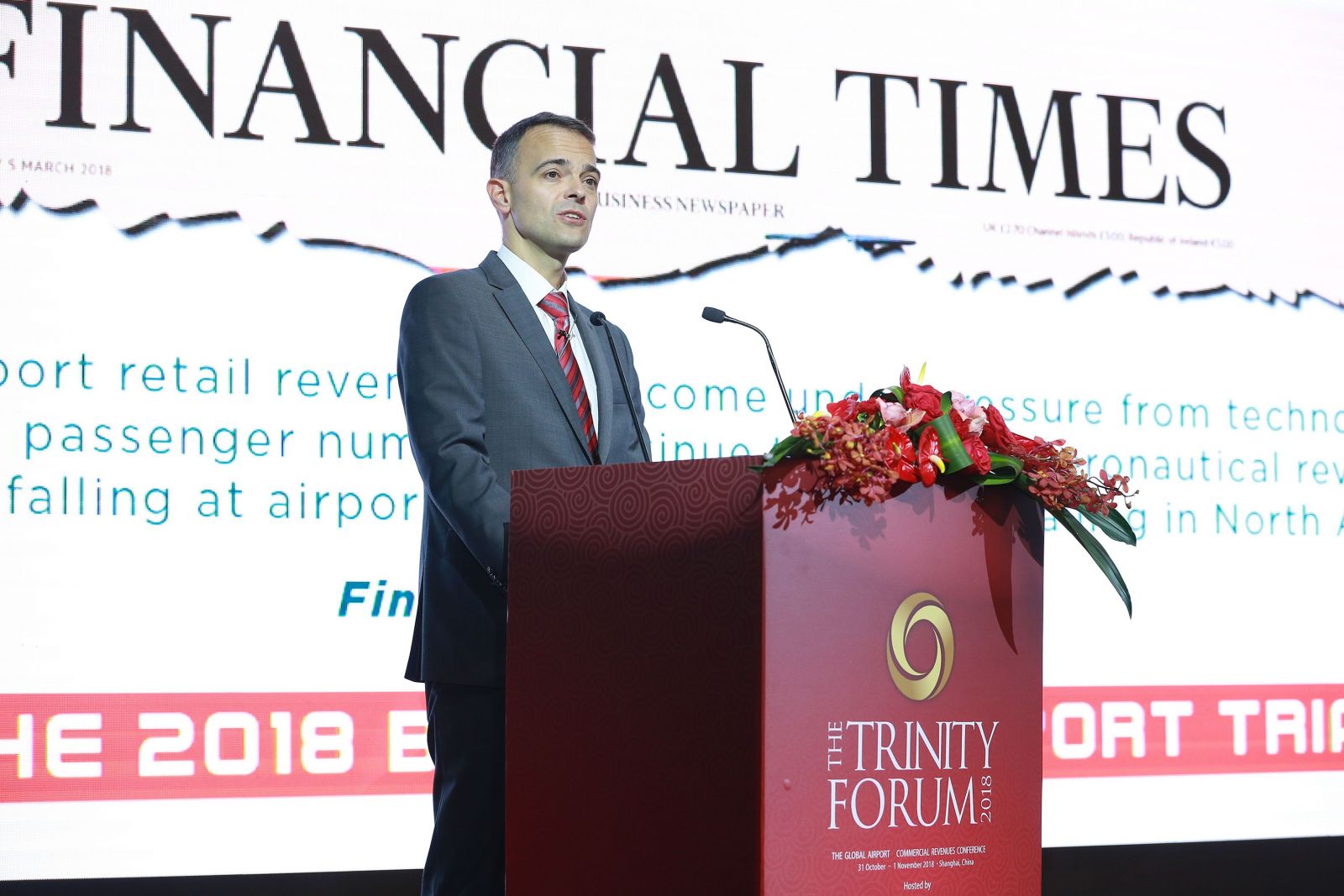 Kian Gould, one of the industry's great recent disruptors, considered how businesses can transform themselves to adapt to today's world and how technology can help to drive travel retail.
Addressing the myth that travel retail transactions are impulse purchases, Gould cited research that said 81% of airport purchases are now planned in advance (in China, the figure was 89%). We need to use digital to help customers pre-plan their spend, argued Gould.
AOE provides e-commerce platforms for airports, with a notable example a recent collaboration to drive business at Heathrow Boutique. This site complements and supports the airport's physical retail, he noted, offering a "seamless end to end experience for passengers". According to AOE, it has "already started to bridge the gap between retail and digital in a meaningful way". Frankfurt and Auckland airports and some leading airlines have also adopted the platform.
Positive passenger feedback is rapidly accelerating plans to extend Heathrow Boutique to include a larger proportion of brands available physically in the airport. Luxury goods and high-end technology are the best-selling categories. In fact, the average basket value is nearly £400 (US$515) and growing, he said. This is about five times Heathrow's average for retail spend.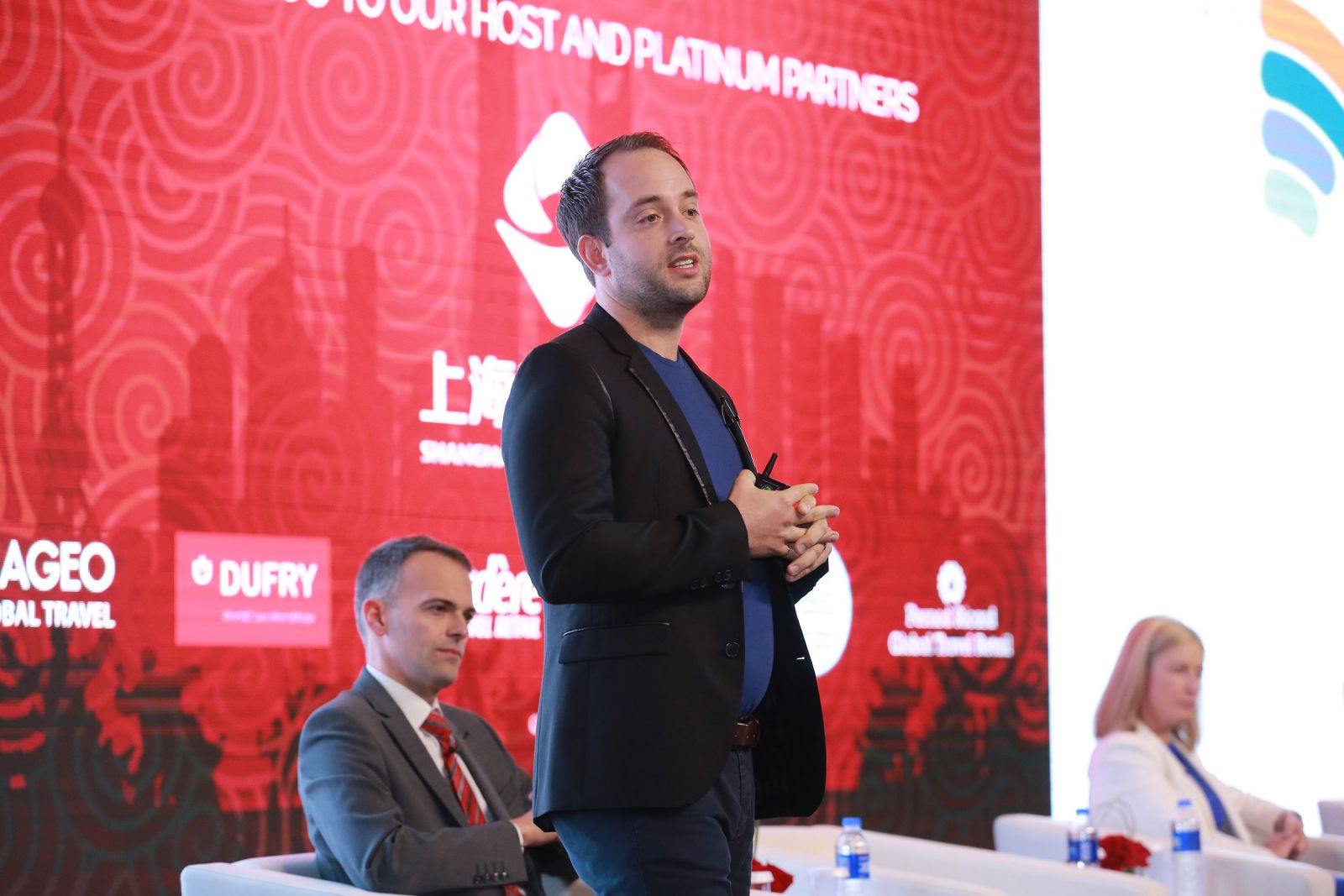 Introduced as 'travel retail's digital transformation man', AOE Chief Executive Officer Kian Gould lived up to his billing with a compelling address. "Digital won't replace the physical," he said. "But it is where the future lies."
A key dynamic, said Gould, is that there is huge demand for luxury and yet relatively few truly luxury brands sell online. This presents a huge opportunity to airports.
The options the platform offers are extensive, including for brands to have their own 'store' within Heathrow Boutique. Customers are able to order and pay (via various methods) in advance and pick their items up at a choice of collection points. AOE and Heathrow said that this was "just the launch of a much wider digitalisation programme".
Gould argued that the USP of this platform is its focus on luxury and the ability to pre-order high price items. Click and collect often sees poor results, he believes, because "people are not really interested in reserving a US$40 perfume or a US$50 bottle of whisky". They only want to go to the trouble with big ticket items (influenced by factors such as wanting to confirm the price ahead of time and a worry about availability).
"Digital won't replace the physical," said Gould. "But it is where the future lies."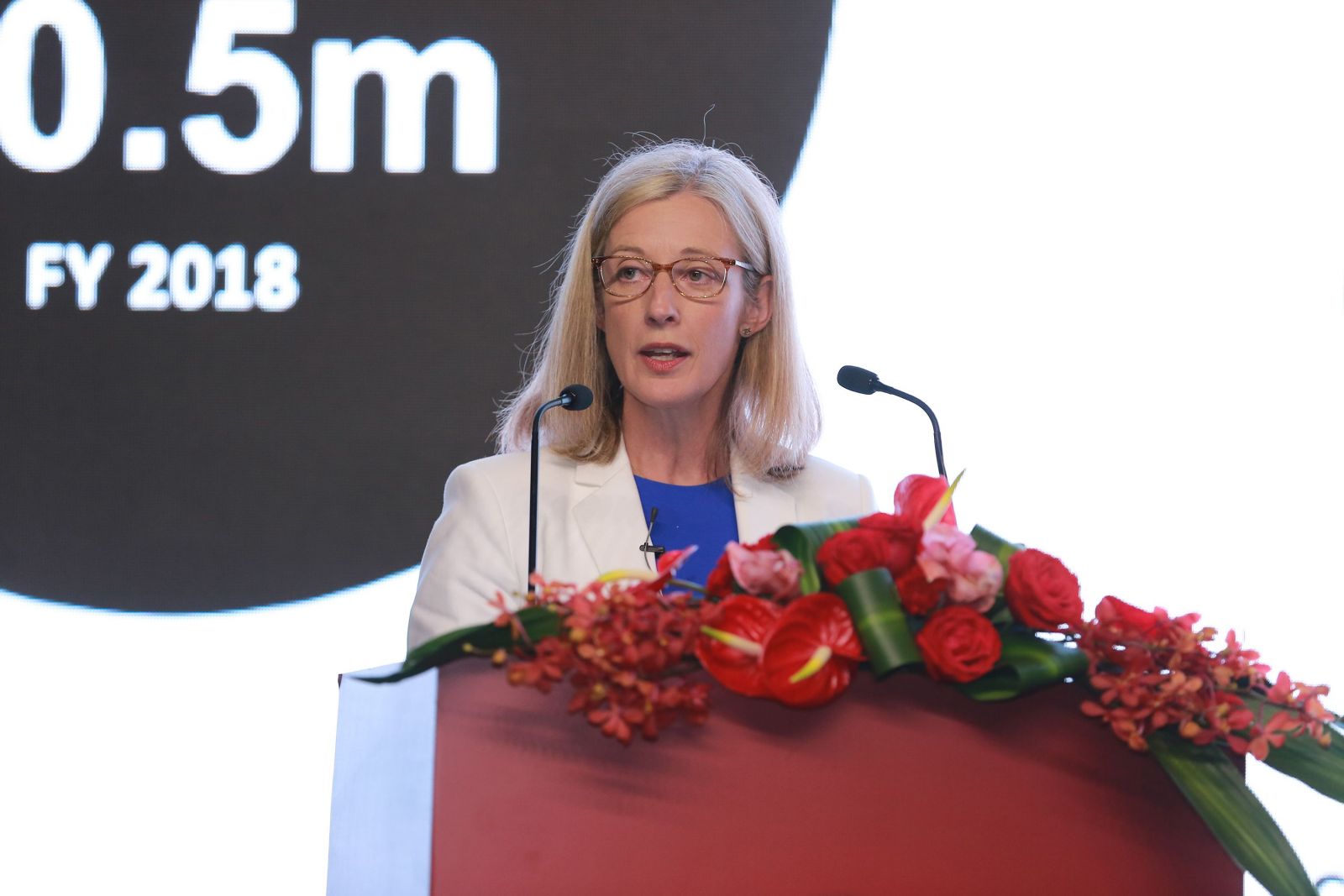 Auckland Airport has been one of the earliest adopters of an omni-channel strategy. Its digital play The Mall, launched earlier this year, is delivering strong results, according to Omnichannel Manager Jayne Wear.
Auckland Airport Omnichannel Manager Jayne Wear explained the airport's targeted and innovative approach to travel retail, through which it aims to create "the airport of the future".
"Our aim is to understand who our customers are and make their experience of shopping at the airport even easier," said Wear. "We want to empower them to research the duty and tax free retail proposition well in advance of travel and then shop anywhere, anytime, as they choose."
The next generation is shopping very differently, she said. "These shoppers will consume up to five different kinds of content before making a purchasing decision and their journey will often start in one channel and finish in another."
"For us to remain relevant, we needed to be well represented and considered as a shopping destination early in a customer's research," explained Wear of the reasons behind Auckland's strong investment in the omni-channel experience. "And we needed our retail partners to be part of the conversation."
To deliver a more "seamless and integrated experience", Auckland has begun a process of connecting the many airport touchpoints – both physical and digital – by which it can communicate with the customer.
One element of the new offer is a single sign-in "interactive marketplace" called The Mall, which allows customers to explore the airport from the moment they make their booking. Passengers can browse the retail offerings and even make a purchase before they get to the airport, then pick up the order when they arrive. It also features a loyalty programme.
This is just the first element of a programme of digital development. What the team has learnt from the venture and from extensive customer surveys, said Wear, is that the digital offer at the airport – at any airport – needs to be of the same standard as the customer can find anywhere else.
The important thing, said Wear, is to experiment – and not be afraid to fail along the way.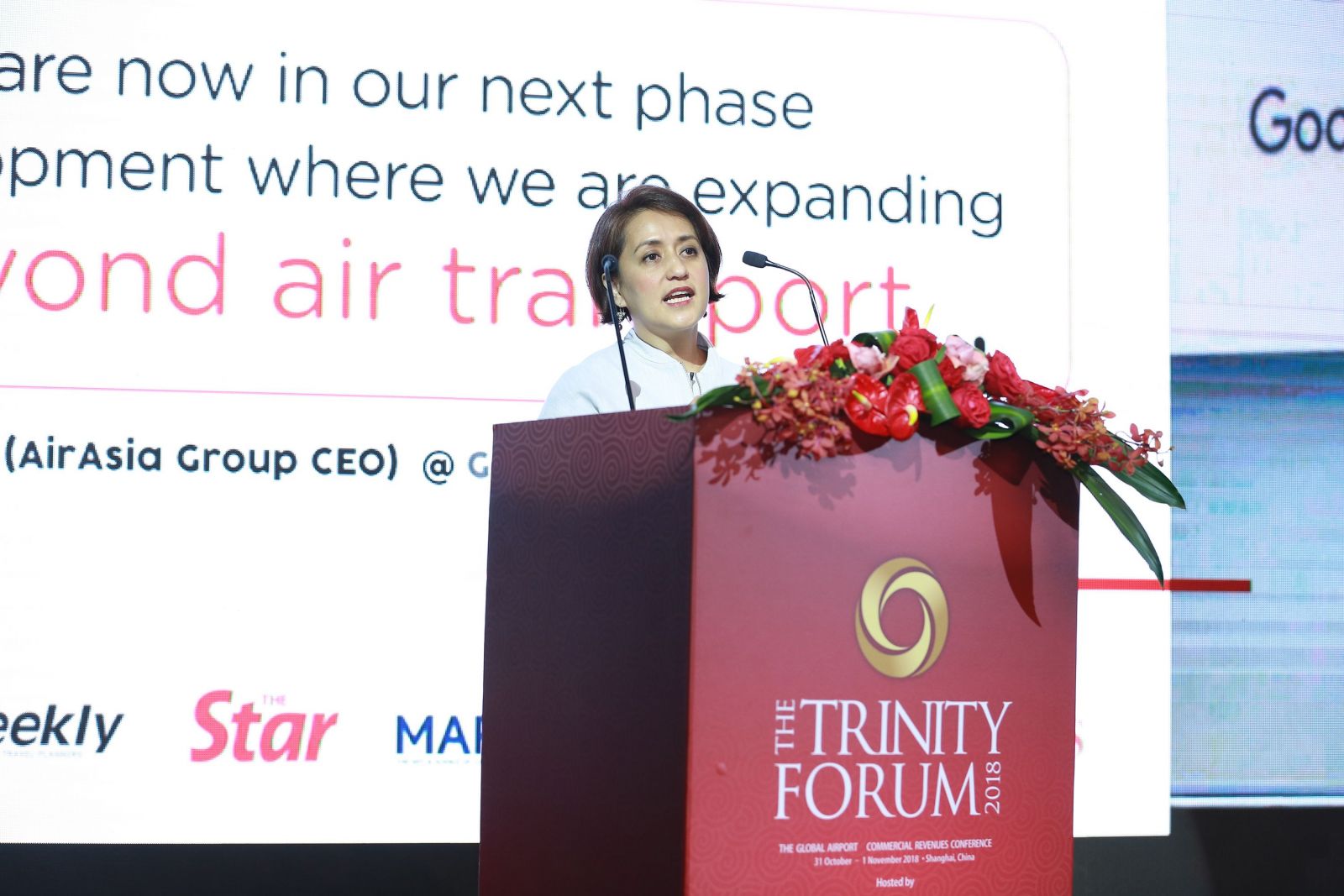 Representing the largest airline in Southeast Asia, AirAsia's Aireen Omar explained that the company's goal is to "transform beyond an airline into a global technology company".
As Group CEO Tony Fernandes has said, explained Omar, AirAsia is now in its "next phase of development where we are expanding beyond air transport". The data the airline has access to, she said, offers many opportunities.
Data can be used to make sure passengers enjoy a seamless journey from the moment they book to the end of their journey, she said. "This is where we feel there are new business opportunities that we can create. And this is where we have created Venture."
AirAsia Deputy Group CEO (Digital, Transformation and Corporate Services) Aireen Omar argued the case for airlines being an integral part of the Trinity conversation. Earlier this year AirAsia launched Ourshop, a hugely ambitious air-to-ground inflight marketplace.
The Venture arm of AirAsia comprises non-airline digital businesses that are currently "incubating", said Omar. The three key platforms are: BigPay, a digital bank and payment channel that can be used across AirAsia Group's ecosystem; BigLife, a platform that consolidates all its product offerings into what Omar describes as a lifestyle app; airline magazine Travel 360, which has been "transformed into an online travel agency"; and OurShop, through which consumers will be able to shop not only duty free offerings but also the best local offerings from whichever destination they are headed.
"What we are trying to do here is to capture every touchpoint of our consumer. We want to be more targeted in terms of what we offer them." For the customer, this is "a whole new experience… and it's very seamless", she said.
"We feel this is an opportunity for us to work together," concluded Omar, noting that the airline should be welcomed as a central actor in the industry conversation of the future.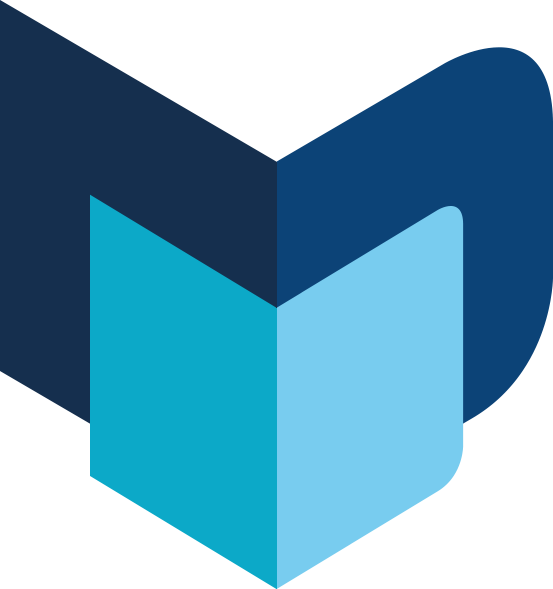 ---
The Moodie Davitt e-Zine | Issue 252 | 16 November 2018