China: The shape of consumer engagement, luxury and beauty retail to come
Shanghai was a fitting backdrop for a conference at which the Chinese consumer was a pervading theme. But who is the modern Chinese shopper? And how can travel retail successfully engage across all layers of this owerful demographic?
The final panel of The Trinity Forum 2018 considered the changing nature of the Chinese luxury shopper. Speakers assessed the ways in which Chinese customers engage with brands and with physical retail in an age driven by technology.
The powerhouse panel featured The Boston Consulting Group China Partner and Managing Director Angela Wang; Jessica's Secret Founder, Chairman & CEO Mirko Wang; Jing Daily & Jing Travel Associate Editor Yiling Pan; and iClick Interactive (Asia) Limited Chief Product Officer Yan Lee.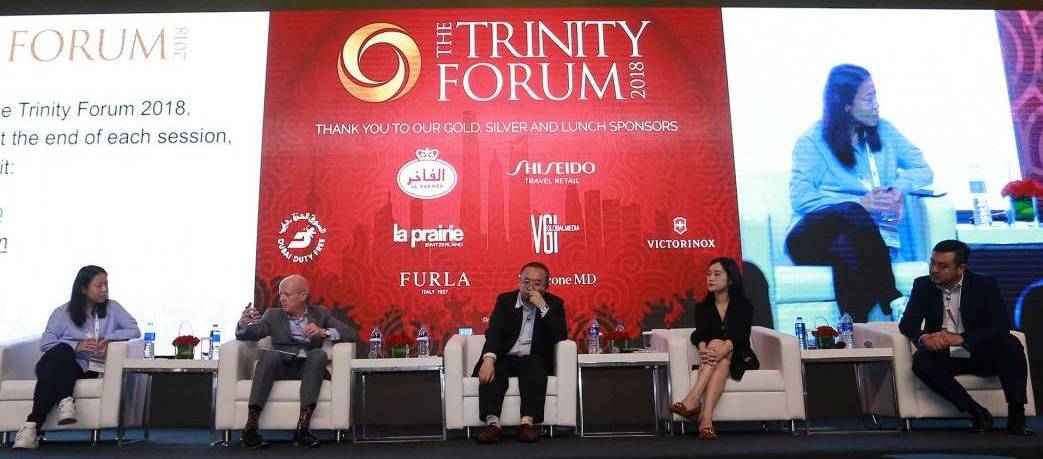 Chinese luxury and travel shopping: The panel featured (from left to right with moderator Martin Moodie) Boston Consulting Group China Partner and Managing Director Angela Wang; Jessica's Secret founder, Chairman and CEO Mirko Wang; Jing Daily and Jing Travel Associate Editor Yiling Pan; and iClick Interactive Chief Product Officer Yan Lee.
Angela Wang shared the results of a recent joint research project with WeChat owner Tencent. Data gathered from 1.8 million luxury shoppers in China was combined with a survey of 2,620 consumers – in particular young consumers. The purpose of the survey, explained Wang, was to gain an understanding of the purchasing paths of new generation Chinese consumers and the effect that digital has on this.
"Luxury shoppers in China account for about 32% of luxury revenues globally and it keeps growing," she said. "By the year 2024, they will account for 40% of the global luxury market. That means about 75% of luxury growth will be coming from the Chinese luxury shopper."
This, she said, is hardly a secret or a surprise. "What is interesting is to really profile these shoppers, who they are, and what they are doing." This is where big data comes in.
So what did the research show? "We know that Chinese shoppers are young – but they're really, really young," said Wang. The average age is 28, some 10 years younger than the international average, and the bulk of them (around 58%) fall into the 18-30 age group. These consumers are educated, often much more so than their parents, and many of them "read English with no barrier" offering them access to information and trends from across the world.
The areas these consumers come from are becoming more diverse, though still around 50% come from top tier cities. Many of them, she added, are female.
"These consumers are incredibly digitalised in terms of their shopping behaviour," said Wang. They spend four hours a day on their mobile phones, using them not just for communication but also for entertainment and, of course, shopping. And their online shopping, or brand discovery, process is fragmented. "Information is coming from everywhere," noted Wang.
While the modern Chinese consumer may be glued to their mobile phone most of the time, she noted that they still like to shop offline. ROPO (research online, purchase offline) is a serious phenomenon among this demographic. And around one third of their shopping is done overseas (including travel retail), with pricing and/or lack of stores encouraging foreign purchase.
The digital world commands around 50% of luxury consumer attention, noted Wang, and she highlighted the paramount importance of creating brand awareness through digital campaigns. Whether Chinese customers are buying at home or abroad, they rarely make a purchase from a brand they haven't already explored and learned about.
Boston Consulting Group's Angela Wang said that while modern Chinese consumer may be glued to their mobile phones most of the time, they still like to shop in person. ROPO (research online, purchase offline) is a serious phenomenon among this demographic.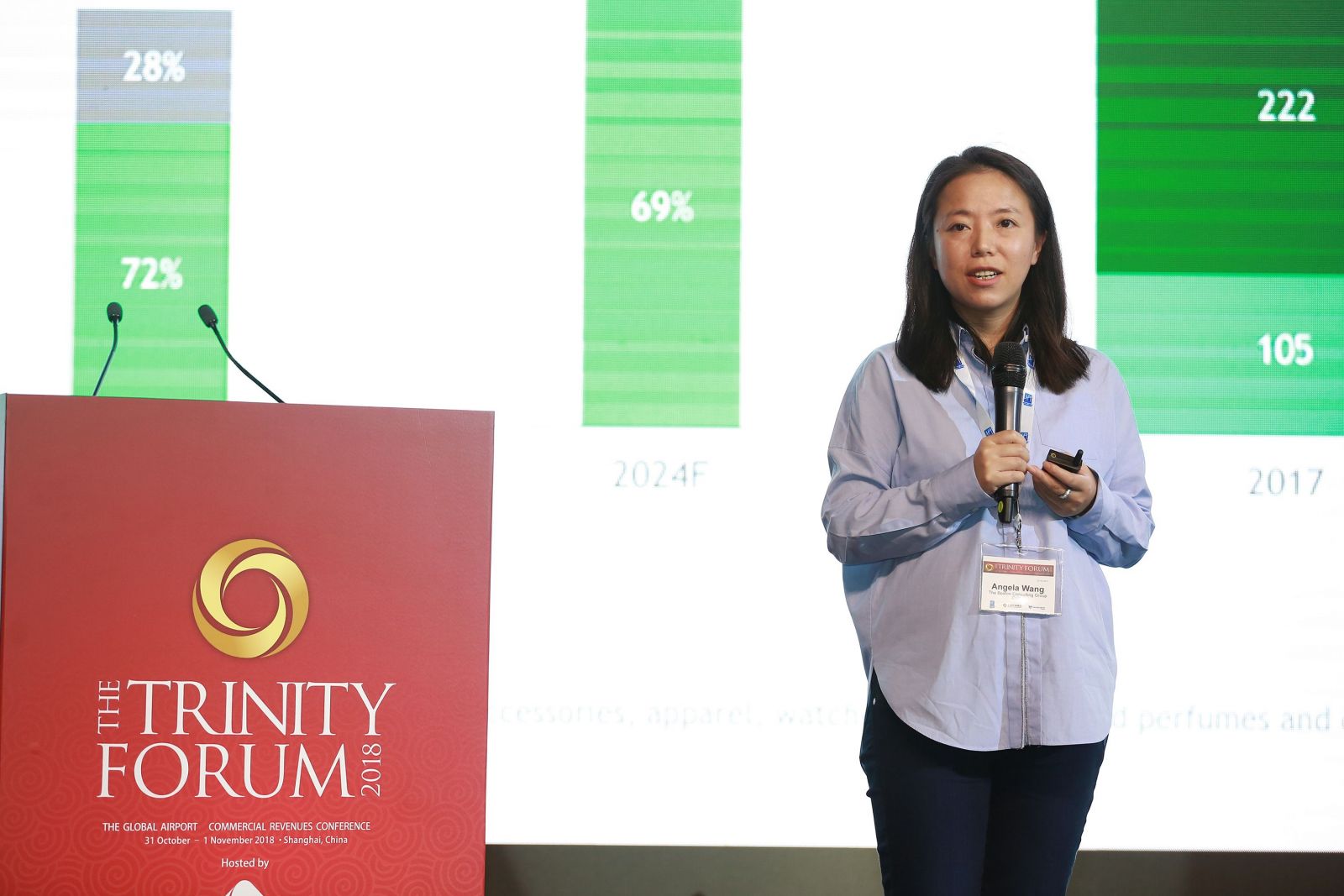 When Mirko Wang founded the Jessica's Secret price comparison app in 2015, little did he think that three years later the platform would have 80,000 users.
Comparing prices in duty free is just one element of the app, which also looks at domestic and online prices, and even tells customers the different amounts they'll pay depending on payment method. The company has also expanded into consultancy and tech solutions, helping global brands and travel retailers capture the Chinese market.
For Wang, digital marketing is key to reaching Chinese consumers and Chinese travellers. He suggested that many foreign companies overcomplicate their campaigns in China and fail to ensure the basics are done well.
From not recognising the enormous diversity of the Chinese population (and failing to choose a specific subgroup to target) to ignoring the basic marketing tools and rules of the nation, Wang said that brands simply cannot overestimate the dangers of not adapting to the market.
Companies also need to realise, said Wang, that building a reputation among the demographic will take time. "Rome wasn't built in a day," he observed.
There needs to be cooperation, long-term planning and a detailed plan which takes into account different subgroups of the consumer population and gives each communication platform – web, social media and so on – an individual approach.
Campaigns also need time to take effect, he explained. A one month campaign might show 18% user influence; after three months that can rise to 86%.
Jessica's Secret, concluded Wang, is constantly gathering and analysing user data in order to understand and to keep track of the Chinese luxury consumer. "China changes every day," he said. "Even the Chinese cannot keep the pace."
Jessica's Secret's Mirko Wang: "China changes every day. Even the Chinese cannot keep the pace." This was a fascinating presentation on the Chinese travel retail consumer. Common mistakes from brands include lack of basic information to the consumer, marketing that is wrongly targeted or not coherently planned across platforms, and a focus on content over communications.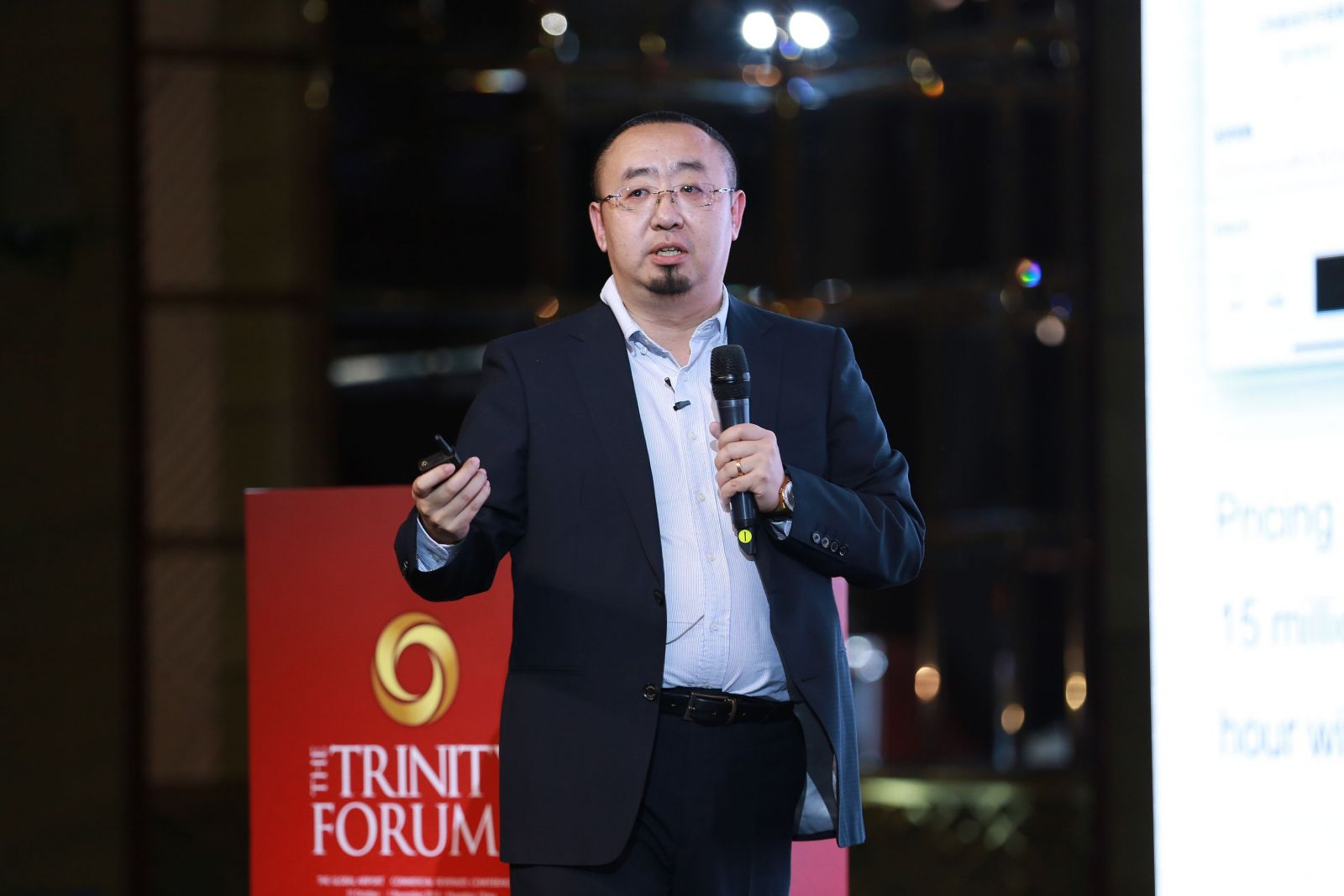 Launched in 2009, Jing Daily is the leading digital publication on luxury consumer trends in China. Sister title Jing Travel is equally well-regarded. Associate Editor Yiling Pan considered new trends among Chinese and luxury consumers when travelling. In particular, she focused on increasing customer demand for "experiential luxury". "Experiential marketing is the key to reaching out to Chinese Millennial and Gen Z customers," she said.
"Chinese young consumers, especially female ones, are truly buying into all kinds of luxury and beauty products. And this is a trend that definitely will continue in the near future.
"But when I conducted interviews with several industry experts, their latest data showed that what China's affluent people want to buy next is quickly changing. For example, the watches & jewellery category is going to grow to be much bigger than handbags and clothing."
Pan added that data from Agility Research showed that the top brands for Chinese consumers in terms of pre-decided travel retail purchases were all very much in the high end and ultra-high end category. It is interesting to note, she said, that a number of local Chinese brands have made the list alongside huge international names.
How should travel retailers and brands "cash in on this fast-changing dynamic demographic?" she pondered.
"We think experiential retail is a great solution," said Pan. "Studies show that when people are in a relaxed and positive environment, they will start to buy more. And a lot of airports around the world have already started to include experiential marketing."
The combination of human contact with technology is a powerful tool, she noted, using the term "tech enabled human interaction".
Pan cited six factors needed to create a "youth-appealing experiential marketing campaign". These were: authenticity, newness, coolness, newness, connectedness, and being tech-savvy. Authenticity in particular, she said, "is the buzzword for this generation".
The consumer is savvy enough to recognise authenticity, she said, and – perhaps more importantly – inauthenticity. They crave newness and they want things now – they want to live in the moment. They want to be seen as individual and the concept of coolness is very important to them.
Via technology, said Pan, the industry needs to understand that the journey does not begin and end at the airport, and they need to connect in a seamless way with these consumers, who are highly tech-savvy and used to excellent digital platforms.
The most important point to make, said Pan, was this: "Don't try to understand young Chinese consumers just using stats and reports. They are real human beings, and only if you take a human approach will you be able to win their hearts."
Jing Daily's Yiling Pan delivered an excellent address on trends among Chinese consumers and ways to better engage them.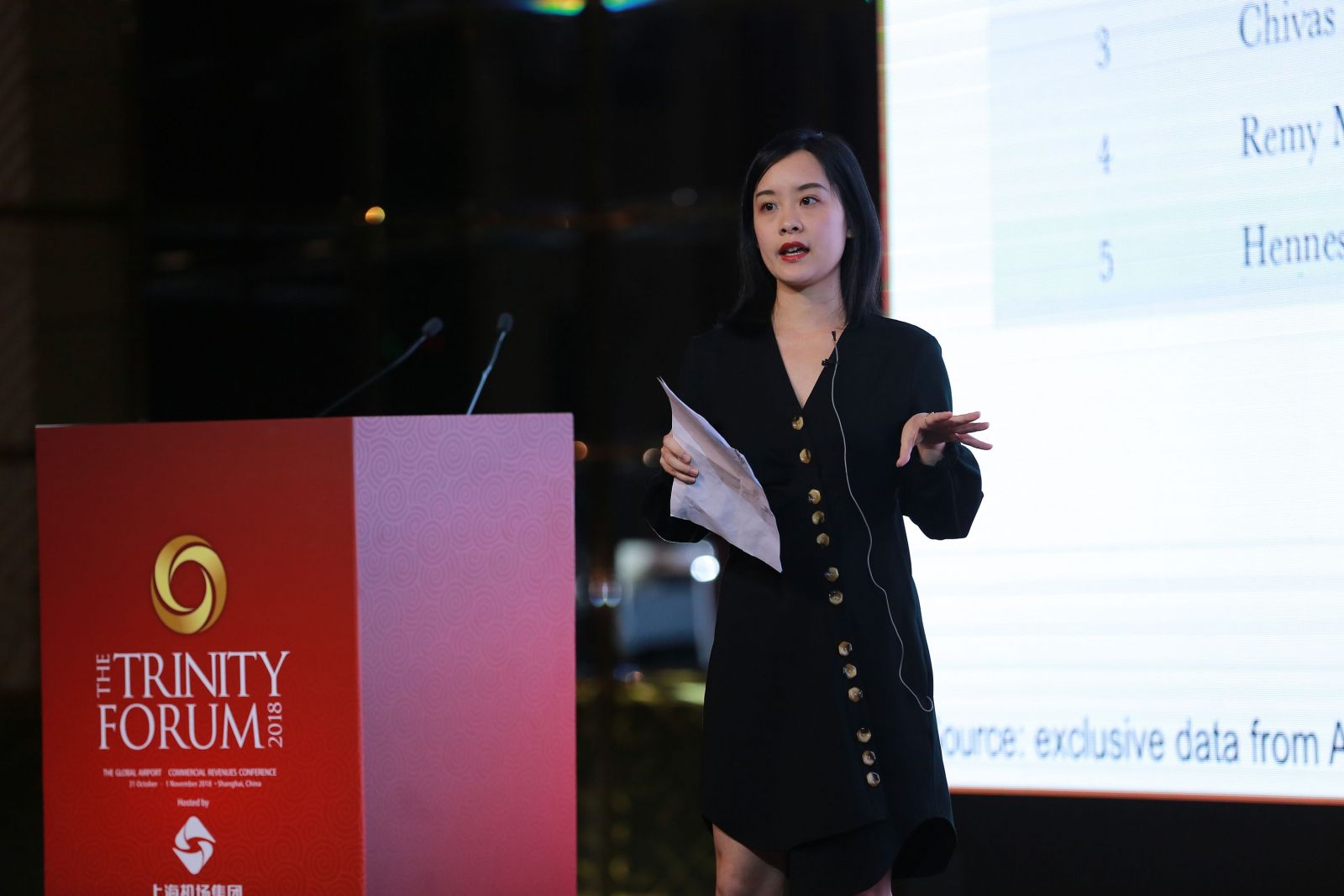 Many of the points made by the other speakers were reinforced by Yan Lee as he shared details of a white paper compiled by iClick Interactive, and published in conjunction with The Moodie Davitt Report, on Chinese travellers and luxury shoppers. It considered the "changing face" of this demographic.
The number of outbound Chinese passengers is expected to grow to 250 million in the next three years, said Lee, as "an easing of visa regulations and available air routes in and out of China have spurred the affluent and middle class Chinese to travel globally".
He continued: "Not only do Chinese travel a lot, they also tend to spend a lot. Chinese travellers have a huge intention to spend when they're abroad." Citizens from lower tier Chinese cities are now more likely to spend abroad than to spend in Tier 1 cities, he pointed out.
The key to understanding the Chinese traveller, said Lee, is to understand their travel planning behaviour. This differs between age and social groups but, overall, Chinese travellers plan further ahead than their international counterparts. And it is during the planning process, when consumers will engage with a variety of media touchpoints, that it is most important to connect with them.
Because China is such a huge country, it is impossible to target the nation as a whole, concluded Lee. "Target those groups that are relevant to you," he said. Once identified, these shoppers need to be targeted at the right moment, as many of their purchase decisions are made ahead of time.
Yan Lee, of digital technology powerhouse iClick, spoke about the company's extraordinary data capabilities, which enable it to track and profile 750+ million Chinese 'netizens' each month.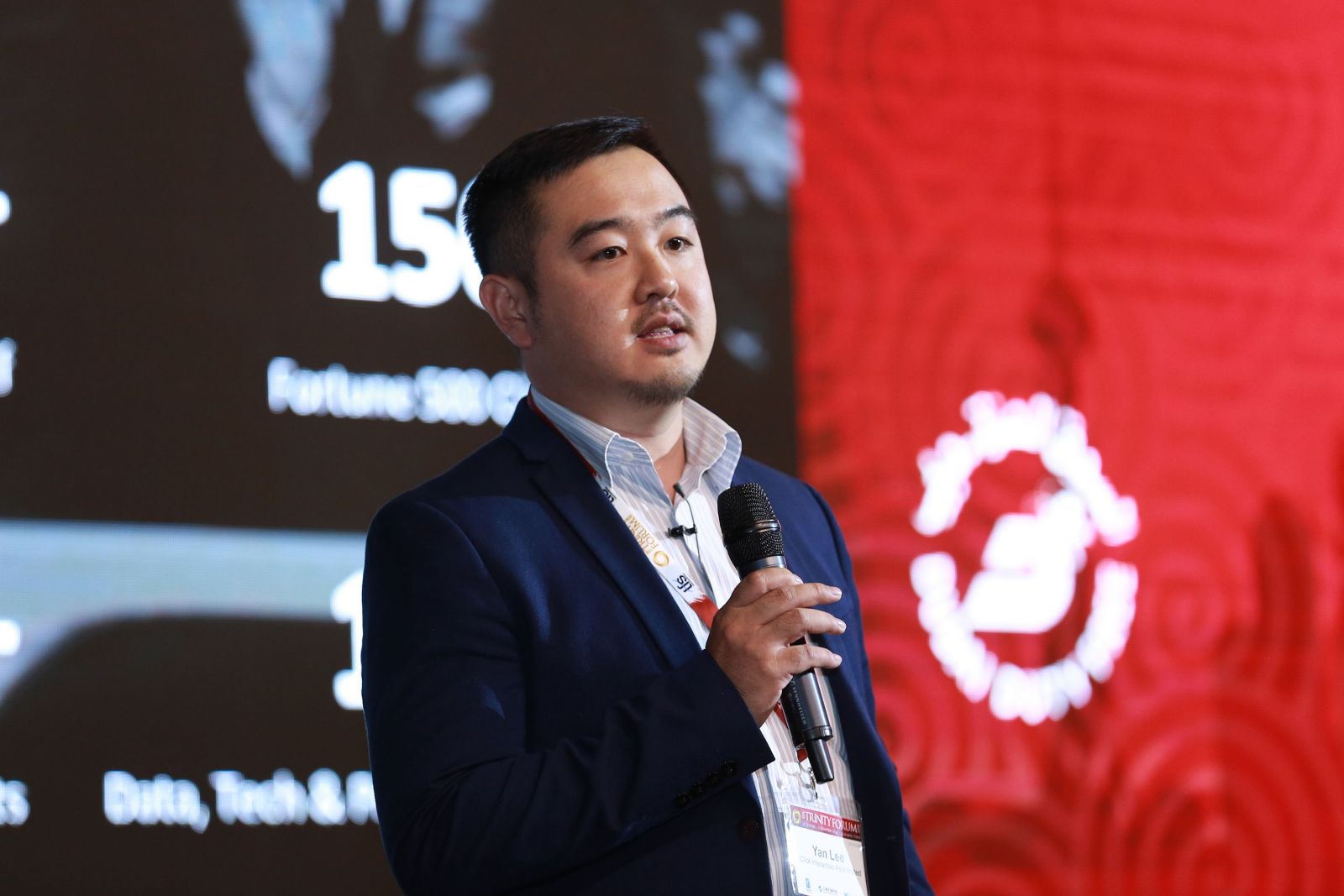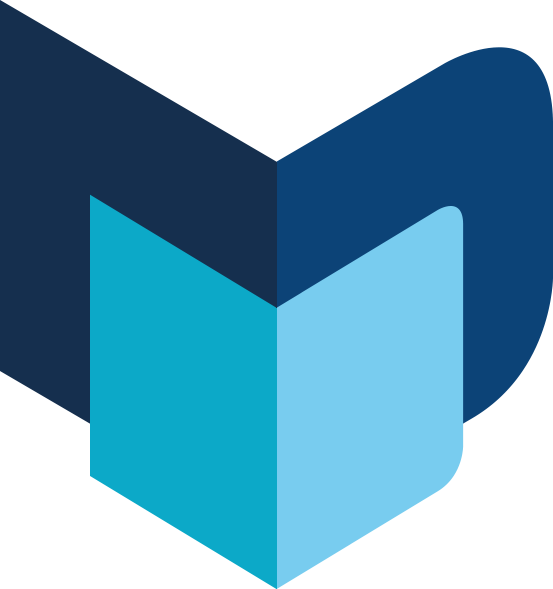 ---
The Moodie Davitt e-Zine | Issue 252 | 16 November 2018