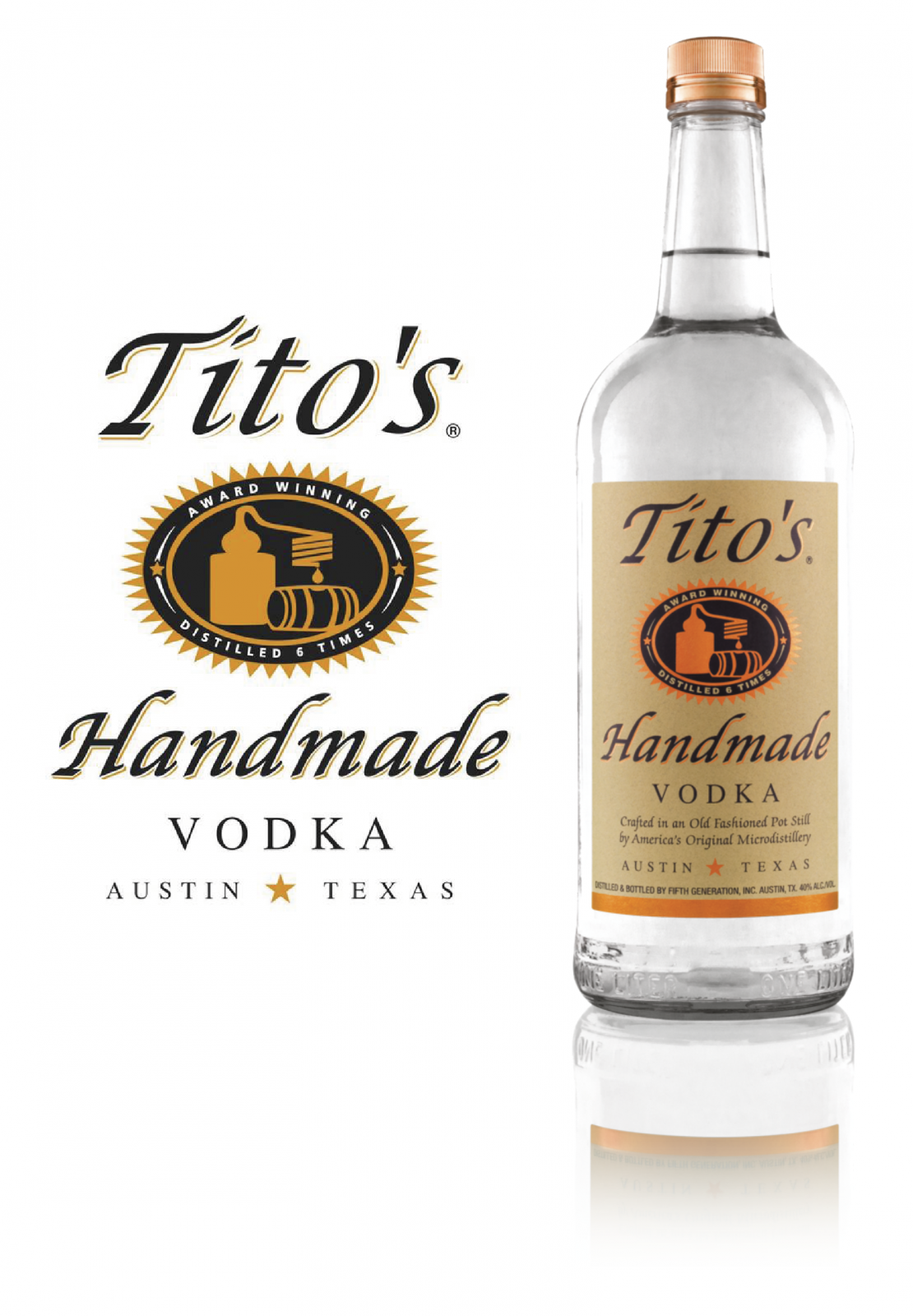 Sparking an Argentine
retail revolution
Argentinean travel retailer ShopGallery is rolling out a new 'virtual store' concept this year as it seeks to enhance the customer shopping experience. Here, General Manager Marcelo Bujan Kalustian discusses the company's new omnichannel solution.
Argentina-based company ShopGallery is a business unit of Corporación América, and runs duty free and duty paid stores at Buenos Aires Aeroparque Jorge Newbery Airfield, Córdoba International, Mendoza International, Río Negro Bariloche International and Salta International airports. It also has a store in the Sheraton Mendoza hotel.
Welcoming environment: ShopGallery's store at Jorge Newbery International Airport in Buenos Aires.
The Moodie Davitt Report: Tell us about ShopGallery and your operations in Argentina.
ShopGallery General Manager Marcelo Bujan Kalustian: ShopGallery was founded in 2001. Argentina has been a very difficult country for importing products, but luckily the government has changed its view. There are a lot of changes in legislation and politics in the country. Initially we were showcasing only local products, but around three years ago we began to present our company to travel retail. Many of our stores are 1,500sq m, so they are quite large. The image, layout, mix of products, and concept of stores is very similar to duty free. You have fragrances, cosmetics, eyewear and confectionery.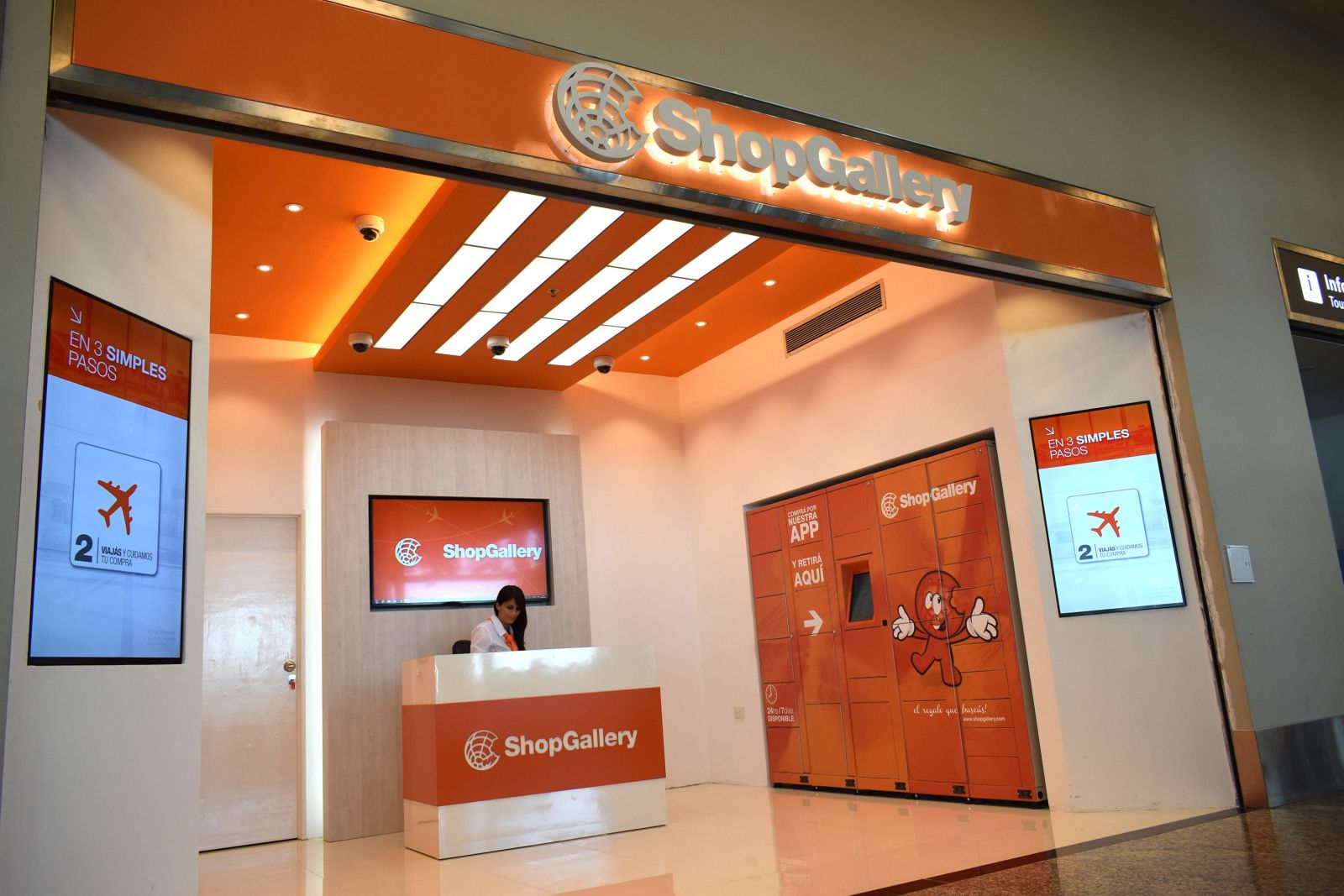 Safe storage: Customers can pick up purchased items from innovative e-lockers.
What does your brand portfolio look like?
We have started to work with international/travel retail departments of some brands. Nowadays we are importing directly from brands such as Luxottica, Marcolin, Samsonite and Kipling. We are also in the process of bringing some exclusive brands to Argentina, starting with our stores and then to the domestic market.
Currently we offer our clients' exclusive brands that are not available in the Argentine domestic market. These are Victoria's Secret and Banana Republic, and we are scheduled to introduce Gap in November/December this year in travel retail.
This was a great development because we can offer clients exclusive brands that they previously could only buy when they travelled abroad or in duty free. The addition has boosted the company's performance. Our strategy is to have this in all categories. We are working with a mix of beverage and confectionery brands. The idea is to represent brands from all categories in Argentina's domestic market.
What role does technology play in your stores?
We are starting to talk about how technology is going to impact our business. Our focus is to be pioneers in our region in implementing technology in the stores. We are currently in the beta phase of an exciting new app set to launch next month.
Tell us about your app and your new store concept, and how they will enhance the shopping experience for your customers?
In Argentina we have 34 commercial airports, most of which are not in core cities. We have stores in four of those. Our ambition is to have a presence in all 34. Our main operation is at the main domestic airport in Buenos Aires – Aeroparque Jorge Newbury. Most domestic flights come into the capital.
We are launching 'virtual stores' which will be like the ShopGallery stores in terms of experience. The aim is to reach new clients in airports where we don't operate. The virtual stores will also feature in airports where we do have a presence, so that passengers who may not have had the opportunity to pass through the real ShopGallery store can still make purchases in the boarding area.
Once a product is selected on the app, travellers can use their mobile phone to scan the item's QR code using free Wi-Fi. Customers then pay by completing credit card and required information such as their flight number. The product will then be waiting for them in an e-locker at Jorge Newbery International. This is very similar to the Amazon Lockers.
As well as Jorge Newbery International, ShopGallery operates stores at Ingeniero Aeronáutico Ambrosio L.V. Taravella International (Cordoba), El Plumerillo International (Mendoza), San Carlos de Bariloche and Martín Miguel de Güemes International (Salta) airports plus the Sheraton Mendoza hotel.
What are your plans to roll out the e-lockers and virtual stores in Argentinean airports?
The plan is to start with the biggest airports. We already have them in Buenos Aires. Our strategy is to grow; this year we will expand to four or five collection points. But you have to understand that 90% of flights come through Aeroparque. All products will be duty paid, including wines and spirits. Much like the Amazon Go stores, the Virtual Stores will be convenient and efficient. All purchases can be made and paid for via the app with no time wasted in queues. I think this will be revolutionary for our business.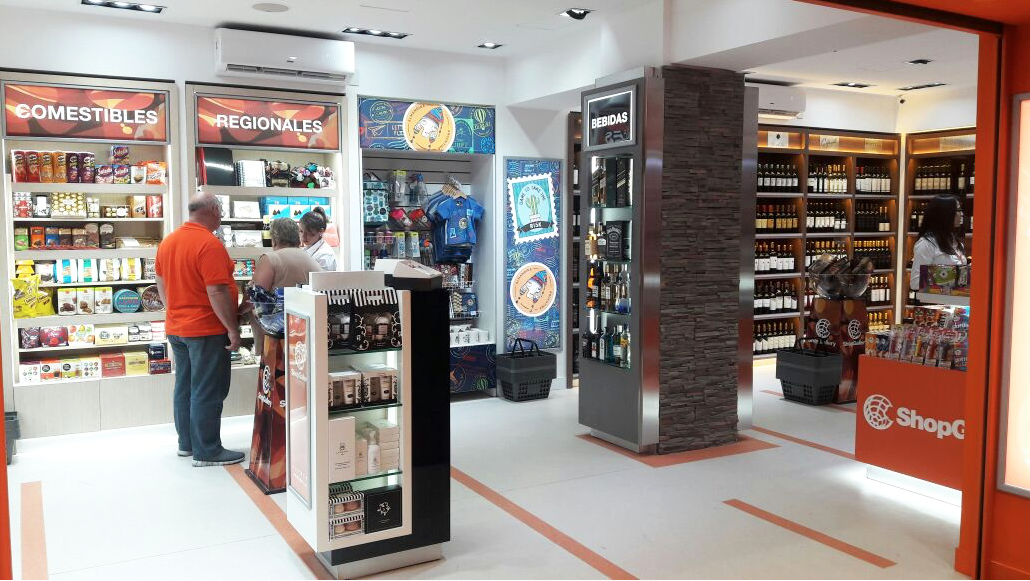 Will the app also be expanded into the inflight channel?
We have also signed an agreement with Aerolíneas Argentinas, our biggest domestic airline. The app will enable Aerolíneas Argentinas passengers to make inflight purchases. This is set to launch in 12 months. Currently there is no domestic inflight offer in Argentina; this will be the first. Our aim is to focus on the Argentinean domestic market, which last year was 14 million passengers. At Aeroparque we had 8 million domestic passengers last year. On average, the domestic flight times are between 1.5 and three hours.
At the moment, when the app recognises that the traveller is in the vicinity of the airport through geo-location, it will automatically download the latest version of the catalogue. Travellers will be able to select and reserve products in inflight mode, but payment will have to be made at the virtual store. In 12 months time, when Aerolíneas Argentinas launches Wi-Fi onboard, customers will be able to pay with the app.
We have an agreement with Aerolíneas for around one to two years of exclusivity after which we plans to expand to other airlines. The idea is to have different promotions and products perhaps with different airlines.
Many people are saying inflight retail is dying, what are your thoughts?
The audience iscaptive; it's a huge opportunity. The strongest aspect is that we have something different. For example, in duty free you have different duty free operators at airports and different inflight operators. This makes it difficult. With this system there are no challenges about stock onboard the flight. In Argentina, most domestic flights have two or three hours wait in the airport. It's a great place to see products, see offers, and to buy.
Will the offer be the same as in the stores?
Not at first, because we don't have Wi-Fi. Initially we will have between 50 and 100 promotions that will not be available instore. When we have Wi-Fi it will be the entire offer. The app is set to go live in May. The next step will be to launch vending machines at the airport connected with the app, next year. These will be dotted around in different places, such as near check-in desks. Customers will be able to pay with the app. They will receive a QR code, which can be scanned to retrieve the product from the vending machine.
You described this solution as revolutionary to the business; what is your vision for ShopGallery's future?
I believe this is a great innovation story for Argentina and South America and want the travel retail industry to hear about it. We want our app to be useful in the whole travel experience, not just a part. People have to want to keep the app and use it in different areas. We are on the path to creating an omnichannel solution in travel retail.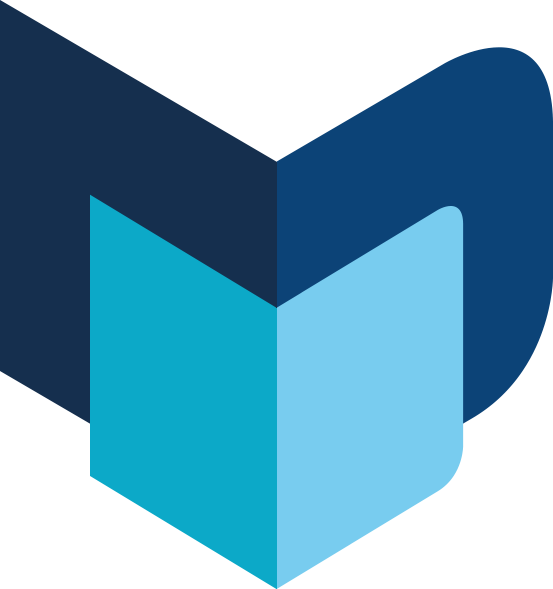 ---
The Moodie Davitt e-Zine | Issue 242 | 14 June 2018