---
"Look into my eyes" – The passion and commitment of Charles Chen
Up close and personal with the man leading CDFG's extraordinary expansion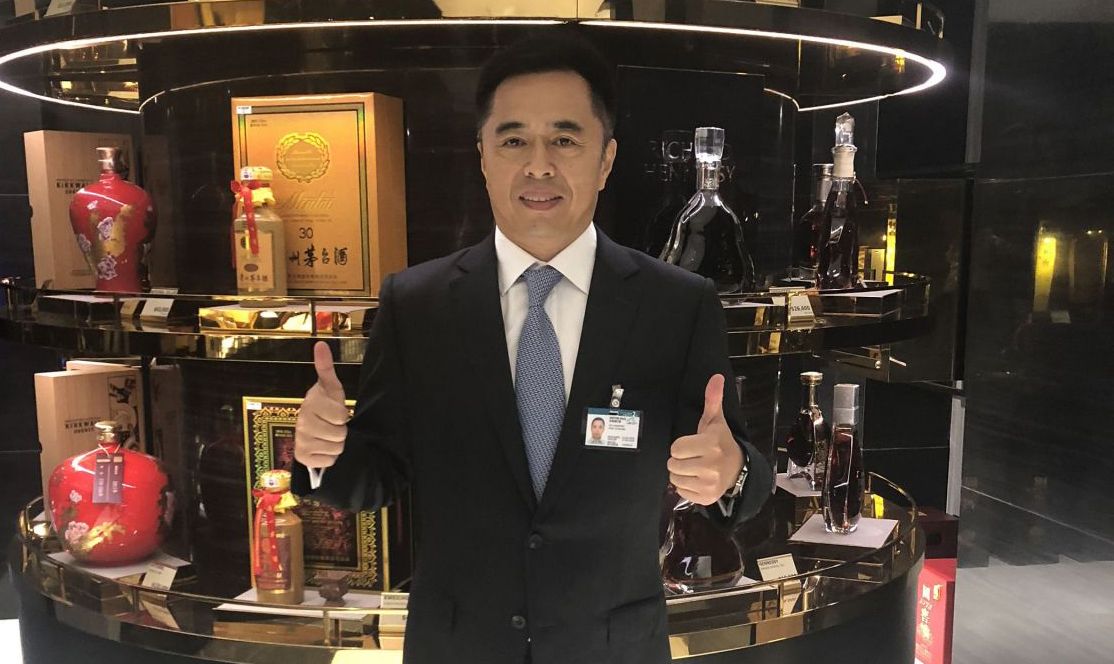 Mission accomplished: Charles Chen gives Duty Zero by cdf the thumbs up.
The view from the top
Publisher's Introduction: Charles Chen is a man on a mission. When he was appointed President of China's leading travel retailer China Duty Free Group (CDFG) in December 2016, the company said that his rich (29 years at the time) experience would allow it to "rise to a new horizon". In less than two extraordinary years, the group has not only reached that horizon but is sailing boldly towards new ones.
Since Chen's appointment, CDFG has won key duty free contracts at Guangzhou Baiyun Airport Terminal 2 (China's third-busiest airport); Macau International Airport (in an alliance with King Power Group HK); and Hong Kong International Airport (a CDFG-led alliance with Lagardère Travel Retail). It has also snapped up a series of arrivals shops concessions in Mainland China and its business at the acclaimed Sanya International Duty Free Shopping Complex at Haitang Bay, Hainan Island continues to flourish.
Critically, CDFG has also completed separate 51% acquisitions of Sunrise Duty Free's Beijing and Shanghai entities. Through those acquisitions and related tenders, it now controls the duty free concessions at Beijing Capital International Airport (T2 under CDFG, T3 through Sunrise) and Shanghai Pudong and Hongqiao airports (with Sunrise).
Just after the Grand Opening of Duty Zero by cdf at Hong Kong International Airport (HKIA), Chen spoke to The Moodie Davitt Report Founder & Chairman Martin Moodie about the importance of the concession, CDFG's progress to date, and the exciting days ahead.
As he chats candidly about the Grand Opening of Duty Zero by cdf at Hong Kong International Airport in the elegant confines of the retailer's VIP-only Premium Lounge in the East Hall, Charles Chen cannot disguise his pride or his excitement about what the inauguration represents in his and CDFG's journey. It is just 17 months since he last sat down with me in Guangzhou to talk about his plans for the business. All of them (some shared off the record at the time) have come to fruition.
"Back then I told you that I had a lot of dreams," the 30-plus year veteran of CDFG says. "At that time we had not yet won the bidding for Beijing. I was also very interested in Hong Kong Airport. And Shanghai and Guangzhou airports. Now all those dreams have been realised.
"I took the position in December 2016, so it's nearly two years. A lot of things have happened. I still remember telling you in Bangkok [at the October 2017 Trinity Forum] that our sales might increase by +60% in 2017. Remember? So, it was actually more than sixty percent. Sixty-two, something around that figure."
But if that sounds like meteoric growth, it pales compared to the 2018 performance which is likely to see sales double by year-end, possibly even to as much as CNY30 billion (US$4.4 billion), The Moodie Davitt Report projects. That's partly driven by the integration of Sunrise Duty Free (Beijing last year, Shanghai to come in 2018, the HKIA and Macau (from 1 June 2018) start-ups, together with tremendous organic growth at Haitang Bay.
"I hope that we can be in the front five [of The Moodie Davitt Report's annual Top 25 Travel Retailers League. In 2017 CDFG moved up from 12 to 8 -Ed], or even the top three or four," says Chen bullishly. He's got good grounds for such optimism – for the first six months of 2018 sales have almost reached total 2017 levels.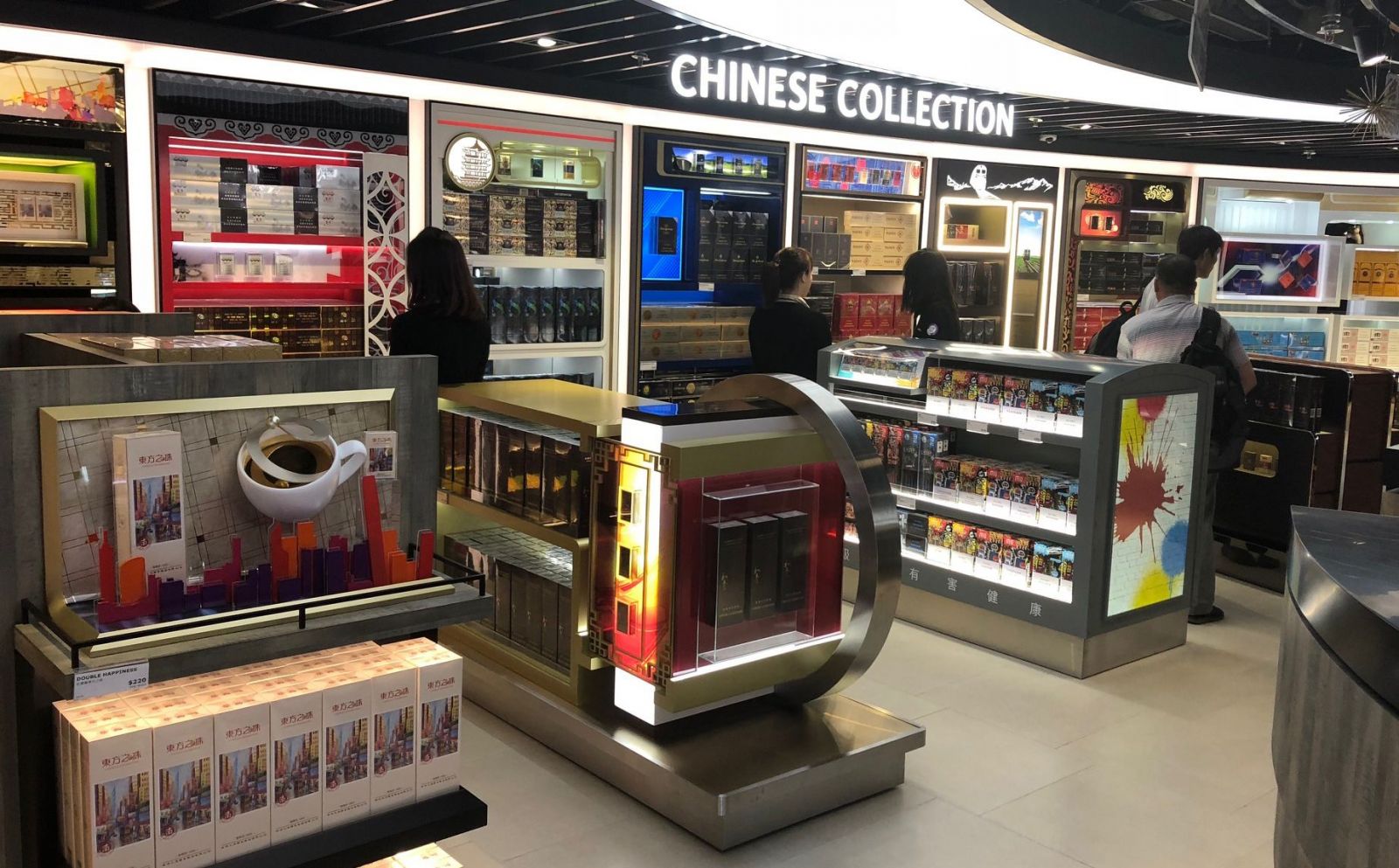 Duty Zero by cdf has delivered the travel retail world's finest assortment of Chinese spirits, wine and tobacco.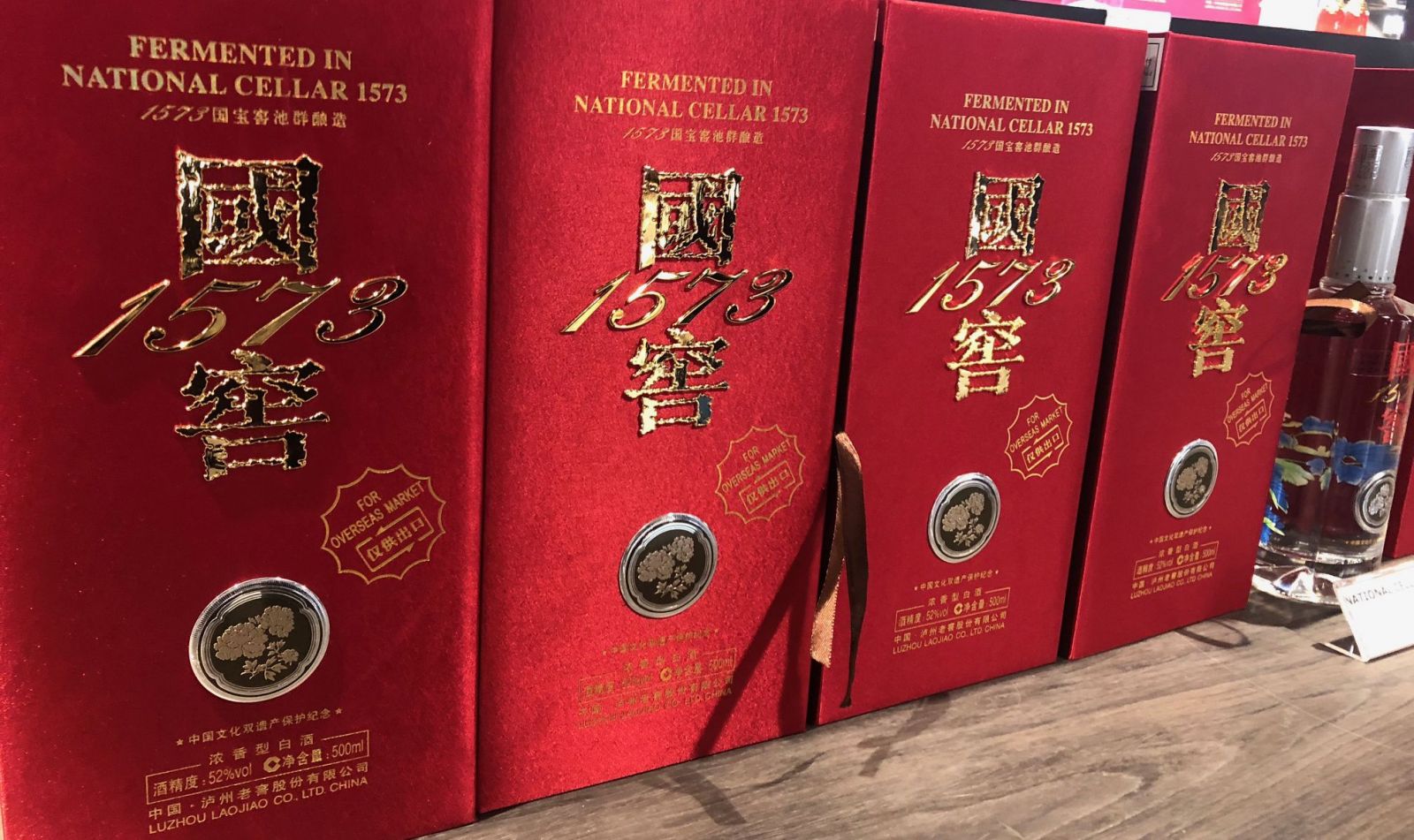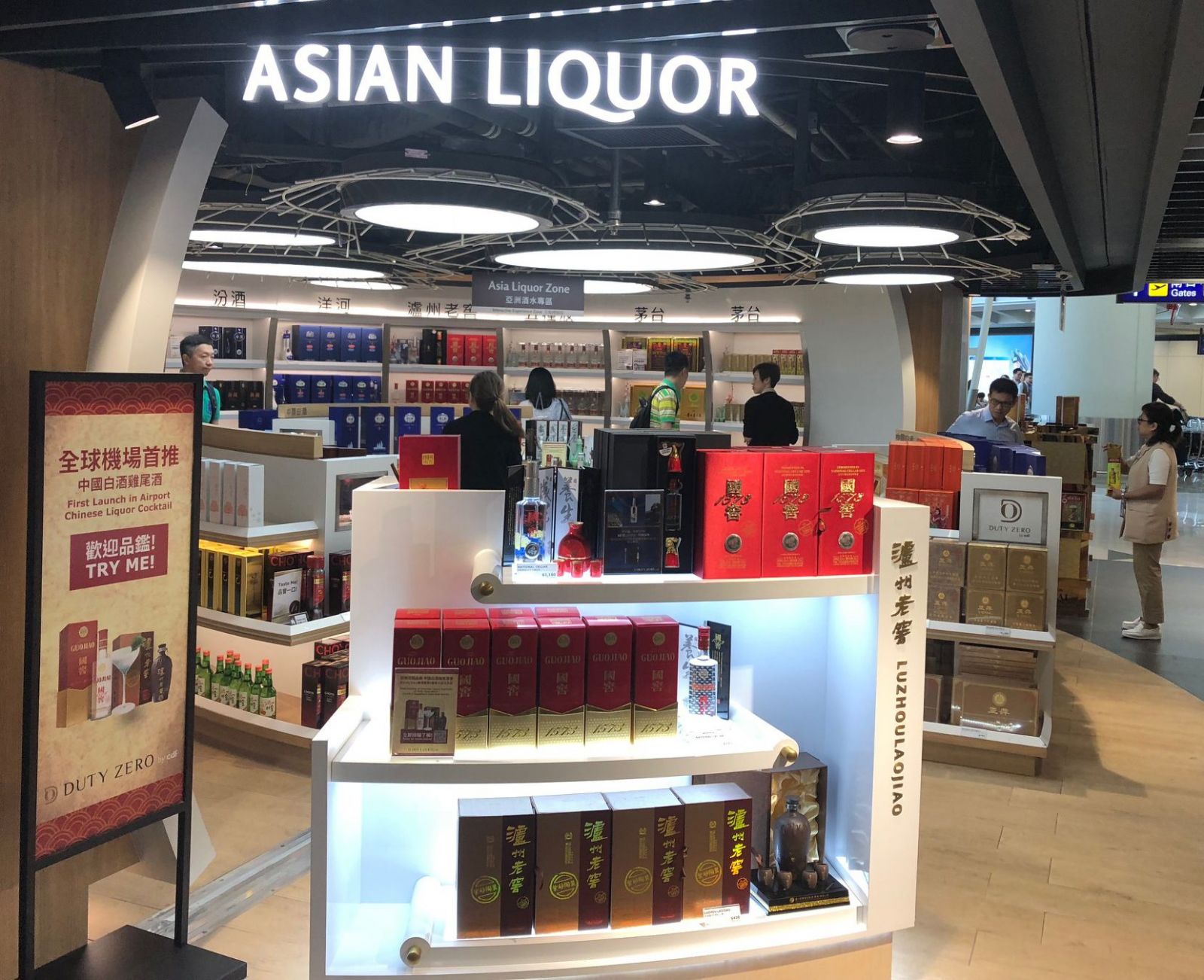 Domination at home. Huge potential offshore
"Every day has been so exciting," says Chen with a smile. Once again, there is more – much more – to come, he says, hinting at some "further big news" later in the year, both at home and abroad.
Chen says that he is confident that all CDFG's big airport operations will succeed. Guangzhou Baiyun Airport's duty free sales are relatively small compared with those of Pudong and Beijing, he notes, but the passenger traffic is similar to Hong Kong International, albeit with a strong domestic component. "In the future, I think that Guangzhou has very high potential," he says. "We have taken over the licence for the departures and arrivals, except for some of the older departures shops. But the new Terminal 2, departures and arrivals, it totally belongs to us."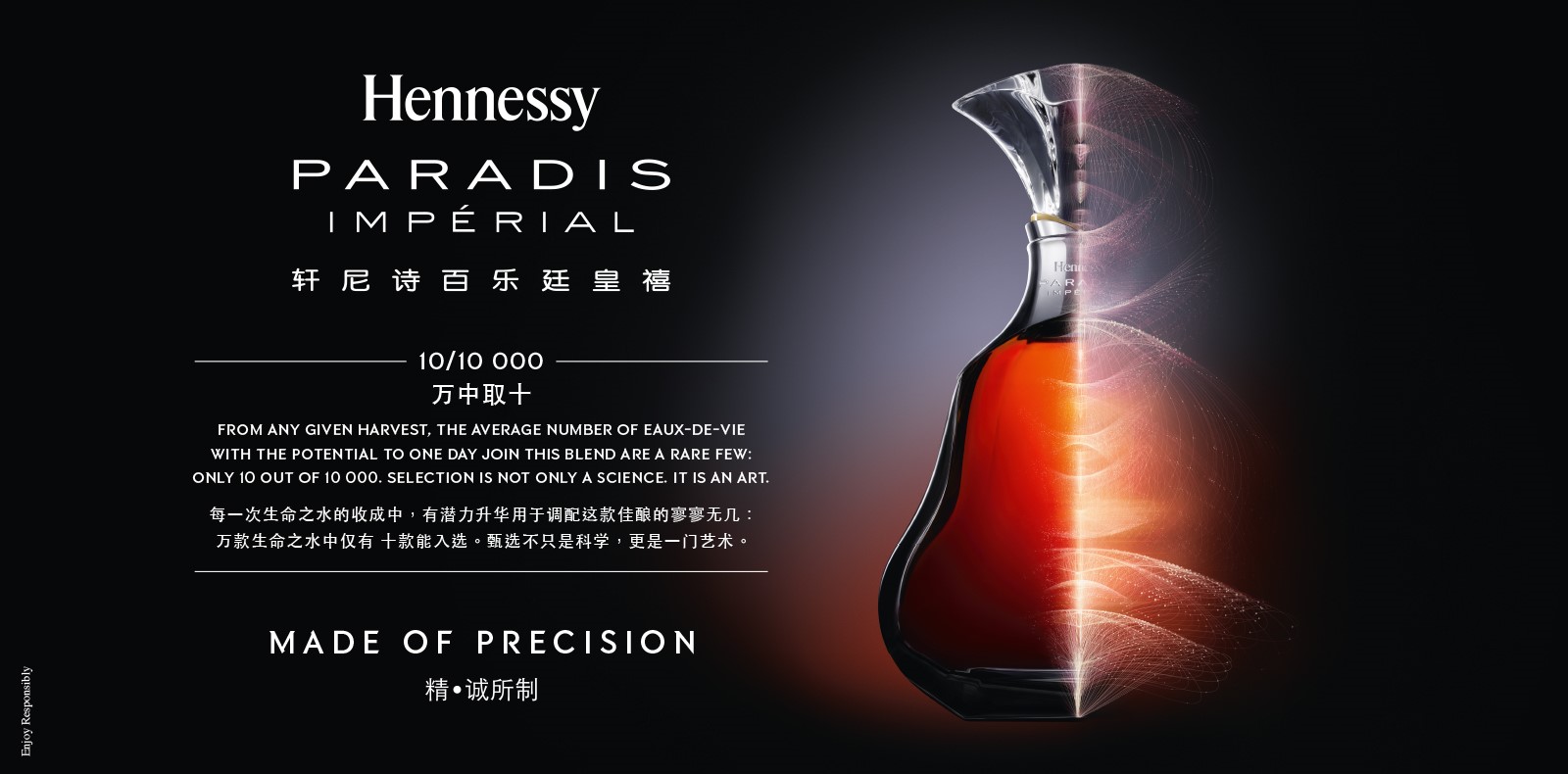 CDFG's partnership with King Power Group (HK) in Macau surprised many observers but Chen points out that he has known and respected King Power Managing Director and driving force Antares Cheng for many years (tracing right back to when King Power's fore-runner Kiu Fat ran the old Kai Tak Airport liquor & tobacco concession briefly in the late 1980s). "I talked with Antares and said, 'When are we getting together? We are friends. If we're both bidding in Macau Airport, we are fighting each other."
It was a smart, pragmatic move by both companies, positioning themselves with lowered risk in a key Chinese growth market. And it is CDFG's affinity with the Chinese consumer that makes it such a force to be reckoned with internationally, Chen believes. "Today the duty free market is all about the Chinese," he says. "The Chinese have great potential. We are a Chinese company. I am one hundred percent sure that I know the behaviour of the Chinese. So we can talk to the top management of the Chinese liquor and tobacco companies, for example, and they really want us to sell their products." In comparison, foreign companies can struggle to procure such items, he says.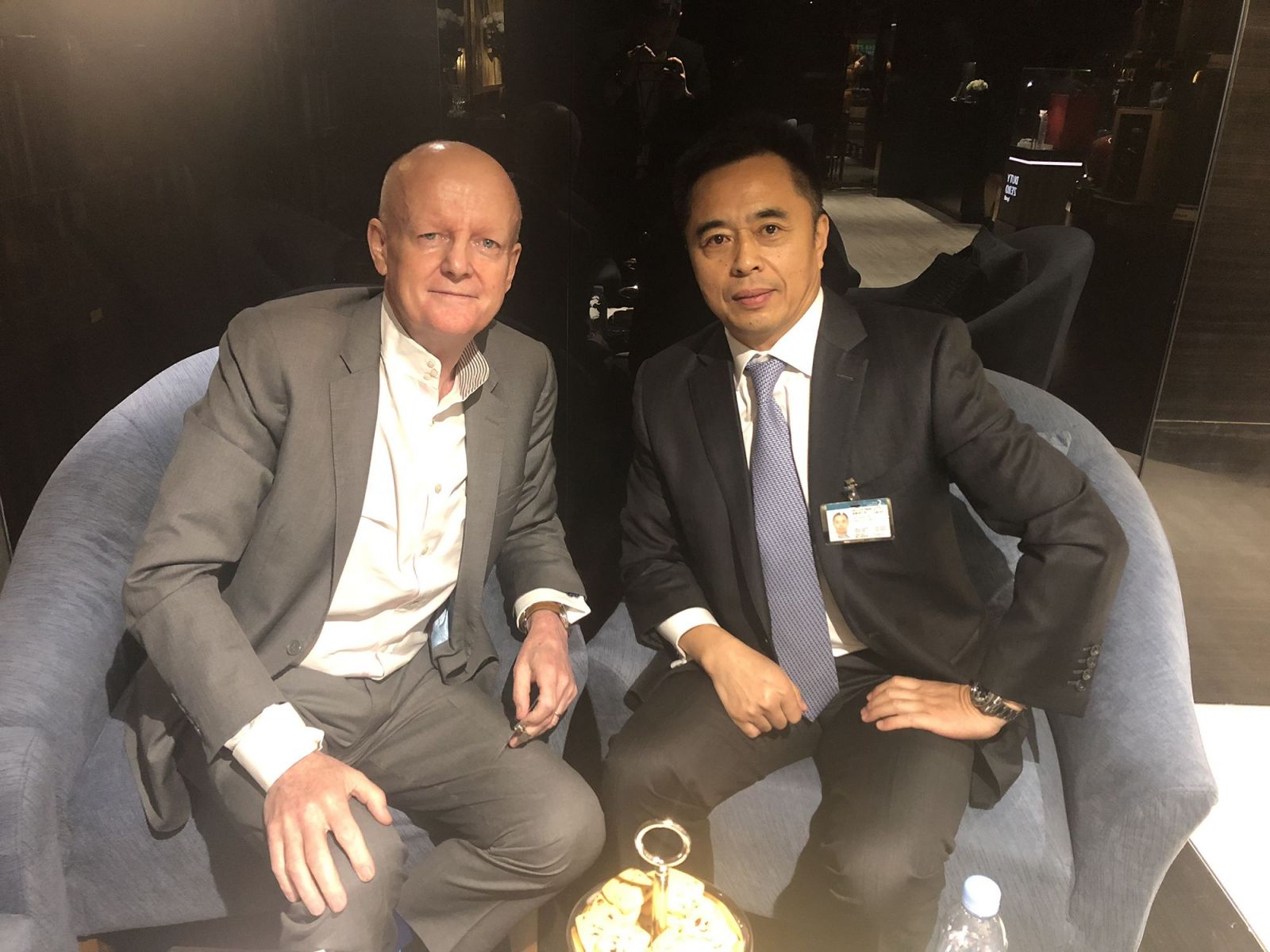 Charles Chen chats to Martin Moodie in the Duty Zero by cdf Premium Lounge at Hong Kong International Airport.
Certainly the Chinese collection of spirits and tobacco at Duty Zero by cdf is unrivalled in the travel retail world. "Our group is very proud about this," says Chen. "And in the future, we can do a lot more with member information and a lot of marketing initiatives, working with hotels and over 2,000 travel agencies [through the parent company's network]. We have a group bank, we have the duty free and also our [parent] group will have a special department to develop the cruise business. So, we can do a lot of business there."
Another, perhaps priceless, advantage for CDFG is that the Chinese government is absolutely committed to the country's duty free industry, a factor borne out by the presence at the Grand Opening of such powerful luminaries as China National Travel Service Group Chairman Wan Min and Deputy General Li Gang.
Li Gang underlined that high-level support and ambition on the day of the Grand Opening, noting: "Since April 2017, when Airport Authority Hong Kong announced that the liquor, tobacco and packaged foods concession had been awarded to CDF-Lagardère, the company has been aiming to offer the best travel retail experience for travellers in the world. Going forward, Duty Zero by cdf will continue to set new benchmarks for duty free shopping by introducing new innovations."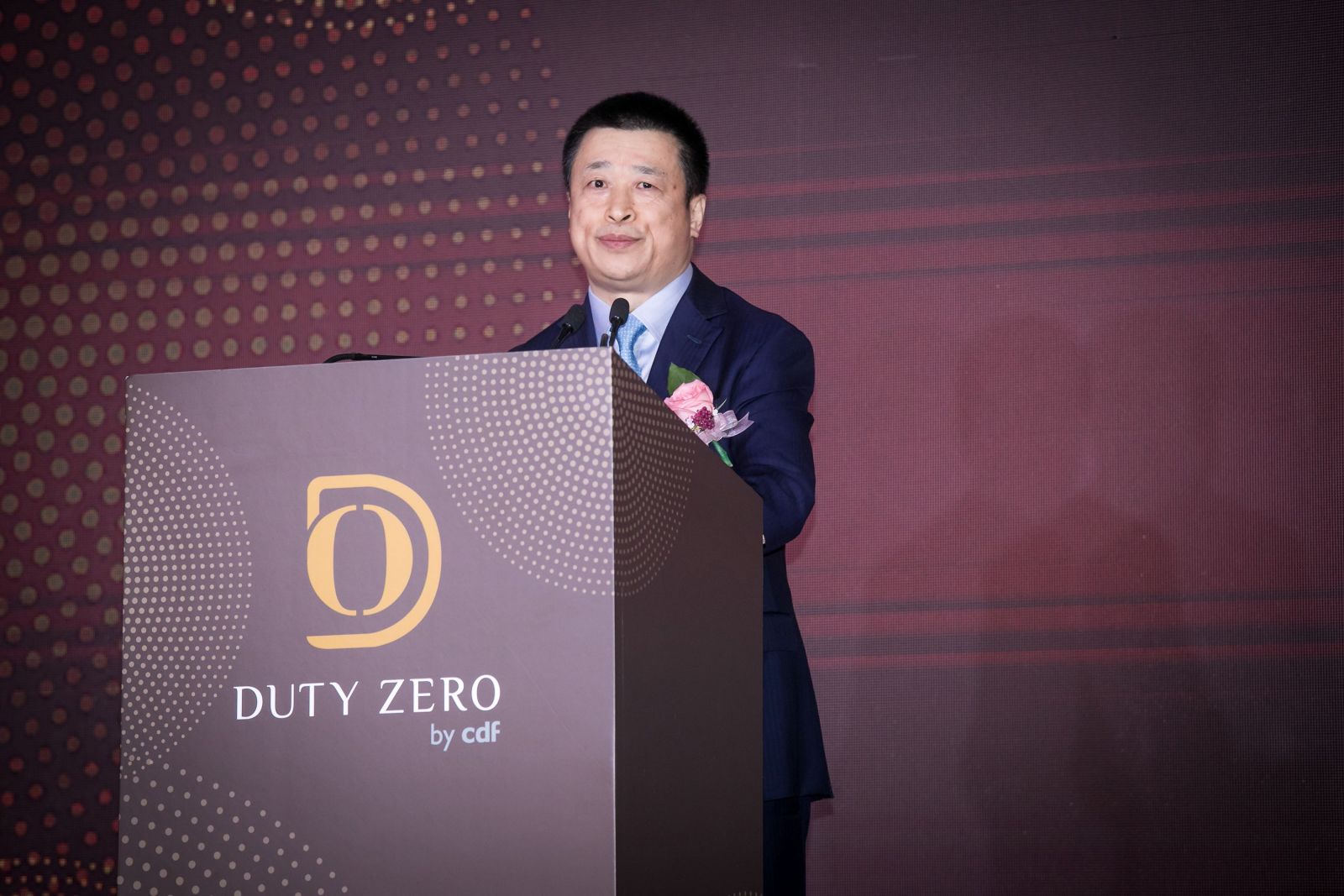 China National Travel Service Group Deputy General Li Gang: "Since the soft launch seven months ago, the business performance of Duty Zero by cdf has continuously exceeded expectations. The market has responded positively to the unprecedented offering of comprehensive products, the best prices among major airports across Asia Pacific, premium services and unique experiences. All of this shows that Duty Zero by cdf has successfully redefined travel retail."
The government believes in the work and role of CDFG in not only maximising Chinese domestic consumption but also capturing greater spend abroad, Chen points out. "Our government is very clear about what we are going to do," he comments. "If you see the Haitang Bay operation, we invest a lot. It's not like with other operators who just invest a small amount to earn the money in the short term. For us, it's all long term. It's not about simply setting up a duty free store and earning the money. We try to bring very good services and very good products to the Chinese people. This is what our government wants to see – the government doesn't want to see bad services to our people.
"We also try to attract the Chinese tourist who is returning home. This is the main plan of our government. So, they support us and really believe in us. They are saying that Chinese companies should not only do business within China. 'You should be outside too!' they say. That's why I'm very interested in developing business overseas.
"Our company has the ability to supply very good services for Chinese people and to help our government."
Does Chen foresee the day when CDFG runs stores around the world catering to the Chinese – in the same way that DFS did so brilliantly with the Japanese from the mid-1960s on? Wherever the Japanese travelled, DFS was there to greet them, the adage ran. Will CDFG be the modern-day host for the Chinese?
Chen's answer is unequivocal. "I really think that we can supply very good services for Chinese people overseas," he says. CDFG will ultimately build on its increasingly powerful Chinese airport offer (including Hong Kong and Macau) with a downtown duty free presence at home and abroad. The company's downtown business in Cambodia (it has stores in Phnom Penh, Siem Reap, Angkor and Sihanoukville) is thriving, with sales set to record an extraordinary +100% growth rate this year. "There are a lot of places in Southeast Asia – Thailand, Vietnam, Singapore, Malaysia – as well as countries such as Australia and New Zealand where there are so many Chinese," says Chen. "But I really think that the great opportunities are still within China.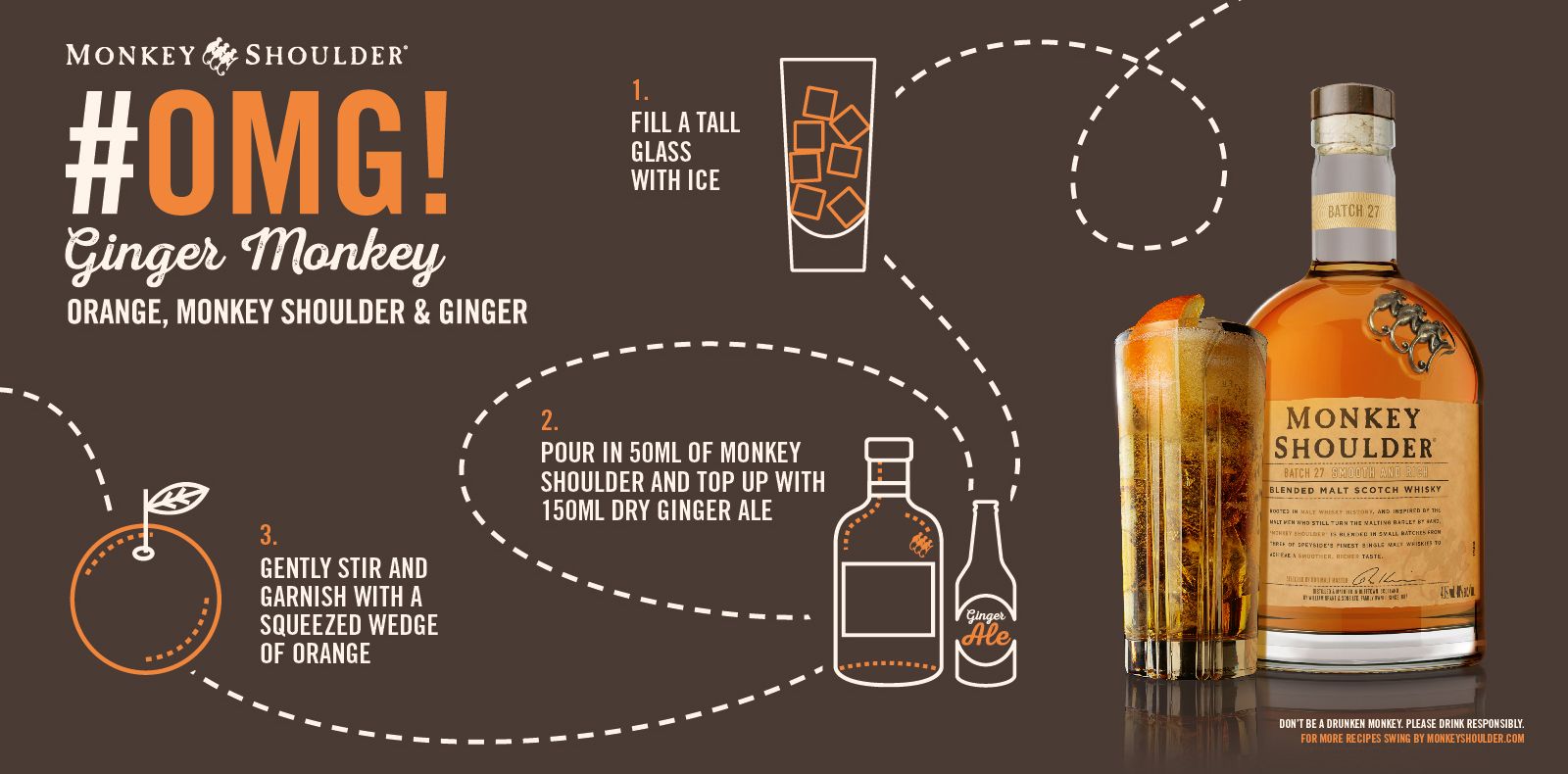 "Look into my eyes, believe me, sales this year definitely will reach the target, we promise."
Intensive marketing, pre-order and home delivery will all form part of a widespread portfolio of consumer services designed to maximise penetration among the vast and growing Chinese traveller base. But before all those plans take shape, Charles Chen can afford, albeit briefly, to take time out to reflect on a red-letter day for CDFG at HKIA.
"Today is a special day. I feel very excited," he says. "Hong Kong International is the first really international airport that CDFG has managed. Here it's quite different from the duty free shops within (Mainland China) – the operations, the logistics, the staff. So it's a great, great challenge for our company. But anyway, we succeeded!"
"Actually it's been a very, very great journey for me. I have stayed with this company and in the duty free business for more than 30 years. After I graduated I devoted myself to CDFG. I'm lucky, I always say this period belongs to China and to the Chinese customers. I'm so proud of this and every day is so exciting. I can see the opportunity there and I don't want to miss it. So sometimes I feel very tired but also very happy."
Winning a tender is one thing, I point out to him. But then executing it in such a high-quality fashion on such a visible international stage is another. The Duty Zero by cdf offer is commendable in many ways, from its elegant merchandising to its slick embracing of technology, to an impressive array of Chinese and international products.
"The Chinese customers will be so proud of this. You don't see VIP rooms in other airport duty free"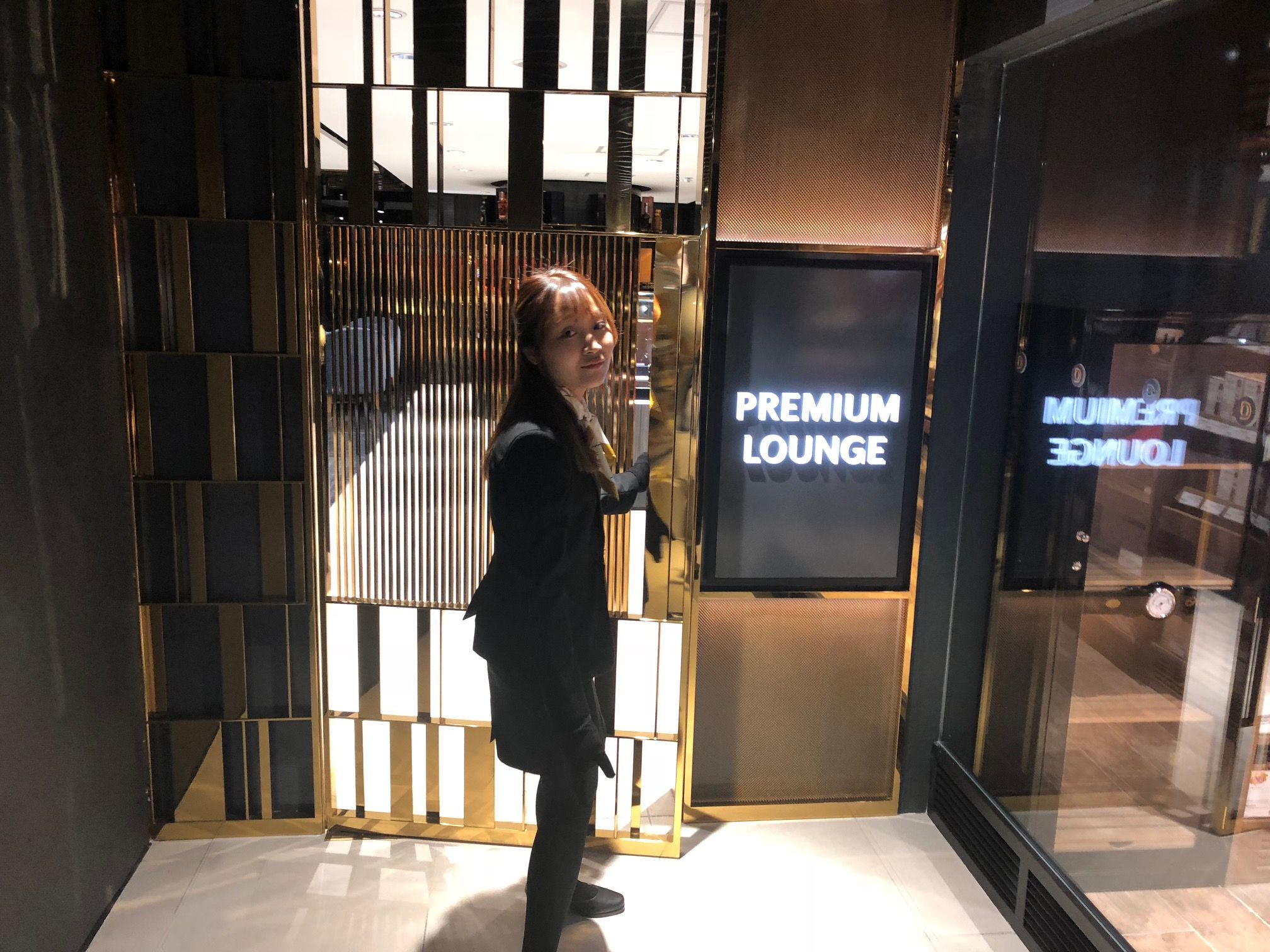 Opening the door to a VIP experience in the Premium Lounge
"I'm very proud of this," Chen concludes. "This is what we promised to the airport when we submitted the tender. We said that if we win the concession we will definitely build it as a unique and high-level store in the world. So, as you can see, there are so many special things here. So many single malts, such a variety of whiskies. So many Chinese products.
"We also have this special VIP room, which is typically Chinese. The Chinese customers will be so proud of this. You don't see VIP rooms in other airport duty free. Some of the Chinese customers want privacy, they want a special place. And people are not just sitting in here to relax – they really want to spend something!
"So we have opened a very beautiful store. But the next step is even more important. Because we promised to the airport not only a beautiful store with beautiful products but also great sales in the future. Last week we celebrated the 20th anniversary of HK airport. I told the airport authority, "Look into my eyes, believe me, sales this year definitely will reach the target, we promise."
That phrase will resonate with many of travel retail's leading suppliers who heard Chen use it back in March 2013, when he pledged that the extraordinarily ambitious Haitang Bay complex would open on schedule the following year. At that point it was little more than a giant construction site. But Chen's eyes did not lie.
---
The Moodie Davitt E-Zine | Duty Zero by cdf | August 2018