---
Themes of the year

(and for the decade ahead)
In the pages ahead we present our review of 2019, featuring our choice of the most influential people and the leading stories, openings, and events from across the travel retail world in words, images and video. We begin with a selection of themes that have led the industry agenda this year and that are sure to influence the business in 2020 – and into the next decade.
Sustainability
As any responsible company recognises today, transparency and accountability must be top of mind as they try to engage and inspire their audiences.
This year – and indeed over the decade – we have seen the rise of sustainability as a core business value, not simply a feel-good gesture or a token add-on to the boardroom agenda.
The initiatives industry-wide from even the past few months would take up an eZine of their own. But what is clear is that remaining in sync with consumers' values is an imperative of daily life for every airport, retailer and brand.
Witness DXB's phased approach to removing plastic cutlery, drinking straws, take-away food packaging and polythene bags from shops and restaurants at the world's busiest international airport from 1 January 2020.
Dubai Airports on a vital initiative to reduce single-use plastics and how it will resonate with travellers
Or the values contained in Gebr Heinemann's now annual sustainability report, or Dufry's core business commitment to achieving the UN's Sustainable Development Goals.
Or the moves across a range of product categories and brand owners. Nestlé International Travel Retail aims to have all products in recyclable packaging by 2025 and on key brand Smarties it promises to end the use of all single-use plastics by the end of 2020.
We've seen the recent highly symbolic move from Pernod Ricard to release a limited-edition Absolut Recycled bottle in global travel retail.
Look at how beauty powerhouse L'Oréal Travel Retail is making sustainability "the backbone of the way we manage our business." That includes a hugely ambitious five-year sustainability roadmap. As soon as 2020, L'Oréal aims to have achieved 100% improvement in terms of the sustainability of its products, 60% reduced carbon emissions, and sending zero waste to landfill.
Heinemann Australia introduced complimentary reusable shopping bags in its Sydney Airport duty free stores in October
Pernod Ricard has unveiled the limited-edition Absolut Recycled bottle in global travel retail. The bottle is made from 41% recycled glass.
There is Guerlain's partnership with UNESCO for a major sustainability initiative to preserve bees and biodiversity.
Or Estée Lauder's own sustainability roadmap, leading towards its 2020 goals of releasing net zero carbon emissions and sourcing 100% renewable energy.
The industry drive is summed up neatly by Heinemann Chief Commercial Officer Kay Spanger who talks about "shaping the future of sustainable travel retail". He says: "We are inspired by those who are ahead of us. And we need to demand an equally strong commitment from our suppliers and business partners. This means sitting together at one table and setting standards along our value chain and across all categories represented in the shopping baskets."
We are playing our own small part too, with an initiative called The Trinity Forest, in which The Moodie Davitt Report will plant 12,529 trees – one for each subscriber, with a call to action from industry partners (more on this soon).
The bee is a symbol of Guerlain – so it was a natural fit for the beauty house to partner with UNESCO to preserve bees and biodiversity
China – a long-term game
From US$200 million in 2002 to US$5.1 billion in 2018: those are the numbers behind the remarkable China Duty Free Group story from soon after the turn of the century to late in the following decade.
The years represent a short timeframe in China's characteristically long-term view of the world and even in travel retail terms. And yet the first two decades of the 21st century will go down in history as the period that redefined the travel retail landscape – and China's position within it.
We know of course that such rapid progress also means bumps in the road. We have seen both a slowing of the China economy and a weakening of the currency lately, both of which are risk factors for the wider industry – indeed these influences have had an impact on Chinese spending abroad.
Yet we also know that Chinese tourism is a multi-decade theme that will continue to drive structural change and growth in the travel, travel retail, beauty and luxury business.
Chinese outbound numbers reached 159 million in 2018 and compared to 2010 the number of trips has doubled as the nation transitions into an upper-middle-income economy.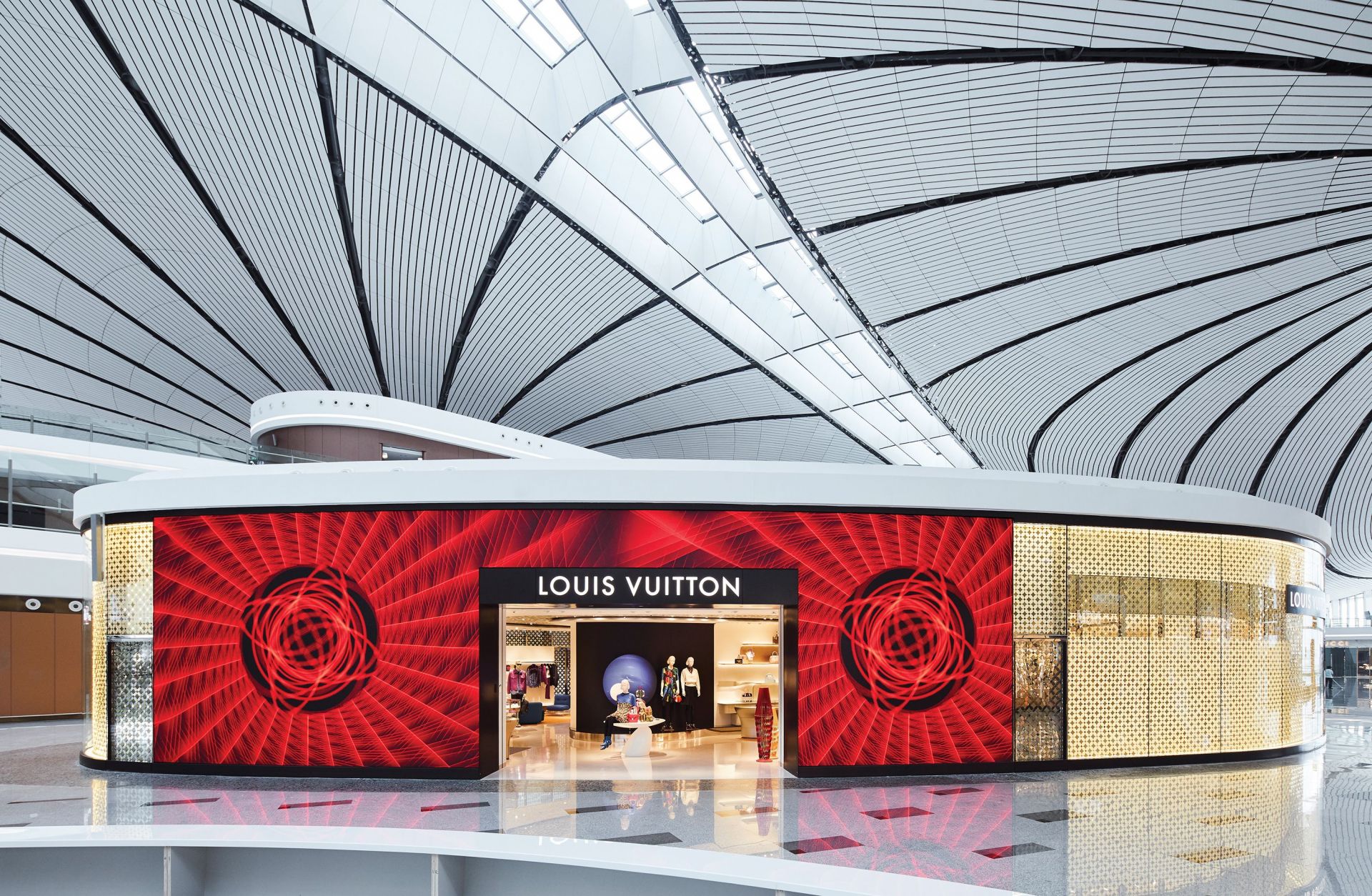 Louis Vuitton spearheads the impressive range of international luxury brands to feature in the domestic duty paid zone at Beijing Daxing International; the new airport symbolises China's status as a leader in the travel and travel retail world as a new decade begins (one of the CDFG beauty stores is pictured below)
It seems certain that the most exciting growth period still lies ahead as we enter the third decade of this century. That optimism is fuelled by Moodie Davitt Business Intelligence Unit projections and a report in 2019 from Morgan Stanley, which projects a quadrupling of China's duty free sales (from the likely 2019 figure) to US$24 billion by 2025.
"China represents just 8% of the global duty free market, even though Chinese consumers accounted for a third of global duty free sales in 2018, on our estimates," the analyst comments.
Multiple factors, ranging from strong government support for the sector to lower duty free pricing within China to increased professionalism and consumer focus, will drive that progress, Morgan Stanley notes.
The conclusions mirror The Moodie Davitt Report's previously stated view that there will be further liberalisation of duty free policy both on Hainan Island (offshore duty free) and on the Mainland.
If one of the great dynamics of 21st century travel retail has been the impact and importance of the Chinese traveller abroad, then projects such as CDFG's Haitang Bay mall and others show just how determined the government is to maximise Chinese spending at home. How that policy plays out in the years ahead will determine the fortunes not just of CDFG and of fellow state-led travel retailer CNSC but of an entire industry in the decade ahead.
Hong Kong crisis
It is difficult to over-state the impact of the Hong Kong protests on the economy of the territory over the past year. In the third quarter Hong Kong fell into recession for the first time in a decade and is forecast to have the sharpest slowdown in growth of any advanced economy in 2019, according to the Financial Times.
Visitor numbers dropped by as much as -26% in Q3, with Mainland Chinese down by -29% - a critical fall as they represent around 70% of inbound tourists to Hong Kong. That translated into a slump in retail sales and in luxury goods purchases. A strong barometer of the luxury market is how LVMH performs – the company said that its business in Hong Kong fell by -25% in Q3 – with sales down as much as -40% in each of August and September.
Hong Kong International Airport (HKIA), to and from which many visitors arrive and depart, is another bellwether. Traffic across the year was down by -3.4% in the first 11 months, but that masks the sharp downturn since the crisis deepened in mid-July. November passenger volumes fell by -16%, with declines from Mainland China a key contributor. That has had a knock-on impact on retail and F&B, which relies so heavily on Mainland spend. However, due to its diverse passenger mix and heavy transit influence, HKIA has weathered the storm better than expected.
If there is a possible upside ahead, it may be that following past crises, including SARS, Hong Kong International has bounced back fast – with double-digit growth in the subsequent year as airlines quickly reinjected capacity back into the market. How rapidly that happens will depend on whether and when the current protests subside.
The scene at Hong Kong International's arrivals area on 13 August as protesters brought the airport to a standstill
Consolidation
2019 was a year of vigorous M&A activity at retailer and brand level, with some heavyweight moves, especially in luxury and beauty – from the LVMH swoop for Tiffany, to Estée Lauder acquiring Dr. Jart+ and L'Occitane snapping up Elemis, among other deals.
Among travel retailers, despite Dufry's control of a near third of the airport retail business today after over a decade of consolidation, the market remains fragmented.
We can expect Dufry as the industry leader to maintain its focus on acquisitions, albeit probably on a more modest level than in the past. Even in a relatively quiet year for M&A it completed the acquisition of a 60% stake in RegStaer Vnukovo, while its Hudson business extended its US market presence with the addition of the Brookstone brand and moved into F&B with a deal to buy OHM Concession Group.
Other major retailers are playing their part too. Lagardère Travel Retail has been an acquisitive force alongside Dufry in the decade that is ending, and it bolstered those credentials with its purchase of International Duty Free in Belgium this year.
Hotel Shilla's acquisition of a 44% stake in the parent company of US travel retail 3Sixty Duty Free & More (formerly DFASS Group) is an important step in Shilla's planned global expansion. Meanwhile rival Lotte Duty Free took over the Australasian interests of JR Duty Free at the turn of the year as it seeks to burnish its own international credentials.
The world's top 25 travel retailers for 2019, measured by their 2018 sales, were revealed in the July/August 2019 edition of The Moodie Davitt Report
The US market saw further consolidation with WHSmith's move for Marshall Group and Stellar Partners acquiring Pacific Gateway Concessions, while Gebr Heinemann made an acquisition on a relatively modest but strategically important level with border operator Kapo Duty Free.
The consolidation momentum will continue in 2020 with Asia Pacific the likely focus. We already see the rise of Asia's power players as an unmistakeable long-term trend.
South Korea's two powerhouse duty free companies, Lotte and Shilla, are firmly fixed in travel retail's top ten; Shinsegae Duty Free is moving up fast. King Power International (Thailand) has surged higher in the annual sales rankings compiled by The Moodie Davitt Report on the back of Thailand's popularity as a travel destination; and Sunrise Duty Free and China Duty Free Group (now aligned) are benefiting within China and beyond from the continued emergence of the Chinese traveller.
Among these market leaders the drive to diversify is a common theme, whether in terms of markets and regions, or with their rising investment in new channels such as downtown, border, maritime, food & beverage, convenience retail and, of course, ecommerce. With the long-term picture for travel and tourism extremely positive, investor appetite for travel retail as a high-value, high-growth opportunity is likely to build in the 2020s.
Dufry maintained its market leadership position – four years after assuming number one status from DFS Group, and buoyed by its acquisitions of The Nuance Group and World Duty Free. The big story this year was the +118% leap in turnover at China Duty Free Group, aided by its consolidation of Sunrise Duty Free (Beijing and Shanghai).
New channels, new business
Modest early performance in the industry's newest trading channels – from arrivals in Russia and South Korea to land borders in Brazil – should not mask the long-term opportunity these represent.
Perhaps the biggest among these was the opening up of land border stores on the Brazilian side of that country's frontiers with its neighbours in 2019. So far, around a dozen stores have opened but many more are anticipated with rules allowing land border duty free in 33 Brazilian cities or towns.
Sales over several months across the fledgling channel only reached around US$600,000 by late October but this figure will surge in the months and years ahead. Leading players such as Dufry and Duty Free Americas pledge heavy investment in stores at multiple crossing points, while many new retailers are embracing the opportunity too.
Meanwhile, in an era when the viability of carrying heavy goods onboard aircraft is increasingly being questioned, the arrivals business is being presented to legislators as one industry solution – and crucially retains sales at home that are traditionally made overseas.
In Russia, Gebr Heinemann is building on its presence with stores in Moscow, St. Petersburg and Ekaterinburg, while in South Korea the early performance of Incheon International Airport's new arrival duty free stores opened on 31 May suggests that revenue is tracking behind target. However, the addition of tobacco sales from next February should be a game-changer, both as a sales generator in its own right and as a footfall driver for other categories.
In all cases, once initial bureaucratic and legislative hurdles are overcome, and as consumer awareness builds, the arrivals business could build quickly in what are already powerhouse travel retail markets.
Gebr Heinemann is building on its presence in Russia, complementing its strong airport departures business with recent openings in arrivals. Pictured is the retailer's operation at Moscow Sheremetyevo Airport Terminal B.
Riding the cruise wave
The rapid evolution of cruise retail and the onboard experience continued in 2019 with new vessels and some innovative partnerships standing out.
MSC Cruises took its retail offer to the next level with the launch of MSC Grandiosa, which contains 1,200sq m of retail space – the largest dedicated shopping space ever built on a cruise ship. MSC Grandiosa also has the flexibility to have pop-ups and eye-catching retailtainment events onboard.
Royal Caribbean's first purpose-built ship for the Asian market, Spectrum of the Seas, has a retail offer to match, through Starboard Cruise Services. This vessel added a fresh layer of innovation with the introduction of The Boutique: a shopping area limited to guests staying in Golden Suites, who can book a shopping experience with a retail specialist.
MSC Grandiosa's vibrant and eye-catching promenade offers multiple shopping opportunities with beauty among the highlights
On these new ships, the lines between retail and the wider onboard entertainment and experience are being increasingly blurred. This takes spectacular form on Costa Venezia, where Starboard and Bvlgari delivered the Bvlgari Jewelry Fashion Show that connected entertainment with the shopping experience. Expect more such partnerships to allow cruise retail and its reputation to flourish at the luxury end in future.
That perspective was nicely encapsulated by Harding Managing Director James Prescott recently as he commented on the cruise concessionaire's refurbished retail offer created for Carnival Splendor, Carnival Cruise Line's largest ship for the Australian cruise market.
"Understanding that the ship is the destination, we have worked tirelessly with Carnival Cruise Lines to create an immersive retail space where retail brands can flourish, integrating and embedding themselves with the cruise experience," Prescott said.
With global cruise numbers expected to pass 30 million in 2019 and hit 32 million in 2020, according to the Cruise Lines International Association (CLIA), new ships with state-of-the-art retail to match are essential to meet demanding consumer needs. The rise of the cruise sector is one solid trend that will continue into the decade ahead.
Starboard Cruise Services revealed almost 8,000sq ft of striking new retail space onboard Spectrum of the Seas
Airlines and a new eco-system
"We saw an opportunity in the trends towards online shopping and technological advancements that allowed more personalised omnichannel sales and fulfilment. We saw opportunity in our huge customer database of more than 35 million people; our personalised marketing technology; our global reach; and our logistics capabilities."
That's how KrisShop Chairman Campbell Wilson described the opportunity for Singapore Airlines to become a player in the travel retail eco-system – by partnering with experts and by having 'skin in the game'.
KrisShop curated a pop-up exhibition divided into several experiential zones at Raffles Hotel in Singapore in August to celebrate the comprehensive brand revamp of the travel retail platform
Its alliance for the new KrisShop programme with 3Sixty Duty Free, SATS and technology partner AOE shows how far-sighted airline is willing to reimagine inflight shopping as an omnichannel marketplace – with the carrier itself taking centre stage in travel retail instead of being a fringe player in inexorable decline.
Others such as AirAsia with its OurShop programme are using data to create both product and experiential offers that represent alternatives to the traditional travel retail proposition. The days of the antiquated shopping trolley might be numbered but don't count out inflight retail.
Welcome to the new KrisShop: Video highlights of the omninchannel offer – a result of the collaboration between, Singapore Airlines, 3Sixty Duty Free, SATS and tech partner AOE
Others – both airlines and travel retailers – are following, with big implications for ground retail too. Joint airport–airline–retailer propositions could take advantage of digitalisation through combined data collection, information-sharing, transparency and flexibility of fulfilment
Expect such elements to be central to more conversations in the decade ahead. It's conceivable that consumers themselves and how they wish to transact will drive greater collaboration between airports, airlines, retailers and brands to create a new kind of global travel retail eco-system.
As AOE Founder & CEO Kian Gould, who worked on the redefined KrisShop, said at The Trinity Forum in Doha: "Without data there is no future in digital travel retail, and airlines have the data."
OurShop is a digital marketplace designed to connect international travellers with airport, high street and local specialist retailers
Brexit
It's now three and a half years since UK voters decided to leave the European Union – and the upheaval and uncertainty that was unleashed has intensified rather than subsided as we enter a new decade.
Three years ago in these pages we wrote that "hopes of a return to a full duty free regime between the UK and EU states have taken firm root, underpinned by a piece of legislative logic: that once the UK leaves, the treaties that bind it to EU travel rules – including on duty free – no longer hold sway. As of 'Brexit Day', [at that time scheduled for 30 March 2019] therefore, EU travellers heading to the UK will be able to purchase duty free as things stand. Britain's exit from the Union also paves the way for a return to duty free sales in the UK (for EU-bound travellers), with some minor legislative changes."
The journey towards the UK's exit since has been bitter, divisive and long – and yet very little has been decided. Now, it appears, with the Conservative overwhelming victory in December's election, the momentum has swung behind Brexit to occur on 31 January.
For the industry, the potential lifeline of a return to a duty free regime in both directions still exists, but with some caveats.
For one, any return will not be immediate. Once the UK leaves, it begins a period of transition. Under the terms of the withdrawal agreement struck by the Prime Minister (now expected to be ratified), the UK would stay in the EU single market and the customs union during the transition – meaning no duty free shopping in either direction. That transition will end on 31 December 2020, says the UK government.
From that point, depending on whether a new trade deal has been agreed, we could see a return to duty free for inbound and outbound travellers from and to the EU.
In this respect, the industry has work to do, notably on the UK side. As it stands [with the current position based on a 'no deal' Brexit], the UK government would remove duty and tax from alcohol and tobacco goods sold to travellers from the UK to the EU, but it has refused to remove VAT from other product categories available airside. This is despite the EU signalling its intention to remove duty and tax from all airside products if duty free rules return. That legislative knot will need to be untied or it will invite a new wave of uncertainty among travellers over the rules.
There will potentially be opportunities of course, at airport, ports and onboard ferries – and indeed train stations.
In September, UK Chancellor Sajid Javid said a return to duty free rules would apply to "UK ports, airports and international train stations". Dufry company World Duty Free already operates at St. Pancras International and could in theory also open at Ashford and Ebbsfleet.
The ETRC plans to lobby EU authorities to allow sales at EU international train stations, to mirror the UK rules in the event of duty free's return.
But as at all other points in this saga since 23 June 2016, predicting what will happen and how long it might take requires the skills of a modern-day Nostradamus.

The Moodie Davitt eZine
Issue 274 | 31 December 2019
The Moodie Davitt eZine is published 20 times per year by The Moodie Davitt Report (Moodie International Ltd).
© All material is copyright and cannot be reproduced without the permission of the Publisher.
To find out more visit www.moodiedavittreport.com and to subscribe, please e-mail sinead@moodiedavittreport.com