While there have been plenty of sector-specific challenges and external headwinds, 2019 has been characterised by a series of spectacular openings and surprising tender wins.
Three wonders of the aviation world
"The risk in describing Daxing is that you might run out of superlatives. It is an extraordinary testament to architectural genius; and a statement that airports can be beautiful as well as functional, soul-enriching while commercial and efficient." – Martin Moodie, The Moodie Blog
The starfish-shaped, Zaha Hadid-designed Daxing International Airport in Beijing has an initial four operational runways (three more will be added in time) and capacity for 45 million passengers, rising to 72 million passengers per year.
The airport is layered over four levels, offering spectacular panoramas, magnificent architecture, oustanding artworks, and plentiful natural light. Its vast glistening white curved ceiling structure and the exhilarating panoramic vistas combine to beguile and then astonish.
At Daxing, CDFG operates a mix of anchor stores together with several specialist shops in the international zone, plus a range of fashion stores in the domestic area
This beautiful piece of art spells out the word love in multiple languages. What a fine message for an airport that serves as a human crossroads to be extolling.
Chinese heritage is brilliantly expressed in some sumptous nods to tradition
Everywhere you look, from check-in to gate areas, there are splendid panoramas
China Duty Free Group operates a mix of anchor stores plus several specialist shops in the international zone, and a range of fashion stores in the domestic area
By the end of 2019, China Duty Free sales will be five times greater than three years ago, according to President Charles Chen, with beauty leading the charge
Lagardère Travel Retail is the largest retailer at Daxing International Airport, with over 30 units, covering luxury fashion, beauty, travel essentials, specialty and food & beverage, on the domestic level
"People will come to talk of the before and after Daxing in Chinese airports, just like there was the before and the after with Beijing Capital International Airport T3 for the Olympics," says Lagardère Travel Retail CEO North Asia Eudes Fabre
Highlights of the spectacular opening ceremony for CDFG's first 28 stores at Daxing
Just as Daxing will play a vital role in the Chinese aviation and travel retail industries – and beyond – Istanbul Airport looks set to play a big part in defining the next decade of global aviation and related commercial revenues.
Bold vision to exciting reality: Gebr Heinemann and Unifree Duty Free operate some 53,000sq m of retail space at Istanbul Airport
The airport – which will host the annual Airport Food & Beverage (FAB) Conference & Awards on 23-24 June 2020 –became fully operational in April after operations were transferred over from Istanbul Atatürk.
Istanbul Airport features a 32,000sq m dedicated food & beverage area, and a 52,500sq m duty free shopping zone – the largest of its kind in the airport world, managed by Gebr Heinemann and Unifree.
"Our challenge is to be the biggest and the best," said IGA CEO Kadri Samsunlu. Having been on location recently, and seen the scale and ambition for the future, we can say with confidence that it's clear that Istanbul will challenge the major Gulf hubs for a share of the international air travel market between east and west.
Another new wonder of the aviation world to open in 2019 is Jewel Changi Airport in Singapore. The spectacular 135,700sq m complex at the heart of Changi Airport houses over 280 retail and F&B outlets, one-of-a-kind play attractions, a hotel, and aviation facilities within one of Singapore's largest indoor gardens. Designed by world-renowned architect Moshe Safdie, Jewel features a distinctive dome-shaped facade made of glass and steel.
Some of its spectacular features include the HSBC Rain Vortex, the world's tallest indoor waterfall, and the Shiseido Forest Valley, a four-storey indoor forest.
Changi Airport Group described the facility as a "game-changing development that will raise Singapore's standing as a tourism destination". It has already helped elevate Changi Airport's reputation in commercial and customer experience terms, both among the travelling public and local Singaporeans.
Changing perceptions: Jewel Changi is more than an airport – it is a lifestyle destination
Openings of the year
Ever Rich Duty Free inaugurated phase one of a project which reimagines the retail and food & beverage offer at Taoyuan International Airport Terminal 2 in November. Fusing the local with the international, and the traditional with the modern, customer experience is key, including the seamless integration of magnificent artworks into the retail and food & beverage footprint.
Blending the traditional and the modern: Neon signage helps capture the eclectic (and electric) spirit of Taiwan
Startling transformation: The retail zone is vibrant and attractive with high-class design, an impressive use of digital media and an enhanced shopping flow
At Beijing Capital International Airport, CDF-Sunrise Duty Free created a world-first beauty cluster featuring eight luxury boutiques. The eight brand houses – Clé de Peau Beauté; Dior; Estée Lauder; Guerlain; La Mer, La Prairie, Lancôme; and Sisley – said the Terminal 2 zone offered a compelling template for other retailers and airports to adopt.
Another highlight opening in 2019 is Delhi Duty Free Services' elegant and engaging new walk-through departures store at Delhi Indira Gandhi International Airport Terminal 3. Standout features include personalised zones for key spirits brands, an enhanced beauty space with 14 new brands, and a new focus on digitalisation, with heavy promotion of the company's strong value messages in-store. Read more in our .
In Europe, the Prime Minister of France officially opened a new terminal at Paris Orly Airport that links the existing Orly West and Orly South terminals. The 80,000sq m Terminal 3 is a major advance for the airport. As well as creating a vast new 6,000sq m retail and F&B footprint (pictured below) in the building, it ensures easy access for passengers across all the departure areas of Orly. This will facilitate the development of transfer passengers over time; an important driver of travel retail sales.
Step changes in food & beverage
One of the most vibrant series of openings in the F&B sector this year was at Louis Armstrong New Orleans International Airport's new US$1 billion North Terminal. A number of well-known New Orleans chefs and brands have combined to create an authentic experience of the city. Delaware North said its aim was to "find out what makes New Orleans cuisine unique… and create concepts that will set a new bar for airport dining". Global restaurateur HMSHost introduced 15 concepts as it also made authenticity a priority. "This world-class airport is the newest jewel in the crown New Orleans has earned as a top tourist and hospitality destination," said a spokesperson for HMSHost partner Coaxum Enterprises-Kaleidoscope Strategies.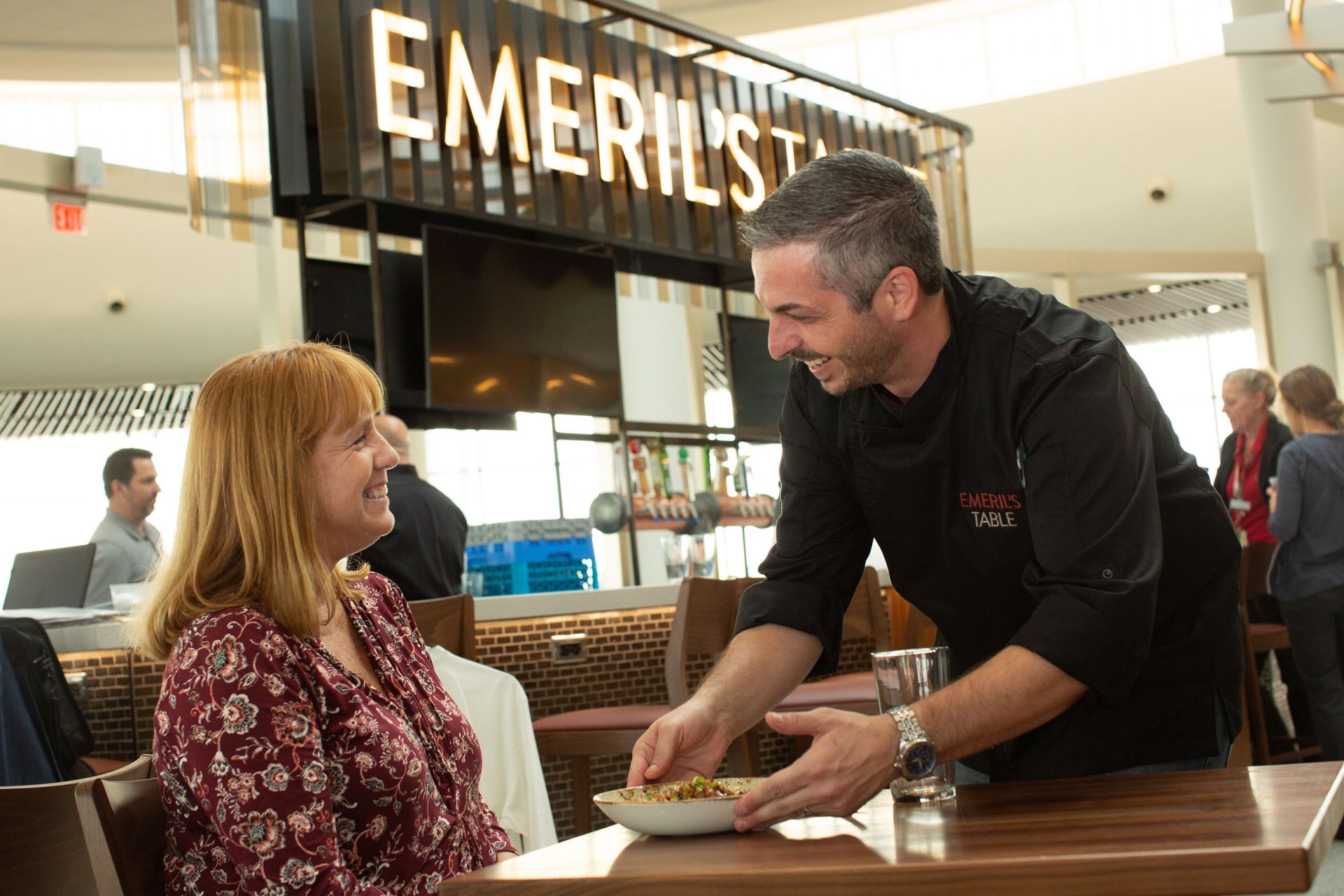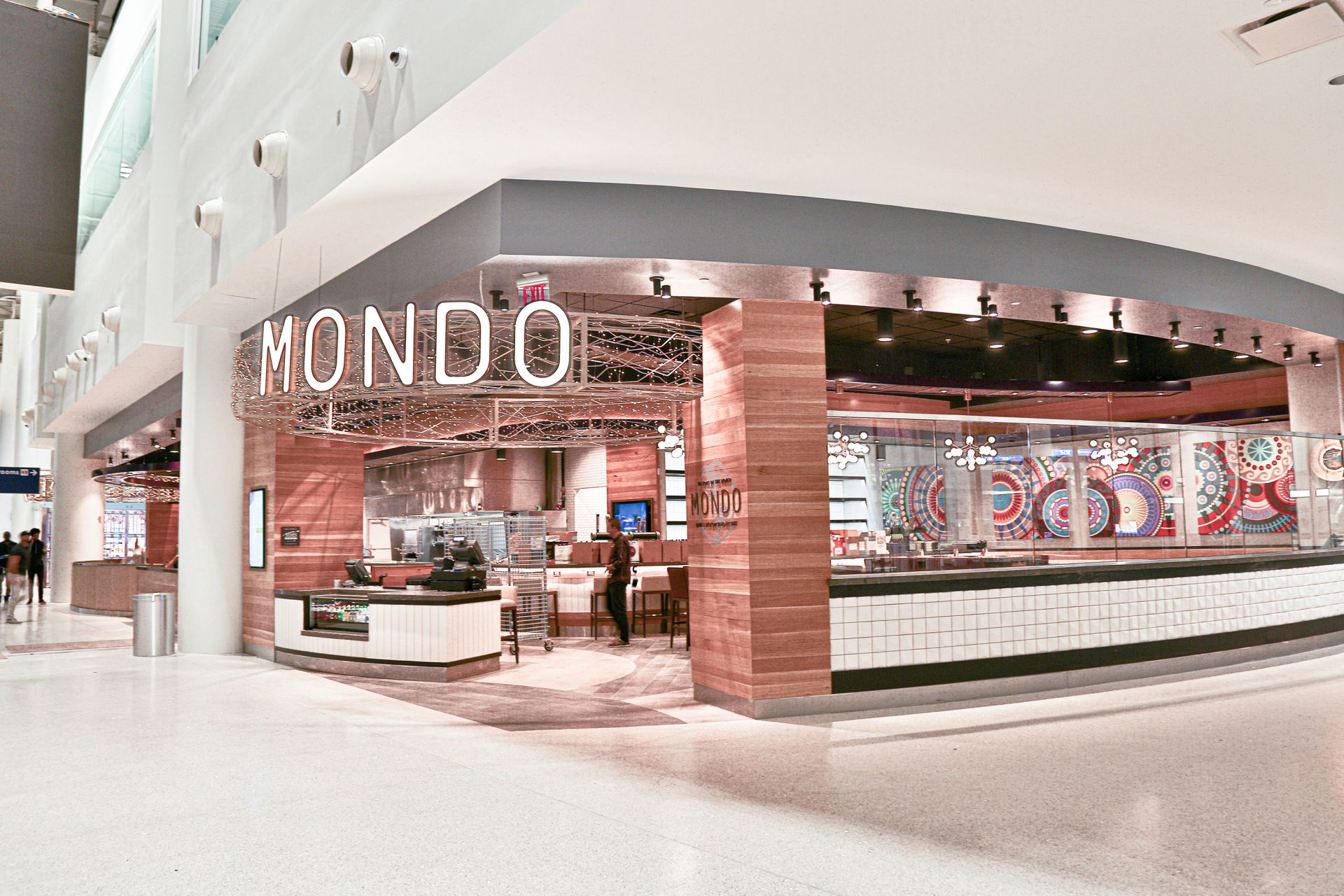 Hong Kong International Airport is one of Asia's most commercially progressive hubs, and is in the midst of implementing a hugely ambitious overhaul of its F&B offer. Impressive openings this year included the Lagardère Travel Retail-operated Wolfgang Puck Kitchen, popular Michelin-starred Shanghai concept Jardin de Jade [operated by SSP], JIA Group's Michelin-starred Cantonese restaurant Duddell's and celebrity chef Gordon Ramsay's Plane Food To Go.
SSP outlined plans to create "the best airport experience" in the Middle East region after signing an agreement with the Bahraini Minister of Transportation HE Kamal bin Ahmed Mohammed for the operation of 17 F&B outlets in the new terminal of Bahrain International Airport, which opens in March 2020. "Our intention is to create an open-hearted environment that captures the true spirit of hospitality and heritage of Bahrain culture," the company said.
Manchester Airport offered a glimpse of the 15 food & beverage outlets that will open as part of its new 'super terminal', which opens in a first phase in July 2020. Local favourites will take centre stage. HMSHost, TRG Concessions and SSP won the contracts to operate the concessions – with the airport announcing the results of its tender live on stage at The Airport Food & Beverage (FAB) Conference in Dallas in June.
Finally, a special salute to three food & beverage businesses who we think stood out for their inspired and innovative approach to airport dining this year, OTG of the US, particularly for its dazzling offer at George Bush Intercontinental Airport in Houston; HWH Investments of Dubai and Auckland Airport, which, together with its F&B Partners, enjoyed such a glorious night at this year's FAB Awards, including winning the big award, Airport F&B Offer of the Year.
Tradition meets modernity: S34 Gahwa Mezze Bar at DXB (Dubai International Airport) won the 2019 FAB Award for best expression of Sense of Place. The HWH Investments restaurant is a homegrown coffeehouse concept taking inspiration from the qahwas found within the quaint back alleys of Dubai.
On top of the world down under: Auckland Airport Senior Leasing Manager Kelly Hodder receives the ultimate FAB accolade for Airport F&B Offer of the Year from ceremony host, The Moodie Davitt Report President Dermot Davitt. It was the culmination of a big night for the New Zealand gateway at the June awards in Dallas.
Creativity, freshness and experience were the key to Delaware North Companies NZ Retail's Oma Artisan Bakery & Café at Auckland Airport winning a FAB Special Distinction Award at the 2019 award. Click on the icon to see how those elements combine in an outstanding offer.
OTG's Yume at George Bush Intercontinental Airport in Houston, winner of the FAB 2019 Most Instagrammable Experience Award. With its canopy of lanterns rising toward the ceiling, Yume is designed to exude the vibrant energy of an Asian night market, softened by the "dreamlike glow of lantern release ceremonies", as OTG lyrically puts it. The effect is both beguiling and beautiful.
Major deal: Bahrain Airport Company CEO Mohammed Yousif Al Binfalah, Bahraini Minister of Transportation HE Kamal bin Ahmed Mohammed and SSP EEME Managing Director George Antoniou at the signing with officials from all three companies
A "richer and deeper" Sense of Place: San Carlo Cicchetti (above) and Amber Alehouse are two of the local favourites that will open at Manchester Airport's new terminal
Tender time in 2019
Leading Korean travel retailer Lotte Duty Free made a major breakthrough in October when it was awarded the core category liquor & tobacco concession at Singapore Changi Airport. The company will succeed DFS Group – which chose not to contest the tender – when the long-term incumbent's contract expires next June.
The tenancy covers 18 liquor & tobacco stores across Changi's four terminals, spanning more than 8,000sq m of retail space, making it Lotte's largest concession outside of Korea. Lotte Duty Free CEO Kap Lee (pictured left) said the contract win would help it "establish a bridgehead" to achieve its vision of becoming global number one in travel retail.
Also at Changi, Focus Network Agencies and The Nuance Group (Dufry) shared the concessions in the airport's Chocolate/Candy/Delicatessen tender covering the Departure/Transit Lounge stores in terminals 1, 2, 3 and 4.
In Thailand, King Power International Group defended its long-held status as the major airport duty free player. It beat off rival offers from a Bangkok Airways/Lotte Duty Free alliance, and a partnership between Royal Orchid Sheraton (Thailand), Empire Asia Group and Dufry-owned World Duty Free Group, to continue running the duty free business at Bangkok Suvarnabhumi and three regional airports until March 2031.
King Power Suvarnabhumi also captured concessions for other commercial zones at Suvarnabhumi, including food & beverage, services and foreign exchange.
In one of the big European tenders, incumbent Lagardére Travel Retail won the right to continue operating the duty free concession at Václav Havel Airport Prague, with a new ten-year contract. It will operate 24 retail units across 4,372sq m of space at the Czech airport.
Local focus: Czech brands and products form a cornerstone of Lagardére's offer at Václav Havel
The Shilla Duty Free was awarded the duty free concession in the North Side area at Macau International Airport, having previously run the business since 2014 in a joint venture with Hong Kong-based Sky Connection. The aggregate revenue for the next five years is expected to reach US$600 million, Shilla said.
And in headline-grabbing inflight news, Retail inMotion was awarded the contract to manage the travel retail programme for Cathay Pacific Group, covering both Cathay Pacific and Cathay Dragon. It will take over from incumbent Inflight Sales Group in early 2020.

The Moodie Davitt eZine
Issue 274 | 31 December 2019
The Moodie Davitt eZine is published 20 times per year by The Moodie Davitt Report (Moodie International Ltd).
© All material is copyright and cannot be reproduced without the permission of the Publisher.
To find out more visit www.moodiedavittreport.com and to subscribe, please e-mail sinead@moodiedavittreport.com