Sweet Dreams


are made of this
On 4 July, Heinemann Asia Pacific celebrated the Grand Opening of its Sweet Dreams by Heinemann stores at Hong Kong International Airport. The inauguration represented a first on two counts. It was the German travel retailer's debut at the Hong Kong gateway, and for Airport Authority Hong Kong it was the realisation of a decision taken in late 2016 to feature confectionery as a separate concession. Martin Moodie reports.
Red-ribbon moment: (Left to right) Heinemann Hong Kong General Manager Victor Chan; Airport Authority Hong Kong General Manager Retail Experience, Retail & Advertising, Kitty Lo; Heinemann Asia Pacific CEO Marvin von Plato; Airport Authority Hong Kong Executive Director, Commercial Cissy Chan; Airport Authority Hong Kong General Manager, Retail & Advertising Alby Tsang; and Heinemann Asia Pacific COO Johannes Sammann.
The Grand Opening of Sweet Dreams by Heinemann represents a vindication of Airport Authority Hong Kong's decision to break out confectionery as a stand-alone concession from the former all-embracing airside general merchandise contract. We have said many times that confectionery is often sold short in airport stores. It is frequently boring, template-driven, the result of sound disciplines of category management being taken too far at the expense of retailer flair, gut-feel, risk and vision.
Confectionery should be about fun. Colour. Vibrancy. Variety. And in the age of the Millennial shopper (or non-shopper) it needs also to be about differentiation, engagement, interaction, personalisation, provenance and localisation. There's lots of that with Sweet Dreams by Heinemann, including some lovely digital projections in the high-profile promotion zones, virtual reality, 3d-printing, selfie booths, retailer exclusives, Hong Kong products and packaging, and much more.
Heinemann doesn't make its Hong Kong International Airport (HKIA) debut as a generalist retailer. Here it is an out-and-out specialist. It simply has to make the category come alive. It has to lure travellers into the store as curious browsers and send them away as satisfied shoppers. By backing its hunch that a dedicated retailer, undistracted by other businesses, could make confectionery take off, Airport Authority Hong Kong potentially transformed the category landscape here. It just needed a retailer to take up the challenge.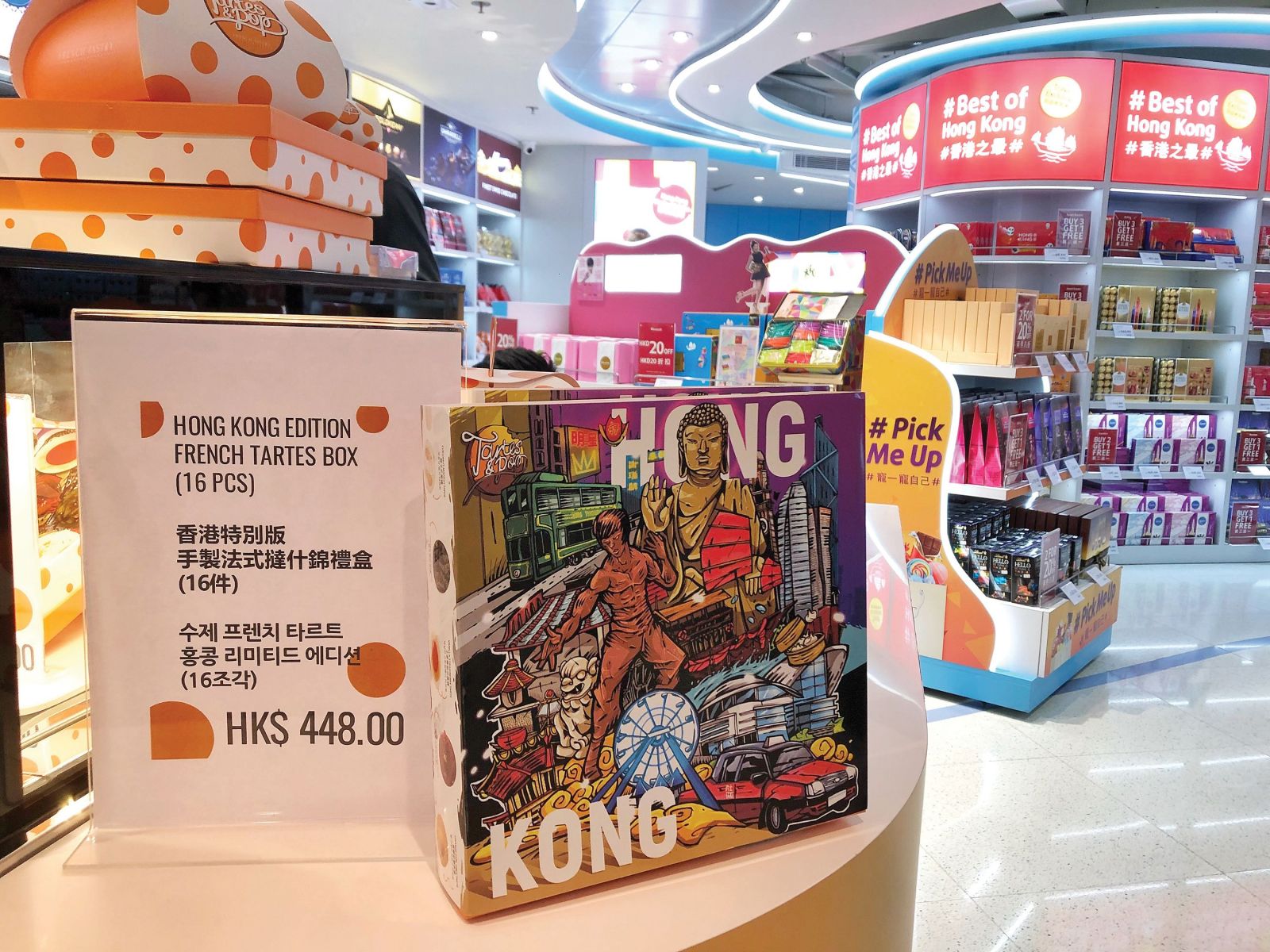 Destination Hong Kong: Themed local products and packaging are central to the offer.
In its tender, the authority demanded fun, flair and consumer engagement. Despite the constraints posed by sometimes less than optimum retail spaces, featuring low ceilings and shallow confines, Heinemann has responded with imagination and no little daring. It has recognised the universality of confectionery's appeal across demographic profiles and served up a tasty fusion of 21st century interactivity with the traditional sense of wonder that a sweet shop filled with goodies evokes in all of us.
Heinemann was awarded the concession last September. The three-year contract covers eight airside units in Terminal 1, ranging in size from 57sq m to 186sq m.
These are presented according to a series of themes: Carnival Dreamland; Waterpark Dreamland; Galaxy Dreamland; Space Station Dreamland; House of Candy Dreamland; Candy Cave Dreamland; Upside Down Dreamland; and Hot Air Balloon Dreamland.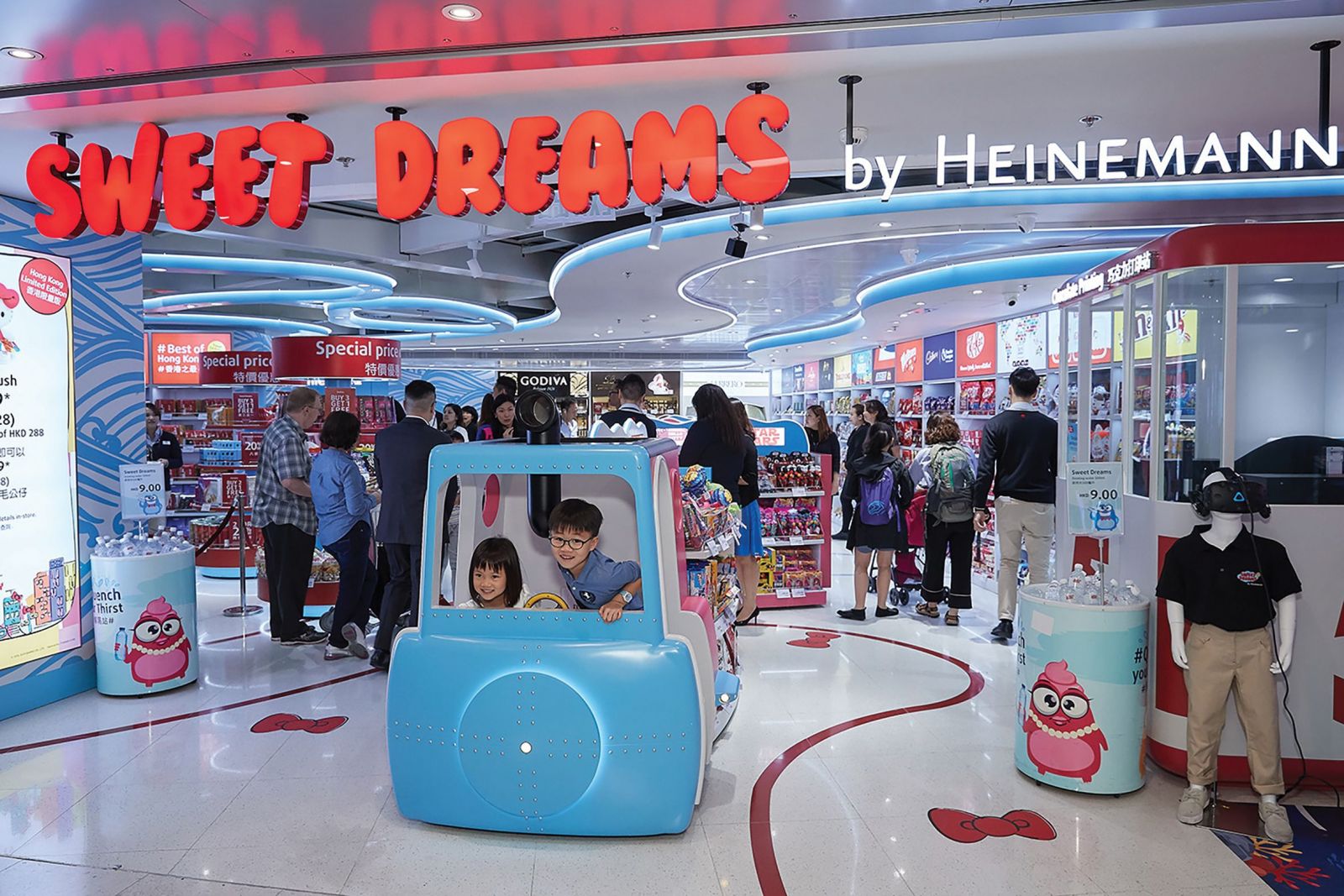 If you're going to engage with consumers in a confectionery store, it's a good idea to start with the young.
Speaking at the opening ceremony, Heinemann Asia Pacific Chief Executive Officer Marvin von Plato said: "This is a very exciting project for us and after six months of opening shops step by step we are very proud of this Grand Opening."
He described the opening as an exciting step in the Asia Pacific region for Heinemann since its initial set-up in Singapore and subsequent openings in Malaysia, Indonesia and Australia.
Airport Authority Hong Kong Executive Director, Commercial Cissy Chan said: "I have to thank you [Heinemann] for these eight very pretty stores. In fact they are even prettier than the very impressive renderings we saw in the tender submission. We see our retail objective as being to delight our customers and here at Sweet Dreams we think the concept is really good… and packed with fun."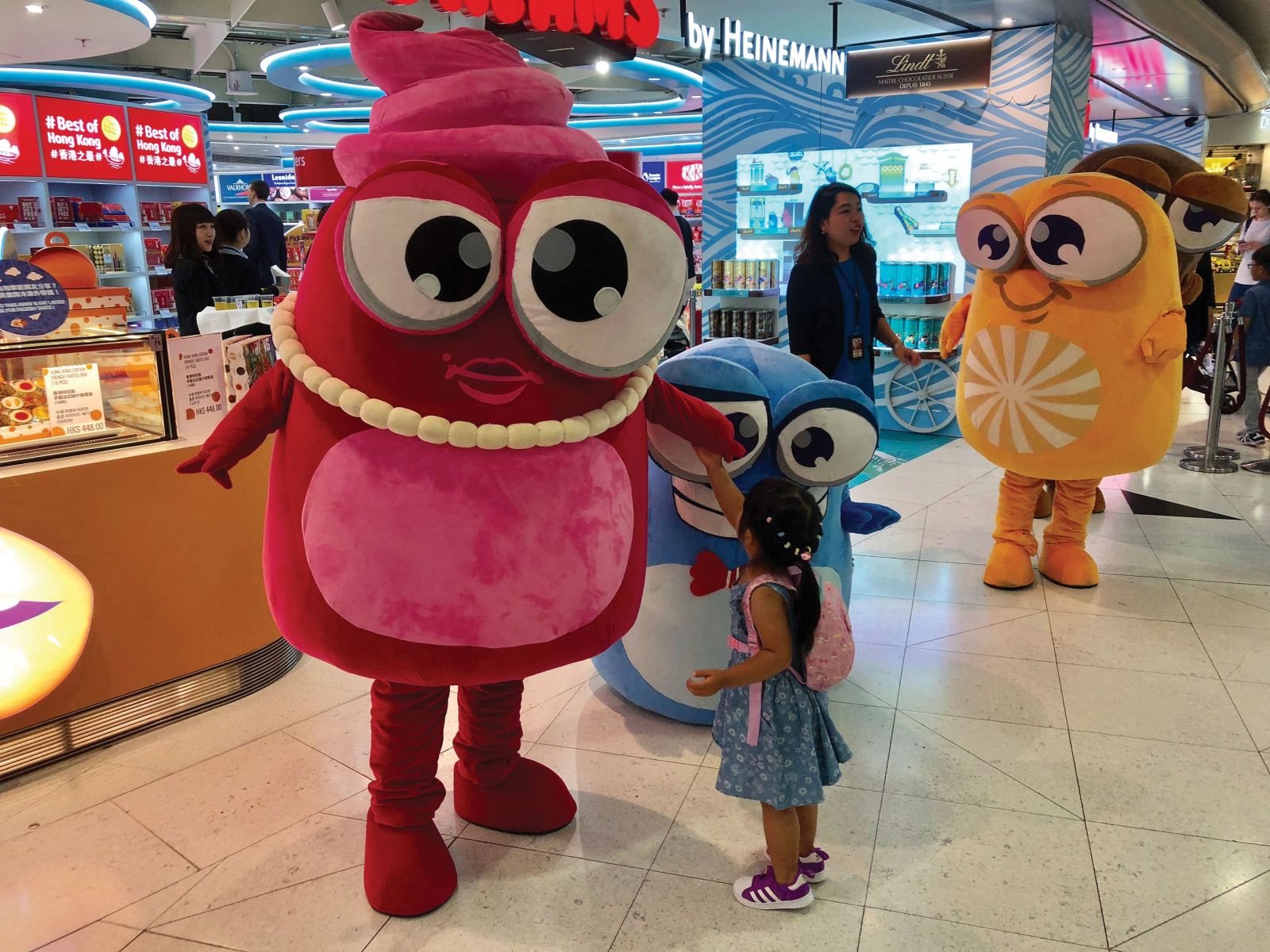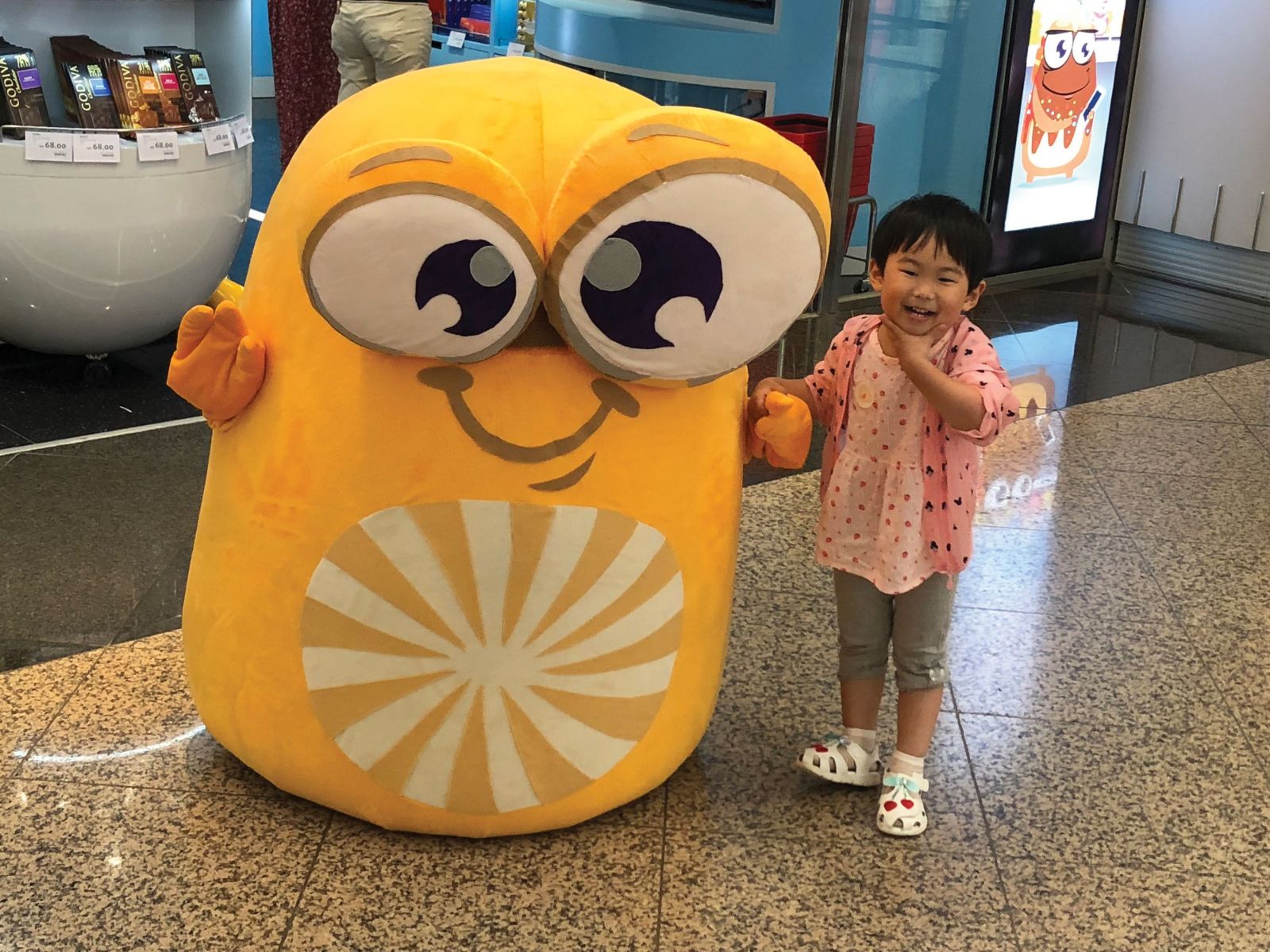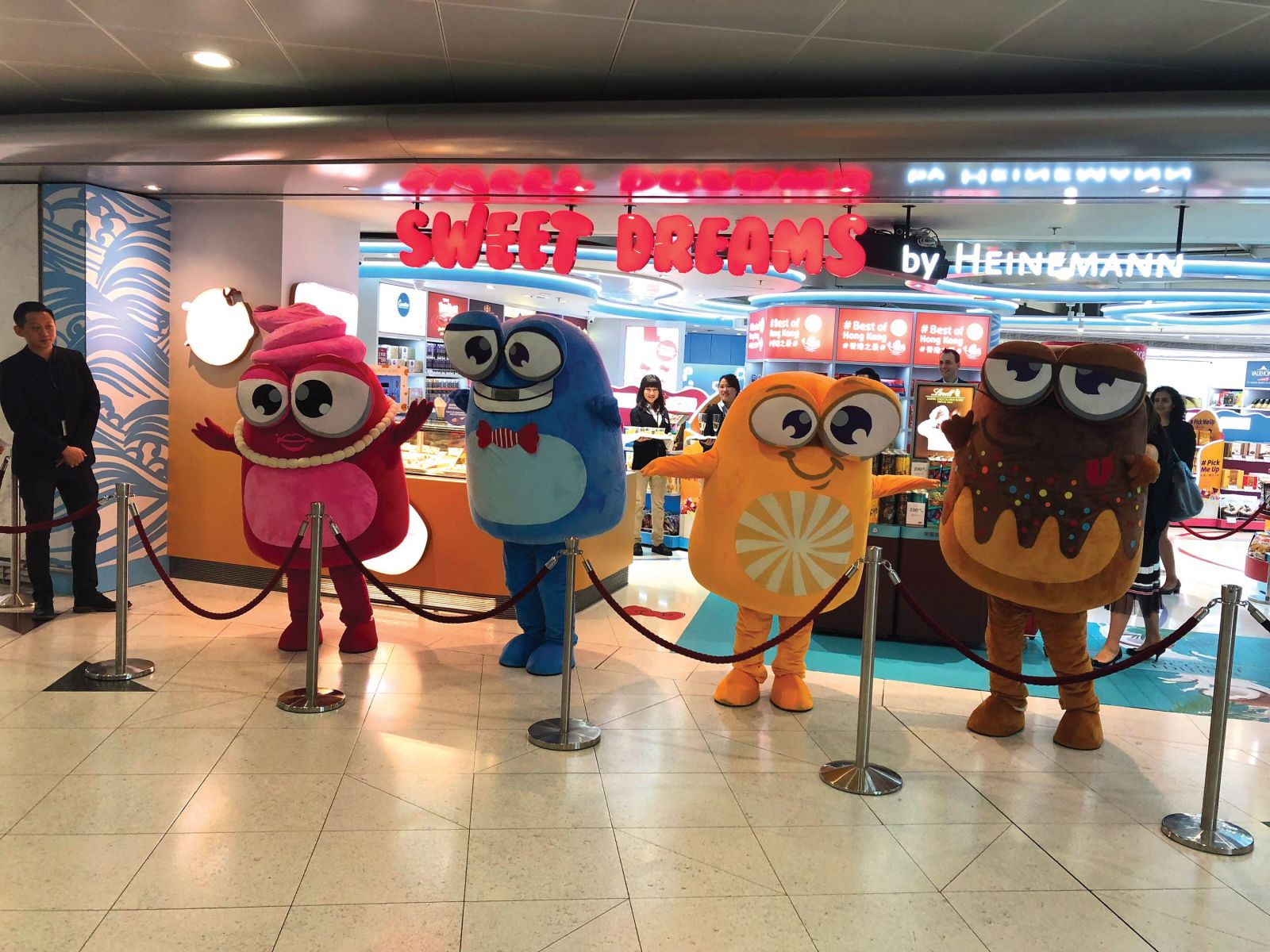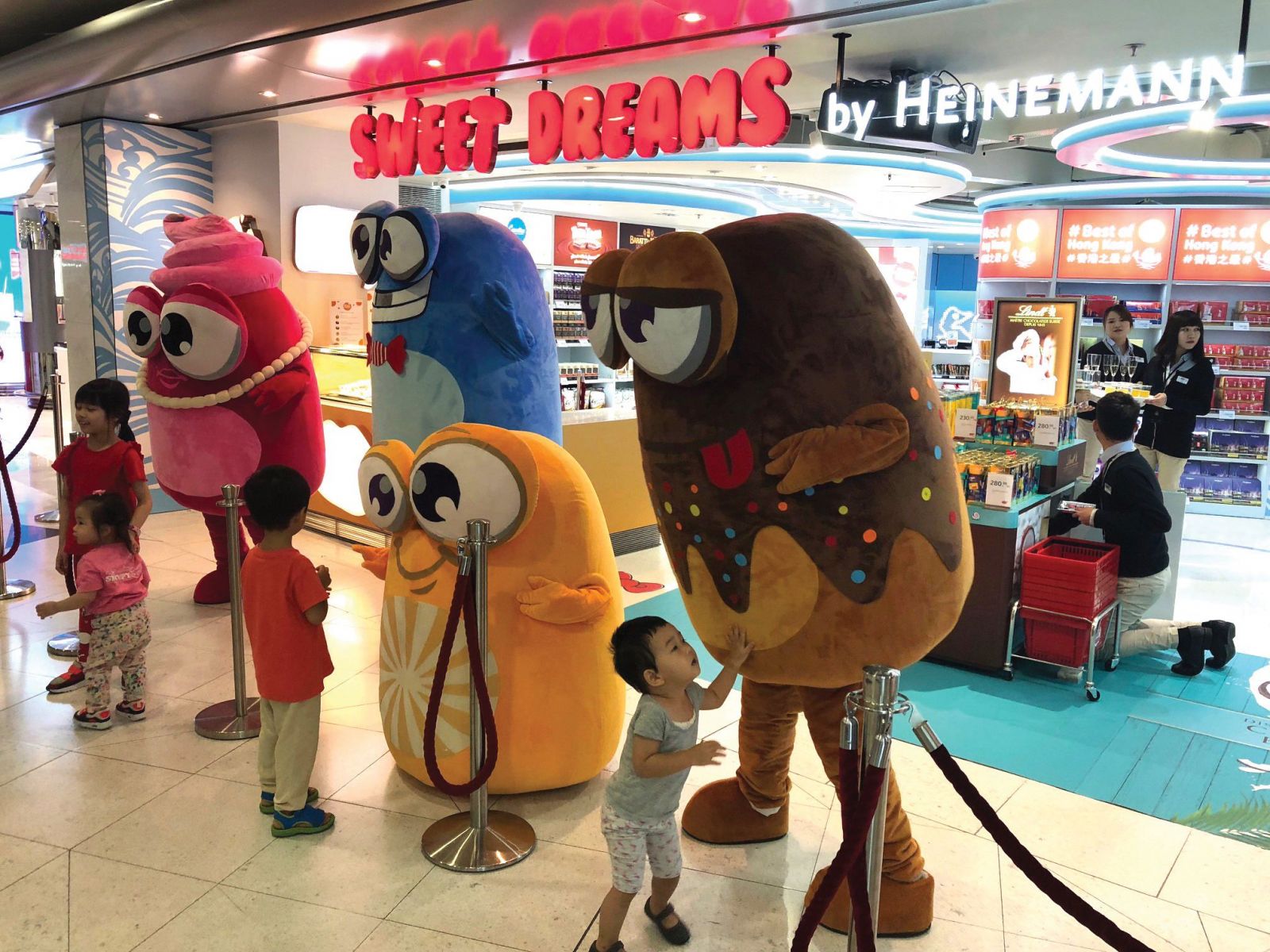 Mascot mania: Sweet Dreams by Heinemann has introduced a quartet of mascots who represent four key target consumer profiles. They are Candis (Modern Mummy, in red); Leland (Business Daddy, in blue); Tu (a playful, yellow-hued 5 year-old child); and Etta (a Millennial, in brown). These images capture the delight that the four engendered among some of Hong Kong International's younger travellers.
Speaking later to The Moodie Davitt Report, von Plato noted: "HKIA is one of the key airports in the Asian region and after the retail presence in Sydney and KLIA2, Hong Kong was the natural next step for Heinemann. HKIA gives Heinemann the opportunity to tap into close to 72 million passengers every year, and these numbers are only growing continuously.
"Heinemann's presence via eight distinct concepts under the Sweet Dreams by Heinemann banner further strengthens the confectionery category presence for the company in the APAC region."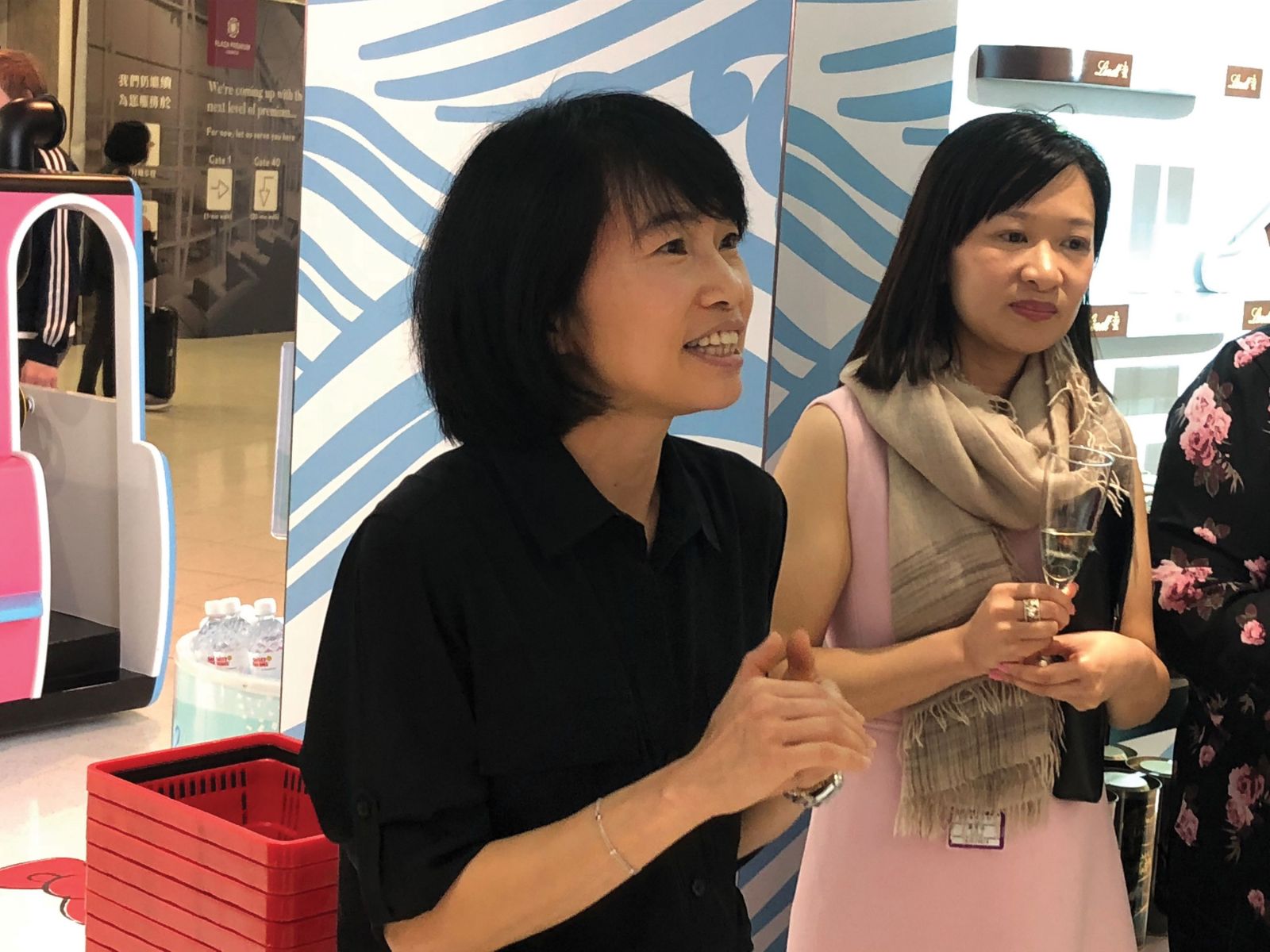 "I have to thank you [Heinemann] for these eight very pretty stores. In fact they are even prettier than the very impressive renderings we saw in the tender submission," said Airport Authority Hong Kong Executive Director, Commercial Cissy Chan (left), pictured with Airport Authority Hong Kong General Manager Retail Experience, Retail & Advertising, Kitty Lo.
On the company's aspirations for the business, von Plato said: "At Heinemann, our targets have always been about delivering the best shopping experience for our customers, while at the same time creating value for our partners. This remains the same for the new HKIA stores. It is our aim to constantly evolve the category, co-create best-in-class innovations and 'new-news' with our partners and be at the forefront of technological advances in retail, thereby continuing to help deliver memorable shopping experiences to our customers."
Highlighting the principles behind the Sweet Dreams concept, COO Johannes Sammann said: "Considering the nature of the category, we were clear from the beginning that our concepts had to be fun and unique. Just as an airport represents a gateway to a new destination, we wanted our eye-catching dreamlands to stand ready to welcome travellers into new whimsical worlds, making the Hong Kong International Airport confectionery experience one to be savoured."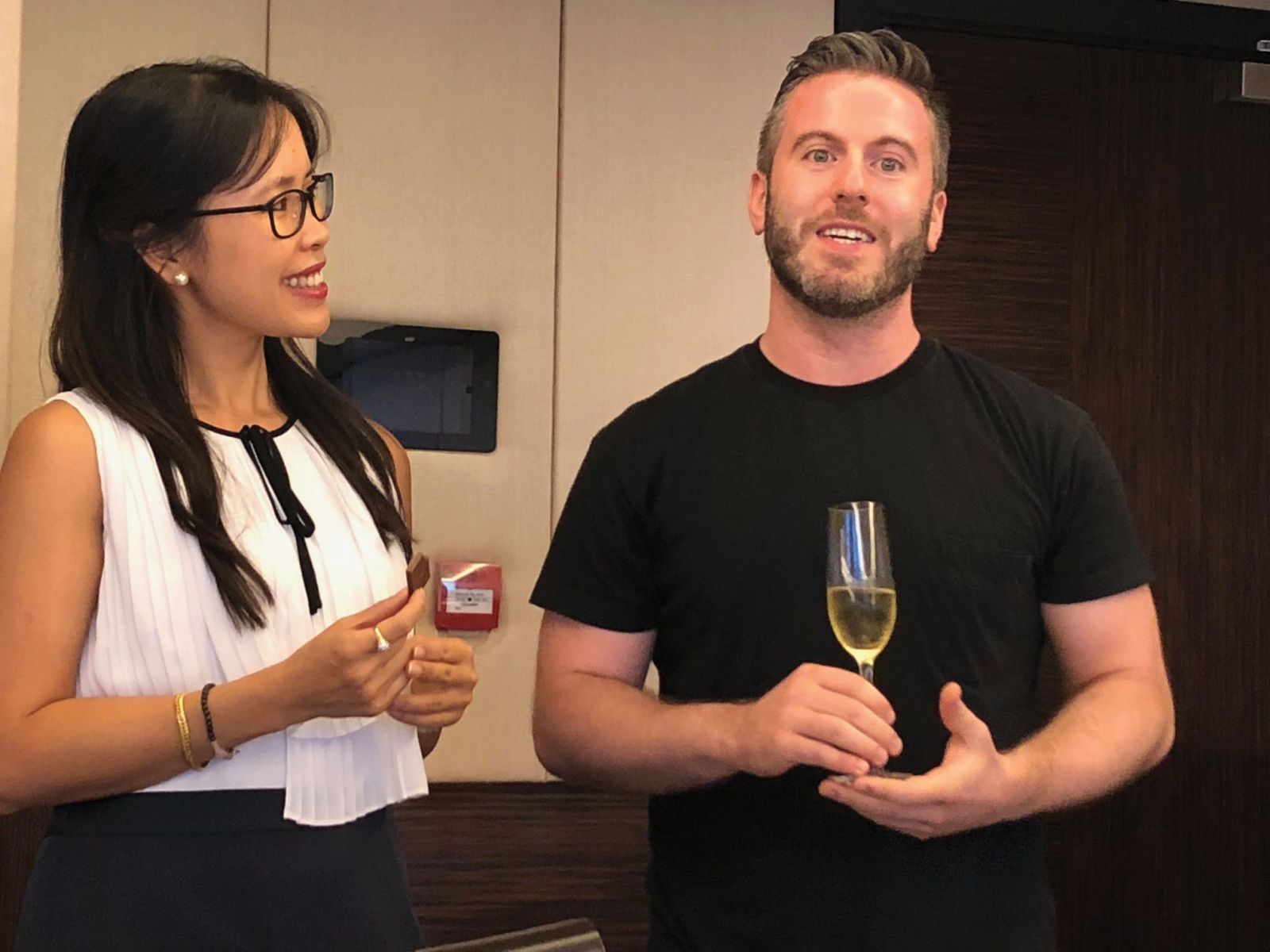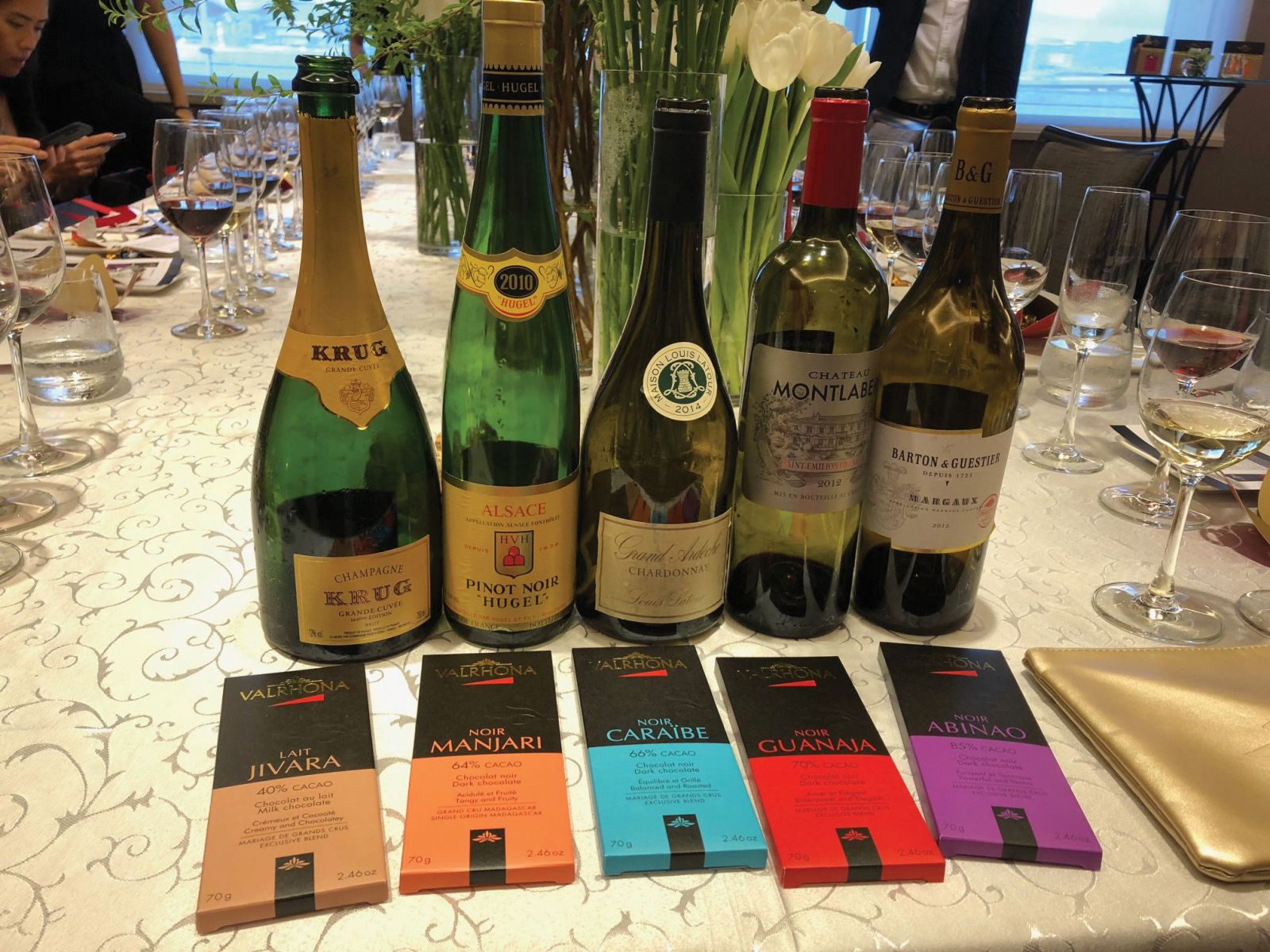 Does fine chocolate go with fine wine? That was the question posed during a fascinating tasting for the inauguration hosted by French premium chocolate house Valrhona and Heinemann Asia Pacific, led by Valrhona Travel Retail Manager Faozia Math-Ly-Roun and Hong Kong wine expert Elliot Faber. The answer? An emphatic yes.
In-store digitalisation and engagement are key features of the approach to the consumer, as Sammann underlines. "We have been able to integrate an exciting array of consumer engagement initiatives into each of the thematic store designs. Featuring virtual reality zones, selfie booths, personalised packaging stations, Nintendo switch, Mr. Hammer and Candy crush – there is never a dull moment.
"Through social media and digital geo fencing and targeting, we have been able to bring our campaigns and offers into the mobile devices of people, thereby helping us reach a much wider audience and helping drive penetration." 
Signs of the times: Colourful signage around the concourse cleverly helps drive footfall into the stores.
Everywhere the emphasis is on consumer engagement and interactivity. Millennials matter, says Heinemann.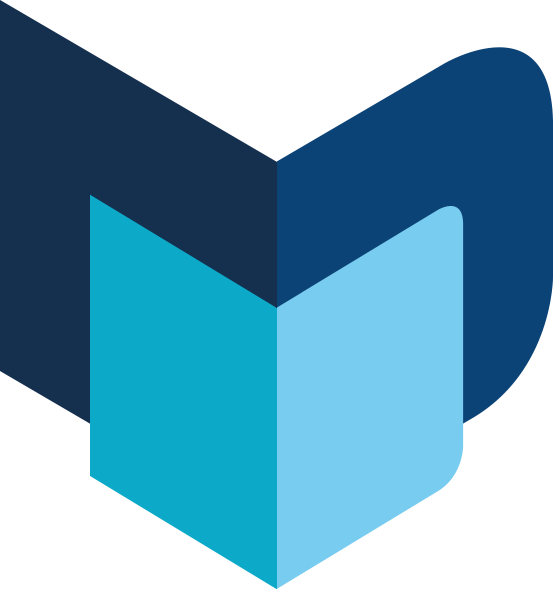 ---
The Moodie Davitt Report • The Online Magazine • Category Insight • September 2018