"Redefining the way confectionery looks in an airport"
FNA Group International overwhelmingly topped the rankings of confectionery & fine food travel retailers in this year's 'Dreamstore' survey conducted by The Moodie Davitt Report, with suppliers hailing the impact of its new Changi T4 store in particular. FNA Group Director, Retail & Local Sales Pamela Loo-Song talks to Dermot Davitt about rethinking traditional confectionery retailing at T4, and about the changing consumer mindset.
Each year The Moodie Davitt Report canvasses opinion from the world's leading brand owners about who they identify as the world's leading travel retailers. We seek suppliers' views on which retailers at which airports really showcase best practice in their respective categories; which retail partners understand and reach out to their consumers; which add value to the travel retail proposition, and which stand for innovation and partnership?
The results create what we call our 'Dreamstore' and is, we believe, a highly useful barometer of who the best-in-class retailers are today, airport by airport.
In confectionery & fine food, one retailer stood out in 2018, as it did in previous surveys in 2015 and 2016: FNA Group International, owner of The Cocoa Trees and Cocoa & Co brands at Singapore Changi Airport.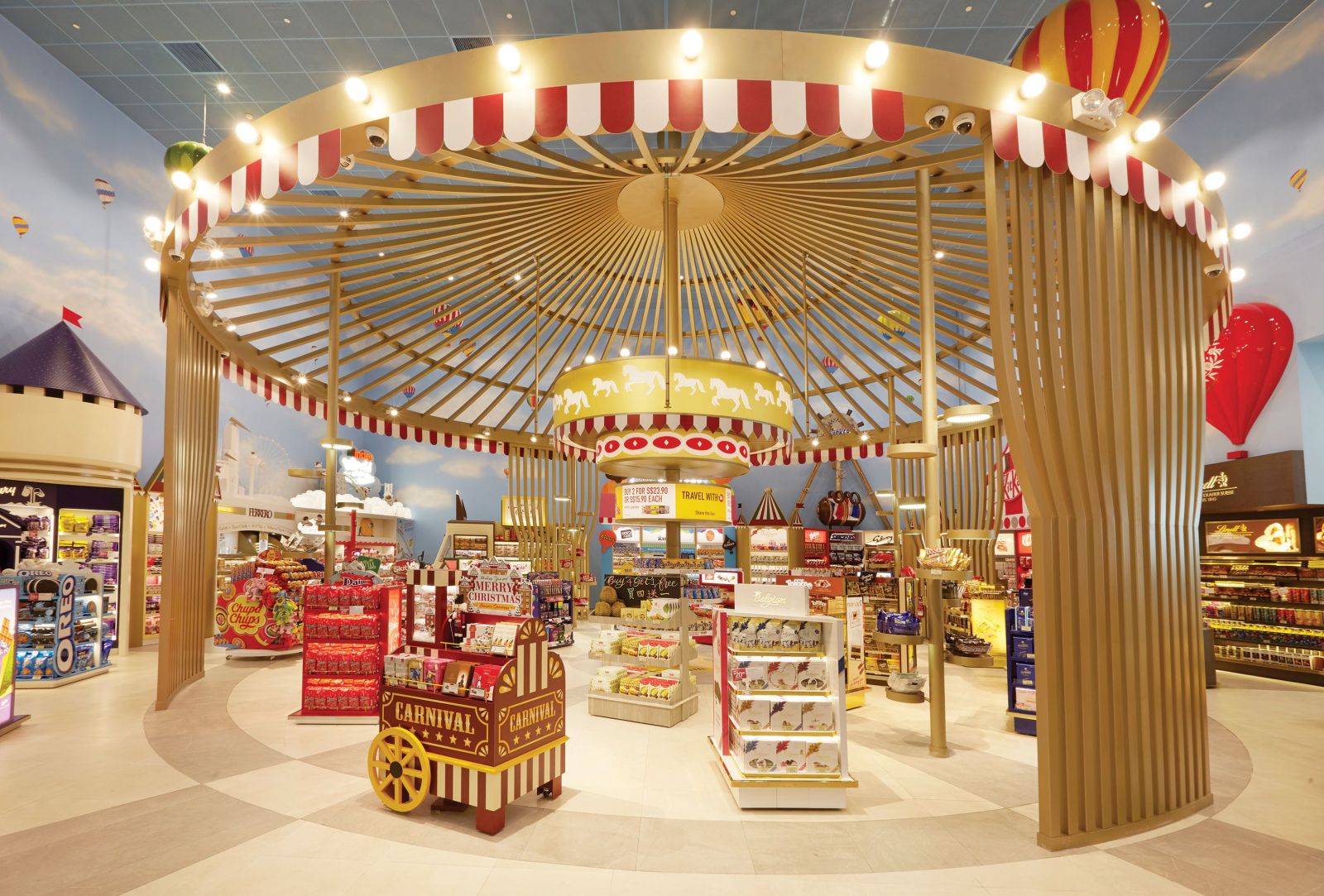 Built for browsing: The Cocoa Trees store at Changi T4 store has impressed supplier partners since it opened last October.
The retailer was acclaimed for its partnership, category management and investment in its retail environments. Its case was aided by the classy double height store at Changi's new T4, which opened on 31 October 2017.
The Cocoa Trees at Changi T4 is one of a series of striking 11m high stores, in a zone featuring both local and international brands. It is designed along the lines of a carnival theme, with bespoke installations from almost every brand, reflecting the fairground concept. The environment was built to encourage browsing and impulse purchasing.
One leading brand partner said: "FNA has an excellent focus on the category, appealing store design, with clear and transparent product presentation. In addition the staff is very well trained."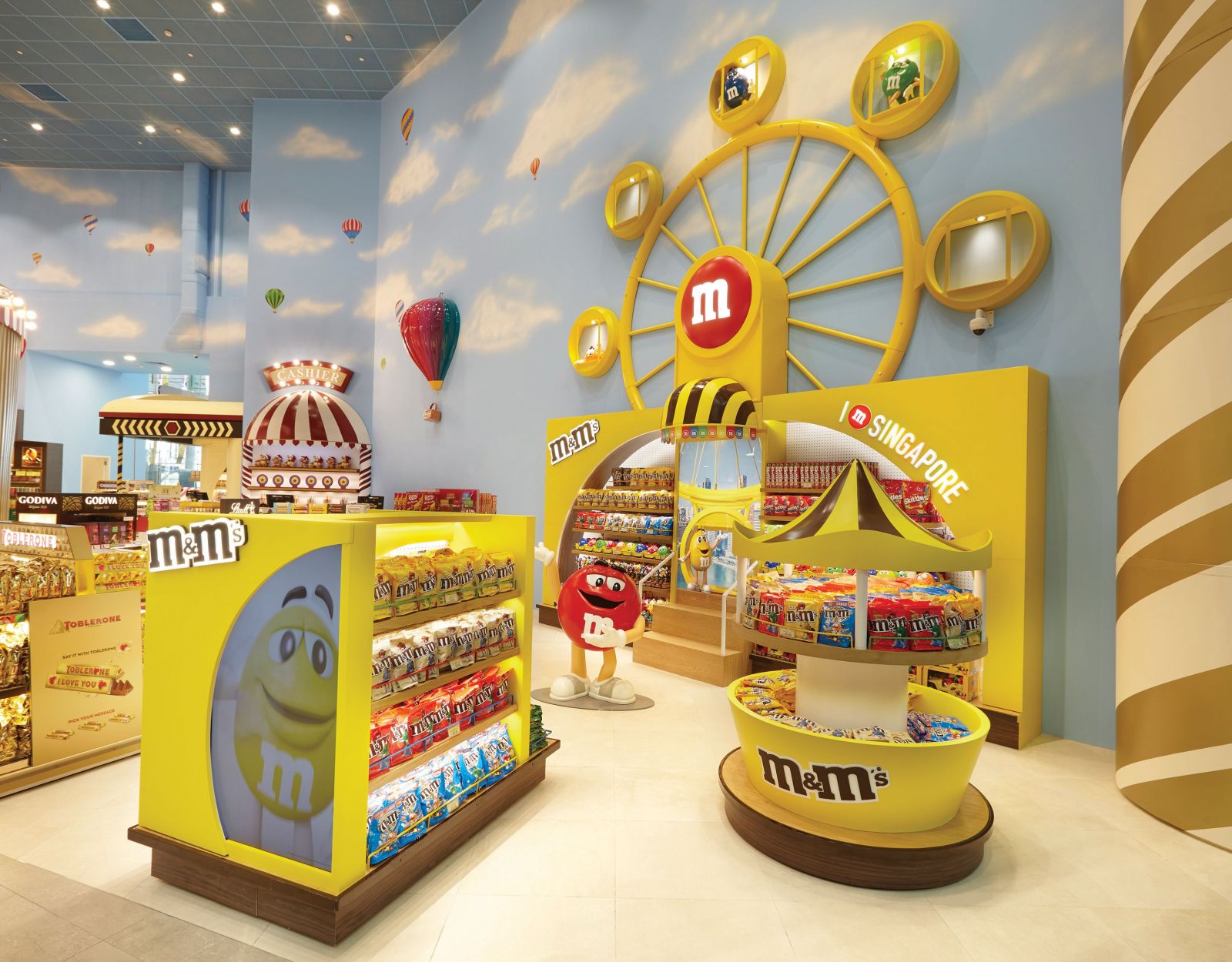 A dash of colour: Many of FNA Group's brand partners invested heavily with the retailer at Changi T4.
"A creative and innovative retail environment that gives a compelling reason to enter the store and buy," said another of the T4 outlet.
A leading player in the premium chocolate category hailed the T4 store for its "space for new supplier concepts within an overall theme; it creates massive impact and wow factor and there is unique high ceiling space given to suppliers. It's a very good partnership, open and flexible."
The responses offered a ringing endorsement of FNA's credentials as a confectionery & food retailer, with T4 cited as a key contributor by brand partners.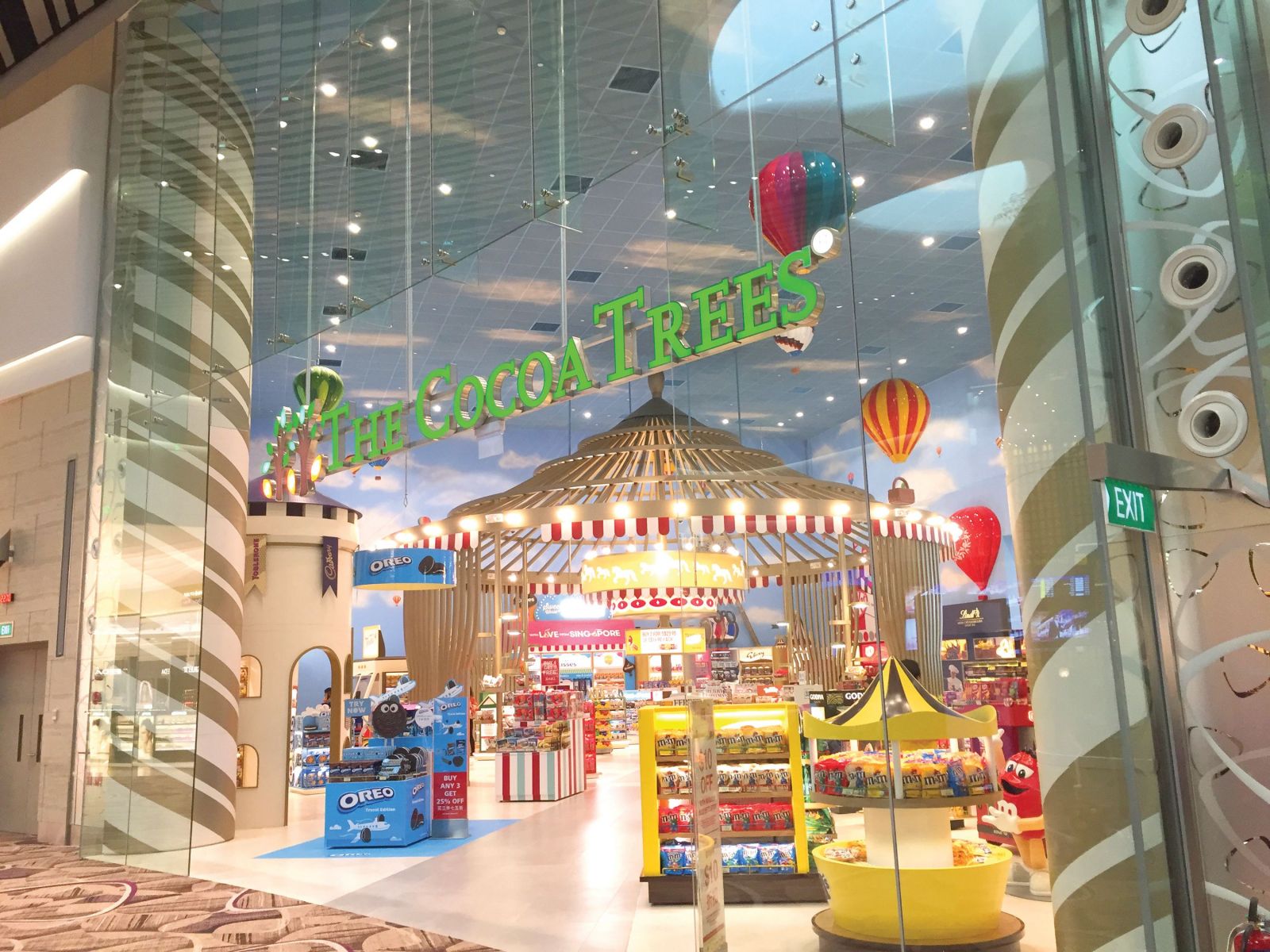 Fun of the fair: The carnival design allowed brands to deliver their own executions within an overall theme.
Director Retail & Local Sales Pamela Loo-Song says: "Terminal 4 at Changi offered us an opportunity to do things differently. It came as we were studying our retail strategy and figuring out what would take us forward in the medium term, in an industry that is changing quite fast.
"We tried things we never had room for before. The height of the store allowed us to have features such as hot air balloons, elements you could not include in others stores due to space.
"We could also go deeper into the brand story behind The Cocoa Trees, and that is not something we have done in other environments. We were able to add more engagement and fun. Also, we can create more of a memory for the shopper. We pushed the boundaries, and we have had great feedback about the execution. We think it has redefined how confectionery can look in an airport."
As well as being a retailer, FNA Group also acts as a distributor of chocolates in the region – and many of its partners were instantly curious about how the Changi T4 environment could translate to their executions elsewhere.
She says: "Many of our partners have been asking how they can implement this style in other airports, and are wondering how they can customise, personalise and go beyond the traditional boundaries. So we have made a statement with this shop and we hope we can inject something from this story into other shops in future, and also as new concession opportunities arise."
The store execution did not come without its challenges, from higher costs to aligning the needs of multiple brands within the over-arching carnival theme.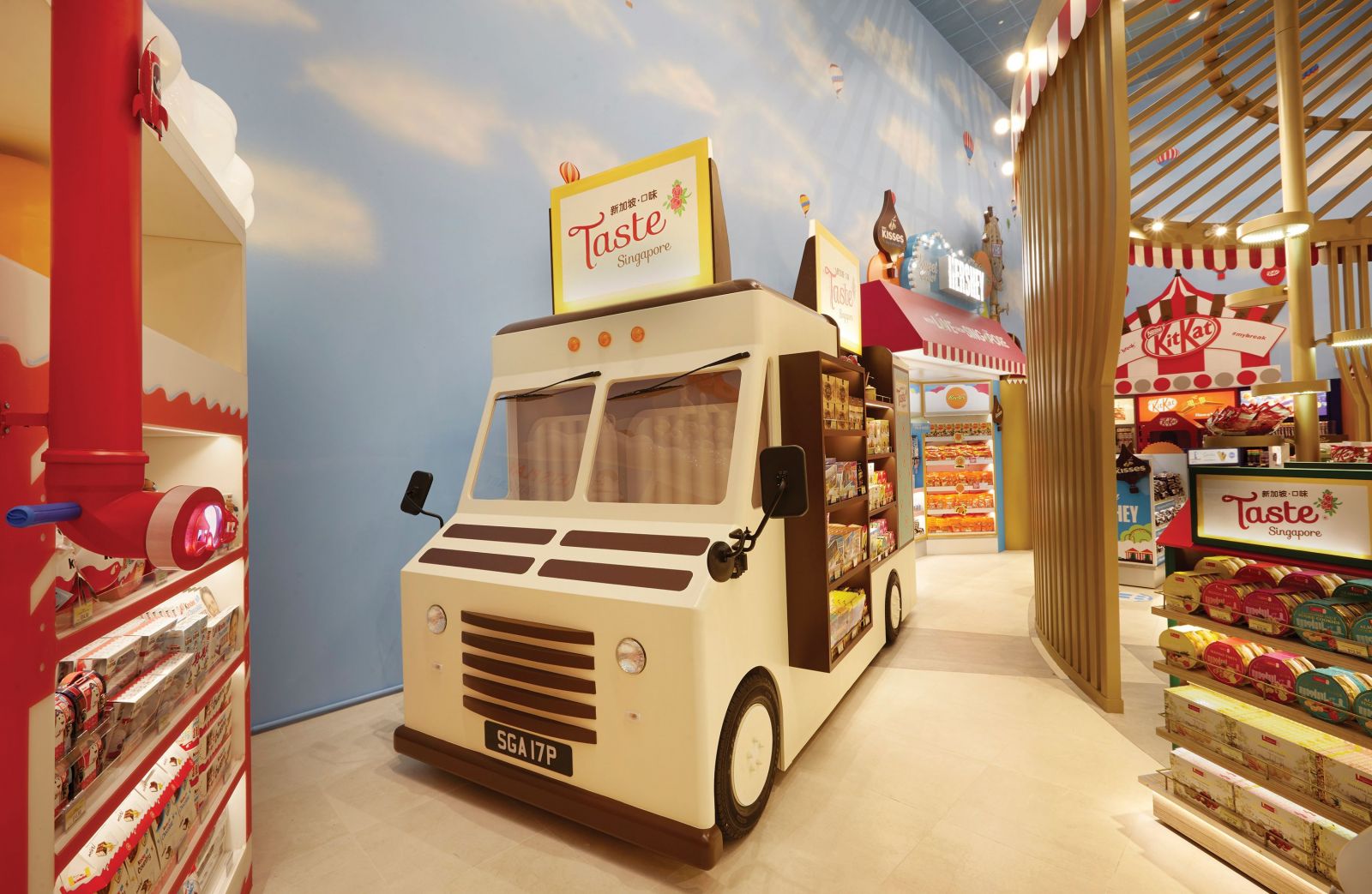 Driving sales: Business has picked up in recent months after a slow start.
Ms Loo-Song says: "Putting the concept together and making it work was not easy. We had to find a concept that would complement most brands. If we had done purely a Singapore-themed store, it would have been difficult to match with each brand's requirements. So the carnival theme worked well.
"In fact it is already part of The Cocoa Trees story and visuals and is fairly adaptable whether you are Mars, Nestlé or Mondelez. We just needed to make sure we didn't end up with two castles or two ferris wheels as they responded to the concept with their designs," she laughs.
"What was key was that they could present their own brands in a way that was in line with their guidelines while fitting into our theme. It had to be a consistent communication across the store, not telling a different story at every turn. Ensuring that coherence was among the biggest challenges we had. There was a lot of work involved from concept to execution."
So how does the company view performance to date? "The first few months were quieter than expected as passenger traffic was below what was projected. But in the past few months it has come closer to what was forecast and sales have followed nicely," she says. "Now we are paying more attention to the different passenger profiles from the new airlines that use T4.
"We see a different nationality mix and new spending patterns compared to the other terminals. In T3 for example our highest spending group is Indians but we don't see many Indians in T4. So what the consumer wants is different and their ability to understand how we communicate is different. We have to customise for this audience and introduce a new kind of offer.
"In the other terminals we see a stronger propensity to spend on premium or gifting items, but here we see a younger, tech-savvy consumer. We are introducing activations that involve more digitalisation to appeal to these travellers, and ensure they can pick up what they want. It's not necessarily about what works in other terminals."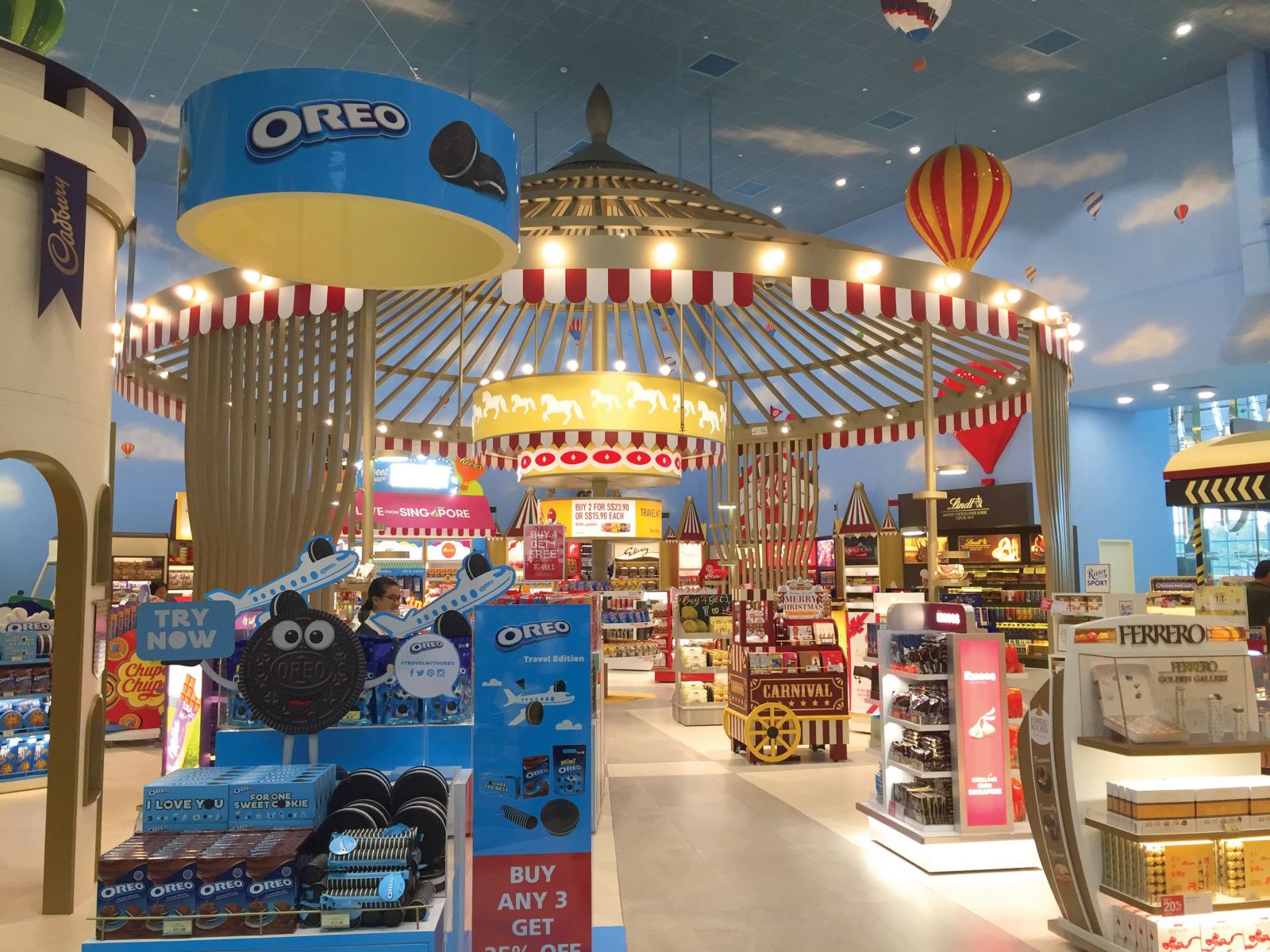 Innovation is the key to unlocking the potential of confectionery, says FNA Group.
Trading across the company's Changi estate has improved since last year, notes Ms Loo-Song. "Things are a little more positive than in 2017. Last year we saw more currency fluctuations and the impact of geo-political events in the countries around us. That exists still but the pressure on spending patterns is perhaps not as acute as it was. Traffic growth is about +6% year to date at Changi so we want to take advantage of that, converting more non-shoppers while encouraging those who do shop to increase their spend."
FNA Group is also keen to simply become a better retailer. With its brand partners, it aims to seek out examples of best-in-class retailing that it can bring to Changi. Brands in turn can bring more to the table, she adds.
"Our brands are keen to get ahead of the curve and to drive conversion. Innovation is the key. That means new flavours, new formats and getting people who like a certain chocolate type to try something new. If you are a brand that relies on gifting, can you develop a sharing or other pack to build incremental business? Can you try a new format or presentation?
"The consumer is becoming smarter, more connected and they know so much more about the market today. They know what other people have bought from Japan or Hong Kong so if we don't offer something similar or even better, our offer begins to look less interesting. So when we talk to our brands we push them to innovate and raise the bar. In the medium to long term, the consumer is only going to become more demanding. If I use a Shiseido skin product today I might use it for the next 20 years. But would I eat the same chocolate product or brand? I think I would want to try something new."
With that in mind FNA is responding to emerging needs by adding more localised products and also more healthy items. Hershey-owned Brookside, with its dark chocolate and fruit flavours, is one brand that resonates with consumers today. "Brookside has done very well in Asian travel retail although it's only in one format. But people want guiltless or less guilty indulgence. It's about how you communicate too, to make the consumer feel better about what they are eating. Some brands are targeting this segment now in a bid to convert non-chocolate eaters, though others are yet to do this."
Looking ahead, FNA Group will use the ambition it displayed at Changi T4 to rethink how confectionery can be showcased in other terminals, notably as new concessions arise. "Our main contract comes up in 2020 so that will be a point at which we will try to adapt and improve what we have learned in T4 and introduce it to other stores," says Ms Loo-Song. "This can be a template for other stores at Changi and also perhaps inspire other airports to raise the standard of execution in confectionery."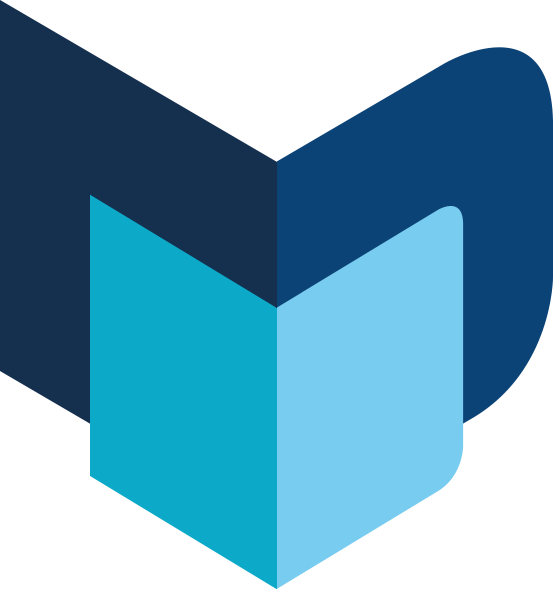 ---
The Moodie Davitt Report • The Online Magazine • Category Insight • September 2018