THE FRONT LINE
CELEBRATING EXCELLENCE IN CUSTOMER SERVICE

Welcome to The Front Line, a regular feature championing the best in industry customer service, sponsored by Speyside blended malt whisky Copper Dog. Copper Dog is delighted to recognise the exceptional employees who are ultimately responsible for bringing all facets of the airport retail experience to life.
Each issue The Moodie Davitt e-Zine scours the world to introduce the real heroes of our industry – those who go the extra mile every day when serving the travelling public. This week's report comes from paradise, or perhaps the next closest place, Aruba. There we meet Dufry's Maria Moya, who always enjoys giving her best and works with love and passion.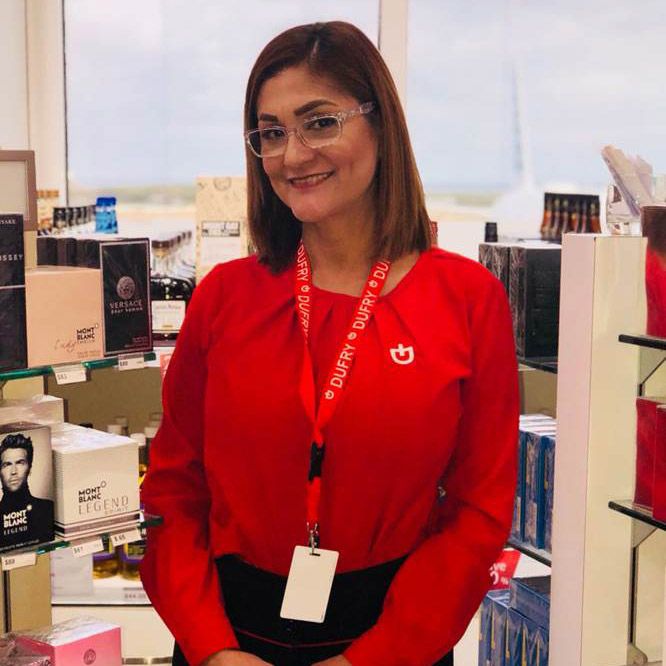 Employer's comments: Maria has maintained a high standard of customer service by implementing the 'Out in Front' training she has received.
She has managed to accomplish and maintain her monthly targets and has ensured that the Aruba store is kept to the best of Dufry standards. This is a well-deserved nomination.
Maria's comments: "In the time I have been working at Dufry I have been empowered to excel myself to give the best customer service and increase our sales, together reaching our monthly goals.
"I would like to thank the Dufry Aruba team for their guidance. It has allowed me to continue giving the best of me.
"I will continue to give my best with the love and passion I have for my work. Come and visit our island; it is a paradise. But do not leave without stopping by in one of our stores!"
To nominate an employee e-mail Martin@MoodieDavittReport.com with the following:
The employee's job title and length of service with your company
A short description of what makes the person exceptional
A quote or comment from them (optional) on their approach to customer service
A picture of the employee (preferably in a work environment) as a separate file
Copper Dog is a Scotch whisky which sums up all that is good about Speyside. A combination of eight Speyside single malts, Copper Dog is deliciously fruity with a hint of honey and spice.
Each featured Front Liner receives a personalised Copper Dog bottle and dipper from the brand's home in Speyside. Additionally, Copper Dog will host a grand prize draw in late 2018 featuring the previous 12 months' nominated staff. One lucky Front Liner will win a VIP all-expenses-paid trip to Scotland, staying at the brand's superb Craigellachie Hotel in Speyside, Scotland.
---
The Moodie Davitt e-Zine | Issue 245 | 30 August 2018