---
Bringing Snowberry's natural solution
to the world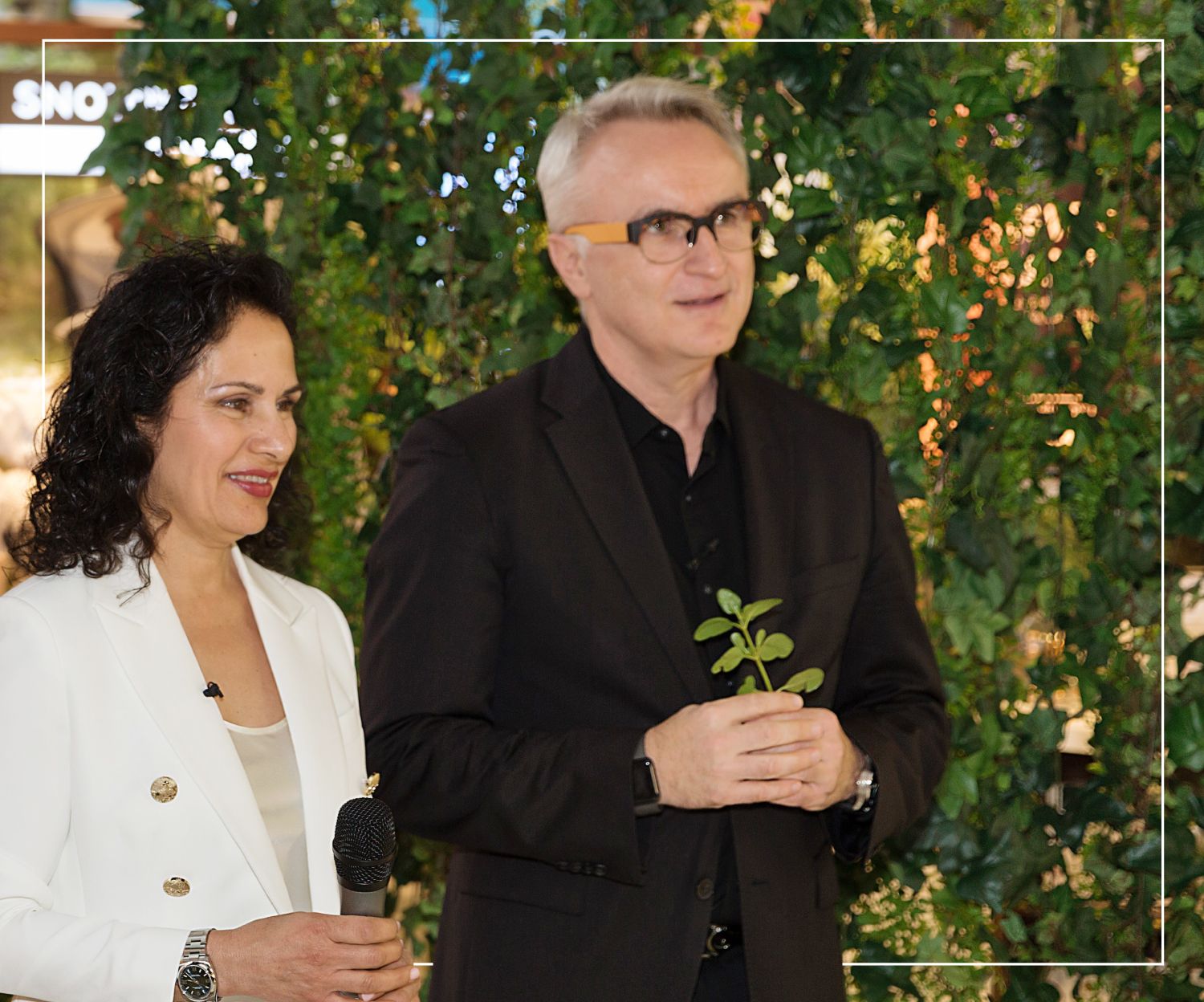 The launch of Snowberry represented a big, and rare, moment for travel retail in New Zealand. Seldom, if ever, has a multinational hosted an international brand launch in the country also known as Aotearoa by its native Māori people – 'the land of the long white cloud'.
But Snowberry, while proudly affirming its Kiwi credentials, is destined to be far more than simply a local favourite, according to P&G Global Skin Care President Markus Strobel. Just before the launch at Auckland Airport with Aelia Duty Free, he spoke to Martin Moodie in a joint interview with Snowberry Founder Soraya Hendesi (pictured together left). They reveal how a marriage between an entrepreneurial enterprise and a multi-national powerhouse came about; the principles of that marriage; and both partners' aspirations for it.
Martin Moodie: Markus, tell us about the importance of the Snowberry acquisition to P&G, a key play in the burgeoning naturals category. What particularly drew you to the brand and since the acquisition, what's been your prime focus?
Markus Strobel: Natural skincare is obviously a big growing space but what is most important for us – and attracted us to Snowberry – is that the products really work. That's our DNA, it's totally non-negotiable. We don't only want products that make people look good but ones that also have a clinical benefit over time that we can prove… this is what we're all about at P&G.
In Snowberry, we have a unique combination. We have a brand that's based on the natural bio-diversity of New Zealand, and it's an authentic brand. On the 22 hectare-Snowberry Gardens, we can trace where the ingredients come from.
But at the same time, there is strong scientific grounding with great formulation capability – and independently verified research that the products really deliver. Because the first thing that a lot of people ask about natural products is, 'Does it really work?'. Snowberry's combination of nature and science delivers authentic natural skincare that works.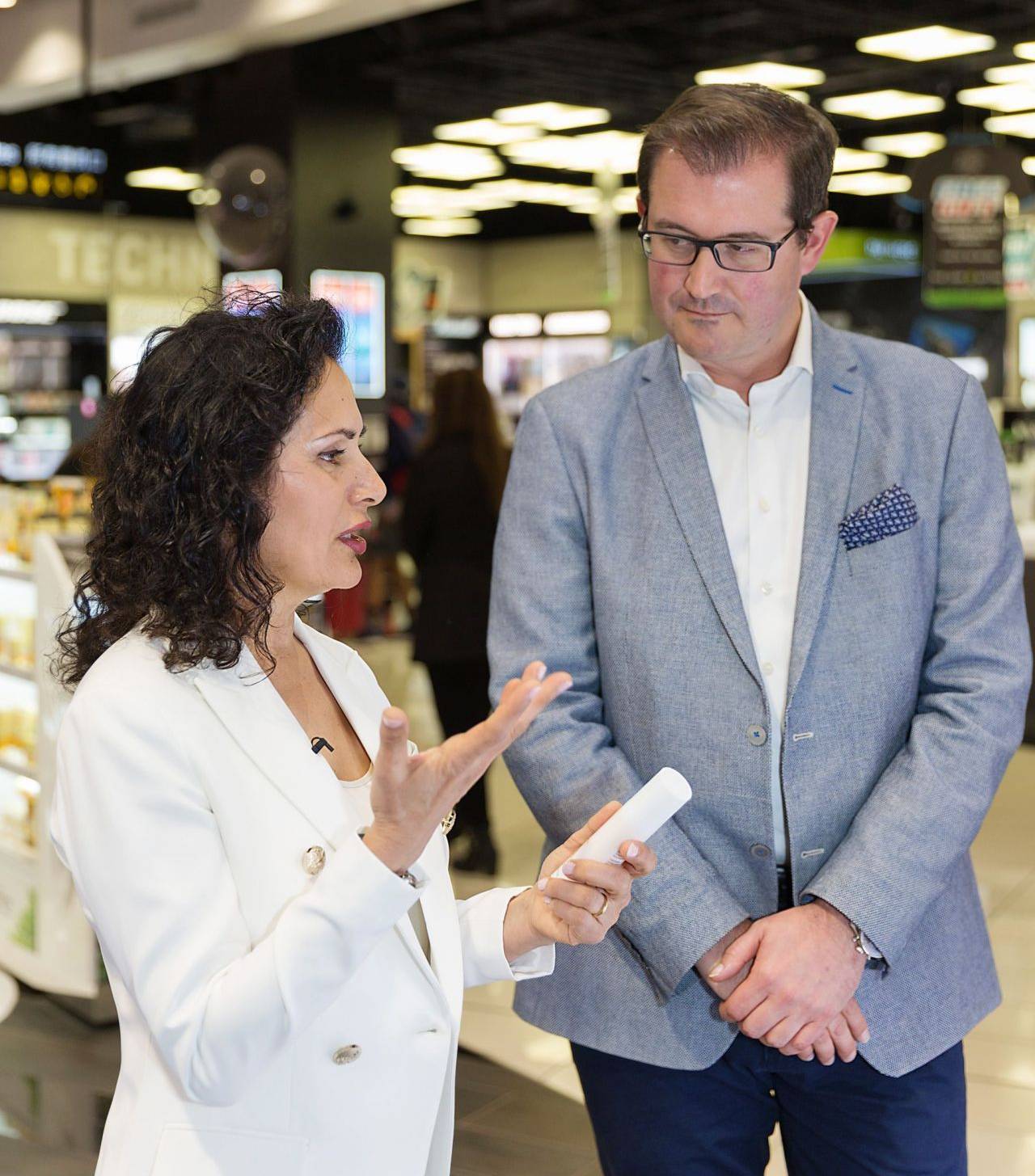 From Auckland with ambition: Brand Founder Soraya Hendesi with Lagardère Travel Retail – Pacific Chief Executive Officer Przemyslaw (Pezemek) Lesniak at the launch event
What's been your biggest learning since the acquisition?
Markus Strobel: Probably the biggest learning is that in this natural space you have to be very, very deliberate, and you have to look at the whole equation for the consumer.
This is not only about having natural ingredients. Throwing a couple of natural ingredients into a product is easy but what we're talking about here is safety, quality and transparency of the ingredients. With Snowberry you can trace where they come from. Plus they're sustainable. It is like an equation, and you've got to hit all of these spots and not only one.
Snowberry has really shown us that they're doing all that. They're harvesting their ingredients, sustainably, in the plantation. A month ago, we received an Enviromark award for climate action, so Snowberry is truly authentic and puts its money where its mouth is.
The fact that the product works and we can trace back the ingredients is really, important. That's because in this natural skincare space that's really exploding and everybody is making claims, the more authentic you are, the more you will win in the long term.
I think we both reinforce that, because Snowberry acts on these principles and we at P&G act on these principles too – so that's a pretty good marriage.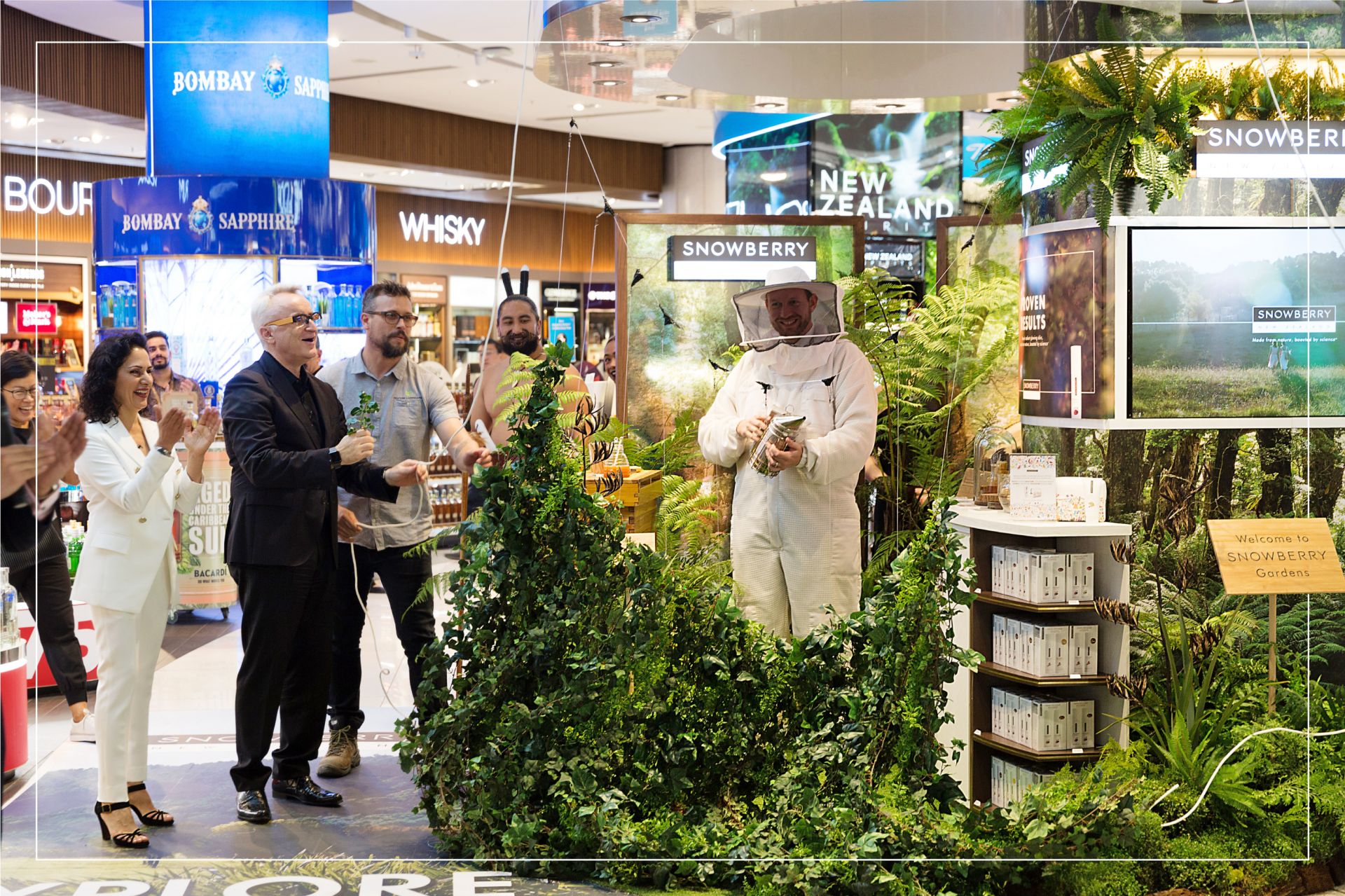 Snowberry's natural credentials were reinforced to guests in exuberant Kiwi style at the brand launch
So let's talk about the marriage. It's one between a definitive multinational and almost an archetypal entrepreneurial enterprise, one that started small and grew, driven by passion, perseverance and no doubt a lot of guts. How would each of you describe the marriage and how is it taking shape?
Soraya Hendesi: For me it was a bit of an emotional time. It was exactly like a teenager leaving home. But then I thought to myself, if I wanted to go to the moon I can't walk there, I have to go to NASA. And for me P&G is the NASA of the beauty world, so with their help Snowberry can do much more than I've ever dreamt of. The perfect marriage, I think.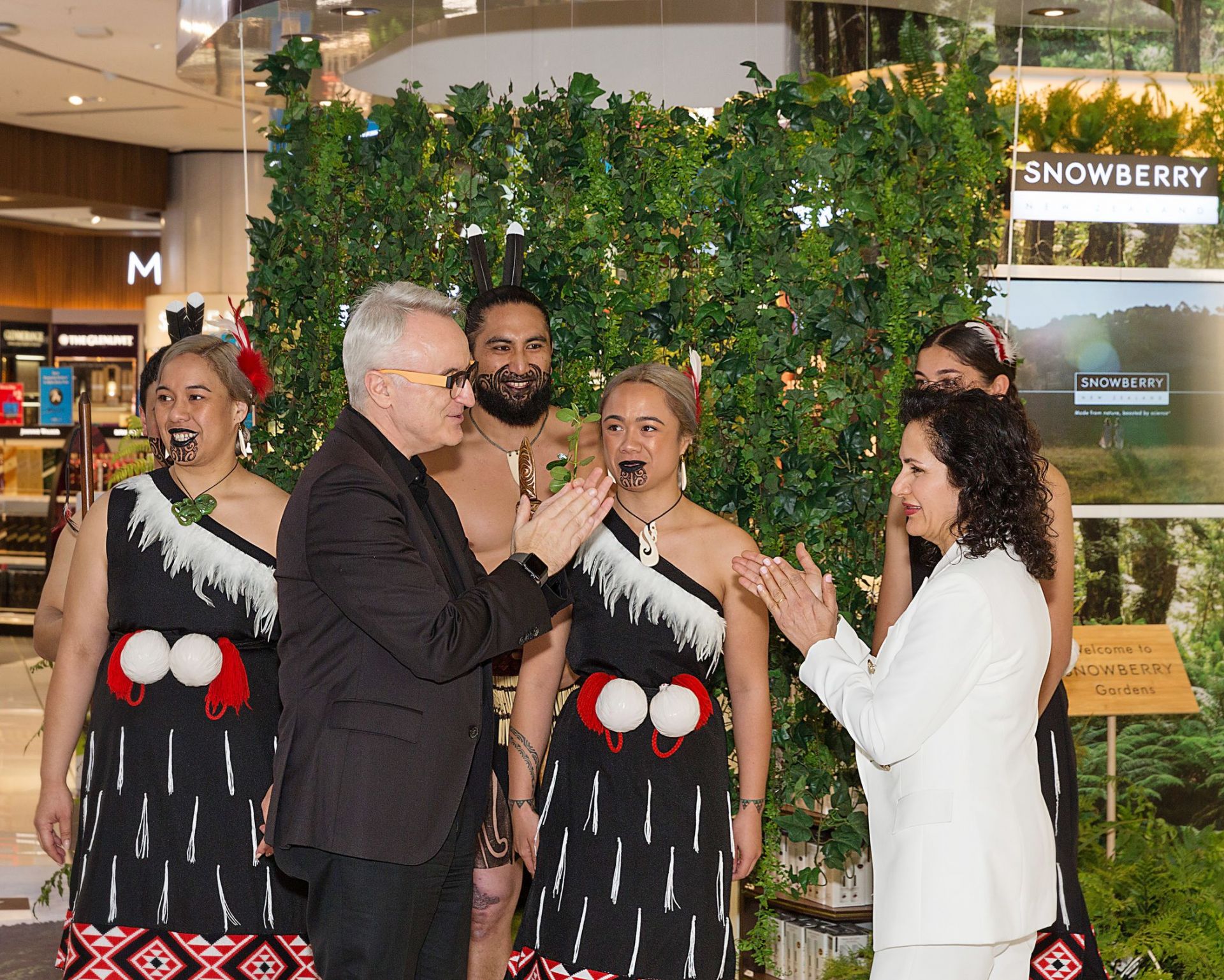 Markus Strobel and Soraya Hendesi applaud the stirring Māori performance at the Aelia Duty Free store
What did you dream of when you started the Snowberry business?
Soraya Hendesi: I see a lot of brands that want to jump on the bandwagon as there is a big demand in the market for being natural and so on. But my story is a true story – an authentic story. As a child I spent many hours in our garden, a fragrant Persian garden, making beauty potions from flowers and leaves for my mother and my grandmother whom I adored.
I've always had this vision that I wanted to capture the best of nature, but it had to be in a way that really worked. As I grew older of course I realised that you need much more than a mortar and pestle; you really need science. I have a lot of respect for science as well as the best of nature.
How would you assess the marriage Markus?
Markus Strobel: I think that the dating and marriage analogy is actually quite good because we were really looking for the right company to acquire. You can imagine that we were turning them down until we found Snowberry and we said, "This is interesting."
So then we dated, and dating means you get to know each other, you try to have a meeting of the minds. We felt there was a good chemistry, which to me is also important, and now of course as we're married we're going to make the marriage work!
You have to work on making it work, of course. The most important thing is to first of all understand and respect the DNA of the company you acquire. We acquired Snowberry more than a year ago, and usually patience is not the strength of a big company… but the team is very good and they have insisted that we first understand the DNA and build the relationships within the company.
I call this 'Start slow to go fast.' So we started slow to get all the fundamentals in place and understand each other. And now we can go fast because based on the strong foundations, we can bring our capabilities to bear.
Those include the go to market capabilities that we have in Shweta's organisation [P&G Global Travel Retail General Manager Shweta Sharma] in travel retail. It's the financial capability that we have to make significant investments and also some of the research capability that we can now bring to bear to make that offer even stronger.
I think we're off to a good start in the marriage – we're probably still in the honeymoon!
Soraya Hendesi: Yes, that's right. I looked at the stand in the airport duty free today and it was really an unforgettable moment for me. It was beautiful. I'm very impressed. I actually took a picture to send it to my mother. She would be really pleased.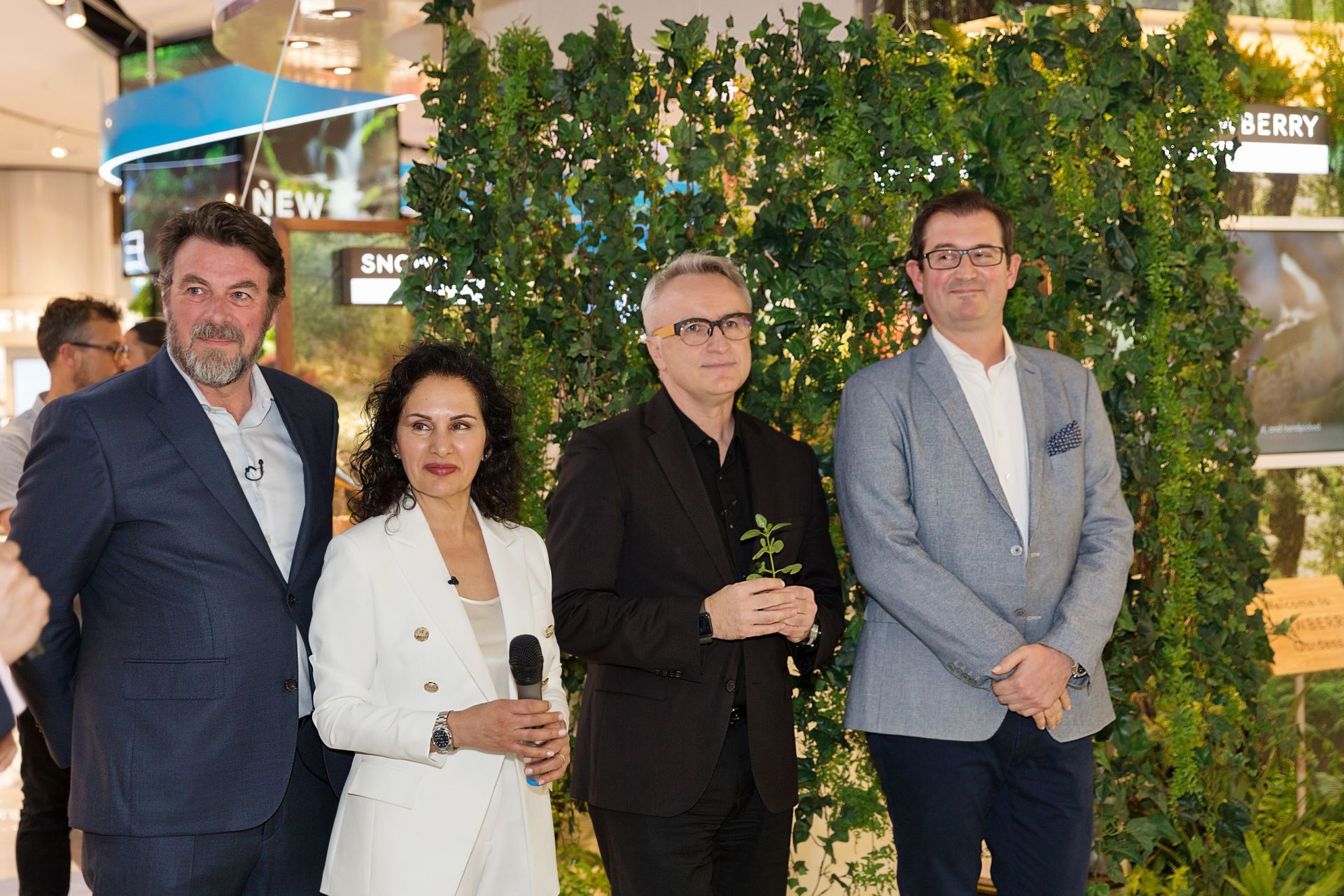 Aiming for the summit of natural skincare: Mark Henderson, Soraya Hendesi, Markus Strobel and Przemyslaw Lesniak
Yes, duty free puts your product in front of a whole lot of people from a whole lot of countries coming and going. We shouldn't underrate what airports are. They're not just buildings, they're a crossroads of humanity.
Soraya Hendesi: Yes, it reminds me of the days when I was in my late teens and early 20s, travelling through different airports and I used to think, "Oh, maybe one day." So I can't believe it. It's just amazing.
Markus Strobel: You know, I will do the same thing – take a picture and send it to my family… to my wife, my kids, and my grandparents. And I'm going to send a picture of Snowberry Gardens to my kids because they're always asking what I do each day – planning and strategising, what does it mean? Here I can show them something concrete which looks beautiful, so that's also going to make me very proud.
Let's talk about how Snowberry fits within the P&G skincare line-up. You've already got a diverse and burgeoning portfolio. How are you positioning Snowberry vis-a-vis your other brands, SK-II for example?
Markus Strobel: Snowberry is the only brand that we really position in the natural space. There are so many natural brands out there, so rather than doing six or seven things in naturals we are really placing our bet on Snowberry because we think it's very strong. It complements our portfolio because we have nothing comparable in that space.
For travel retail, it's part of our prestige portfolio but even within prestige there are different levels. A brand like SK-II is at a very, very high price point and is very established. There's a lot of young people who we think we can attract into naturals, so for Snowberry we love our price positioning variation – it is more what we call an entry prestige price point versus a luxury prestige price point.
I think Snowberry is going to help us make our portfolio stronger both in terms of pricing and in terms of positioning.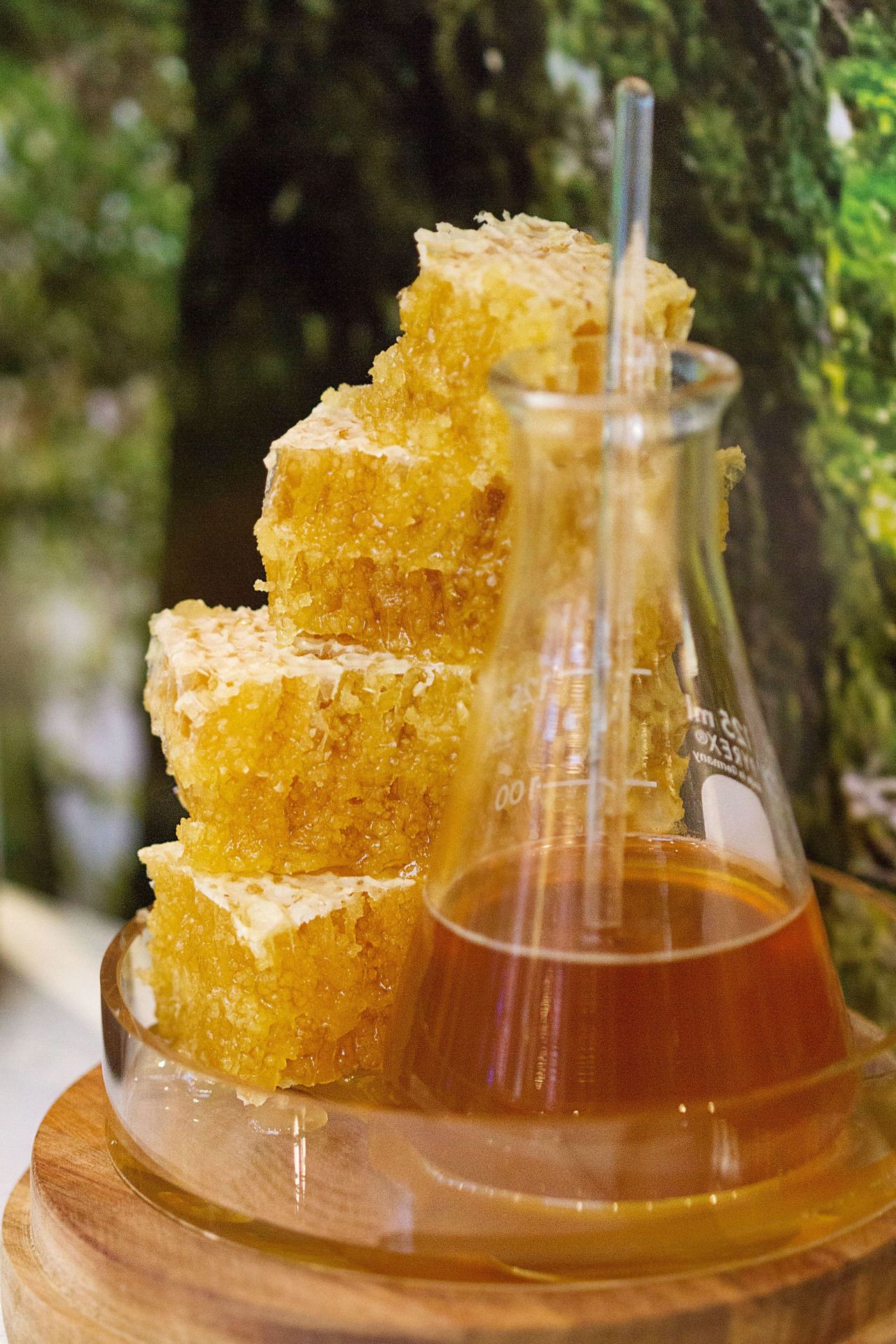 Let's talk about Snowberry's New Zealand origins. I speak as a Kiwi and we're a long way from anywhere. We talk about the tyranny of distance and it's true. Most of the internationally renowned skincare brands are from countries such as France, the US, Switzerland, South Korea and Japan and here suddenly there's a new contender from New Zealand, a small and distant country. Tell us about how you bring out that sense of 'Kiwiness' and how much of a plus it is and how much of a challenge.
Markus Strobel: Initially everything that's new and different is a challenge, but I think that once you master these challenges it will turn into a competitive advantage.
If you look at the traditional origin of skincare brands, there's a reason why they have that origin. If the origin is French, it's usually about high luxury. For Japan, it's usually about high quality.
If it's from South Korea, it's trendy and the next big thing.
Now when we want to have an origin of authentic natural ingredients and biodiversity, well nobody credibly owns that today, right? I think that some brands have tried a bit with Swiss heritage, but that's probably much more about Swiss purity than it is about natural biodiversity.
I believe New Zealand could own that space, and since we are one of the first major international players to tap into New Zealand, we get to tell the story. For the first mover it will always be more difficult and harder to tell the story, but I think we can tell it convincingly with our partners.
This will also position us as one of the leaders in this space to make New Zealand a destination for natural biodiversity-inspired skincare products.
And, of course, New Zealand is renowned for its greenness, its cleanness, its pristine environment. You're an immigrant Soraya so you've had an external perception as well as a local one.
Soraya Hendesi: I've lived and travelled all over the world, and one thing that many people don't realise is that New Zealand is a stretch of two long islands from subtropical to Antarctic. There are a lot of natural ingredients within the New Zealand rainforest that they don't know about.
The diversity is amazing, and we have a 22-hectare plantation that has been cultivated in New Zealand natives. Ingredients indigenous to New Zeland such as harakeke seed oil, Kānuka honey and totara are being curated for the purpose of formulating Snowberry's products. It is beautiful.
products, including this beautiful Harakeke seed oil, which is fun, beautiful and elegant.
Markus Strobel: There's something else that I find interesting about the Kiwiness thing. I travelled privately in March and spent two weeks on the South Island and I tried to meet a lot of New Zealanders and stay away from all the tourist crowds.
I realise that there is something in that Kiwiness which we have to dial up because skin care is a very serious affair. Now, I'm also serious because we have authentic natural ingredients and we have science to back it up, but I think in the way we position ourselves and the brand tonality we might also benefit from a little touch of the Kiwi irreverence.
I think this is what the beauty industry also needs, and it could set us further apart.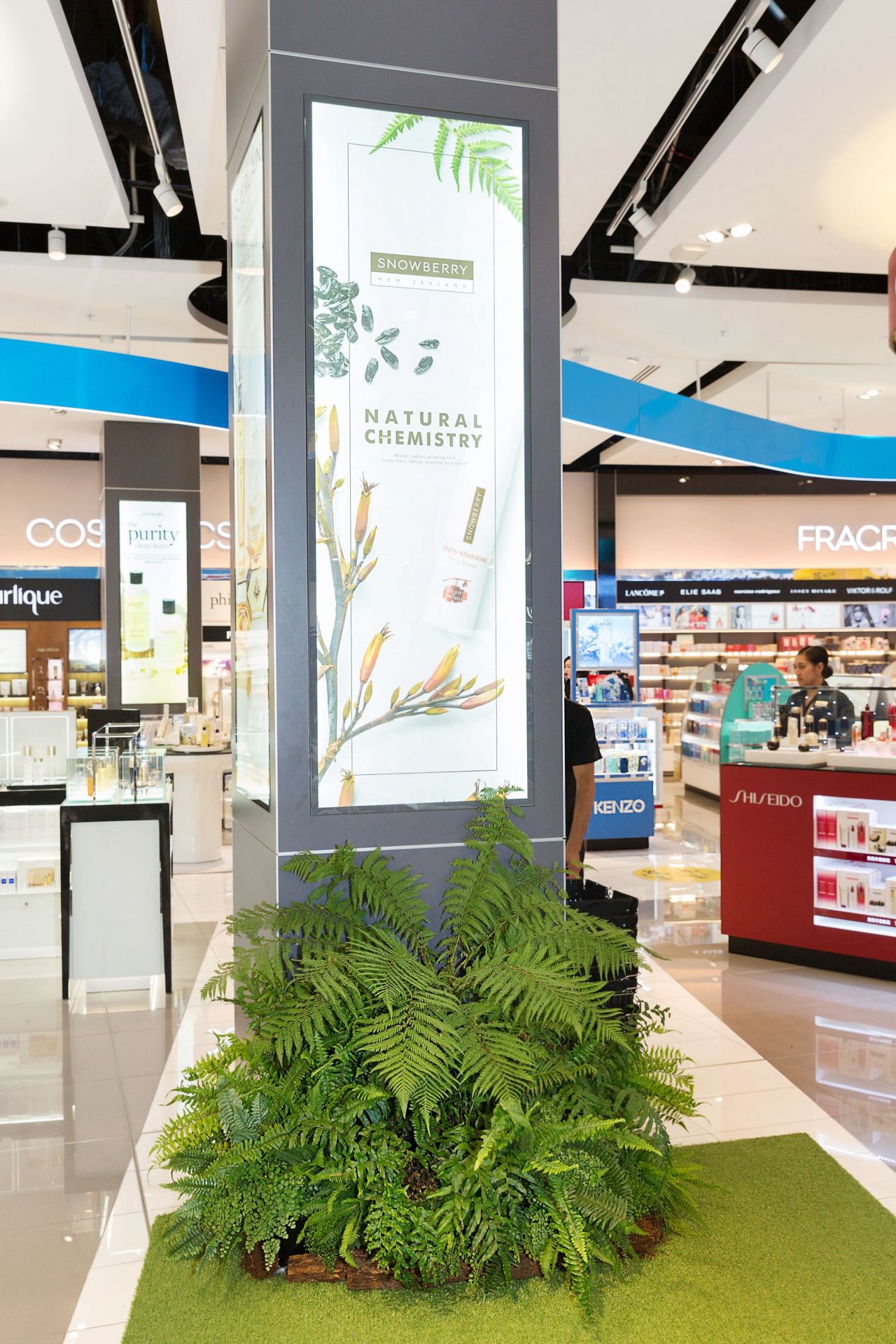 Snowberry's new-to-the-world bioactives are sourced from native New Zealand plants in the Snowberry Gardens, a 90-minute drive north of Auckland
That's interesting, because I've seen Soraya quoted about stripping away the jargon of the beauty industry. How are you implementing that?
Markus Strobel: Well to some extent you need the jargon. But I'm always telling people that if you want to change the rules you've got to master them first. So there are certainly some rules in the beauty industry in terms of how you talk about it, which consumers expect. But sometimes the jargon in the beauty industry is a little bit artificial, often promising miracles.
Soraya Hendesi: Hope in a jar.
Markus Strobel: Yes, hope in a jar, which we're not doing because the brand is authentic, and the ingredients that we harvest are not some kind of signature ingredients that you throw in there to make it sound good. Snowberry's ingredients really work and they come from a verified supply chain. While not unique, we are certainly a minority in the beauty industry.
Secondly, the claims that Snowberry make are certified and we can prove them. We don't claim that it will take ten years off your age in three days or something like that. So, we are not following the beauty jargon, and in the tonality that we bring – with the right level of Kiwiness – I think we can also move this to a different level. This is a journey.
P&G bought Snowberry to grow it. What challenges does that present in terms of where Soraya and Mark were, in terms of production, in terms of capacity, and in terms of your ability to firstly identify growth markets and then deliver on them?
Markus Strobel: Scaling the research and production is always a challenge with smaller brands.
For us, the most important thing is that the quality and authenticity of the materials are being preserved so we're making quite some investments at the moment. You will see this in Snowberry Gardens, in the latest state-of-the-art equipment. However, from a pure ingredients point of view I think we have enough capacity combined with the right equipment to go to the next stage of expansion.
We don't want to build up the brand in a big bang fashion, saying that we've got to be in 5,000 stores tomorrow morning. That's not the right way because this is a story-based brand, an authentic brand, so we're going to build it up carefully.
In terms of our vision for the brand, unlike most public companies we think in years and not in quarters. With these kinds of developments you've got to have some patience to progress to the next step. The aim is to solidify it so that it's really strong in the markets where it plays.
I'd rather be, say, ranked in the top three brands in Auckland Airport first before I'm in ten other airports where I might only be a top 30 brand.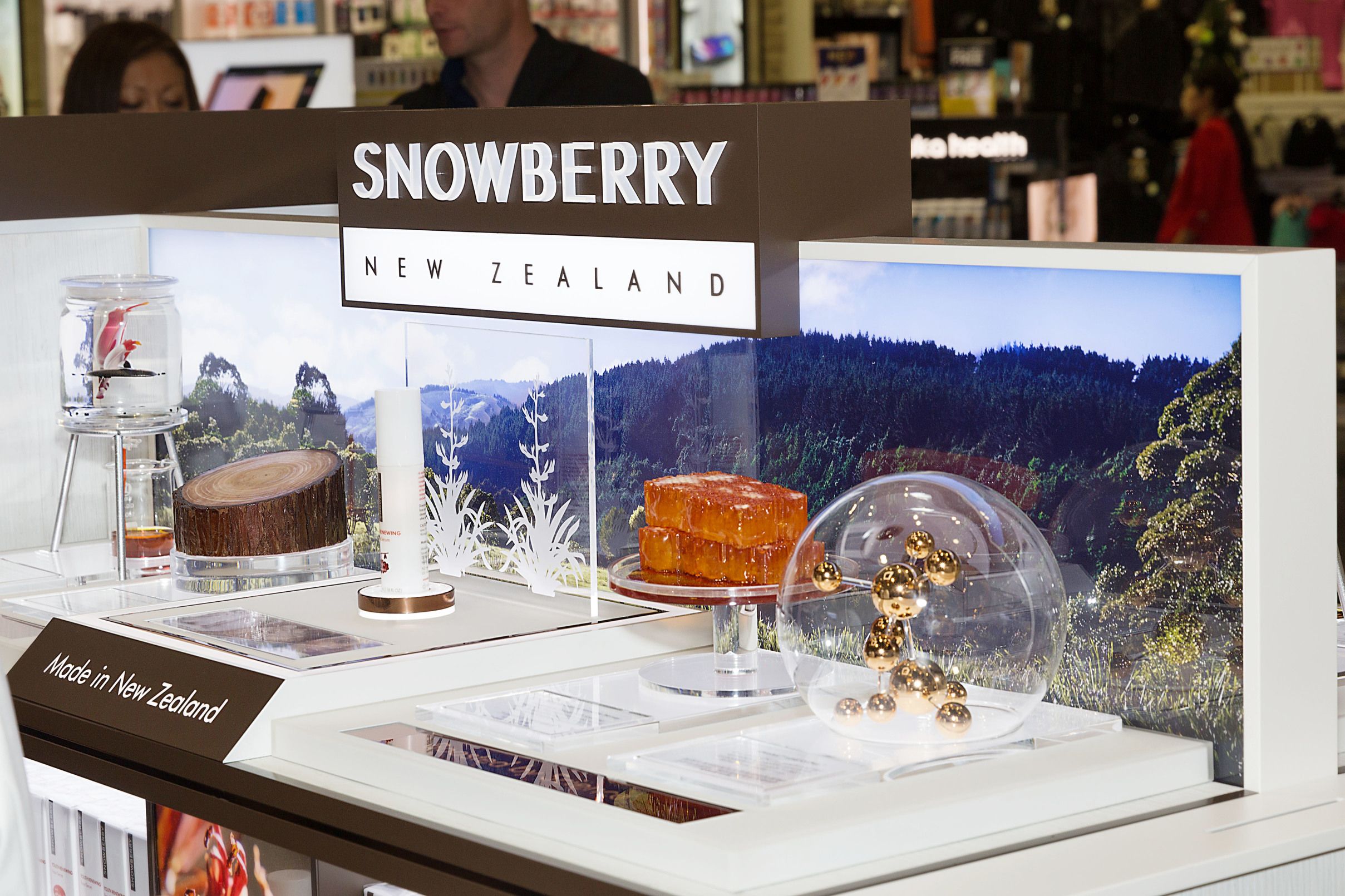 Journey of exploration: The Snowberry display at Aelia Duty Free reinforces the brand's local, natural and scientific credentials
Like many of your peers, P&G defines travel retail as a single channel and yet it's a market within markets all around the world. Strategically, what role will it play for the brand?
Markus Strobel: It's going to fulfil at least two objectives. Firstly, travel retail is a prestige channel… so the moment you are in travel retail with good space and a good location you are part of the prestige club. That's important because that image will also rub off on everything else that happens.
The second thing, as we all know, is that Chinese travellers are a big growth driver of travel retail all around the world. They are probably making up more than half of the incremental growth in the skincare category these days. They also like newness and to find something different. And they especially love to discover something at the point of origin. There are a lot of Chinese travellers in New Zealand as you probably have seen. If something that they can buy at Auckland Airport comes from the point of origin, that's the right starting point because as a brand you've got to have a home.
Then, if many of those travellers go back and spread the good news about Snowberry and put it on WeChat with some nice pictures, it is going to build awareness in China before we do anything domestically there.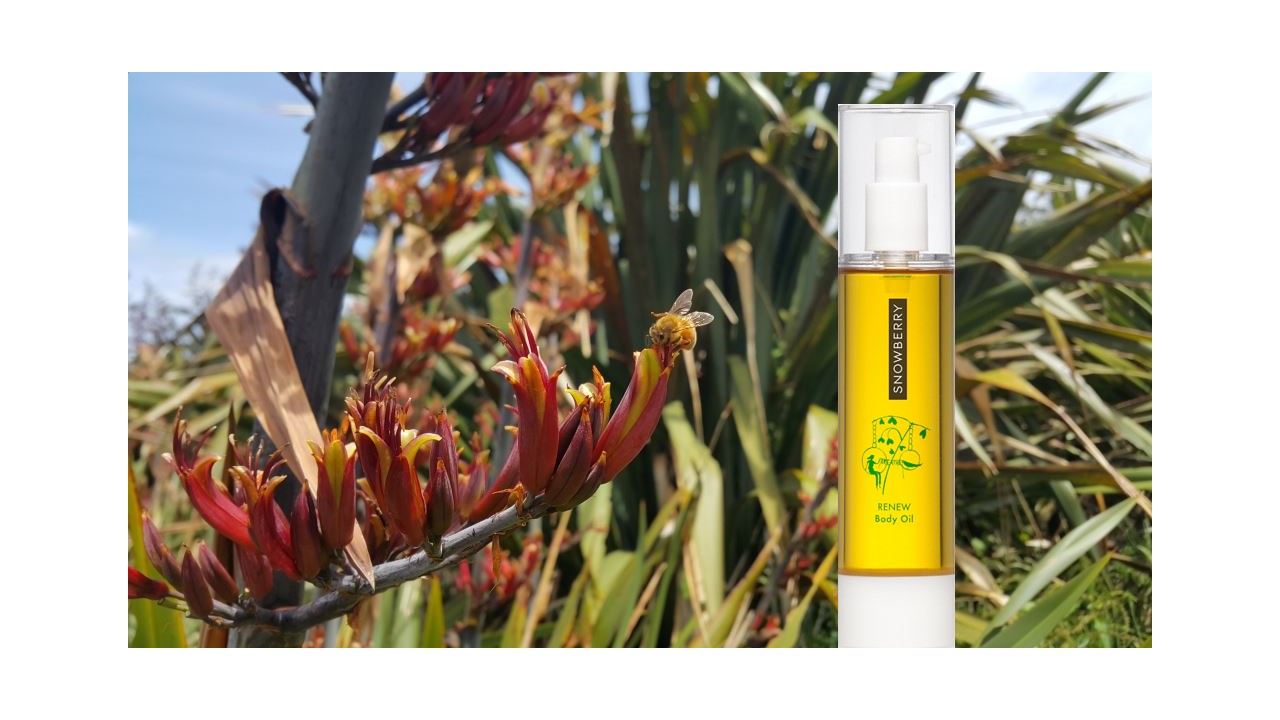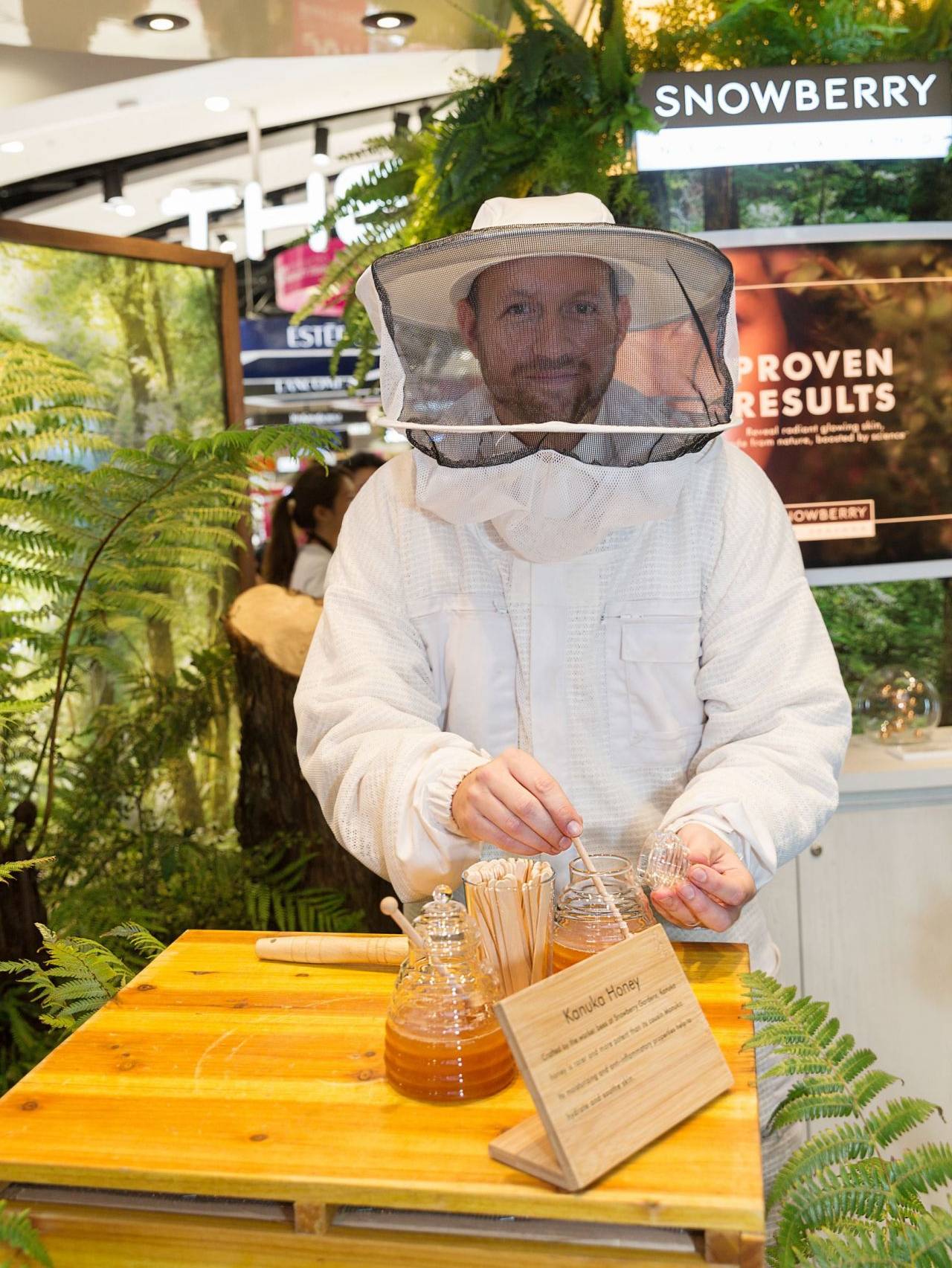 A hive of promotional activity: Immune-boosting Kānuka honey extract is integral to various Snowberry products and was showcased to guests in vivid style at the brand's travel retail reveal
As a proud Kiwi, I find it nice to see a global launch taking place here in New Zealand. Soraya, it's an important statement that you're launching in worldwide travel retail at your home airport. How big a day is this for you?
Soraya Hendesi: Oh, it is one of the biggest days of my life. It is amazing, just a dream come true.
I have to add that all our hard work has paid off and that it has been a great teamwork. From the beginning we've thought of every aspect of the brand properly. We built a solid foundation from the beginning. It wasn't only the best of nature but also the best of science because I'm a firm believer in good science.
Without science you can't take the best advantage of nature, and that's why instead of spending money on marketing and advertising in the early days as a lot of newcomers do, we decided to fund five years of university research for the delivery system technology. This is a world first and that is why we got the accreditation with the Gold Standard Clinical Trial which proved our efficacy claims true. It's a big thing in the world of cosmetics and skincare.
Also as a team we are very environmentally friendly. A lot of companies are accredited as carbon zero, but we have attained carbon zero certification for every single product we produce and that's a big job. So I'm very proud.
Travel retail's going to be a cornerstone of international expansion. What can you tell us about the wider strategy to expand globally?
Markus Strobel: I won't go into the detail of the strategy because that's confidential. But you can imagine that apart from travel retail we will want to tackle the biggest skincare markets in the world. Obviously North America is one of them and greater China is one of the biggest skincare markets in the world. Eventually probably Japan.
So we have good plans for the big markets. We will also try in some countries to see what dent we can make in the direct-to-consumer business because I think it's very important to build up direct relationships with consumers.
And, of course, the more we know about the consumers who buy Snowberry the more we can use that knowledge to tailor our offering even better to them, and you then get new consumers.
Making a grand entrance on the global duty free stage: A stunning Snowberry high-profile activation  at the front of the Aelia Duty Free departures store
Where did the name Snowberry come from?
Soraya Hendesi: That's a very interesting question. The whole team came up with about 300 names, including some Māori names, and we picked Snowberry because snow is pure and fresh and berry is nutritious, and it also exists as a plant in New Zealand. So it was the perfect fit.
Markus, our readership is principally the travel retailers around the world. If you had a message to that global sector about this launch, what would it be?
Markus Strobel: I normally prefer to lay low, get the job done and let the success and the numbers speak for themselves – that's more my thing. But for the global industry I go back to what I said in the beginning. I think it's really important in skincare products to gain and keep the trust of the consumer especially in new spaces like naturals.
You have to have performance and authenticity of ingredients and here the Gold Standard Clinical Trial performance really make a difference for consumers. If the industry wants to grow and bring in new consumers, especially in the prestige space, we've got to deliver.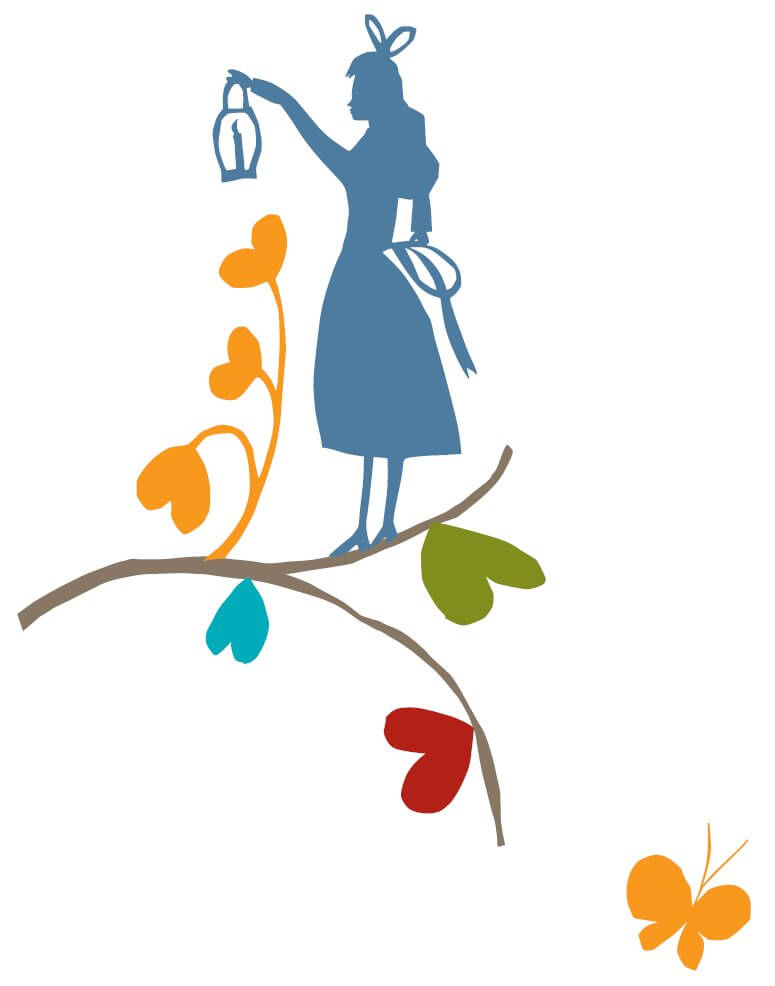 Snowberry was born of necessity – as Founder and cosmetician Soraya Hendesi expresses it - "I was simply unable to find skincare products that I felt I could trust."
How big are your ambitions here for this brand?
Markus Strobel: If I look at my portfolio in skincare, five years down the road I would want this to be one of our top five brands. And remember, our portfolio will grow and the business will grow.
But for now, today's launch is the focus, and it's a big day.
Markus Strobel: Today we want to celebrate a little bit. It was a long journey to get here, which took lots of patience. I think the whole team deserves that moment and their moment in the sun. This is going to create new energy to get to the next level.
Soraya Hendesi: I have to say that I'm so honoured that this marriage happened with P&G. We felt from day one not like we were two different organisations but that we were one.
So I'm very happy, and from what I've seen, Snowberry's going to go very far.
You both know how important this genuinely natural focus is with today's consumer. You have combined that touchpoint with heritage – the story of a woman who came here, saw what this country offers and developed her own company based on really strict principals of nature and science. That strikes me as a very potent combination.
Soraya Hendesi: I would have done this anywhere, but I'm so happy it happened in New Zealand because when I came to this country, I thought "Oh my god, it's amazing." I think it was meant to be. Magic does happen and it's Snowberry.

Spotlight Series - September 2019