The history of Nutella is a tale of creativity and passion combined with the meticulous selection and processing of the finest raw materials to create a unique and universally popular product. Below, courtesy of Nutella.com, we document the chronology of the famous 'spread & smile' brand.
---
Originally, Nutella was a smart solution to a tricky problem: the shortage of cocoa supplies following World War Two.
Pietro Ferrero, a pastry maker from Piedmont in Italy, ingeniously creates a sweet paste made from hazelnuts, sugar and just a little of the rare cocoa. He shapes it into a loaf that can be sliced and served on bread and he names it 'Giandujot' after a famous local carnival character at the time. On 14 May 1946 the Ferrero Company is officially founded.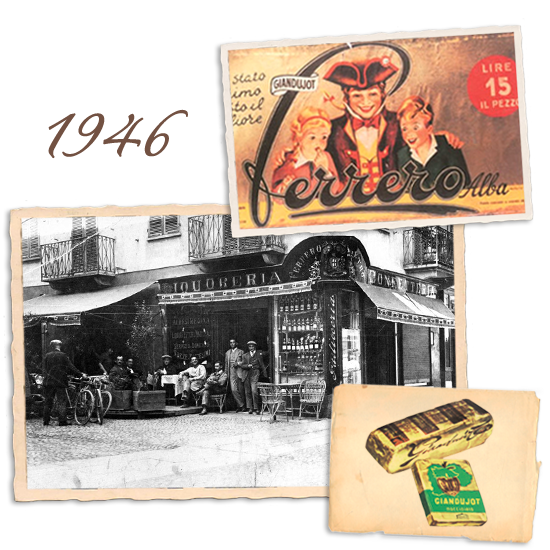 Once upon a time… there was a fantastic idea!
The delicious 'Giandujot' paste is transformed into a new product that can be easily spread on bread; it is called SuperCrema (the precursor to Nutella).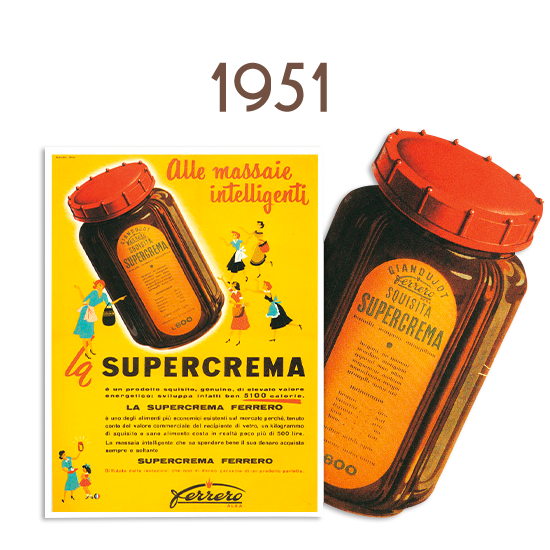 The creation of the world's favourite spread
Pietro Ferrero's son, Michele, applies his innovative genius. By trial and error, he improves the recipe and creates the first-ever jar of a new hazelnut and cocoa cream which is, however, still without a name. So he puts his creative hat on again and invents the perfect solution for the world's most famous spread: Nutella.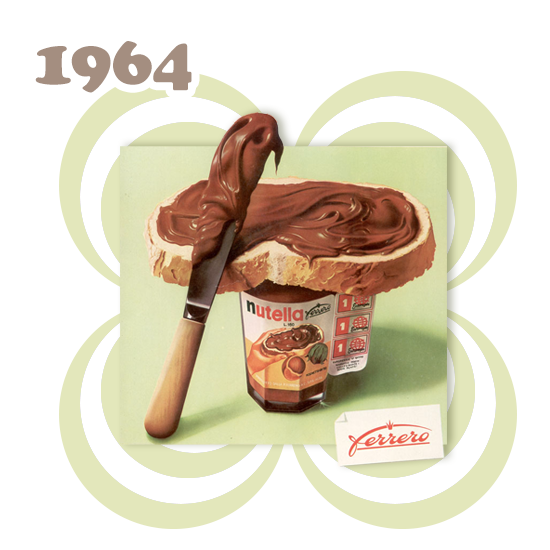 Nutella's iconic jar is created
Nutella reaches Germany and the nation immediately falls in love with the delicious spread.
The newly-designed jars, featuring the unmistakable iconic design, are also widely acclaimed, enjoying great consumer demand.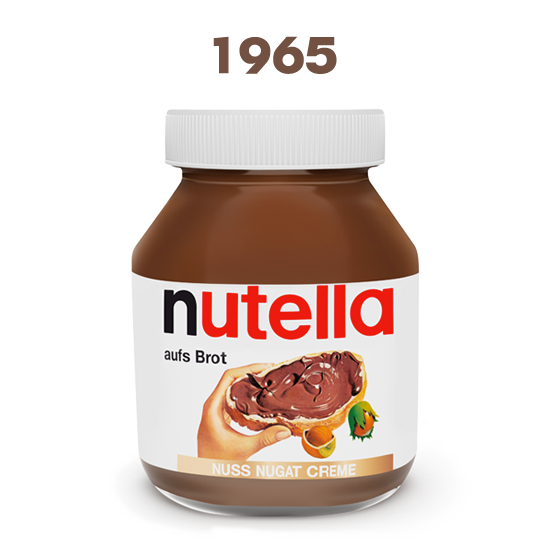 Oh là là! Nutella arrives in France
Nutella expands further into Europe and is launched in the French market, again with great success.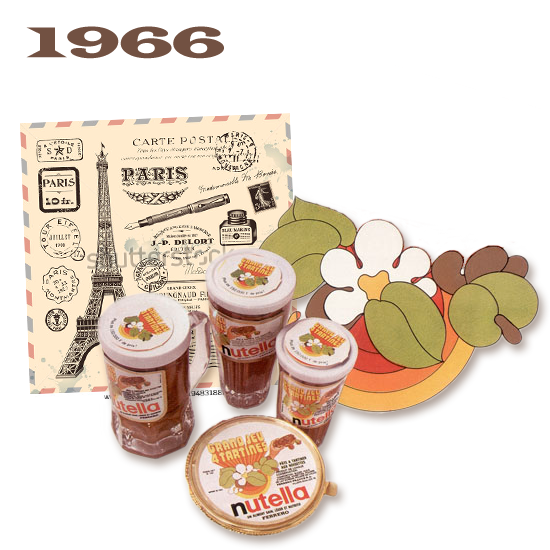 A success that knows no boundaries
Having conquered Europe, Nutella launches in Australia – and the first Nutella production plant outside of Europe is opened in Lithgow near Sydney, New South Wales.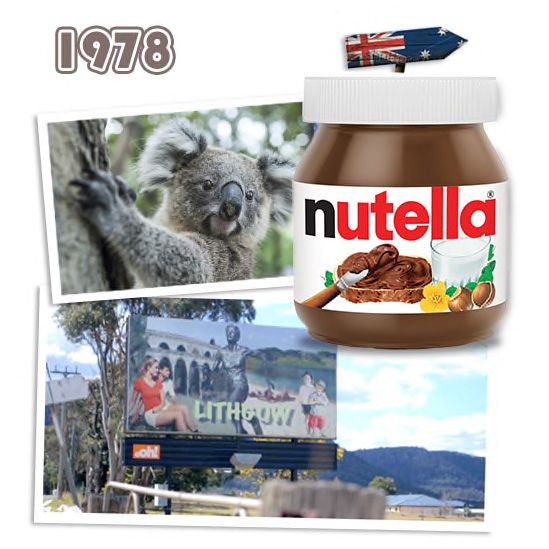 Nutella France: 30 years of optimism and works of art
Nutella organises the mega 'Generation Nutella' event in Paris in the picturesque setting of the Carousel du Louvre. This features an exhibition of works created between 1966 and 1996 by artists and designers who found their inspiration by enjoying breakfasts of Nutella and bread. Renowned figures featured include Decouflé, Paco Rabanne and Wolinski.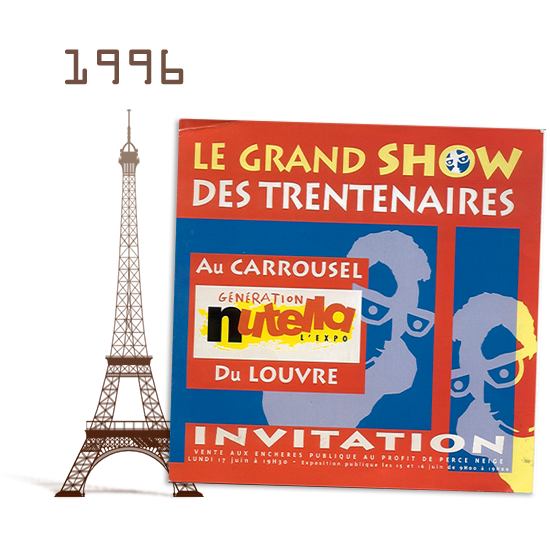 A champion breakfast with Nutella
On 29 May, 27,854 people gather at Gelserkirchen in Germany to participate in the largest-ever Continental breakfast, featuring Nutella of course. The blockbuster attendance ensures that the event makes it into the Guinness Book of Records.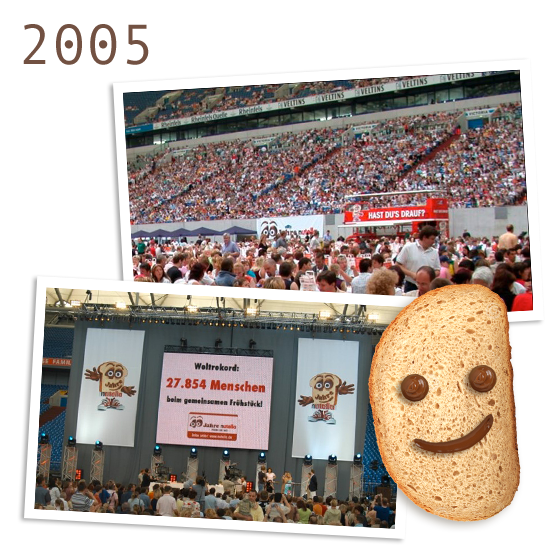 The creation of World Nutella Day
Sara Rosso, an Italo-American blogger and Nutella lover, decides to dedicate one day a year to her favourite spread – and on 5 February 2007 Nutella lovers everywhere are called to unite. World Nutella Day has been an opportunity to celebrate – and to introduce people to the spread – ever since.
A party to celebrate half a century of great memories
To celebrate Nutella's 50th birthday, Ferrero creates nutellastories.com where Nutella lovers share 76,400 stories, happy memories and unforgettable moments in the company of the famous jar. Because this landmark occasion deserves to be celebrated in style, the company organises a global event in ten international locations from New York to Naples, Dubai to Paris. It represents such a special anniversary that Italy even issues a commemorative stamp.
The first Nutella Café opens
On 31 May in Chicago, Ferrero opens its first owned and operated restaurant: the Nutella Cafe.
It's a special place where all Nutella fans can enjoy a unique experience from the moment they step into the space, choosing from a wide variety of menu items, with all-day dishes and to-go options designed to take the taste experience to new and delicious heights.
www.facebook.com/NutellaCafeChicago
Welcome to the world's first airport Nutella Café
It's time to spread the message, the product and the love as the first Nutella Café in an airport opens at Dubai International.
The Nutella @DXB partnership between the brand owner, the world's busiest international airport and dynamic restaurateur HWH Investments proves an immediate smash hit, leading to strong sales and countless instagramable moments for young and old alike.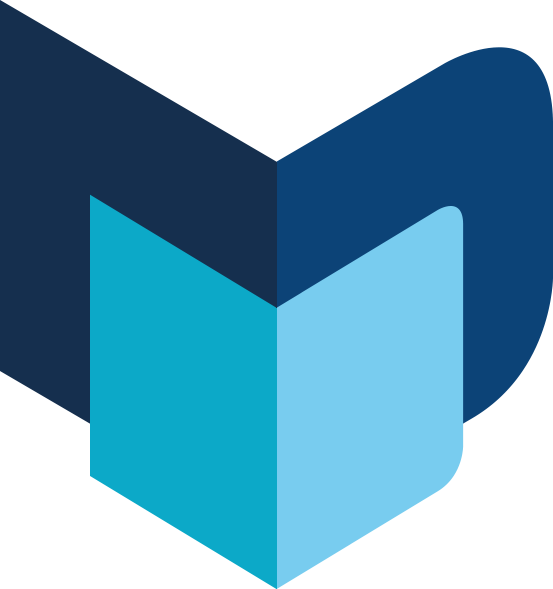 ---
The Moodie Davitt e-Zine | Spotlight Series – Special Report | 10 October 2018