HMSHost Foundation's fight to stamp out poverty
Welcome to Duty Calls. This regular feature aims to shine a light on some of the most laudable examples of altruism and sustainability within the travel retail industry by companies that go beyond the call of duty. In this issue, Colleen Morgan profiles HMSHost Foundation and its mission to reduce poverty in the USA.
Over 40 million people struggle with poverty every day in the USA. That's a number equivalent to the combined populations of Australia, New Zealand and Greece.
US airport restaurateur HMSHost is determined to address both that number and the issues that underpin it. Here, we speak to Paul Mamalian and Sheila McGee, respectively President and Director of charitable organisation HMSHost Foundation.
HMSHost Foundation President Paul Mamalian: "We set ourselves an audacious goal… to eradicate poverty".
Just over three years ago HMSHost Corporation Executive Vice President and General Counsel Paul Mamalian and President and CEO Steve Johnson, along with fellow associates, were discussing the company's role in the F&B industry. Their conversation touched on the company's successes, its broad reach through its own footprint and its network of partners, as well as the impact of its Corporate Social Responsibility programme.
They concurred that HMSHost Corporation's airport, motorway, and headquarters operations were widely engaged in community efforts but the opportunity to unify all of the activity remained.
"HMSHost has always been passionate about supporting the communities in which it operates," Mamalian says. "However we realised that we could do more. We wanted to organise the efforts, give back more, and encourage even further local engagement in the communities we serve.
"We considered the figures regarding poverty and our mission was clear; we decided to make a stand to eradicate poverty."
HMSHost, with its coast-to-coast operation and expertise in food and logistics, considered itself well positioned to fight poverty and its root causes.
"We set ourselves an audacious goal; one that we didn't, and don't, take lightly. But, considering the company's 125-year history of providing food to travellers, we decided that it was the right thing for HMSHost to do."
And so, after determining its mission, the HMSHost Foundation was born, kicking off at a star-studded fundraising golf tournament in November 2015 which immediately put US$250,000 in its coffers.
HMSHost Foundation's mission is to fight poverty in the local community through food, shelter, education and occupation. It achieves this through collaboration with associates and local charitable organisations which are already making a difference.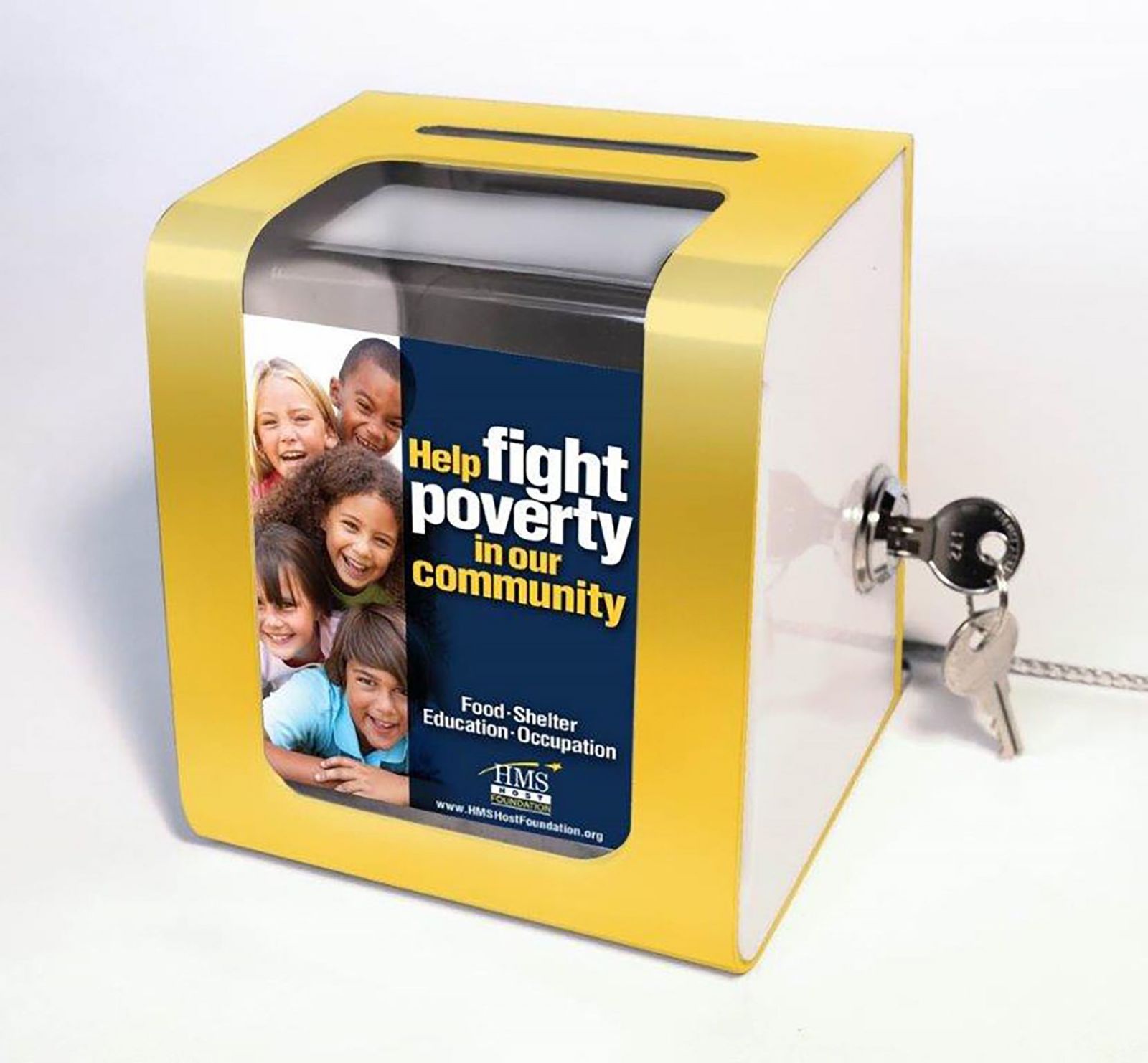 Bright yellow canisters encourage customers to support HMSHost's mission to fight hunger and poverty.
The mission is based on four giving-back pillars:
Combat hunger and promote nutritional wellness through food-related initiatives;
Provide opportunity for financial stability through job training and placement;
Encourage the next generation through access to education and training;
Honour US veterans and their families by supporting programmes that meet their needs for food, shelter, medical care, and job training and placement.
When HMSHost Foundation was first established, HMSHost President & CEO Steve Johnson commented: "As the leading provider of dining in travel venues across North America, the HMSHost organisation is uniquely positioned to give back to the communities in which we operate by combating the root causes of poverty at the local level.
"Every day our associates reach out to our communities through food donations, composting and other sustainability projects, and educational outreach, among other initiatives. We've seen the positive impact our joint efforts can make, and now it is time to take that to the next level."
It is fair to say that HMSHost Foundation has done just that. In three years it has donated more than US$1 million in grants to over 65 mission-aligned local charities.
'HMSHost Foundation donates US$20,000 to culinary arts initiative for south Los Angeles foster care youths' and 'HMSHost Foundation adds US$30,000 to fight against poverty in Raleigh-Durham' are just two of many The Moodie Davitt Report headlines which have traced the foundation's efforts over the past three years.
HMSHost Foundation Director Sheila McGee is tasked with identifying organisations which would benefit from its support.
"It is always critical to find charitable non-profits which aim to break the poverty cycle and align with the foundation's pillars of giving," she says.
Mamalian and McGee highlighted four non-profit organisations which HMSHost Foundation is supporting.
Grace-Mar Services provides education, counselling and professional networks to displaced workers, minorities and low-to-moderate income families in the areas of financial literacy, job readiness/placement and self-empowerment (see video below).
The organisation was founded in 2009 by Kenneth and Grace Smith and has served over 10,000 families in Charlotte, North Carolina.
Kenneth Smith said HMSHost was one of the organisation's first supporters. "HMSHost Corporate and HMSHost Foundation both play a significant role in our organisation's success," he says.
"And that is not only in the area of financial security. HMSHost is always willing to give our employment candidates and trainees an employment opportunity. It is apparent that this organisation has a caring culture from the top to the bottom and everywhere in between."
Emma's Torch has a mission to harness the power of the culinary industry to help refugees build new lives in their new communities. It offers an eight-week, paid apprenticeship programme with 400 hours of culinary training in its two New York City full-service restaurants.
HMSHost Foundation recently donated US$30,000 to the cause.
Emma's Torch Founder and Executive Director Kerry Brodie says that working with HMSHost has been "truly incredible".
"As a leader in food service they understand our needs, and the needs of our students. HMSHost Foundation's decision to support us during this early stage in our growth demonstrates their trust and commitment to our work… they have been so open to hiring our graduates and to supporting that process in any way possible.
"We look forward to working with them in the future, and are hopeful we can develop more opportunities for volunteer work as well as ongoing mentoring for us and our students."
Orlando Union Rescue Mission (OURM) Director of Development Tanneka Guice says HMSHost Foundation has played a vital role in the organisation's mission to provide meals and shelter to many of Central Florida's hungry and homeless.
OURM has been serving disadvantaged people in Central Florida since 1948 (see video below for more on its charitable work).
"Residents at OURM receive more than a hot meal and a warm bed. Programmes are set in place to not only help residents get back on their feet, but to gain employment to offer their children and themselves a better, more productive life.
"As the mission does not receive any form of funding from the US government, organisations like HMSHost Foundation help to make it possible for men, women, children and families to 'hit the life reset button'," Guice says.
Horizons Greater Washington empowers economically disadvantaged students to reach their full potential. It offers summer and Saturday academic, cultural and recreational programmes to "kindle a lifelong passion for learning and foster collaboration, creative problem-solving, and grit" (see video below).
Horizons Greater Washington Executive Director Renée Stikes describes the assistance as "incredibly meaningful and invaluable".
"The grant helps us deliver award-winning academic enrichment programming to low-income students and listing HMSHost as a corporate donor helps us attract other corporations to support us," she said.
Stikes emphasises the foundation's approach to supporting community projects. "There's a 'how can we help?' or 'what if?' approach that Sheila McGee has when we speak that is unique and refreshing".
Examples such as these demonstrate HMSHost Foundation's approach to combatting the cycle of poverty. Led by Mamalian and directed by McGee, it scouts at the ground level for opportunities to help people in the community. Visiting the charities to understand their needs and challenges, and meeting the actual beneficiaries, provides direct connection to the cause.
HMSHost Foundation board members frequently visit the supported organisations.
"There is a real satisfaction and importance to seeing first-hand what these organisations are accomplishing," McGee says. "They depend on contributions but HMSHost Foundation is eager to engage in ways beyond monetary support."
Mamalian highlights one of many success stories involving a woman who had been struggling for years with problems related to substance abuse. Through an HMSHost-supported programme with Grace-Mar Services, she secured work and went on to help her former associates who have also succeeded in improving their lives.
"One of the most exciting things for her that she expressed to me is that she is now able to contribute to a 401(k) retirement plan for the first time ever. It's the first time she has been able to think about her future – something that many of us take for granted. It's fantastic to know we can help people steer their lives in the right direction," Mamalian says.
HMSHost raises money through various touchpoints, including events, partner contributions and "rather old-fashioned but very effective" canister collections at over 500 airport and motorway travel plaza locations.
McGee explains that HMSHost has soft launched a fundraising project which it plans to introduce this year. Its customers will be offered the opportunity to 'round up' dining payments, with all the extra amount going to support the foundation's efforts.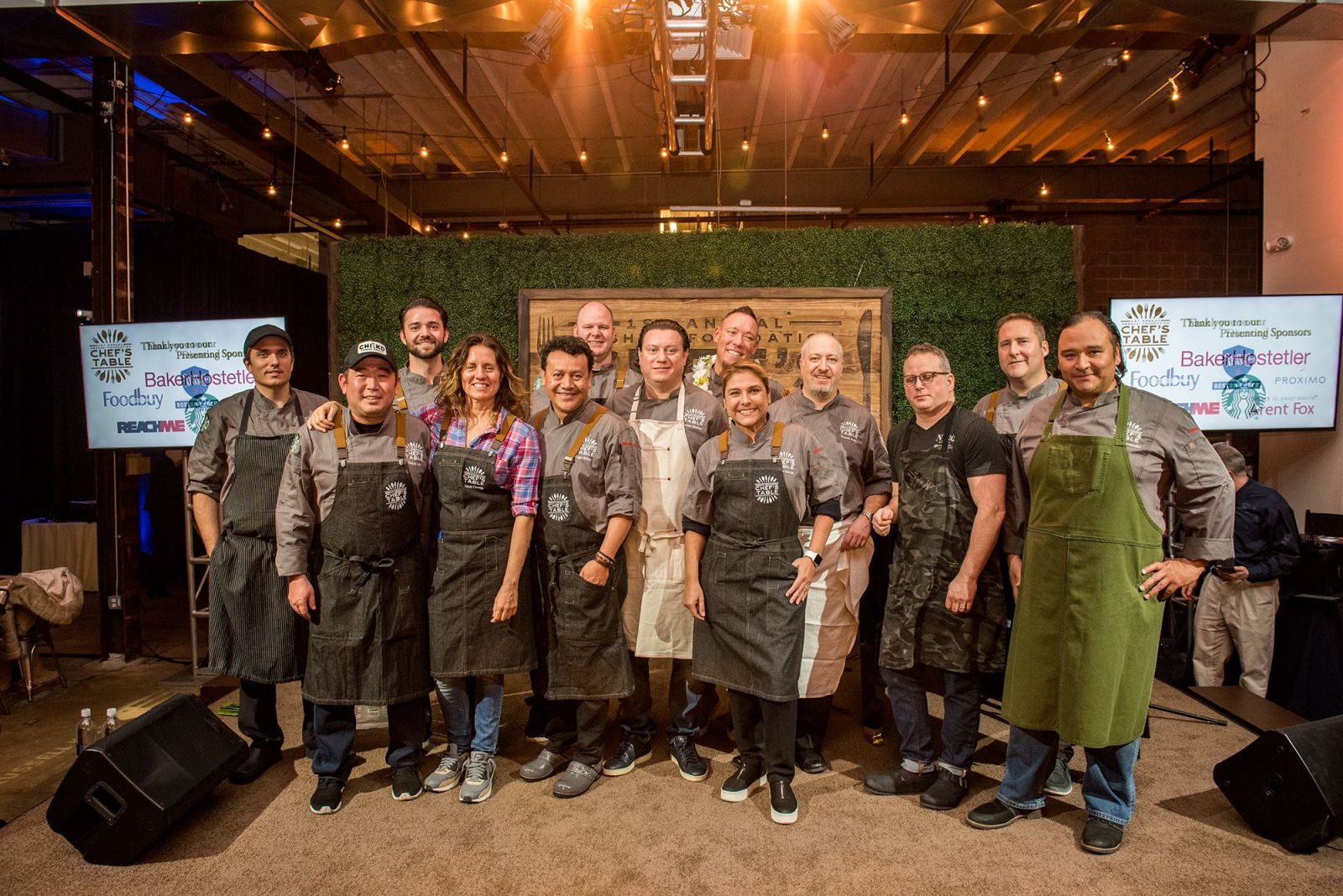 The best of the best: 15 of North America's top celebrity chefs supported the HMSHost Foundation's inaugural Chef's Table event.
HMSHost Foundation's events such as the Chef's Table, which was introduced in February 2018, also raise funds.
"The Chef's Table offers an amazing opportunity to partner with HMSHost's top chef partners for an evening of great food and entertainment. We can offer our guests a five-star experience and it all benefits the foundation," McGee continues.
Plans are underway to extend the Chef's Table to other venues.
"We are, after all, a F&B and hospitality company, so we like to remember that we are in a fun business," Mamalian adds. "It's all about hospitality. The spin on it, as with events like Chef's Table and the annual golf tournament, is that participants get to enjoy wonderful food, drinks and entertainment while raising money for HMSHost Foundation's mission."
In November 2017, HMSHost Foundation marked its second anniversary with its Invitational Golf Classic golf tournament and raised over US$200,000. A year later the tournament attracted record attendance and support and proceeds topped US$250,000.
"Partners, vendors, and HMSHost associates are eager to work with the foundation. Since there is always a lot of important work to be done, we are eager as well," Mamalian comments.
"Giving money is a very important part of our work but that alone is not going to satisfy our mission to fight poverty.
"The goal is to help HMSHost Foundation's work by making use of all facets of the organisation. It is not just the foundation. HMSHost Corporation associates can help and volunteer to support the various programmes any time. In fact, they have shown they are willing to dedicate their time and use their talents to help others with the foundation."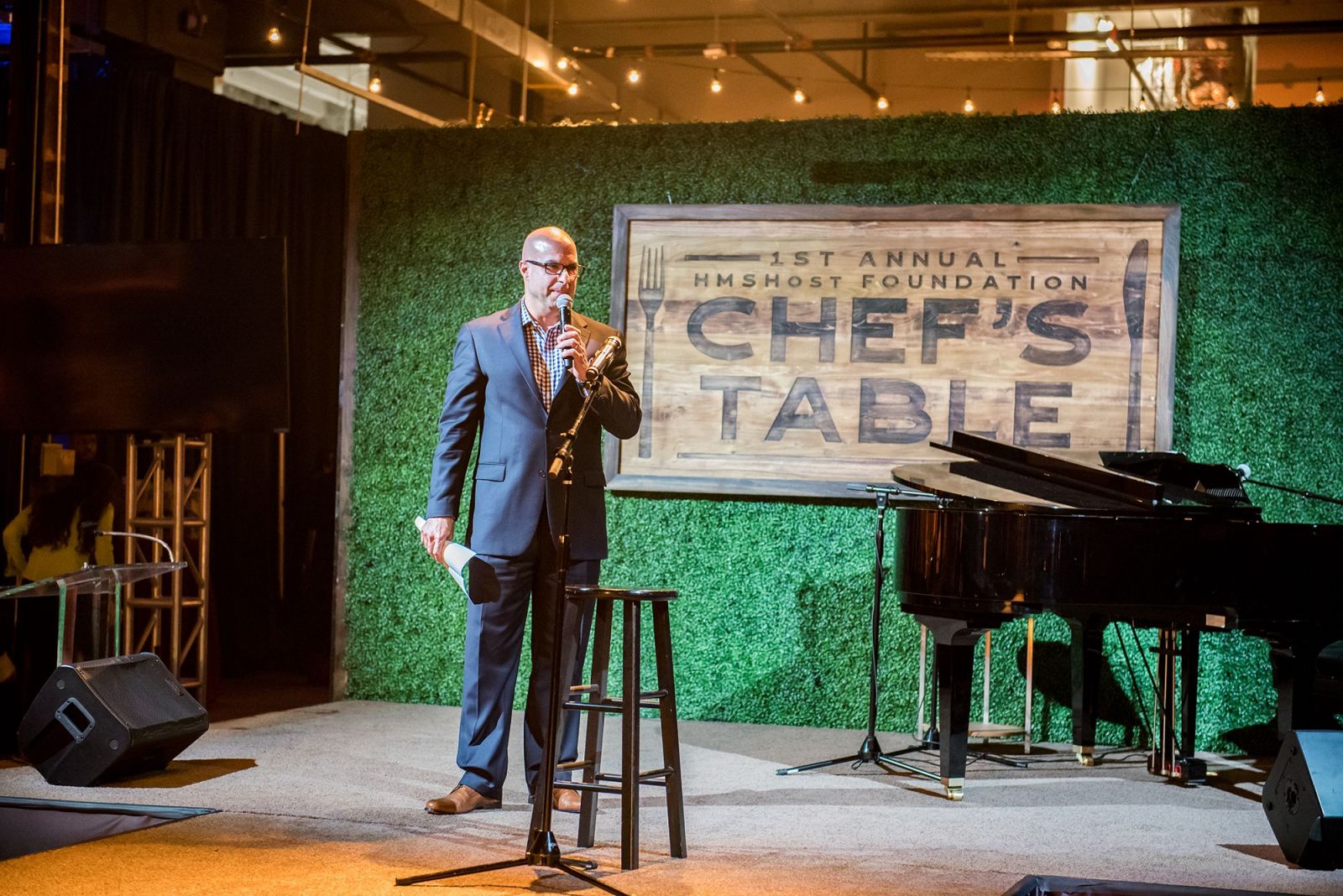 The Chef's Table event offers an evening of great food and entertainment, while raising funds.
HMSHost Corporation adds to the foundation's' efforts through food donation, jobs training, contributions and more; the culture of giving spans across the whole system.
"For example, in the area of emergency support when hurricane relief was urgent in the USA, we acted quickly and made a meaningful impact," Mamalian adds. "We were also fortunate to find our Autogrill parent company jumping in, making it a worldwide effort."
Mamalian highlights how the company supports HMSHost Foundation with collaborative marketing programmes. The company honoured Veterans Day and showed its gratitude to US military veterans and active duty military with a burger deal in 50 HMSHost-operated airport restaurants last year. All proceeds were donated to HMSHost Foundation for charities which support veterans and their families.
HMSHost Foundation's efforts to fight poverty speak for themselves. It may be a steep climb but its personalised approach to establishing community partnerships has, and will continue, to position the organisation to make a difference.
"The foundation is a piece by piece project. We are not writing one big cheque to save the world," Mamalian says.
"It takes work; it takes effort. But we know that, along with our 35,000 associates, we can make an impact."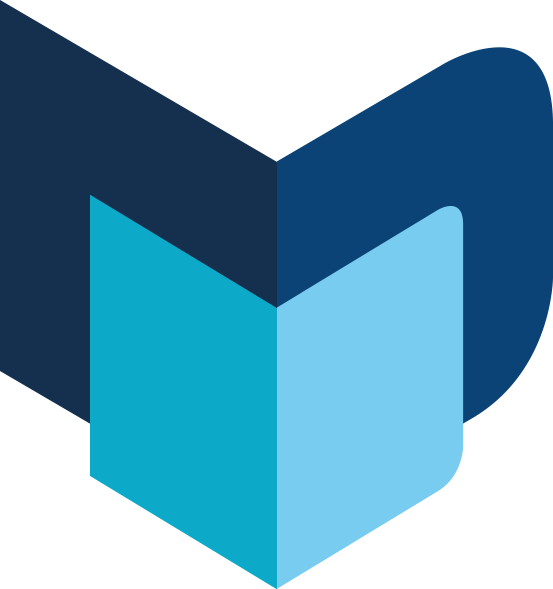 ---
The Moodie Davitt eZine | Issue 256 | 4 February 2019