"The sky is the limit"
Delhi Duty Free Services CEO Philip Eckles hails the completion of the US$10 million store upgrade across arrivals and departures, and says that the operation can now stand in positive comparison with other duty free environments in the region and worldwide.
As one of ARI's longest serving senior managers across the company's international network, Philip Eckles (right) has seen, and helped shape, many store openings and transformative investments. Although he is in the job as Delhi Duty Free CEO for under a year, and joined when the US$10 million upgrade was well under way, this ranks as a project in which he takes as much pride as any in his long career with the group.
While a relative newcomer to day to day operations in Delhi, Eckles has a firm handle on the business from his years at ARI-Middle East, where he was CEO, and as a Delhi Duty Free board member from 2011 to 2015, when this investment was already in the planning stage.
"To come back three years later and to work with the team to see it across the line is fantastic," he says.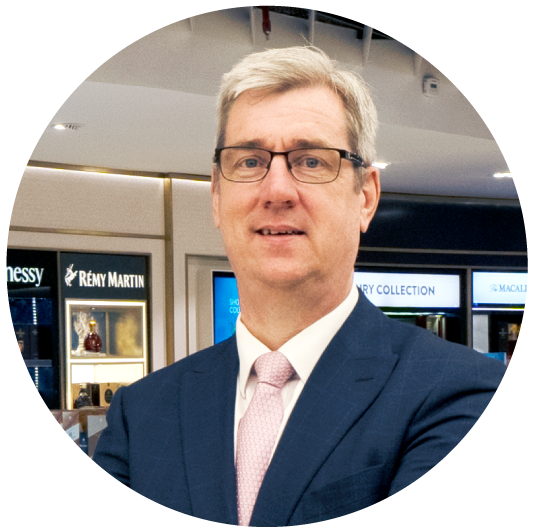 A film tour of the new environment, led by Delhi Duty Free CEO Philip Eckles
Almost ten years on from the opening of the stores in 2010, the business – and perceptions of Delhi Duty Free – have changed sharply, he adds.
"Going back a decade when the joint-venture partners won the tender and began to plan the original stores, the industry was more sceptical about India as a market," notes Eckles. "But the attitude is very different now. India is one of the world's largest economies and among the fastest growing. That is reflected in how brands, especially in P&C, see the opportunity. Some would not have entered this space then but are here now and we don't even have room for all of the current demand. We will reflect on that once we assess the performance and examine how to develop the business further, potentially with new space.
"The duty free world has changed a lot too, with store environments impressive almost everywhere. These stores compare to anything you'll see at the biggest and best airports worldwide. Delhi Duty Free can stand on its own at a global level.
"Our aspiration is that people talk about Delhi in the same breath as other global locations such as London, Paris, Bangkok, Dubai or Singapore. India as a country and a place to do business has its challenges. But anyone who partners with Delhi Duty Free will gain a shop window that has the customers you want to expose your product to, and will be working with a known and trusted operator."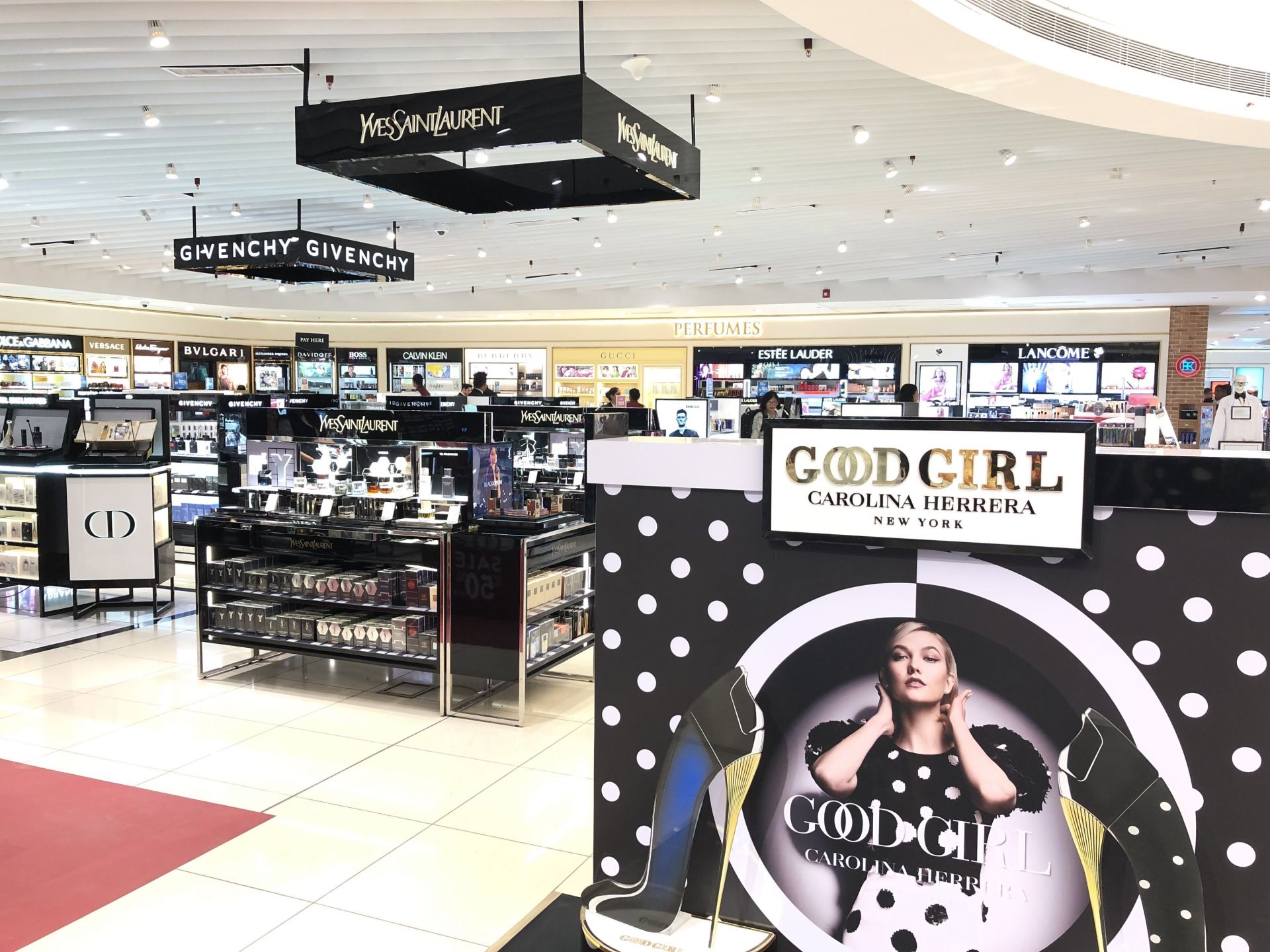 A much-enhanced beauty offer (above and below) lies at the heart of the new-look departures store, with many suppliers bringing their best executions to Delhi Duty Free's impressive environment
"Our board is very keen to see us introduce first to Delhi or first to India brands across liquor or P&C. The issue we will always have is space to add new brands or exclusives."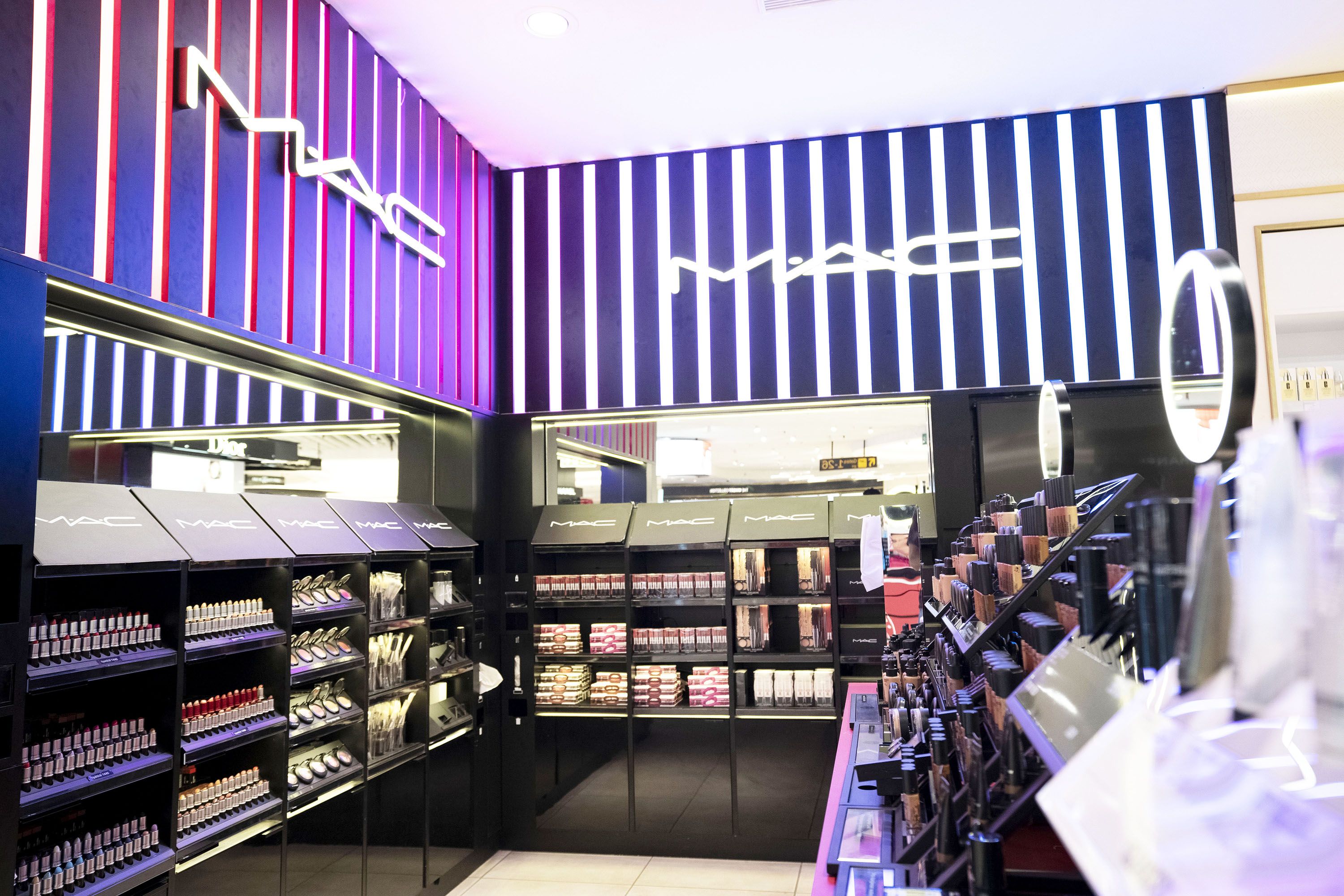 Delhi Duty Free says that Indian beauty consumers have a special affinity with The Estée Lauder Companies brand MAC
The company's impressive new retail arena in departures covers 1,892sq m of full walk-through space compared to around 2,080sq m previously; in arrivals it occupies 1,081sq m against 1,296sq m before. The reduced space is mainly down to the introduction of 5m wide walkways through both shops that allow ease of access during peak times and to meet airport requirements for a smooth traveller journey.
Rather than the overall footprint, it is the use of the space that will drive interest and spend among consumers, with a more coherent shopper journey, stop points in each category, more finely tuned ranges, a superb new P&C offer (and commensurate additional space) and the power of Delhi Duty Free's value messaging.
The brand partners played a big role in ensuring the experience is entirely different to what went before, says Eckles.
"We have the wonderful Chivas environment, the Johnnie Walker House, stunning Clinique furniture, a memorable Gucci Amethyst Garden and much more. We tend not to have shop-in-shop areas and focus more on back walls and gondolas due to space.
"We are always looking ahead. Our board is very keen to see us introduce first to Delhi or first to India brands across liquor or P&C. The issue we will always have is enough space to add new brands or exclusives. We will look at adding space as the opportunity arises, or indeed at pop-ups to add theatre."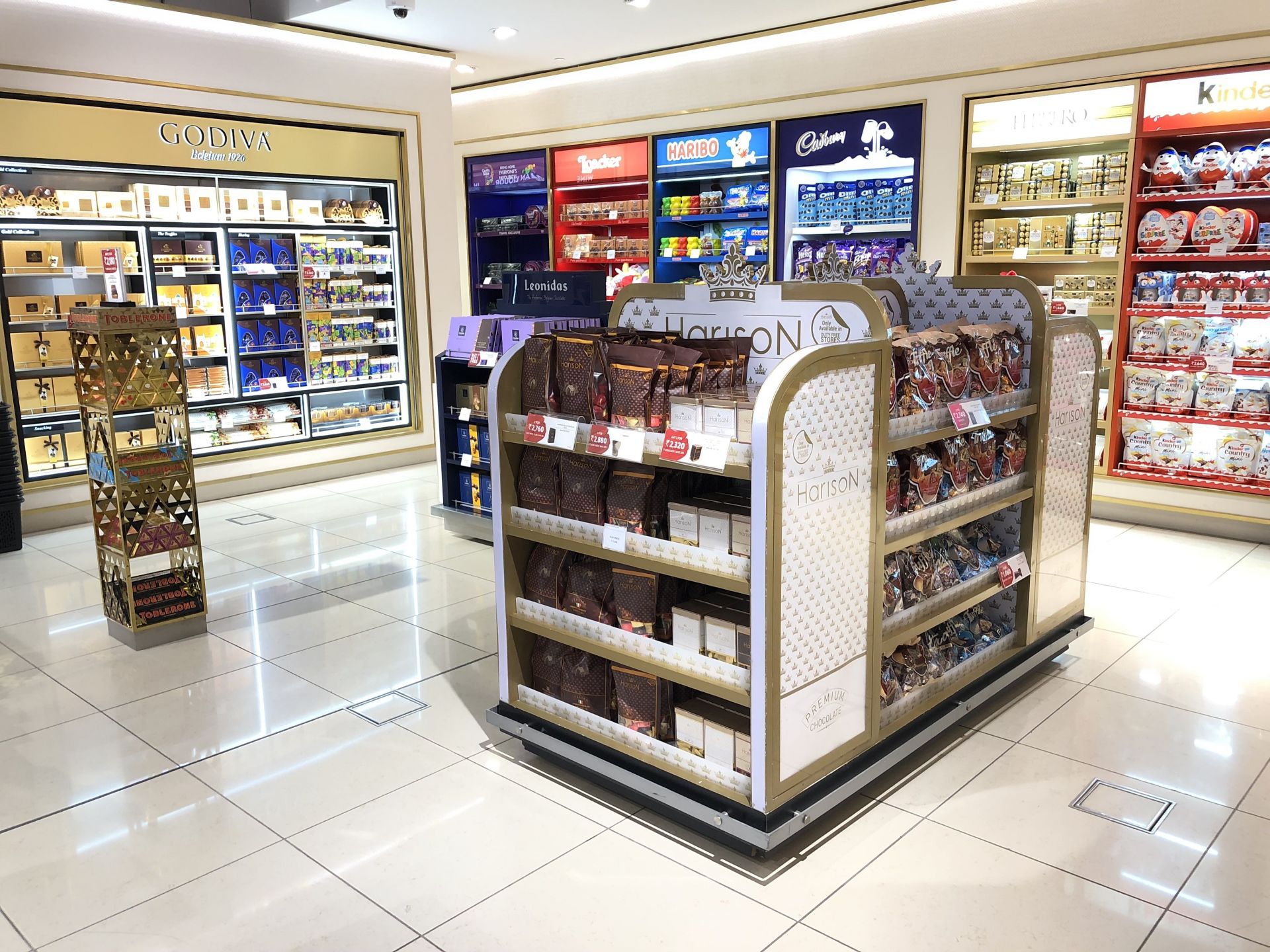 Confectionery, a staple of the Indian duty free business, plays a solid role in the mix through the major international houses
"We have key value markers around Rs4,000, Rs5,000 and Rs6,000 depending on what level consumers want to stretch themselves to, offering products within these ranges that maximise allowances."
Alongside a more tailored offer, Delhi Duty Free will maintain its emphasis on value messaging to the core Indian consumer, which is prominent throughout departures via digital screens and reinforced in arrivals.
Eckles says: "People know we are well priced versus domestic as duties are over 160% on liquor downtown, and we are also competitive in that category with the key destination airports.
"P&C is challenging the way the domestic market works. Imported products must carry the manufacturer's recommended retail price, and that price stays the same so that presents a potential difficulty if our prices fluctuate. But we try to stay competitive with routes that matter to our travellers. There are other duty free companies in those destinations that are much bigger than us and that could hurt us on price but a price war is not where anyone wants to be."
Another key element is service, the level of which Delhi Duty Free management prides itself on. Eckles says: "We also have a wonderful, well-educated and well-trained workforce. We are spoiled with the population size and the education system, which means that every person who works for us has a degree. It's a young workforce too: around 50% are on their second job, 50% are coming to their first. They are bright and intelligent and with the training we give them they are a formidable sales force. More than that, they are also proud of the stores they work in, especially today.
"Indians expect attentive, one-to-one service, and that's important when they represent over half of our transactions. So having some of the best customer service standards in the industry is vital."
These elements combined prompted a bullish forecast for the current financial year (April to March), which Eckles and team are confident about achieving after a solid first quarter.
"We hit +22% growth on a +7% passenger base in the year ending March 2019, and we expect +22% again on +9% passenger growth this year," he says.
Passenger growth reached double digits in recent years but has faced some challenges. Jet Airways stopped flying on 17 April after going out of business. There was also an issue over Pakistan-India airspace (since resolved) that meant some long-haul flights to North America were cancelled. That also led to longer flight routings and some delayed arrivals, with many travellers less keen to linger and spend in arrivals after they eventually landed.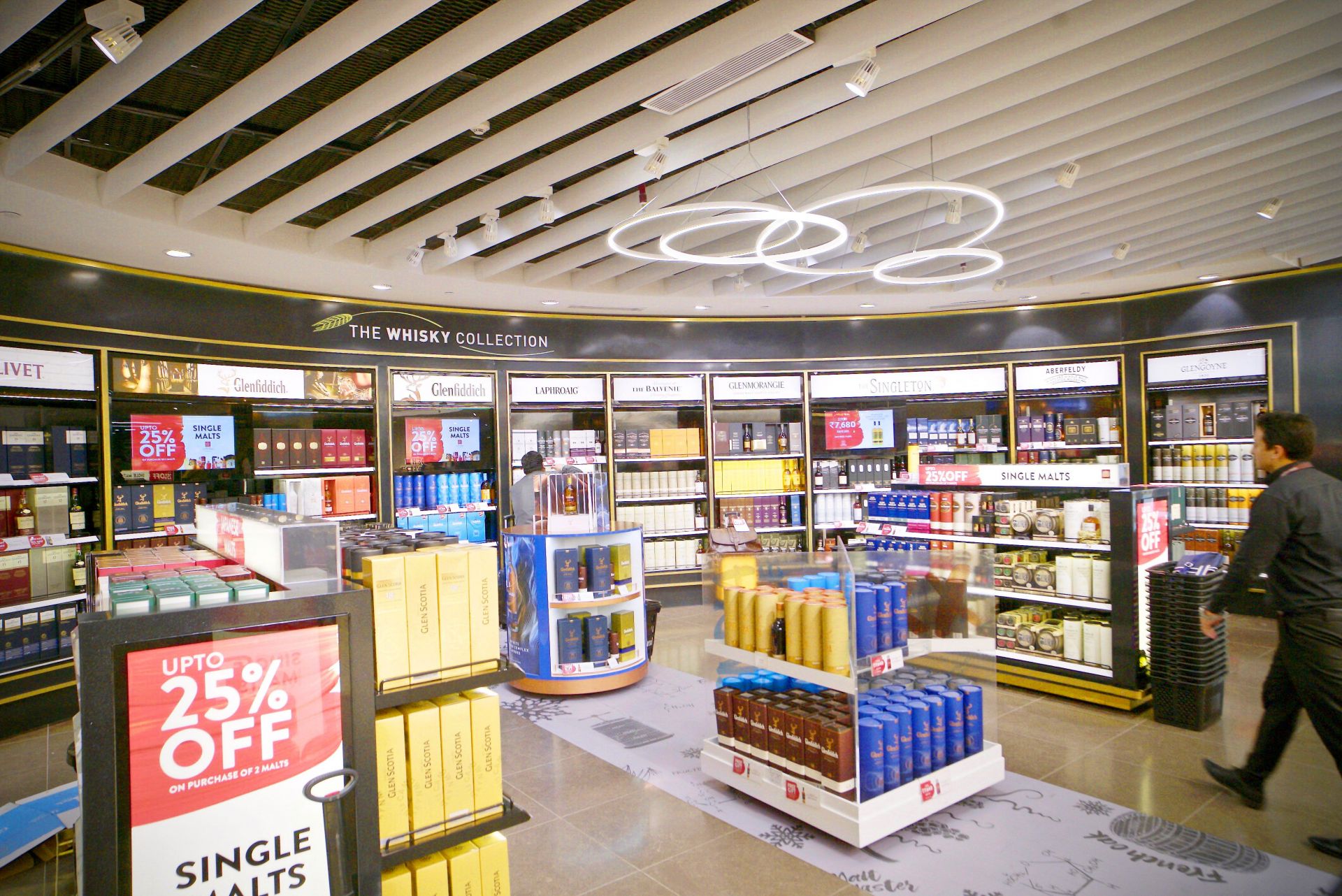 Delhi Duty Free remains an "arrivals-centric, liquor-oriented business" but the retailer aims to the rebalance the mix with an emphasis on growth sectors such as perfumes & cosmetics
Looking ahead, in a business still dominated by arrivals liquor sales, Eckles expects to see some diversification of the sales mix, although there is no question that the primacy of spirits will be maintained given the compelling price differential with the local market.
"We are reliant on liquor but we are moving that reliance to a greater focus on P&C, mainly in departures but also in arrivals," he says. "Our sales contribution last year from P&C was 16.2%, and is moving towards our target of 18%, which is still a leap in an arrivals-centric, liquor-oriented business.
"In departures there has been a greater move in that direction as you would expect given the increased space." In April to June year-on-year P&C rose from 22.4% to 25.3% of departures sales, ahead of projections. To put beauty's role in context, liquor in this period accounted for a remarkable 73% of sales in arrivals and 61.4% overall.
"Proportionately we expect P&C to reach new heights with greater focus, including in arrivals," notes Eckles. "That doesn't mean liquor will decline; in fact we expect it to grow further."
The power of the spirits business, and the company's reliance on it, is plain to see on a visit to the stores. One of Delhi Duty Free's big successes here has been to maximise the use of the two-litre allowance.
"We do our best to ensure passengers maximise their spend," says Eckles. "Penetration has been a challenge at times, although we have done well; in arrivals from April to June our rate was nearly 19%, which is +16% up on last year. Of those people that buy liquor we have an allowance use of around 82%, so when they buy liquor, they buy as much as they can, and very few buy only one bottle.
"That explains how we position liquor so prominently in arrivals. Rs3990 (US$55) for a twin pack of Johnnie Walker Black is a fantastic price. We have key value markers around Rs4,000, Rs5,000 and Rs6,000 depending on what level consumers want to stretch themselves to, and offering products within these ranges that maximise allowances. Dual packs on the key references allow that maximisation and inspires them to trade up."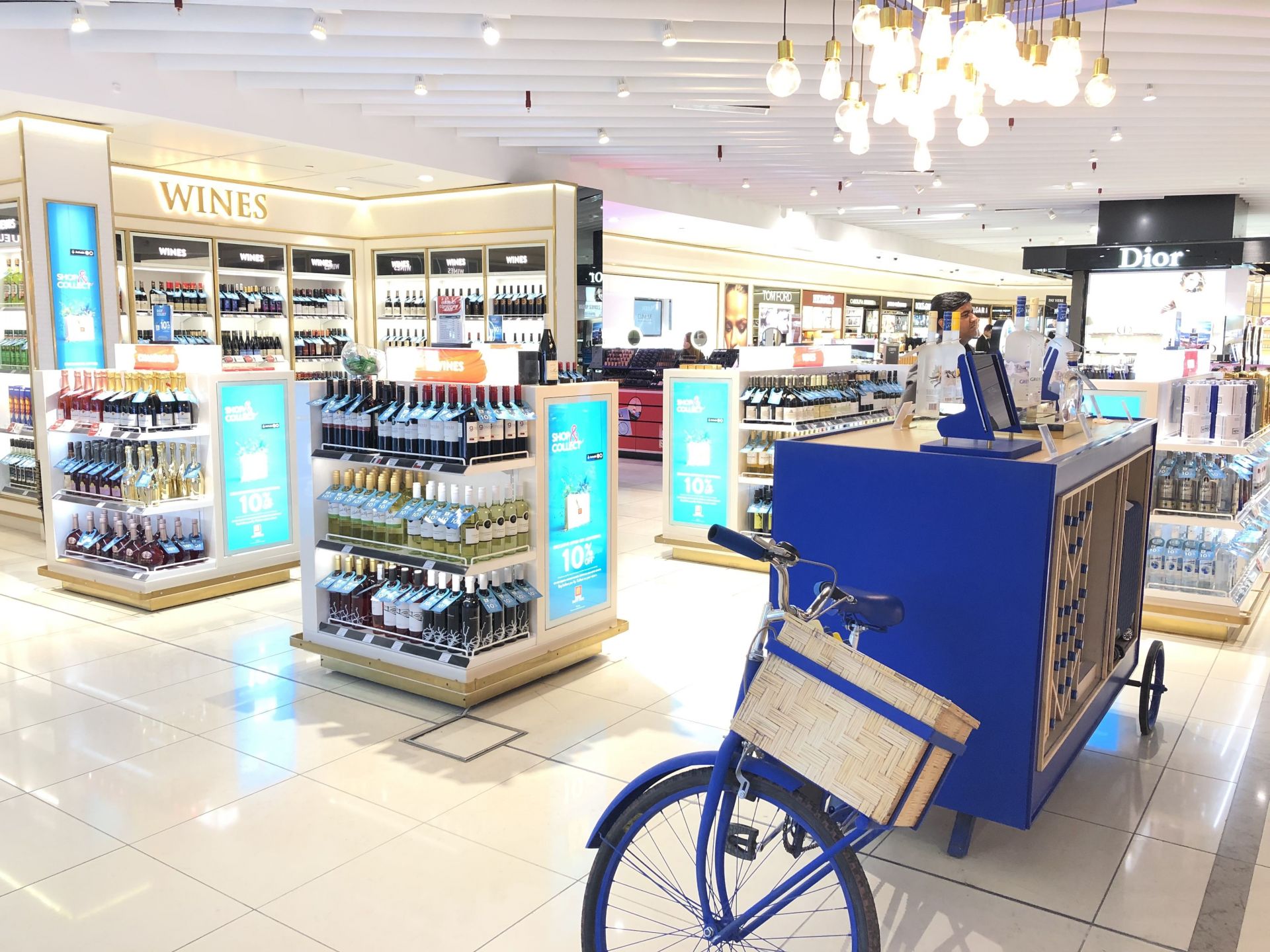 Broadening the appeal: White spirits and wines occupy prominent space in departures
With such competitive pricing, there are continuing tensions with brand owners about how their premium lines are presented, and constant conversations about where pricing should lie without devaluing the product. It's a tension that Eckles acknowledges.
"We watch our product pricing carefully. We present the customer with a fantastic saving but we understand the concerns that some brands have about price perceptions of their premium products, and note that they would like to push prices up. That would serve us well too, but we cannot do that at the cost of sales volume. So it needs a measured approach, which should include growing overall basket value."
Liquor and P&C occupy the largest spaces in the new stores, with tobacco, confectionery and destination goods making up the balance. Delhi Duty Free can sell only these core categories under its licence, with luxury represented in boutiques under other contracts run by a mix of retailers (including Delhi Duty Free). This means that there is no opportunity to introduce fashion or accessories in departures, although there is a limited offer in arrivals.
Tobacco (Marlboro is a clear leader) represents good value relative to many other duty free stores but local taxation makes it a challenge with GST introduced since 2017, and strict labelling laws in place. "Tobacco is 4.8% of our business, with departures around 14% but under 1% in arrivals," says Eckles.
Confectionery across the business accounts for just under 10% of sales, with some impressive installations from the key confectionery partners, led by best-selling brands Lindt and Toblerone, among others.
In departures this category is complemented neatly with a solid Indian merchandise range, led by tea and food, though the destination category's space was reduced to allow more for P&C.
A big change for the business, one whose effects continue to be felt, was the introduction of Rupee pricing in January 2018, in a switch from US Dollar prices. It has largely been beneficial, says Eckles, with Indians naturally understanding their own currency well, though they make direct comparisons (using Dollar translations) with Dubai, Singapore, Bangkok and London.
Main article continues below
The ARI view
Speaking to The Moodie Davitt Report about the new-look departures store, Aer Rianta International (ARI) CEO Ray Hernan says: "This project brings the core duty free offer here to another level. Delhi Duty Free is a best-in-class operation with best-in-class shop fits. There is more digitalisation and more activity in the store, all to capture that elusive passenger and spend. It also develops the categories on offer, led by P&C, which is a big opportunity."
He says that sharply rising passenger growth will help grow sales but notes that the opportunity goes further. "The team has driven passenger average spend by double digits last year, and achieved double-digit growth in ATV and penetration. We hope this investment will keep that trajectory going.
We are a (33%) shareholder in the Delhi Duty Free business and we collaborate a lot with DIAL and GMR for mutual benefit. We have seen the Indian economy grow and traffic increase substantially in recent years. It was not a high-risk investment from our point of view and we still see a lot of opportunity."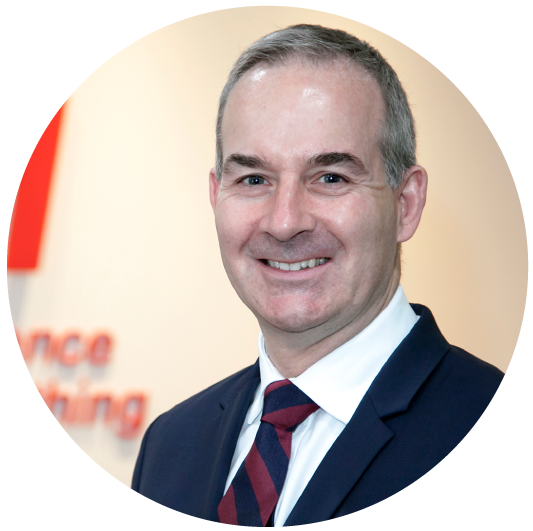 From an ARI corporate perspective, he adds: "Delhi is important in income terms for us and will become more important as this business grows. It's a profitable business and that helps support our global performance."
*An interview with Ray Hernan will appear in our Cannes edition.
---
Such direct (and via mobile, instant) comparisons make pricing an even more acute challenge. It also means understanding even better the drivers behind the business today, and what they are likely to be tomorrow, becomes paramount.
"We are very good at focusing on the Indian passenger and have proven that," says Eckles. "It is a different passenger base to Mumbai, which has a greater migrant worker element, or Kerala, which has even more of that demographic. We have a stronger mix of middle class and upper middle class.
"The base is changing though. We will see a lot more Indians travelling, the retired but also younger people. There is no area of Indian society that is not growing and young, FIT travellers is among the biggest. And so social media is important in messaging them.
"We see other new dynamics, for example Indians travelling for their weddings to Thailand; that is an opportunity as people can bring their own alcohol too. We see more female travellers in general, which is an opportunity for P&C but also for white spirits.
Main article continues below
Delhi Duty Free fact file
---
3,969sq m
Total retail space (including arrivals and departures main stores, pier shops, arrivals Shop & Collect and arrivals baggage belt stores)
---
Arrivals core retail space:
1,081sq m including
Liquor: 419sq m
P&C: 239sq m
Confectionery: 126sq m
Fashion: 47sq m
Tobacco: 9sq m
Service: 146sq m
Back of house: 95sq m
---
Departures core retail space: 1,892sq m including
P&C: 705sq m
Liquor: 467sq m
Confectionery: 269sq m
Tobacco: 80sq m
Souvenirs: 101sq m
Service: 110sq m
Back of house: 160sq m
1,958sq m
---
5,927sq m
---
+21.5%
2018/19 sales performance (April to March)
---
+22%
2019/2020 sales growth target
---
+13.3%
Spend per passenger increase 2018/19
---
June
---
+25% in the year


(Johnnie Walker Black Label +31%)
---
+17%
Source: Delhi Duty Free Services
"And then there are other nationalities. We have Russian, Chinese, Korean speakers in our stores, and strong sales to European tourists. We have to get the right offering for every type."
Squaring pricing tensions, seeking space for new categories and brands and fine-tuning the mix are among the issues facing Delhi Duty Free now that its transformation is complete.
"We want Indians to recognise that Delhi Duty Free is the equal of, if not better than, the destination they are flying to in duty free terms," Eckles says.
"To do that we need to maintain our pricing so it's not considered cheaper in those key destinations. That is a constant battle of perception. Two, it's about service, which we are very good at. And third, it's about the environment.
"We have created that now to really attract the traveller base and convince them that Delhi is the place to shop duty free.
"Brands are buying into that same thinking now. Look at the P&C offer; the big houses are supporting our vision. In liquor, we are already known and highly respected."
With these factors in place and double-digit growth expected in traffic, "the sky is the limit" for Delhi Duty Free, says its CEO.
"I'm living here nine months now and can see that tourism is going to grow, with the variety and richness that India can offer to the visitor. There is so much to be seen and the types of tourism vary so much, from backpackers to those who spend US$10,000 on a luxury train journey. I see only positive times ahead for the country and the travel business, and Delhi Duty Free is well placed to capitalise on the opportunities."

Spotlight Series
September 2019